Home
Davlin Knight
18 hours ago
2 pitfalls to stay away from when launching a YouTube channel
You do not want to miss these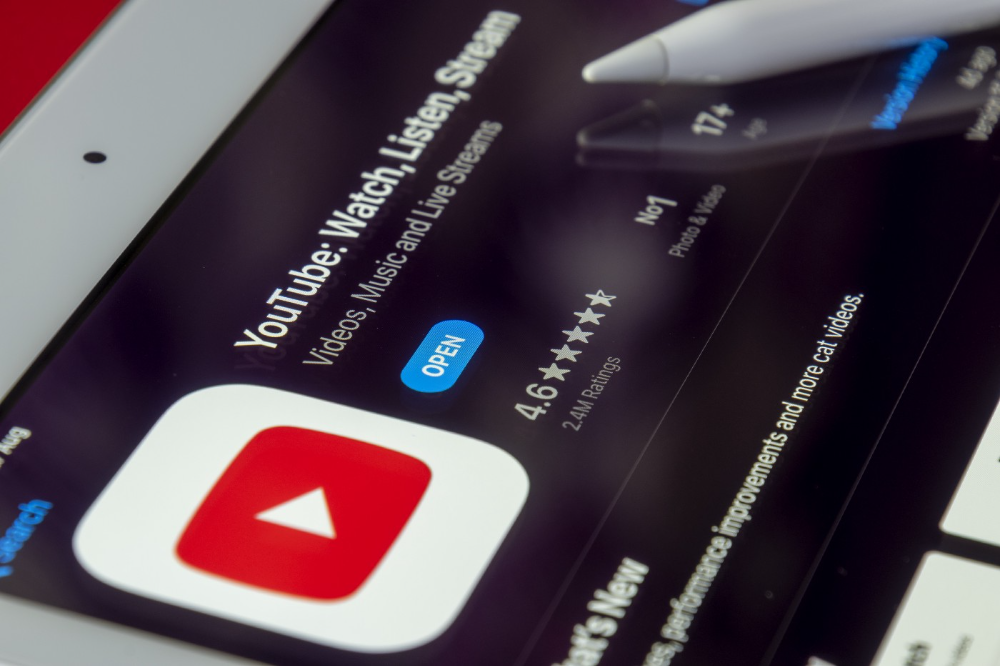 Stop! Stop it! Two things to avoid when starting a YouTube channel. Critical. Possible channel-killers Its future revenue.
I'll tell you now, so don't say "I wish I knew."
The Notorious Copyright Allegation
My YouTube channel received a copyright claim before I sold it. This claim was on a one-minute video I thought I'd changed enough to make mine, but the original owner disagreed.
It cost me thousands in ad revenue. Original owner got the profits.
Well, it wasn't your video, you say.
Touché.
I've learned. Sorta
I couldn't stop looking at the video's views. The video got 1,000,000 views without any revenue. I made 4 more similar videos.
If they didn't get copyrighted, I'd be rolling in dough.
You've spent a week editing and are uploading to YouTube. You're thrilled as you stand and stretch your back. You see the video just before publishing.
No way!
The red exclamation point on checks.
Copyright claim!
YouTube lets you publish, but you won't make money.
Sounds fair? Well, it is.
Copyright claims mean you stole someone's work. Song, image, or video clip.
We wouldn't want our content used for money.
The only problem with this is that almost everything belongs to someone else. I doubt some of the biggest creators are sitting down and making their music for their videos. That just seems really excessive when you could make a quick search on YouTube and download a song (I definitely don't do this because that would be stealing).
So how do you defeat a copyright defense?
Even copyright-free songs on YouTube aren't guaranteed. Some copyrighted songs claim to be free.
Use YouTube's free music library or pay for a subscription to adobe stock, epidemic sound, or artlist.io.
Most of my videos have Nintendo music. Almost all game soundtracks are copyright-free and offer a variety of songs.
Restriction on age
Age restrictions are a must-avoid. A channel dies.
YouTube never suggests age-restricted videos.
Shadow banning means YouTube hides your content from subscribers and non-subscribers.
Keeping your channel family-friendly can help.
I hear you complaining that your channel isn't for kids. I agree. Not everyone has a clean mouth or creates content for minors.
YouTube has changed rapidly in recent years. Focusing on kids. Fewer big creators are using profanity or explicit content in videos. Not YouTube-worthy.
Youtube wants to be family-friendly. A family-friendly movie. It won't promote illegal content. Yes, it allows profanity.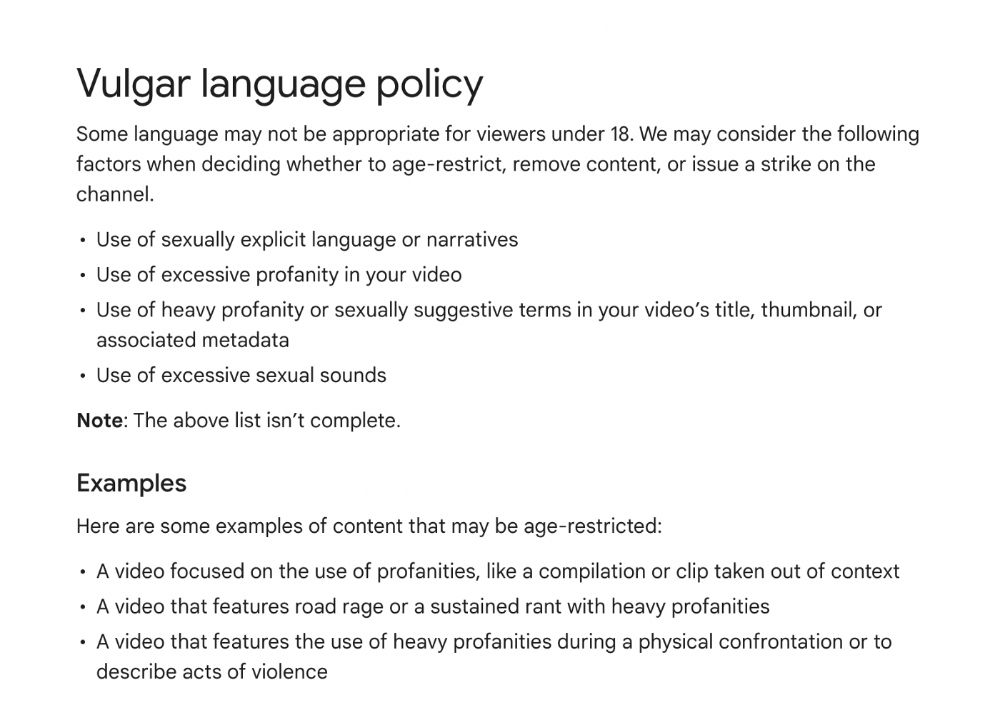 Do I recommend avoiding no-no words in videos? Never. Okay. YouTube's policies are shaky. YouTube uses video content to determine ad suitability.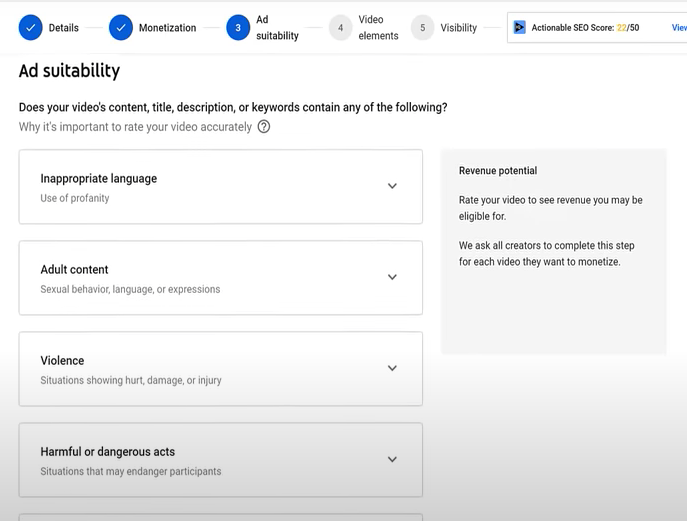 No joke. If you're serious about becoming a content creator, avoid profanity and inappropriate topics.
If your channel covers 18+ topics, like crime or commentary, censor as much as possible.
YouTube can be like walking on eggshells. You never know what is gonna upset the boss. So play it safe and try to avoid getting on their bad side.
Mr. Beast, Dream, Markplier, Faze Rug, and PewDewPie are popular creators. They maintain it family-friendly while entertaining fans.
You got this.
Hasan AboulHasan
18 hours ago
High attachment products can help you earn money automatically.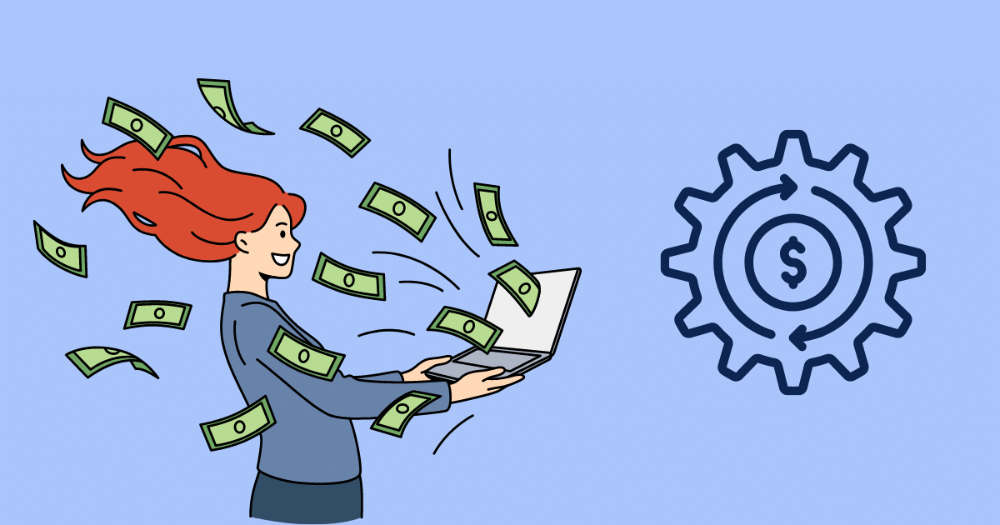 Affiliate marketing is a popular online moneymaker. You promote others' products and get commissions. Affiliate marketing requires constant product promotion.
Affiliate marketing can be profitable even without much promotion. Yes, this is Autopilot Money.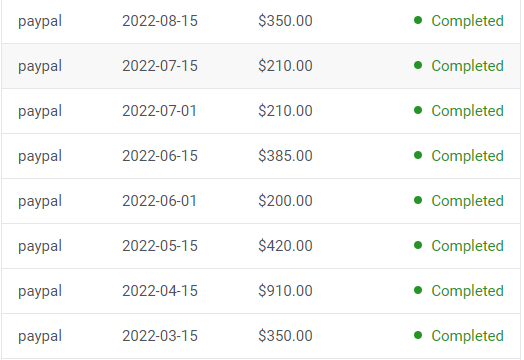 How to Pick an Affiliate Program to Generate Income Autonomously
Autopilot moneymaking requires a recurring affiliate marketing program.
Finding the best product and testing it takes a lot of time and effort.
Here are three ways to choose the best service or product to promote:
Find a good attachment-rate product or service.
When choosing a product, ask if you can easily switch to another service. Attachment rate is how much people like a product.
Higher attachment rates mean better Autopilot products.
Consider promoting GetResponse. It's a 33% recurring commission email marketing tool. This means you get 33% of the customer's plan as long as he pays.
GetResponse has a high attachment rate because it's hard to leave and start over with another tool.
2. Pick a good or service with a lot of affiliate assets.
Check if a program has affiliate assets or creatives before joining.
Images and banners to promote the product in your business.
They save time; I look for promotional creatives. Creatives or affiliate assets are website banners or images. This reduces design time.
3. Select a service or item that consumers already adore.
New products are hard to sell. Choosing a trusted company's popular product or service is helpful.
As a beginner, let people buy a product they already love.
Online entrepreneurs and digital marketers love Systeme.io. It offers tools for creating pages, email marketing, funnels, and more. This product guarantees a high ROI.
Make the product known!
Affiliate marketers struggle to get traffic. Using affiliate marketing to make money is easier than you think if you have a solid marketing strategy.
Your plan should include:
1- Publish affiliate-related blog posts and SEO-optimize them
2- Sending new visitors product-related emails
3- Create a product resource page.
4-Review products
5-Make YouTube videos with links in the description.
6- Answering FAQs about your products and services on your blog and Quora.
7- Create an eCourse on how to use this product.
8- Adding Affiliate Banners to Your Website.
With these tips, you can promote your products and make money on autopilot.
200 DeFi Projects were examined. Here is what I learned.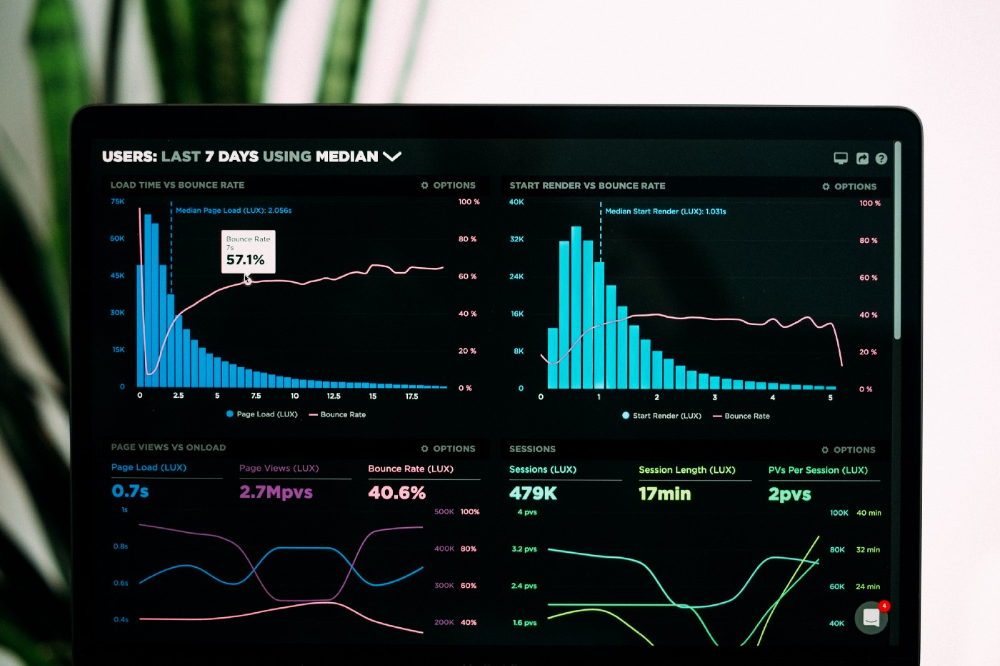 I analyze the top 200 DeFi crypto projects in this article.
This isn't a study. The findings benefit crypto investors.
Let's go!
A set of data
I analyzed data from defillama.com. In my analysis, I used the top 200 DeFis by TVL in October 2022.
Total Locked Value
The chart below shows platform-specific locked value.
14 platforms had $1B+ TVL. 65 platforms have $100M-$1B TVL. The remaining 121 platforms had TVLs below $100 million, with the lowest being $23 million.
TVLs are distributed Pareto. Top 40% of DeFis account for 80% of TVLs.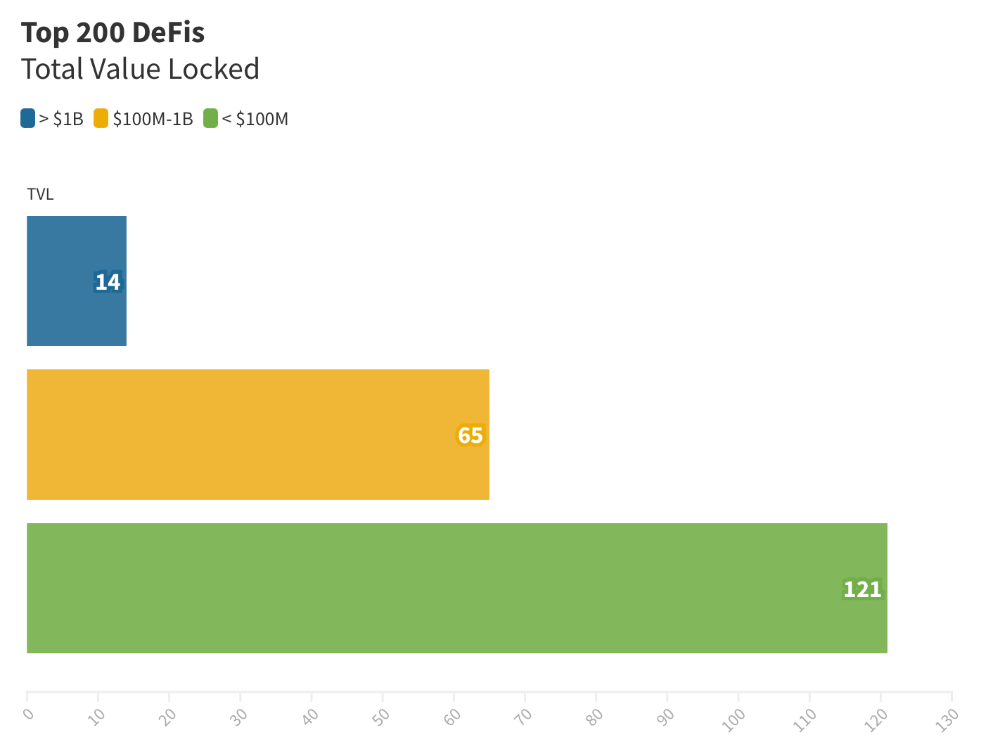 Compliant Blockchains
Ethereum's blockchain leads DeFi. 96 of the examined projects offer services on Ethereum. Behind BSC, Polygon, and Avalanche.
Five platforms used 10+ blockchains. 36 between 2-10 159 used 1 blockchain.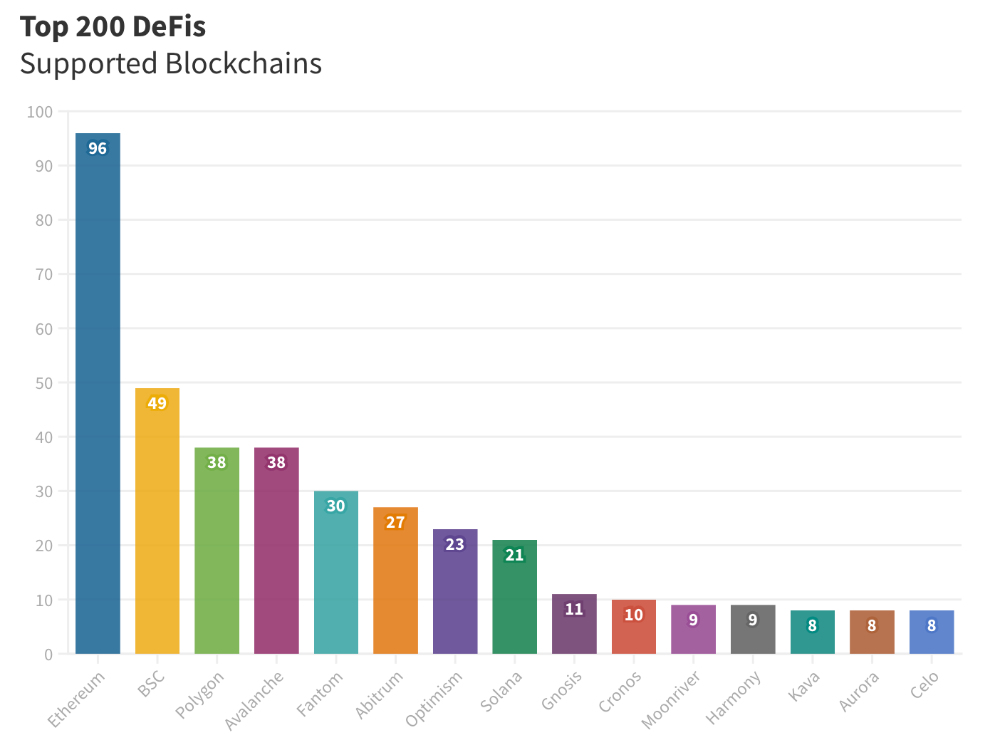 Use Cases for DeFi
The chart below shows platform use cases. Each platform has decentralized exchanges, liquid staking, yield farming, and lending.
These use cases are DefiLlama's main platform features.
Which use case costs the most? Chart explains. Collateralized debt, liquid staking, dexes, and lending have high TVLs.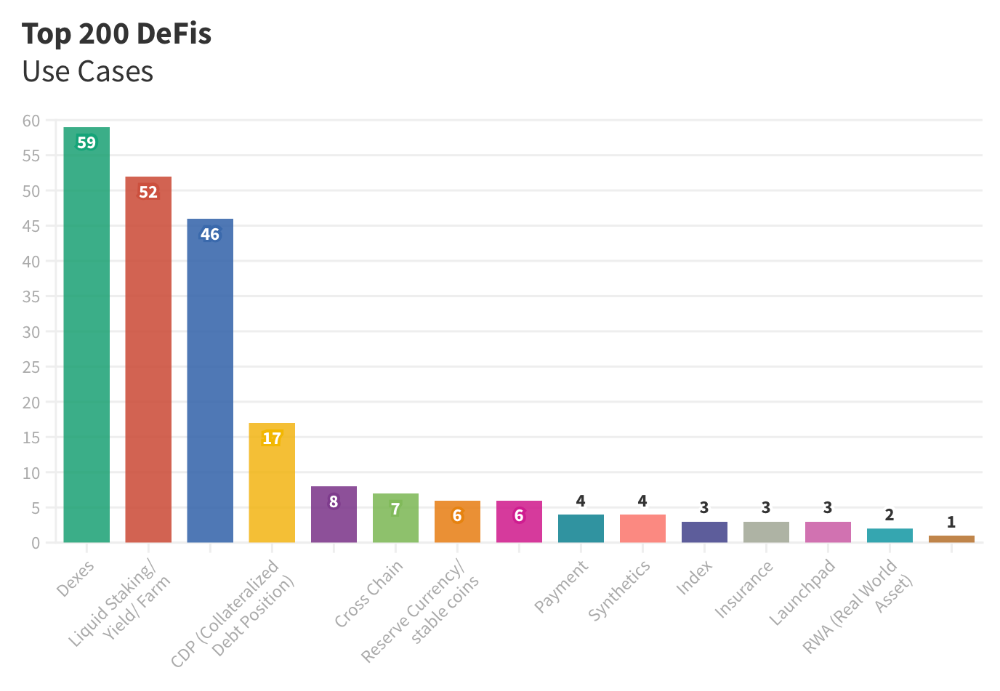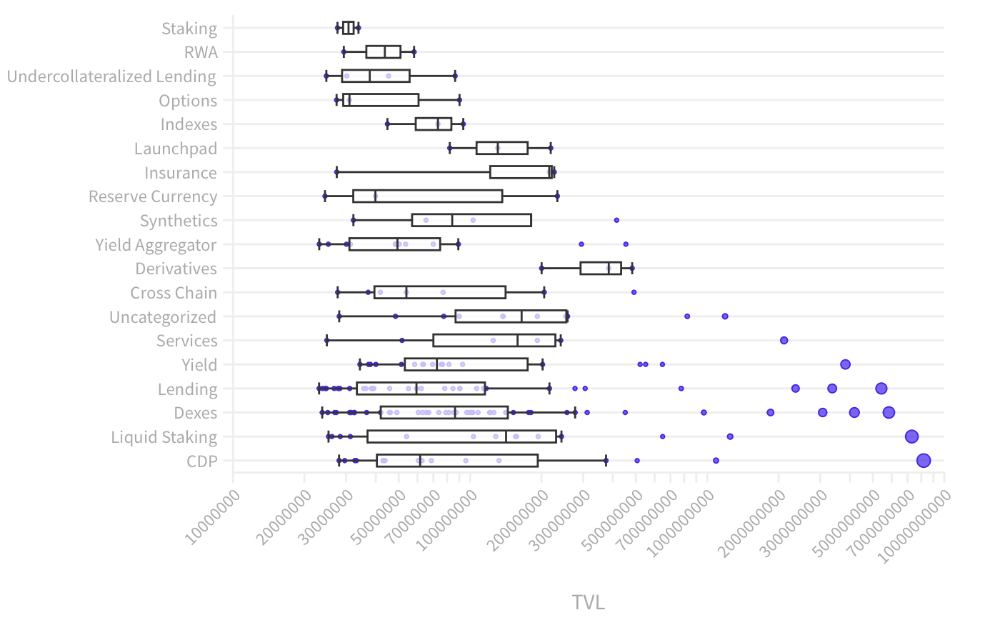 The DeFi Industry
I compared three high-TVL platforms (Maker DAO, Balancer, AAVE). The columns show monthly TVL and token price changes. The graph shows monthly Bitcoin price changes.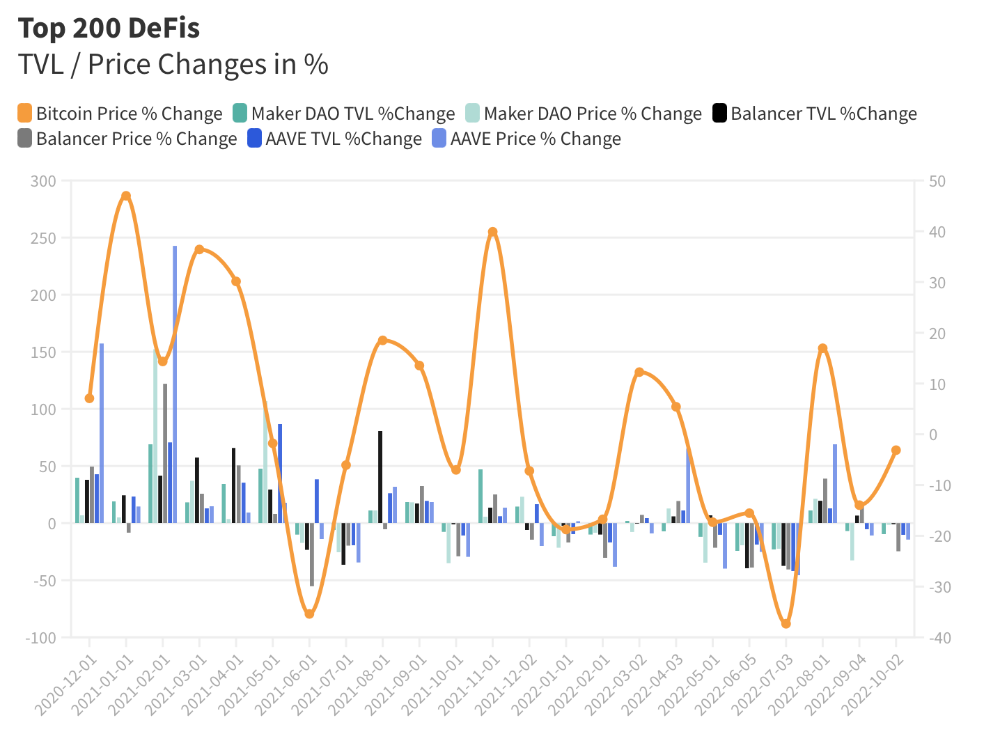 Each platform's market moves similarly.
Probably because most DeFi deposits are cryptocurrencies. Since individual currencies are highly correlated with Bitcoin, it's not surprising that they move in unison.
Takeaways
This analysis shows that the most common DeFi services (decentralized exchanges, liquid staking, yield farming, and lending) also have the highest average locked value.
Some projects run on one or two blockchains, while others use 15 or 20. Our analysis shows that a project's blockchain count has no correlation with its success.
It's hard to tell if certain use cases are rising. Bitcoin's price heavily affects the entire DeFi market.
TVL seems to be a good indicator of a DeFi platform's success and quality. Higher TVL platforms are cheaper. They're a better long-term investment because they gain or lose less value than DeFis with lower TVLs.
Activating Your Vagus Nerve
11 science-backed ways to improve health, happiness, healing, relaxation, and mental clarity.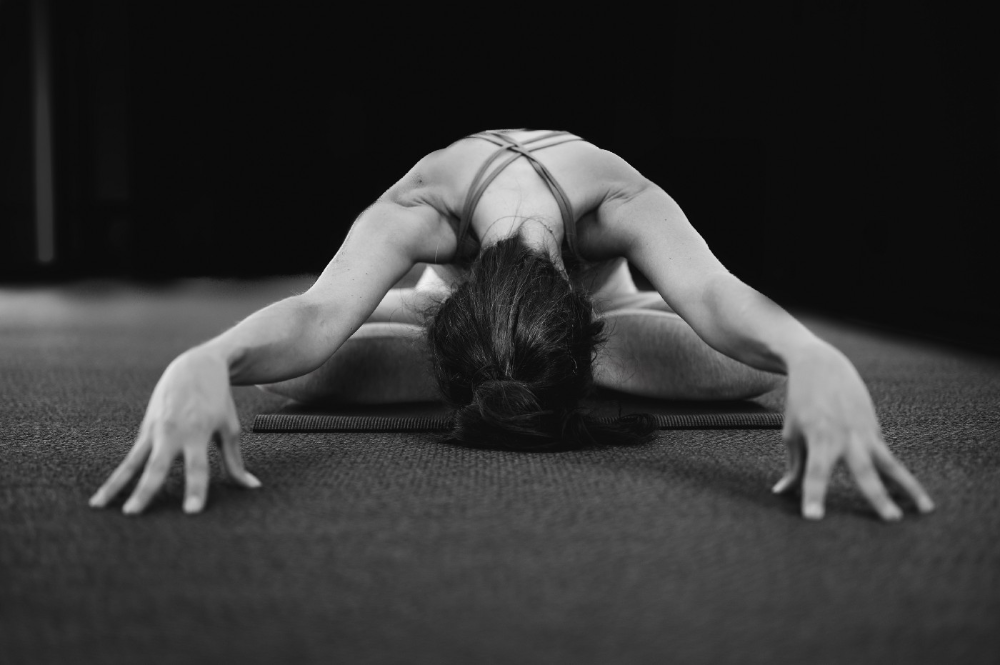 Vagus nerve is the main parasympathetic nervous system component.
It helps us rest and digest by slowing and stabilizing a resting heart rate, slowing and stabilizing the breath, promoting digestion, improving recovery and healing times, producing saliva, releasing endorphins and hormones like dopamine, oxytocin, and serotonin, and boosting the immune, digestive, and cardiovascular systems.
The vagus nerve sends anti-inflammatory signals to other parts of the body and is located behind the tongue, in the throat, neck, heart, lungs, abdomen, and brainstem.
Vagus means wandering in Latin. So, it's bold.
Here are 11 proven ways to boost health, happiness, and the vagus nerve.
1. Extend
"Yoga stimulates different nerves in your body, especially the vagus nerve that carries information from the brain to most of the body's major organs, slows everything down and allows self-regulation. It's the nerve that is associated with the parasympathetic system and emotions like love, joy, and compassion." — Deepak Chopra
Stretching doesn't require a yoga background.
Listen to your body and ease into simple poses. This connects the mind and body.
If you're new to yoga or don't have access to an in-person class, try Yoga with Adrienne. Over 600 YouTube videos give her plenty of material.
2. Inhale
Because inhaling and exhaling activate the autonomic nervous system, we can breathe to relax.
Exhaling activates the parasympathetic nervous system (rest and digest). One inhales stress, the other exhales it.
So, faster or more intense breathing increases stress. Slower breathing relaxes us.
Breathe slowly, smoothly, and less.
Rhythmic breathing helps me relax.
What to do is as follows:
1. Take 4 smooth, forceless nose breaths.
2. Exhale smoothly and forcefully for 4 seconds
3. Don't pause at the inhale or exhale.
4. Continue for 5 minutes/40 breaths
5. Hold your breath as long as comfortable.
6. Breathe normally.
If four seconds is too long, try breathing in and out for two seconds, or in and out for three seconds, until your breath naturally relaxes. Once calmer, extend your breath.
Any consistent rhythm without force is good. Your heart will follow your lead and become coherent.
3. Chant/Hum
Singing, chanting, or humming activate the vagus nerve through the back of the throat.
Humming emits nitric oxide.
Nitric oxide improves blood circulation, blood flow, heart health, and blood pressure.
Antiviral, antibacterial, anti-inflammatory, antioxidant, and antimicrobial properties kill viruses and bacteria in the nose and throat.
Gargling water stimulates the vagus nerve.
Simple ways to heal, boost energy, and boost mood are often the healthiest. They're free and can be done anywhere.
4. Have more fun
Laughing stimulates the throat muscles, activating the vagus nerve. What's not to like? It releases dopamine.
Take time to enjoy life. Maybe it's a book, podcast, movie, socializing with friends, or laughing yoga.
Follow your bliss, as Joseph Campbell says.
Laugh at yourself
Actually. Really.
Gagging activates vagus nerve-connected muscles. Some doctors use the gag reflex to test the vagus nerve.
Grossness isn't required. While brushing, gag quickly. My girlfriend's brother always does it.
I'm done brushing when I gag, he says.
6. Take in the outdoors
Nature relaxes body and mind. Better if you can walk barefoot.
Earthing is associated with hippies dancing in daisies.
Science now supports hippies.
7. Enter some chilly water.
The diving reflex activates the vagus nerve when exposed to cold water.
The diving reflex involves holding your breath in cold water. Cold showers work best.
Within minutes of being in cold water, parasympathetic nervous system activity, which calms the body, increases.
8. Workout
Exercise increases dopamine, blood circulation, and breathing. So we feel energized, calm, and well-rested.
After resting, the parasympathetic nervous system engages.
It's worth waiting for, though.
9. Play music with brainwaves
Brainwave music harmonizes brainwave activity, boosts productivity and mental clarity, and promotes peace and relaxation by stimulating the vagus nerve.
Simply play a song.
My favorite.
10. Make gentle eyes
Eyes, like breath, often reflect inner state. Sharp, dilated, focused eyes indicate alertness.
Soft, open eyes reflect relaxation and ease. Soft eyes relax the nervous system.
This practice reduces stress, anxiety, and body tension. It's a quick and effective way to enter a calm, peaceful state.
Wild animals can be hunted one minute and graze the next.
Put it into action:
Relax while seated.
Gaze at a distant object
Use peripheral vision while looking straight ahead
Without moving your eyes, look up and down. Connect side spaces to your vision.
Focus on everything as your eyes soften.
Keep breathing
Stay as long as you like
11. Be intimate
We kiss, moan, and breathe deeper during love. We get dopamine, oxytocin, serotonin, and vagus nerve stimulation.
Why not?
To sum up
Here are 11 vagus nerve resets:
Stretch

Breathe

Hum/Chant

More humor

Amuse yourself

Spend time outdoors

Leap into chilly water

Exercise

Play music with brainwaves.

Make gentle eyes.

Be intimate
If these words have inspired you, try my favorite breathwork technique. Combining breathing, chanting, and brainwave music. Win-win-win :)
BM
Blake Montgomery
2 days ago
Explaining Twitter Files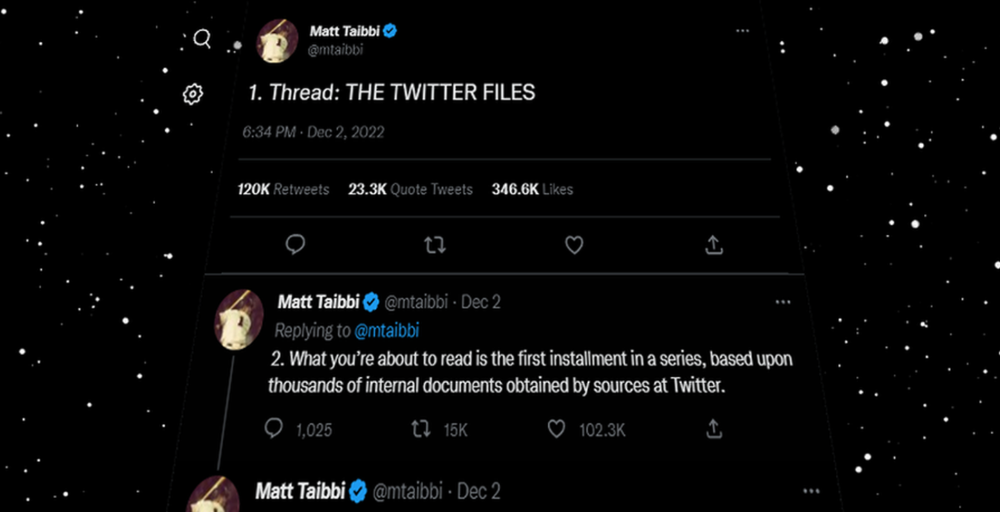 Elon Musk, Matt Taibbi, the 'Twitter Files,' and Hunter Biden's laptop: what gives?
Explaining Twitter Files
Matt Taibbi released "The Twitter Files," a batch of emails sent by Twitter executives discussing the company's decision to stop an October 2020 New York Post story online.
What's on Twitter? New York Post and Fox News call them "bombshell" documents. Or, as a Post columnist admitted, are they "not the smoking gun"? Onward!
What started this?
The New York Post published an exclusive, potentially explosive story in October 2020: Biden's Secret Emails: Ukrainian executive thanks Hunter Biden for'meeting' veep dad. The story purported to report the contents of a laptop brought to the tabloid by a Delaware computer repair shop owner who said it belonged to President Biden's second son, Hunter Biden. Emails and files on the laptop allegedly showed how Hunter peddled influence with Ukranian businessmen and included a "raunchy 12-minute video" of Hunter smoking crack and having sex.
Twitter banned links to the Post story after it was published, calling it "hacked material." The Post's Twitter account was suspended for multiple days.
Why? Yoel Roth, Twitter's former head of trust and safety, said the company couldn't verify the story, implying they didn't trust the Post.
Twitter's stated purpose rarely includes verifying news stories. This seemed like intentional political interference. This story was hard to verify because the people who claimed to have found the laptop wouldn't give it to other newspapers. (Much of the story, including Hunter's business dealings in Ukraine and China, was later confirmed.)
Roth: "It looked like a hack and leak."
So what are the "Twitter Files?"
Twitter's decision to bury the story became a political scandal, and new CEO Elon Musk promised an explanation. The Twitter Files, named after Facebook leaks.
Musk promised exclusive details of "what really happened" with Hunter Biden late Friday afternoon. The tweet was punctuated with a popcorn emoji.
Explaining Twitter Files
Three hours later, journalist Matt Taibbi tweeted more than three dozen tweets based on internal Twitter documents that revealed "a Frankensteinian tale of a human-built mechanism grown out of its designer's control."
Musk sees this release as a way to shape Twitter's public perception and internal culture in his image. We don't know if the CEO gave Taibbi the documents. Musk hyped the document dump before and during publication, but Taibbi cited "internal sources."
Taibbi shares email screenshots showing Twitter execs discussing the Post story and blocking its distribution. Taibbi says the emails show Twitter's "extraordinary steps" to bury the story.
Twitter communications chief Brandon Borrman has the most damning quote in the Files. Can we say this is policy? The story seemed unbelievable. It seemed like a hack... or not? Could Twitter, which ex-CEO Dick Costolo called "the free speech wing of the free speech party," censor a news story?
Many on the right say the Twitter Files prove the company acted at the behest of Democrats. Both parties had these tools, writes Taibbi. In 2020, both the Trump White House and Biden campaign made requests. He says the system for reporting tweets for deletion is unbalanced because Twitter employees' political donations favor Democrats. Perhaps. These donations may have helped Democrats connect with Twitter staff, but it's also possible they didn't. No emails in Taibbi's cache show these alleged illicit relations or any actions Twitter employees took as a result.
Even Musk's supporters were surprised by the drop. Miranda Devine of the New York Post told Tucker Carlson the documents weren't "the smoking gun we'd hoped for." Sebastian Gorka said on Truth Social, "So far, I'm deeply underwhelmed." DC Democrats collude with Palo Alto Democrats. Whoop!" The Washington Free Beacon's Joe Simonson said the Twitter files are "underwhelming." Twitter was staffed by Democrats who did their bidding. (Why?)
If "The Twitter Files" matter, why?
These emails led Twitter to suppress the Hunter Biden laptop story has real news value. It's rare for a large and valuable company like Twitter to address wrongdoing so thoroughly. Emails resemble FOIA documents. They describe internal drama at a company with government-level power. Katie Notopoulos tweeted, "Any news outlet would've loved this scoop!" It's not a'scandal' as teased."
Twitter's new owner calls it "the de facto public town square," implying public accountability. Like a government agency. Though it's exciting to receive once-hidden documents in response to a FOIA, they may be boring and tell you nothing new. Like Twitter files. We learned how Twitter blocked the Post's story, but not why. Before these documents were released, we knew Twitter had suppressed the story and who was involved.
These people were disciplined and left Twitter. Musk fired Vijaya Gadde, the former CLO who reportedly played a "key role" in the decision. Roth quit over Musk's "dictatorship." Musk arrived after Borrman left. Jack Dorsey, then-CEO, has left. Did those who digitally quarantined the Post's story favor Joe Biden and the Democrats? Republican Party opposition and Trump hatred? New York Post distaste? According to our documents, no. Was there political and press interference? True. We knew.
Taibbi interviewed anonymous ex-Twitter employees about the decision; all expressed shock and outrage. One source said, "Everyone knew this was fucked." Since Taibbi doesn't quote that expletive, we can assume the leaked emails contained few or no sensational quotes. These executives said little to support nefarious claims.
Outlets more invested in the Hunter Biden story than Gizmodo seem vexed by the release and muted headlines. The New York Post, which has never shied away from a blaring headline in its 221-year history, owns the story of Hunter Biden's laptop. Two Friday-night Post alerts about Musk's actions were restrained. Elon Musk will drop Twitter files on NY Post-Hunter Biden laptop censorship today. Elon Musk's Twitter dropped Post censorship details from Biden's laptop. Fox News' Apple News push alert read, "Elon Musk drops Twitter censorship documents."
Bombshell, bombshell, bombshell… what, exactly, is the bombshell? Maybe we've heard this story too much and are missing the big picture. Maybe these documents detail a well-documented decision.
The Post explains why on its website. "Hunter Biden laptop bombshell: Twitter invented reason to censor Post's reporting," its headline says.
Twitter's ad hoc decision to moderate a tabloid's content is not surprising. The social network had done this for years as it battled toxic users—violent white nationalists, virulent transphobes, harassers and bullies of all political stripes, etc. No matter how much Musk crows, the company never had content moderation under control. Buzzfeed's 2016 investigation showed how Twitter has struggled with abusive posters since 2006. Jack Dorsey and his executives improvised, like Musk.
Did the US government interfere with the ex-social VP's media company? That's shocking, a bombshell. Musk said Friday, "Twitter suppressing free speech by itself is not a 1st amendment violation, but acting under government orders with no judicial review is." Indeed! Taibbi believed this. August 2022: "The laptop is secondary." Zeynep Tufecki, a Columbia professor and New York Times columnist, says the FBI is cutting true story distribution. Taibbi retracted the claim Friday night: "I've seen no evidence of government involvement in the laptop story."
What's the bottom line?
I'm still not sure what's at stake in the Hunter Biden scandal after dozens of New York Post articles, hundreds of hours of Fox News airtime, and thousands of tweets. Briefly: Joe Biden's son left his laptop with a questionable repairman. FBI confiscated it? The repairman made a copy and gave it to Rudy Giuliani's lawyer. The Post got it from Steve Bannon. On that laptop were videos of Hunter Biden smoking crack, cavorting with prostitutes, and emails about introducing his father to a Ukrainian businessman for $50,000 a month. Joe Biden urged Ukraine to fire a prosecutor investigating the company. What? The story seems to be about Biden family business dealings, right?
The discussion has moved past that point anyway. Now, the story is the censorship of it. Adrienne Rich wrote in "Diving Into the Wreck" that she came for "the wreck and not the story of the wreck" No matter how far we go, Hunter Biden's laptop is done. Now, the crash's story matters.
I'm dizzy. Katherine Miller of BuzzFeed wrote, "I know who I believe, and you probably do, too. To believe one is to disbelieve the other, which implicates us in the decision; we're stuck." I'm stuck. Hunter Biden's laptop is a political fabrication. You choose. I've decided.
This could change. Twitter Files drama continues. Taibbi said, "Much more to come." I'm dizzy.