Home
Dr. Linda Dahl
17 hours ago
We eat corn in almost everything. Is It Important?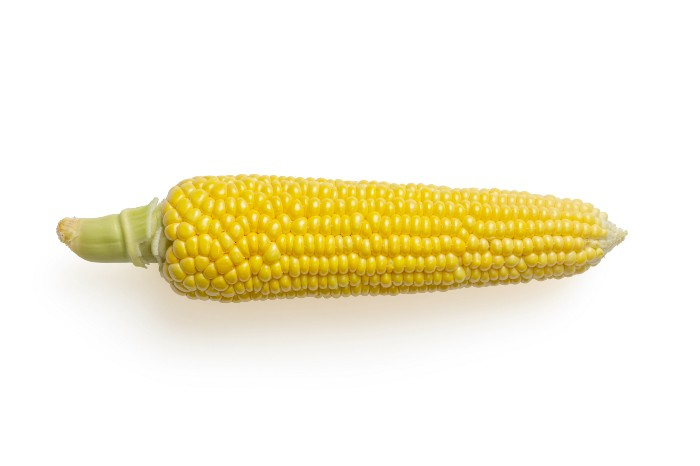 Corn Kid got viral on TikTok after being interviewed by Recess Therapy. Tariq, called the Corn Kid, ate a buttery ear of corn in the video. He's corn crazy. He thinks everyone just has to try it. It turns out, whether we know it or not, we already have.
Corn is a fruit, veggie, and grain. It's the second-most-grown crop. Corn makes up 36% of U.S. exports. In the U.S., it's easy to grow and provides high yields, as proven by the vast corn belt spanning the Midwest, Great Plains, and Texas panhandle. Since 1950, the corn crop has doubled to 10 billion bushels.
You say, "Fine." We shouldn't just grow because we can. Why so much corn? What's this corn for?
Why is practical and political. Michael Pollan's The Omnivore's Dilemma has the full narrative. Early 1970s food costs increased. Nixon subsidized maize to feed the public. Monsanto genetically engineered corn seeds to make them hardier, and soon there was plenty of corn. Everyone ate. Woot! Too much corn followed. The powers-that-be had to decide what to do with leftover corn-on-the-cob.
They are fortunate that corn has a wide range of uses.
First, the edible variants. I divide corn into obvious and stealth.
Obvious corn includes popcorn, canned corn, and corn on the cob. This form isn't always digested and often comes out as entire, polka-dotting poop. Cornmeal can be ground to make cornbread, polenta, and corn tortillas. Corn provides antioxidants, minerals, and vitamins in moderation. Most synthetic Vitamin C comes from GMO maize.
Corn oil, corn starch, dextrose (a sugar), and high-fructose corn syrup are often overlooked. They're stealth corn because they sneak into practically everything. Corn oil is used for frying, baking, and in potato chips, mayonnaise, margarine, and salad dressing. Baby food, bread, cakes, antibiotics, canned vegetables, beverages, and even dairy and animal products include corn starch. Dextrose appears in almost all prepared foods, excluding those with high-fructose corn syrup. HFCS isn't as easily digested as sucrose (from cane sugar). It can also cause other ailments, which we'll discuss later.
Most foods contain corn. It's fed to almost all food animals. 96% of U.S. animal feed is corn. 39% of U.S. corn is fed to livestock. But animals prefer other foods. Omnivore chickens prefer insects, worms, grains, and grasses. Captive cows are fed a total mixed ration, which contains corn. These animals' products, like eggs and milk, are also corn-fed.
There are numerous non-edible by-products of corn that are employed in the production of items like:
fuel-grade ethanol

plastics

batteries

cosmetics

meds/vitamins binder

carpets, fabrics

glutathione

crayons

Paint/glue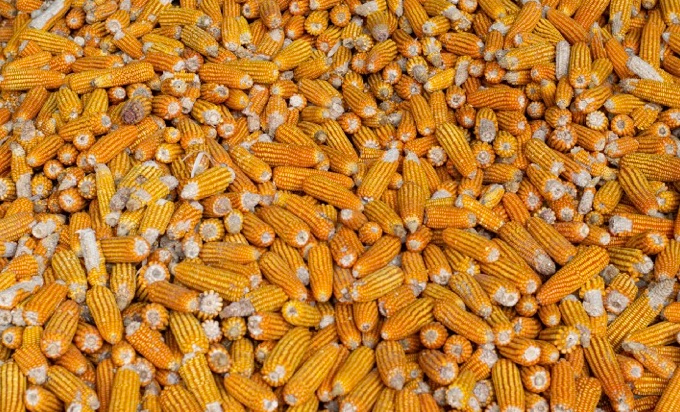 How does corn influence you? Consider quick food for dinner. You order a cheeseburger, fries, and big Coke at the counter (or drive-through in the suburbs). You tell yourself, "No corn." All that contains corn. Deconstruct:
Cows fed corn produce meat and cheese. Meat and cheese were bonded with corn syrup and starch (same). The bun (corn flour and dextrose) and fries were fried in maize oil. High fructose corn syrup sweetens the drink and helps make the cup and straw.
Just about everything contains corn. Then what? A cornspiracy, perhaps? Is eating too much maize an issue, or should we strive to stay away from it whenever possible?
As I've said, eating some maize can be healthy. 92% of U.S. corn is genetically modified, according to the Center for Food Safety. The adjustments are expected to boost corn yields. Some sweet corn is genetically modified to produce its own insecticide, a protein deadly to insects made by Bacillus thuringiensis. It's safe to eat in sweet corn. Concerns exist about feeding agricultural animals so much maize, modified or not.
High fructose corn syrup should be consumed in moderation. Fructose, a sugar, isn't easily metabolized. Fructose causes diabetes, fatty liver, obesity, and heart disease. It causes inflammation, which might aggravate gout. Candy, packaged sweets, soda, fast food, juice drinks, ice cream, ice cream topping syrups, sauces & condiments, jams, bread, crackers, and pancake syrup contain the most high fructose corn syrup. Everyday foods with little nutrients. Check labels and choose cane sugar or sucrose-sweetened goods. Or, eat corn like the Corn Kid.
300 Signups, 1 Landing Page, 0 Products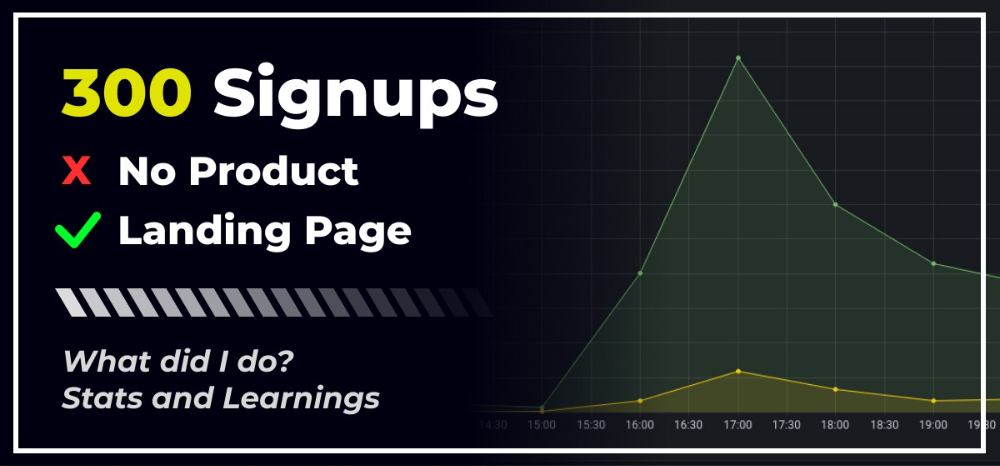 I placed a link on HackerNews and got 300 signups in a week. This post explains what happened.
Product Concept
The product is DbSchemaLibrary. A library of Database Schema.
I'm not sure where this idea originated from. Very fast. Build fast, fail fast, test many ideas, and one will be a hit. I tried it. Let's try it anyway, even though it'll probably fail. I finished The Lean Startup book and wanted to use it.
Database job bores me. Important! I get drowsy working on it. Someone must do it. I remember this happening once. I needed examples at the time. Something similar to Recall (my other project) that I can copy — or at least use as a reference.
Frequently googled. Many tabs open. The results were useless. I raised my hand and agreed to construct the database myself.
It resurfaced. I decided to do something.
Due Diligence
Lean Startup emphasizes validated learning. Everything the startup does should result in learning. I may build something nobody wants otherwise. That's what happened to Recall.
So, I wrote a business plan document. This happens before I code. What am I solving? What is my proposed solution? What is the leap of faith between the problem and solution? Who would be my target audience?
My note: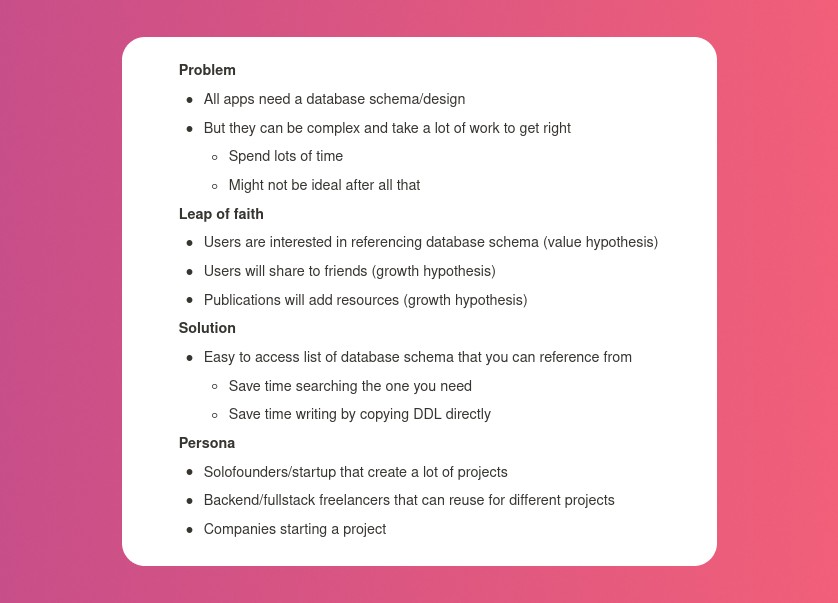 In my previous project, I did the opposite!
I wrote my expectations after reading the book's advice.
"Failure is a prerequisite to learning. The problem with the notion of shipping a product and then seeing what happens is that you are guaranteed to succeed — at seeing what happens." — The Lean Startup book
These are successful metrics. If I don't reach them, I'll drop the idea and try another. I didn't understand numbers then. Below are guesses. But it's a start!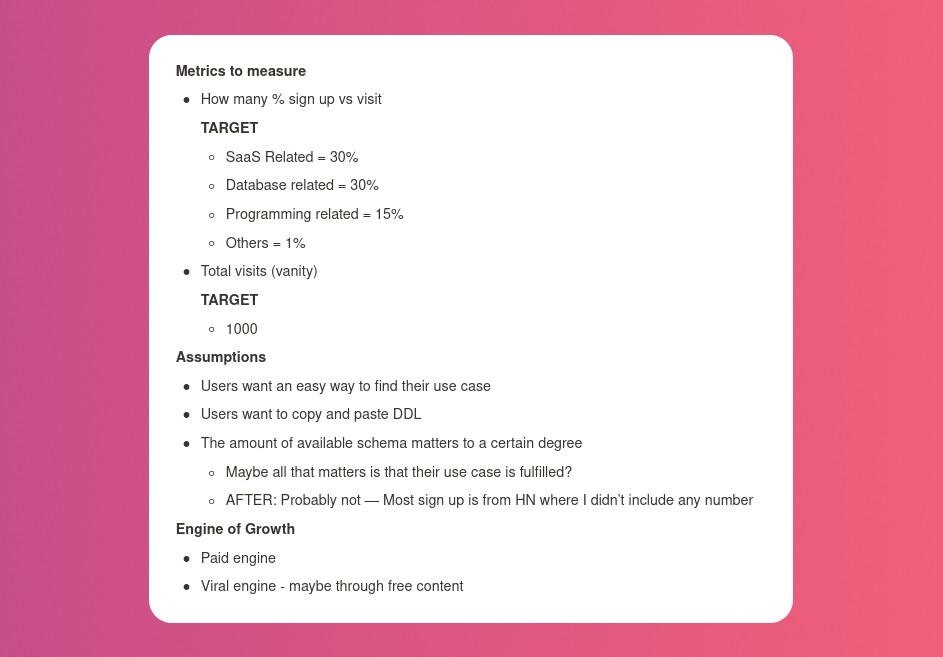 I then wrote the project's What and Why. I'll use this everywhere. Before, I wrote a different pitch each time. I thought certain words would be better. I felt the audience might want something unusual.
Occasionally, this works. I'm unsure if it's a good idea. No stats, just my writing-time opinion. Writing every time is time-consuming and sometimes hazardous. Having a copy saved me duplication.
I can measure and learn from performance.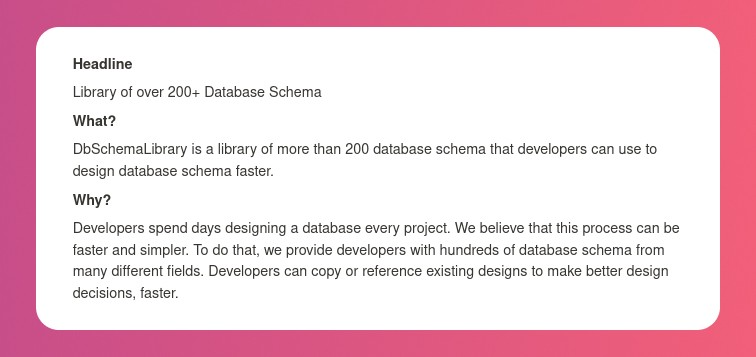 Last, I identified communities that might demand the product. This became an exercise in creativity.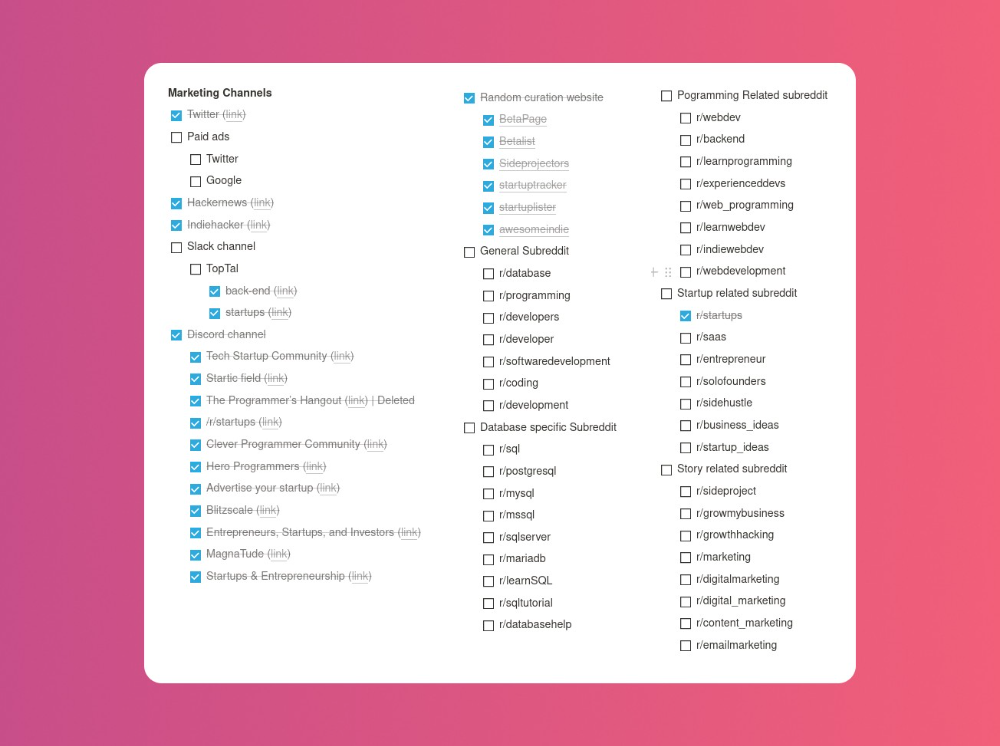 The MVP
So now it's time to build.
A MVP can test my assumptions. Business may learn from it. Not low-quality. We should learn from the tiniest thing.
I like the example of how Dropbox did theirs. They assumed that if the product works, people will utilize it. How can this be tested without a quality product? They made a movie demonstrating the software's functionality. Who knows how much functionality existed?
So I tested my biggest assumption. Users want schema references. How can I test if users want to reference another schema? I'd love this. Recall taught me that wanting something doesn't mean others do.
I made an email-collection landing page. Describe it briefly. Reference library. Each email sender wants a reference. They're interested in the product. Few other reasons exist.
Header and footer were skipped. No name or logo. DbSchemaLibrary is a name I thought of after the fact. 5-minute logo. I expected a flop. Recall has no users after months of labor. What could happen to a 2-day project?
I didn't compromise learning validation. How many visitors sign up? To draw a conclusion, I must track these results.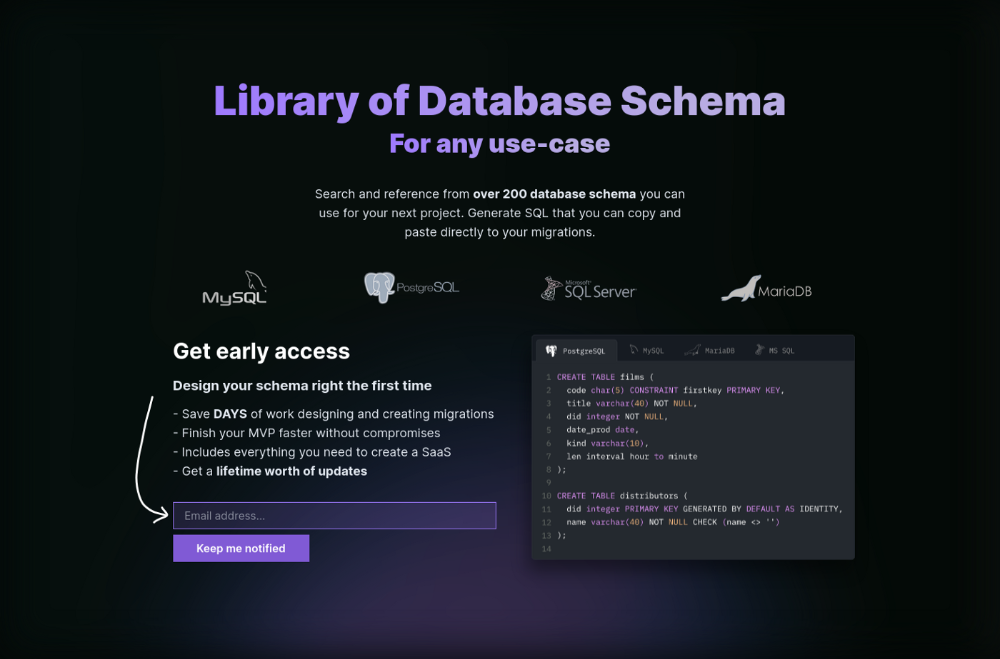 Posting Time
Now that the job is done, gauge interest. The next morning, I posted on all my channels. I didn't want to be spammy, therefore it required more time.
I made sure each channel had at least one fan of this product. I also answer people's inquiries in the channel.
My list stinks. Several channels wouldn't work. The product's target market isn't there. Posting there would waste our time. This taught me to create marketing channels depending on my persona.
Statistics! What actually happened
My favorite part! 23 channels received the link.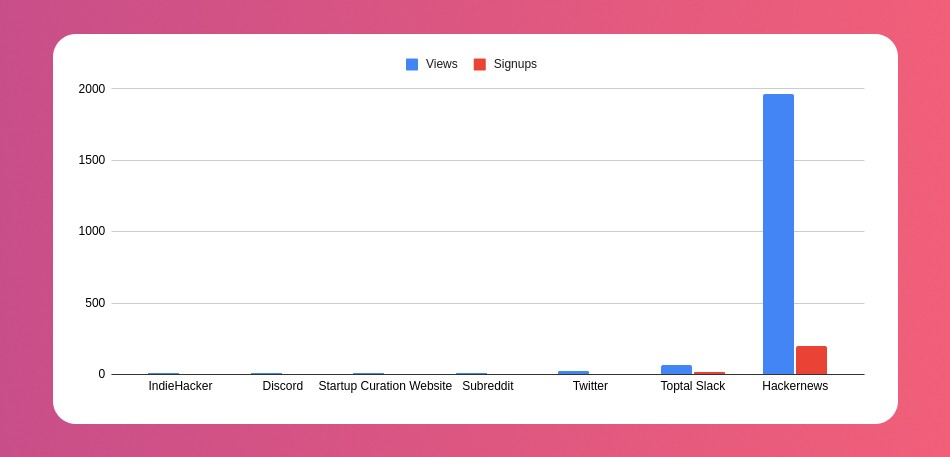 I stopped posting to Discord despite its high conversion rate. I eliminated some channels because they didn't fit. According to the numbers, some users like it. Most users think it's spam.
I was skeptical. And 12 people viewed it.
I didn't expect much attention on a startup subreddit. I'll likely examine Reddit further in the future. As I have enough info, I didn't post much. Time for the next validated learning
No comment. The post had few views, therefore the numbers are low.
The targeted people come next.
I'm a Toptal freelancer. There's a member-only Slack channel. Most people can't use this marketing channel, but you should! It's not as spectacular as discord's 27% conversion rate. But I think the users here are better.
I don't really have a following anywhere so this isn't something I can leverage.
The best yet. 10% is converted. With more data, I expect to attain a 10% conversion rate from other channels. Stable number.
This number required some work. Did you know that people use many different clients to read HN?
Unknowns
Untrackable views and signups abound. 1136 views and 135 signups are untraceable. It's 11%. I bet much of that came from Hackernews.
Overall Statistics
The 7-day signup-to-visit ratio was 17%. (Hourly data points)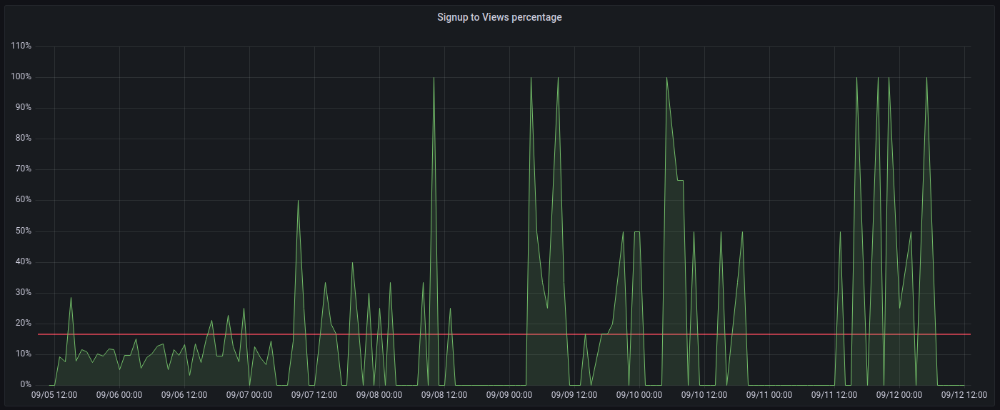 First-day percentages were lower, which is noteworthy. Initially, it was little above 10%. The HN post started getting views then.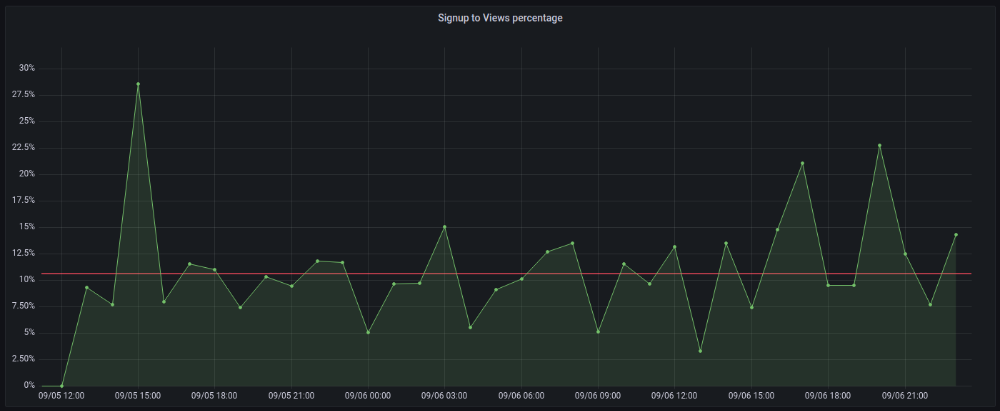 When traffic drops, the number reaches just around 20%. More individuals are interested in the connection. hn.algolia.com sent 2 visitors. This means people are searching and finding my post.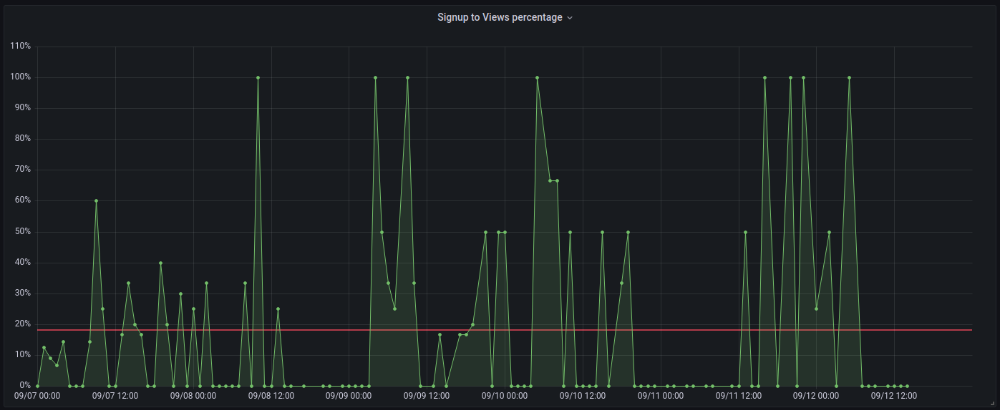 Interesting discoveries
1. HN post struggled till the US woke up.
11am UTC. After an hour, it lost popularity. It seemed over. 7 signups converted 13%. Not amazing, but I would've thought ahead.
After 4pm UTC, traffic grew again. 4pm UTC is 9am PDT. US awakened. 10am PDT saw 512 views.

2. The product was highlighted in a newsletter.
I found Revue references when gathering data. Newsletter platform. Someone posted the newsletter link. 37 views and 3 registrations.
3. HN numbers are extremely reliable
I don't have a time-lapse graph (yet). The statistics were constant all day.
2717 views later 272 new users, or 10.1%

With 293 signups at 2856 views, 10.25%

At 306 signups at 2965 views, 10.32%
Learnings
1. My initial estimations were wildly inaccurate
I wrote 30% conversion. Reading some articles, looks like 10% is a good number to aim for.
2. Paying attention to what matters rather than vain metrics
The Lean Startup discourages vanity metrics. Feel-good metrics that don't measure growth or traction. Considering the proportion instead of the total visitors made me realize there was something here.
What's next?
There are lots of work to do. Data aggregation, display, website development, marketing, legal issues. Fun! It's satisfying to solve an issue rather than investigate its cause.
In the meantime, I've already written the first project update in another post. Continue reading it if you'd like to know more about the project itself! Shifting from Quantity to Quality — DbSchemaLibrary
A Meta-Reversal: Zuckerberg's $71 Billion Loss 
The company's epidemic gains are gone.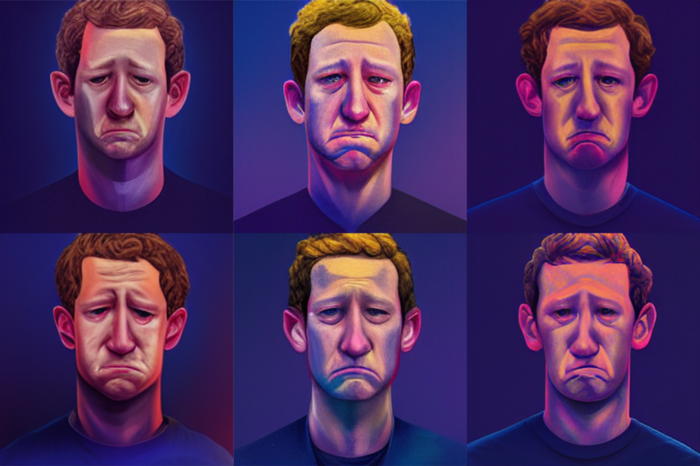 Mark Zuckerberg was in line behind Jeff Bezos and Bill Gates less than two years ago. His wealth soared to $142 billion. Facebook's shares reached $382 in September 2021.
What comes next is either the start of something truly innovative or the beginning of an epic rise and fall story.
In order to start over (and avoid Facebook's PR issues), he renamed the firm Meta. Along with the new logo, he announced a turn into unexplored territory, the Metaverse, as the next chapter for the internet after mobile. Or, Zuckerberg believed Facebook's death was near, so he decided to build a bigger, better, cooler ship. Then we saw his vision (read: dystopian nightmare) in a polished demo that showed Zuckerberg in a luxury home and on a spaceship with aliens. Initially, it looked entertaining. A problem was obvious, though. He might claim this was the future and show us using the Metaverse for business, play, and more, but when I took off my headset, I'd realize none of it was genuine.
The stock price is almost as low as January 2019, when Facebook was dealing with the aftermath of the Cambridge Analytica crisis.
Irony surrounded the technology's aim. Zuckerberg says the Metaverse connects people. Despite some potential uses, this is another step away from physical touch with people. Metaverse worlds can cause melancholy, addiction, and mental illness. But forget all the cool stuff you can't afford. (It may be too expensive online, too.)
Metaverse activity slowed for a while. In early February 2022, we got an earnings call update. Not good. Reality Labs lost $10 billion on Oculus and Zuckerberg's Metaverse. Zuckerberg expects losses to rise. Meta's value dropped 20% in 11 minutes after markets closed.
It was a sign of things to come.
The corporation has failed to create interest in Metaverse, and there is evidence the public has lost interest. Meta still relies on Facebook's ad revenue machine, which is also struggling. In July, the company announced a decrease in revenue and missed practically all its forecasts, ending a decade of exceptional growth and relentless revenue. They blamed a dismal advertising demand climate, and Apple's monitoring changes smashed Meta's ad model. Throw in whistleblowers, leaked data revealing the firm knows Instagram negatively affects teens' mental health, the current Capital Hill probe, and the fact TikTok is eating its breakfast, lunch, and dinner, and 2022 might be the corporation's worst year ever.
After a rocky start, tech saw unprecedented growth during the pandemic. It was a tech bubble and then some.

The gains reversed after the dust settled and stock markets adjusted. Meta's year-to-date decline is 60%. Apple Inc is down 14%, Amazon is down 26%, and Alphabet Inc is down 29%. At the time of writing, Facebook's stock price is almost as low as January 2019, when the Cambridge Analytica scandal broke. Zuckerberg owns 350 million Meta shares. This drop costs him $71 billion.
The company's problems are growing, and solutions won't be easy.
Facebook's period of unabated expansion and exorbitant ad revenue is ended, and the company's impact is dwindling as it continues to be the program that only your parents use. Because of the decreased ad spending and stagnant user growth, Zuckerberg will have less time to create his vision for the Metaverse because of the declining stock value and decreasing ad spending.

Instagram is progressively dying in its attempt to resemble TikTok, alienating its user base and further driving users away from Meta-products.

And now that the corporation has shifted its focus to the Metaverse, it is clear that, in its eagerness to improve its image, it fired the launch gun too early. You're fighting a lost battle when you announce an idea and then claim it won't happen for 10-15 years. When the idea is still years away from becoming a reality, the public is already starting to lose interest.
So, as I questioned earlier, is it the beginning of a technological revolution that will take this firm to stratospheric growth and success, or are we witnessing the end of Meta and Zuckerberg himself?
CyberPunkMetalHead
3 days ago
195 countries want Terra Luna founder Do Kwon
Interpol has issued a red alert on Terraform Labs' CEO, South Korean prosecutors said.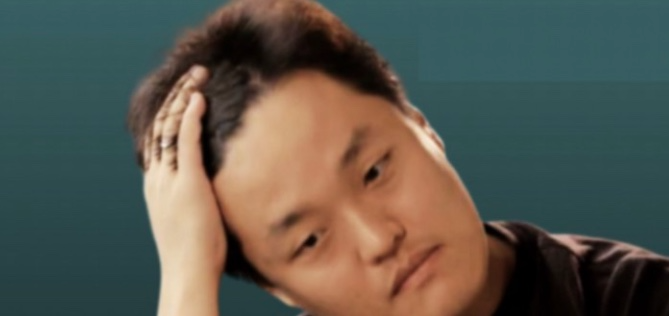 After the May crash of Terra Luna revealed tax evasion issues, South Korean officials filed an arrest warrant for Do Kwon, but he is missing.
Do Kwon is now a fugitive in 195 countries after Seoul prosecutors placed him to Interpol's red list. Do Kwon hasn't commented since then. The red list allows any country's local authorities to apprehend Do Kwon.
Do Dwon and Terraform Labs were believed to have moved to Singapore days before the $40 billion wipeout, but Singapore authorities said he fled the country on September 17. Do Kwon tweeted that he wasn't on the run and cited privacy concerns.
Do Kwon was not on the red list at the time and said he wasn't "running," only to reply to his own tweet saying he hasn't jogged in a while and needed to trim calories.
Whether or not it makes sense to read too much into this, the reality is that Do Kwon is now on Interpol red list, despite the firmly asserts on twitter that he does absolutely nothing to hide.
UPDATE:
South Korean authorities are investigating alleged withdrawals of over $60 million U.S. and seeking to freeze these assets. Korean authorities believe a new wallet exchanged over 3000 BTC through OKX and Kucoin.
Do Kwon and the Luna Foundation Guard (of whom Do Kwon is a key member of) have declined all charges and dubbed this disinformation.
Singapore's Luna Foundation Guard (LFG) manages the Terra Ecosystem.
The Legal Situation
Multiple governments are searching for Do Kwon and five other Terraform Labs employees for financial markets legislation crimes.
South Korean authorities arrested a man suspected of tax fraud and Ponzi scheme.
The U.S. SEC is also examining Terraform Labs on how UST was advertised as a stablecoin. No legal precedent exists, so it's unclear what's illegal.
The future of Terraform Labs, Terra, and Terra 2 is unknown, and despite what Twitter shills say about LUNC, the company remains in limbo awaiting a decision that will determine its fate. This project isn't a wise investment.
The Unlocking Of The Ultimate Clean Energy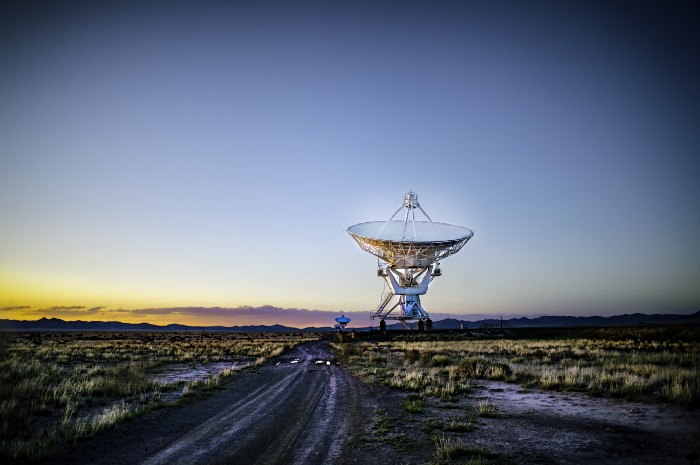 The company seeking 24/7 ultra-powerful solar electricity.
We're rushing to adopt low-carbon energy to prevent a self-made doomsday. We're using solar, wind, and wave energy. These low-carbon sources aren't perfect. They consume large areas of land, causing habitat loss. They don't produce power reliably, necessitating large grid-level batteries, an environmental nightmare. We can and must do better than fossil fuels. Longi, one of the world's top solar panel producers, is creating a low-carbon energy source. Solar-powered spacecraft. But how does it work? Why is it so environmentally harmonious? And how can Longi unlock it?
Space-based solar makes sense. Satellites above Medium Earth Orbit (MEO) enjoy 24/7 daylight. Outer space has no atmosphere or ozone layer to block the Sun's high-energy UV radiation. Solar panels can create more energy in space than on Earth due to these two factors. Solar panels in orbit can create 40 times more power than those on Earth, according to estimates.
How can we utilize this immense power? Launch a geostationary satellite with solar panels, then beam power to Earth. Such a technology could be our most eco-friendly energy source. (Better than fusion power!) How?
Solar panels create more energy in space, as I've said. Solar panel manufacture and grid batteries emit the most carbon. This indicates that a space-solar farm's carbon footprint (which doesn't need a battery because it's a constant power source) might be over 40 times smaller than a terrestrial one. Combine that with carbon-neutral launch vehicles like Starship, and you have a low-carbon power source. Solar power has one of the lowest emissions per kWh at 6g/kWh, so space-based solar could approach net-zero emissions.
Space solar is versatile because it doesn't require enormous infrastructure. A space-solar farm could power New York and Dallas with the same efficiency, without cables. The satellite will transmit power to a nearby terminal. This allows an energy system to evolve and adapt as the society it powers changes. Building and maintaining infrastructure can be carbon-intensive, thus less infrastructure means less emissions.
Space-based solar doesn't destroy habitats, either. Solar and wind power can be engineered to reduce habitat loss, but they still harm ecosystems, which must be restored. Space solar requires almost no land, therefore it's easier on Mother Nature.
Space solar power could be the ultimate energy source. So why haven't we done it yet?
Well, for two reasons: the cost of launch and the efficiency of wireless energy transmission.
Advances in rocket construction and reusable rocket technology have lowered orbital launch costs. In the early 2000s, the Space Shuttle cost $60,000 per kg launched into LEO, but a SpaceX Falcon 9 costs only $3,205. 95% drop! Even at these low prices, launching a space-based solar farm is commercially questionable.
Energy transmission efficiency is half of its commercial viability. Space-based solar farms must be in geostationary orbit to get 24/7 daylight, 22,300 miles above Earth's surface. It's a long way to wirelessly transmit energy. Most laser and microwave systems are below 20% efficient.
Space-based solar power is uneconomical due to low efficiency and high deployment costs.
Longi wants to create this ultimate power. But how?
They'll send solar panels into space to develop space-based solar power that can be beamed to Earth. This mission will help them design solar panels tough enough for space while remaining efficient.
Longi is a Chinese company, and China's space program and universities are developing space-based solar power and seeking commercial partners. Xidian University has built a 98%-efficient microwave-based wireless energy transmission system for space-based solar power. The Long March 5B is China's super-cheap (but not carbon-offset) launch vehicle.
Longi fills the gap. They have the commercial know-how and ability to build solar satellites and terrestrial terminals at scale. Universities and the Chinese government have transmission technology and low-cost launch vehicles to launch this technology.
It may take a decade to develop and refine this energy solution. This could spark a clean energy revolution. Once operational, Longi and the Chinese government could offer the world a flexible, environmentally friendly, rapidly deployable energy source.
Should the world adopt this technology and let China control its energy? I'm not very political, so you decide. This seems to be the beginning of tapping into this planet-saving energy source. Forget fusion reactors. Carbon-neutral energy is coming soon.