Home
I hate marketing for my business, but here's how I push myself to keep going
Start now.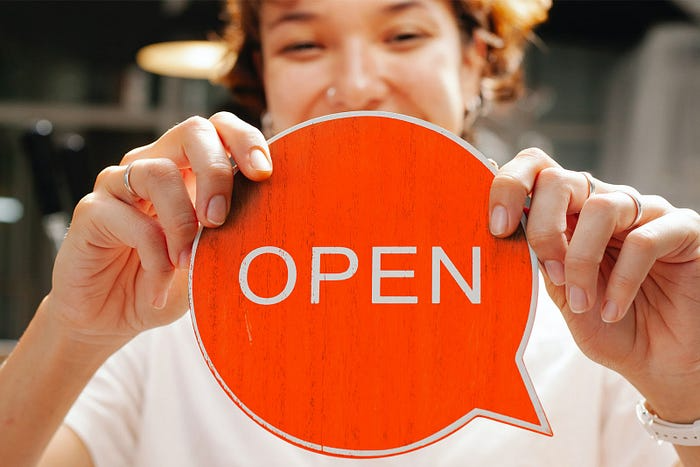 When it comes to building my business, I'm passionate about a lot of things. I love creating user experiences that simplify branding essentials. I love creating new typefaces and color combinations to inspire logo designers. I love fixing problems to improve my product.
Business marketing isn't my thing.
This is shared by many. Many solopreneurs, like me, struggle to advertise their business and drive themselves to work on it.
Without a lot of promotion, no company will succeed. Marketing is 80% of developing a firm, and when you're starting out, it's even more. Some believe that you shouldn't build anything until you've begun marketing your idea and found enough buyers.
Marketing your business without marketing experience is difficult. There are various outlets and techniques to learn. Instead of figuring out where to start, it's easier to return to your area of expertise, whether that's writing, designing product features, or improving your site's back end. Right?
First, realize that your role as a founder is to market your firm. Being a founder focused on product, I rarely work on it.
Secondly, use these basic methods that have helped me dedicate adequate time and focus to marketing. They're all simple to apply, and they've increased my business's visibility and success.
1. Establish buckets for every task.
You've probably heard to schedule tasks you don't like. As simple as it sounds, blocking a substantial piece of my workday for marketing duties like LinkedIn or Twitter outreach, AppSumo customer support, or SEO has forced me to spend time on them.
Giving me lots of room to focus on product development has helped even more. Sure, this means scheduling time to work on product enhancements after my four-hour marketing sprint.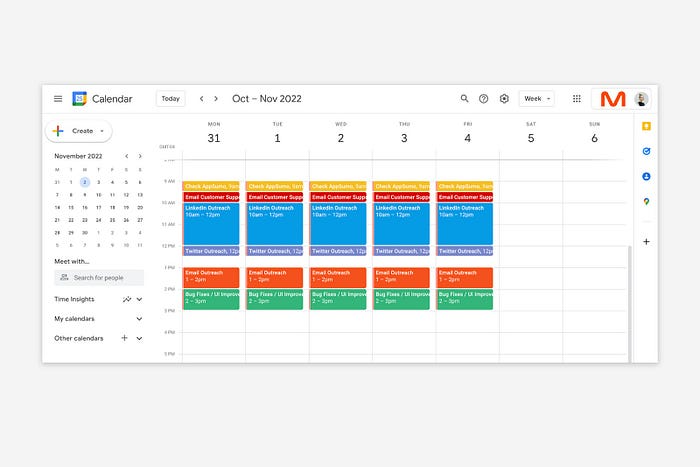 It also involves making space to store product inspiration and ideas throughout the day so I don't get distracted. This is like the advice to keep a notebook beside your bed to write down your insomniac ideas. I keep fonts, color palettes, and product ideas in folders on my desktop. Knowing these concepts won't be lost lets me focus on marketing in the moment. When I have limited time to work on something, I don't have to conduct the research I've been collecting, so I can get more done faster.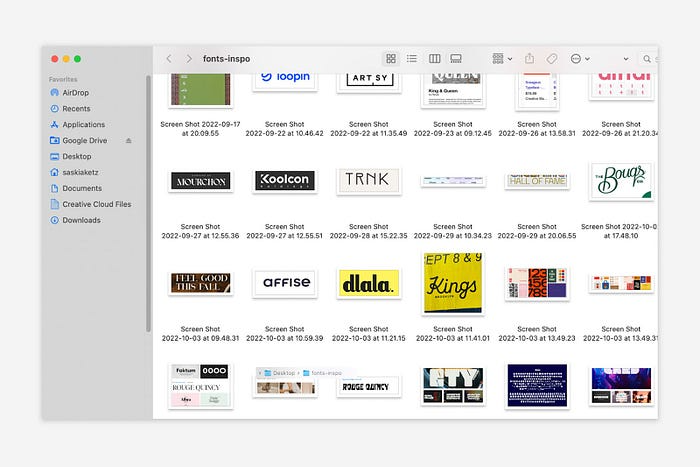 2. Look for various accountability systems
Accountability is essential for self-discipline. To keep focused on my marketing tasks, I've needed various streams of accountability, big and little.
Accountability groups are great for bigger things. SaaS Camp, a sales outreach coaching program, is mine. We discuss marketing duties and results every week. This motivates me to do enough each week to be proud of my accomplishments. Yet hearing what works (or doesn't) for others gives me benchmarks for my own marketing outcomes and plenty of fresh techniques to attempt.
… say, I want to DM 50 people on Twitter about my product — I get that many Q-tips and place them in one pen holder on my desk.
The best accountability group can't watch you 24/7. I use a friend's simple method that shouldn't work (but it does). When I have a lot of marketing chores, like DMing 50 Twitter users about my product, That many Q-tips go in my desk pen holder. After each task, I relocate one Q-tip to an empty pen holder. When you have a lot of minor jobs to perform, it helps to see your progress. You might use toothpicks, M&Ms, or anything else you have a lot of.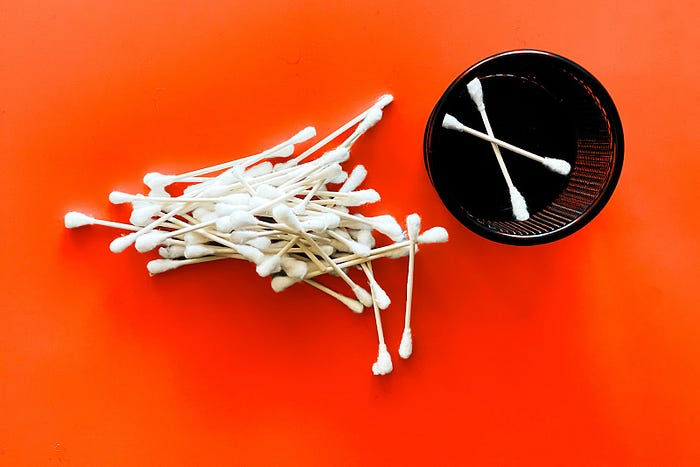 3. Continue to monitor your feedback loops
Knowing which marketing methods work best requires monitoring results. As an entrepreneur with little go-to-market expertise, every tactic I pursue is an experiment. I need to know how each trial is doing to maximize my time.
I placed Google and Facebook advertisements on hold since they took too much time and money to obtain Return. LinkedIn outreach has been invaluable to me. I feel that talking to potential consumers one-on-one is the fastest method to grasp their problem areas, figure out my messaging, and find product market fit.
Data proximity offers another benefit. Seeing positive results makes it simpler to maintain doing a work you don't like. Why every fitness program tracks progress.
Marketing's goal is to increase customers and revenues, therefore I've found it helpful to track those metrics and celebrate monthly advances. I provide these updates for extra accountability.
Finding faster feedback loops is also motivating. Marketing brings more clients and feedback, in my opinion. Product-focused founders love that feedback. Positive reviews make me proud that my product is benefitting others, while negative ones provide me with suggestions for product changes that can improve my business.
The best advice I can give a lone creator who's afraid of marketing is to just start. Start early to learn by doing and reduce marketing stress. Start early to develop habits and successes that will keep you going. The sooner you start, the sooner you'll have enough consumers to return to your favorite work.
Is it bad of me to want our portfolio companies to generate greater returns for outside investors than they did for us as venture capitalists?
Wishing for Lasting Companies, Not Penny Stocks or Goodwill Write-Downs
Get me a NASCAR-style company-logoed cremation urn (notice to the executor of my will, theres gonna be a lot of weird requests). I believe in working on projects that would be on your tombstone. As the Homebrew logo is tattooed on my shoulder, expanding the portfolio to my posthumous commemoration is easy. But this isn't an IRR victory lap; it's a hope that the firms we worked for would last beyond my lifetime.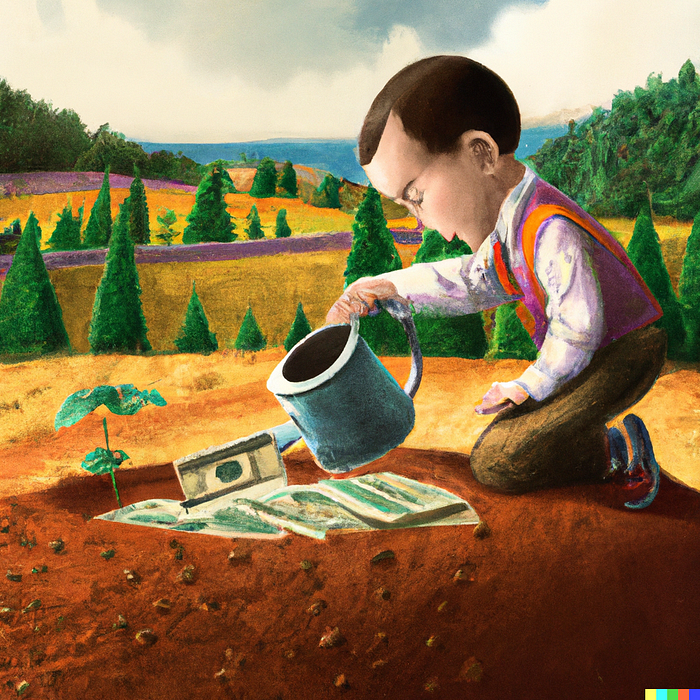 Venture investors too often take credit or distance themselves from startups based on circumstances. Successful companies tell stories of crucial introductions, strategy conversations, and other value. Defeats Even whether our term involves Board service or systematic ethical violations, I'm just a little investment, so there's not much I can do. Since I'm guilty, I'm tossing stones from within the glass home (although we try to own our decisions through the lifecycle).
Post-exit company trajectories are usually unconfounded. Off the cap table, no longer a shareholder (or a diminishing one as you sell off/distribute), eventually leaving the Board. You can cheer for the squad or forget about it, but you've freed the corporation and it's back to portfolio work.
As I look at the downward track of most SPACs and other tarnished IPOs from the last few years, I wonder how I would feel if those were my legacy. Is my job done? Yes. When investing in a business, the odds are against it surviving, let alone thriving and being able to find sunlight. SPAC sponsors, institutional buyers, retail investments. Free trade in an open market is their right. Risking and losing capital is the system working! But
We were lead or co-lead investors in our first three funds, but as additional VCs joined the company, we were pushed down the cap table. Voting your shares rarely matters; supporting the firm when they need it does. Being valuable, consistent, and helping the company improve builds trust with the founders.
I hope every startup we sponsor becomes a successful public company before, during, and after we benefit. My perspective of American capitalism. Well, a stock ticker has a lot of garbage, and I support all types of regulation simplification (in addition to being a person investor in the Long-Term Stock Exchange). Yet being owned by a large group of investors and making actual gains for them is great. Likewise does seeing someone you met when they were just starting out become a public company CEO without losing their voice, leadership, or beliefs.
I'm just thinking about what we can do from the start to realize value from our investments and build companies with bright futures. Maybe seed venture financing shouldn't impact those outcomes, but I'm not comfortable giving up that obligation.
CyberPunkMetalHead
9 days ago
Why Bitcoin NFTs Are Incomprehensible yet Likely Here to Stay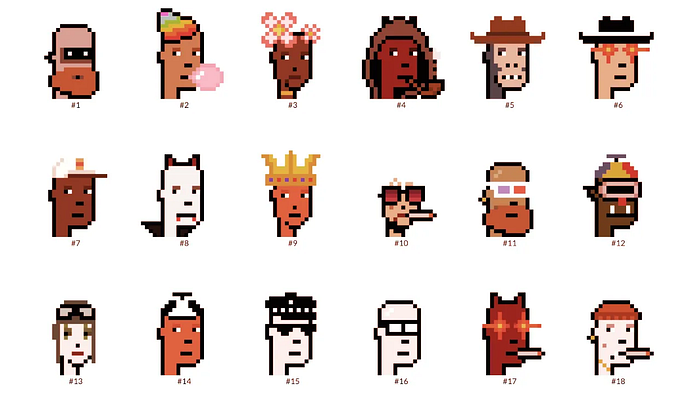 I'm trying to understand why Bitcoin NFTs aren't ready.
Ordinals, a new Bitcoin protocol, has been controversial. NFTs can be added to Bitcoin transactions using the protocol. They are not tokens or fungible. Bitcoin NFTs are transaction metadata. Yes. They're not owned.
In January, the Ordinals protocol allowed data like photos to be directly encoded onto sats, the smallest units of Bitcoin worth 0.00000001 BTC, on the Bitcoin blockchain. Ordinals does not need a sidechain or token like other techniques. The Ordinals protocol has encoded JPEG photos, digital art, new profile picture (PFP) projects, and even 1993 DOOM onto the Bitcoin network.
Ordinals inscriptions are permanent digital artifacts preserved on the Bitcoin blockchain. It differs from Ethereum, Solana, and Stacks NFT technologies that allow smart contract creators to change information. Ordinals store the whole image or content on the blockchain, not just a link to an external server, unlike centralized databases, which can change the linked image, description, category, or contract identifier.
So far, more than 50,000 ordinals have been produced on the Bitcoin blockchain, and some of them have already been sold for astronomical amounts. The Ethereum-based CryptoPunks NFT collection spawned Ordinal Punk. Inscription 620 sold for 9.5 BTC, or $218,000, the most.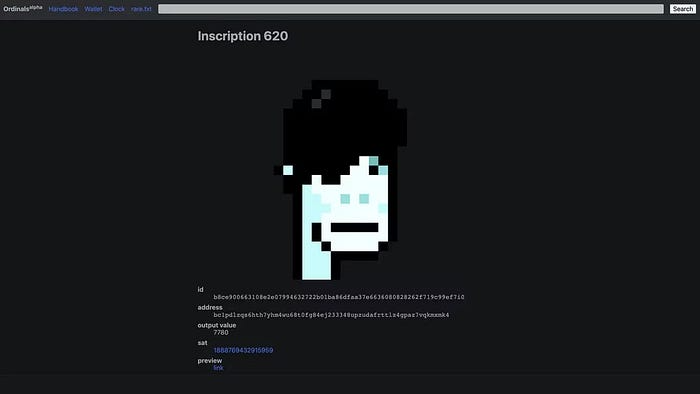 Segwit and Taproot, two important Bitcoin blockchain updates, enabled this. These protocols store transaction metadata, unlike Ethereum, where the NFT is the token. Bitcoin's NFT is a sat's transaction details.
What effects do ordinary values and NFTs have on the Bitcoin blockchain?
Ordinals will likely have long-term effects on the Bitcoin Ecosystem since they store, transact, and compute more data.
Charges Ordinals introduce scalability challenges. The Bitcoin network has limited transaction throughput and increased fees during peak demand. NFTs could make network transactions harder and more expensive. Ordinals currently occupy over 50% of block space, according to Glassnode.
One of the protocols that supported Ordinals Taproot has also seen a huge uptick: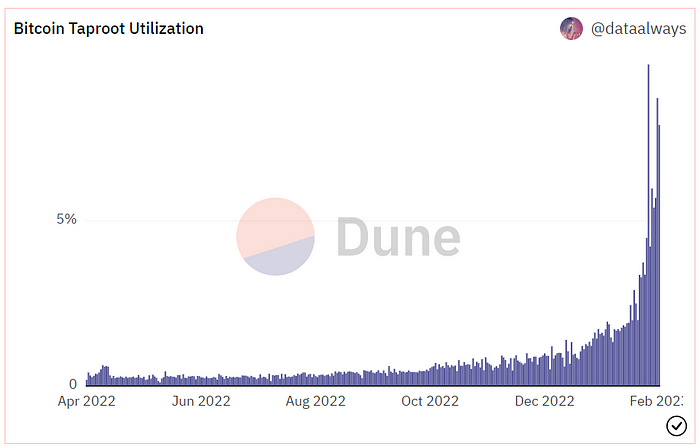 Taproot use increases block size and transaction costs.

This could cause network congestion but also support more L2s with Ordinals-specific use cases. Dune info here.
Storage Needs The Bitcoin blockchain would need to store more data to store NFT data directly. Since ordinals were introduced, blocksize has tripled from 0.7mb to over 2.2mb, which could increase storage costs and make it harder for nodes to join the network.
Use Case Diversity On the other hand, NFTs on the Bitcoin blockchain could broaden Bitcoin's use cases beyond storage and payment. This could expand Bitcoin's user base. This is two-sided. Bitcoin was designed to be trustless, decentralized, peer-to-peer money.
Chain to permanently store NFTs as ordinals will change everything.
Popularity rise This new use case will boost Bitcoin appeal, according to some. This argument fails since Bitcoin is the most popular cryptocurrency. Popularity doesn't require a new use case. Cryptocurrency adoption boosts Bitcoin. It need not compete with Ethereum or provide extra benefits to crypto investors. If there was a need for another chain that supports NFTs (there isn't), why would anyone choose the slowest and most expensive network? It appears contradictory and unproductive.
Nonetheless, holding an NFT on the Bitcoin blockchain is more secure than any other blockchain, but this has little utility.
Bitcoin NFTs are undoubtedly controversial. NFTs are strange and perhaps harmful to Bitcoin's mission. If Bitcoin NFTs are here to stay, I hope a sidechain or rollup solution will take over and leave the base chain alone.
When Investment in New Energy Surpassed That in Fossil Fuels (Forever)
A worldwide energy crisis might have hampered renewable energy and clean tech investment. Nope.
BNEF's 2023 Energy Transition Investment Trends study surprised and encouraged. Global energy transition investment reached $1 trillion for the first time ($1.11t), up 31% from 2021. From 2013, the clean energy transition has come and cannot be reversed.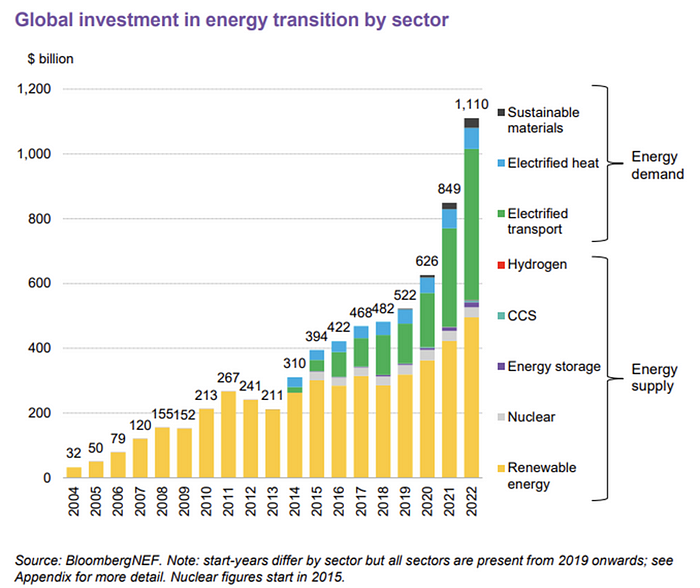 BNEF Head of Global Analysis Albert Cheung said our findings ended the energy crisis's influence on renewable energy deployment. Energy transition investment has reached a record as countries and corporations implement transition strategies. Clean energy investments will soon surpass fossil fuel investments.
The table below indicates the tripping point, which means the energy shift is occuring today.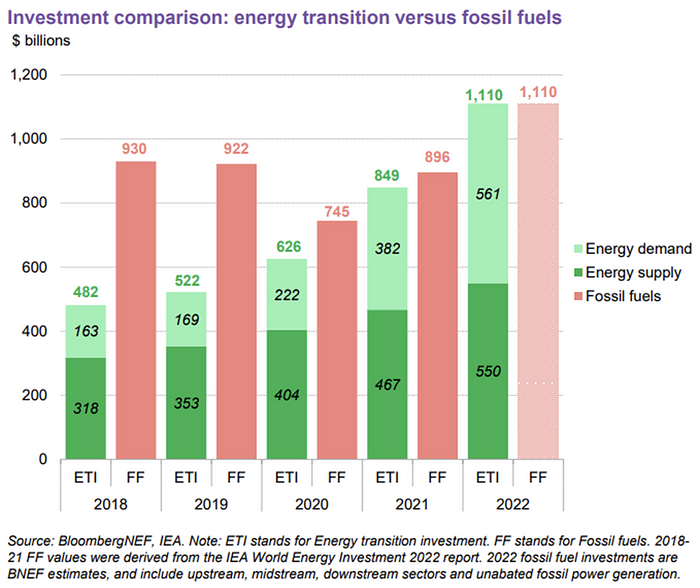 BNEF calls money invested on clean technology including electric vehicles, heat pumps, hydrogen, and carbon capture energy transition investment. In 2022, electrified heat received $64b and energy storage $15.7b.
Nonetheless, $495b in renewables (up 17%) and $466b in electrified transport (up 54%) account for most of the investment. Hydrogen and carbon capture are tiny despite the fanfare. Hydrogen received the least funding in 2022 at $1.1 billion (0.1%).
China dominates investment. China spends $546 billion on energy transition, half the global amount. Second, the US total of $141 billion in 2022 was up 11% from 2021. With $180 billion, the EU is unofficially second. China invested 91% in battery technologies.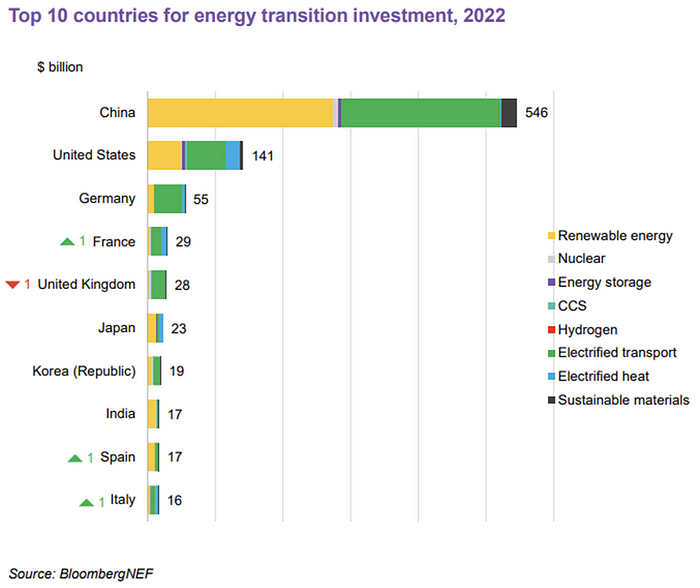 The 2022 transition tipping point is encouraging, but the BNEF research shows how far we must go to get Net Zero. Energy transition investment must average $4.55 trillion between 2023 and 2030—three times the amount spent in 2022—to reach global Net Zero. Investment must be seven times today's record to reach Net Zero by 2050.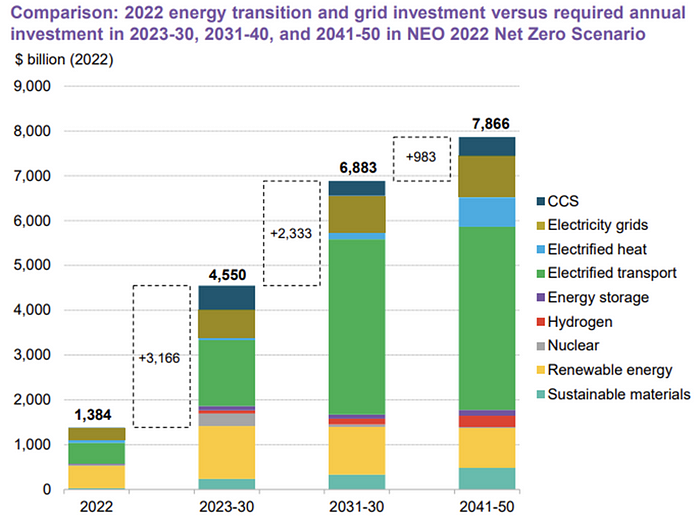 BNEF 2023 Energy Transition Investment Trends.
As shown in the graph above, BNEF experts have been using their crystal balls to determine where that investment should go. CCS and hydrogen are still modest components of the picture. Interestingly, they see nuclear almost fading. Active transport advocates like me may have something to say about the massive $4b in electrified transport. If we focus on walkable 15-minute cities, we may need fewer electric automobiles. Though we need more electric trains and buses.
Albert Cheung of BNEF emphasizes the challenge. This week's figures promise short-term job creation and medium-term energy security, but more investment is needed to reach net zero in the long run.
I expect the BNEF Energy Transition Investment Trends report to show clean tech investment outpacing fossil fuels investment every year. Finally saying that is amazing. It's insufficient. The planet must maintain its electric (not gas) pedal. In response to the research, Christina Karapataki, VC at Breakthrough Energy Ventures, a clean tech investment firm, tweeted: Clean energy investment needs to average more than 3x this level, for the remainder of this decade, to get on track for BNEFs Net Zero Scenario. Go!
Atown Research
12 days ago
Meet the One-Person Businesses Earning Millions in Sales from Solo Founders
I've spent over 50 hours researching one-person firms, which interest me. I've found countless one-person enterprises that made millions on the founder's determination and perseverance.
Throughout my investigation, I found three of the most outstanding one-person enterprises. These enterprises show that people who work hard and dedicate themselves to their ideas may succeed.
Eric Barone (@ConcernedApe) created Stardew Valley in 2011 to better his job prospects. Eric loved making the game, in which players inherit a farm, grow crops, raise livestock, make friends with the villagers, and form a family.
Eric handled complete game production, including 3D graphics, animations, and music, to maintain creative control. He stopped job hunting and worked 8-15 hours a day on the game.
Eric developed a Stardew Valley website and subreddit to engage with gamers and get feedback. Eric's devoted community helped him meet Steam's minimum vote requirement for single creators.
Stardew Valley sold 1 million copies in two months after Eric launched it for $15 in 2016. The game has sold 20 million copies and made $300 million.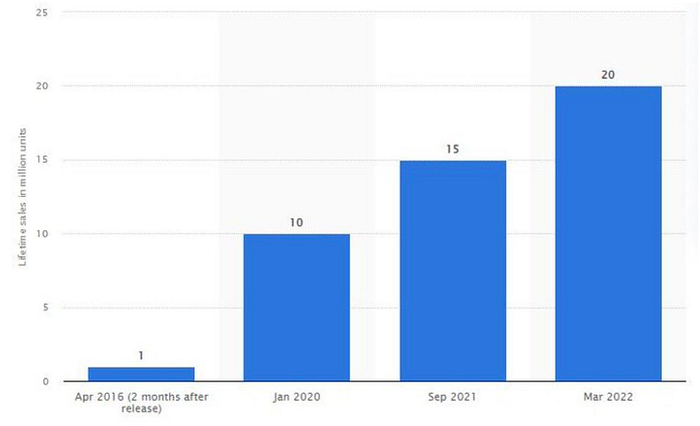 The game's inexpensive price, outsourcing of PR, marketing, and publication, and loyal player base helped it succeed. Eric has turned down million-dollar proposals from Sony and Nintendo to sell the game and instead updates and improves it. Haunted Chocolatier is Eric's new game.
Is farming not profitable? Ask Stardew Valley creator Eric Barone.
Gary Brewer established BuiltWith to assist users find website technologies and services. BuiltWith boasts 3000 paying customers and $14 million in yearly revenue, making it a significant resource for businesses wishing to generate leads, do customer analytics, obtain business insight, compare websites, or search websites by keyword.
BuiltWith has one full-time employee, Gary, and one or two part-time contractors that help with the blog. Gary handles sales, customer service, and other company functions alone.
BuiltWith acquired popularity through blog promotions and a top Digg ranking. About Us, a domain directory, connected to BuiltWith on every domain page, boosting it. Gary introduced $295–$995 monthly subscriptions to search technology, keywords, and potential consumers in response to customer demand.
Gary uses numerous methods to manage a firm without staff. He spends one to two hours every day answering user queries, most of which are handled quickly by linking to BuiltWiths knowledge store. Gary creates step-by-step essays or videos for complex problems. Gary can focus on providing new features based on customer comments and requests since he makes it easy to unsubscribe.
BuiltWith is entirely automated and successful due to its unique approach and useful offerings. It works for Google, Meta, Amazon, and Twitter.
Digital Inspiration develops Google Documents, Sheets, and Slides plugins. Digital Inspiration, founded by Amit Agarwal, receives 5 million monthly visits and earns $10 million. 40 million individuals have downloaded Digital Inspirations plugins.
Amit started Digital Inspiration by advertising his blog at tech events and getting Indian filter blogs and other newspapers to promote his articles. Amit built plugins and promoted them on the blog once the blog acquired popularity, using ideas from comments, friends, and Reddit. Digital Inspiration has over 20 free and premium plugins.
Mail Merge, Notifications for Google Forms, YouTube Uploader, and Document Studio are some of Digital Inspiration's most popular plugins. Mail Merge allows users to send personalized emails in bulk and track email opens and clicks.
Since Amits manages Digital Inspiration alone, his success is astounding. Amit developed a successful company via hard work and creativity, despite platform dependence. His tale inspires entrepreneurs.