Productivity
Todd Lewandowski
4 days ago
DWTS: How to Organize Your To-Do List Quickly
Don't overcomplicate to-do lists. DWTS (Done, Waiting, Top 3, Soon) organizes your to-dos.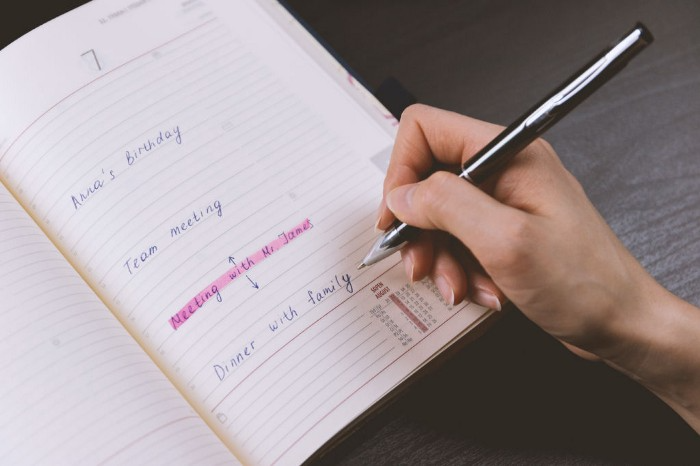 How Are You Going to Manage Everything?
Modern America is busy. Work involves meetings. Anytime, Slack communications arrive. Many software solutions offer a @-mention notification capability. Emails.
Work obligations continue. At home, there are friends, family, bills, chores, and fun things.
How are you going to keep track of it all? Enter the todo list. It's been around forever. It's likely to stay forever in some way, shape, or form.
Everybody has their own system. You probably modified something from middle school. Post-its? Maybe it's an app? Maybe both, another system, or none.
I suggest a format that has worked for me in 15 years of professional and personal life.
Try it out and see if it works for you. If not, no worries. You do you! Hopefully though you can learn a thing or two, and I from you too.
It is merely a Google Doc, yes.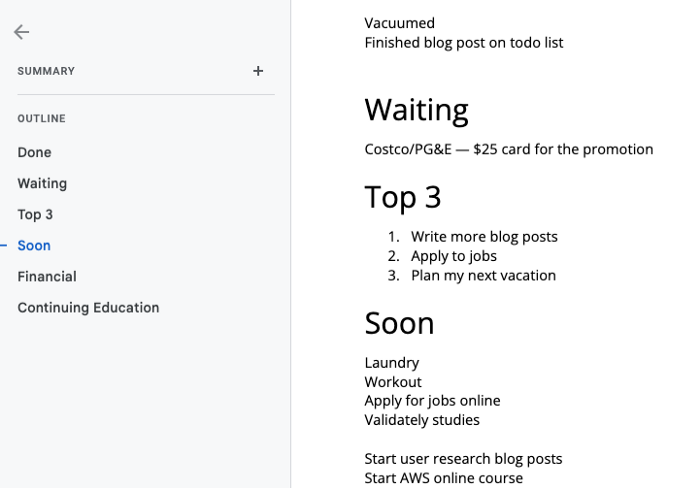 It's a giant list. One task per line. Indent subtasks on a new line. Add or move new tasks as needed.
I recommend using Google Docs. It's easy to use and flexible for structuring.
Prioritizing these tasks is key. I organize them using DWTS (Done, Waiting, Top 3, Soon). Chronologically is good because it implicitly provides both a priority (high, medium, low) and an ETA (now, soon, later).
Yes, I recognize the similarities to DWTS (Dancing With The Stars) TV Show. Although I'm not a fan, it's entertaining. The acronym is easy to remember and adds fun to something dull.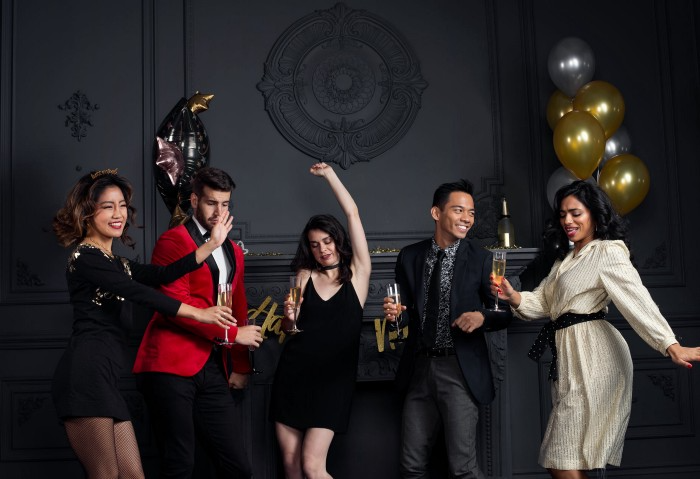 What each section contains
Done
All tasks' endpoint. Finish here. Don't worry about it again.
Waiting
You're blocked and can't continue. Blocked tasks usually need someone. Write Person Task so you know who's waiting.
Blocking tasks shouldn't last long. After a while, remind them kindly. If people don't help you out of kindness, they will if you're persistent.
Top 3
Mental focus areas. These can be short- to mid-term goals or recent accomplishments. 2 to 5 is a good number to stay focused.
Top 3 reminds us to prioritize. If they don't fit your Top 3 goals, delay them.
Every 1:1 at work is a project update. Another chance to list your top 3. You should know your Top 3 well and be able to discuss them confidently.
Soon
Here's your short-term to-do list. Rank them from highest to lowest.
I usually subdivide it with empty lines. First is what I have to do today, then week, then month. Subsections can be arranged however you like.
Inventories by Concept
Tasks that aren't in your short or medium future go into the backlog. 
Eventually you'll complete these tasks, assign them to someone else, or mark them as "wont' do" (like done but in another sense).
Backlog tasks don't need to be organized chronologically because their timing and priority may change. Theme-organize them. When planning/strategic, you can choose themes to focus on, so future top 3 topics.
More Tips on Todos
Decide Upon a Morning Goal
Morning routines are universal. Coffee and Wordle. My to-do list is next. Two things:
As needed, update the to-do list: based on the events of yesterday and any fresh priorities.

Pick a few jobs to complete today: Pick a few goals that you know you can complete today. Push the remainder below and move them to the top of the Soon section. I typically select a few tasks I am confident I can complete along with one stretch task that might extend into tomorrow.
Finally. By setting and achieving small goals every day, you feel accomplished and make steady progress on medium and long-term goals.
Tech companies call this a daily standup. Everyone shares what they did yesterday, what they're doing today, and any blockers. The name comes from a tradition of holding meetings while standing up to keep them short. Even though it's virtual, everyone still wants a quick meeting.
Your team may or may not need daily standups. Make a daily review a habit with your coffee.
Review Backwards & Forwards on a regular basis
While you're updating your to-do list daily, take time to review it.
Review your Done list. Remember things you're proud of and things that could have gone better. Your Done list can be long. Archive it so your main to-do list isn't overwhelming.
Future-gaze. What you considered important may no longer be. Reorder tasks. Backlog grooming is a workplace term.
Backwards-and-forwards reviews aren't required often. Every 3-6 months is fine. They help you see the forest as often as the trees.
Final Remarks
Keep your list simple. Done, Waiting, Top 3, Soon. These are the necessary sections. If you like, add more subsections; otherwise, keep it simple.
I recommend a morning review. By having clear goals and an action-oriented attitude, you'll be successful.
Never Heard Of: The Apple Of Email Marketing Tools
Unlimited everything for $19 monthly!?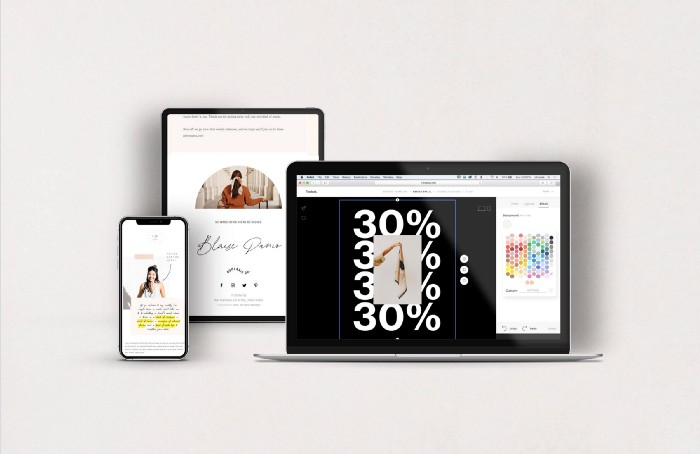 Even with pretty words, no one wants to read an ugly email.
Not Gen Z

Not Millennials

Not Gen X

Not Boomers
I am a minimalist.
I like Mozart. I like avos. I love Apple.
When I hear seamlessly, effortlessly, or Apple's new adverb fluidly, my toes curl.
No email marketing tool gave me that feeling.
As a marketing consultant helping high-growth brands create marketing that doesn't feel like marketing, I've worked with every email marketing platform imaginable, including that naughty monkey and the expensive platform whose sales teams don't stop calling.
Most email marketing platforms are flawed.
They are overpriced.

They use dreadful templates.

They employ a poor visual designer.

The user experience there is awful.

Too many useless buttons are present. (Similar to the TV remote!)
I may have finally found the perfect email marketing tool. It creates strong flows. It helps me focus on storytelling.
It's called Flodesk.
It's effortless. It's seamless. It's fluid.
Here's why it excites me.
Unlimited everything for $19 per month
Sends unlimited. Emails unlimited. Signups unlimited.
Most email platforms penalize success.
Pay for performance?
$87 for 10k contacts

$605 for 100K contacts

$1,300+ for 200K contacts
In the 1990s, this made sense, but not now. It reminds me of when ISPs capped internet usage at 5 GB per month.
Flodesk made unlimited email for a low price a reality. Affordable, attractive email marketing isn't just for big companies.
Flodesk doesn't penalize you for growing your list. Price stays the same as lists grow.
Flodesk plans cost $38 per month, but I'll give you a 30-day trial for $19.
Amazingly strong flows
Foster different people's flows.
Email marketing isn't one-size-fits-all.
Different times require different emails.
People don't open emails because they're irrelevant, in my experience. A colder audience needs a nurturing sequence.
Flodesk automates your email funnels so top-funnel prospects fall in love with your brand and values before mid- and bottom-funnel email flows nudge them to take action.
I wish I could save more custom audience fields to further customize the experience.
Dynamic editor
Easy. Effortless.
Flodesk's editor is Apple-like.
You understand how it works almost instantly.
Like many Apple products, it's intentionally limited. No distractions. You can focus on emotional email writing.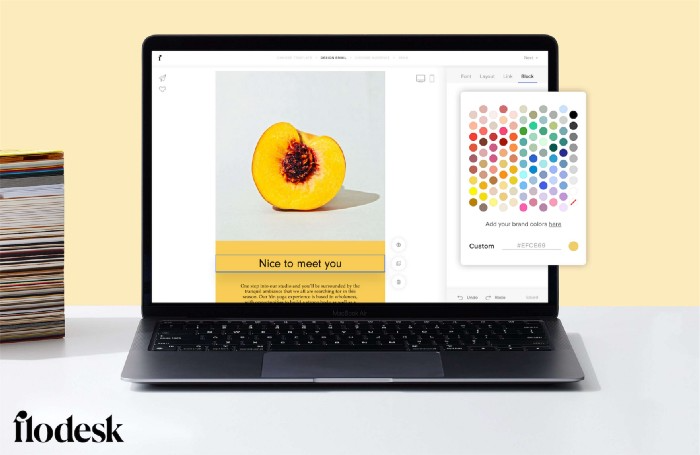 Flodesk's inability to add inline HTML to emails is my biggest issue with larger projects. I wish I could upload HTML emails.
Simple sign-up procedures
Dream up joining.
I like how easy it is to create conversion-focused landing pages. Linkly lets you easily create 5 landing pages and A/B test messaging.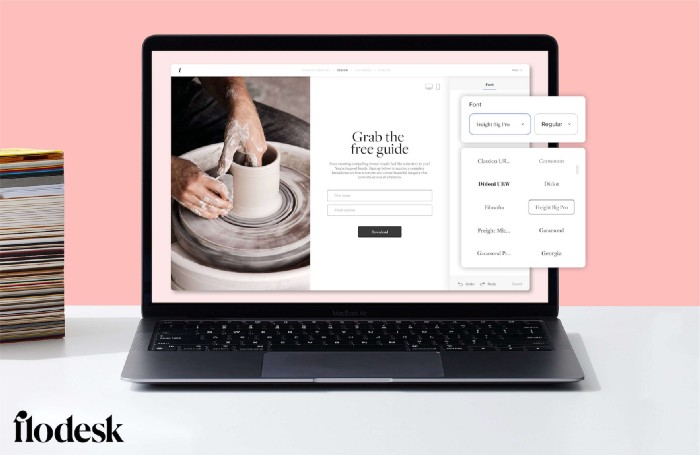 I like that you can use signup forms to ask people what they're interested in so they get relevant emails instead of mindless mass emails nobody opens.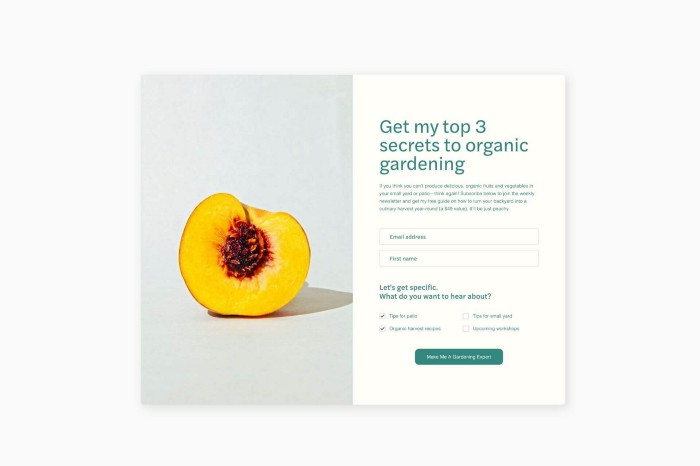 I love how easy it is to embed in-line on a website.
Wonderful designer templates
Beautiful, connecting emails.
Flodesk has calm email templates. My designer's eye felt at rest when I received plain text emails with big impacts.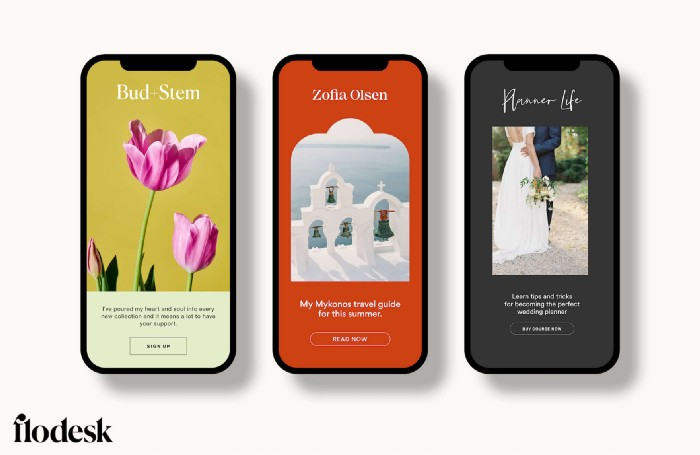 As a typography nerd, I love Flodesk's handpicked designer fonts. It gives emails a designer feel that is hard to replicate on other platforms without coding and custom font licenses.
Small adjustments can have a big impact
Details matter.
Flodesk remembers your brand colors. Flodesk automatically adds your logo and social handles to emails after signup.
Flodesk uses Zapier. This lets you send emails based on a user's action.
A bad live chat can trigger a series of emails to win back a customer.
Flodesk isn't for everyone.
Flodesk is great for Apple users like me.
The Last To-Do List Template I'll Ever Need, Years in the Making
The holy grail of plain text task management is finally within reach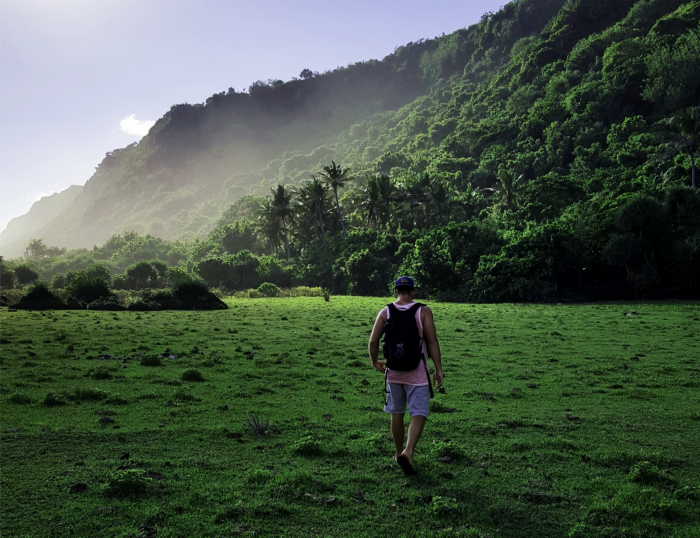 Plain text task management? Are you serious?? Dedicated task managers exist for a reason, you know. Sheesh.

—Oh, I know. Believe me, I know! But hear me out.
I've managed projects and tasks in plain text for more than four years. Since reorganizing my to-do list, plain text task management is within reach.
Data completely yours? One billion percent. Beef it up with coding? Be my guest.
Enter: The List
The answer? A list. That's it!
Write down tasks. Obsidian, Notenik, Drafts, or iA Writer are good plain text note-taking apps.
List too long? Of course, it is! A large list tells you what to do. Feel the itch and friction. Then fix it.
But I want to be able to distinguish between work and personal life! List two things.

However, I need to know what should be completed first. Put those items at the top.

However, some things keep coming up, and I need to be reminded of them! Put those in your calendar and make an alarm for them.

But since individual X hasn't completed task Y, I can't proceed with this. Create a Waiting section on your list by dividing it.

But I must know what I'm supposed to be doing right now! Read your list(s). Check your calendar. Think critically.
Before I begin a new one, I remind myself that "Listory Never Repeats."
There's no such thing as too many lists if all are needed. There is such a thing as too many lists if you make them before they're needed. Before they complain that their previous room was small or too crowded or needed a new light.
A list that feels too long has a voice; it's telling you what to do next.
I use one Master List. It's a control panel that tells me what to focus on short-term. If something doesn't need semi-immediate attention, it goes on my Backlog list.
Todd Lewandowski's DWTS (Done, Waiting, Top 3, Soon) performance deserves praise. His DWTS to-do list structure has transformed my plain-text task management. I didn't realize it was upside down.
This is my take on it:
D = Done
Move finished items here. If they pile up, clear them out every week or month. I have a Done Archive folder.
W = Waiting
Things seething in the background, awaiting action. Stir them occasionally so they don't burn.
T = Top 3
Three priorities. Personal comes first, then work. There will always be a top 3 (no more than 5) in every category. Projects, not chores, usually.
S = Soon
This part is action-oriented. It's for anything you can accomplish to finish one of the Top 3. This collection includes thoughts and project lists. The sole requirement is that they should be short-term goals.
Some of you have probably concluded this isn't for you. Please read Todd's piece before throwing out the baby. Often. You shouldn't miss a newborn.
As much as Dancing With The Stars helps me recall this method, I may try switching their order. TSWD; Drilling Tunnel Seismic? Serenity After Task?
Master List Showcase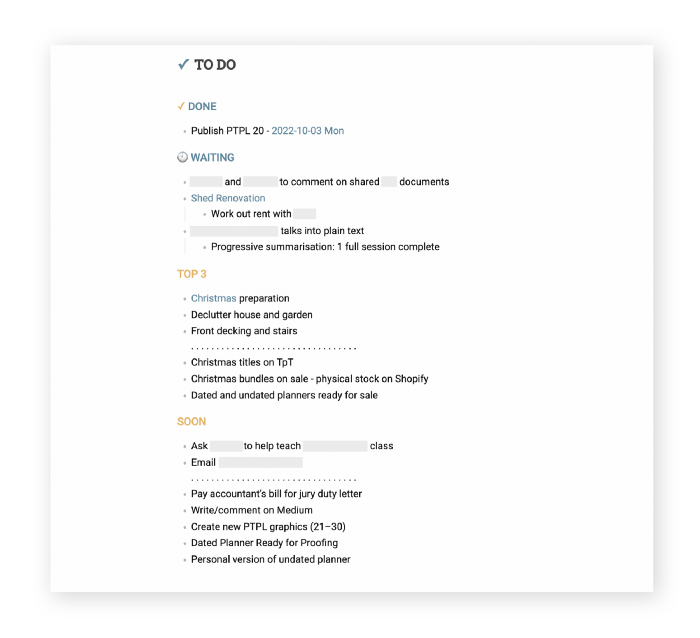 My Master List lives alone in its own file, but sometimes appears in other places.  It's included in my Weekly List template. Here's a (soon-to-be-updated) demo vault of my Obsidian planning setup to download for free.
Here's the code behind my weekly screenshot:
## [[Master List - 2022|✓]]  TO DO

![[Master List - 2022]]
FYI, I use the Minimal Theme in Obsidian, with a few tweaks.
You may note I'm utilizing a checkmark as a link. For me, that's easier than locating the proper spot to click on the embed.
Blue headings for Done and Waiting are links. Done links to the Done Archive page and Waiting to a general waiting page.
Read my full article here.
Every time I use this 6-part email sequence, I almost always make four figures.
(And you can have it for free)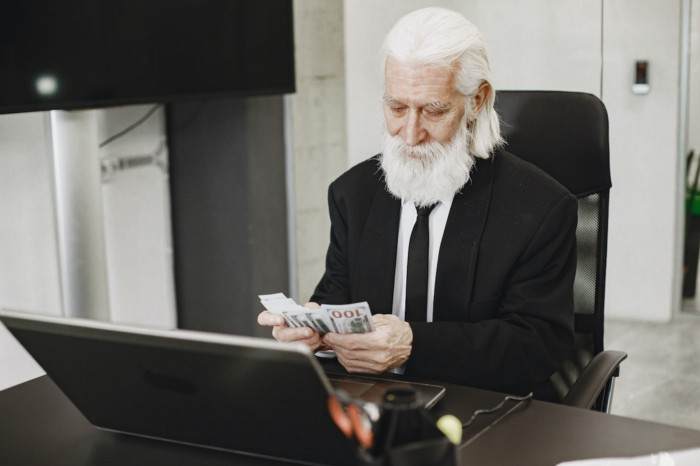 Master email to sell anything.
Most novice creators don't know how to begin.
Many use online templates. These are usually fluff-filled and niche-specific.
They're robotic and "salesy."
I've attended 3 courses, read 10 books, and sent 600,000 emails in the past five years.
Outcome?
This *proven* email sequence assures me a month's salary every time I send it.
What you will discover in this article is that:
A full 6-part email sales cycle

The essential elements you must incorporate

placeholders and text-filled images

(Applies to any niche)
This can be a product introduction, holiday, or welcome sequence. This works for email-saleable products.
Let's start
Email 1: Describe your issue
This email is crucial.
How to? We introduce a subscriber or prospect's problem. Later, we'll frame our offer as the solution.
Label the:
Problem

Why it still hasn't been fixed

Resulting implications for the customer
This puts our new subscriber in solve mode and queues our offer: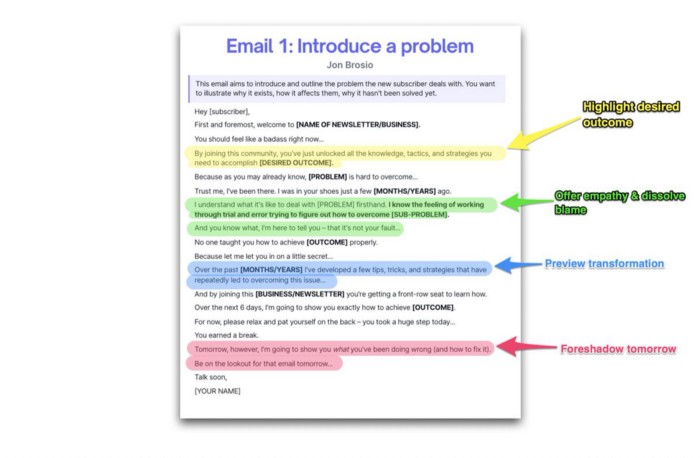 Email 2: Amplify the consequences
We're still causing problems.
We've created the problem, but now we must employ emotion and storytelling to make it real. We also want to forecast life if nothing changes.
Let's feel:
What occurs if it is not resolved?

Why is it crucial to fix it immediately?

Tell a tale of a person who was in their position. To emphasize the effects, use a true account of another person (or of yourself):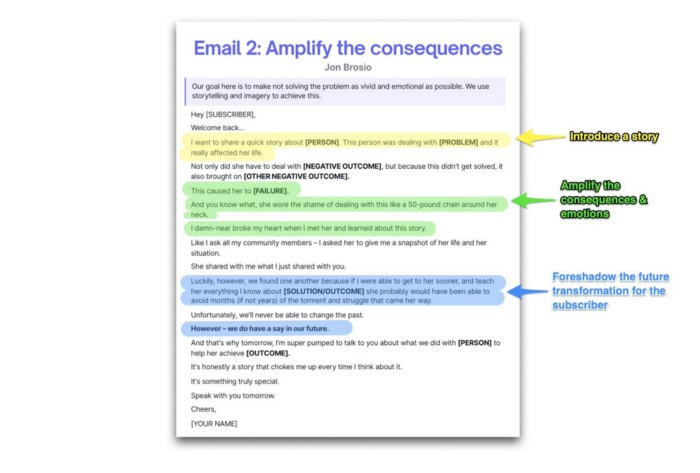 Email 3: Share a transformation story
Selling stories.
Whether in an email, landing page, article, or video. Humanize stories. They give information meaning.
This is where "issue" becomes "solution."
Let's reveal:
A tale of success

A new existence and result

tools and tactics employed
Start by transforming yourself.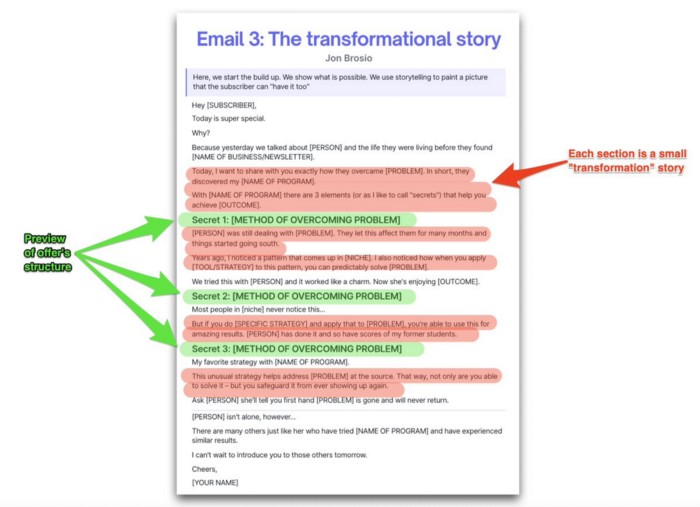 Email 4: Prove with testimonials
No one buys what you say.
Emotionally stirred people buy and act. They believe in the product. They feel that if they buy, it will work.
Social proof shows prospects that your solution will help them.
Add:
Earlier and Later

Testimonials

Reviews
Proof this deal works: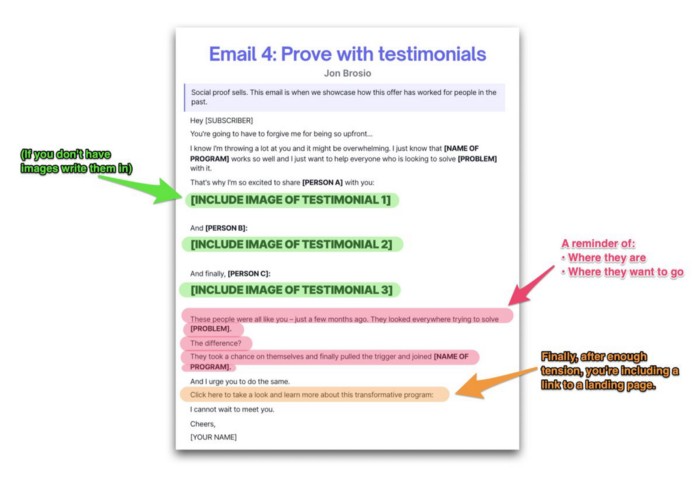 Email 5: Reveal your offer
It's showtime.
This is it. Until now, describing the offer and offering links to a landing page have been sparse in the email pictures.
We've been tense. Gaining steam. Building suspense. Email 5 reveals all.
In this email:
a description of the deal

A word about a promise

recapitulation of the transformation

and make a reference to the urgency Everything should be spelled out clearly: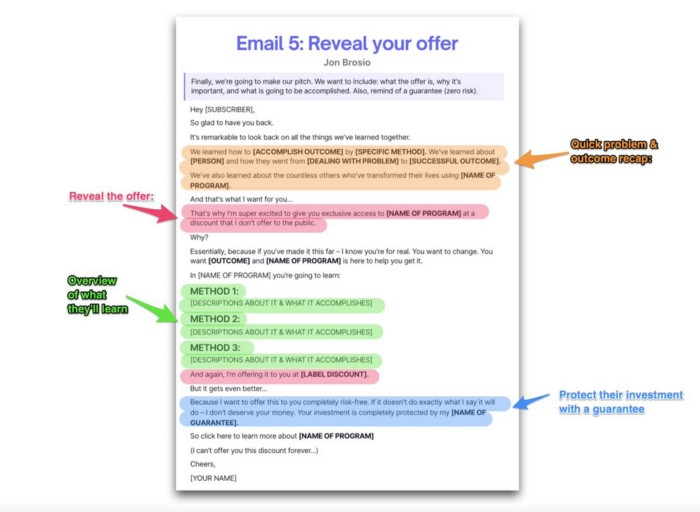 Email no. 6: Instill urgency
When there are stakes, humans act.
Creating and marketing with haste raises the stakes. Urgency makes a prospect act because they'll miss out or gain immensely.
Urgency converts. Use:
short time

Screening

Scarcity
Urgency and conversions. Limited-time offers are easy.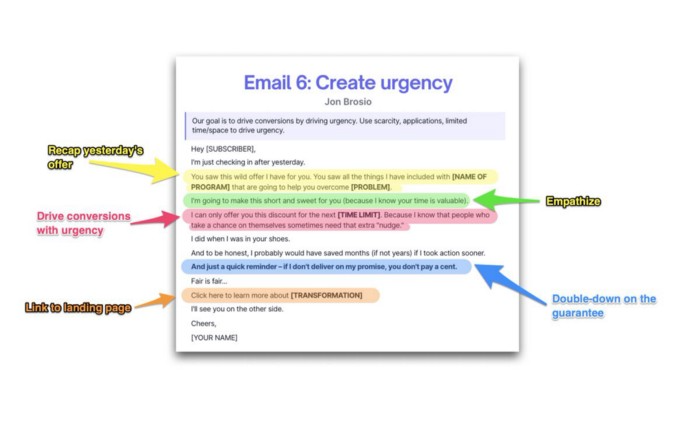 TL;DR
Use this proven 6-part email sequence (that turns subscribers into profit):
Introduce a problem

Amplify it with emotions

Share transformation story

Prove it works with testimonials

Value-stack and present your offer

Drive urgency and entice the purchase
My Top 11 Tools For Building A Modern Startup, With A Free Plan
The best free tools are probably unknown to you.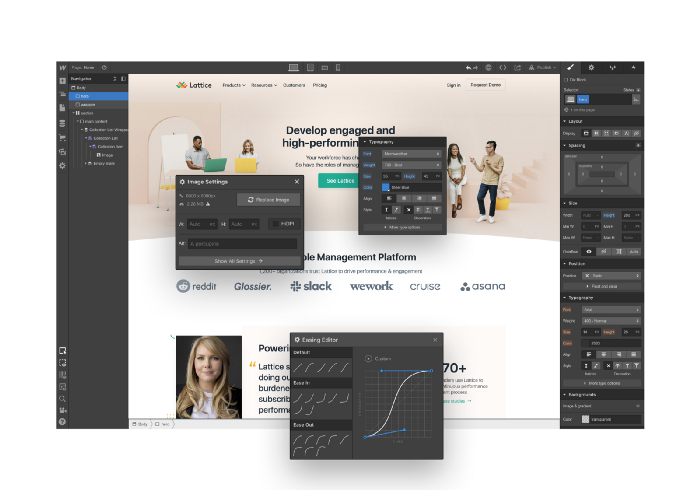 Modern startups are easy to build.
Start with free tools.
Let's go.
Web development — Webflow
Code-free HTML, CSS, and JS.
Webflow isn't like Squarespace, Wix, or Shopify.
It's a super-fast no-code tool for professionals to construct complex, highly-responsive websites and landing pages.
Webflow can help you add animations like those on Apple's website to your own site.
I made the jump from WordPress a few years ago and it changed my life.
No damn plugins. No damn errors. No damn updates.
The best, you can get started on Webflow for free.
Spreadsheet wings.
Airtable combines spreadsheet flexibility with database power without code.
Airtable is modern.

Airtable has modularity.

Scaling Airtable is simple.
Airtable, one of the most adaptable solutions on this list, is perfect for client data management.
Clients choose customized service packages. Airtable consolidates data so you can automate procedures like invoice management and focus on your strengths.
Airtable connects with so many tools that rarely creates headaches. Airtable scales when you do.
Airtable's flexibility makes it a potential backend database.
Better, faster, easier user interface design.
Figma rocks!
It's fast.

It's free.

It's adaptable
First, design in Figma.
Iterate.
Export development assets.
Figma lets you add more team members as your company grows to work on each iteration simultaneously.
Figma is web-based, so you don't need a powerful PC or Mac to start.
Task management — Trello
Unclock jobs.
Tacky and terrifying task management products abound. Trello isn't.
Those that follow Marie Kondo will appreciate Trello.
Everything is clean.

Nothing is complicated.

Everything has a place.
Compared to other task management solutions, Trello is limited. And that's good. Too many buttons lead to too many decisions lead to too many hours wasted.
Trello is a must for teamwork.
Domain email — Zoho
Free domain email hosting.
Professional email is essential for startups. People relied on monthly payments for too long. Nope.
Zoho offers 5 free professional emails.
It doesn't have Google's UI, but it works.
Fast Swiss VPN protects your data and privacy.
Proton VPN is secure.
Proton doesn't record any data.

Proton is based in Switzerland.
Swiss privacy regulation is among the most strict in the world, therefore user data are protected. Switzerland isn't a 14 eye country.
Journalists and activists trust Proton to secure their identities while accessing and sharing information authoritarian governments don't want them to access.
Free fast web hosting.
Netlify is a scalable platform that combines your favorite tools and APIs to develop high-performance sites, stores, and apps through GitHub.
Serverless functions and environment variables preserve API keys.
Netlify's free tier is unmissable.
100GB of free monthly bandwidth.

Free 125k serverless operations per website each month.
Create a fast, scalable database.
MongoDB is for small and large databases. It's a fast and inexpensive database.
Free for the first million reads.

Then, for each million reads, you must pay $0.10.
MongoDB's free plan has:
Encryption from end to end

Continual authentication

field-level client-side encryption
If you have a large database, you can easily connect MongoDB to Webflow to bypass CMS limits.
Automation — Zapier
Time-saving tip: automate repetitive chores.
Zapier simplifies life.
Zapier syncs and connects your favorite apps to do impossibly awesome things.
If your online store is connected to Zapier, a customer's purchase can trigger a number of automated actions, such as:
The customer is being added to an email chain.

Put the information in your Airtable.

Send a pre-programmed postcard to the customer.

Alexa, set the color of your smart lights to purple.
Zapier scales when you do.
Email & SMS marketing — Omnisend
Email and SMS marketing campaigns.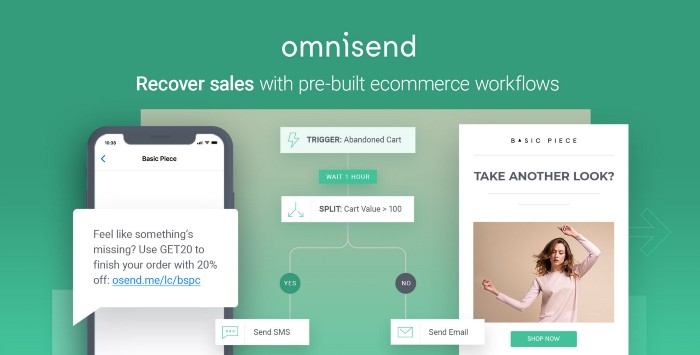 This is an excellent Mailchimp option for magical emails. Omnisend's processes simplify email automation.
I love the interface's cleanliness.
Omnisend's free tier includes web push notifications.
Send up to:
500 emails per month

60 maximum SMSs

500 Web Push Maximum
Forms and surveys — Tally
Create flexible forms that people enjoy.
Typeform is clean but restricting. Sometimes you need to add many questions. Tally's needed sometimes.
Tally is flexible and cheaper than Typeform.
99% of Tally's features are free and unrestricted, including:
Unlimited forms

Countless submissions

Collect payments

File upload
Tally lets you examine what individuals contributed to forms before submitting them to see where they get stuck.
Airtable and Zapier connectors automate things further. If you pay, you can apply custom CSS to fit your brand.
See.
Free tools are the greatest.
Let's use them to launch a startup.