Current Events
To prove his point, Putin is prepared to add 200,000 more dead soldiers.
What does Ukraine's murderous craziness mean?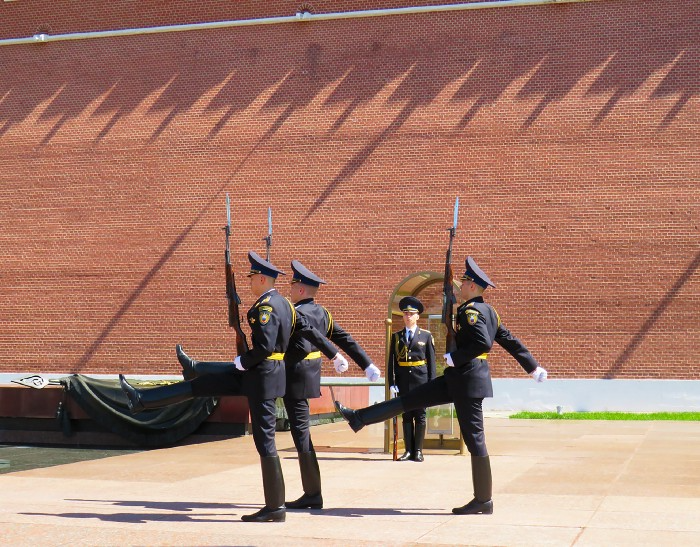 Vladimir Putin expressed his patience to Israeli Prime Minister Naftali Bennet. Thousands, even hundreds of thousands of young and middle-aged males in his country have no meaning to him.
During a meeting in March with Prime Minister Naftali Bennett of Israel, Mr. Putin admitted that the Ukrainians were tougher "than I was told," according to two people familiar with the exchange. "This will probably be much more difficult than we thought. But the war is on their territory, not ours. We are a big country and we have patience (The Inside Story of a Catastrophe)."
Putin should explain to Russian mothers how patient he is with his invasion of Ukraine.
Putin is rich. Even while sanctions have certainly limited Putin's access to his fortune, he has access to everything in Russia. Unlimited wealth.
The Russian leader's infrastructure was designed with his whims in mind. Vladimir Putin is one of the wealthiest and most catered-to people alive. He's also all-powerful, as his lack of opposition shows. His incredible wealth and power have isolated him from average people so much that he doesn't mind turning lives upside down to prove a point.
For many, losing a Russian spouse or son is painful. Whether the soldier was a big breadwinner or unemployed, the loss of a male figure leaves many families bewildered and anxious. Putin, Russia's revered president, seems unfazed.
People who know Mr. Putin say he is ready to sacrifice untold lives and treasure for as long as it takes, and in a rare face-to-face meeting with the Americans last month the Russians wanted to deliver a stark message to President Biden: No matter how many Russian soldiers are killed or wounded on the battlefield, Russia will not give up (The Inside Story of a Catastrophe).
Imagine a country's leader publicly admitting a mistake he's made. Imagine getting Putin's undivided attention.
So, I underestimated Ukrainians. I can't allow them make me appear terrible, so I'll utilize as many drunken dopes as possible to cover up my error. They'll die fulfilled and heroic.
Russia's human resources are limited, but its willingness to cause suffering is not. How many Russian families must die before the curse is broken? If mass protests started tomorrow, Russia's authorities couldn't stop them.
When Moscovites faced down tanks in August 1991, the Gorbachev coup ended in three days. Even though few city residents showed up, everything collapsed. This wicked disaster won't require many Russians.
One NATO member is warning allies that Mr. Putin is ready to accept the deaths or injuries of as many as 300,000 Russian troops — roughly three times his estimated losses so far.
If 100,000 Russians have died in Ukraine and Putin doesn't mind another 200,000 dying, why don't these 200,000 ghosts stand up and save themselves? Putin plays the role of concerned and benevolent leader effectively, but things aren't going well for Russia.
What would 300,000 or more missing men signify for Russia's future? How many kids will have broken homes? How many families won't form, and what will the economy do?
Putin reportedly cared about his legacy. His place in Russian history Putin's invasion of Ukraine settled his legacy. He has single-handedly weakened and despaired Russia since the 1980s.
Putin will be viewed by sensible people as one of Russia's worst adversaries, but Russians will think he was fantastic despite Ukraine.
The more setbacks Mr. Putin endures on the battlefield, the more fears grow over how far he is willing to go. He has killed tens of thousands in Ukraine, leveled cities, and targeted civilians for maximum pain — obliterating hospitals, schools, and apartment buildings while cutting off power and water to millions before winter. Each time Ukrainian forces score a major blow against Russia, the bombing of their country intensifies. And Mr. Putin has repeatedly reminded the world that he can use anything at his disposal, including nuclear arms, to pursue his notion of victory.
How much death and damage will there be in Ukraine if Putin sends 200,000 more Russians to the front? It's scary, sad, and sick.
Monster.
Scott Galloway
10 months ago
Text-ure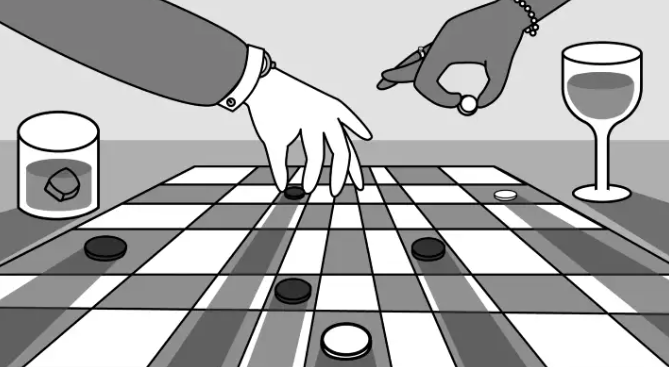 While we played checkers, we thought billionaires played 3D chess. They're playing the same game on a fancier board.
Every medium has nuances and norms. Texting is authentic and casual. A smaller circle has access, creating intimacy and immediacy. Most people read all their texts, but not all their email and mail. Many of us no longer listen to our voicemails, and calling your kids ages you.
Live interviews and testimony under oath inspire real moments, rare in a world where communications departments sanitize everything powerful people say. When (some of) Elon's text messages became public in Twitter v. Musk, we got a glimpse into tech power. It's bowels.
These texts illuminate the tech community's upper caste.
Checkers, Not Chess
Elon texts with Larry Ellison, Joe Rogan, Sam Bankman-Fried, Satya Nadella, and Jack Dorsey. They reveal astounding logic, prose, and discourse. The world's richest man and his followers are unsophisticated, obtuse, and petty. Possibly. While we played checkers, we thought billionaires played 3D chess. They're playing the same game on a fancier board.
They fumble with their computers.

They lean on others to get jobs for their kids (no surprise).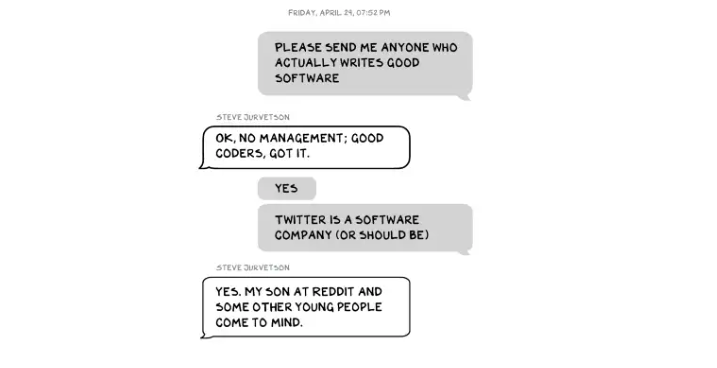 No matter how rich, they always could use more (money).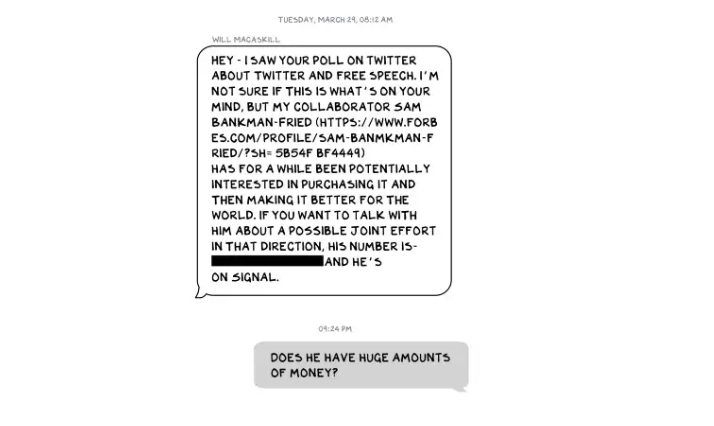 Differences A social hierarchy exists. Among this circle, the currency of deference is... currency. Money increases sycophantry. Oculus and Elon's "friends'" texts induce nausea.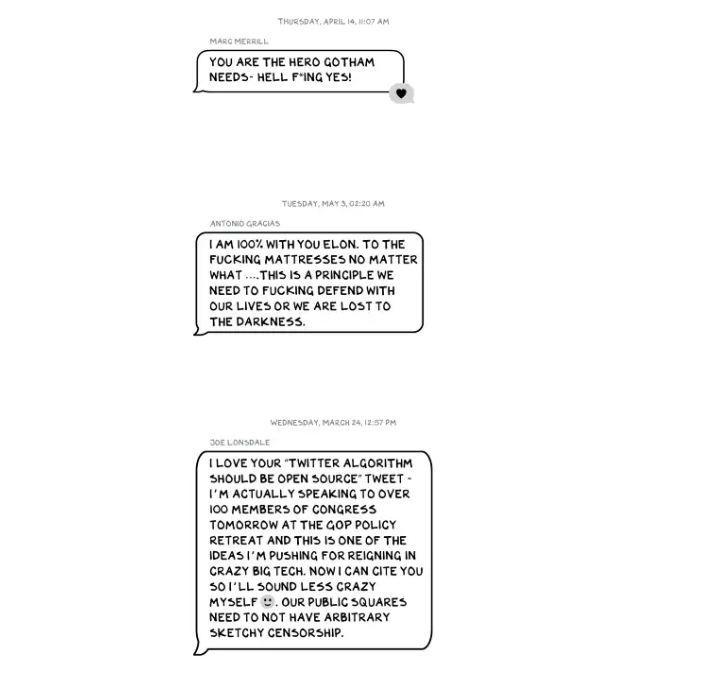 Autocorrect frustrates everyone.

Elon doesn't stand out to me in these texts; he comes off mostly OK in my view. It's the people around him. It seems our idolatry of innovators has infected the uber-wealthy, giving them an uncontrollable urge to kill the cool kid for a seat at his cafeteria table. "I'd grenade for you." If someone says this and they're not fighting you, they're a fan, not a friend.
Many powerful people are undone by their fake friends. Facilitators, not well-wishers. When Elon-Twitter started, I wrote about power. Unchecked power is intoxicating. This is a scientific fact, not a thesis. Power causes us to downplay risk, magnify rewards, and act on instincts more quickly. You lose self-control and must rely on others.
You'd hope the world's richest person has advisers who push back when necessary (i.e., not yes men). Elon's reckless, childish behavior and these texts show there is no truth-teller. I found just one pushback in the 151-page document. It came from Twitter CEO Parag Agrawal, who, in response to Elon's unhelpful "Is Twitter dying?" tweet, let Elon know what he thought: It was unhelpful. Elon's response? A childish, terse insult.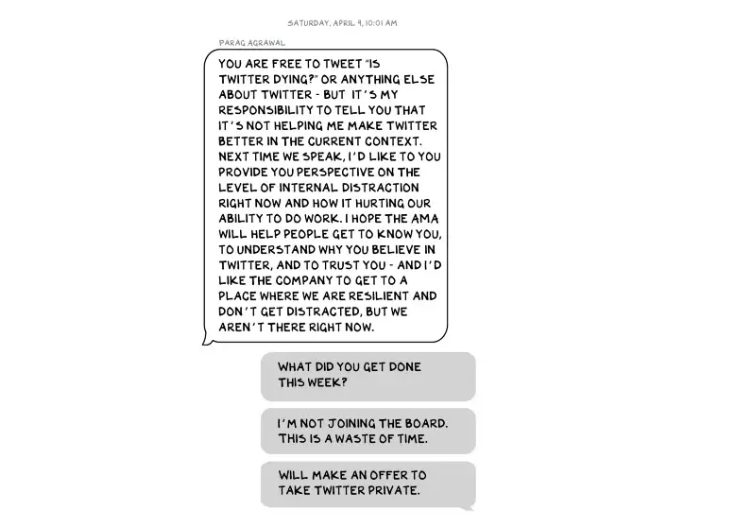 Scale
The texts are mostly unremarkable. There are some, however, that do remind us the (super-)rich are different. Specifically, the discussions of possible equity investments from crypto-billionaire Sam Bankman-Fried ("Does he have huge amounts of money?") and this exchange with Larry Ellison: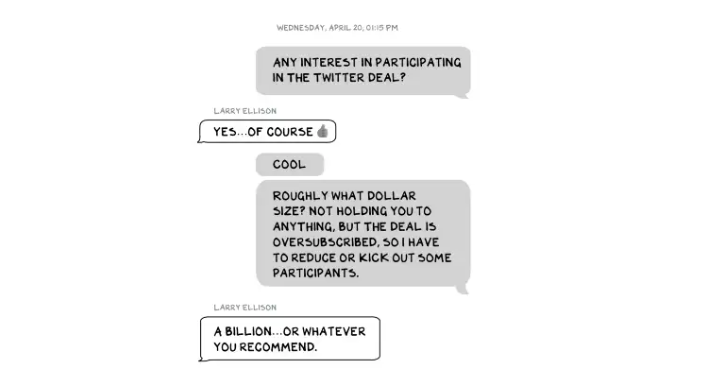 Ellison, who co-founded $175 billion Oracle, is wealthy. Less clear is whether he can text a billion dollars. Who hasn't been texted $1 billion? Ellison offered 8,000 times the median American's net worth, enough to buy 3,000 Ferraris or the Chicago Blackhawks. It's a bedrock principle of capitalism to have incredibly successful people who are exponentially wealthier than the rest of us. It creates an incentive structure that inspires productivity and prosperity. When people offer billions over text to help a billionaire's vanity project in a country where 1 in 5 children are food insecure, isn't America messed up?
Elon's Morgan Stanley banker, Michael Grimes, tells him that Web3 ventures investor Bankman-Fried can invest $5 billion in the deal: "could do $5bn if everything vision lock... Believes in your mission." The message bothers Elon. In Elon's world, $5 billion doesn't warrant a worded response. $5 billion is more than many small nations' GDP, twice the SEC budget, and five times the NRC budget.
If income inequality worries you after reading this, trust your gut.
Billionaires aren't like the rich.
As an entrepreneur, academic, and investor, I've met modest-income people, rich people, and billionaires. Rich people seem different to me. They're smarter and harder working than most Americans. Monty Burns from The Simpsons is a cartoon about rich people. Rich people have character and know how to make friends. Success requires supporters.
I've never noticed a talent or intelligence gap between wealthy and ultra-wealthy people. Conflating talent and luck infects the tech elite. Timing is more important than incremental intelligence when going from millions to hundreds of millions or billions. Proof? Elon's texting. Any man who electrifies the auto industry and lands two rockets on barges is a genius. His mega-billions come from a well-regulated capital market, enforceable contracts, thousands of workers, and billions of dollars in government subsidies, including a $465 million DOE loan that allowed Tesla to produce the Model S. So, is Mr. Musk a genius or an impressive man in a unique time and place?
The Point
Elon's texts taught us more? He can't "fix" Twitter. For two weeks in April, he was all in on blockchain Twitter, brainstorming Dogecoin payments for tweets with his brother — i.e., paid speech — while telling Twitter's board he was going to make a hostile tender offer. Kimbal approved. By May, he was over crypto and "laborious blockchain debates." (Mood.)
Elon asked the Twitter CEO for "an update from the Twitter engineering team" No record shows if he got the meeting. It doesn't "fix" Twitter either. And this is Elon's problem. He's a grown-up child with all the toys and no boundaries. His yes-men encourage his most facile thoughts, and shitposts and errant behavior diminish his genius and ours.
Post-Apocalyptic
The universe's titans have a sense of humor.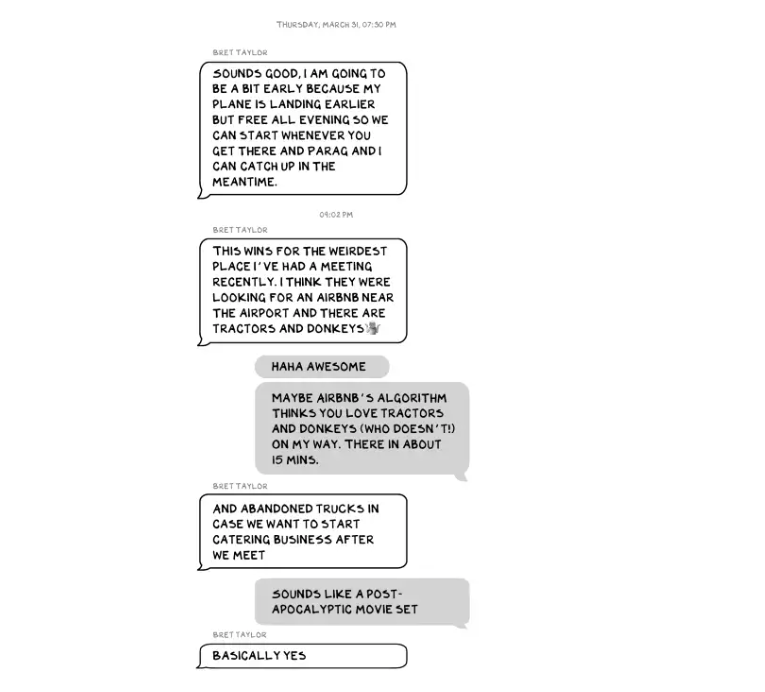 Every day, we must ask: Who keeps me real? Who will disagree with me? Who will save me from my psychosis, which has brought down so many successful people? Elon Musk doesn't need anyone to jump on a grenade for him; he needs to stop throwing them because one will explode in his hand.
Cory Doctorow
11 months ago
The downfall of the Big Four accounting companies is just one (more) controversy away.
Economic mutual destruction.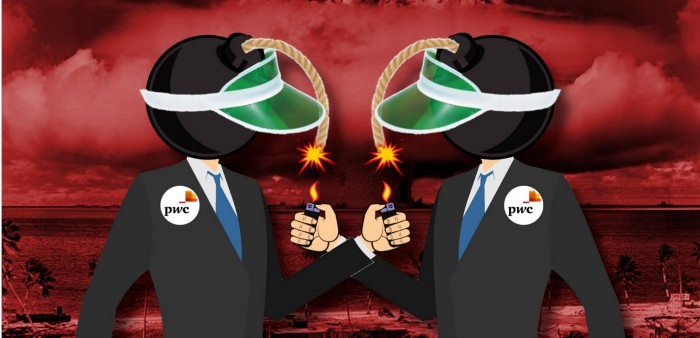 Multibillion-dollar corporations never bothered with an independent audit, and they all lied about their balance sheets.
It's easy to forget that the Big Four accounting firms are lousy fraud enablers. Just because they sign off on your books doesn't mean you're not a hoax waiting to erupt.
This is *crazy* Capitalism depends on independent auditors. Rich folks need to know their financial advisers aren't lying. Rich folks usually succeed.
No accounting. EY, KPMG, PWC, and Deloitte make more money consulting firms than signing off on their accounts.
The Big Four sign off on phony books because failing to make friends with unscrupulous corporations may cost them consulting contracts.
The Big Four are the only firms big enough to oversee bankruptcy when they sign off on fraudulent books, as they did for Carillion in 2018. All four profited from Carillion's bankruptcy.
The Big Four are corrupt without any consequences for misconduct. Who can forget when KPMG's top management was fined millions for helping auditors cheat on ethics exams?
Consulting and auditing conflict. Consultants help a firm cover its evil activities, such as tax fraud or wage theft, whereas auditors add clarity to a company's finances. The Big Four make more money from cooking books than from uncooking them, thus they are constantly embroiled in scandals.
If a major scandal breaks, it may bring down the entire sector and substantial parts of the economy. Jim Peterson explains system risk for The Dig.
The Big Four are voluntary private partnerships where accountants invest their time, reputations, and money. If a controversy threatens the business, partners who depart may avoid scandal and financial disaster.
When disaster looms, each partner should bolt for the door, even if a disciplined stay-and-hold posture could weather the storm. This happened to Arthur Andersen during Enron's collapse, and a 2006 EU report recognized the risk to other corporations.
Each partner at a huge firm knows how much dirty laundry they've buried in the company's garden, and they have well-founded suspicions about what other partners have buried, too. When someone digs, everyone runs.
If a firm confronts substantial litigation damages or enforcement penalties, it could trigger the collapse of one of the Big Four. That would be bad news for the firm's clients, who would have trouble finding another big auditor.
Most of the world's auditing capacity is concentrated in four enormous, brittle, opaque, compromised organizations. If one of them goes bankrupt, the other three won't be able to take on its clients.
Peterson: Another collapse would strand many of the world's large public businesses, leaving them unable to obtain audit views for their securities listings and regulatory compliance.
Count Down: The Past, Present, and Uncertain Future of the Big Four Accounting Firms is in its second edition.
https://www.emerald.com/insight/publication/doi/10.1108/9781787147003
Russia's greatest fear is that no one will ever fear it again.
When everyone laughs at him, he's powerless.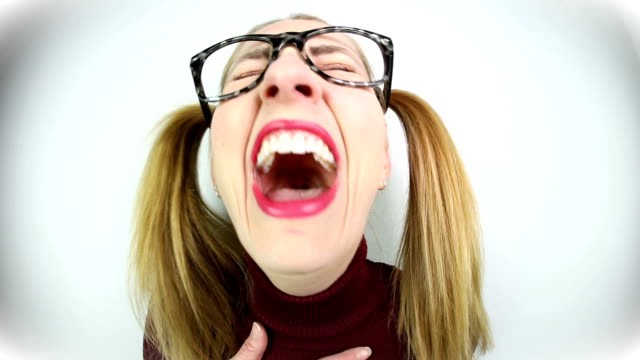 1-2-3: Fold your hands and chuckle heartily. Repeat until you're really laughing.
We're laughing at Russia's modern-day shortcomings, if you hadn't guessed.
Watch Good Fellas' laughing scene on YouTube. Ray Liotta, Joe Pesci, and others laugh hysterically in a movie. Laugh at that scene, then think of Putin's macho guy statement on February 24 when he invaded Ukraine. It's cathartic to laugh at his expense.
Right? It makes me feel great that he was convinced the military action will be over in a week. I love reading about Putin's morning speech. Many stupid people on Earth supported him. Many loons hailed his speech historic.
Russia preys on the weak. Strong Ukraine overcame Russia. Ukraine's right. As usual, Russia is in the wrong.
A so-called thought leader recently complained on Russian TV that the West no longer fears Russia, which is why Ukraine is kicking Russia's ass.
Let's simplify for this Russian intellectual. Except for nuclear missiles, the West has nothing to fear from Russia. Russia is a weak, morally-empty country whose DNA has degraded to the point that evolution is already working to flush it out.
The West doesn't fear Russia since he heads a prominent Russian institution. Russian universities are intellectually barren. I taught at St. Petersburg University till June (since February I was virtually teaching) and was astounded by the lack of expertise.
Russians excel in science, math, engineering, IT, and anything that doesn't demand critical thinking or personal ideas.
Reflecting on many of the high-ranking individuals from around the West, Satanovsky said: "They are not interested in us. We only think we're 'big politics' for them but for those guys we're small politics. "We're small politics, even though we think of ourselves as the descendants of the Russian Empire, of the USSR. We are not the Soviet Union, we don't have enough weirdos and lunatics, we practically don't have any (U.S. Has Stopped Fearing Us)."
Professor Dmitry Evstafiev, president of the Institute of the Middle East, praised Nikita Khrushchev's fiery nature because he made the world fear him, which made the Soviet Union great. If the world believes Putin is crazy, then Russia will be great, says this man. This is crazy.
Evstafiev covered his cowardice by saluting Putin. He praised his culture and Ukraine patience. This weakling professor ingratiates himself to Putin instead of calling him a cowardly, demonic shithead.
This is why we don't fear Russia, professor. Because you're all sycophantic weaklings who sold your souls to a Leningrad narcissist. Putin's nothing. He lacks intelligence. You've tied your country's fate and youth's future to this terrible monster. Disgraceful!
How can you loathe your country's youth so much to doom them to decades or centuries of ignominy? My son is half Russian and must now live with this portion of him.
We don't fear Russia because you don't realize that it should be appreciated, not frightened. That would need lobotomizing tens of millions of people like you.
Sadman. You let a Leningrad weakling castrate you and display your testicles. He shakes the container, saying, "Your balls are mine."
Why is Russia not feared?
Your self-inflicted national catastrophe is hilarious. Sadly, it's laugh-through-tears.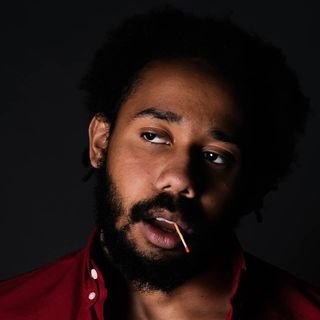 Isaiah McCall
11 months ago
There is a new global currency emerging, but it is not bitcoin.
America should avoid BRICS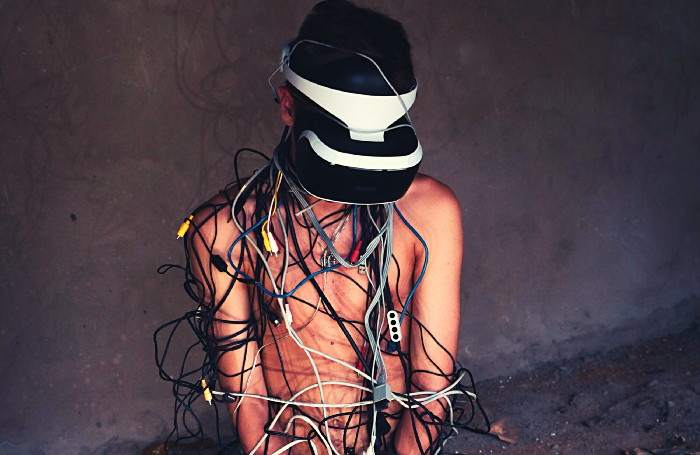 Vladimir Putin has watched videos of Muammar Gaddafi's CIA-backed demise.
Gaddafi...
Thief.
Did you know Gaddafi wanted a gold-backed dinar for Africa? Because he considered our global financial system was a Ponzi scheme, he wanted to discontinue trading oil in US dollars.
Or, Gaddafi's Libya enjoyed Africa's highest quality of living before becoming freed. Pictured: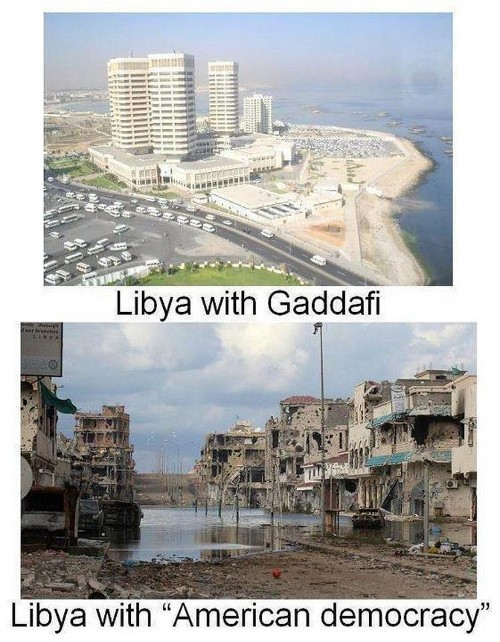 Vladimir Putin is a nasty guy, but he had his reasons for not mentioning NATO assisting Ukraine in resisting US imperialism. Nobody tells you. Sure.
The US dollar's corruption post-2008, debasement by quantitative easing, and lack of value are key factors. BRICS will replace the dollar.
BRICS aren't bricks.
Economy-related.
Brazil, Russia, India, China, and South Africa have cooperated for 14 years to fight U.S. hegemony with a new international currency: BRICS.
BRICS is mostly comical. Now. Saudi Arabia, the second-largest oil hegemon, wants to join.
So what?
The New World Currency is BRICS
Russia was kicked out of G8 for its aggressiveness in Crimea in 2014.
It's now G7.
No biggie, said Putin, he said, and I quote, "Bon appetite."
He was prepared. China, India, and Brazil lead the New World Order.
Together, they constitute 40% of the world's population and, according to the IMF, 50% of the world's GDP by 2030.
Here's what the BRICS president Marcos Prado Troyjo had to say earlier this year about no longer needing the US dollar: "We have implemented the mechanism of mutual settlements in rubles and rupees, and there is no need for our countries to use the dollar in mutual settlements. And today a similar mechanism of mutual settlements in rubles and yuan is being developed by China."
Ick. That's D.C. and NYC warmongers licking their chops for WW3 nasty.
Here's a lovely picture of BRICS to relax you: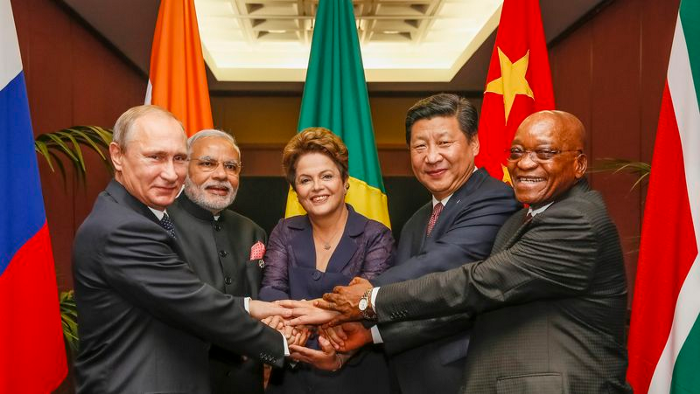 If Saudi Arabia joins BRICS, as President Mohammed Bin Salman has expressed interest, a majority of the Middle East will have joined forces to construct a new world order not based on the US currency.
I'm not sure of the new acronym.
SBRICSS? CIRBSS? CRIBSS?
The Reason America Is Harvesting What It Sowed
BRICS began 14 years ago.
14 years ago, what occurred? Concentrate. It involved CDOs, bad subprime mortgages, and Wall Street quants crunching numbers.
2008 recession
When two nations trade, they do so in US dollars, not Euros or gold.
What happened when 2008, an avoidable crisis caused by US banks' cupidity and ignorance, what happened?
Everyone WORLDWIDE felt the pain.
Mostly due to corporate America's avarice.
This should have been a warning that China and Russia had enough of our bs. Like when France sent a battleship to America after Nixon scrapped the gold standard. The US was warned to shape up or be dethroned (or at least try).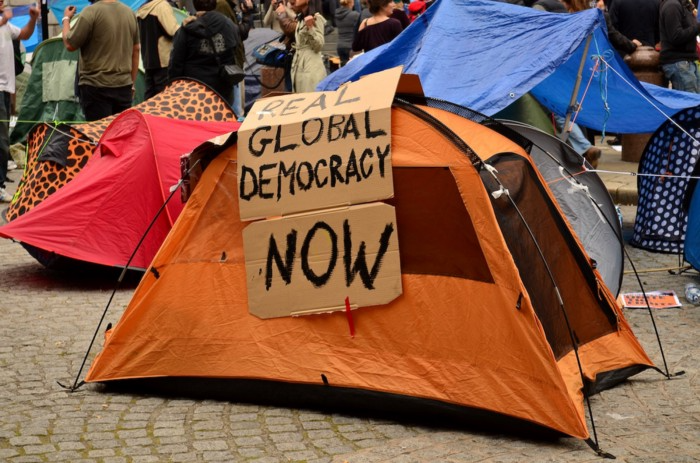 Nixon improved in 1971. Kinda. Invented PetroDollar.
Another BS system that unfairly favors America and possibly pushed Russia, China, and Saudi Arabia into BRICS.
The PetroDollar forces oil-exporting nations to trade in US dollars and invest in US Treasury bonds. Brilliant. Genius evil.
Our misdeeds are:
In conflicts that are not its concern, the USA uses the global reserve currency as a weapon.

Targeted nations abandon the dollar, and rightfully so, as do nations that depend on them for trade in vital resources.

The dollar's position as the world's reserve currency is in jeopardy, which could have disastrous economic effects.

Although we have actually sown our own doom, we appear astonished. According to the Bible, whomever sows to appease his sinful nature will reap destruction from that nature whereas whoever sows to appease the Spirit will reap eternal life from the Spirit.
Americans, even our leaders, lack caution and delayed pleasure. When our unsustainable systems fail, we double down. Bailouts of the banks in 2008 were myopic, puerile, and another nail in America's hegemony.
America has screwed everyone.
We're unpopular.
The BRICS's future
It's happened before.
Saddam Hussein sold oil in Euros in 2000, and the US invaded Iraq a month later. The media has devalued the word conspiracy. The Iraq conspiracy.
There were no WMDs, but NYT journalists like Judy Miller drove Americans into a warmongering frenzy because Saddam would ruin the PetroDollar. Does anyone recall that this war spawned ISIS?
I think America has done good for the world. You can make a convincing case that we're many people's villain.
Learn more in Confessions of an Economic Hitman, The Devil's Chessboard, or Tyranny of the Federal Reserve. Or ignore it. That's easier.
We, America, should extend an olive branch, ask for forgiveness, and learn from our faults, as the Tao Te Ching advises. Unlikely. Our population is apathetic and stupid, and our government is corrupt.
Argentina, Iran, Egypt, and Turkey have also indicated interest in joining BRICS. They're also considering making it gold-backed, making it a new world reserve currency.
You should pay attention.
Thanks for reading!