Elon Musk Bets $44 Billion on Free Speech's Future
Musk's purchase of Twitter has sealed his bond with the American right—whether the platform's left-leaning employees and users like it or not.
Elon Musk's pursuit of Twitter Inc. began earlier this month as a joke. It started slowly, then spiraled out of control, culminating on April 25 with the world's richest man agreeing to spend $44 billion on one of the most politically significant technology companies ever. There have been bigger financial acquisitions, but Twitter's significance has always outpaced its balance sheet. This is a unique Silicon Valley deal.
To recap: Musk announced in early April that he had bought a stake in Twitter, citing the company's alleged suppression of free speech. His complaints were vague, relying heavily on the dog whistles of the ultra-right. A week later, he announced he'd buy the company for $54.20 per share, four days after initially pledging to join Twitter's board. Twitter's directors noticed the 420 reference as well, and responded with a "shareholder rights" plan (i.e., a poison pill) that included a 420 joke.

Musk - Patrick Pleul/Getty Images
No one knew if the bid was genuine. Musk's Twitter plans seemed implausible or insincere. In a tweet, he referred to automated accounts that use his name to promote cryptocurrency. He enraged his prospective employees by suggesting that Twitter's San Francisco headquarters be turned into a homeless shelter, renaming the company Titter, and expressing solidarity with his growing conservative fan base. "The woke mind virus is making Netflix unwatchable," he tweeted on April 19.
But Musk got funding, and after a frantic weekend of negotiations, Twitter said yes. Unlike most buyouts, Musk will personally fund the deal, putting up up to $21 billion in cash and borrowing another $12.5 billion against his Tesla stock.
Free Speech and Partisanship
Percentage of respondents who agree with the following
The deal is expected to replatform accounts that were banned by Twitter for harassing others, spreading misinformation, or inciting violence, such as former President Donald Trump's account. As a result, Musk is at odds with his own left-leaning employees, users, and advertisers, who would prefer more content moderation rather than less.

Dorsey - Photographer: Joe Raedle/Getty Images
Previously, the company's leadership had similar issues. Founder Jack Dorsey stepped down last year amid concerns about slowing growth and product development, as well as his dual role as CEO of payments processor Block Inc. Compared to Musk, a father of seven who already runs four companies (besides Tesla and SpaceX), Dorsey is laser-focused.
Musk's motivation to buy Twitter may be political. Affirming the American far right with $44 billion spent on "free speech" Right-wing activists have promoted a series of competing upstart Twitter competitors—Parler, Gettr, and Trump's own effort, Truth Social—since Trump was banned from major social media platforms for encouraging rioters at the US Capitol on Jan. 6, 2021. But Musk can give them a social network with lax content moderation and a real user base. Trump said he wouldn't return to Twitter after the deal was announced, but he wouldn't be the first to do so.

Trump - Eli Hiller/Bloomberg
Conservative activists and lawmakers are already ecstatic. "A great day for free speech in America," said Missouri Republican Josh Hawley. The day the deal was announced, Tucker Carlson opened his nightly Fox show with a 10-minute laudatory monologue. "The single biggest political development since Donald Trump's election in 2016," he gushed over Musk.
But Musk's supporters and detractors misunderstand how much his business interests influence his political ideology. He marketed Tesla's cars as carbon-saving machines that were faster and cooler than gas-powered luxury cars during George W. Bush's presidency. Musk gained a huge following among wealthy environmentalists who reserved hundreds of thousands of Tesla sedans years before they were made during Barack Obama's presidency. Musk in the Trump era advocated for a carbon tax, but he also fought local officials (and his own workers) over Covid rules that slowed the reopening of his Bay Area factory.

Teslas at the Las Vegas Convention Center Loop Central Station in April 2021. The Las Vegas Convention Center Loop was Musk's first commercial project. Ethan Miller/Getty Images
Musk's rightward shift matched the rise of the nationalist-populist right and the desire to serve a growing EV market. In 2019, he unveiled the Cybertruck, a Tesla pickup, and in 2018, he announced plans to manufacture it at a new plant outside Austin. In 2021, he decided to move Tesla's headquarters there, citing California's "land of over-regulation." After Ford and General Motors beat him to the electric truck market, Musk reframed Tesla as a company for pickup-driving dudes.
Similarly, his purchase of Twitter will be entwined with his other business interests. Tesla has a factory in China and is friendly with Beijing. This could be seen as a conflict of interest when Musk's Twitter decides how to treat Chinese-backed disinformation, as Amazon.com Inc. founder Jeff Bezos noted.
Musk has focused on Twitter's product and social impact, but the company's biggest challenges are financial: Either increase cash flow or cut costs to comfortably service his new debt. Even if Musk can't do that, he can still benefit from the deal. He has recently used the increased attention to promote other business interests: Boring has hyperloops and Neuralink brain implants on the way, Musk tweeted. Remember Tesla's long-promised robotaxis!
Musk may be comfortable saying he has no expectation of profit because it benefits his other businesses. At the TED conference on April 14, Musk insisted that his interest in Twitter was solely charitable. "I don't care about money."
The rockets and weed jokes make it easy to see Musk as unique—and his crazy buyout will undoubtedly add to that narrative. However, he is a megabillionaire who is risking a small amount of money (approximately 13% of his net worth) to gain potentially enormous influence. Musk makes everything seem new, but this is a rehash of an old media story.
More on Society & Culture
When Investment in New Energy Surpassed That in Fossil Fuels (Forever)
A worldwide energy crisis might have hampered renewable energy and clean tech investment. Nope.
BNEF's 2023 Energy Transition Investment Trends study surprised and encouraged. Global energy transition investment reached $1 trillion for the first time ($1.11t), up 31% from 2021. From 2013, the clean energy transition has come and cannot be reversed.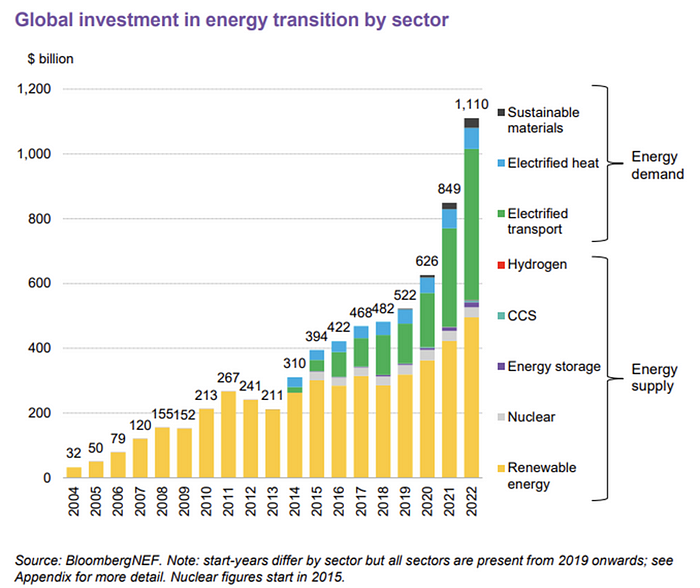 BNEF Head of Global Analysis Albert Cheung said our findings ended the energy crisis's influence on renewable energy deployment. Energy transition investment has reached a record as countries and corporations implement transition strategies. Clean energy investments will soon surpass fossil fuel investments.
The table below indicates the tripping point, which means the energy shift is occuring today.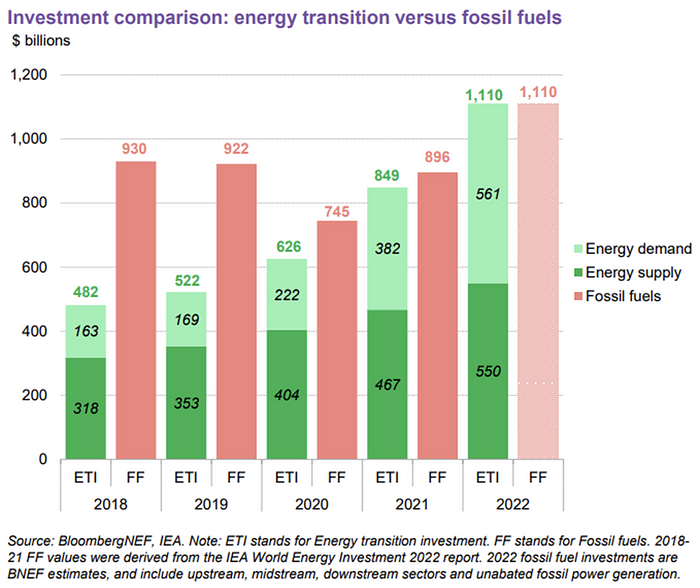 BNEF calls money invested on clean technology including electric vehicles, heat pumps, hydrogen, and carbon capture energy transition investment. In 2022, electrified heat received $64b and energy storage $15.7b.
Nonetheless, $495b in renewables (up 17%) and $466b in electrified transport (up 54%) account for most of the investment. Hydrogen and carbon capture are tiny despite the fanfare. Hydrogen received the least funding in 2022 at $1.1 billion (0.1%).
China dominates investment. China spends $546 billion on energy transition, half the global amount. Second, the US total of $141 billion in 2022 was up 11% from 2021. With $180 billion, the EU is unofficially second. China invested 91% in battery technologies.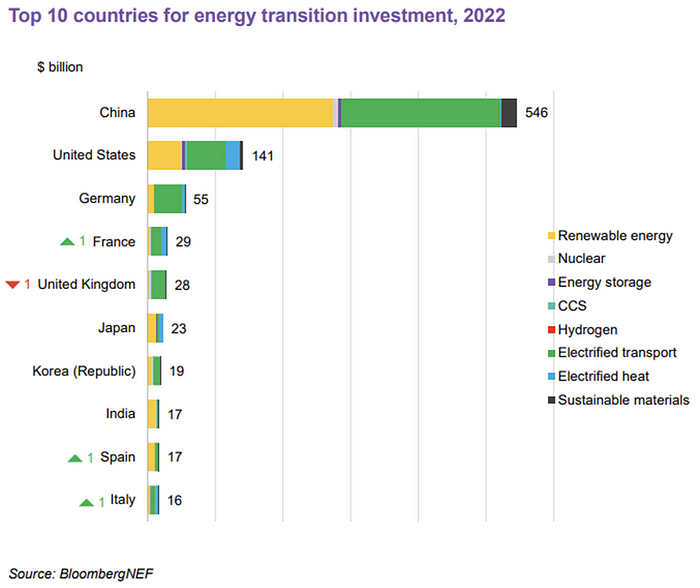 The 2022 transition tipping point is encouraging, but the BNEF research shows how far we must go to get Net Zero. Energy transition investment must average $4.55 trillion between 2023 and 2030—three times the amount spent in 2022—to reach global Net Zero. Investment must be seven times today's record to reach Net Zero by 2050.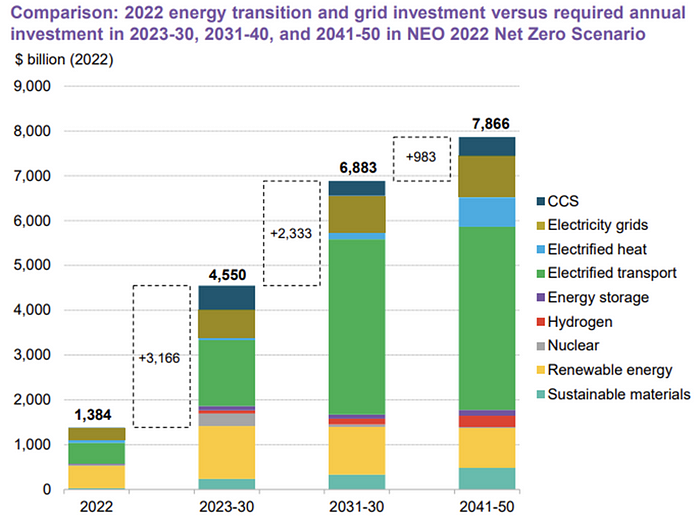 BNEF 2023 Energy Transition Investment Trends.
As shown in the graph above, BNEF experts have been using their crystal balls to determine where that investment should go. CCS and hydrogen are still modest components of the picture. Interestingly, they see nuclear almost fading. Active transport advocates like me may have something to say about the massive $4b in electrified transport. If we focus on walkable 15-minute cities, we may need fewer electric automobiles. Though we need more electric trains and buses.
Albert Cheung of BNEF emphasizes the challenge. This week's figures promise short-term job creation and medium-term energy security, but more investment is needed to reach net zero in the long run.
I expect the BNEF Energy Transition Investment Trends report to show clean tech investment outpacing fossil fuels investment every year. Finally saying that is amazing. It's insufficient. The planet must maintain its electric (not gas) pedal. In response to the research, Christina Karapataki, VC at Breakthrough Energy Ventures, a clean tech investment firm, tweeted: Clean energy investment needs to average more than 3x this level, for the remainder of this decade, to get on track for BNEFs Net Zero Scenario. Go!
Scott Galloway
7 months ago
Attentive
From oil to attention.
Oil has been the most important commodity for a century. It's sparked wars. Pearl Harbor was a preemptive strike to guarantee Japanese access to Indonesian oil, and it made desert tribes rich. Oil's heyday is over. From oil to attention.
We talked about an information economy. In an age of abundant information, what's scarce? Attention. Scale of the world's largest enterprises, wealth of its richest people, and power of governments all stem from attention extraction, monetization, and custody.
Attention-grabbing isn't new. Humans have competed for attention and turned content into wealth since Aeschylus' Oresteia. The internal combustion engine, industrial revolutions in mechanization and plastics, and the emergence of a mobile Western lifestyle boosted oil. Digitization has put wells in pockets, on automobile dashboards, and on kitchen counters, drilling for attention.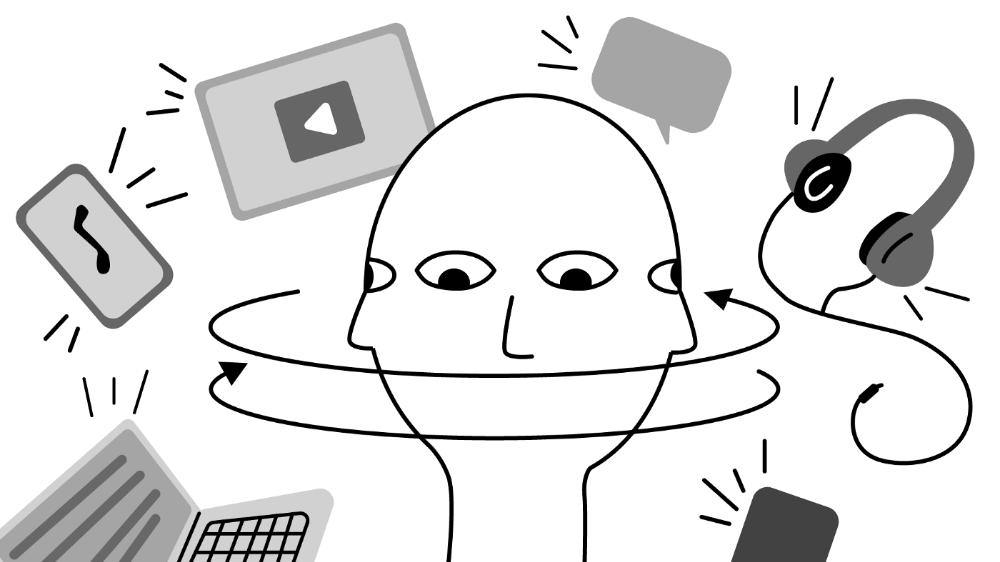 The most valuable firms are attention-seeking enterprises, not oil companies. Big Tech dominates the top 4. Tech and media firms are the sheikhs and wildcatters who capture our attention. Blood will flow as the oil economy rises.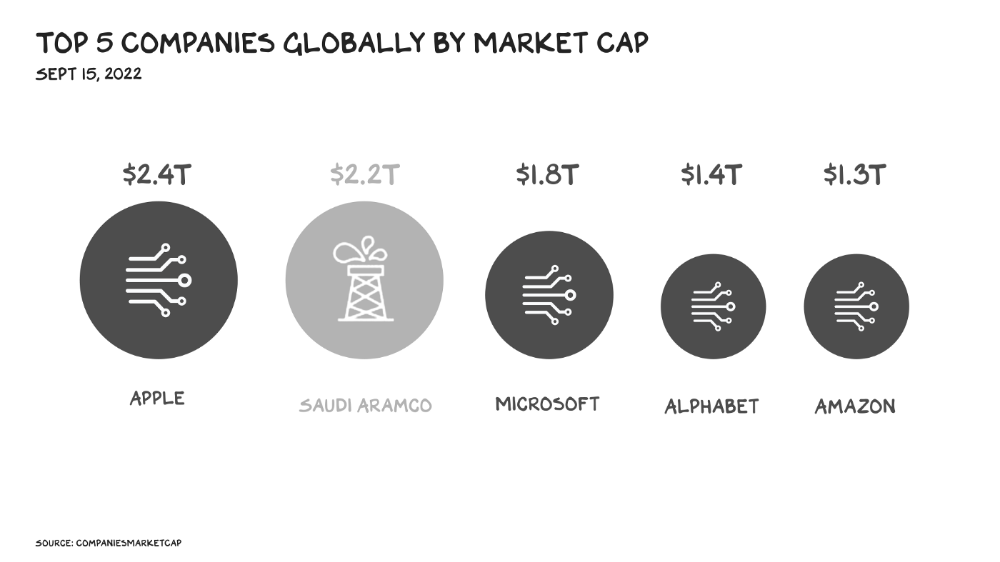 Attention to Detail
More than IT and media companies compete for attention. Podcasting is a high-growth, low-barrier-to-entry chance for newbies to gain attention and (for around 1%) make money. Conferences are good for capturing in-person attention. Salesforce paid $30 billion for Slack's dominance of workplace attention, while Spotify is transforming music listening attention into a media platform.
Conferences, newsletters, and even music streaming are artisan projects. Even 130,000-person Comic Con barely registers on the attention economy's Richter scale. Big players have hundreds of millions of monthly users.
Supermajors
Even titans can be disrupted in the attention economy. TikTok is fracking king Chesapeake Energy, a rule-breaking insurgent with revolutionary extraction technologies. Attention must be extracted, processed, and monetized. Innovators disrupt the attention economy value chain.
Attention pre-digital Entrepreneurs commercialized intriguing or amusing stuff like a newspaper or TV show through subscriptions and ads. Digital storage and distribution's limitless capacity drove the initial wave of innovation. Netflix became dominant by releasing old sitcoms and movies. More ad-free content gained attention. By 2016, Netflix was greater than cable TV. Linear scale, few network effects.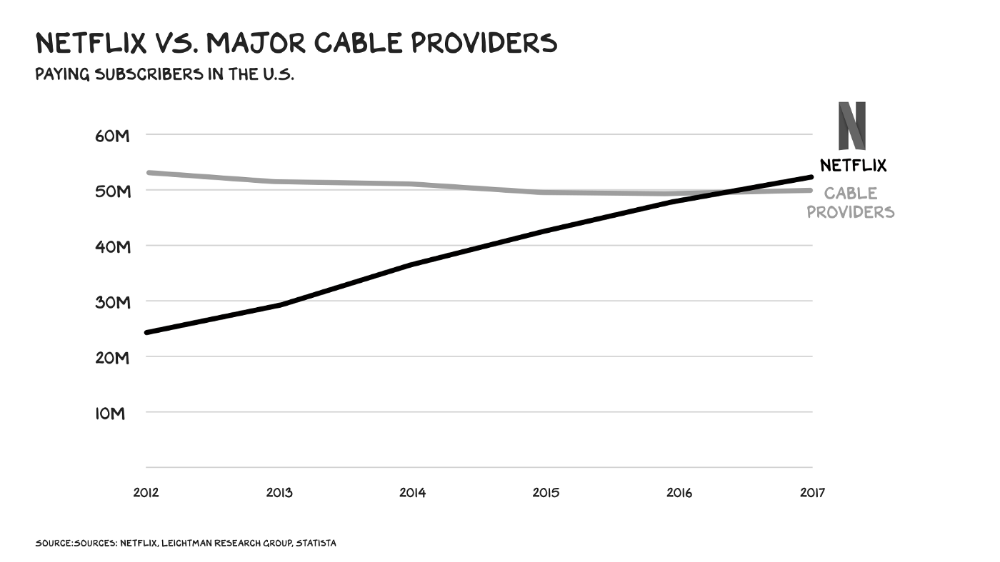 Social media introduced two breakthroughs. First, users produced and paid for content. Netflix's economics are dwarfed by TikTok and YouTube, where customers create the content drill rigs that the platforms monetize.
Next, social media businesses expanded content possibilities. Twitter, Facebook, and Reddit offer traditional content, but they transform user comments into more valuable (addictive) emotional content. By emotional resonance, I mean they satisfy a craving for acceptance or anger us. Attention and emotion are mined from comments/replies, piss-fights, and fast-brigaded craziness. Exxon has turned exhaust into heroin. Should we be so linked without a commensurate presence? You wouldn't say this in person. Anonymity allows fraudulent accounts and undesirable actors, which platforms accept to profit from more pollution.
FrackTok
A new entrepreneur emerged as ad-driven social media anger contaminated the water table. TikTok is remaking the attention economy. Short-form video platform relies on user-generated content, although delivery is narrower and less social.
Netflix grew on endless options. Choice requires cognitive effort. TikTok is the least demanding platform since TV. App video plays when opened. Every video can be skipped with a swipe. An algorithm watches how long you watch, what you finish, and whether you like or follow to create a unique streaming network. You can follow creators and respond, but the app is passive. TikTok's attention economy recombination makes it apex predator. The app has more users than Facebook and Instagram combined. Among teens, it's overtaking the passive king, TV.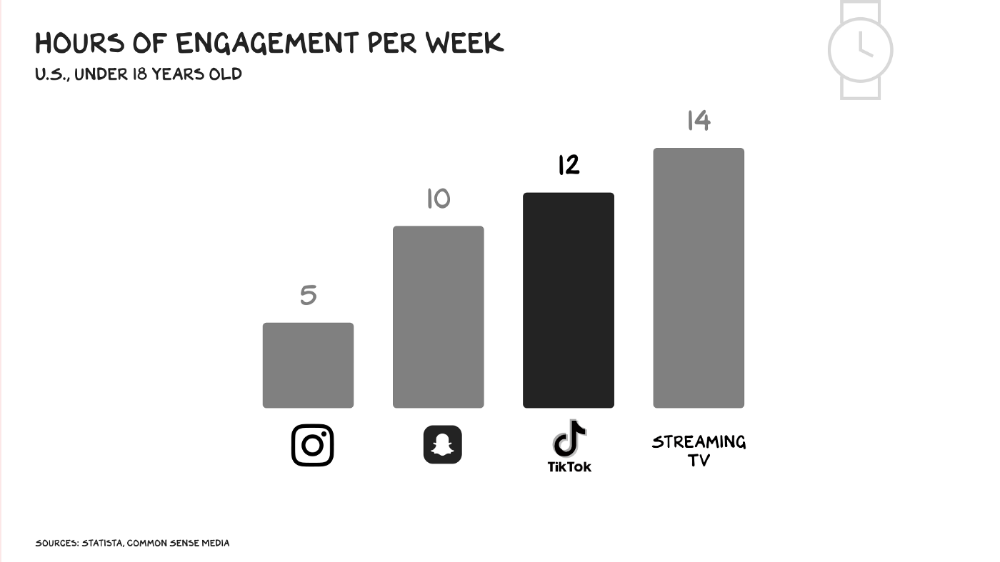 Externalities
Now we understand fossil fuel externalities. A carbon-based economy has harmed the world. Fracking brought large riches and rebalanced the oil economy, but at a cost: flammable water, earthquakes, and chemical leaks.
TikTok has various concerns associated with algorithmically generated content and platforms. A Wall Street Journal analysis discovered new accounts listed as belonging to 13- to 15-year-olds would swerve into rabbitholes of sex- and drug-related films in mere days. TikTok has a unique externality: Chinese Communist Party ties. Our last two presidents realized the relationship's perils. Concerned about platform's propaganda potential.
No evidence suggests the CCP manipulated information to harm American interests. A headjack implanted on America's youth, who spend more time on TikTok than any other network, connects them to a neural network that may be modified by the CCP. If the product and ownership can't be separated, the app should be banned. Putting restrictions near media increases problems. We should have a reciprocal approach with China regarding media firms. Ban TikTok
It was a conference theme. I anticipated Axel Springer CEO Mathias Döpfner to say, "We're watching them." (That's CEO protocol.) TikTok should be outlawed in every democracy as an espionage tool. Rumored regulations could lead to a ban, and FCC Commissioner Brendan Carr pushes for app store prohibitions. Why not restrict Chinese propaganda? Some disagree: Several renowned tech writers argued my TikTok diatribe last week distracted us from privacy and data reform. The situation isn't zero-sum. I've warned about Facebook and other tech platforms for years. Chewing gum while walking is possible.
The Future
Is TikTok the attention-economy titans' final evolution? The attention economy acts like it. No original content. CNN+ was unplugged, Netflix is losing members and has lost 70% of its market cap, and households are canceling cable and streaming subscriptions in historic numbers. Snap Originals closed in August after YouTube Originals in January.
Everyone is outTik-ing the Tok. Netflix debuted Fast Laughs, Instagram Reels, YouTube Shorts, Snap Spotlight, Roku The Buzz, Pinterest Watch, and Twitter is developing a TikTok-like product. I think they should call it Vine. Just a thought.
Meta's internal documents show that users spend less time on Instagram Reels than TikTok. Reels engagement is dropping, possibly because a third of the videos were generated elsewhere (usually TikTok, complete with watermark). Meta has tried to downrank these videos, but they persist. Users reject product modifications. Kim Kardashian and Kylie Jenner posted a meme urging Meta to Make Instagram Instagram Again, resulting in 312,000 signatures. Mark won't hear the petition. Meta is the fastest follower in social (see Oculus and legless hellscape fever nightmares). Meta's stock is at a five-year low, giving those who opposed my demands to break it up a compelling argument.
Blue Pill
TikTok's short-term dominance in attention extraction won't be stopped by anyone who doesn't hear Hail to the Chief every time they come in. Will TikTok still be a supermajor in five years? If not, YouTube will likely rule and protect Kings Landing.
56% of Americans regularly watch YouTube. Compared to Facebook and TikTok, 95% of teens use Instagram. YouTube users upload more than 500 hours of video per minute, a number that's likely higher today. Last year, the platform garnered $29 billion in advertising income, equivalent to Netflix's total.
Business and biology both value diversity. Oil can be found in the desert, under the sea, or in the Arctic. Each area requires a specific ability. Refiners turn crude into gas, lubricants, and aspirin. YouTube's variety is unmatched. One-second videos to 12-hour movies. Others are studio-produced. (My Bill Maher appearance was edited for YouTube.)
You can dispute in the comment section or just stream videos. YouTube is used for home improvement, makeup advice, music videos, product reviews, etc. You can load endless videos on a topic or creator, subscribe to your favorites, or let the suggestion algo take over. YouTube relies on user content, but it doesn't wait passively. Strategic partners advise 12,000 creators. According to a senior director, if a YouTube star doesn't post once week, their manager is "likely to know why."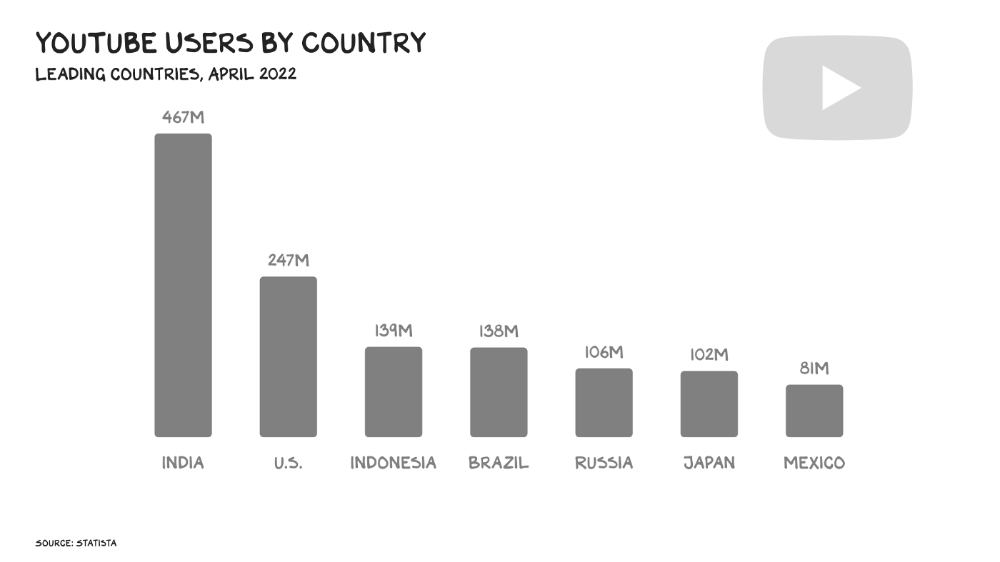 YouTube's kevlar is its middle, especially for creators. Like TikTok, users can start with low-production vlogs and selfie videos. As your following expands, so does the scope of your production, bringing longer videos, broadcast-quality camera teams and performers, and increasing prices. MrBeast, a YouTuber, is an example. MrBeast made gaming videos and YouTube drama comments.
Donaldson's YouTube subscriber base rose. MrBeast invests earnings to develop impressive productions. His most popular video was a $3.5 million Squid Game reenactment (the cost of an episode of Mad Men). 300 million people watched. TikTok's attention-grabbing tech is too limiting for this type of material. Now, Donaldson is focusing on offline energy with a burger restaurant and cloud kitchen enterprise.
Steps to Take
Rapid wealth growth has externalities. There is no free lunch. OK, maybe caffeine. The externalities are opaque, and the parties best suited to handle them early are incentivized to construct weapons of mass distraction to postpone and obfuscate while achieving economic security for themselves and their families. The longer an externality runs unchecked, the more damage it causes and the more it costs to fix. Vanessa Pappas, TikTok's COO, didn't shine before congressional hearings. Her comms team over-consulted her and said ByteDance had no headquarters because it's scattered. Being full of garbage simply promotes further anger against the company and the awkward bond it's built between the CCP and a rising generation of American citizens.
This shouldn't distract us from the (still existent) harm American platforms pose to our privacy, teenagers' mental health, and civic dialogue. Leaders of American media outlets don't suffer from immorality but amorality, indifference, and dissonance. Money rain blurs eyesight.
Autocratic governments that undermine America's standing and way of life are immoral. The CCP has and will continue to use all its assets to harm U.S. interests domestically and abroad. TikTok should be spun to Western investors or treated the way China treats American platforms: kicked out.
So rich,
What Motivated Amazon to Spend $1 Billion for The Rings of Power?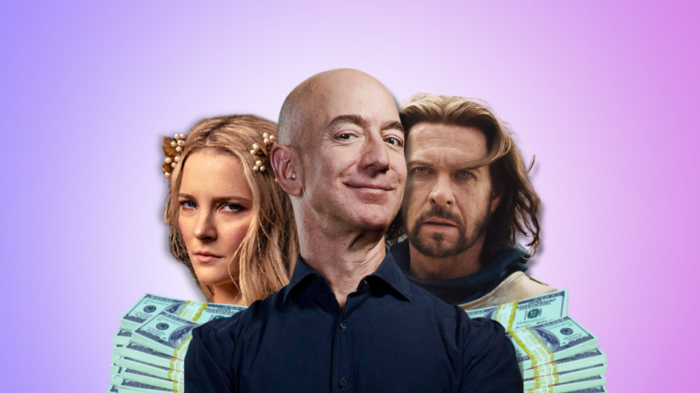 Amazon's Rings of Power is the most costly TV series ever made. This is merely a down payment towards Amazon's grand goal.
Here's a video:
Amazon bought J.R.R. Tolkien's fantasy novels for $250 million in 2017. This agreement allows Amazon to create a Tolkien series for Prime Video.
The business spent years developing and constructing a Lord of the Rings prequel. Rings of Power premiered on September 2, 2022.
It drew 25 million global viewers in 24 hours. Prime Video's biggest debut.
An Exorbitant Budget
The most expensive. First season cost $750 million to $1 billion, making it the most costly TV show ever.
Jeff Bezos has spent years looking for the next Game of Thrones, a critically and commercially successful original series. Rings of Power could help.
Why would Amazon bet $1 billion on one series?
It's Not Just About the Streaming War
It's simple to assume Amazon just wants to win. Since 2018, the corporation has been fighting Hulu, Netflix, HBO, Apple, Disney, and NBC. Each wants your money, talent, and attention. Amazon's investment goes beyond rivalry.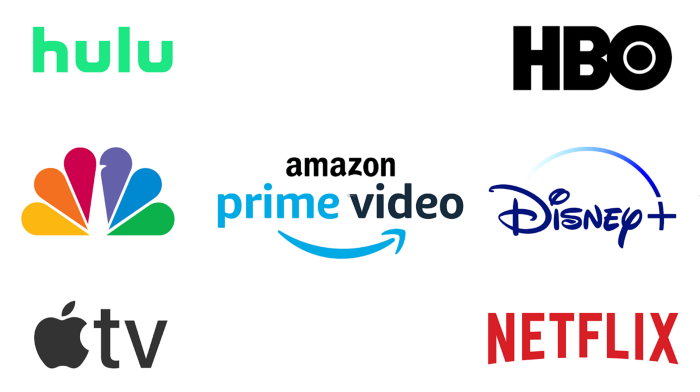 Subscriptions Are the Bait
Audible, Amazon Music, and Prime Video are subscription services, although the company's fundamental business is retail. Amazon's online stores contribute over 50% of company revenue. Subscription services contribute 6.8%. The company's master plan depends on these subscriptions.
Streaming videos on Prime increases membership renewals. Free trial participants are more likely to join. Members buy twice as much as non-members.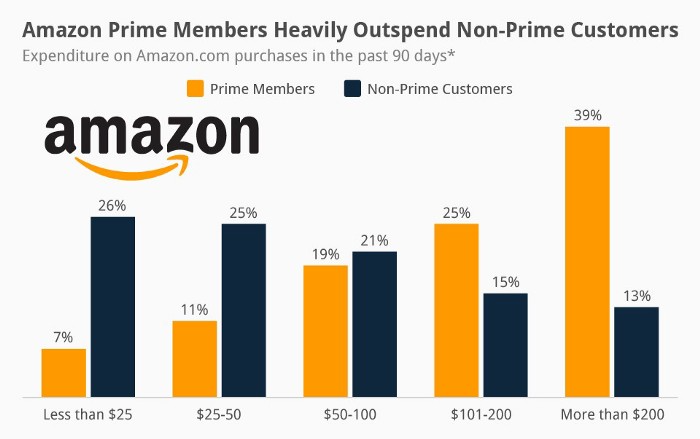 Amazon Studios doesn't generate original programming to earn from Prime Video subscriptions. It aims to retain and attract clients.
Amazon can track what you watch and buy. Its algorithm recommends items and services. Mckinsey says you'll use more Amazon products, shop at Amazon stores, and watch Amazon entertainment.
In 2015, the firm launched the first season of The Man in the High Castle, a dystopian alternate history TV series depicting a world ruled by Nazi Germany and Japan after World War II.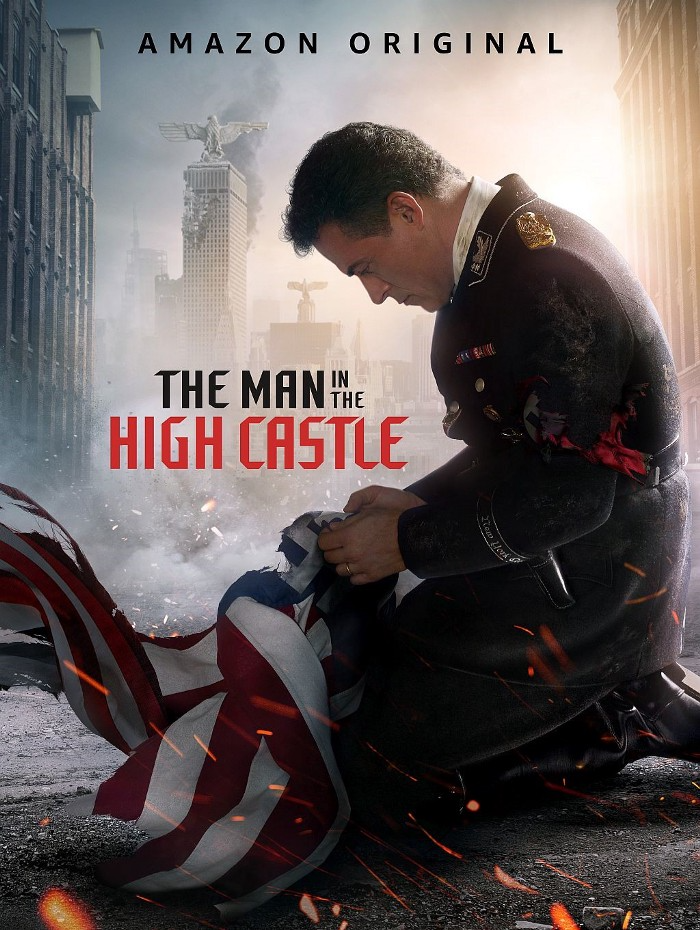 This $72 million production earned two Emmys. It garnered 1.15 million new Prime users globally.
When asked about his Hollywood investment, Bezos said, "A Golden Globe helps us sell more shoes."
Selling more footwear
Amazon secured a deal with DirecTV to air Thursday Night Football in restaurants and bars. First streaming service to have exclusive NFL games.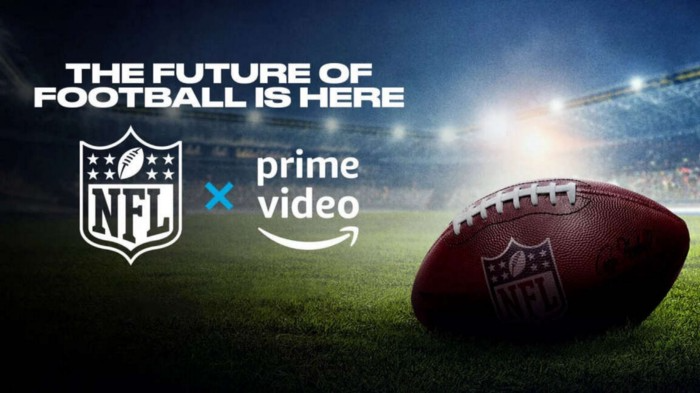 This isn't just about Thursday night football, says media analyst Ritchie Greenfield. This sells t-shirts. This may be a ticket. Amazon does more than stream games.
The Rings of Power isn't merely a production showcase, either. This sells Tolkien's fantasy novels such Lord of the Rings, The Hobbit, and The Silmarillion.
This tiny commitment keeps you in Amazon's ecosystem.
You might also like
By Engaging in these 5 Duplicitous Daily Activities, You Rapidly Kill Your Brain Cells
No, it's not smartphones, overeating, or sugar.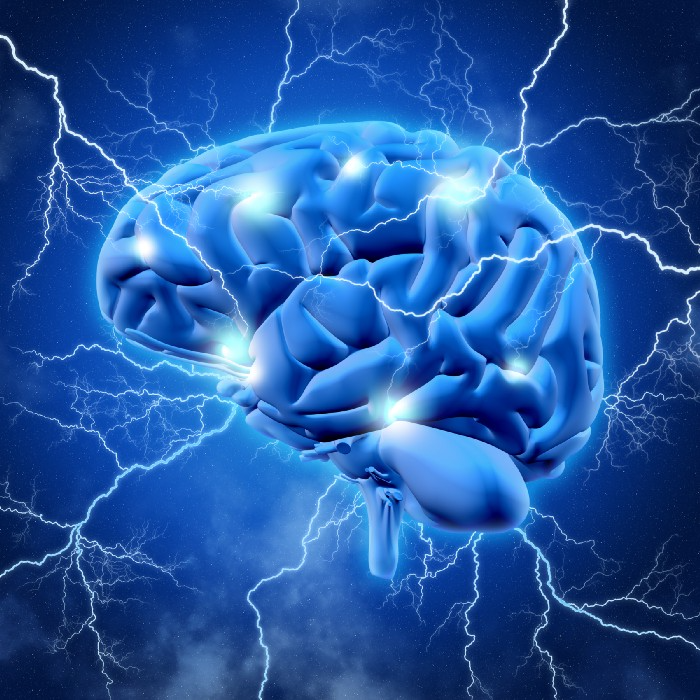 Everyday practices affect brain health. Good brain practices increase memory and cognition.
Bad behaviors increase stress, which destroys brain cells.
Bad behaviors can reverse evolution and diminish the brain. So, avoid these practices for brain health.
1. The silent assassin
Introverts appreciated quarantine.
Before the pandemic, they needed excuses to remain home; thereafter, they had enough.
I am an introvert, and I didn't hate quarantine. There are billions of people like me who avoid people.
Social relationships are important for brain health. Social anxiety harms your brain.
Antisocial behavior changes brains. It lowers IQ and increases drug abuse risk.
What you can do is as follows:
Make a daily commitment to engage in conversation with a stranger. Who knows, you might turn out to be your lone mate.

Get outside for at least 30 minutes each day.

Shop for food locally rather than online.

Make a call to a friend you haven't spoken to in a while.
2. Try not to rush things.
People love hustle culture. This economy requires a side gig to save money.
Long hours reduce brain health. A side gig is great until you burn out.
Work ages your wallet and intellect. Overworked brains age faster and lose cognitive function.
Working longer hours can help you make extra money, but it can harm your brain.
Side hustle but don't overwork.
What you can do is as follows:
Decide what hour you are not permitted to work after.

Three hours prior to night, turn off your laptop.

Put down your phone and work.

Assign due dates to each task.
3. Location is everything!
The environment may cause brain fog. High pollution can cause brain damage.
Air pollution raises Alzheimer's risk. Air pollution causes cognitive and behavioral abnormalities.
Polluted air can trigger early development of incurable brain illnesses, not simply lung harm.
Your city's air quality is uncontrollable. You may take steps to improve air quality.
In Delhi, schools and colleges are closed to protect pupils from polluted air. So I've adapted.
What you can do is as follows:
To keep your mind healthy and young, make an investment in a high-quality air purifier.

Enclose your windows during the day.

Use a N95 mask every day.
4. Don't skip this meal.
Fasting intermittently is trendy. Delaying breakfast to finish fasting is frequent.
Some skip breakfast and have a hefty lunch instead.
Skipping breakfast might affect memory and focus. Skipping breakfast causes low cognition, delayed responsiveness, and irritation.
Breakfast affects mood and productivity.
Intermittent fasting doesn't prevent healthy breakfasts.
What you can do is as follows:
Try to fast for 14 hours, then break it with a nutritious breakfast.

So that you can have breakfast in the morning, eat dinner early.

Make sure your breakfast is heavy in fiber and protein.
5. The quickest way to damage the health of your brain
Brain health requires water. 1% dehydration can reduce cognitive ability by 5%.
Cerebral fog and mental clarity might result from 2% brain dehydration. Dehydration shrinks brain cells.
Dehydration causes midday slumps and unproductivity. Water improves work performance.
Dehydration can harm your brain, so drink water throughout the day.
What you can do is as follows:
Always keep a water bottle at your desk.

Enjoy some tasty herbal teas.

With a big glass of water, begin your day.

Bring your own water bottle when you travel.
Conclusion
Bad habits can harm brain health. Low cognition reduces focus and productivity.
Unproductive work leads to procrastination, failure, and low self-esteem.
Avoid these harmful habits to optimize brain health and function.
Hudson Rennie
5 months ago
My Work at a $1.2 Billion Startup That Failed
Sometimes doing everything correctly isn't enough.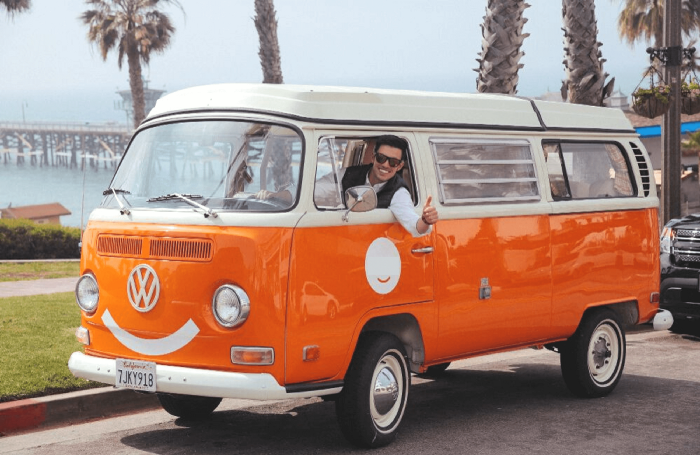 In 2020, I could fix my life.
After failing to start a business, I owed $40,000 and had no work.
A $1.2 billion startup on the cusp of going public pulled me up.
Ironically, it was getting ready for an epic fall — with the world watching.
Life sometimes helps. Without a base, even the strongest fall. A corporation that did everything right failed 3 months after going public.
First-row view.
Apple is the creator of Adore.
Out of respect, I've altered the company and employees' names in this account, despite their failure.
Although being a publicly traded company, it may become obvious.
We'll call it "Adore" — a revolutionary concept in retail shopping.
Two Apple execs established Adore in 2014 with a focus on people-first purchasing.
Jon and Tim:
The concept for the stylish Apple retail locations you see today was developed by retail expert Jon Swanson, who collaborated closely with Steve Jobs.

Tim Cruiter is a graphic designer who produced the recognizable bouncing lamp video that appears at the start of every Pixar film.
The dynamic duo realized their vision.
"What if you could combine the convenience of online shopping with the confidence of the conventional brick-and-mortar store experience."
Adore's mobile store concept combined traditional retail with online shopping.
Adore brought joy to 70+ cities and 4 countries over 7 years, including the US, Canada, and the UK.
Being employed on the ground floor, with world dominance and IPO on the horizon, was exciting.
I started as an Adore Expert.
I delivered cell phones, helped consumers set them up, and sold add-ons.
As the company grew, I became a Virtual Learning Facilitator and trained new employees across North America using Zoom.
In this capacity, I gained corporate insider knowledge. I worked with the creative team and Jon and Tim.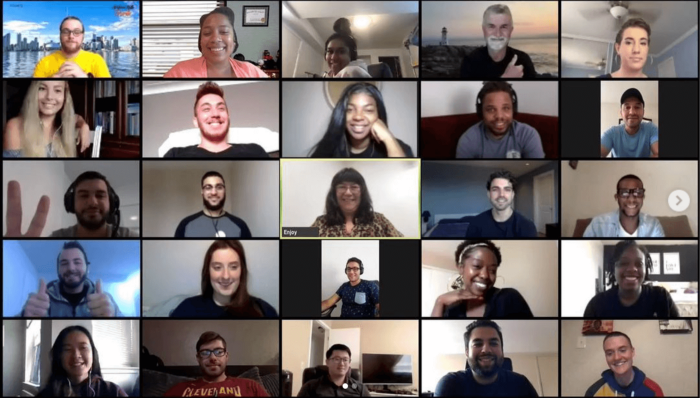 It's where I saw company foundation fissures. Despite appearances, investors were concerned.
The business strategy was ground-breaking.
Even after seeing my employee stocks fall from a home down payment to $0 (when Adore filed for bankruptcy), it's hard to pinpoint what went wrong.
Solid business model, well-executed.
Jon and Tim's chase for public funding ended in glory.
Here's the business model in a nutshell:
Buying cell phones is cumbersome. You have two choices:
Online purchase: not knowing what plan you require or how to operate your device.

Enter a store, which can be troublesome and stressful.
Apple, AT&T, and Rogers offered Adore as a free delivery add-on. Customers could:
Have their phone delivered by UPS or Canada Post in 1-2 weeks.

Alternately, arrange for a person to visit them the same day (or sometimes even the same hour) to assist them set up their phone and demonstrate how to use it (transferring contacts, switching the SIM card, etc.).
Each Adore Expert brought a van with extra devices and accessories to customers.
Happy customers.
Here's how Adore and its partners made money:
Adores partners appreciated sending Experts to consumers' homes since they improved customer satisfaction, average sale, and gadget returns.
**Telecom enterprises have low customer satisfaction. The average NPS is 30/100. Adore's global NPS was 80.
Adore made money by:
a set cost for each delivery

commission on sold warranties and extras
Consumer product applications seemed infinite.
A proprietary scheduling system ("The Adore App"), allowed for same-day, even same-hour deliveries.
It differentiates Adore.
They treated staff generously by:
Options on stock

health advantages

sales enticements

high rates per hour
Four-day workweeks were set by experts.
Being hired early felt like joining Uber, Netflix, or Tesla. We hoped the company's stocks would rise.
Exciting times.
I smiled as I greeted more than 1,000 new staff.
I spent a decade in retail before joining Adore. I needed a change.
After a leap of faith, I needed a lifeline. So, I applied for retail sales jobs in the spring of 2019.
The universe typically offers you what you want after you accept what you need. I needed a job to settle my debt and reach $0 again.
And the universe listened.
After being hired as an Adore Expert, I became a Virtual Learning Facilitator. Enough said.
After weeks of economic damage from the pandemic.
This employment let me work from home during the pandemic. It taught me excellent business skills.
I was active in brainstorming, onboarding new personnel, and expanding communication as we grew.
This job gave me vital skills and a regular paycheck during the pandemic.
It wasn't until January of 2022 that I left on my own accord to try to work for myself again — this time, it's going much better.
Adore was perfect. We valued:
Connection

Discovery

Empathy
Everything we did centered on compassion, and we held frequent Justice Calls to discuss diversity and work culture.
The last day of onboarding typically ended in tears as employees felt like they'd found a home, as I had.
Like all nice things, the wonderful vibes ended.
First indication of distress
My first day at the workplace was great.
Fun, intuitive, and they wanted creative individuals, not salesman.
While sales were important, the company's vision was more important.
"To deliver joy through life-changing mobile retail experiences."
Thorough, forward-thinking training. We had a module on intuition. It gave us role ownership.
We were flown cross-country for training, gave feedback, and felt like we made a difference. Multiple contacts responded immediately and enthusiastically.
The atmosphere was genuine.
Making money was secondary, though. Incredible service was a priority.
Jon and Tim answered new hires' questions during Zoom calls during onboarding. CEOs seldom meet new hires this way, but they seemed to enjoy it.
All appeared well.
But in late 2021, things started changing.
Adore's leadership changed after its IPO. From basic values to sales maximization. We lost communication and were forced to fend for ourselves.
Removed the training wheels.
It got tougher to gain instructions from those above me, and new employees told me their roles weren't as advertised.
External money-focused managers were hired.
Instead of creative types, we hired salespeople.
With a new focus on numbers, Adore's uniqueness began to crumble.
Via Zoom, hundreds of workers were let go.
So.
Early in 2022, mass Zoom firings were trending. A CEO firing 900 workers over Zoom went viral.
Adore was special to me, but it became a headline.
30 June 2022, Vice Motherboard published Watch as Adore's CEO Fires Hundreds.
It described a leaked video of Jon Swanson laying off all staff in Canada and the UK.
They called it a "notice of redundancy".
The corporation couldn't pay its employees.
I loved Adore's underlying ideals, among other things. We called clients Adorers and sold solutions, not add-ons.
But, like anything, a company is only as strong as its weakest link. And obviously, the people-first focus wasn't making enough money.
There were signs. The expansion was presumably a race against time and money.
Adore finally declared bankruptcy.
Adore declared bankruptcy 3 months after going public. It happened in waves, like any large-scale fall.
Initial key players to leave were

Then, communication deteriorated.

Lastly, the corporate culture disintegrated.
6 months after leaving Adore, I received a letter in the mail from a Law firm — it was about my stocks.
Adore filed Chapter 11. I had to sue to collect my worthless investments.
I hoped those stocks will be valuable someday. Nope. Nope.
Sad, I sighed.
$1.2 billion firm gone.
I left the workplace 3 months before starting a writing business. Despite being mediocre, I'm doing fine.
I got up as Adore fell.
Finally, can we scale kindness?
I trust my gut. Changes at Adore made me leave before it sank.
Adores' unceremonious slide from a top startup to bankruptcy is astonishing to me.
The company did everything perfectly, in my opinion.
first to market,

provided excellent service

paid their staff handsomely.

was responsible and attentive to criticism
The company wasn't led by an egotistical eccentric. The crew had centuries of cumulative space experience.
I'm optimistic about the future of work culture, but is compassion scalable?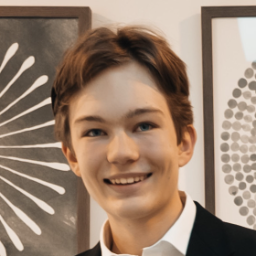 Welcome
Welcome to Integrity's Web3 community!