More on Personal Growth
Glorin Santhosh
4 months ago
Start organizing your ideas by using The Second Brain.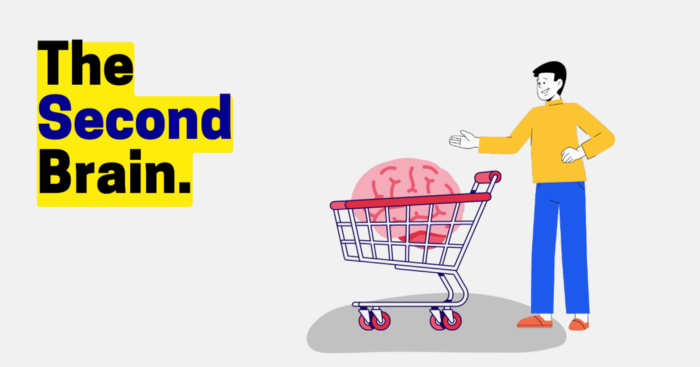 Building A Second Brain helps us remember connections, ideas, inspirations, and insights. Using contemporary technologies and networks increases our intelligence.
This approach makes and preserves concepts. It's a straightforward, practical way to construct a second brain—a remote, centralized digital store for your knowledge and its sources.
How to build 'The Second Brain'
Have you forgotten any brilliant ideas? What insights have you ignored?
We're pressured to read, listen, and watch informative content. Where did the data go? What happened?
Our brains can store few thoughts at once. Our brains aren't idea banks.
Building a Second Brain helps us remember thoughts, connections, and insights. Using digital technologies and networks expands our minds.
Ten Rules for Creating a Second Brain
1. Creative Stealing
Instead of starting from scratch, integrate other people's ideas with your own.
This way, you won't waste hours starting from scratch and can focus on achieving your goals.
Users of Notion can utilize and customize each other's templates.
2. The Habit of Capture
We must record every idea, concept, or piece of information that catches our attention since our minds are fragile.
When reading a book, listening to a podcast, or engaging in any other topic-related activity, save and use anything that resonates with you.
3. Recycle Your Ideas
Reusing our own ideas across projects might be advantageous since it helps us tie new information to what we already know and avoids us from starting a project with no ideas.
4. Projects Outside of Category
Instead of saving an idea in a folder, group it with documents for a project or activity.
If you want to be more productive, gather suggestions.
5. Burns Slowly
Even if you could finish a job, work, or activity if you focused on it, you shouldn't.
You'll get tired and can't advance many projects. It's easier to divide your routine into daily tasks.
Few hours of daily study is more productive and healthier than entire nights.
6. Begin with a surplus
Instead of starting with a blank sheet when tackling a new subject, utilise previous articles and research.
You may have read or saved related material.
7. Intermediate Packets
A bunch of essay facts.
You can utilize it as a document's section or paragraph for different tasks.
Memorize useful information so you can use it later.
8. You only know what you make
We can see, hear, and read about anything.
What matters is what we do with the information, whether that's summarizing it or writing about it.
9. Make it simpler for yourself in the future.
Create documents or files that your future self can easily understand. Use your own words, mind maps, or explanations.
10. Keep your thoughts flowing.
If you don't employ the knowledge in your second brain, it's useless.
Few people exercise despite knowing its benefits.
Conclusion:
You may continually move your activities and goals closer to completion by organizing and applying your information in a way that is results-focused.

Profit from the information economy's explosive growth by turning your specialized knowledge into cash.

Make up original patterns and linkages between topics.

You may reduce stress and information overload by appropriately curating and managing your personal information stream.

Learn how to apply your significant experience and specific knowledge to a new job, business, or profession.

Without having to adhere to tight, time-consuming constraints, accumulate a body of relevant knowledge and concepts over time.

Take advantage of all the learning materials that are at your disposal, including podcasts, online courses, webinars, books, and articles.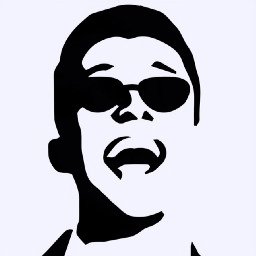 Joseph Mavericks
7 months ago
The world's 36th richest man uses a 5-step system to get what he wants.
Ray Dalio's super-effective roadmap 
Ray Dalio's $22 billion net worth ranks him 36th globally. From 1975 to 2011, he built the world's most successful hedge fund, never losing more than 4% from 1991 to 2020. (and only doing so during 3 calendar years). 
Dalio describes a 5-step process in his best-selling book Principles. It's the playbook he's used to build his hedge fund, beat the markets, and face personal challenges. 
This 5-step system is so valuable and well-explained that I didn't edit or change anything; I only added my own insights in the parts I found most relevant and/or relatable as a young entrepreneur. The system's overview: 
Have clear goals 

Identify and don't tolerate problems 

Diagnose problems to get at their root causes 

Design plans that will get you around those problems 

Do what is necessary to push through the plans to get results 
If you follow these 5 steps in a virtuous loop, you'll almost always see results. Repeat the process for each goal you have. 
1. Have clear goals 
a) Prioritize: You can have almost anything, but not everything. 
I started and never launched dozens of projects for 10 years because I was scattered. I opened a t-shirt store, traded algorithms, sold art on Instagram, painted skateboards, and tinkered with electronics. I decided to try blogging for 6 months to see where it took me. Still going after 3 years. 
b) Don't confuse goals with desires. 
A goal inspires you to act. Unreasonable desires prevent you from achieving your goals. 
c) Reconcile your goals and desires to decide what you want. 
d) Don't confuse success with its trappings. 
e) Never dismiss a goal as unattainable. 
Always one path is best. Your perception of what's possible depends on what you know now. I never thought I'd make money writing online so quickly, and now I see a whole new horizon of business opportunities I didn't know about before. 
f) Expectations create abilities. 
Don't limit your abilities. More you strive, the more you'll achieve. 
g) Flexibility and self-accountability can almost guarantee success. 
Flexible people accept what reality or others teach them. Self-accountability is the ability to recognize your mistakes and be more creative, flexible, and determined. 
h) Handling setbacks well is as important as moving forward. 
Learn when to minimize losses and when to let go and move on. 
2. Don't ignore problems 
a) See painful problems as improvement opportunities. 
Every problem, painful situation, and challenge is an opportunity. Read The Art of Happiness for more. 
b) Don't avoid problems because of harsh realities. 
Recognizing your weaknesses isn't the same as giving in. It's the first step in overcoming them. 
c) Specify your issues. 
There is no "one-size-fits-all" solution. 
d) Don't mistake a cause of a problem with the real problem. 
"I can't sleep" is a cause, not a problem. "I'm underperforming" could be a problem. 
e) Separate big from small problems. 
You have limited time and energy, so focus on the biggest problems. 
f) Don't ignore a problem. 
Identifying a problem and tolerating it is like not identifying it. 
3. Identify problems' root causes 
a) Decide "what to do" after assessing "what is." 
"A good diagnosis takes 15 to 60 minutes, depending on its accuracy and complexity. [...] Like principles, root causes recur in different situations. 
b) Separate proximate and root causes. 
"You can only solve problems by removing their root causes, and to do that, you must distinguish symptoms from disease." 
c) Knowing someone's (or your own) personality can help you predict their behavior. 
4. Design plans that will get you around the problems 
a) Retrace your steps. 
Analyze your past to determine your future. 
b) Consider your problem a machine's output. 
Consider how to improve your machine. It's a game then. 
c) There are many ways to reach your goals. 
Find a solution. 
d) Visualize who will do what in your plan like a movie script. 
Consider your movie's actors and script's turning points, then act accordingly. The game continues. 
e) Document your plan so others can judge your progress. 
Accountability boosts success. 
f) Know that a good plan doesn't take much time. 
The execution is usually the hardest part, but most people either don't have a plan or keep changing it. Don't drive while building the car. Build it first, because it'll be bumpy. 
5. Do what is necessary to push through the plans to get results 
a) Great planners without execution fail. 
Life is won with more than just planning. Similarly, practice without talent beats talent without practice. 
b) Work ethic is undervalued. 
Hyper-productivity is praised in corporate America, even if it leads nowhere. To get things done, use checklists, fewer emails, and more desk time. 
c) Set clear metrics to ensure plan adherence. 
I've written about the OKR strategy for organizations with multiple people here. If you're on your own, I recommend the Wheel of Life approach. Both systems start with goals and tasks to achieve them. Then start executing on a realistic timeline. 
If you find solutions, weaknesses don't matter. 
Everyone's weak. You, me, Gates, Dalio, even Musk. Nobody will be great at all 5 steps of the system because no one can think in all the ways required. Some are good at analyzing and diagnosing but bad at executing. Some are good planners but poor communicators. Others lack self-discipline. 
Stay humble and ask for help when needed. Nobody has ever succeeded 100% on their own, without anyone else's help. That's the paradox of individual success: teamwork is the only way to get there. 
Most people won't have the skills to execute even the best plan. You can get missing skills in two ways: 
Self-taught (time-consuming) 

Others' (requires humility) light
On knowing what to do with your life 
"Some people have good mental maps and know what to do on their own. Maybe they learned them or were blessed with common sense. They have more answers than others. Others are more humble and open-minded. […] Open-mindedness and mental maps are most powerful." — Ray Dalio 
I've always known what I wanted to do, so I'm lucky. I'm almost 30 and have always had trouble executing. Good thing I never stopped experimenting, but I never committed to anything long-term. I jumped between projects. I decided 3 years ago to stick to one project for at least 6 months and haven't looked back. 
Maybe you're good at staying focused and executing, but you don't know what to do. Maybe you have none of these because you haven't found your purpose. Always try new projects and talk to as many people as possible. It will give you inspiration and ideas and set you up for success. 
There is almost always a way to achieve a crazy goal or idea. 
Enjoy the journey, whichever path you take.
The Three Most Effective Questions for Ongoing Development
The Traffic Light Approach to Reviewing Personal, Team and Project Development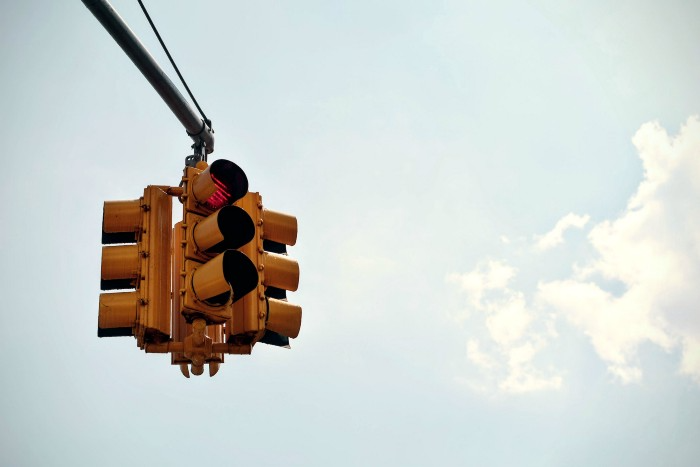 What needs improvement? If you want to improve, you need to practice your sport, musical instrument, habit, or work project. You need to assess your progress.
Continuous improvement is the foundation of focused practice and a growth mentality. Not just individually. High-performing teams pursue improvement. Right? Why is it hard?
As a leadership coach, senior manager, and high-level athlete, I've found three key questions that may unlock high performance in individuals and teams.
Problems with Reviews
Reviewing and improving performance is crucial, however I hate seeing review sessions in my diary. I rarely respond to questionnaire pop-ups or emails. Why?
Time constrains. Requests to fill out questionnaires often state they will take 10–15 minutes, but I can think of a million other things to do with that time. Next, review overload. Businesses can easily request comments online. No matter what you buy, someone will ask for your opinion. This bombardment might make feedback seem bad, which is bad.
The problem is that we might feel that way about important things like personal growth and work performance. Managers and team leaders face a greater challenge.
When to Conduct a Review
We must be wise about reviewing things that matter to us. Timing and duration matter. Reviewing the experience as quickly as possible preserves information and sentiments. Time must be brief. The review's importance and size will determine its length. We might only take a few seconds to review our morning coffee, but we might require more time for that six-month work project.
These post-event reviews should be supplemented by periodic reflection. Journaling can help with daily reflections, but I also like to undertake personal reviews every six months on vacation or at a retreat.
As an employee or line manager, you don't want to wait a year for a performance assessment. Little and frequently is best, with a more formal and in-depth assessment (typically with a written report) in 6 and 12 months.
The Easiest Method to Conduct a Review Session
I follow Einstein's review process:
"Make things as simple as possible but no simpler."
Thus, it should be brief but deliver the necessary feedback. Quality critique is hard to receive if the process is overly complicated or long.
I have led or participated in many review processes, from strategic overhauls of big organizations to personal goal coaching. Three key questions guide the process at either end:
What ought to stop being done?

What should we do going forward?

What should we do first?
Following the Rule of 3, I compare it to traffic lights. Red, amber, and green lights:
Red What ought should we stop?

Amber What ought to we keep up?

Green Where should we begin?
This approach is easy to understand and self-explanatory, however below are some examples under each area.
Red What ought should we stop?
As a team or individually, we must stop doing things to improve.
Sometimes they're bad. If we want to lose weight, we should avoid sweets. If a team culture is bad, we may need to stop unpleasant behavior like gossiping instead of having difficult conversations.
Not all things we should stop are wrong. Time matters. Since it is finite, we sometimes have to stop nice things to focus on the most important. Good to Great author Jim Collins famously said:
"Don't let the good be the enemy of the great."
Prioritizing requires this idea. Thus, decide what to stop to prioritize.
Amber What ought to we keep up?
Should we continue with the amber light? It helps us decide what to keep doing during review. Many items fall into this category, so focus on those that make the most progress.
Which activities have the most impact? Which behaviors create the best culture? Success-building habits?
Use these questions to find positive momentum. These are the fly-wheel motions, according to Jim Collins. The Compound Effect author Darren Hardy says:
"Consistency is the key to achieving and maintaining momentum."
What can you do consistently to reach your goal?
Green Where should we begin?
Finally, green lights indicate new beginnings. Red/amber difficulties may be involved. Stopping a red issue may give you more time to do something helpful (in the amber).
This green space inspires creativity. Kolbs learning cycle requires active exploration to progress. Thus, it's crucial to think of new approaches, try them out, and fail if required.
This notion underpins lean start-build, up's measure, learn approach and agile's trying, testing, and reviewing. Try new things until you find what works. Thomas Edison, the lighting legend, exclaimed:
"There is a way to do it better — find it!"
Failure is acceptable, but if you want to fail forward, look back on what you've done.
John Maxwell concurred with Edison:
"Fail early, fail often, but always fail forward"
A good review procedure lets us accomplish that. To avoid failure, we must act, experiment, and reflect.
Use the traffic light system to prioritize queries. Ask:
Red What needs to stop?

Amber What should continue to occur?

Green What might be initiated?
Take a moment to reflect on your day. Check your priorities with these three questions. Even if merely to confirm your direction, it's a terrific exercise!
You might also like
How Much I Got Paid by YouTube for a 68 Million Views Video
My nameless, faceless channel case study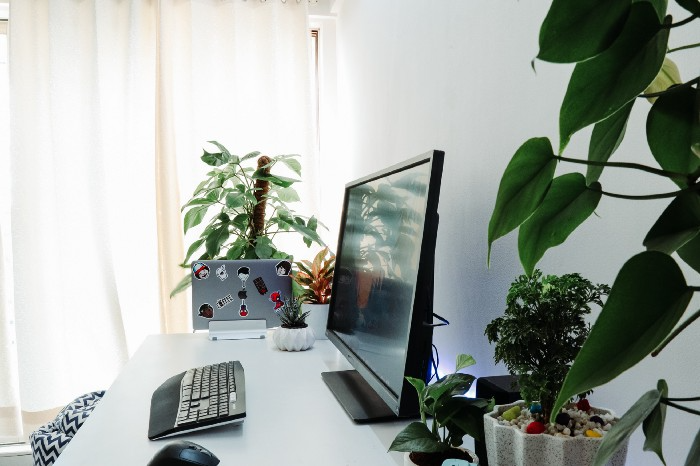 The Numbers
I anonymize this YouTube channel.
It's in a trendy, crowded niche. Sharing it publicly will likely enhance competition.
I'll still share my dashboard numbers:

A year ago, the video was released.


What I earned
I'll stop stalling. Here's a screenshot of my YouTube statistics page displaying Adsense profits.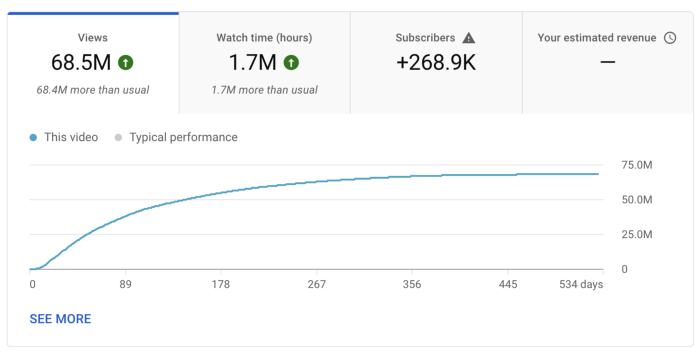 YouTube Adsense made me ZERO dollars.
OMG!
How is this possible?
YouTube Adsense can't monetize my niche. This is typical in faceless niches like TikTok's rain videos. If they were started a while ago, I'm sure certain rain accounts are monetized, but not today.
I actually started a soothing sounds faceless YouTube channel. This was another account of mine.
I looped Pexels films for hours. No background music, just wind, rain, etc.
People could watch these videos to relax or get ready for bed. They're ideal for background noise and relaxation.
They're long-lasting, too. It's easy to make a lot from YouTube Adsense if you insert ads.
Anyway, I tried to monetize it and couldn't. This was about a year ago. That's why I doubt new accounts in this genre would be able to get approved for ads.
Back to my faceless channel with 68 million views.
I received nothing from YouTube Adsense, but I made money elsewhere.
Getting paid by the gods of affiliate marketing
Place links in the video and other videos on the channel to get money. Visitors that buy through your affiliate link earn you a commission.
This video earned many clicks on my affiliate links.
I linked to a couple of Amazon products, a YouTube creator tool, my kofi link, and my subscribe link.
Sponsorships
Brands pay you to include ads in your videos.
This video led to many sponsorships.
I've done dozens of sponsorship campaigns that paid $40 to $50 for an end screen to $450 for a preroll ad.
Last word
Overall, I made less than $3,000.
If I had time, I'd be more proactive with sponsorships. You can pitch brand sponsorships. This actually works.
I'd do that if I could rewind time.
I still can, but I think the reaction rate would be higher closer to the viral video's premiere date.
Apple Quietly Introduces A Revolutionary Savings Account That Kills Banks
Would you abandon your bank for Apple?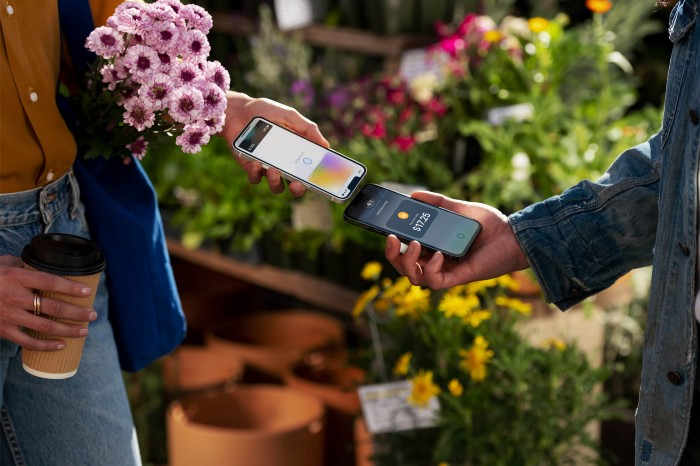 Banks are struggling.
not as a result of inflation

not due to the economic downturn.

not due to the conflict in Ukraine.
But because they're underestimating Apple.
Slowly but surely, Apple is looking more like a bank.
An easy new savings account like Apple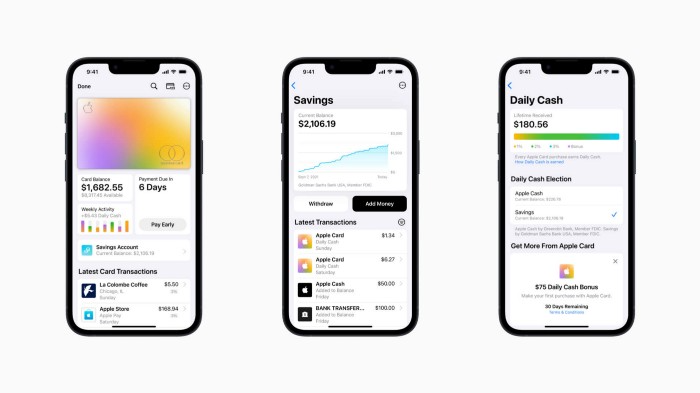 Apple has a new savings account.
Apple says Apple Card users may set up and manage savings straight in Wallet.
No more charges

Colorfully high yields

With no minimum balance

No minimal down payments
Most consumer-facing banks will have to match Apple's offer or suffer disruption.
Users may set it up from their iPhones without traveling to a bank or filling out paperwork.
It's built into the iPhone in your pocket.
So now more waiting for slow approval processes.
Once the savings account is set up, Apple will automatically transfer all future Daily Cash into it. Users may also add these cash to an Apple Cash card in their Apple Wallet app and adjust where Daily Cash is paid at any time.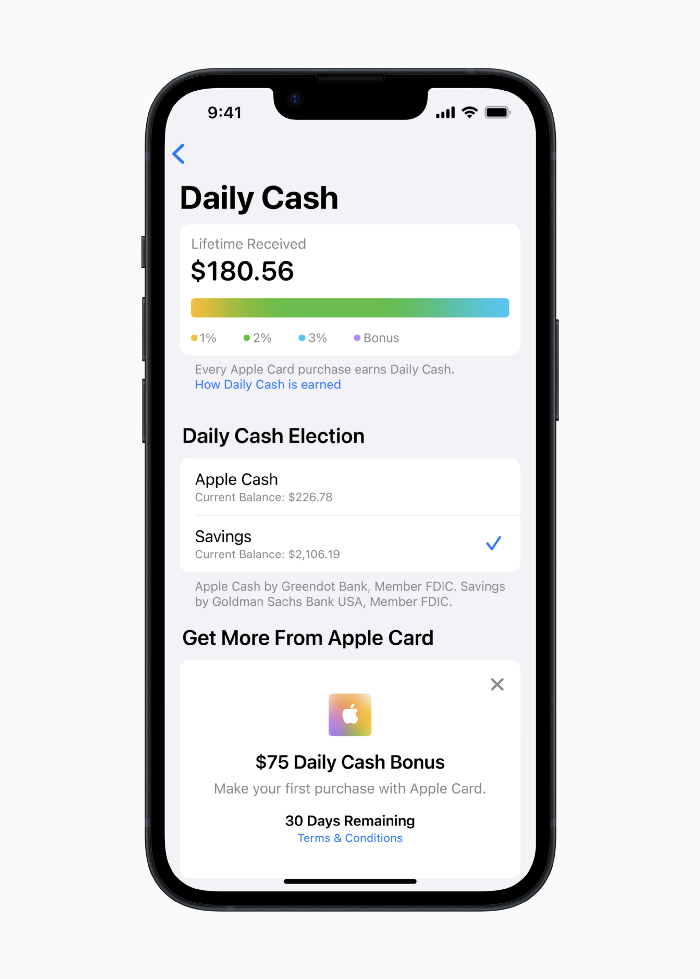 Apple Pay and Apple Wallet VP Jennifer Bailey:
Savings enables Apple Card users to grow their Daily Cash rewards over time, while also saving for the future.
Bailey says Savings adds value to Apple Card's Daily Cash benefit and offers another easy-to-use tool to help people lead healthier financial lives.
Transfer money from a linked bank account or Apple Cash to a Savings account. Users can withdraw monies to a connected bank account or Apple Cash card without costs.
Once set up, Apple Card customers can track their earnings via Wallet's Savings dashboard. This dashboard shows their account balance and interest.
This product targets younger people as the easiest way to start a savings account on the iPhone.
Why would a Gen Z account holder travel to the bank if their iPhone could be their bank?
Using this concept, Apple will transform the way we think about banking by 2030.
Two other nightmares keep bankers awake at night
Apple revealed two new features in early 2022 that banks and payment gateways hated.
Tap to Pay with Apple

Late Apple Pay
They startled the industry.
Tap To Pay converts iPhones into mobile POS card readers. Apple Pay Later is pushing the BNPL business in a consumer-friendly direction, hopefully ending dodgy lending practices.
Tap to Pay with Apple
iPhone POS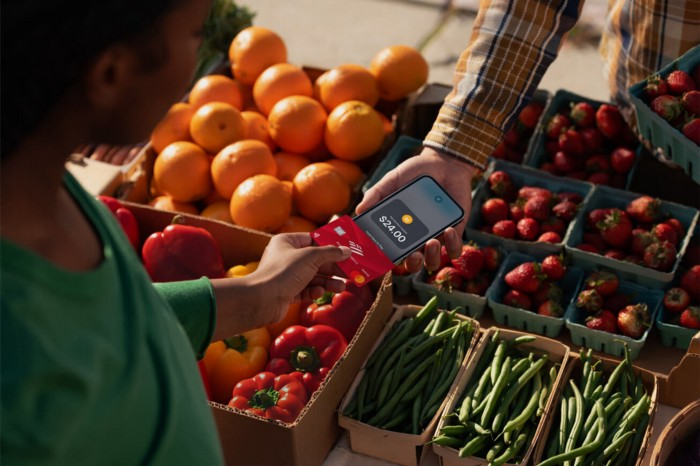 Millions of US merchants, from tiny shops to huge establishments, will be able to accept Apple Pay, contactless credit and debit cards, and other digital wallets with a tap.
No hardware or payment terminal is needed.
Revolutionary!
Stripe has previously launched this feature.
Tap to Pay on iPhone will provide companies with a secure, private, and quick option to take contactless payments and unleash new checkout experiences, said Bailey.
Apple's solution is ingenious. Brilliant!
Bailey says that payment platforms, app developers, and payment networks are making it easier than ever for businesses of all sizes to accept contactless payments and thrive.
I admire that Apple is offering this up to third-party services instead of closing off other functionalities.
Slow POS terminals, farewell.
Late Apple Pay
Pay Apple later.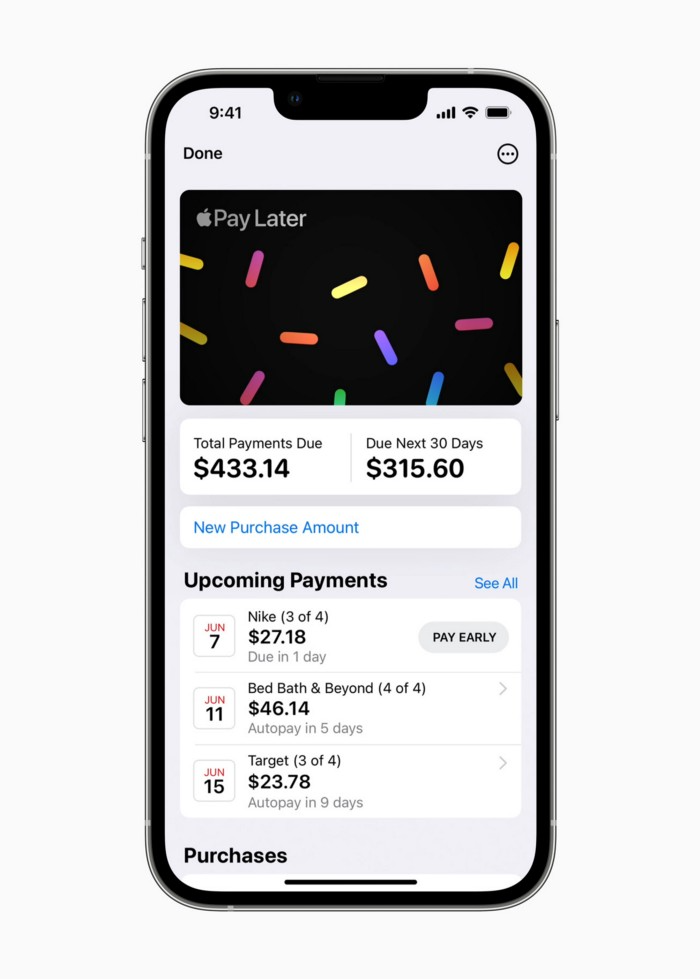 Apple Pay Later enables US consumers split Apple Pay purchases into four equal payments over six weeks with no interest or fees.
The Apple ecosystem integration makes this BNPL scheme unique. Nonstick. No dumb forms.
Frictionless.
Just double-tap the button.
Apple Pay Later was designed with users' financial well-being in mind. Apple makes it easy to use, track, and pay back Apple Pay Later from Wallet.
Apple Pay Later can be signed up in Wallet or when using Apple Pay. Apple Pay Later can be used online or in an app that takes Apple Pay and leverages the Mastercard network.
Apple Pay Order Tracking helps consumers access detailed receipts and order tracking in Wallet for Apple Pay purchases at participating stores.
Bad BNPL suppliers, goodbye.
Most bankers will be caught in Apple's eye playing mini golf in high-rise offices.
The big problem:
Banks still think about features and big numbers just like other smartphone makers did not too long ago.

Apple thinks about effortlessness, seamlessness, and frictionlessness that just work through integrated hardware and software.
Let me know what you think Apple's next power moves in the banking industry could be.
When we want to return anything, why on earth do stores still require a receipt?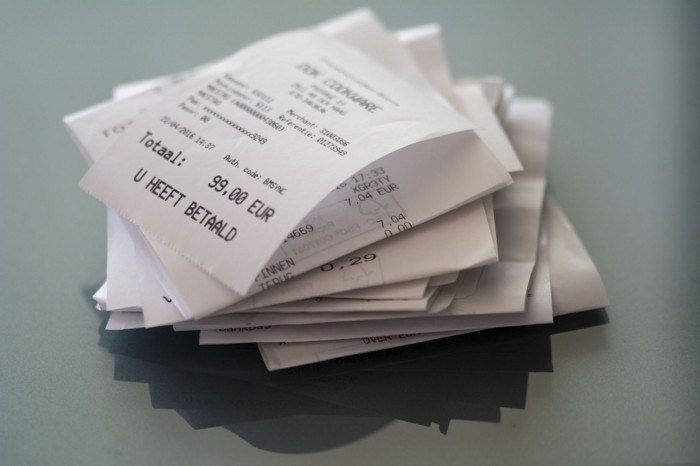 A friend told me of an incident she found particularly irritating: a retailer where she is a frequent client, with an account and loyalty card, asked for the item's receipt.
We all know that stores collect every bit of data they can on us, including our socio-demographic profile, address, shopping habits, and everything we've ever bought, so why would they need a fading receipt? Who knows? That their consumers try to pass off other goods? It's easy to verify past transactions to see when the item was purchased.
That's it. Why require receipts? Companies send us incentives, discounts, and other marketing, yet when we need something, we have to prove we're not cheating.
Why require us to preserve data and documents when our governments and governmental institutions already have them? Why do I need to carry documents like my driver's license if the authorities can check if I have one and what state it's in once I prove my identity?
We shouldn't be required to give someone data or documents they already have. The days of waiting up with our paperwork for a stern official to inform us something is missing are over.
How can retailers still ask if you have a receipt if we've made our slow, bureaucratic, and all-powerful government sensible? Then what? The shop may not accept your return (which has a two-year window, longer than most purchase tickets last) or they may just let you replace the item.
Isn't this an anachronism in the age of CRMs, customer files that know what we ate for breakfast, and loyalty programs? If government and bureaucracies have learnt to use its own files and make life easier for the consumer, why do retailers ask for a receipt?
They're adding friction to the system. They know we can obtain a refund, use our warranty, or get our money back. But if I ask for ludicrous criteria, like keeping the purchase receipt in your wallet (wallet? another anachronism, if I leave the house with only my smartphone! ), it will dissuade some individuals and tip the scales in their favor when it comes to limiting returns. Some manager will take credit for lowering returns and collect her annual bonus. Having the wrong metrics is common in management.
To slow things down, asking for a receipt is like asking us to perform a handstand and leap 20 times on one foot. You have my information, use it to send me everything, and know everything I've bought, yet when I need a two-way service, you refuse to utilize it and require that I keep it and prove it.
Refuse as customers. If retailers want our business, they should treat us well, not just when we spend money. If I come to return a product, claim its use or warranty, or be taught how to use it, I am the same person you treated wonderfully when I bought it. Remember that, and act accordingly.
A store should use my information for everything, not just what it wants. Keep my info, but don't sell me anything.