More on Entrepreneurship/Creators
Should you skip the minimum viable product?
Are MVPs outdated and have no place in modern product culture?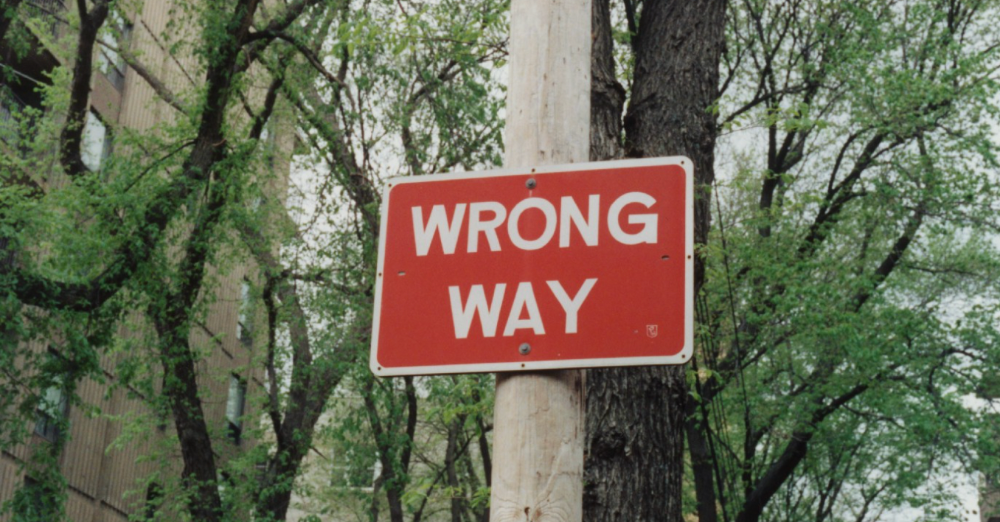 Frank Robinson coined "MVP" in 2001. In the same year as the Agile Manifesto, the first Scrum experiment began. MVPs are old.
The concept was created to solve the waterfall problem at the time.
The market was still sour from the .com bubble. The tech industry needed a new approach. Product and Agile gained popularity because they weren't waterfall.
More than 20 years later, waterfall is dead as dead can be, but we are still talking about MVPs. Does that make sense?
What is an MVP?
Minimum viable product. You probably know that, so I'll be brief:
[…] The MVP fits your company and customer. It's big enough to cause adoption, satisfaction, and sales, but not bloated and risky. It's the product with the highest ROI/risk. […] — Frank Robinson, SyncDev
MVP is a complete product. It's not a prototype. It's your product's first iteration, which you'll improve. It must drive sales and be user-friendly.
At the MVP stage, you should know your product's core value, audience, and price. We are way deep into early adoption territory.
What about all the things that come before?
Modern product discovery
Eric Ries popularized the term with The Lean Startup in 2011. (Ries would work with the concept since 2008, but wide adoption came after the book was released).
Ries' definition of MVP was similar to Robinson's: "Test the market" before releasing anything. Ries never mentioned money, unlike Jobs. His MVP's goal was learning.
"Remove any feature, process, or effort that doesn't directly contribute to learning" — Eric Ries, The Lean Startup
Product has since become more about "what" to build than building it. What started as a learning tool is now a discovery discipline: fake doors, prototyping, lean inception, value proposition canvas, continuous interview, opportunity tree... These are cheap, effective learning tools.
Over time, companies realized that "maximum ROI divided by risk" started with discovery, not the MVP. MVPs are still considered discovery tools. What is the problem with that?
Time to Market vs Product Market Fit
Waterfall's Time to Market is its biggest flaw. Since projects are sliced horizontally rather than vertically, when there is nothing else to be done, it's not because the product is ready, it's because no one cares to buy it anymore.
MVPs were originally conceived as a way to cut corners and speed Time to Market by delivering more customer requests after they paid.

Original product development was waterfall-like.
Time to Market defines an optimal, specific window in which value should be delivered. It's impossible to predict how long or how often this window will be open.
Product Market Fit makes this window a "state." You don't achieve Product Market Fit, you have it… and you may lose it.
Take, for example, Snapchat. They had a great time to market, but lost product-market fit later. They regained product-market fit in 2018 and have grown since.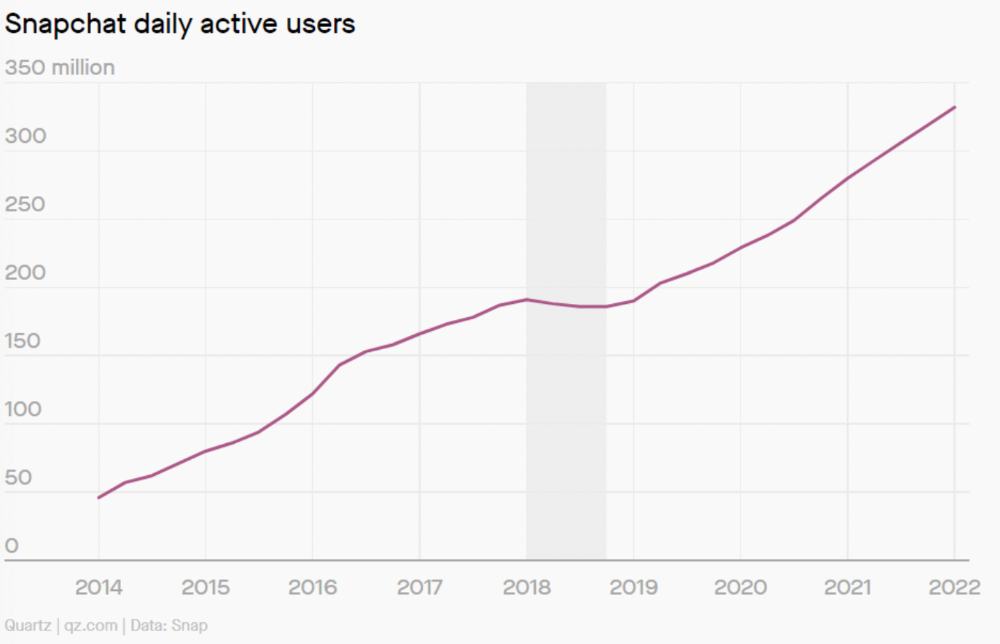 An MVP couldn't handle this. What should Snapchat do? Launch Snapchat 2 and see what the market was expecting differently from the last time? MVPs are a snapshot in time that may be wrong in two weeks.
MVPs are mini-projects. Instead of spending a lot of time and money on waterfall, you spend less but are still unsure of the results.
---
MVPs aren't always wrong. When releasing your first product version, consider an MVP.
Minimum viable product became less of a thing on its own and more interchangeable with Alpha Release or V.1 release over time.
Modern discovery technics are more assertive and predictable than the MVP, but clarity comes only when you reach the market.
MVPs aren't the starting point, but they're the best way to validate your product concept.
I created a faceless TikTok account. Six months later.
Follower count, earnings, and more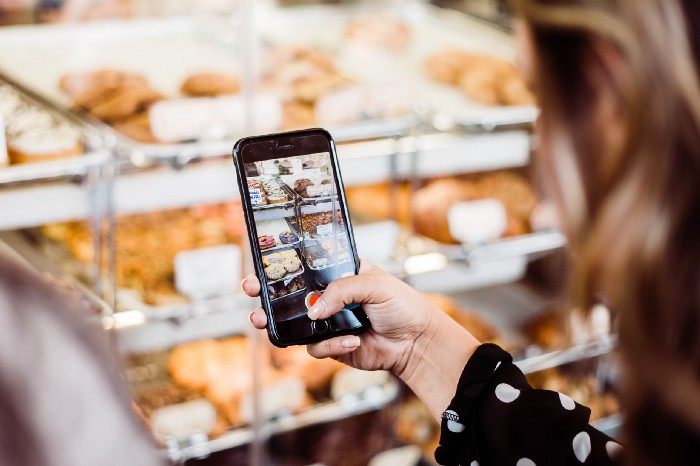 I created my 7th TikTok account six months ago. TikTok's great. I've developed accounts for Amazon products, content creators/brand deals education, website flipping, and more.
Introverted or shy people use faceless TikTok accounts.
Maybe they don't want millions of people to see their face online, or they want to remain anonymous so relatives and friends can't locate them.
Going faceless on TikTok can help you grow a following, communicate your message, and make money online.
Here are 6 steps I took to turn my Tik Tok account into a $60,000/year side gig.
From nothing to $60K in 6 months
It's clickbait, but it's true. Here's what I did to get here.
Quick context:
I've used social media before. I've spent years as a social creator and brand.
I've built Instagram, TikTok, and YouTube accounts to nearly 100K.
How I did it
First, select a niche.
If you can focus on one genre on TikTok, you'll have a better chance of success, however lifestyle creators do well too.
Niching down is easier, in my opinion.
Examples:
Travel

Food

Kids

Earning cash

Finance
You can narrow these niches if you like.
During the pandemic, a travel blogger focused on Texas-only tourism and gained 1 million subscribers.
Couponing might be a finance specialization.
One of my finance TikTok accounts gives credit tips and grants and has 23K followers.
Tons of ways you can get more specific.
Consider how you'll monetize your TikTok account. I saw many enormous TikTok accounts that lose money.
Why?
They can't monetize their niche. Not impossible to commercialize, but tough enough to inhibit action.
First, determine your goal.
In this first step, consider what your end goal is.
Are you trying to promote your digital products or social media management services?
You want brand deals or e-commerce sales.
This will affect your TikTok specialty.
This is the first step to a TikTok side gig.
Step 2: Pick a content style
Next, you want to decide on your content style.
Do you do voiceover and screenshots?
You'll demonstrate a product?
Will you faceless vlog?
Step 3: Look at the competition
Find anonymous accounts and analyze what content works, where they thrive, what their audience wants, etc.
This can help you make better content.
Like the skyscraper method for TikTok.
Step 4: Create a content strategy.
Your content plan is where you sit down and decide:
How many videos will you produce each day or each week?

Which links will you highlight in your biography?

What amount of time can you commit to this project?
You may schedule when to post videos on a calendar. Make videos.
5. Create videos.
No video gear needed.
Using a phone is OK, and I think it's preferable than posting drafts from a computer or phone.
TikTok prefers genuine material.
Use their app, tools, filters, and music to make videos.
And imperfection is preferable. Tik okers like to see videos made in a bedroom, not a film studio.
Make sense?
When making videos, remember this.
I personally use my phone and tablet.
Step 6: Monetize
Lastly, it's time to monetize How will you make money? You decided this in step 1.
Time to act!
For brand agreements
Include your email in the bio.

Share several sites and use a beacons link in your bio.

Make cold calls to your favorite companies to get them to join you in a TikTok campaign.
For e-commerce
Include a link to your store's or a product's page in your bio.
For client work
Include your email in the bio.

Use a beacons link to showcase your personal website, portfolio, and other resources.
For affiliate marketing
Include affiliate product links in your bio.

Join the Amazon Influencer program and provide a link to your storefront in your bio.
$60,000 per year from Tik Tok?
Yes, and some creators make much more.
Tori Dunlap (herfirst100K) makes $100,000/month on TikTok.
My TikTok adventure took 6 months, but by month 2 I was making $1,000/month (or $12K/year).
By year's end, I want this account to earn $100K/year.
Imagine if my 7 TikTok accounts made $100K/year.
7 Tik Tok accounts X $100K/yr = $700,000/year
Bills are paid by your 9 to 5. 6 through 12 help you build money.
40 years pass. After 14 years of retirement, you die. Am I the only one who sees the problem?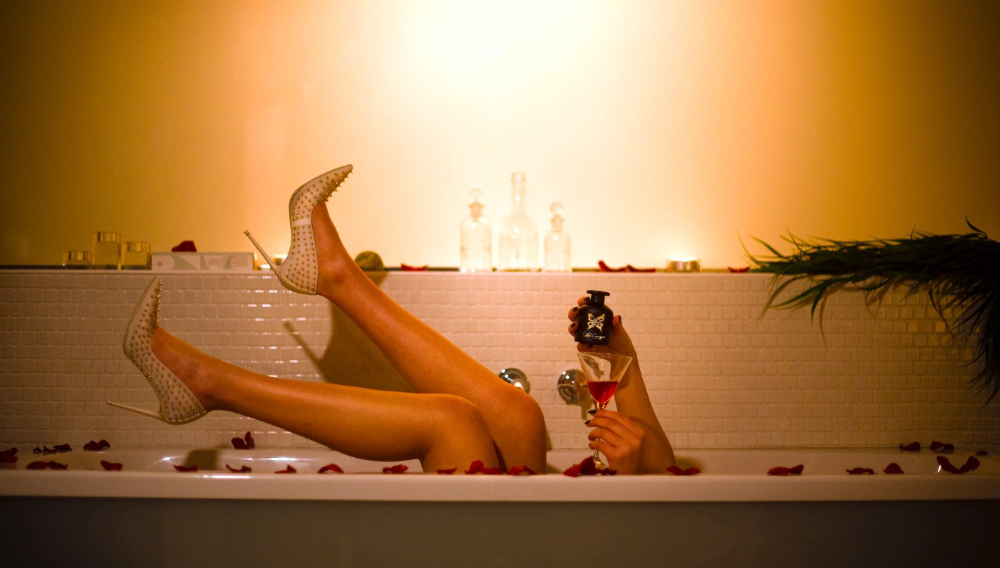 I'm the Jedi master of escaping the rat race.
Not to impress. I know this works since I've tried it. Quitting a job to make money online is worse than Kim Kardashian's internet-burning advice.
Let me help you rethink the move from a career to online income to f*ck you money.
To understand why a job is a joke, do some life math.
Without a solid why, nothing makes sense.
The retirement age is 65. Our processed food consumption could shorten our 79-year average lifespan.
You spend 40 years working.
After 14 years of retirement, you die.
Am I alone in seeing the problem?
Life is too short to work a job forever, especially since most people hate theirs. After-hours skills are vital.
Money equals unrestricted power, f*ck you.
F*ck you money is the answer.
Jack Raines said it first. He says we can do anything with the money. Jack, a young rebel straight out of college, can travel and try new foods.
F*ck you money signifies not checking your bank account before buying.
F*ck you" money is pure, unadulterated freedom with no strings attached.
Jack claims you're rich when you rarely think about money.
Avoid confusion.
This doesn't imply you can buy a Lamborghini. It indicates your costs, income, lifestyle, and bank account are balanced.
Jack established an online portfolio while working for UPS in Atlanta, Georgia. So he gained boundless power.
The portion that many erroneously believe
Yes, you need internet abilities to make money, but they're not different from 9-5 talents.
Sahil Lavingia, Gumroad's creator, explains.
A job is a way to get paid to learn.
Mistreat your boss 9-5. Drain his skills. Defuse him. Love and leave him (eventually).
Find another employment if yours is hazardous. Pick an easy job. Make sure nothing sneaks into your 6-12 time slot.
The dumb game that makes you a sheep
A 9-5 job requires many job interviews throughout life.
You email your résumé to employers and apply for jobs through advertisements. This game makes you a sheep.
You're competing globally. Work-from-home makes the competition tougher. If you're not the cheapest, employers won't hire you.
After-hours online talents (say, 6 pm-12 pm) change the game. This graphic explains it better: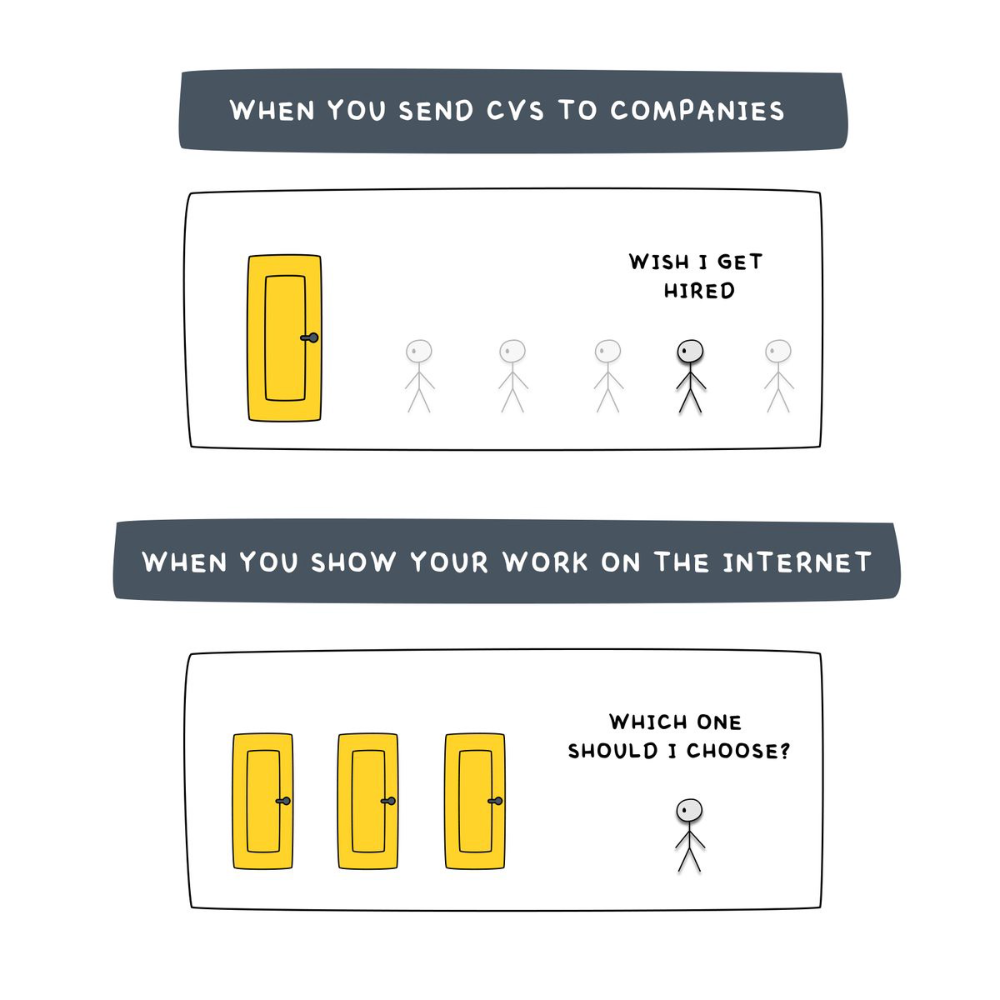 Online talents boost after-hours opportunities.
You go from wanting to be picked to picking yourself. More chances equal more money. Your f*ck you fund gets the extra cash.
A novel method of learning is essential.
College costs six figures and takes a lifetime to repay.
Informal learning is distinct. 6-12pm:
Observe the carefully controlled Twitter newsfeed.

Make use of Teachable and Gumroad's online courses.

Watch instructional YouTube videos

Look through the top Substack newsletters.
Informal learning is more effective because it's not obvious. It's fun to follow your curiosity and hobbies.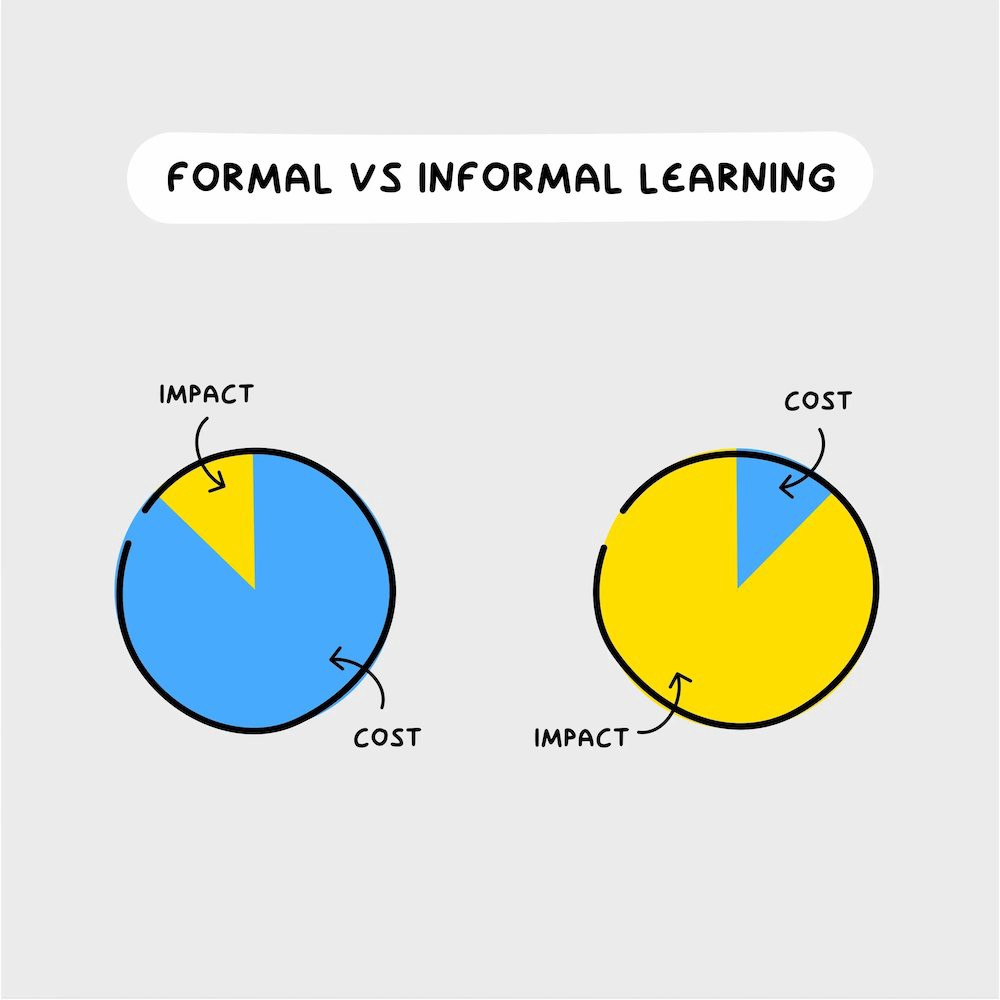 The majority of people lack one attitude. It's simple to learn.
One big impediment stands in the way of f*ck you money and time independence. So often.
Too many people plan after 6-12 hours. Dreaming. Big-thinkers. Strategically. They fill their calendar with meetings.
This is after-hours masturb*tion.
Sahil Bloom reminded me that a bias towards action will determine if this approach works for you.
The key isn't knowing what to do from 6-12 a.m. Trust yourself and develop abilities as you go. It's for building the parachute after you jump.
Sounds risky. We've eliminated the risk by finishing this process after hours while you work 9-5.
With no risk, you can have an I-don't-care attitude and still be successful.
When you choose to move forward, this occurs.
Once you try 9-5/6-12, you'll tell someone.
It's bad.
Few of us hang out with problem-solvers.
It's how much of society operates. So they make reasons so they can feel better about not giving you money.
Matthew Kobach told me chasing f*ck you money is easier with like-minded folks.
Without f*ck you money friends, loneliness will take over and you'll think you've messed up when you just need to keep going.
Steal this easy guideline
Let's act. No more fluffing and caressing.
1. Learn
If you detest your 9-5 talents or don't think they'll work online, get new ones. If you're skilled enough, continue.
Easlo recommends these skills:
Designer for Figma

Designer Canva

bubble creators

editor in Photoshop

Automation consultant for Zapier

Designer of Webflow

video editor Adobe

Ghostwriter for Twitter

Idea consultant

Artist in Blender Studio
2. Develop the ability
Every night from 6-12, apply the skill.
Practicing ghostwriting? Write someone's tweets for free. Do someone's website copy to learn copywriting. Get a website to the top of Google for a keyword to understand SEO.
Free practice is crucial. Your 9-5 pays the money, so work for free.
3. Take off stealthily like a badass
Another mistake. Sell to few. Don't be the best. Don't claim expertise.
Sell your new expertise to others behind you.
Two ways:
Using a digital good

By providing a service,
Point 1 also includes digital service examples. Digital products include eBooks, communities, courses, ad-supported podcasts, and templates. It's easy. Your 9-5 job involves one of these.
Take ideas from work.
Why? They'll steal your time for profit.
4. Iterate while feeling awful
First-time launches always fail. You'll feel terrible. Okay. Remember your 9-5?
Find improvements. Ask free and paying consumers what worked.
Multiple relaunches, each 1% better.
5. Discover more
Never stop learning. Improve your skill. Add a relevant skill. Learn copywriting if you write online.
After-hours students earn the most.
6. Continue
Repetition is key.
7. Make this one small change.
Consistently. The 6-12 momentum won't make you rich in 30 days; that's success p*rn.
Consistency helps wage slaves become f*ck you money. Most people can't switch between the two.
Putting everything together
It's easy. You're probably already doing some.
This formula explains why, how, and what to do. It's a 5th-grade-friendly blueprint. Good.
Reduce financial risk with your 9-to-5. Replace Netflix with 6-12 money-making talents.
Life is short; do whatever you want. Today.
You might also like
Jeff John Roberts
5 months ago
Jack Dorsey and  Jay-Z Launch 'Bitcoin Academy' in Brooklyn rapper's home
The new Bitcoin Academy will teach Jay-Marcy Z's Houses neighbors "What is Cryptocurrency."
Jay-Z grew up in Brooklyn's Marcy Houses. The rapper and Block CEO Jack Dorsey are giving back to his hometown by creating the Bitcoin Academy.
The Bitcoin Academy will offer online and in-person classes, including "What is Money?" and "What is Blockchain?"
The program will provide participants with a mobile hotspot and a small amount of Bitcoin for hands-on learning.
Students will receive dinner and two evenings of instruction until early September. The Shawn Carter Foundation will help with on-the-ground instruction.
Jay-Z and Dorsey announced the program Thursday morning. It will begin at Marcy Houses but may be expanded.
Crypto Blockchain Plug and Black Bitcoin Billionaire, which has received a grant from Block, will teach the classes.
Jay-Z, Dorsey reunite
Jay-Z and Dorsey have previously worked together to promote a Bitcoin and crypto-based future.
In 2021, Dorsey's Block (then Square) acquired the rapper's streaming music service Tidal, which they propose using for NFT distribution.
Dorsey and Jay-Z launched an endowment in 2021 to fund Bitcoin development in Africa and India.
Dorsey is funding the new Bitcoin Academy out of his own pocket (as is Jay-Z), but he's also pushed crypto-related charitable endeavors at Block, including a $5 million fund backed by corporate Bitcoin interest.
---
This post is a summary. Read full article here
This clever Instagram marketing technique increased my sales to $30,000 per month.
No Paid Ads Required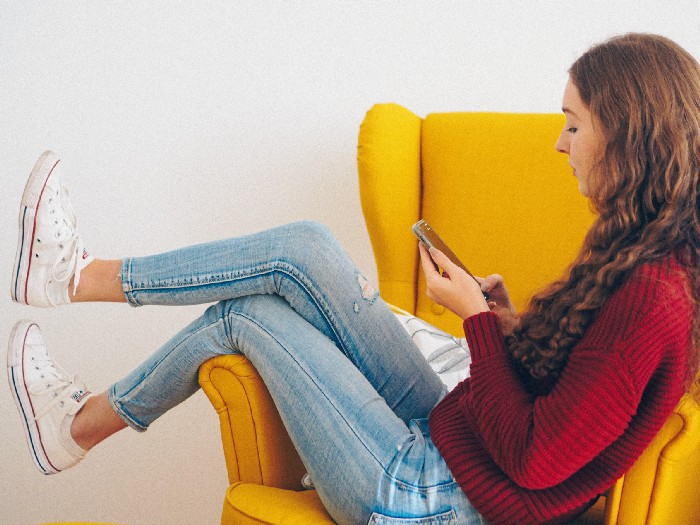 I had an online store. After a year of running the company alongside my 9-to-5, I made enough to resign.
That day was amazing.
This Instagram marketing plan helped the store succeed.
How did I increase my sales to five figures a month without using any paid advertising?
I used customer event marketing.
I'm not sure this term exists. I invented it to describe what I was doing.
Instagram word-of-mouth, fan engagement, and interaction drove sales.
If a customer liked or disliked a product, the buzz would drive attention to the store.
I used customer-based events to increase engagement and store sales.
Success!
Here are the weekly Instagram customer events I coordinated while running my business:
Be the Buyer Days

Flash sales

Mystery boxes
Be the Buyer Days: How do they work?
Be the Buyer Days are exactly that.
You choose a day to share stock selections with social media followers.
This is an easy approach to engaging customers and getting fans enthusiastic about new releases.
First, pick a handful of items you're considering ordering. I'd usually pick around 3 for Be the Buyer Day.
Then I'd poll the crowd on Instagram to vote on their favorites.
This was before Instagram stories, polls, and all the other cool features Instagram offers today. I think using these tools now would make this event even better.
I'd ask customers their favorite back then.
The growing comments excited customers.
Then I'd declare the winner, acquire the products, and start selling it.
How do flash sales work?
I mostly ran flash sales.
You choose a limited number of itemsdd for a few-hour sale.
We wanted most sales to result in sold-out items.
When an item sells out, it contributes to the sensation of scarcity and can inspire customers to visit your store to buy a comparable product, join your email list, become a fan, etc.
We hoped they'd act quickly.
I'd hold flash deals twice a week, which generated scarcity and boosted sales.
The store had a few thousand Instagram followers when I started flash deals.
Each flash sale item would make $400 to $600.
$400 x 3= $1,200
That's $1,200 on social media!
Twice a week, you'll make roughly $10K a month from Instagram.
$1,200/day x 8 events/month=$9,600
Flash sales did great.
We held weekly flash deals and sent social media and email reminders. That's about it!
How are mystery boxes put together?
All you do is package a box of store products and sell it as a mystery box on TikTok or retail websites.
A $100 mystery box would cost $30.
You're discounting high-value boxes.
This is a clever approach to get rid of excess inventory and makes customers happy.
It worked!
Be the Buyer Days, flash deals, and mystery boxes helped build my company without paid advertisements.
All companies can use customer event marketing. Involving customers and providing an engaging environment can boost sales.
Try it!
The Last To-Do List Template I'll Ever Need, Years in the Making
The holy grail of plain text task management is finally within reach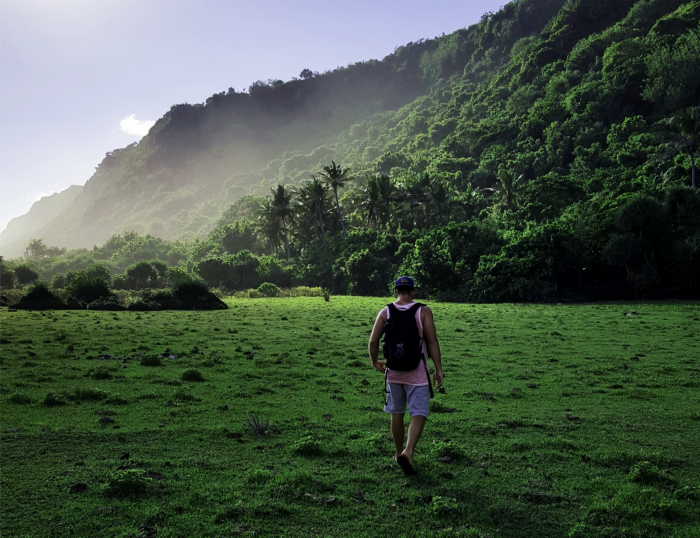 Plain text task management? Are you serious?? Dedicated task managers exist for a reason, you know. Sheesh.

—Oh, I know. Believe me, I know! But hear me out.
I've managed projects and tasks in plain text for more than four years. Since reorganizing my to-do list, plain text task management is within reach.
Data completely yours? One billion percent. Beef it up with coding? Be my guest.
Enter: The List
The answer? A list. That's it!
Write down tasks. Obsidian, Notenik, Drafts, or iA Writer are good plain text note-taking apps.
List too long? Of course, it is! A large list tells you what to do. Feel the itch and friction. Then fix it.
But I want to be able to distinguish between work and personal life! List two things.

However, I need to know what should be completed first. Put those items at the top.

However, some things keep coming up, and I need to be reminded of them! Put those in your calendar and make an alarm for them.

But since individual X hasn't completed task Y, I can't proceed with this. Create a Waiting section on your list by dividing it.

But I must know what I'm supposed to be doing right now! Read your list(s). Check your calendar. Think critically.
Before I begin a new one, I remind myself that "Listory Never Repeats."
There's no such thing as too many lists if all are needed. There is such a thing as too many lists if you make them before they're needed. Before they complain that their previous room was small or too crowded or needed a new light.
A list that feels too long has a voice; it's telling you what to do next.
I use one Master List. It's a control panel that tells me what to focus on short-term. If something doesn't need semi-immediate attention, it goes on my Backlog list.
Todd Lewandowski's DWTS (Done, Waiting, Top 3, Soon) performance deserves praise. His DWTS to-do list structure has transformed my plain-text task management. I didn't realize it was upside down.
This is my take on it:
D = Done
Move finished items here. If they pile up, clear them out every week or month. I have a Done Archive folder.
W = Waiting
Things seething in the background, awaiting action. Stir them occasionally so they don't burn.
T = Top 3
Three priorities. Personal comes first, then work. There will always be a top 3 (no more than 5) in every category. Projects, not chores, usually.
S = Soon
This part is action-oriented. It's for anything you can accomplish to finish one of the Top 3. This collection includes thoughts and project lists. The sole requirement is that they should be short-term goals.
Some of you have probably concluded this isn't for you. Please read Todd's piece before throwing out the baby. Often. You shouldn't miss a newborn.
As much as Dancing With The Stars helps me recall this method, I may try switching their order. TSWD; Drilling Tunnel Seismic? Serenity After Task?
Master List Showcase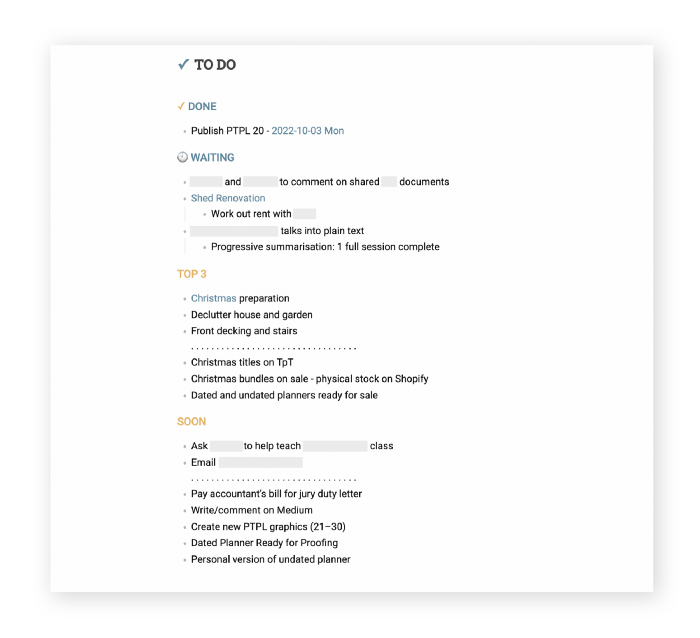 My Master List lives alone in its own file, but sometimes appears in other places.  It's included in my Weekly List template. Here's a (soon-to-be-updated) demo vault of my Obsidian planning setup to download for free.
Here's the code behind my weekly screenshot:
## [[Master List - 2022|✓]]  TO DO

![[Master List - 2022]]
FYI, I use the Minimal Theme in Obsidian, with a few tweaks.
You may note I'm utilizing a checkmark as a link. For me, that's easier than locating the proper spot to click on the embed.
Blue headings for Done and Waiting are links. Done links to the Done Archive page and Waiting to a general waiting page.
Read my full article here.