More on Entrepreneurship/Creators
Evgenii Nelepko
8 months ago
My 3 biggest errors as a co-founder and CEO
Reflections on the closed company Hola! Dating app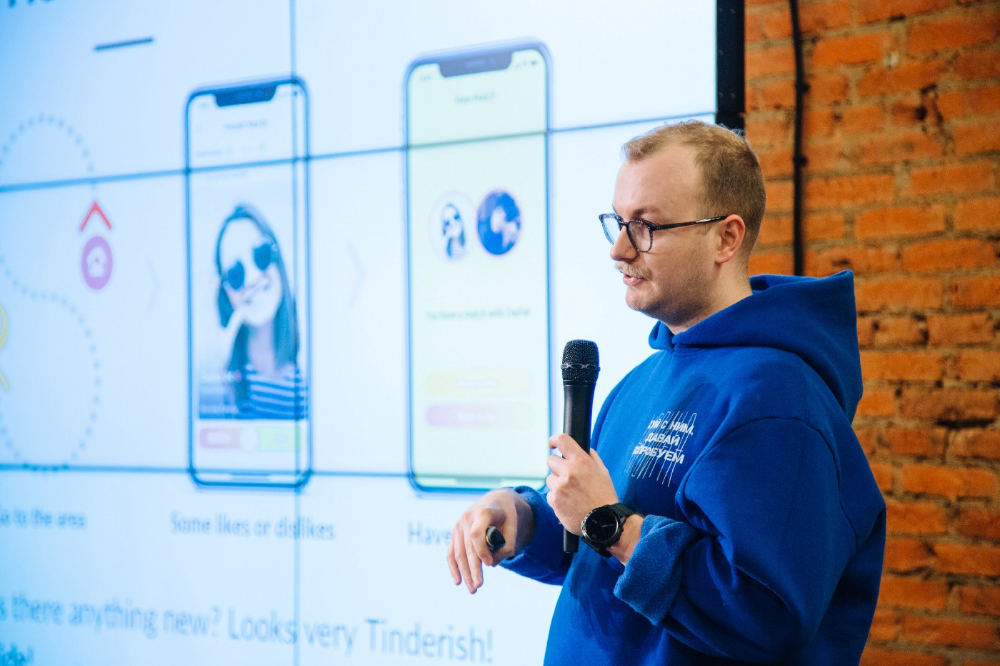 I'll discuss my fuckups as an entrepreneur and CEO. All of them refer to the dating app Hola!, which I co-founded and starred in.
Spring 2021 was when we started. Two techies and two non-techies created a dating app. Pokemon Go and Tinder were combined.
Online dating is a business, and it takes two weeks from a like to a date. We questioned online dating app users if they met anyone offline last year.
75% replied yes, 50% sometimes, 25% usually.
Offline dating is popular, yet people have concerns.
Men are reluctant to make mistakes in front of others.

Women are curious about the background of everyone who approaches them.
We designed unique mechanics that let people date after a match. No endless chitchat. Women would be safe while men felt like cowboys.
I wish to emphasize three faults that lead to founders' estrangement.
This detachment ultimately led to us shutting down the company.
The wrong technology stack
Situation
Instead of generating a faster MVP and designing an app in a universal stack for iOS and Android, I argued we should pilot the app separately for iOS and Android. Technical founders' expertise made this possible.
Self-reflection
Mistaken strategy. We lost time and resources developing two apps at once. We chose iOS since it's more profitable. Apple took us out after the release, citing Guideline 4.3 Spam. After 4 months, we had nothing. We had a long way to go to get the app on Android and the Store.
I suggested creating a uniform platform for the company's growth. This makes parallel product development easier. The strategist's lack of experience and knowledge made it a piece of crap.
What would I have changed if I could?
We should have designed an Android universal stack. I expected Apple to have issues with a dating app.
Our approach should have been to launch something and subsequently improve it, but prejudice won.
The lesson
Discuss the IT stack with your CTO. It saves time and money. Choose the easiest MVP method.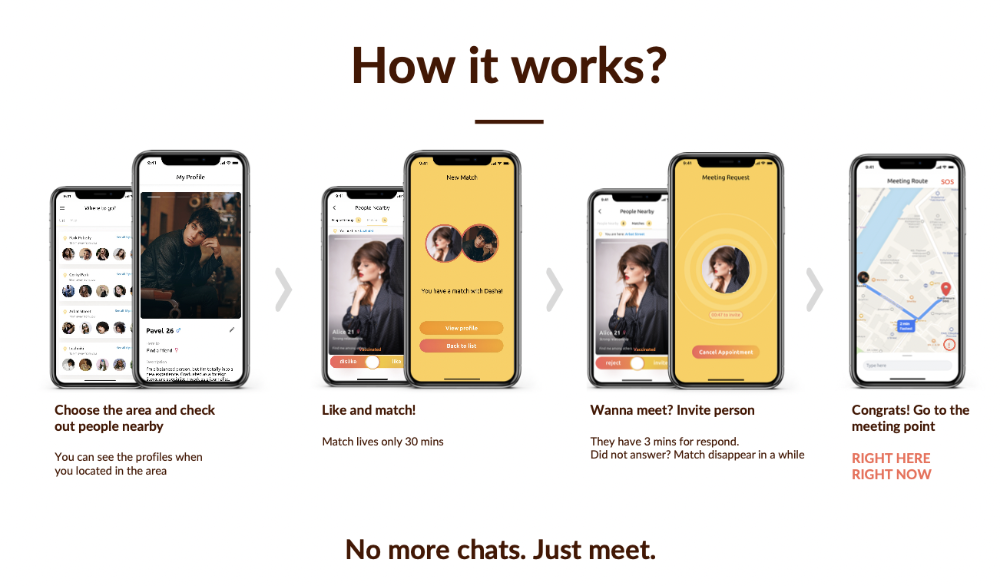 2. A tardy search for investments
Situation
Though the universe and other founders encouraged me to locate investors first, I started pitching when we almost had an app.
When angels arrived, it was time to close. The app was banned, war broke out, I left the country, and the other co-founders stayed. We had no savings.
Self-reflection
I loved interviewing users. I'm proud of having done 1,000 interviews. I wanted to understand people's pain points and improve the product.
Interview results no longer affected the product. I was terrified to start pitching. I filled out accelerator applications and redid my presentation. You must go through that so you won't be terrified later.
What would I have changed if I could?
Get an external or internal mentor to help me with my first pitch as soon as possible. I'd be supported if criticized. He'd cheer with me if there was enthusiasm.
In 99% of cases, I'm comfortable jumping into the unknown, but there are exceptions. The mentor's encouragement would have prompted me to act sooner.
The lesson
Begin fundraising immediately. Months may pass. Show investors your pre-MVP project. Draw inferences from feedback.
3. Role ambiguity
Situation
My technical co-founders were also part-time lead developers, which produced communication issues. As co-founders, we communicated well and recognized the problems. Stakes, vesting, target markets, and approach were agreed upon.
We were behind schedule. Technical debt and strategic gap grew.
Bi-daily and weekly reviews didn't help. Each time, there were explanations. Inside, I was freaking out.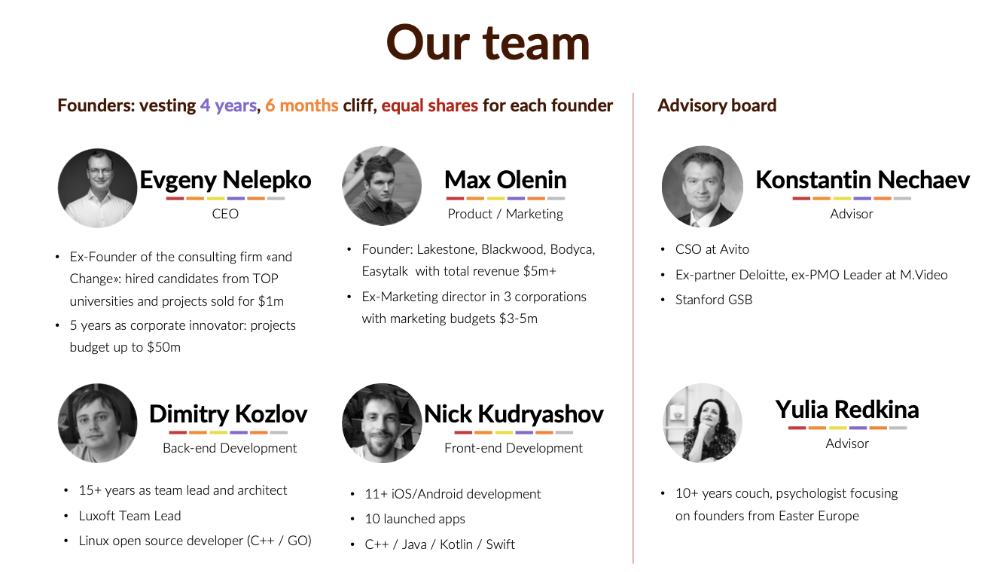 Self-reflection
I am a fairly easy person to talk to. I always try to stick to agreements; otherwise, my head gets stuffed with unnecessary information, interpretations, and emotions.
Sit down -> talk -> decide -> do -> evaluate the results. Repeat it.
If I don't get detailed comments, I start ruining everyone's mood. If there's a systematic violation of agreements without a good justification, I won't join the project or I'll end the collaboration.
What would I have done otherwise?
This is where it's scariest to draw conclusions. Probably the most logical thing would have been not to start the project as we started it. But that was already a completely different project. So I would not have done anything differently and would have failed again.
But I drew conclusions for the future.
The lesson
First-time founders should find an adviser or team coach for a strategic session. It helps split the roles and responsibilities.
Sanjay Priyadarshi
3 months ago
Using Ruby code, a programmer created a $48,000,000,000 product that Elon Musk admired.
Unexpected Success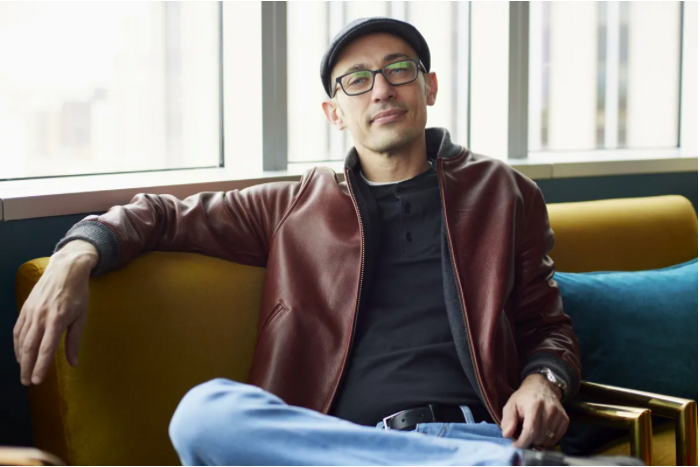 Shopify CEO and co-founder Tobias Lutke. Shopify is worth $48 billion.
World-renowned entrepreneur Tobi
Tobi never expected his first online snowboard business to become a multimillion-dollar software corporation.
Tobi founded Shopify to establish a 20-person company.
The publicly traded corporation employs over 10,000 people.
Here's Tobi Lutke's incredible story.
Elon Musk tweeted his admiration for the Shopify creator.
30-October-2019.
Musk praised Shopify founder Tobi Lutke on Twitter.
Happened: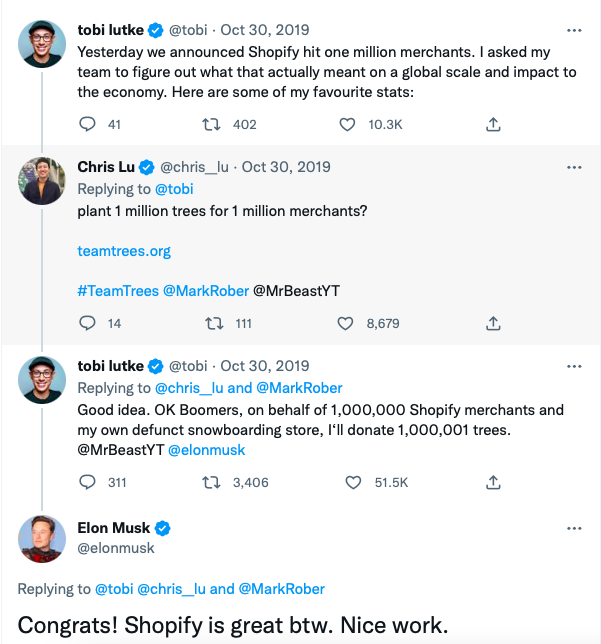 Explore this programmer's journey.
What difficulties did Tobi experience as a young child?
Germany raised Tobi.
Tobi's parents realized he was smart but had trouble learning as a toddler.
Tobi was learning disabled.
Tobi struggled with school tests.
Tobi's learning impairments were undiagnosed.
Tobi struggled to read as a dyslexic.
Tobi also found school boring.
Germany's curriculum didn't inspire Tobi's curiosity.
"The curriculum in Germany was taught like here are all the solutions you might find useful later in life, spending very little time talking about the problem…If I don't understand the problem I'm trying to solve, it's very hard for me to learn about a solution to a problem."
Studying computer programming
After tenth grade, Tobi decided school wasn't for him and joined a German apprenticeship program.
This curriculum taught Tobi software engineering.
He was an apprentice in a small Siemens subsidiary team.
Tobi worked with rebellious Siemens employees.
Team members impressed Tobi.
Tobi joined the team for this reason.
Tobi was pleased to get paid to write programming all day.
His life could not have been better.
Devoted to snowboarding
Tobi loved snowboarding.
He drove 5 hours to ski at his folks' house.
His friends traveled to the US to snowboard when he was older.
However, the cheap dollar conversion rate led them to Canada.
2000.
Tobi originally decided to snowboard instead than ski.
Snowboarding captivated him in Canada.
On the trip to Canada, Tobi encounters his wife.
Tobi meets his wife Fiona McKean on his first Canadian ski trip.
They maintained in touch after the trip.
Fiona moved to Germany after graduating.
Tobi was a startup coder.
Fiona found work in Germany.
Her work included editing, writing, and academics.
"We lived together for 10 months and then she told me that she need to go back for the master's program."
With Fiona, Tobi immigrated to Canada.
Fiona invites Tobi.
Tobi agreed to move to Canada.
Programming helped Tobi move in with his girlfriend.
Tobi was an excellent programmer, therefore what he did in Germany could be done anywhere.
He worked remotely for his German employer in Canada.
Tobi struggled with remote work.
Due to poor communication.
No slack, so he used email.
Programmers had trouble emailing.
Tobi's startup was developing a browser.
After the dot-com crash, individuals left that startup.
It ended.
Tobi didn't intend to work for any major corporations.
Tobi left his startup.
He believed he had important skills for any huge corporation.
He refused to join a huge corporation.
Because of Siemens.
Tobi learned to write professional code and about himself while working at Siemens in Germany.
Siemens culture was odd.
Employees were distrustful.
Siemens' rigorous dress code implies that the corporation doesn't trust employees' attire.
It wasn't Tobi's place.
"There was so much bad with it that it just felt wrong…20-year-old Tobi would not have a career there."
Focused only on snowboarding
Tobi lived in Ottawa with his girlfriend.
Canada is frigid in winter.
Ottawa's winters last.
Almost half a year.
Tobi wanted to do something worthwhile now.
So he snowboarded.
Tobi began snowboarding seriously.
He sought every snowboarding knowledge.
He researched the greatest snowboarding gear first.
He created big spreadsheets for snowboard-making technologies.
Tobi grew interested in selling snowboards while researching.
He intended to sell snowboards online.
He had no choice but to start his own company.
A small local company offered Tobi a job.
Interested.
He must sign papers to join the local company.
He needed a work permit when he signed the documents.
Tobi had no work permit.
He was allowed to stay in Canada while applying for permanent residency.
"I wasn't illegal in the country, but my state didn't give me a work permit. I talked to a lawyer and he told me it's going to take a while until I get a permanent residency."
Tobi's lawyer told him he cannot get a work visa without permanent residence.
His lawyer said something else intriguing.
Tobis lawyer advised him to start a business.
Tobi declined this local company's job offer because of this.
Tobi considered opening an internet store with his technical skills.
He sold snowboards online.
"I was thinking of setting up an online store software because I figured that would exist and use it as a way to sell snowboards…make money while snowboarding and hopefully have a good life."
What brought Tobi and his co-founder together, and how did he support Tobi?
Tobi lived with his girlfriend's parents.
In Ottawa, Tobi encounters Scott Lake.
Scott was Tobis girlfriend's family friend and worked for Tobi's future employer.
Scott and Tobi snowboarded.
Tobi pitched Scott his snowboard sales software idea.
Scott liked the idea.
They planned a business together.
"I was looking after the technology and Scott was dealing with the business side…It was Scott who ended up developing relationships with vendors and doing all the business set-up."
Issues they ran into when attempting to launch their business online
Neither could afford a long-term lease.
That prompted their online business idea.
They would open a store.
Tobi anticipated opening an internet store in a week.
Tobi seeks open-source software.
Most existing software was pricey.
Tobi and Scott couldn't afford pricey software.
"In 2004, I was sitting in front of my computer absolutely stunned realising that we hadn't figured out how to create software for online stores."
They required software to:
to upload snowboard images to the website.

people to look up the types of snowboards that were offered on the website. There must be a search feature in the software.

Online users transmit payments, and the merchant must receive them.

notifying vendors of the recently received order.
No online selling software existed at the time.
Online credit card payments were difficult.
How did they advance the software while keeping expenses down?
Tobi and Scott needed money to start selling snowboards.
Tobi and Scott funded their firm with savings.
"We both put money into the company…I think the capital we had was around CAD 20,000(Canadian Dollars)."
Despite investing their savings.
They minimized costs.
They tried to conserve.
No office rental.
They worked in several coffee shops.
Tobi lived rent-free at his girlfriend's parents.
He installed software in coffee cafes.
How were the software issues handled?
Tobi found no online snowboard sales software.
Two choices remained:
Change your mind and try something else.

Use his programming expertise to produce something that will aid in the expansion of this company.
Tobi knew he was the sole programmer working on such a project from the start.
"I had this realisation that I'm going to be the only programmer who has ever worked on this, so I don't have to choose something that lots of people know. I can choose just the best tool for the job…There is been this programming language called Ruby which I just absolutely loved "
Ruby was open-source and only had Japanese documentation.
Latin is the source code.
Tobi used Ruby twice.
He assumed he could pick the tool this time.
Why not build with Ruby?
How did they find their first time operating a business?
Tobi writes applications in Ruby.
He wrote the initial software version in 2.5 months.
Tobi and Scott founded Snowdevil to sell snowboards.
Tobi coded for 16 hours a day.
His lifestyle was unhealthy.
He enjoyed pizza and coke.
"I would never recommend this to anyone, but at the time there was nothing more interesting to me in the world."
Their initial purchase and encounter with it
Tobi worked in cafes then.
"I was working in a coffee shop at this time and I remember everything about that day…At some time, while I was writing the software, I had to type the email that the software would send to tell me about the order."
Tobi recalls everything.
He checked the order on his laptop at the coffee shop.
Pennsylvanian ordered snowboard.
Tobi walked home and called Scott. Tobi told Scott their first order.
They loved the order.
How were people made aware about Snowdevil?
2004 was very different.
Tobi and Scott attempted simple website advertising.
Google AdWords was new.
Ad clicks cost 20 cents.
Online snowboard stores were scarce at the time.
Google ads propelled the snowdevil brand.
Snowdevil prospered.
They swiftly recouped their original investment in the snowboard business because to its high profit margin.
Tobi and Scott struggled with inventories.
"Snowboards had really good profit margins…Our biggest problem was keeping inventory and getting it back…We were out of stock all the time."
Selling snowboards returned their investment and saved them money.
They did not appoint a business manager.
They accomplished everything alone.
Sales dipped in the spring, but something magical happened.
Spring sales plummeted.
They considered stocking different boards.
They naturally wanted to add boards and grow the business.
However, magic occurred.
Tobi coded and improved software while running Snowdevil.
He modified software constantly. He wanted speedier software.
He experimented to make the software more resilient.
Tobi received emails requesting the Snowdevil license.
They intended to create something similar.
"I didn't stop programming, I was just like Ok now let me try things, let me make it faster and try different approaches…Increasingly I got people sending me emails and asking me If I would like to licence snowdevil to them. People wanted to start something similar."
Software or skateboards, your choice
Scott and Tobi had to choose a hobby in 2005.
They might sell alternative boards or use software.
The software was a no-brainer from demand.
Daniel Weinand is invited to join Tobi's business.
Tobis German best friend is Daniel.
Tobi and Scott chose to use the software.
Tobi and Scott kept the software service.
Tobi called Daniel to invite him to Canada to collaborate.
Scott and Tobi had quit snowboarding until then.
How was Shopify launched, and whence did the name come from?
The three chose Shopify.
Named from two words.
First:
Final part:
Shopify
Shopify's crew has always had one goal:
creating software that would make it simple and easy for people to launch online storefronts.
Launched Shopify after raising money for the first time.
Shopify began fundraising in 2005.
First, they borrowed from family and friends.
They needed roughly $200k to run the company efficiently.
$200k was a lot then.
When questioned why they require so much money. Tobi told them to trust him with their goals. The team raised seed money from family and friends.
Shopify.com has a landing page. A demo of their goal was on the landing page.
In 2006, Shopify had about 4,000 emails.
Shopify rented an Ottawa office.
"We sent a blast of emails…Some people signed up just to try it out, which was exciting."
How things developed after Scott left the company
Shopify co-founder Scott Lake left in 2008.
Scott was CEO.
"He(Scott) realized at some point that where the software industry was going, most of the people who were the CEOs were actually the highly technical person on the founding team."
Scott leaving the company worried Tobi.
Tobis worried about finding a new CEO.
To Tobi:
A great VC will have the network to identify the perfect CEO for your firm.
Tobi started visiting Silicon Valley to meet with venture capitalists to recruit a CEO.
Initially visiting Silicon Valley
Tobi came to Silicon Valley to start a 20-person company.
This company creates eCommerce store software.
Tobi never wanted a big corporation. He desired a fulfilling existence.
"I stayed in a hostel in the Bay Area. I had one roommate who was also a computer programmer. I bought a bicycle on Craiglist. I was there for a week, but ended up staying two and a half weeks."
Tobi arrived unprepared.
When venture capitalists asked him business questions.
He answered few queries.
Tobi didn't comprehend VC meetings' terminology.
He wrote the terms down and looked them up.
Some were fascinated after he couldn't answer all these queries.
"I ended up getting the kind of term sheets people dream about…All the offers were conditional on moving our company to Silicon Valley."
Canada received Tobi.
He wanted to consult his team before deciding. Shopify had five employees at the time.
2008.
A global recession greeted Tobi in Canada. The recession hurt the market.
His term sheets were useless.
The economic downturn in the world provided Shopify with a fantastic opportunity.
The global recession caused significant job losses.
Fired employees had several ideas.
They wanted online stores.
Entrepreneurship was desired. They wanted to quit work.
People took risks and tried new things during the global slump.
Shopify subscribers skyrocketed during the recession.
"In 2009, the company reached neutral cash flow for the first time…We were in a position to think about long-term investments, such as infrastructure projects."
Then, Tobi Lutke became CEO.
How did Tobi perform as the company's CEO?
"I wasn't good. My team was very patient with me, but I had a lot to learn…It's a very subtle job."
2009–2010.
Tobi limited the company's potential.
He deliberately restrained company growth.
Tobi had one costly problem:
Whether Shopify is a venture or a lifestyle business.
The company's annual revenue approached $1 million.
Tobi battled with the firm and himself despite good revenue.
His wife was supportive, but the responsibility was crushing him.
"It's a crushing responsibility…People had families and kids…I just couldn't believe what was going on…My father-in-law gave me money to cover the payroll and it was his life-saving."
Throughout this trip, everyone supported Tobi.
They believed it.
$7 million in donations received
Tobi couldn't decide if this was a lifestyle or a business.
Shopify struggled with marketing then.
Later, Tobi tried 5 marketing methods.
He told himself that if any marketing method greatly increased their growth, he would call it a venture, otherwise a lifestyle.
The Shopify crew brainstormed and voted on marketing concepts.
Tested.
"Every single idea worked…We did Adwords, published a book on the concept, sponsored a podcast and all the ones we tracked worked."
To Silicon Valley once more
Shopify marketing concepts worked once.
Tobi returned to Silicon Valley to pitch investors.
He raised $7 million, valuing Shopify at $25 million.
All investors had board seats.
"I find it very helpful…I always had a fantastic relationship with everyone who's invested in my company…I told them straight that I am not going to pretend I know things, I want you to help me."
Tobi developed skills via running Shopify.
Shopify had 20 employees.
Leaving his wife's parents' home
Tobi left his wife's parents in 2014.
Tobi had a child.
Shopify has 80,000 customers and 300 staff in 2013.
Public offering in 2015
Shopify investors went public in 2015.
Shopify powers 4.1 million e-Commerce sites.
Shopify stores are 65% US-based.
It is currently valued at $48 billion.
Your Ideal Position As a Part-Time Creator
Inspired by someone I never met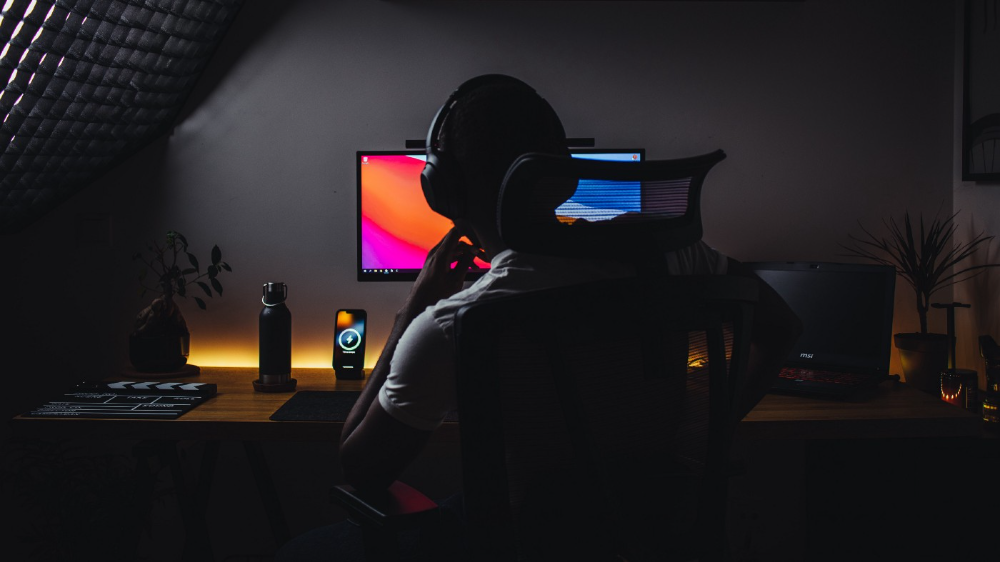 Inspiration is good and bad.
Paul Jarvis inspires me. He's a web person and writer who created his own category by being himself.
Paul said no thank you when everyone else was developing, building, and assuming greater responsibilities. This isn't success. He rewrote the rules. Working for himself, expanding at his own speed, and doing what he loves were his definitions of success.
Play with a problem that you have
The biggest problem can be not recognizing a problem.
Acceptance without question is deception. When you don't push limits, you forget how. You start thinking everything must be as it is.
For example: working. Paul worked a 9-5 agency work with little autonomy. He questioned whether the 9-5 was a way to live, not the way.
Another option existed. So he chipped away at how to live in this new environment.
Don't simply jump
Internet writers tell people considering quitting 9-5 to just quit. To throw in the towel. To do what you like.
The advice is harmful, despite the good intentions. People think quitting is hard. Like courage is the issue. Like handing your boss a resignation letter.
Nope. The tough part comes after. It's easy to jump. Landing is difficult.
The landing
Paul didn't quit. Intelligent individuals don't. Smart folks focus on landing. They imagine life after 9-5.
Paul had been a web developer for a long time, had solid clients, and was respected. Hence if he pushed the limits and discovered another route, he had the potential to execute.
Working on the side
Society loves polarization. It's left or right. Either way. Or chaos. It's 9-5 or entrepreneurship.
But like Paul, you can stretch polarization's limits. In-between exists.
You can work a 9-5 and side jobs (as I do). A mix of your favorites. The 9-5's stability and creativity. Fire and routine.
Remember you can't have everything but anything. You can create and work part-time.
My hybrid lifestyle
Not selling books doesn't destroy my world. My globe keeps spinning if my new business fails or if people don't like my Tweets. Unhappy algorithm? Cool. I'm not bothered (okay maybe a little).
The mix gives me the best of both worlds. To create, hone my skill, and grasp big-business basics. I like routine, but I also appreciate spending 4 hours on Saturdays writing.
Some days I adore leaving work at 5 pm and disconnecting. Other days, I adore having a place to write if inspiration strikes during a run or a discussion.
I'm a part-time creator
I'm a part-time creator. No, I'm not trying to quit. I don't work 5 pm - 2 am on the side. No, I'm not at $10,000 MRR.
I work part-time but enjoy my 9-5. My 9-5 has goodies. My side job as well.
It combines both to meet my lifestyle. I'm satisfied.
Join the Part-time Creators Club for free here. I'll send you tips to enhance your creative game.
You might also like
Why personal ambition and poor leadership caused Google layoffs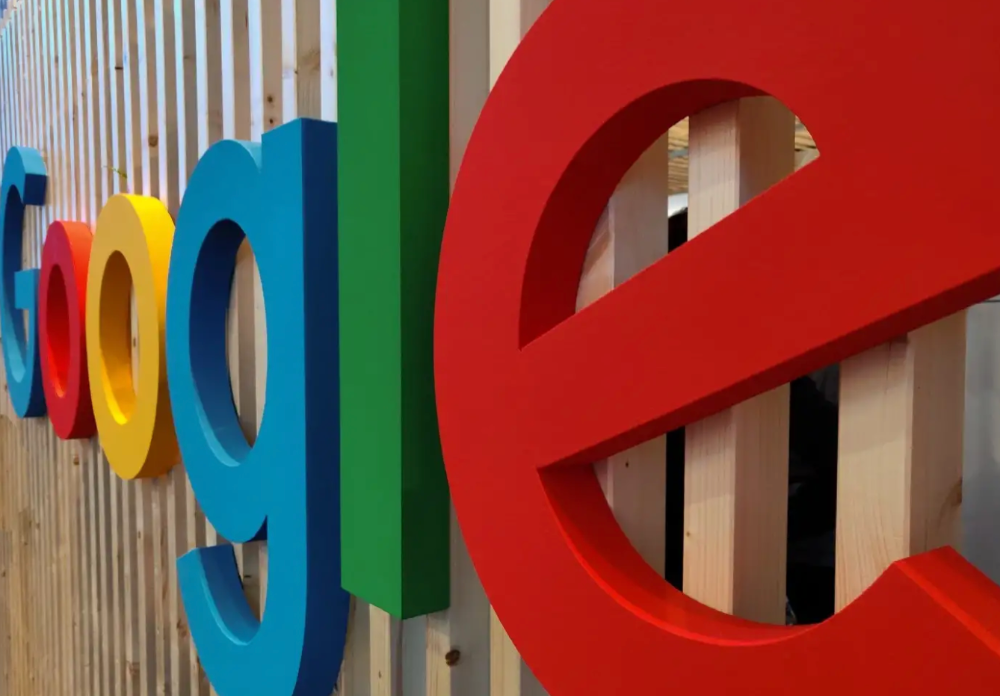 Google announced 6% layoffs recently (or 12,000 people). This aligns it with most tech companies. A publicly contrite CEO explained that they had overhired during the COVID-19 pandemic boom and had to address it, but they were sorry and took full responsibility. I thought this was "bullshit" too. Meta, Amazon, Microsoft, and others must feel similarly. I spent 10 years at Google, and these things don't reflect well on the company's leaders.
All publicly listed companies have a fiduciary duty to act in the best interests of their shareholders. Dodge vs. Ford Motor Company established this (1919). Henry Ford wanted to reduce shareholder payments to offer cheaper cars and better wages. Ford stated.
My ambition is to employ still more men, to spread the benefits of this industrial system to the greatest possible number, to help them build up their lives and their homes. To do this we are putting the greatest share of our profits back in the business.
The Dodge brothers, who owned 10% of Ford, opposed this and sued Ford for the payments to start their own company. They won, preventing Ford from raising prices or salaries. If you have a vocal group of shareholders with the resources to sue you, you must prove you are acting in their best interests. Companies prioritize shareholders. Giving activist investors a stick to threaten you almost enshrines short-term profit over long-term thinking.
This underpins Google's current issues. Institutional investors who can sue Google see it as a wasteful company they can exploit. That doesn't mean you have to maximize profits (thanks to those who pointed out my ignorance of US corporate law in the comments and on HN), but it allows pressure. I feel for those navigating this. This is about unrestrained capitalism.
When Google went public, Larry Page and Sergey Brin knew the risks and worked hard to keep control. In their Founders' Letter to investors, they tried to set expectations for the company's operations.
Our long-term focus as a private company has paid off. Public companies do the same. We believe outside pressures lead companies to sacrifice long-term opportunities to meet quarterly market expectations.
The company has transformed since that letter. The company has nearly 200,000 full-time employees and a trillion-dollar market cap. Large investors have bought company stock because it has been a good long-term bet. Why are they restless now?
Other big tech companies emerged and fought for top talent. This has caused rising compensation packages. Google has also grown rapidly (roughly 22,000 people hired to the end of 2022). At $300,000 median compensation, those 22,000 people added $6.6 billion in salary overheads in 2022. Exorbitant. If the company still makes $16 billion every quarter, maybe not. Investors wonder if this value has returned.
Investors are right. Google uses people wastefully. However, by bluntly reducing headcount, they're not addressing the root causes and hurting themselves. No studies show that downsizing this way boosts productivity. There is plenty of evidence that they'll lose out because people will be risk-averse and distrust their leadership.
The company's approach also stinks. Finding out that you no longer have a job because you can't log in anymore (sometimes in cases where someone is on call for protecting your production systems) is no way to fire anyone. Being with a narcissistic sociopath is like being abused. First, you receive praise and fancy perks for making the cut. You're fired by text and ghosted. You're told to appreciate the generous severance package. This firing will devastate managers and teams. This type of firing will take years to recover self-esteem. Senior management contributed to this. They chose the expedient answer, possibly by convincing themselves they were managing risk and taking the Macbeth approach of "If it were done when 'tis done, then 'twere well It were done quickly".
Recap. Google's leadership did a stupid thing—mass firing—in a stupid way. How do we get rid of enough people to make investors happier? and "have 6% less people." Empathetic leaders should not emulate Elon Musk. There is no humane way to fire 12,000 people, but there are better ways. Why is Google so wasteful?
Ambition answers this. There aren't enough VP positions for a group of highly motivated, ambitious, and (increasingly) ruthless people. I've loitered around the edges of this world and a large part of my value was to insulate my teams from ever having to experience it. It's like Game of Thrones played out through email and calendar and over video call.
Your company must look a certain way to be promoted to director or higher. You need the right people at the right levels under you. Long-term, growing your people will naturally happen if you're working on important things. This takes time, and you're never more than 6–18 months from a reorg that could start you over. Ambitious people also tend to be impatient. So, what do you do?
Hiring and vanity projects. To shape your company, you hire at the right levels. You value vanity metrics like active users over product utility. Your promo candidates get through by subverting the promotion process. In your quest for growth, you avoid performance managing people out. You avoid confronting toxic peers because you need their support for promotion. Your cargo cult gets you there.
Its ease makes Google wasteful. Since they don't face market forces, the employees don't see it as a business. Why would you do when the ads business is so profitable? Complacency causes senior leaders to prioritize their own interests. Empires collapse. Personal ambition often trumped doing the right thing for users, the business, or employees. Leadership's ambition over business is the root cause. Vanity metrics, mass hiring, and vague promises have promoted people to VP. Google goes above and beyond to protect senior leaders.
The decision-makers and beneficiaries are not the layoffees. Stock price increase beneficiaries. The people who will post on LinkedIn how it is about misjudging the market and how they're so sorry and take full responsibility. While accumulating wealth, the dark room dwellers decide who stays and who goes. The billionaire investors. Google should start by addressing its bloated senior management, but — as they say — turkeys don't vote for Christmas. It should examine its wastefulness and make tough choices to fix it. A 6% cut is a blunt tool that admits you're not running your business properly. why aren't the people running the business the ones shortly to be entering the job market?
This won't fix Google's wastefulness. The executives may never regain trust after their approach. Suppressed creativity. Business won't improve. Google will have lost its founding vision and us all. Large investors know they can force Google's CEO to yield. The rich will get richer and rationalize leaving 12,000 people behind. Cycles repeat.
It doesn't have to be this way. In 2013, Nintendo's CEO said he wouldn't fire anyone for shareholders. Switch debuted in 2017. Nintendo's stock has increased by nearly five times, or 19% a year (including the drop most of the stock market experienced last year). Google wasted 12,000 talented people. To please rich people.
Don't treat Elon Musk like Trump.
He's not the President. Stop treating him like one.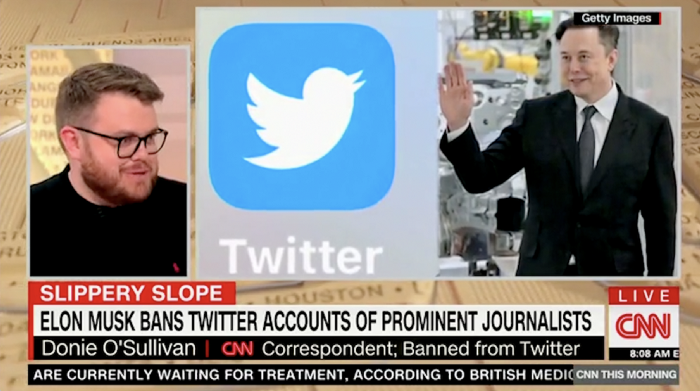 Elon Musk tweeted from Qatar, where he was watching the World Cup Final with Jared Kushner.
Musk's subsequent Tweets were as normal, basic, and bland as anyone's from a World Cup Final: It's depressing to see the world's richest man looking at his phone during a grand ceremony. Rich guy goes to rich guy event didn't seem important.
Before Musk posted his should-I-step-down-at-Twitter poll, CNN ran a long segment asking if it was hypocritical for him to reveal his real-time location after defending his (very dumb) suspension of several journalists for (supposedly) revealing his assassination coordinates by linking to a site that tracks Musks private jet. It was hard to ignore CNN's hypocrisy: It covered Musk as Twitter CEO like President Trump. EVERY TRUMP STORY WAS BASED ON HIM SAYING X, THEN DOING Y. Trump would do something horrific, lie about it, then pretend it was fine, then condemn a political rival who did the same thing, be called hypocritical, and so on. It lasted four years. Exhausting.
It made sense because Trump was the President of the United States. The press's main purpose is to relentlessly cover and question the president.
It's strange to say this out. Twitter isn't America. Elon Musk isn't a president. He maintains a money-losing social media service to harass and mock people he doesn't like. Treating Musk like Trump, as if he should be held accountable like Trump, shows a startling lack of perspective. Some journalists treat Twitter like a country.
The compulsive, desperate way many journalists utilize the site suggests as much. Twitter isn't the town square, despite popular belief. It's a place for obsessives to meet and converse. Journalists say they're breaking news. Their careers depend on it. They can argue it's a public service. Nope. It's a place lonely people go to speak all day. Twitter. So do journalists, Trump, and Musk. Acting as if it has a greater purpose, as if it's impossible to break news without it, or as if the republic is in peril is ludicrous. Only 23% of Americans are on Twitter, while 25% account for 97% of Tweets. I'd think a large portion of that 25% are journalists (or attention addicts) chatting to other journalists. Their loudness makes Twitter seem more important than it is. Nope. It's another stupid website. They were there before Twitter; they will be there after Twitter. It's just a website. We can all get off it if we want. Most of us aren't even on it in the first place.
Musk is a website-owner. No world leader. He's not as accountable as Trump was. Musk is cable news's primary character now that Trump isn't (at least for now). Becoming a TV news anchor isn't as significant as being president. Elon Musk isn't as important as we all pretend, and Twitter isn't even close. Twitter is a dumb website, Elon Musk is a rich guy going through a midlife crisis, and cable news is lazy because its leaders thought the entire world was on Twitter and are now freaking out that their playground is being disturbed.
I've said before that you need to leave Twitter, now. But even if you're still on it, we need to stop pretending it matters more than it does. It's a site for lonely attention addicts, from the man who runs it to the journalists who can't let go of it. It's not a town square. It's not a country. It's not even a successful website. Let's stop pretending any of it's real. It's not.
Provide a product roadmap that can withstand startup velocities
This is how to build a car while driving.

Building a high-growth startup is compared to building a car while it's speeding down the highway.
How to plan without going crazy? Or, without losing team, board, and investor buy-in?
I just delivered our company's product roadmap for the rest of the year. Complete. Thorough. Page-long. I'm optimistic about its chances of surviving as everything around us changes, from internal priorities to the global economy.
It's tricky. This isn't the first time I've created a startup roadmap. I didn't invent a document. It took time to deliver a document that will be relevant for months.
Goals matter.
Although they never change, goals are rarely understood.
This is the third in a series about a startup's unique roadmapping needs. Velocity is the intensity at which a startup must produce to survive.
A high-growth startup moves at breakneck speed, which I alluded to when I said priorities and economic factors can change daily or weekly.
At that speed, a startup's roadmap must be flexible, bend but not break, and be brief and to the point. I can't tell you how many startups and large companies develop a product roadmap every quarter and then tuck it away.
Big, wealthy companies can do this. It's suicide for a startup.
The drawer thing happens because startup product roadmaps are often valid for a short time. The roadmap is a random list of features prioritized by different company factions and unrelated to company goals.
It's not because the goals changed that a roadmap is shelved or ignored. Because the company's goals were never communicated or documented in the context of its product.
In the previous post, I discussed how to turn company goals into a product roadmap. In this post, I'll show you how to make a one-page startup roadmap.
In a future post, I'll show you how to follow this roadmap. This roadmap helps you track company goals, something a roadmap must do.
Be vague for growth, but direct for execution.
Here's my plan. The real one has more entries and more content in each.

Let's discuss smaller boxes.
Product developers and engineers know that the further out they predict, the more wrong they'll be. When developing the product roadmap, this rule is ignored. Then it bites us three, six, or nine months later when we haven't even started.
Why do we put everything in a product roadmap like a project plan?
Yes, I know. We use it when the product roadmap isn't goal-based.
A goal-based roadmap begins with a document that outlines each goal's idea, execution, growth, and refinement.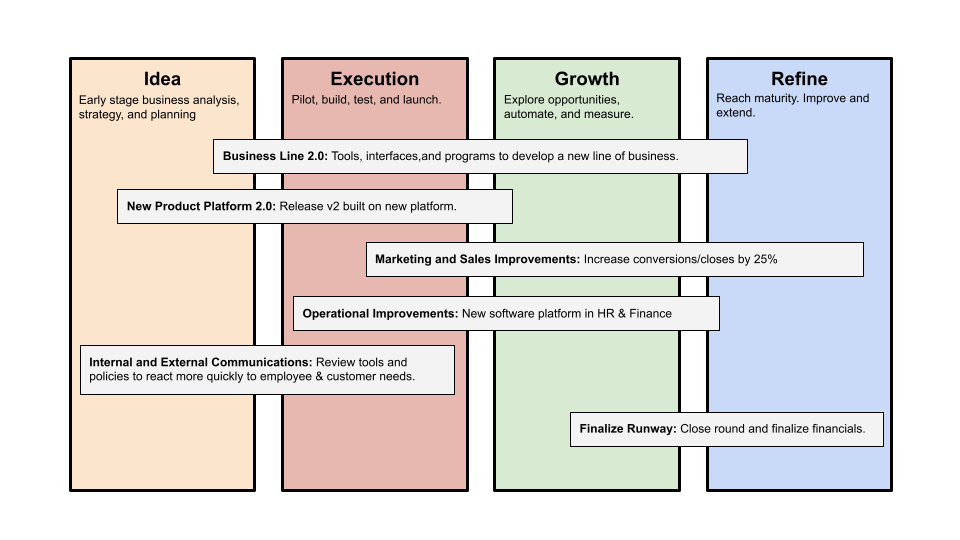 Once the goals are broken down into epics, initiatives, projects, and programs, only the idea and execution phases should be modeled. Any goal growth or refinement items should be vague and loosely mapped.
Why? First, any idea or execution-phase goal will result in growth initiatives that are unimaginable today. Second, internal priorities and external factors will change, but the goals won't. Locking items into calendar slots reduces flexibility and forces deviation from the single source of truth.
No soothsayers. Predicting the future is pointless; just prepare.
A map is useless if you don't know where you're going.
As we speed down the road, the car and the road will change. Goals define the destination.
This quarter and next quarter's roadmap should be set. After that, you should track destination milestones, not how to get there.
When you do that, even the most critical investors will understand the roadmap and buy in. When you track progress at the end of the quarter and revise your roadmap, the destination won't change.