More on Web3 & Crypto
How to Launch an NFT Project by Yourself
Creating 10,000 auto-generated artworks, deploying a smart contract to the Ethereum / Polygon blockchain, setting up some tools, etc.
There is so much to do from launching to running an NFT project. Creating parts for artworks, generating 10,000 unique artworks and metadata, creating a smart contract and deploying it to a blockchain network, creating a website, creating a Twitter account, setting up a Discord server, setting up an OpenSea collection. In addition, you need to have MetaMask installed in your browser and have some ETH / MATIC. Did you get tired of doing all this? Don't worry, once you know what you need to do, all you have to do is do it one by one.
To be honest, it's best to run an NFT project in a team of three or more, including artists, developers, and marketers. However, depending on your motivation, you can do it by yourself. Some people might come later to offer help with your project. The most important thing is to take a step as soon as possible.
Creating Parts for Artworks
There are lots of free/paid software for drawing, but after all, I think Adobe Illustrator or Photoshop is the best. The images of Skulls In Love are a composite of 48x48 pixel parts created using Photoshop.
The most important thing in creating parts for generative art is to repeatedly test what your artworks will look like after each layer has been combined. The generated artworks should not be too unnatural.
How Many Parts Should You Create?
Are you wondering how many parts you should create to avoid duplication as much as possible when generating your artworks? My friend Stephane, a developer, has created a great tool to help with that.
Generating 10,000 Unique Artworks and Metadata
I highly recommend using the HashLips Art Engine to generate your artworks and metadata. Perhaps there is no better artworks generation tool at the moment.
GitHub: https://github.com/HashLips/hashlips_art_engine
YouTube:
Storing Artworks and Metadata
Ideally, the generated artworks and metadata should be stored on-chain, but if you want to store them off-chain, you should use IPFS. Do not store in centralized storage. This is because data will be lost if the server goes down or if the company goes down. On the other hand, IPFS is a more secure way to find data because it utilizes a distributed, decentralized system.
Storing to IPFS is easy with Pinata, NFT.Storage, and so on. The Skulls In Love uses Pinata. It's very easy to use, just upload the folder containing your artworks.
Creating and Deploying a Smart Contract
You don't have to create a smart contract from scratch. There are many great NFT projects, many of which publish their contract source code on Etherscan / PolygonScan. You can choose the contract you like and reuse it. Of course, that requires some knowledge of Solidity, but it depends on your efforts. If you don't know which contract to choose, use the HashLips smart contract. It's very simple, but it has almost all the functions you need.
GitHub: https://github.com/HashLips/hashlips_nft_contract
Note: Later on, you may want to change the cost value. You can change it on Remix or Etherscan / PolygonScan. But in this case, enter the Wei value instead of the Ether value. For example, if you want to sell for 1 MATIC, you have to enter "1000000000000000000". If you set this value to "1", you will have a nightmare. I recommend using Simple Unit Converter as a tool to calculate the Wei value.
Creating a Website
The website here is not just a static site to showcase your project, it's a so-called dApp that allows you to access your smart contract and mint NFTs. In fact, this level of dApp is not too difficult for anyone who has ever created a website. Because the ethers.js / web3.js libraries make it easy to interact with your smart contract. There's also no problem connecting wallets, as MetaMask has great documentation.
The Skulls In Love uses a simple, fast, and modern dApp that I built from scratch using Next.js. It is published on GitHub, so feel free to use it.
Why do people mint NFTs on a website?
Ethereum's gas fees are high, so if you mint all your NFTs, there will be a huge initial cost. So it makes sense to get the buyers to help with the gas fees for minting.
What about Polygon? Polygon's gas fees are super cheap, so even if you mint 10,000 NFTs, it's not a big deal. But we don't do that. Since NFT projects are a kind of game, it involves the fun of not knowing what will come out after minting.
Creating a Twitter Account
I highly recommend creating a Twitter account. Twitter is an indispensable tool for announcing giveaways and reaching more people. It's better to announce your project and your artworks little by little, 1–2 weeks before launching your project.
Creating and Setting Up a Discord Server
I highly recommend creating a Discord server as well as a Twitter account. The Discord server is a community and its home. Fans of your NFT project will want to join your community and interact with many other members. So, carefully create each channel on your Discord server to make it a cozy place for your community members.
If you are unfamiliar with Discord, you may be particularly confused by the following:
What bots should I use?
How should I set roles and permissions?
But don't worry. There are lots of great YouTube videos and blog posts about these.
It's also a good idea to join the Discord servers of some NFT projects and see how they're made. Our Discord server is so simple that even beginners will find it easy to understand. Please join us and see it!
Note: First, create a test account and a test server to make sure your bots and permissions work properly. It is better to verify the behavior on the test server before setting up your production server.
UPDATED: As your Discord server grows, you cannot manage it on your own. In this case, you will be hiring several moderators, but choose carefully before hiring. And don't give them important role permissions right after hiring. Initially, the same permissions as other members are sufficient. After a while, you can add permissions as needed, such as kicking/banning, using the "@every" tag, and adding roles. Again, don't immediately give significant permissions to your Mod role. Your server can be messed up by fake moderators.
Setting Up Your OpenSea Collection
Before you start selling your NFTs, you need to reserve some for airdrops, giveaways, staff, and more. It's up to you whether it's 100, 500, or how many.
After minting some of your NFTs, your account and collection should have been created in OpenSea. Go to OpenSea, connect to your wallet, and set up your collection. Just set your logo, banner image, description, links, royalties, and more. It's not that difficult.
Promoting Your Project
After all, promotion is the most important thing. In fact, almost every successful NFT project spends a lot of time and effort on it.
In addition to Twitter and Discord, it's even better to use Instagram, Reddit, and Medium. Also, register your project in NFTCalendar and DISBOARD
DISBOARD is the public Discord server listing community.
About Promoters
You'll probably get lots of contacts from promoters on your Discord, Twitter, Instagram, and more. But most of them are scams, so don't pay right away. If you have a promoter that looks attractive to you, be sure to check the promoter's social media accounts or website to see who he/she is. They basically charge in dollars. The amount they charge isn't cheap, but promoters with lots of followers may have some temporary effect on your project. Some promoters accept 50% prepaid and 50% postpaid. If you can afford it, it might be worth a try. I never ask them, though.
When Should the Promotion Activities Start?
You may be worried that if you promote your project before it starts, someone will copy your project (artworks). It is true that some projects have actually suffered such damage. I don't have a clear answer to this question right now, but:
Do not publish all the information about your project too early
The information should be released little by little
Creating artworks that no one can easily copy
I think these are important.
If anyone has a good idea, please share it!
About Giveaways
When hosting giveaways, you'll probably use multiple social media platforms. You may want to grow your Discord server faster. But if joining the Discord server is included in the giveaway requirements, some people hate it. I recommend holding giveaways for each platform. On Twitter and Reddit, you should just add the words "Discord members-only giveaway is being held now! Please join us if you like!".
If you want to easily pick a giveaway winner in your browser, I recommend Twitter Picker.
Precautions for Distributing Free NFTs
If you want to increase your Twitter followers and Discord members, you can actually get a lot of people by holding events such as giveaways and invite contests. However, distributing many free NFTs at once can be dangerous. Some people who want free NFTs, as soon as they get a free one, sell it at a very low price on marketplaces such as OpenSea. They don't care about your project and are only thinking about replacing their own "free" NFTs with Ethereum. The lower the floor price of your NFTs, the lower the value of your NFTs (project). Try to think of ways to get people to "buy" your NFTs as much as possible.
Ethereum vs. Polygon
Even though Ethereum has high gas fees, NFT projects on the Ethereum network are still mainstream and popular. On the other hand, Polygon has very low gas fees and fast transaction processing, but NFT projects on the Polygon network are not very popular.
Why? There are several reasons, but the biggest one is that it's a lot of work to get MATIC (on Polygon blockchain, use MATIC instead of ETH) ready to use. Simply put, you need to bridge your tokens to the Polygon chain. So people need to do this first before minting your NFTs on your website. It may not be a big deal for those who are familiar with crypto and blockchain, but it may be complicated for those who are not. I hope that the tedious work will be simplified in the near future.
If you are confident that your NFTs will be purchased even if they are expensive, or if the total supply of your NFTs is low, you may choose Ethereum. If you just want to save money, you should choose Polygon. Keep in mind that gas fees are incurred not only when minting, but also when performing some of your smart contract functions and when transferring your NFTs.
If I were to launch a new NFT project, I would probably choose Ethereum or Solana.
Conclusion
Some people may want to start an NFT project to make money, but don't forget to enjoy your own project. Several months ago, I was playing with creating generative art by imitating the CryptoPunks. I found out that auto-generated artworks would be more interesting than I had imagined, and since then I've been completely absorbed in generative art.
This is one of the Skulls In Love artworks:

This character wears a cowboy hat, black slim sunglasses, and a kimono. If anyone looks like this, I can't help laughing!
The Skulls In Love NFTs can be minted for a small amount of MATIC on the official website. Please give it a try to see what kind of unique characters will appear 💀💖
Thank you for reading to the end. I hope this article will be helpful to those who want to launch an NFT project in the future ✨
Ajay Shrestha
7 months ago
Bitcoin's technical innovation: addressing the issue of the Byzantine generals
The 2008 Bitcoin white paper solves the classic computer science consensus problem.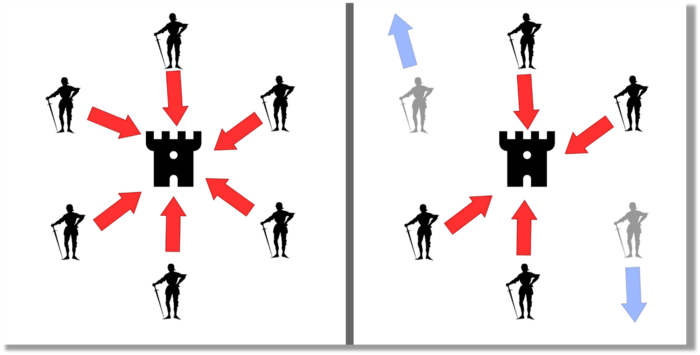 Issue Statement
The Byzantine Generals Problem (BGP) is called after an allegory in which several generals must collaborate and attack a city at the same time to win (figure 1-left). Any general who retreats at the last minute loses the fight (figure 1-right). Thus, precise messengers and no rogue generals are essential. This is difficult without a trusted central authority.
In their 1982 publication, Leslie Lamport, Robert Shostak, and Marshall Please termed this topic the Byzantine Generals Problem to simplify distributed computer systems.
Consensus in a distributed computer network is the issue. Reaching a consensus on which systems work (and stay in the network) and which don't makes maintaining a network tough (i.e., needs to be removed from network). Challenges include unreliable communication routes between systems and mis-reporting systems.
Solving BGP can let us construct machine learning solutions without single points of failure or trusted central entities. One server hosts model parameters while numerous workers train the model. This study describes fault-tolerant Distributed Byzantine Machine Learning.
Bitcoin invented a mechanism for a distributed network of nodes to agree on which transactions should go into the distributed ledger (blockchain) without a trusted central body. It solved BGP implementation. Satoshi Nakamoto, the pseudonymous bitcoin creator, solved the challenge by cleverly combining cryptography and consensus mechanisms.
Disclaimer
This is not financial advice. It discusses a unique computer science solution.
Bitcoin
Bitcoin's white paper begins:
"A purely peer-to-peer version of electronic cash would allow online payments to be sent directly from one party to another without going through a financial institution." Source: https://www.ussc.gov/sites/default/files/pdf/training/annual-national-training-seminar/2018/Emerging_Tech_Bitcoin_Crypto.pdf
Bitcoin's main parts:
The open-source and versioned bitcoin software that governs how nodes, miners, and the bitcoin token operate.

The native kind of token, known as a bitcoin token, may be created by mining (up to 21 million can be created), and it can be transferred between wallet addresses in the bitcoin network.

Distributed Ledger, which contains exact copies of the database (or "blockchain") containing each transaction since the first one in January 2009.

distributed network of nodes (computers) running the distributed ledger replica together with the bitcoin software. They broadcast the transactions to other peer nodes after validating and accepting them.

Proof of work (PoW) is a cryptographic requirement that must be met in order for a miner to be granted permission to add a new block of transactions to the blockchain of the cryptocurrency bitcoin. It takes the form of a valid hash digest. In order to produce new blocks on average every 10 minutes, Bitcoin features a built-in difficulty adjustment function that modifies the valid hash requirement (length of nonce). PoW requires a lot of energy since it must continually generate new hashes at random until it satisfies the criteria.

The competing parties known as miners carry out continuous computing processing to address recurrent cryptography issues. Transaction fees and some freshly minted (mined) bitcoin are the rewards they receive. The amount of hashes produced each second—or hash rate—is a measure of mining capacity.
Cryptography, decentralization, and the proof-of-work consensus method are Bitcoin's most unique features.
Bitcoin uses encryption
Bitcoin employs this established cryptography.
Hashing

digital signatures based on asymmetric encryption
Hashing (SHA-256) (SHA-256)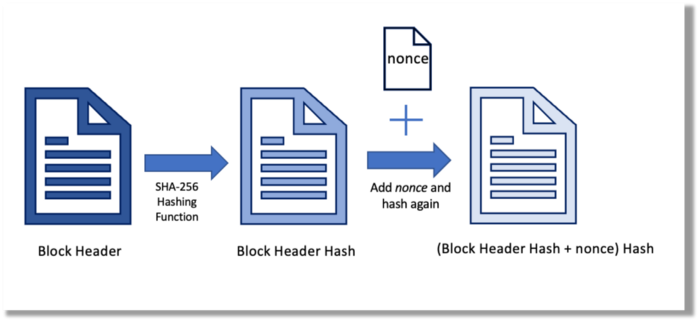 Hashing converts unique plaintext data into a digest. Creating the plaintext from the digest is impossible. Bitcoin miners generate new hashes using SHA-256 to win block rewards.
A new hash is created from the current block header and a variable value called nonce. To achieve the required hash, mining involves altering the nonce and re-hashing.
The block header contains the previous block hash and a Merkle root, which contains hashes of all transactions in the block. Thus, a chain of blocks with increasing hashes links back to the first block. Hashing protects new transactions and makes the bitcoin blockchain immutable. After a transaction block is mined, it becomes hard to fabricate even a little entry.
Asymmetric Cryptography Digital Signatures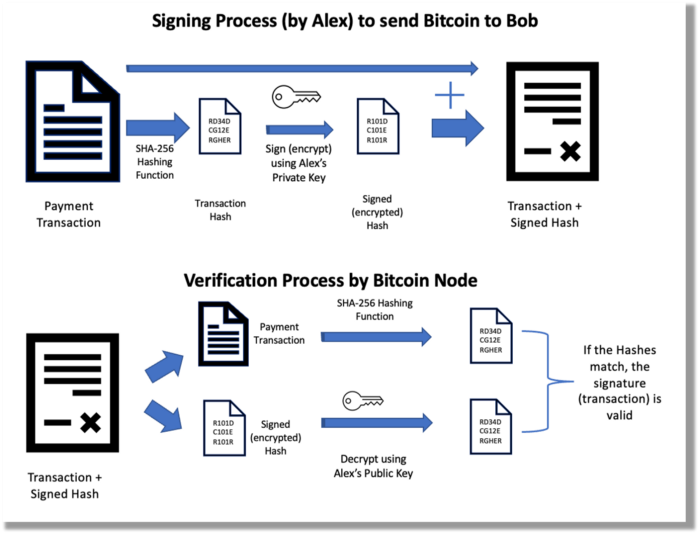 Asymmetric cryptography (public-key encryption) requires each side to have a secret and public key. Public keys (wallet addresses) can be shared with the transaction party, but private keys should not. A message (e.g., bitcoin payment record) can only be signed by the owner (sender) with the private key, but any node or anybody with access to the public key (visible in the blockchain) can verify it. Alex will submit a digitally signed transaction with a desired amount of bitcoin addressed to Bob's wallet to a node to send bitcoin to Bob. Alex alone has the secret keys to authorize that amount. Alex's blockchain public key allows anyone to verify the transaction.
Solution
Now, apply bitcoin to BGP. BGP generals resemble bitcoin nodes. The generals' consensus is like bitcoin nodes' blockchain block selection. Bitcoin software on all nodes can:
Check transactions (i.e., validate digital signatures)
2. Accept and propagate just the first miner to receive the valid hash and verify it accomplished the task. The only way to guess the proper hash is to brute force it by repeatedly producing one with the fixed/current block header and a fresh nonce value.
Thus, PoW and a dispersed network of nodes that accept blocks from miners that solve the unfalsifiable cryptographic challenge solve consensus.
Suppose:
Unreliable nodes

Unreliable miners
Bitcoin accepts the longest chain if rogue nodes cause divergence in accepted blocks. Thus, rogue nodes must outnumber honest nodes in accepting/forming the longer chain for invalid transactions to reach the blockchain. As of November 2022, 7000 coordinated rogue nodes are needed to takeover the bitcoin network.
Dishonest miners could also try to insert blocks with falsified transactions (double spend, reverse, censor, etc.) into the chain. This requires over 50% (51% attack) of miners (total computational power) to outguess the hash and attack the network. Mining hash rate exceeds 200 million (source). Rewards and transaction fees encourage miners to cooperate rather than attack. Quantum computers may become a threat.
Visit my Quantum Computing post.
Quantum computers—what are they? Quantum computers will have a big influence. towardsdatascience.com
Nodes have more power than miners since they can validate transactions and reject fake blocks. Thus, the network is secure if honest nodes are the majority.
Summary
Table 1 compares three Byzantine Generals Problem implementations.

Bitcoin white paper and implementation solved the consensus challenge of distributed systems without central governance. It solved the illusive Byzantine Generals Problem.
Resources
Resources
Web 2 + Web 3 = Web 5.
Monkey jpegs and shitcoins have tarnished Web3's reputation. Let's move on.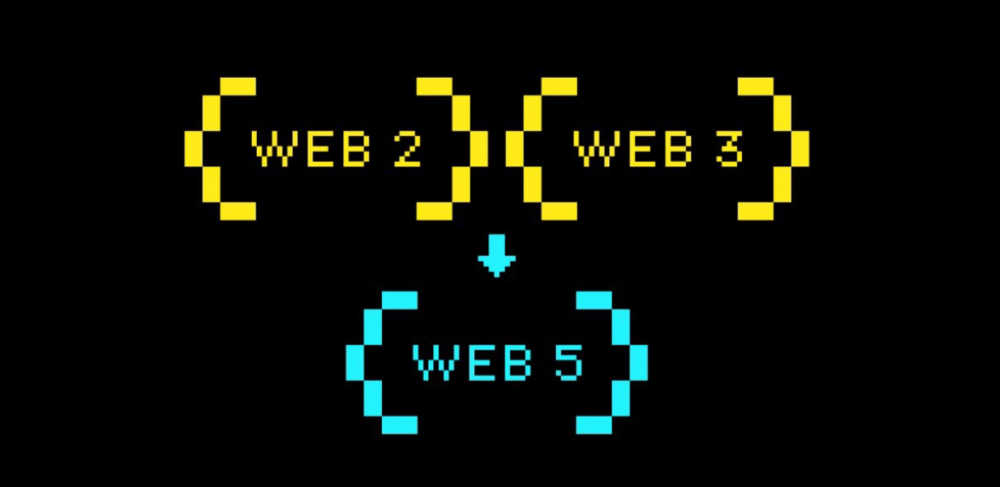 Web3 was called "the internet's future."
Well, 'crypto bros' shouted about it loudly.
As quickly as it arrived to be the next internet, it appears to be dead. It's had scandals, turbulence, and crashes galore:
Web 3.0's cryptocurrencies have crashed. Bitcoin's all-time high was $66,935. This month, Ethereum fell from $2130 to $1117. Six months ago, the cryptocurrency market peaked at $3 trillion. Worst is likely ahead.

Gas fees make even the simplest Web3 blockchain transactions unsustainable.

Terra, Luna, and other dollar pegs collapsed, hurting crypto markets. Celsius, a crypto lender backed by VCs and Canada's second-largest pension fund, and Binance, a crypto marketplace, have withheld money and coins. They're near collapse.

NFT sales are falling rapidly and losing public interest.
Web3 has few real-world uses, like most crypto/blockchain technologies. Web3's image has been tarnished by monkey profile pictures and shitcoins while failing to become decentralized (the whole concept is controlled by VCs).
The damage seems irreparable, leaving Web3 in the gutter.
Step forward our new saviour — Web5
Fear not though, as hero awaits to drag us out of the Web3 hellscape. Jack Dorsey revealed his plan to save the internet quickly.
Dorsey has long criticized Web3, believing that VC capital and silicon valley insiders have created a centralized platform. In a tweet that upset believers and VCs (he was promptly blocked by Marc Andreessen), Dorsey argued, "You don't own "Web3." VCs and LPs do. Their incentives prevent it. It's a centralized organization with a new name.
Dorsey announced Web5 on June 10 in a very Elon-like manner. Block's TBD unit will work on the project (formerly Square).
Web5's pitch is that users will control their own data and identity. Bitcoin-based. Sound familiar? The presentation pack's official definition emphasizes decentralization. Web5 is a decentralized web platform that enables developers to write decentralized web apps using decentralized identifiers, verifiable credentials, and decentralized web nodes, returning ownership and control over identity and data to individuals.
Web5 would be permission-less, open, and token-less. What that means for Earth is anyone's guess. Identity. Ownership. Blockchains. Bitcoin. Different.
Web4 appears to have been skipped, forever destined to wish it could have shown the world what it could have been. (It was probably crap.) As this iteration combines Web2 and Web3, simple math and common sense add up to 5. Or something.
Dorsey and his team have had this idea simmering for a while. Daniel Buchner, a member of Block's Decentralized Identity team, said, "We're finishing up Web5's technical components."
Web5 could be the project that decentralizes the internet. It must be useful to users and convince everyone to drop the countless Web3 projects, products, services, coins, blockchains, and websites being developed as I write this.
Web5 may be too late for Dorsey and the incoming flood of creators.
Web6 is planned!

The next months and years will be hectic and less stable than the transition from Web 1.0 to Web 2.0. 
Web1 was around 1991-2004.

Web2 ran from 2004 to 2021. (though the Web3 term was first used in 2014, it only really gained traction years later.)

Web3 lasted a year.

Web4 is dead.
Silicon Valley billionaires are turning it into a startup-style race, each disrupting the next iteration until they crack it. Or destroy it completely.
Web5 won't last either.
You might also like
Hudson Rennie
10 months ago
Meet the $5 million monthly controversy-selling King of Toxic Masculinity.
Trigger warning — Andrew Tate is running a genius marketing campaign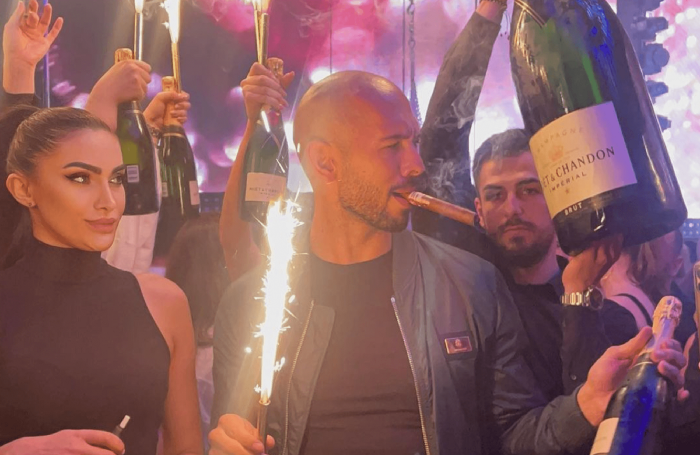 Andrew Tate is a 2022 internet celebrity.
Kickboxing world champion became rich playboy with controversial views on gender roles.
Andrew's get-rich-quick scheme isn't new. His social media popularity is impressive.
He's currently running one of the most genius marketing campaigns in history.
He pulls society's pendulum away from diversity and inclusion and toward diversion and exclusion. He's unstoppable.
Here's everything you need to know about Andrew Tate. And how he's playing chess while the world plays checkers.
Cobra Tate is the name he goes by.
American-born, English-raised entrepreneur Andrew Tate lives in Romania.
Romania? Says Andrew,
"I prefer a country in which corruption is available to everyone."
Andrew was a professional kickboxer with the ring moniker Cobra before starting Hustlers University.
Before that, he liked chess and worshipped his father.
Emory Andrew Tate III is named after his grandmaster chess player father.
Emory was the first black-American chess champion. He was military, martial arts-trained, and multilingual. A superhuman.
He lived in his car to make ends meet.
Andrew and Tristan relocated to England with their mother when their parents split.
It was there that Andrew began his climb toward becoming one of the internet's greatest villains.
Andrew fell in love with kickboxing.
Andrew spent his 20s as a professional kickboxer and reality TV star, featuring on Big Brother UK and The Ultimate Traveller.
These 3 incidents, along with a chip on his shoulder, foreshadowed Andrews' social media breakthrough.
Chess

Combat sports

Reality television
A dangerous trio.
Andrew started making money online after quitting kickboxing in 2017 due to an eye issue.
Andrew didn't suddenly become popular.
Andrew's web work started going viral in 2022.
Due to his contentious views on patriarchy and gender norms, he's labeled the King of Toxic Masculinity. His most contentious views (trigger warning):
"Women are intrinsically lazy."

"Female promiscuity is disgusting."

"Women shouldn't drive cars or fly planes."

"A lot of the world's problems would be solved if women had their body count tattooed on their foreheads."
Andrew's two main beliefs are:
"These are my personal opinions based on my experiences."
2. "I believe men are better at some things and women are better at some things. We are not equal."
Andrew intentionally offends.
Andrew's thoughts began circulating online in 2022.

In July 2022, he was one of the most Googled humans, surpassing:
Joe Biden

Donald Trump

Kim Kardashian
Andrews' rise is a mystery since no one can censure or suppress him. This is largely because Andrew nor his team post his clips.
But more on that later.
Andrew's path to wealth.
Andrew Tate is a self-made millionaire. His morality is uncertain.
Andrew and Tristan needed money soon after retiring from kickboxing.
"I owed some money to some dangerous people. I had $70K and needed $100K to stay alive."
Andrews lost $20K on roulette at a local casino.
Andrew had one week to make $50,000, so he started planning. Andrew locked himself in a chamber like Thomas Edison to solve an energy dilemma.
He listed his assets.
Physical strength (but couldn't fight)

a BMW (worth around $20K)

Intelligence (but no outlet)
A lightbulb.
He had an epiphany after viewing a webcam ad. He sought aid from women, ironically. His 5 international girlfriends are assets.
Then, a lightbulb.
Andrew and Tristan messaged and flew 7 women to a posh restaurant. Selling desperation masked as opportunity, Andrew pitched his master plan:
A webcam business — with a 50/50 revenue split.
5 women left.
2 stayed.
Andrew Tate, a broke kickboxer, became Top G, Cobra Tate.
The business model was simple — yet sad.
Andrew's girlfriends moved in with him and spoke online for 15+ hours a day. Andrew handled ads and equipment as the women posed.
Andrew eventually took over their keyboards, believing he knew what men wanted more than women.
Andrew detailed on the Full Send Podcast how he emotionally manipulated men for millions. They sold houses, automobiles, and life savings to fuel their companionship addiction.
When asked if he felt bad, Andrew said,
"F*ck no."
Andrew and Tristan wiped off debts, hired workers, and diversified.
Tristan supervised OnlyFans models.
Andrew bought Romanian casinos and MMA league RXF (Real Xtreme Fighting).
Pandemic struck suddenly.
Andrew couldn't run his 2 businesses without a plan. Another easy moneymaker.
He banked on Hustlers University.
The actual cause of Andrew's ubiquity.
On a Your Mom's House episode Andrew's 4 main revenue sources:
Hustler's University
2. Owning casinos in Romania
3. Owning 10% of the Romanian MMA league "RXF"
4. "The War Room" — a society of rich and powerful men
When the pandemic hit, 3/4 became inoperable.
So he expanded Hustlers University.
But what is Hustler's University?
Andrew says Hustlers University teaches 18 wealth-building tactics online. Examples:
Real estate

Copywriting

Amazon FBA

Dropshipping

Flipping Cryptos
How to swiftly become wealthy.
Lessons are imprecise, rudimentary, and macro-focused, say reviews. Invest wisely, etc. Everything is free online.
You pay for community. One unique income stream.
The only money-making mechanism that keeps the course from being a scam.
The truth is, many of Andrew's students are actually making money. Maybe not from the free YouTube knowledge Andrew and his professors teach in the course, but through Hustler's University's affiliate program.
Affiliates earn 10% commission for each new student = $5.
Students can earn $10 for each new referral in the first two months.
Andrew earns $50 per membership per month.
This affiliate program isn't anything special — in fact, it's on the lower end of affiliate payouts. Normally, it wouldn't be very lucrative.
But it has one secret weapon— Andrew and his viral opinions.
Andrew is viral. Andrew went on a media tour in January 2022 after appearing on Your Mom's House.
And many, many more…
He chatted with Twitch streamers. Hustlers University wanted more controversy (and clips).
Here's the strategy behind Hustler's University that has (allegedly) earned students upwards of $10K per month:
Make a social media profile with Andrew Tates' name and photo.

Post any of the online videos of Andrews that have gone viral.

Include a referral link in your bio.
Effectively simple.
Andrew's controversy attracts additional students. More student clips circulate as more join. Andrew's students earn more and promote the product as he goes viral.
A brilliant plan that's functioning.
At the beginning of his media tour, Hustler's University had 5,000 students. 6 months in, and he now has over 100,000.
One income stream generates $5 million every month.
Andrew's approach is not new.
But it is different.
In the early 2010s, Tai Lopez dominated the internet.
His viral video showed his house.
"Here in my garage. Just bought this new Lamborghini."
Tais' marketing focused on intellect, not strength, power, and wealth to attract women.
How reading quicker leads to financial freedom in 67 steps.
Years later, it was revealed that Tai Lopez rented the mansion and Lamborghini as a marketing ploy to build social proof. Meanwhile, he was living in his friend's trailer.
Faked success is an old tactic.
Andrew is doing something similar. But with one major distinction.
Andrew outsources his virality — making him nearly impossible to cancel.
In 2022, authorities searched Andrews' estate over human trafficking suspicions. Investigation continues despite withdrawn charges.
Andrew's divisive nature would normally get him fired. Andrew's enterprises and celebrity don't rely on social media.
He doesn't promote or pay for ads. Instead, he encourages his students and anyone wishing to get rich quick to advertise his work.
Because everything goes through his affiliate program. Old saying:
"All publicity is good publicity."
Final thoughts: it's ok to feel triggered.
Tate is divisive.
His emotionally charged words are human nature. Andrews created the controversy.
It's non-personal.
His opinions are those of one person. Not world nor generational opinion.
Briefly:
It's easy to understand why Andrews' face is ubiquitous. Money.

The world wide web is a chessboard. Misdirection is part of it.

It's not personal, it's business.

Controversy sells
Sometimes understanding the 'why', can help you deal with the 'what.'
Adam Neumanns is working to create the future of living in a classic example of a guy failing upward.
The comeback tour continues…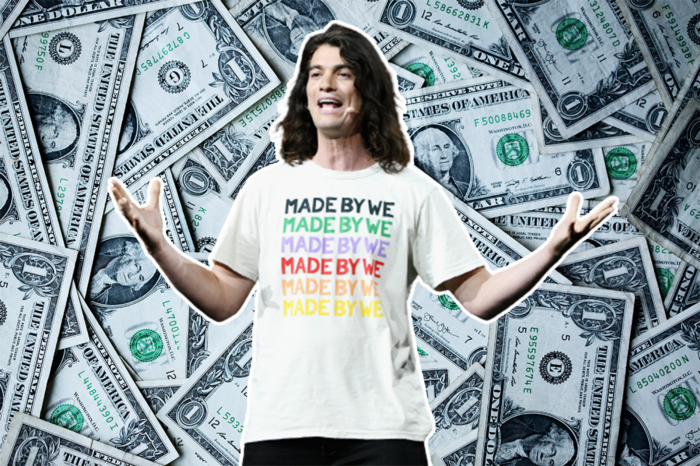 First, he founded a $47 billion co-working company (sorry, a "tech company").
He established WeLive to disrupt apartment life.
Then he created WeGrow, a school that tossed aside the usual curriculum to feed children's souls and release their potential.
He raised the world's consciousness.
Then he blew it all up (without raising the world's consciousness). (He bought a wave pool.)
Adam Neumann's WeWork business burned investors' money. The founder sailed off with unimaginable riches, leaving long-time employees with worthless stocks and the company bleeding money. His track record, which includes a failing baby clothing company, should have stopped investors cold.
Once the dust settled, folks went on. We forgot about the Neumanns! We forgot about the private jets, company retreats, many houses, and WeWork's crippling. In that moment, the prodigal son of entrepreneurship returned, choosing the blockchain as his industry. His homecoming tour began with Flowcarbon, which sold Goddess Nature Tokens to lessen companies' carbon footprints.
Did it work?
Of course not.
Despite receiving $70 million from Andreessen Horowitz's a16z, the project has been halted just two months after its announcement.
This triumph should lower his grade.
Neumann seems to have moved on and has another revolutionary idea for the future of living. Flow (not Flowcarbon) aims to help people live in flow and will launch in 2023. It's the classic Neumann pitch: lofty goals, yogababble, and charisma to attract investors.
It's a winning formula for one investment fund. a16z has backed the project with its largest single check, $350 million. It has a splash page and 3,000 rental units, but is valued at over $1 billion. The blog post praised Neumann for reimagining the office and leading a paradigm-shifting global company.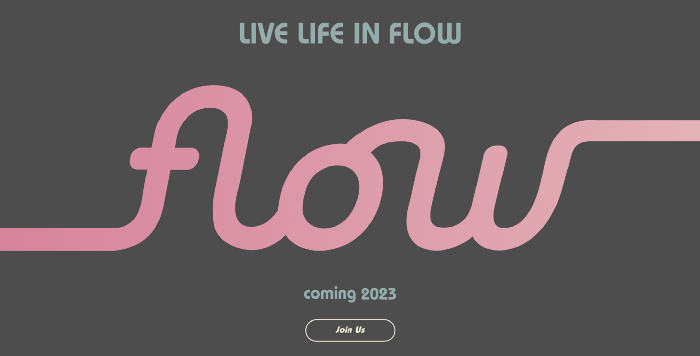 Flow's mission is to solve the nation's housing crisis. How? Idk. It involves offering community-centric services in apartment properties to the same remote workforce he once wooed with free beer and a pingpong table. Revolutionary! It seems the goal is to apply WeWork's goals of transforming physical spaces and building community to apartments to solve many of today's housing problems.
The elevator pitch probably sounded great.
At least a16z knows it's a near-impossible task, calling it a seismic shift. Marc Andreessen opposes affordable housing in his wealthy Silicon Valley town. As details of the project emerge, more investors will likely throw ethics and morals out the window to go with the flow, throwing money at a man known for burning through it while building toxic companies, hoping he can bank another fantasy valuation before it all crashes.
Insanity is repeating the same action and expecting a different result. Everyone on the Neumann hype train needs to sober up.
Like WeWork, this venture Won'tWork.
Like before, it'll cause a shitstorm.
12 mental models that I use frequently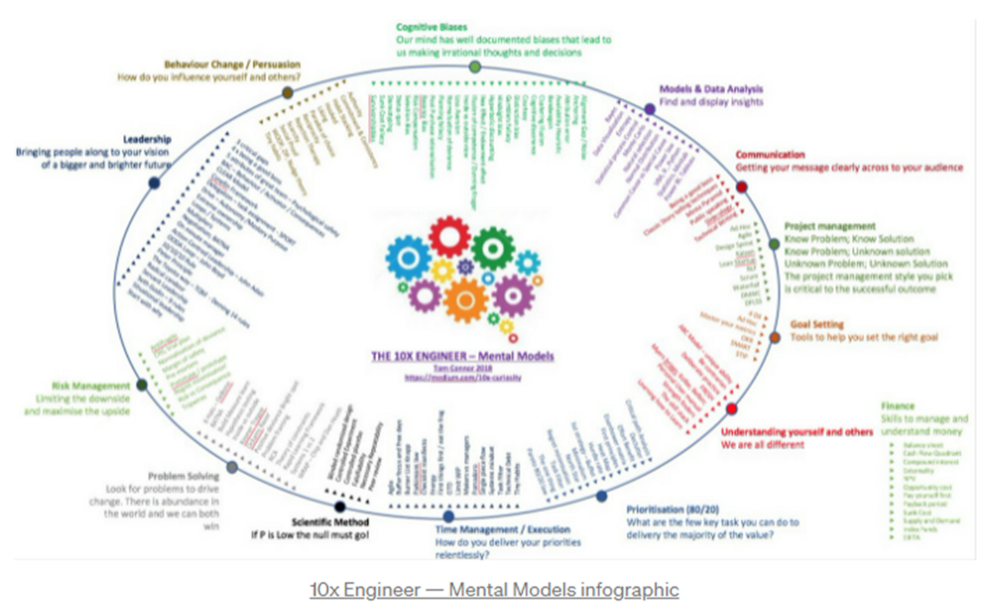 https://tomconnor.me/wp-content/uploads/2021/08/10x-Engineer-Mental-Models.pdf
I keep returning to the same mental models and tricks after writing and reading about a wide range of topics.
Top 12 mental models
12.
Survival bias - We perceive the surviving population as remarkable, yet they may have gotten there through sheer grit.
Survivorship bias affects us in many situations. Our retirement fund; the unicorn business; the winning team. We often study and imitate the last one standing. This can lead to genuine insights and performance improvements, but it can also lead us astray because the leader may just be lucky.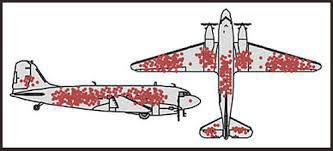 11.
The Helsinki Bus Theory - How to persevere Buss up!
Always display new work, and always be compared to others. Why? Easy. Keep riding. Stay on the fucking bus.
10.
Until it sticks… Turning up every day… — Artists teach engineers plenty. Quality work over a career comes from showing up every day and starting.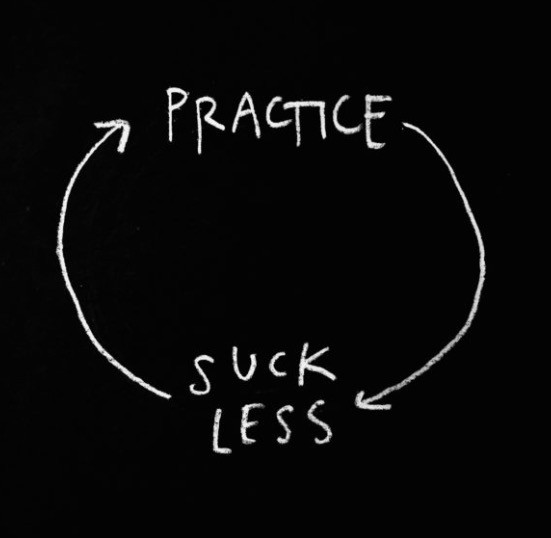 9.
WRAP decision making process (Heath Brothers)
Decision-making WRAP Model:
W — Widen your Options
R — Reality test your assumptions
A — Attain Distance
P — Prepare to be wrong or Right
8.
Systems for knowledge worker excellence - Todd Henry and Cal Newport write about techniques knowledge workers can employ to build a creative rhythm and do better work.
Todd Henry's FRESH framework:
Focus: Keep the start in mind as you wrap up.

Relationships: close a loop that's open.

Pruning is an energy.

Set aside time to be inspired by stimuli.

Hours: Spend time thinking.
7.
BBT is learning from mistakes. Science has transformed the world because it constantly updates its theories in light of failures. Complexity guarantees failure. Do we learn or self-justify?
6.
The OODA Loop - Competitive advantage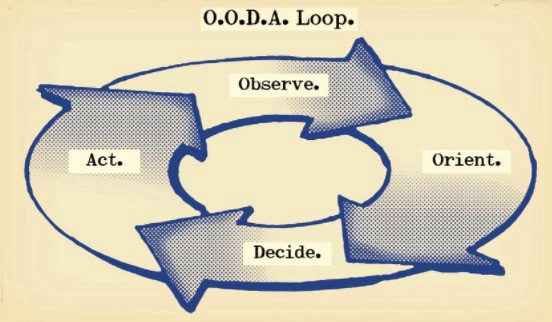 O: Observe: collect the data. Figure out exactly where you are, what's happening.
O: Orient: analyze/synthesize the data to form an accurate picture.
D: Decide: select an action from possible options
A: Action: execute the action, and return to step (1)
Boyd's approach indicates that speed and agility are about information processing, not physical reactions. They form feedback loops. More OODA loops improve speed.
5.
Leaders who try to impose order in a complex situation fail; those who set the stage, step back, and allow patterns to develop win.
https://vimeo.com/640941172?embedded=true&source=vimeo_logo&owner=11999906
4.
Information Gap - The discrepancy between what we know and what we would like to know

Gap in Alignment - What individuals actually do as opposed to what we wish them to do

Effects Gap - the discrepancy between our expectations and the results of our actions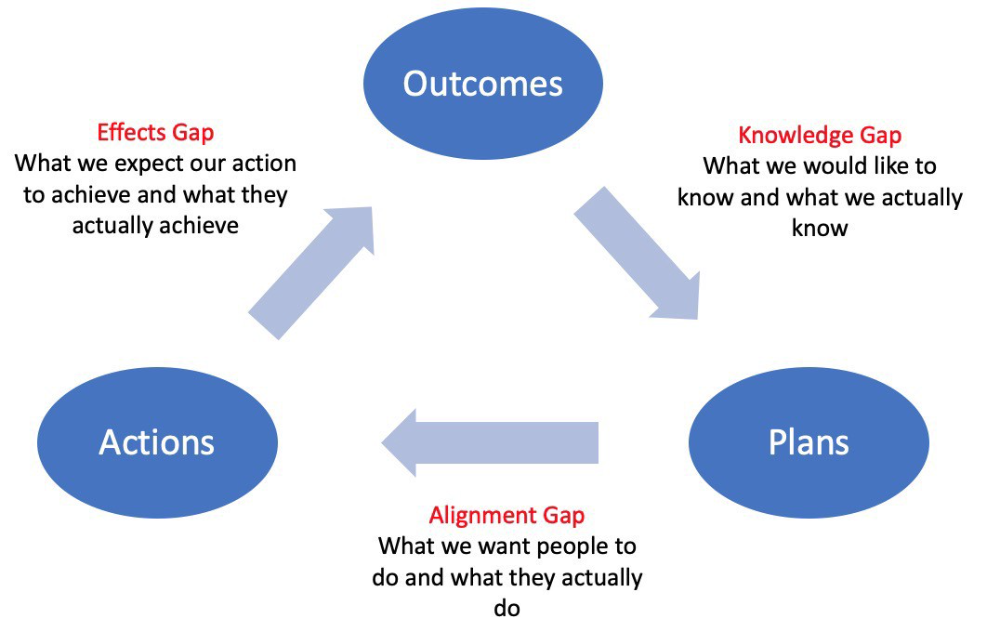 3.
Theory of Constraints — The Goal  - To maximize system production, maximize bottleneck throughput.
Goldratt creates a five-step procedure:
Determine the restriction

Improve the restriction.

Everything else should be based on the limitation.

Increase the restriction

Go back to step 1 Avoid letting inertia become a limitation.
Any non-constraint improvement is an illusion.
2.
Serendipity and the Adjacent Possible - Why do several amazing ideas emerge at once? How can you foster serendipity in your work?
You need specialized abilities to reach to the edge of possibilities, where you can pursue exciting tasks that will change the world. Few people do it since it takes a lot of hard work. You'll stand out if you do.
Most people simply lack the comfort with discomfort required to tackle really hard things. At some point, in other words, there's no way getting around the necessity to clear your calendar, shut down your phone, and spend several hard days trying to make sense of the damn proof.
1.
Boundaries of failure - Rasmussen's accident model.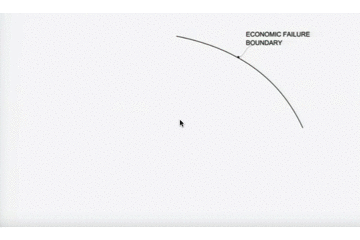 Rasmussen modeled this. It has economic, workload, and performance boundaries.
The economic boundary is a company's profit zone. If the lights are on, you're within the economic boundaries, but there's pressure to cut costs and do more.
Performance limit reflects system capacity. Taking shortcuts is a human desire to minimize work. This is often necessary to survive because there's always more labor.
Both push operating points toward acceptable performance. Personal or process safety, or equipment performance.
If you exceed acceptable performance, you'll push back, typically forcefully.