More on Leadership
Solomon Ayanlakin
5 months ago
Metrics for product management and being a good leader
Never design a product without explicit metrics and tracking tools.
Imagine driving cross-country without a dashboard. How do you know your school zone speed? Low gas? Without a dashboard, you can't monitor your car. You can't improve what you don't measure, as Peter Drucker said. Product managers must constantly enhance their understanding of their users, how they use their product, and how to improve it for optimum value. Customers will only pay if they consistently acquire value from your product.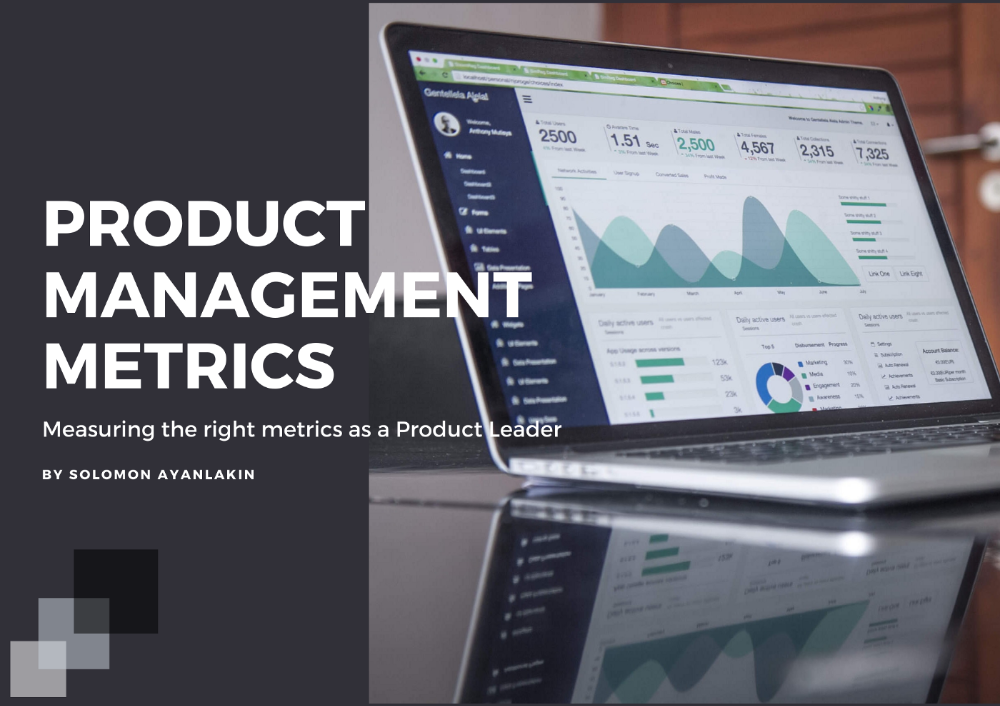 I'm Solomon Ayanlakin. I'm a product manager at CredPal, a financial business that offers credit cards and Buy Now Pay Later services. Before falling into product management (like most PMs lol), I self-trained as a data analyst, using Alex the Analyst's YouTube playlists and DannyMas' virtual data internship. This article aims to help product managers, owners, and CXOs understand product metrics, give a methodology for creating them, and execute product experiments to enhance them.
☝🏽Introduction
Product metrics assist companies track product performance from the user's perspective. Metrics help firms decide what to construct (feature priority), how to build it, and the outcome's success or failure. To give the best value to new and existing users, track product metrics.
Why should a product manager monitor metrics?
to assist your users in having a "aha" moment

To inform you of which features are frequently used by users and which are not

To assess the effectiveness of a product feature

To aid in enhancing client onboarding and retention

To assist you in identifying areas throughout the user journey where customers are satisfied or dissatisfied

to determine the percentage of returning users and determine the reasons for their return
📈 What Metrics Ought a Product Manager to Monitor?
What indicators should a product manager watch to monitor product health? The metrics to follow change based on the industry, business stage (early, growth, late), consumer needs, and company goals. A startup should focus more on conversion, activation, and active user engagement than revenue growth and retention. The company hasn't found product-market fit or discovered what features drive customer value.
Depending on your use case, company goals, or business stage, here are some important product metric buckets: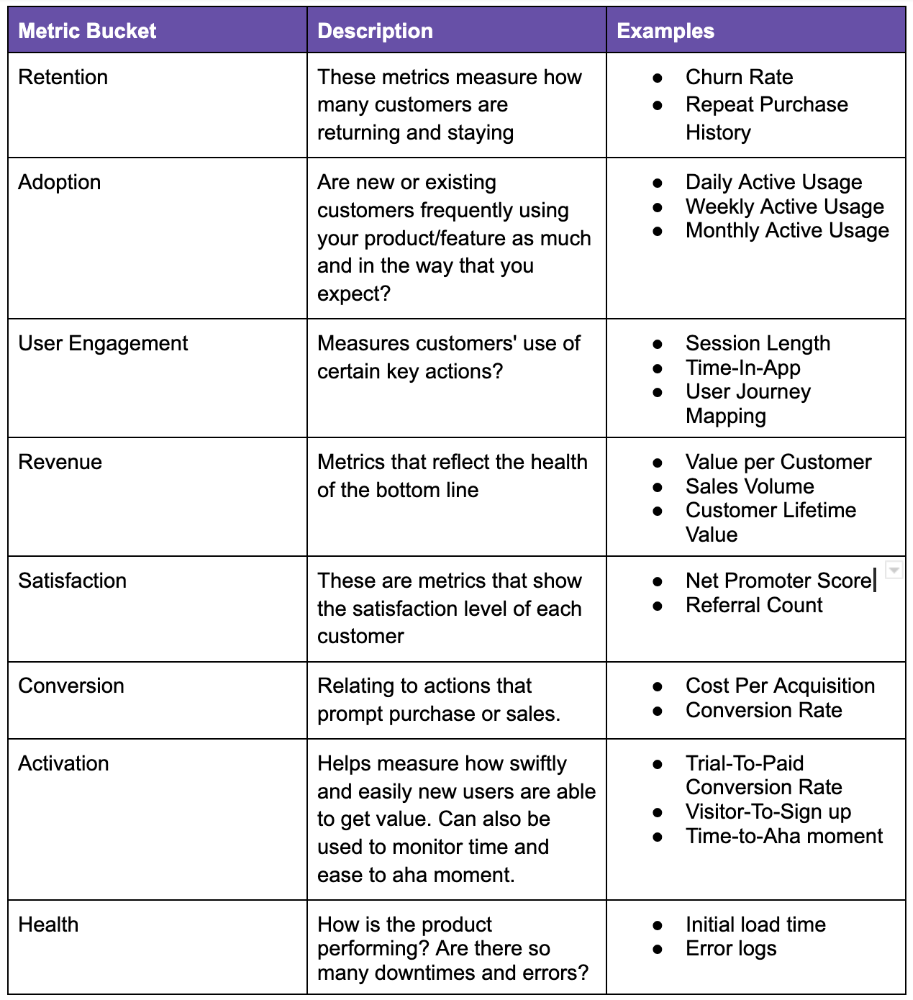 All measurements shouldn't be used simultaneously. It depends on your business goals and what value means for your users, then selecting what metrics to track to see if they get it.
Some KPIs are more beneficial to track, independent of industry or customer type. To prevent recording vanity metrics, product managers must clearly specify the types of metrics they should track. Here's how to segment metrics:
The North Star Metric, also known as the Focus Metric, is the indicator and aid in keeping track of the top value you provide to users.

Primary/Level 1 Metrics: These metrics should either add to the north star metric or be used to determine whether it is moving in the appropriate direction. They are metrics that support the north star metric.

These measures serve as leading indications for your north star and Level 2 metrics. You ought to have been aware of certain problems with your L2 measurements prior to the North star metric modifications.
North Star Metric
This is the key metric. A good north star metric measures customer value. It emphasizes your product's longevity. Many organizations fail to grow because they confuse north star measures with other indicators. A good focus metric should touch all company teams and be tracked forever. If a company gives its customers outstanding value, growth and success are inevitable. How do we measure this value?
A north star metric has these benefits:
Customer Obsession: It promotes a culture of customer value throughout the entire organization.

Consensus: Everyone can quickly understand where the business is at and can promptly make improvements, according to consensus.

Growth: It provides a tool to measure the company's long-term success. Do you think your company will last for a long time?
How can I pick a reliable North Star Metric?
Some fear a single metric. Ensure product leaders can objectively determine a north star metric. Your company's focus metric should meet certain conditions. Here are a few:
A good focus metric should reflect value and, as such, should be closely related to the point at which customers obtain the desired value from your product. For instance, the quick delivery to your home is a value proposition of UberEats. The value received from a delivery would be a suitable focal metric to use. While counting orders is alluring, the quantity of successfully completed positive review orders would make a superior north star statistic. This is due to the fact that a client who placed an order but received a defective or erratic delivery is not benefiting from Uber Eats. By tracking core value gain, which is the number of purchases that resulted in satisfied customers, we are able to track not only the total number of orders placed during a specific time period but also the core value proposition.


Focus metrics need to be quantifiable; they shouldn't only be feelings or states; they need to be actionable. A smart place to start is by counting how many times an activity has been completed.


A great focus metric is one that can be measured within predetermined time limits; otherwise, you are not measuring at all. The company can improve that measure more quickly by having time-bound focus metrics. Measuring and accounting for progress over set time periods is the only method to determine whether or not you are moving in the right path. You can then evaluate your metrics for today and yesterday. It's generally not a good idea to use a year as a time frame. Ideally, depending on the nature of your organization and the measure you are focusing on, you want to take into account on a daily, weekly, or monthly basis.


Everyone in the firm has the potential to affect it: A short glance at the well-known AAARRR funnel, also known as the Pirate Metrics, reveals that various teams inside the organization have an impact on the funnel. Ideally, the NSM should be impacted if changes are made to one portion of the funnel. Consider how the growth team in your firm is enhancing customer retention. This would have a good effect on the north star indicator because at this stage, a repeat client is probably being satisfied on a regular basis. Additionally, if the opposite were true and a client churned, it would have a negative effect on the focus metric.


It ought to be connected to the business's long-term success: The direction of sustainability would be indicated by a good north star metric. A company's lifeblood is product demand and revenue, so it's critical that your NSM points in the direction of sustainability. If UberEats can effectively increase the monthly total of happy client orders, it will remain in operation indefinitely.
Many product teams make the mistake of focusing on revenue. When the bottom line is emphasized, a company's goal moves from giving value to extracting money from customers. A happy consumer will stay and pay for your service. Customer lifetime value always exceeds initial daily, monthly, or weekly revenue.
Great North Star Metrics Examples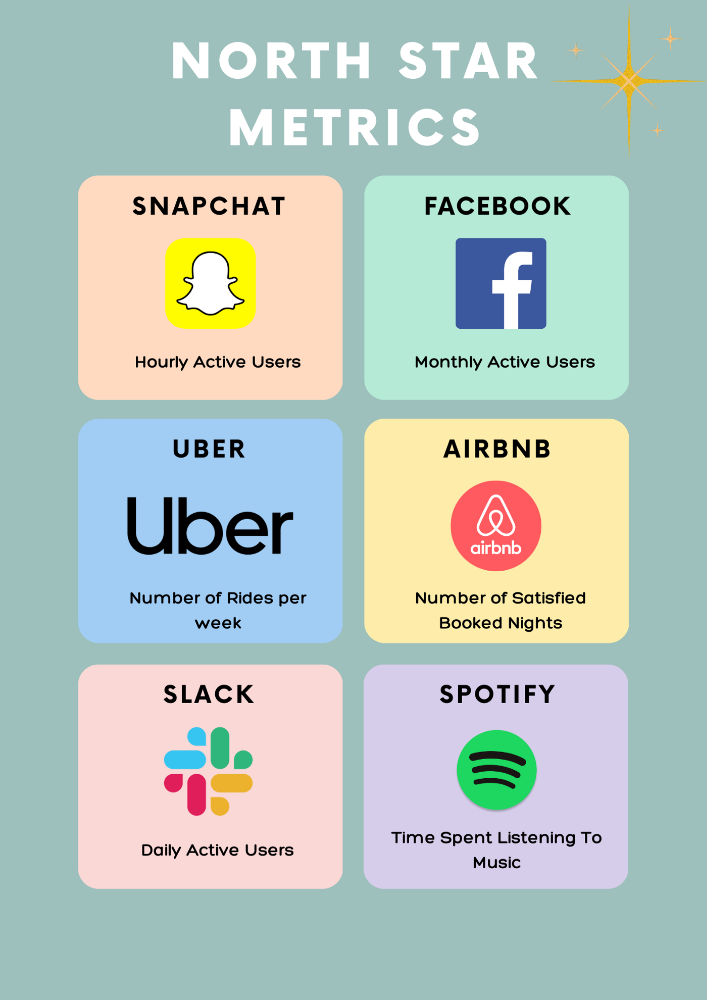 🥇 Basic/L1 Metrics:
The NSM is broad and focuses on providing value for users, while the primary metric is product/feature focused and utilized to drive the focus metric or signal its health. The primary statistic is team-specific, whereas the north star metric is company-wide. For UberEats' NSM, the marketing team may measure the amount of quality food vendors who sign up using email marketing. With quality vendors, more orders will be satisfied. Shorter feedback loops and unambiguous team assignments make L1 metrics more actionable and significant in the immediate term.
🥈 Supporting L2 metrics:
These are supporting metrics to the L1 and focus metrics. Location, demographics, or features are examples of L1 metrics. UberEats' supporting metrics might be the number of sales emails sent to food vendors, the number of opens, and the click-through rate. Secondary metrics are low-level and evident, and they relate into primary and north star measurements. UberEats needs a high email open rate to attract high-quality food vendors. L2 is a leading sign for L1.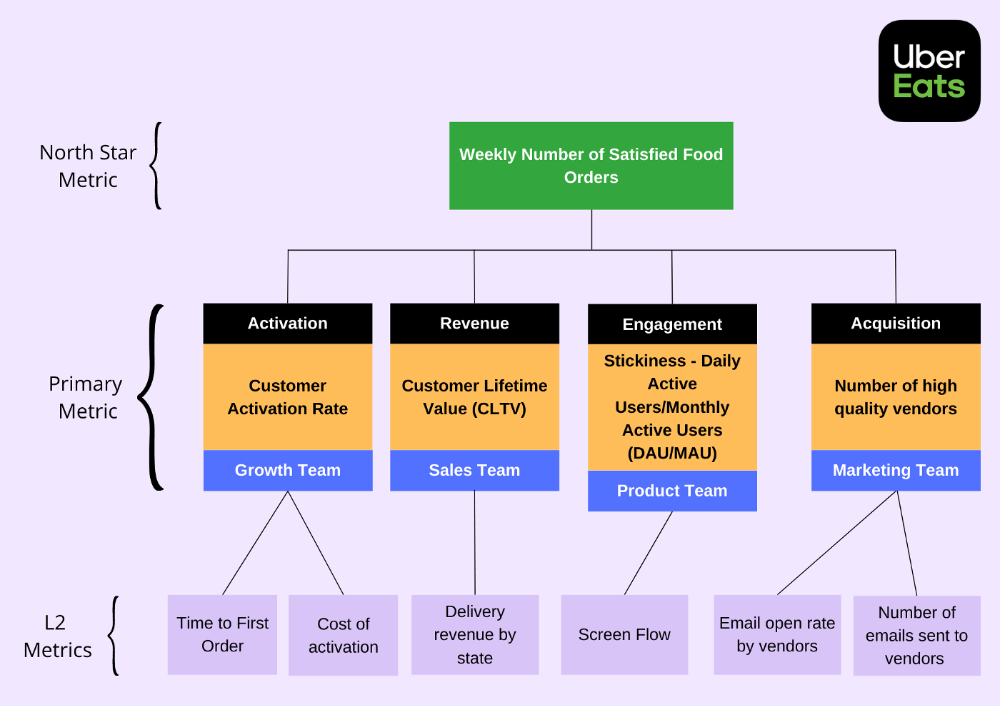 Where can I find product metrics?
How can I measure in-app usage and activity now that I know what metrics to track? Enter product analytics. Product analytics tools evaluate and improve product management parameters that indicate a product's health from a user's perspective.
Various analytics tools on the market supply product insight. From page views and user flows through A/B testing, in-app walkthroughs, and surveys. Depending on your use case and necessity, you may combine tools to see how users engage with your product. Gainsight, MixPanel, Amplitude, Google Analytics, FullStory, Heap, and Pendo are product tools.
This article isn't sponsored and doesn't market product analytics tools. When choosing an analytics tool, consider the following:
Tools for tracking your Focus, L1, and L2 measurements

Pricing

Adaptations to include external data sources and other products

Usability and the interface

Scalability

Security
An investment in the appropriate tool pays off. To choose the correct metrics to track, you must first understand your business need and what value means to your users. Metrics and analytics are crucial for any tech product's growth. It shows how your business is doing and how to best serve users.
Understanding several Value Proposition kinds will help you create better goods.
Fixing problems isn't enough.
Numerous articles and how-to guides on value propositions focus on fixing consumer concerns.
Contrary to popular opinion, addressing customer pain rarely suffices. Win your market category too.

Core Value Statement
Value proposition usually means a product's main value.
Its how your product solves client problems. The product's core.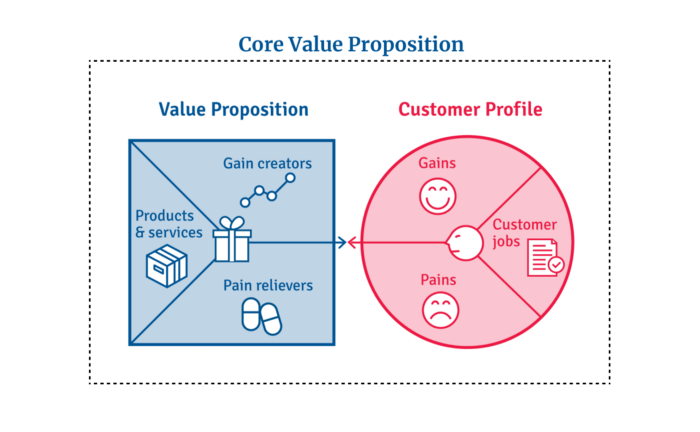 Answering these questions creates a relevant core value proposition:
What tasks is your customer trying to complete? (Jobs for clients)

How much discomfort do they feel while they perform this? (pains)

What would they like to see improved or changed? (gains)
After that, you create products and services that alleviate those pains and give value to clients.
Value Proposition by Category
Your product belongs to a market category and must follow its regulations, regardless of its value proposition.
Creating a new market category is challenging. Fitting into customers' product perceptions is usually better than trying to change them.
New product users simplify market categories. Products are labeled.
Your product will likely be associated with a collection of products people already use.
Example: IT experts will use your communication and management app.
If your target clients think it's an advanced mail software, they'll compare it to others and expect things like:
comprehensive calendar

spam detectors

adequate storage space

list of contacts

etc.
If your target users view your product as a task management app, things change. You can survive without a contact list, but not status management.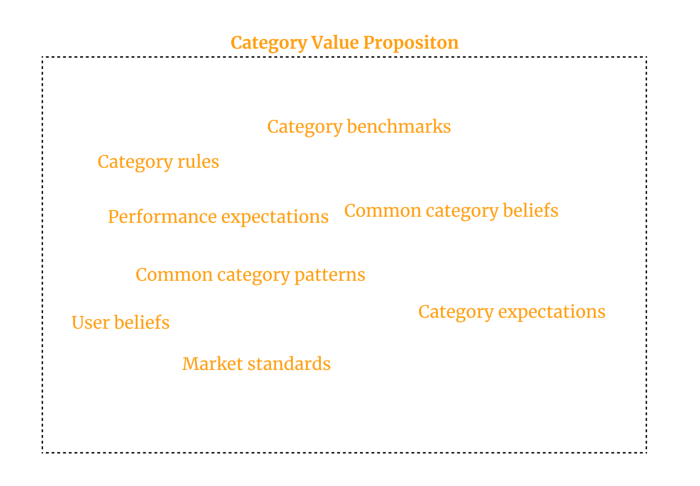 Find out what your customers compare your product to and if it fits your value offer. If so, adapt your product plan to dominate this market. If not, try different value propositions and messaging to put the product in the right context.
Finished Value Proposition
A comprehensive value proposition is when your solution addresses user problems and wins its market category.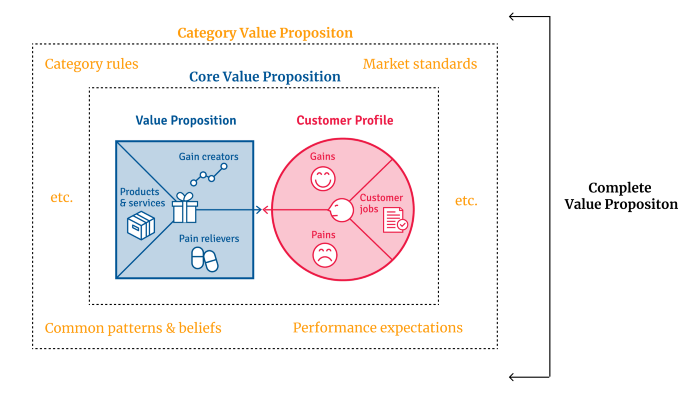 Addressing simply the primary value proposition may produce a valuable and original product, but it may struggle to cross the chasm into the mainstream market. Meeting expectations is easier than changing views.
Without a unique value proposition, you will drown in the red sea of competition.
To conclude:
Find out who your target consumer is and what their demands and problems are.

To meet these needs, develop and test a primary value proposition.

Speak with your most devoted customers. Recognize the alternatives they use to compare you against and the market segment they place you in.

Recognize the requirements and expectations of the market category.

To meet or surpass category standards, modify your goods.
Great products solve client problems and win their category.
Why Google's Hiring Process is Brilliant for Top Tech Talent
Without a degree and experience, you can get a high-paying tech job.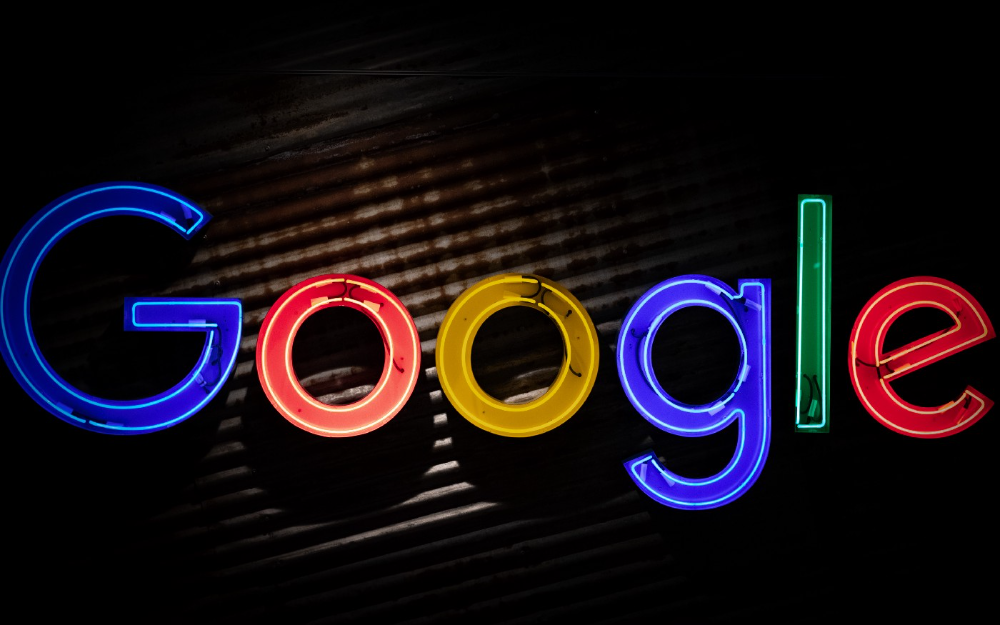 Most organizations follow this hiring rule: you chat with HR, interview with your future boss and other senior managers, and they make the final hiring choice.
If you've ever applied for a job, you know how arduous it can be. A newly snapped photo and a glossy resume template can wear you out. Applying to Google can change this experience.
According to an Universum report, Google is one of the world's most coveted employers. It's not simply the search giant's name and reputation that attract candidates, but its role requirements or lack thereof.
Candidates no longer need a beautiful resume, cover letter, Ivy League laurels, or years of direct experience. The company requires no degree or experience.
Elon Musk started it. He employed the two-hands test to uncover talented non-graduates. The billionaire eliminated the requirement for experience.
Google is deconstructing traditional employment with programs like the Google Project Management Degree, a free online and self-paced professional credential course.
Google's hiring is interesting. After its certification course, applicants can work in project management. Instead of academic degrees and experience, the company analyzes coursework.
Google finds the best project managers and technical staff in exchange. Google uses three strategies to find top talent.
Chase down the innovators
Google eliminates restrictions like education, experience, and others to find the polar bear amid the snowfall. Google's free project management education makes project manager responsibilities accessible to everyone.
Many jobs don't require a degree. Overlooking individuals without a degree can make it difficult to locate a candidate who can provide value to a firm.
Firsthand knowledge follows the same rule. A lack of past information might be an employer's benefit. This is true for creative teams or businesses that prefer to innovate.
Or when corporations conduct differently from the competition. No-experience candidates can offer fresh perspectives. Fast Company reports that people with no sales experience beat those with 10 to 15 years of experience.
Give the aptitude test first priority.
Google wants the best candidates. Google wouldn't be able to receive more applications if it couldn't screen them for fit. Its well-organized online training program can be utilized as a portfolio.
Google learns a lot about an applicant through completed assignments. It reveals their ability, leadership style, communication capability, etc. The course mimics the job to assess candidates' suitability.
Basic screening questions might provide information to compare candidates. Any size small business can use screening questions and test projects to evaluate prospective employees.
Effective training for employees
Businesses must train employees regardless of their hiring purpose. Formal education and prior experience don't guarantee success. Maintaining your employees' professional knowledge gaps is key to their productivity and happiness. Top-notch training can do that. Learning and development are key to employee engagement, says Bob Nelson, author of 1,001 Ways to Engage Employees.
Google's online certification program isn't available everywhere. Improving the recruiting process means emphasizing aptitude over experience and a degree. Instead of employing new personnel and having them work the way their former firm trained them, train them how you want them to function.
If you want to know more about Google's recruiting process, we recommend you watch the movie "Internship."
You might also like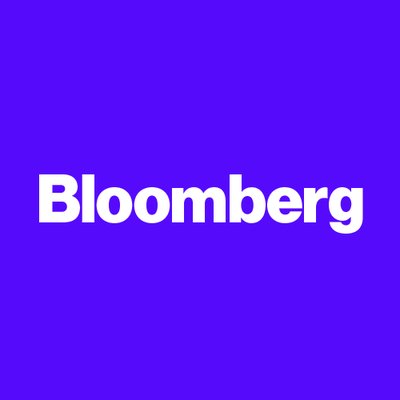 Expulsion of ten million Ukrainians
According to recent data from two UN agencies, ten million Ukrainians have been displaced.
The International Organization for Migration (IOM) estimates nearly 6.5 million Ukrainians have relocated. Most have fled the war zones around Kyiv and eastern Ukraine, including Dnipro, Zhaporizhzhia, and Kharkiv. Most IDPs have fled to western and central Ukraine.
Since Russia invaded on Feb. 24, 3.6 million people have crossed the border to seek refuge in neighboring countries, according to the latest UN data. While most refugees have fled to Poland and Romania, many have entered Russia.
Internally displaced figures are IOM estimates as of March 19, based on 2,000 telephone interviews with Ukrainians aged 18 and older conducted between March 9-16. The UNHCR compiled the figures for refugees to neighboring countries on March 21 based on official border crossing data and its own estimates. The UNHCR's top-line total is lower than the country totals because Romania and Moldova totals include people crossing between the two countries.
Sources: IOM, UNHCR
According to IOM estimates based on telephone interviews with a representative sample of internally displaced Ukrainians, over 53% of those displaced are women, and over 60% of displaced households have children.
How to Make $1,037,100 in 4 Months with This Weird Website
One great idea might make you rich.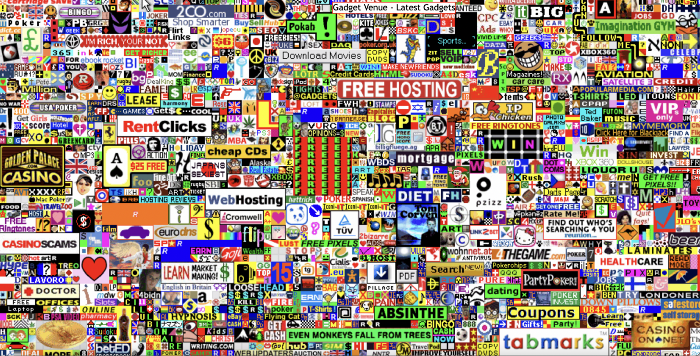 Imagine having a million-dollar concept in college that made a million.
2005 precisely.
Alex Tew, 21, from Wiltshire, England, created The Million Dollar Homepage in August 2005. The idea is basic but beyond the ordinary, which is why it worked.
Alex built a 1,000,000-pixel webpage.
Each website pixel would cost $1. Since pixels are hard to discern, he sold 10x10 squares for $100.
He'd make a million if all the spots sold.
He may have thought about NFTs and the Metaverse decades ago.
MillionDollarHomepage.com launched in 2005.
Businesses and individuals could buy a website spot and add their logo, website link, and tagline. You bought an ad, but nobody visited the website.
If a few thousand people visited the website, it could drive traffic to your business's site.
Alex promised buyers the website would be up for 5 years, so it was a safe bet.
Alex's friend with a music website was the first to buy real estate on the site. Within two weeks, 4,700 pixels sold, and a tracker showed how many were sold and available.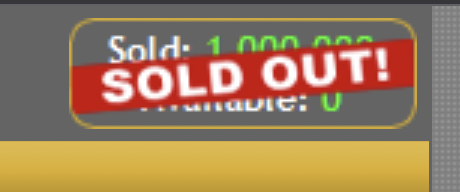 Word-of-mouth marketing got the press's attention quickly. Everyone loves reading about new ways to make money, so it was a good news story.
By September, over 250,000 pixels had been sold, according to a BBC press release.
Alex and the website gained more media and public attention, so traffic skyrocketed. Two months after the site launched, 1,400 customers bought more than 500,000 pixels.
Businesses bought online real estate. They heard thousands visited the site, so they could get attention cheaply.
Unless you bought a few squares, I'm not sure how many people would notice your ad or click your link.
A sponge website owner emailed Alex:
"We tried Million Dollar Homepage because we were impressed at the level of ingenuity and the sheer simplicity of it. If we're honest, we didn't expect too much from it. Now, as a direct result, we are pitching for £18,000 GBP worth of new clients and have seen our site traffic increase over a hundred-fold. We're even going to have to upgrade our hosting facility! It's been exceptional."
Web.archive.org screenshots show how the website changed.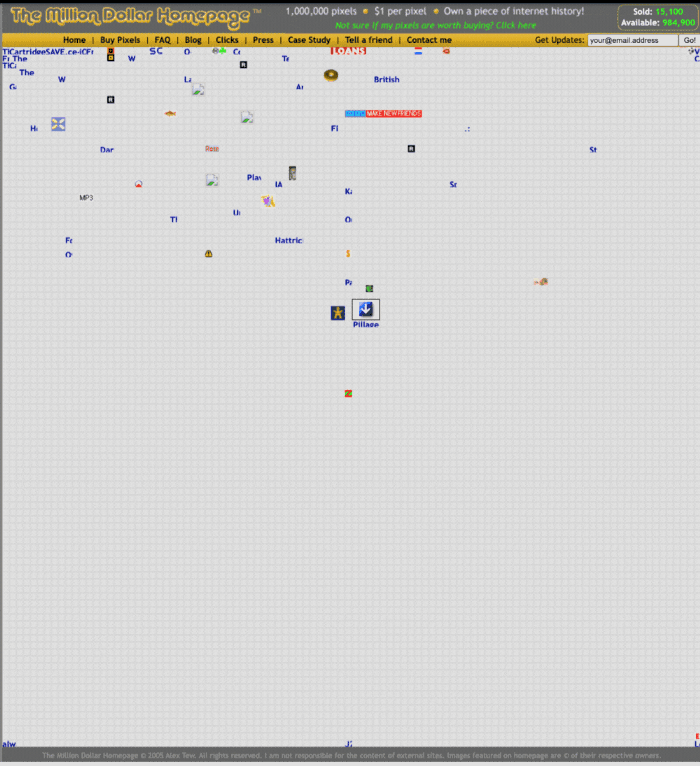 "The idea is to create something of an internet time capsule: a homepage that is unique and permanent. Everything on the internet keeps changing so fast, it will be nice to have something that stays solid and permanent for many years. You can be a part of that!" Alex Tew, 2005
The last 1,000 pixels were sold on January 1, 2006.
By then, the homepage had hundreds of thousands of monthly visitors. Alex put the last space on eBay due to high demand.
MillionDollarWeightLoss.com won the last pixels for $38,100, bringing revenue to $1,037,100 in 4 months.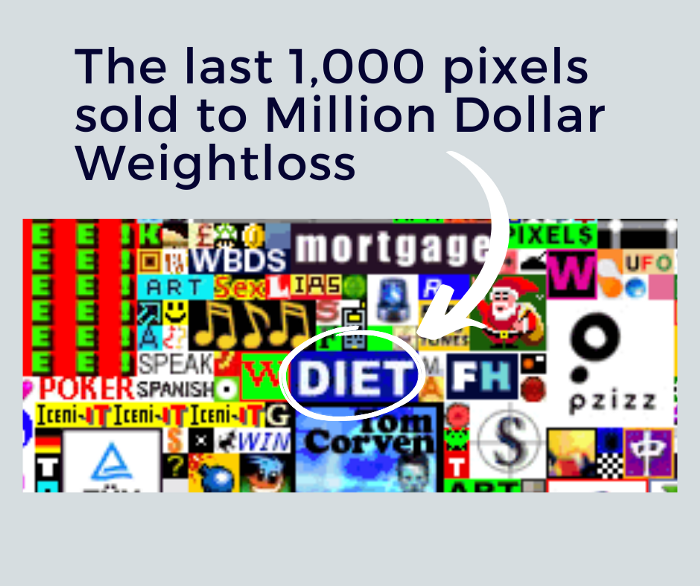 Many have tried to replicate this website's success. They've all failed.
This idea only worked because no one had seen this website before.
This winner won't be repeated, but it should inspire you to try something new and creative.
Still popular, you could buy one of the linked domains. You can't buy pixels, but you can buy an expired domain.
One link I clicked costs $59,888.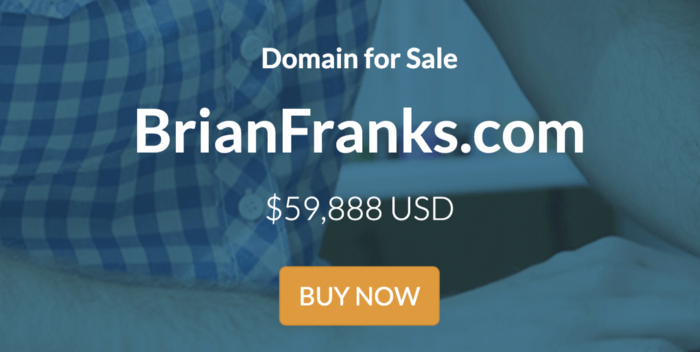 You'd own a piece of internet history if you spent that much on a domain.
Someone bought stablesgallery.co.uk after the domain expired and restored it.
Many of the linked websites have expired or been redirected, but some still link to the original. I couldn't find sponge's website. Can you?
This is a great example of how a simple creative idea can go viral.
Comment on this amazing success story.
Fairness alternatives to selling below market clearing prices (or community sentiment, or fun)
When a seller has a limited supply of an item in high (or uncertain and possibly high) demand, they frequently set a price far below what "the market will bear." As a result, the item sells out quickly, with lucky buyers being those who tried to buy first. This has happened in the Ethereum ecosystem, particularly with NFT sales and token sales/ICOs. But this phenomenon is much older; concerts and restaurants frequently make similar choices, resulting in fast sell-outs or long lines.
Why do sellers do this? Economists have long wondered. A seller should sell at the market-clearing price if the amount buyers are willing to buy exactly equals the amount the seller has to sell. If the seller is unsure of the market-clearing price, they should sell at auction and let the market decide. So, if you want to sell something below market value, don't do it. It will hurt your sales and it will hurt your customers. The competitions created by non-price-based allocation mechanisms can sometimes have negative externalities that harm third parties, as we will see.
However, the prevalence of below-market-clearing pricing suggests that sellers do it for good reason. And indeed, as decades of research into this topic has shown, there often are. So, is it possible to achieve the same goals with less unfairness, inefficiency, and harm?
Selling at below market-clearing prices has large inefficiencies and negative externalities
An item that is sold at market value or at an auction allows someone who really wants it to pay the high price or bid high in the auction. So, if a seller sells an item below market value, some people will get it and others won't. But the mechanism deciding who gets the item isn't random, and it's not always well correlated with participant desire. It's not always about being the fastest at clicking buttons. Sometimes it means waking up at 2 a.m. (but 11 p.m. or even 2 p.m. elsewhere). Sometimes it's just a "auction by other means" that's more chaotic, less efficient, and has far more negative externalities.
There are many examples of this in the Ethereum ecosystem. Let's start with the 2017 ICO craze. For example, an ICO project would set the price of the token and a hard maximum for how many tokens they are willing to sell, and the sale would start automatically at some point in time. The sale ends when the cap is reached.
So what? In practice, these sales often ended in 30 seconds or less. Everyone would start sending transactions in as soon as (or just before) the sale started, offering higher and higher fees to encourage miners to include their transaction first. Instead of the token seller receiving revenue, miners receive it, and the sale prices out all other applications on-chain.
The most expensive transaction in the BAT sale set a fee of 580,000 gwei, paying a fee of $6,600 to get included in the sale.
Many ICOs after that tried various strategies to avoid these gas price auctions; one ICO notably had a smart contract that checked the transaction's gasprice and rejected it if it exceeded 50 gwei. But that didn't solve the issue. Buyers hoping to game the system sent many transactions hoping one would get through. An auction by another name, clogging the chain even more.
ICOs have recently lost popularity, but NFTs and NFT sales have risen in popularity. But the NFT space didn't learn from 2017; they do fixed-quantity sales just like ICOs (eg. see the mint function on lines 97-108 of this contract here). So what?
That's not the worst; some NFT sales have caused gas price spikes of up to 2000 gwei.
High gas prices from users fighting to get in first by sending higher and higher transaction fees. An auction renamed, pricing out all other applications on-chain for 15 minutes.
So why do sellers sometimes sell below market price?
Selling below market value is nothing new, and many articles, papers, and podcasts have written (and sometimes bitterly complained) about the unwillingness to use auctions or set prices to market-clearing levels.
Many of the arguments are the same for both blockchain (NFTs and ICOs) and non-blockchain examples (popular restaurants and concerts). Fairness and the desire not to exclude the poor, lose fans or create tension by being perceived as greedy are major concerns. The 1986 paper by Kahneman, Knetsch, and Thaler explains how fairness and greed can influence these decisions. I recall that the desire to avoid perceptions of greed was also a major factor in discouraging the use of auction-like mechanisms in 2017.
Aside from fairness concerns, there is the argument that selling out and long lines create a sense of popularity and prestige, making the product more appealing to others. Long lines should have the same effect as high prices in a rational actor model, but this is not the case in reality. This applies to ICOs and NFTs as well as restaurants. Aside from increasing marketing value, some people find the game of grabbing a limited set of opportunities first before everyone else is quite entertaining.
But there are some blockchain-specific factors. One argument for selling ICO tokens below market value (and one that persuaded the OmiseGo team to adopt their capped sale strategy) is community dynamics. The first rule of community sentiment management is to encourage price increases. People are happy if they are "in the green." If the price drops below what the community members paid, they are unhappy and start calling you a scammer, possibly causing a social media cascade where everyone calls you a scammer.
This effect can only be avoided by pricing low enough that post-launch market prices will almost certainly be higher. But how do you do this without creating a rush for the gates that leads to an auction?
Interesting solutions
It's 2021. We have a blockchain. The blockchain is home to a powerful decentralized finance ecosystem, as well as a rapidly expanding set of non-financial tools. The blockchain also allows us to reset social norms. Where decades of economists yelling about "efficiency" failed, blockchains may be able to legitimize new uses of mechanism design. If we could use our more advanced tools to create an approach that more directly solves the problems, with fewer side effects, wouldn't that be better than fiddling with a coarse-grained one-dimensional strategy space of selling at market price versus below market price?
Begin with the goals. We'll try to cover ICOs, NFTs, and conference tickets (really a type of NFT) all at the same time.
1. Fairness: don't completely exclude low-income people from participation; give them a chance. The goal of token sales is to avoid high initial wealth concentration and have a larger and more diverse initial token holder community.
2. Don't create races: Avoid situations where many people rush to do the same thing and only a few get in (this is the type of situation that leads to the horrible auctions-by-another-name that we saw above).
3. Don't require precise market knowledge: the mechanism should work even if the seller has no idea how much demand exists.
4. Fun: The process of participating in the sale should be fun and game-like, but not frustrating.
5. Give buyers positive expected returns: in the case of a token (or an NFT), buyers should expect price increases rather than decreases. This requires selling below market value.
Let's start with (1). From Ethereum's perspective, there is a simple solution. Use a tool designed for the job: proof of personhood protocols! Here's one quick idea:
Mechanism 1 Each participant (verified by ID) can buy up to ''X'' tokens at price P, with the option to buy more at an auction.
With the per-person mechanism, buyers can get positive expected returns for the portion sold through the per-person mechanism, and the auction part does not require sellers to understand demand levels. Is it race-free? The number of participants buying through the per-person pool appears to be high. But what if the per-person pool isn't big enough to accommodate everyone?
Make the per-person allocation amount dynamic.
Mechanism 2 Each participant can deposit up to X tokens into a smart contract to declare interest. Last but not least, each buyer receives min(X, N / buyers) tokens, where N is the total sold through the per-person pool (some other amount can also be sold by auction). The buyer gets their deposit back if it exceeds the amount needed to buy their allocation.
No longer is there a race condition based on the number of buyers per person. No matter how high the demand, it's always better to join sooner rather than later.
Here's another idea if you like clever game mechanics with fancy quadratic formulas.
Mechanism 3 Each participant can buy X units at a price P X 2 up to a maximum of C tokens per buyer. C starts low and gradually increases until enough units are sold.
The quantity allocated to each buyer is theoretically optimal, though post-sale transfers will degrade this optimality over time. Mechanisms 2 and 3 appear to meet all of the above objectives. They're not perfect, but they're good starting points.
One more issue. For fixed and limited supply NFTs, the equilibrium purchased quantity per participant may be fractional (in mechanism 2, number of buyers > N, and in mechanism 3, setting C = 1 may already lead to over-subscription). With fractional sales, you can offer lottery tickets: if there are N items available, you have a chance of N/number of buyers of getting the item, otherwise you get a refund. For a conference, groups could bundle their lottery tickets to guarantee a win or a loss. The certainty of getting the item can be auctioned.
The bottom tier of "sponsorships" can be used to sell conference tickets at market rate. You may end up with a sponsor board full of people's faces, but is that okay? After all, John Lilic was on EthCC's sponsor board!
Simply put, if you want to be reliably fair to people, you need an input that explicitly measures people. Authentication protocols do this (and if desired can be combined with zero knowledge proofs to ensure privacy). So we should combine the efficiency of market and auction-based pricing with the equality of proof of personhood mechanics.
Answers to possible questions
Q: Won't people who don't care about your project buy the item and immediately resell it?
A: Not at first. Meta-games take time to appear in practice. If they do, making them untradeable for a while may help mitigate the damage. Using your face to claim that your previous account was hacked and that your identity, including everything in it, should be moved to another account works because proof-of-personhood identities are untradeable.
Q: What if I want to make my item available to a specific community?
A: Instead of ID, use proof of participation tokens linked to community events. Another option, also serving egalitarian and gamification purposes, is to encrypt items within publicly available puzzle solutions.
Q: How do we know they'll accept? Strange new mechanisms have previously been resisted.
A: Having economists write screeds about how they "should" accept a new mechanism that they find strange is difficult (or even "equity"). However, abrupt changes in context effectively reset people's expectations. So the blockchain space is the best place to try this. You could wait for the "metaverse", but it's possible that the best version will run on Ethereum anyway, so start now.