More on Society & Culture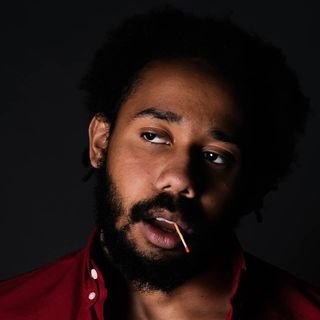 Is TikTok slowly destroying a new generation?
It's kids' digital crack
TikTok is a destructive social media platform.
The interface shortens attention spans and dopamine receptors.

TikTok shares more data than other apps.

Seeing an endless stream of dancing teens on my glowing box makes me feel like a Blade Runner extra.
TikTok did in one year what MTV, Hollywood, and Warner Music tried to do in 20 years. TikTok has psychotized the two-thirds of society Aldous Huxley said were hypnotizable.
Millions of people, mostly kids, are addicted to learning a new dance, lip-sync, or prank, and those who best dramatize this collective improvisation get likes, comments, and shares.
TikTok is a great app. So what?
The Commercial Magnifying Glass TikTok made me realize my generation's time was up and the teenage Zoomers were the target.
I told my 14-year-old sister, "Enjoy your time under the commercial magnifying glass."
TikTok sells your every move, gesture, and thought. Data is the new oil. If you tell someone, they'll say, "Yeah, they collect data, but who cares? I have nothing to hide."
It's a George Orwell novel's beginning. Look up Big Brother Award winners to see if TikTok won.
TikTok shares your data more than any other social media app, and where it goes is unclear. TikTok uses third-party trackers to monitor your activity after you leave the app.
Consumers can't see what data is shared or how it will be used. — Genius URL
32.5 percent of Tiktok's users are 10 to 19 and 29.5% are 20 to 29.
TikTok is the greatest digital marketing opportunity in history, and they'll use it to sell you things, track you, and control your thoughts. Any of its users will tell you, "I don't care, I just want to be famous."
TikTok manufactures mental illness
TikTok's effect on dopamine and the brain is absurd. Dopamine controls the brain's pleasure and reward centers. It's like a switch that tells your brain "this feels good, repeat."
Dr. Julie Albright, a digital culture and communication sociologist, said TikTok users are "carried away by dopamine." It's hypnotic, you'll keep watching."
TikTok constantly releases dopamine. A guy on TikTok recently said he didn't like books because they were slow and boring.
The US didn't ban Tiktok.
Biden and Trump agree on bad things. Both agree that TikTok threatens national security and children's mental health.
The Chinese Communist Party owns and operates TikTok, but that's not its only problem.
There's borderline child porn on TikTok

It's unsafe for children and violated COPPA.

It's also Chinese spyware. I'm not a Trump supporter, but I was glad he wanted TikTok regulated and disappointed when he failed.
Full-on internet censorship is rare outside of China, so banning it may be excessive. US should regulate TikTok more.
We must reject a low-quality present for a high-quality future.
TikTok vs YouTube
People got mad when I wrote about YouTube's death.
They didn't like when I said TikTok was YouTube's first real challenger.
Indeed. TikTok is the fastest-growing social network. In three years, the Chinese social media app TikTok has gained over 1 billion active users. In the first quarter of 2020, it had the most downloads of any app in a single quarter.
TikTok is the perfect social media app in many ways. It's brief and direct.
Can you believe they had a YouTube vs TikTok boxing match? We are doomed as a species.
YouTube hosts my favorite videos. That's why I use it. That's why you use it. New users expect more. They want something quicker, more addictive.
TikTok's impact on other social media platforms frustrates me. YouTube copied TikTok to compete.
It's all about short, addictive content.
I'll admit I'm probably wrong about TikTok. My friend says his feed is full of videos about food, cute animals, book recommendations, and hot lesbians.
Whatever.
TikTok makes us bad
TikTok is the opposite of what the Ancient Greeks believed about wisdom.
It encourages people to be fake. It's like a never-ending costume party where everyone competes.
It does not mean that Gen Z is doomed.
They could be the saviors of the world for all I know.
TikTok feels like a step towards Mike Judge's "Idiocracy," where the average person is a pleasure-seeking moron.
Don't treat Elon Musk like Trump.
He's not the President. Stop treating him like one.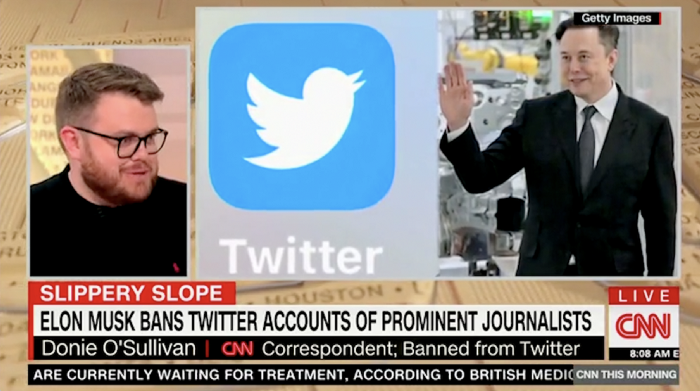 Elon Musk tweeted from Qatar, where he was watching the World Cup Final with Jared Kushner.
Musk's subsequent Tweets were as normal, basic, and bland as anyone's from a World Cup Final: It's depressing to see the world's richest man looking at his phone during a grand ceremony. Rich guy goes to rich guy event didn't seem important.
Before Musk posted his should-I-step-down-at-Twitter poll, CNN ran a long segment asking if it was hypocritical for him to reveal his real-time location after defending his (very dumb) suspension of several journalists for (supposedly) revealing his assassination coordinates by linking to a site that tracks Musks private jet. It was hard to ignore CNN's hypocrisy: It covered Musk as Twitter CEO like President Trump. EVERY TRUMP STORY WAS BASED ON HIM SAYING X, THEN DOING Y. Trump would do something horrific, lie about it, then pretend it was fine, then condemn a political rival who did the same thing, be called hypocritical, and so on. It lasted four years. Exhausting.
It made sense because Trump was the President of the United States. The press's main purpose is to relentlessly cover and question the president.
It's strange to say this out. Twitter isn't America. Elon Musk isn't a president. He maintains a money-losing social media service to harass and mock people he doesn't like. Treating Musk like Trump, as if he should be held accountable like Trump, shows a startling lack of perspective. Some journalists treat Twitter like a country.
The compulsive, desperate way many journalists utilize the site suggests as much. Twitter isn't the town square, despite popular belief. It's a place for obsessives to meet and converse. Journalists say they're breaking news. Their careers depend on it. They can argue it's a public service. Nope. It's a place lonely people go to speak all day. Twitter. So do journalists, Trump, and Musk. Acting as if it has a greater purpose, as if it's impossible to break news without it, or as if the republic is in peril is ludicrous. Only 23% of Americans are on Twitter, while 25% account for 97% of Tweets. I'd think a large portion of that 25% are journalists (or attention addicts) chatting to other journalists. Their loudness makes Twitter seem more important than it is. Nope. It's another stupid website. They were there before Twitter; they will be there after Twitter. It's just a website. We can all get off it if we want. Most of us aren't even on it in the first place.
Musk is a website-owner. No world leader. He's not as accountable as Trump was. Musk is cable news's primary character now that Trump isn't (at least for now). Becoming a TV news anchor isn't as significant as being president. Elon Musk isn't as important as we all pretend, and Twitter isn't even close. Twitter is a dumb website, Elon Musk is a rich guy going through a midlife crisis, and cable news is lazy because its leaders thought the entire world was on Twitter and are now freaking out that their playground is being disturbed.
I've said before that you need to leave Twitter, now. But even if you're still on it, we need to stop pretending it matters more than it does. It's a site for lonely attention addicts, from the man who runs it to the journalists who can't let go of it. It's not a town square. It's not a country. It's not even a successful website. Let's stop pretending any of it's real. It's not.
A Dog's Guide to Every Type of Zoom Call Participant
Are you one of these Zoom dogs?
The Person Who Is Apparently Always on Mute
Waffles thinks he can overpower the mute button by shouting loudly.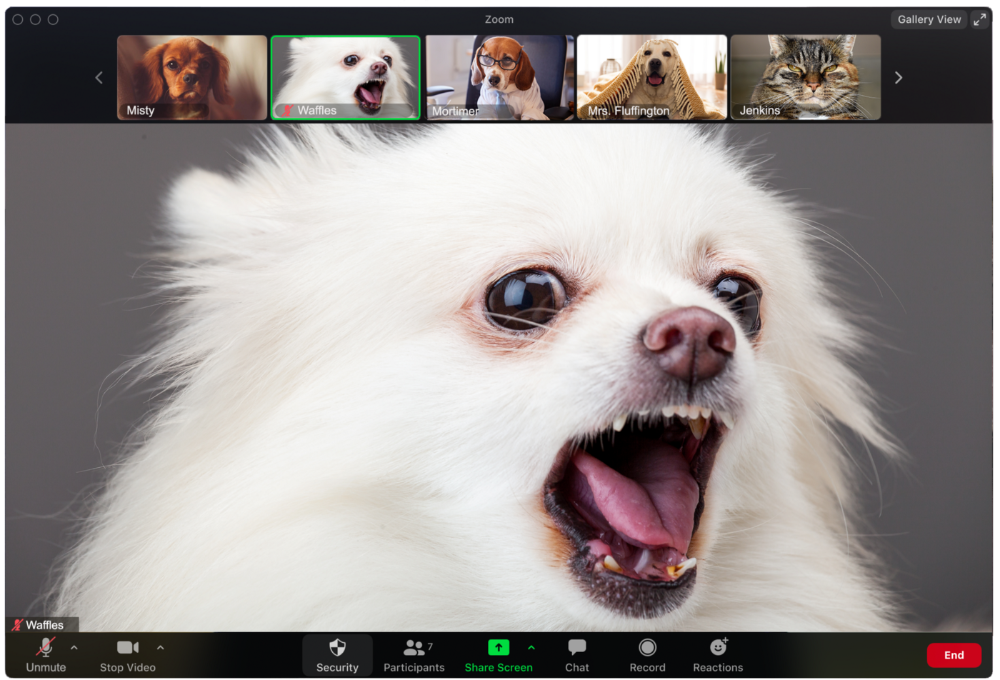 The person who believed their camera to be off
Barkley's used to remote work, but he hasn't mastered the "Stop Video" button. Everyone is affected.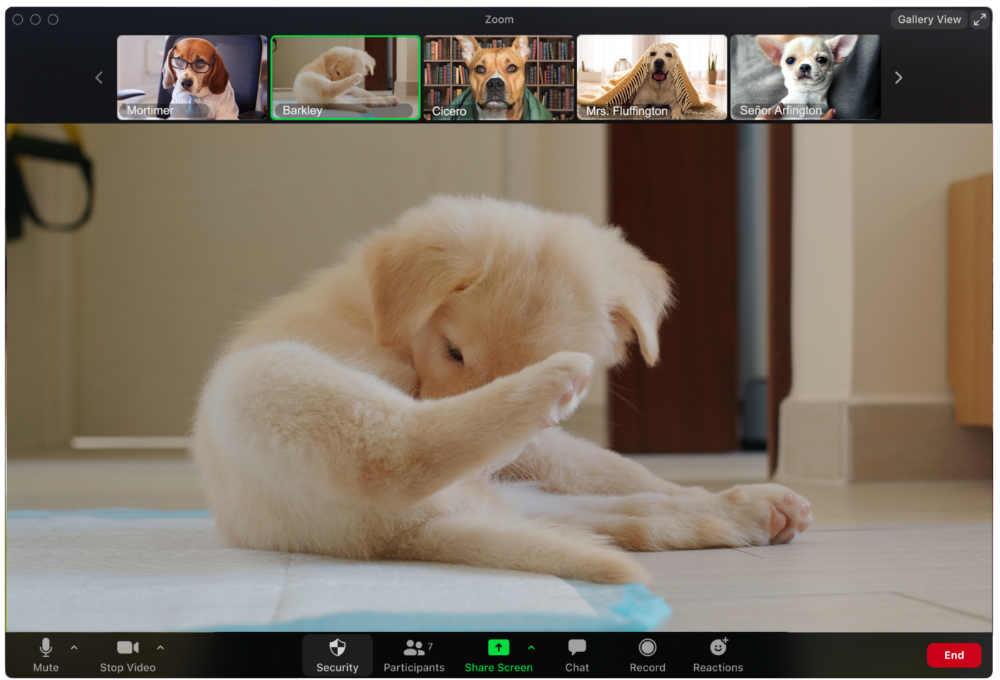 Who is driving for some reason, exactly?
Why is Pumpkin always late? Who knows? Shouldn't she be driving? If you could hear her over the freeway, she'd answer these questions.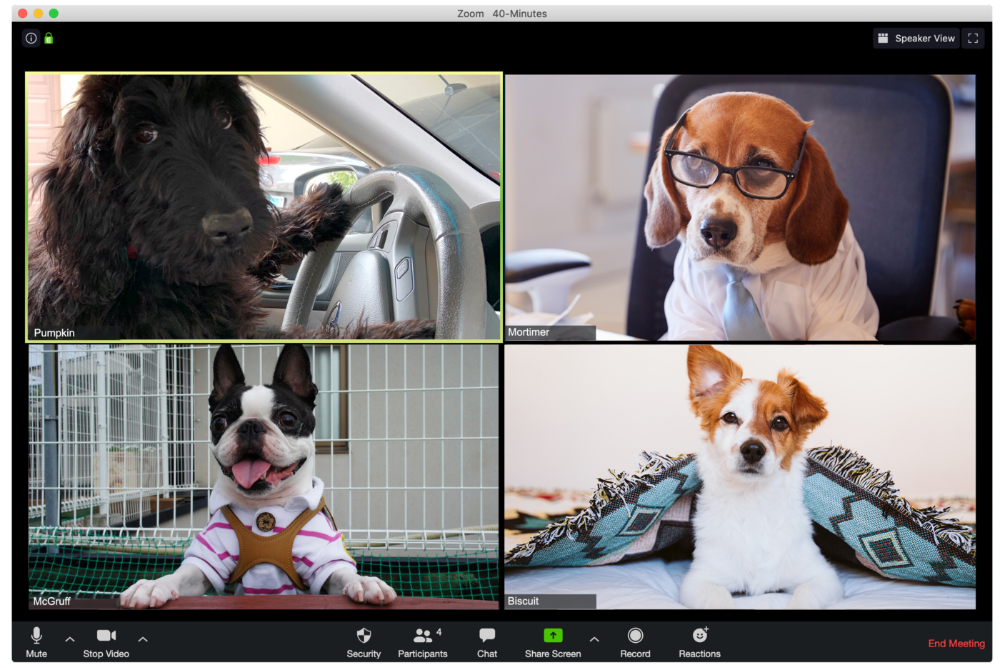 The Person With the Amazing Bookcase
Cicero likes to use SAT-words like "leverage" and "robust" in Zoom sessions, presumably from all the books he wants you to see behind him.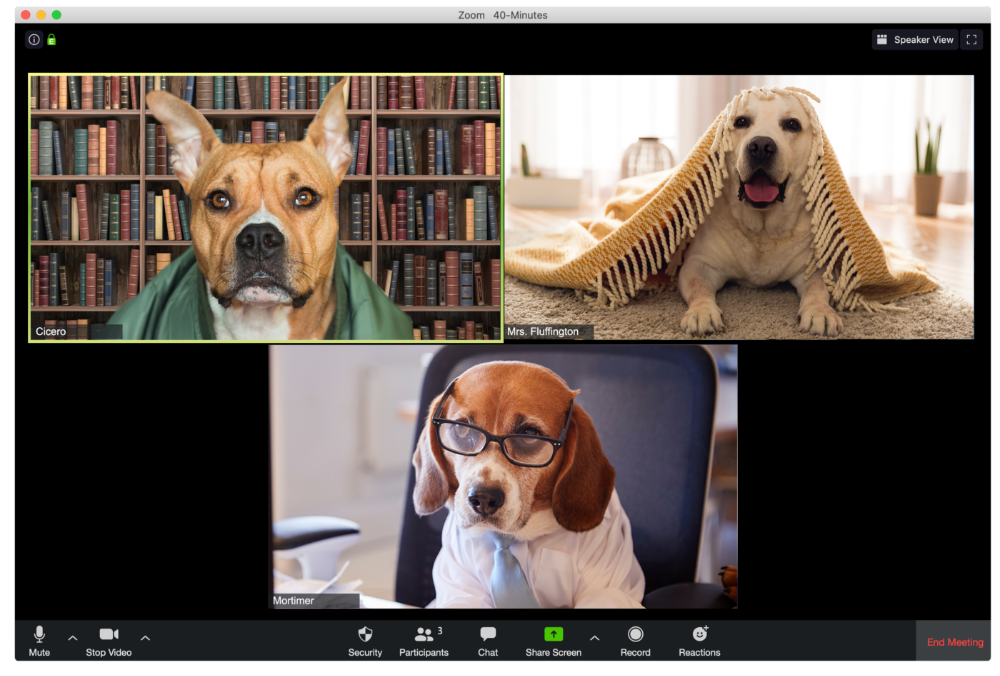 The Individual Who Is Unnecessarily Dressed
We hope Bandit is going somewhere beautiful after this meeting, or else he neglected the quarterly earnings report and is overcompensating to distract us.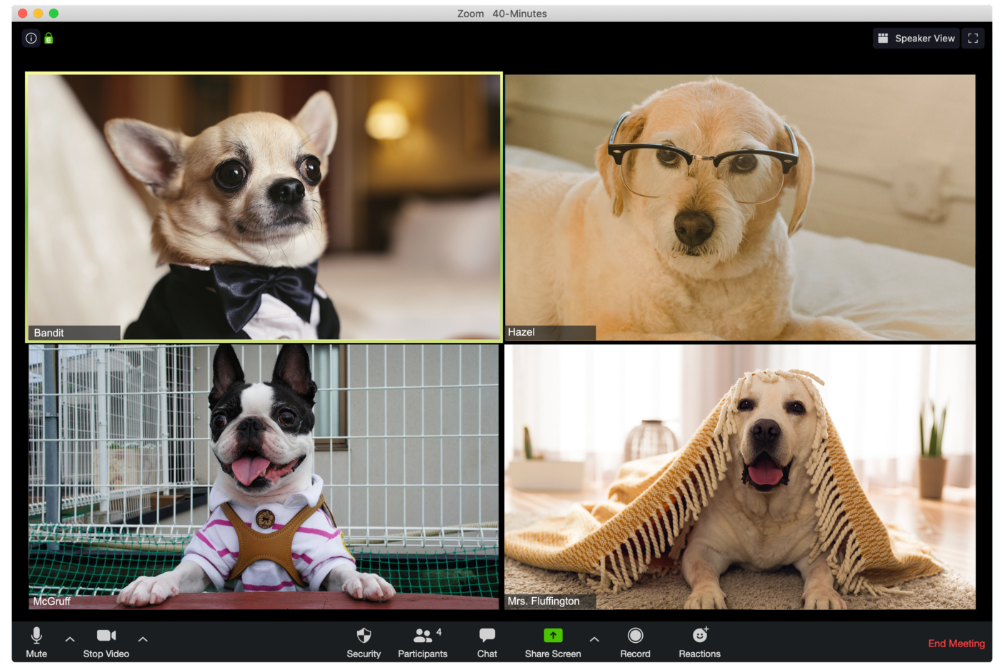 The person who works through lunch in between zoom calls
Barksworth has back-to-back meetings all day, so you can watch her eat while she talks.
The Person Who Is A Little Too Comfy
Hercules thinks Zoom meetings happen between sleeps. He'd appreciate everyone speaking more quietly.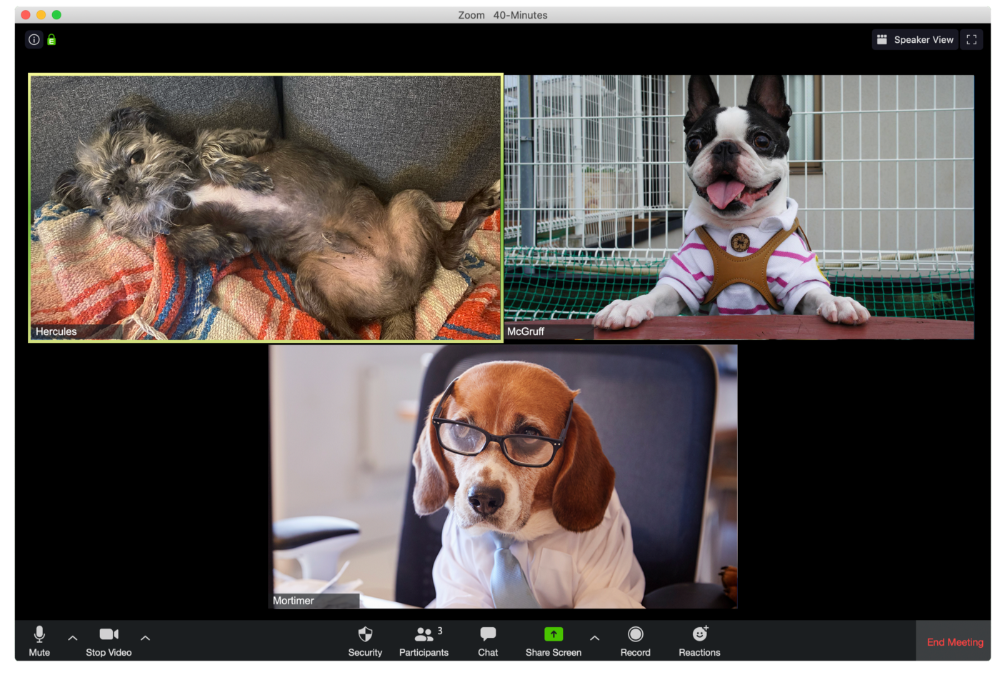 The Person Who Answered the Phone Outside
Frisbee has a gorgeous backyard and lives in a place with great weather year-round, and she wants you to think about that during the daily team huddle.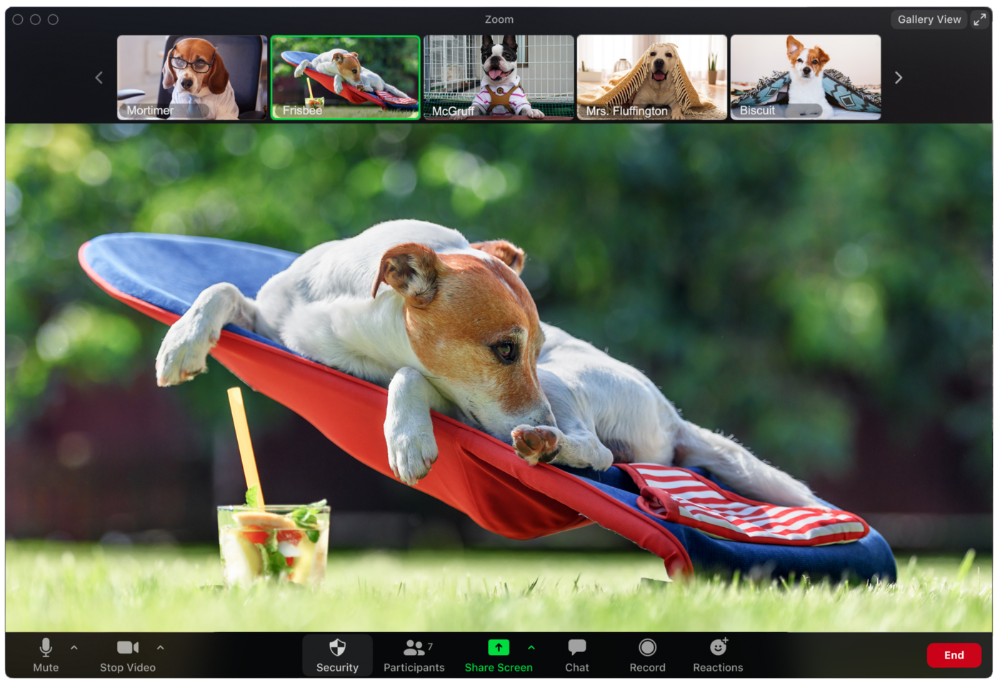 Who Wants You to Pay Attention to Their Pet
Snickers hasn't listened to you in 20 minutes unless you tell her how cute her kitten is.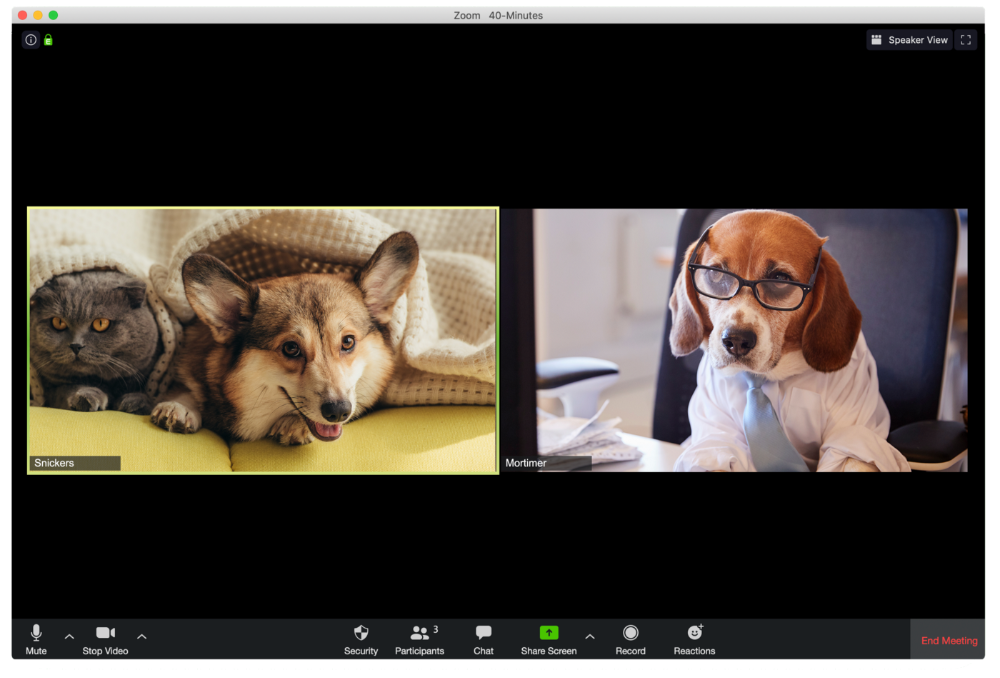 One who is, for some reason, positioned incorrectly on the screen
Nelson's meetings consist primarily of attempting to figure out how he positioned his laptop so absurdly.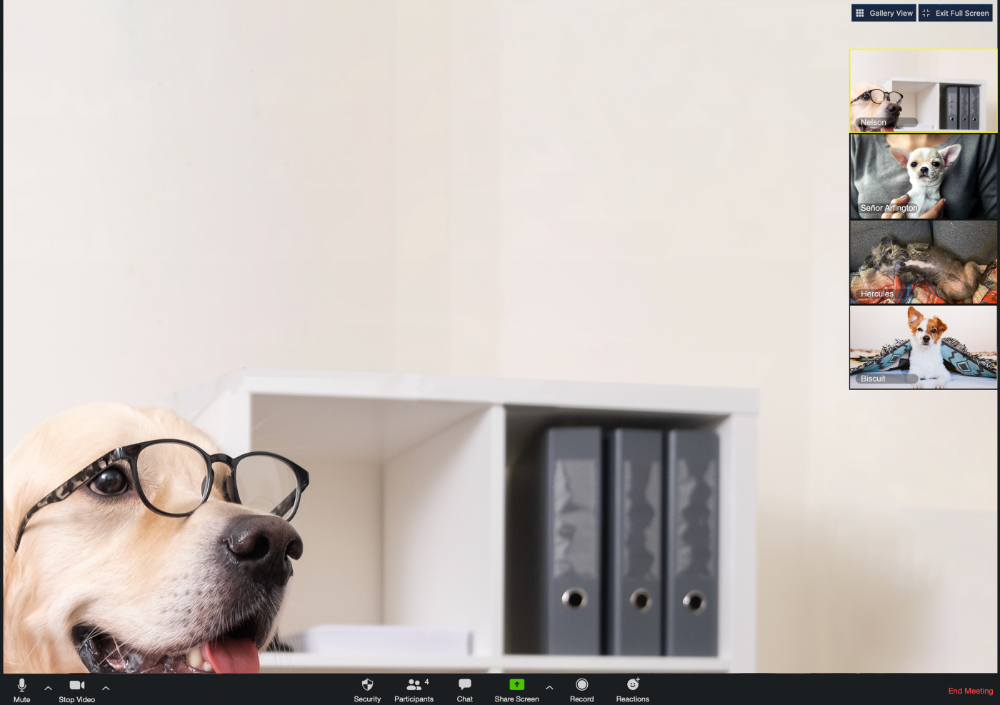 The person who says too many goodbyes
Zeus waves farewell like it's your first day of school while everyone else searches for the "Leave Meeting" button. It's nice.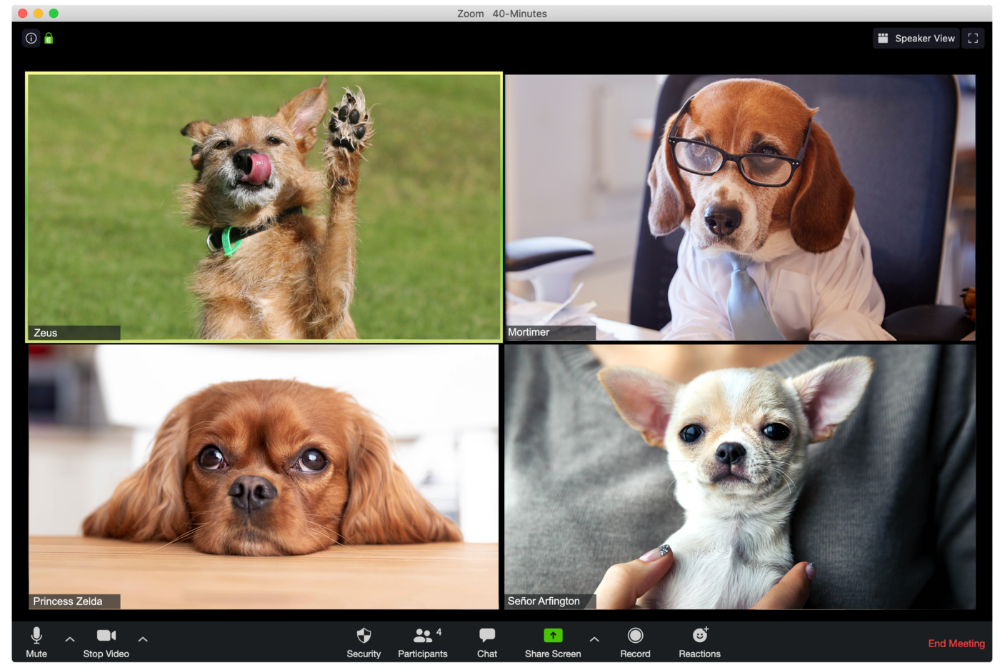 He who has a poor internet connection
Ziggy's connectivity problems continue... She gives a long speech as everyone waits awkwardly to inform her they missed it.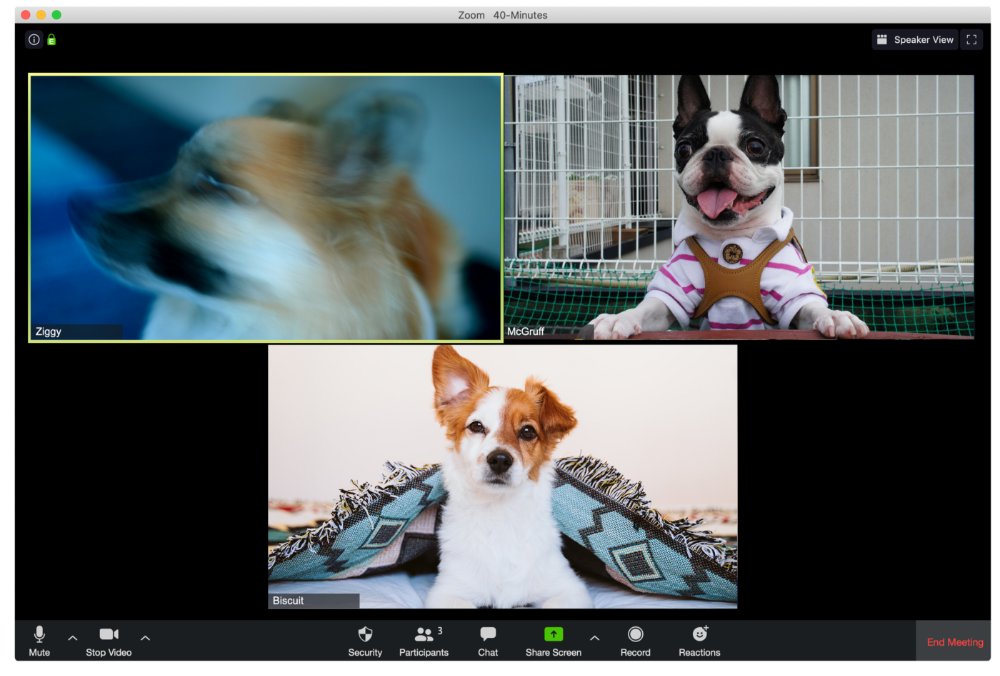 The Clearly Multitasking Person
Tinkerbell can play fetch during the monthly staff meeting if she works from home, but that's not a good idea.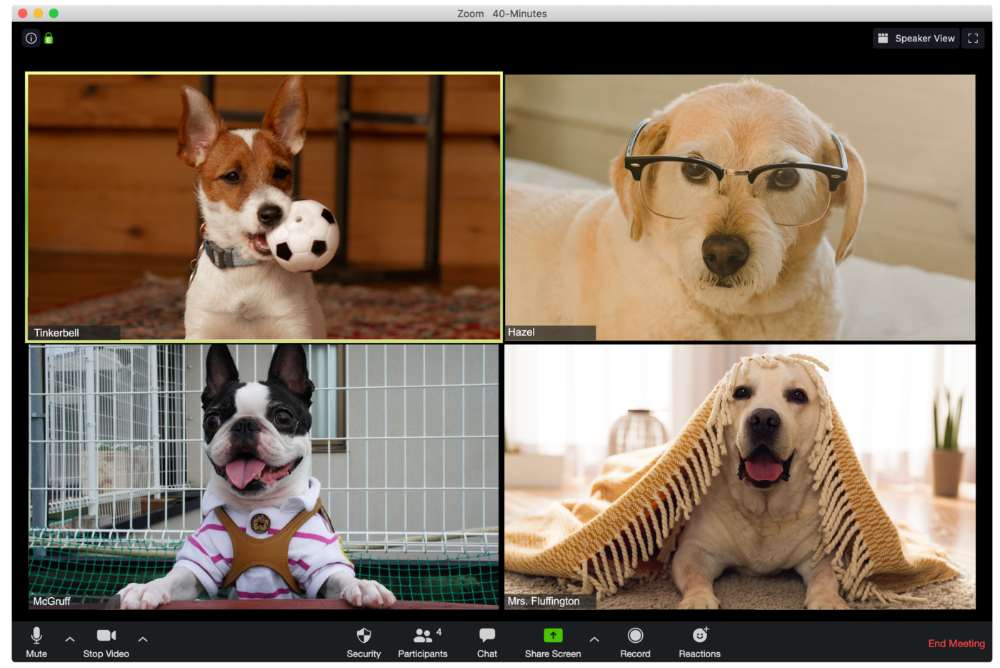 The Person Using Zoom as a Makeup and Hair Mirror
If Gail and Bob knew Zoom had a "hide self view" option, they'd be distraught.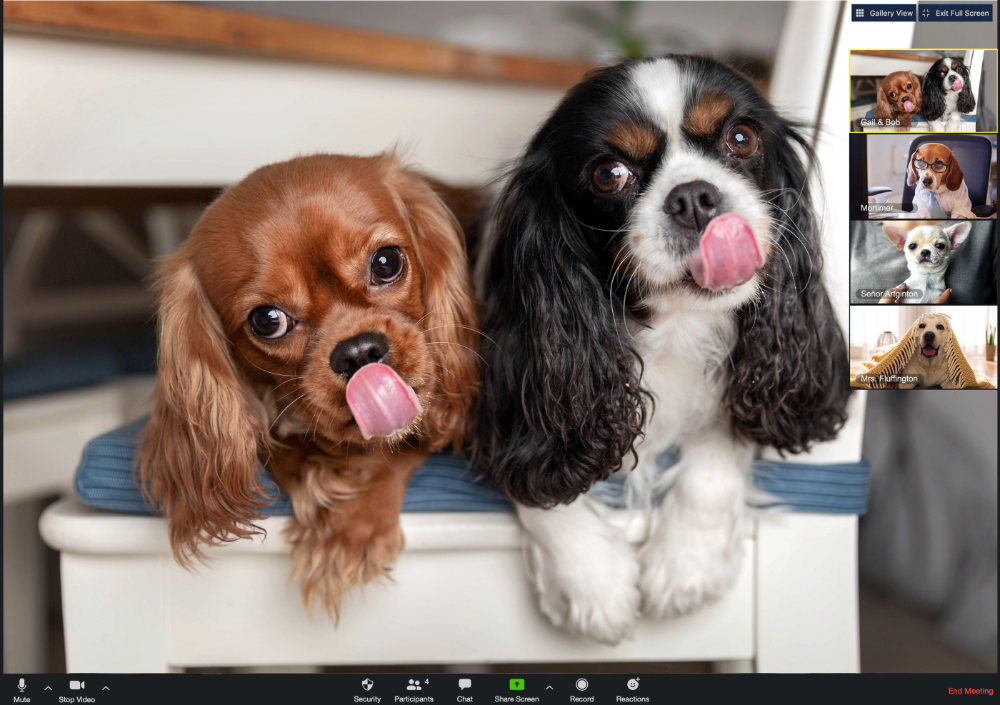 The person who feels at ease with simply leaving
Rusty bails when a Zoom conference is over. Rusty's concept is decent.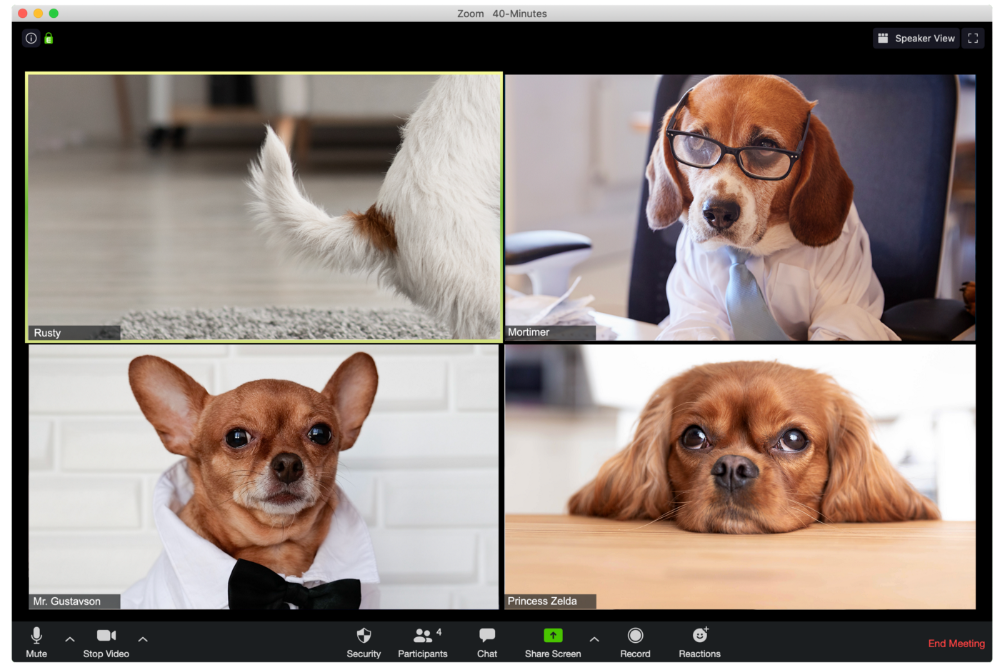 You might also like
The best lesson from Sundar Pichai is that success and stress don't mix.
His regular regimen teaches stress management.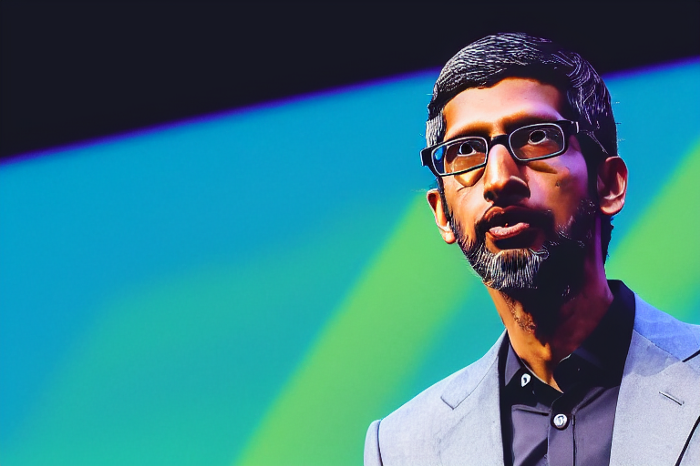 In 1995, an Indian graduate visited the US. He obtained a scholarship to Stanford after graduating from IIT with a silver medal. First flight. His ticket cost a year's income. His head was full.
Pichai Sundararajan is his full name. He became Google's CEO and a world leader. Mr. Pichai transformed technology and inspired millions to dream big.
This article reveals his daily schedule.
Mornings
While many of us dread Mondays, Mr. Pichai uses the day to contemplate.
A typical Indian morning. He awakens between 6:30 and 7 a.m. He avoids working out in the mornings.
Mr. Pichai oversees the internet, but he reads a real newspaper every morning.
Pichai mentioned that he usually enjoys a quiet breakfast during which he reads the news to get a good sense of what's happening in the world. Pichai often has an omelet for breakfast and reads while doing so. The native of Chennai, India, continues to enjoy his daily cup of tea, which he describes as being "very English."
Pichai starts his day. BuzzFeed's Mat Honan called the CEO Banana Republic dad.
Overthinking in the morning is a bad idea. It's crucial to clear our brains and give ourselves time in the morning before we hit traffic.
Mr. Pichai's morning ritual shows how to stay calm. Wharton Business School found that those who start the day calmly tend to stay that way. It's worth doing regularly.
And he didn't forget his roots.
Afternoons
He has a busy work schedule, as you can imagine. Running one of the world's largest firm takes time, energy, and effort. He prioritizes his work. Monitoring corporate performance and guaranteeing worker efficiency.
Sundar Pichai spends 7-8 hours a day to improve Google. He's noted for changing the company's culture. He wants to boost employee job satisfaction and performance.
His work won him recognition within the company.
Pichai received a 96% approval rating from Glassdoor users in 2017.
Mr. Pichai stresses work satisfaction. Each day is a new canvas for him to find ways to enrich people's job and personal lives.
His work offers countless lessons. According to several profiles and press sources, the Google CEO is a savvy negotiator. Mr. Pichai's success came from his strong personality, work ethic, discipline, simplicity, and hard labor.
Evenings
His evenings are spent with family after a busy day. Sundar Pichai's professional and personal lives are balanced. Sundar Pichai is a night owl who re-energizes about 9 p.m.
However, he claims to be most productive after 10 p.m., and he thinks doing a lot of work at that time is really useful. But he ensures he sleeps for around 7–8 hours every day. He enjoys long walks with his dog and enjoys watching NSDR on YouTube. It helps him in relaxing and sleep better.
His regular routine teaches us what? Work wisely, not hard, discipline, vision, etc. His stress management is key. Leading one of the world's largest firm with 85,000 employees is scary.
The pressure to achieve may ruin a day. Overworked employees are more likely to make mistakes or be angry with coworkers, according to the Family Work Institute. They can't handle daily problems, making the house more stressful than the office.
Walking your dog, having fun with friends, and having hobbies are as vital as your office.
Aaron Dinin, PhD
1 year ago
I'll Never Forget the Day a Venture Capitalist Made Me Feel Like a Dunce
Are you an idiot at fundraising?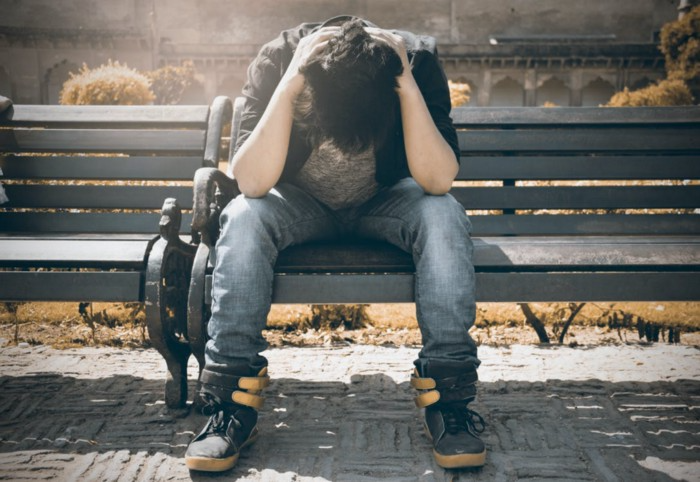 Humans undervalue what they don't grasp. Consider NASCAR. How is that a sport? ask uneducated observers. Circular traffic. Driving near a car's physical limits is different from daily driving. When driving at 200 mph, seemingly simple things like changing gas weight or asphalt temperature might be life-or-death.
Venture investors do something similar in entrepreneurship. Most entrepreneurs don't realize how complex venture finance is.
In my early startup days, I didn't comprehend venture capital's intricacy. I thought VCs were rich folks looking for the next Mark Zuckerberg. I was meant to be a sleek, enthusiastic young entrepreneur who could razzle-dazzle investors.
Finally, one of the VCs I was trying to woo set me straight. He insulted me.
How I learned that I was approaching the wrong investor
I was constructing a consumer-facing, pre-revenue marketplace firm. I looked for investors in my old university's alumni database. My city had one. After some research, I learned he was a partner at a growth-stage, energy-focused VC company with billions under management.
Billions? I thought. Surely he can write a million-dollar cheque. He'd hardly notice.
I emailed the VC about our shared alumni status, explaining that I was building a startup in the area and wanted advice. When he agreed to meet the next week, I prepared my pitch deck.
First error.
The meeting seemed like a funding request. Imagine the awkwardness.
His assistant walked me to the firm's conference room and told me her boss was running late. While waiting, I prepared my pitch. I connected my computer to the projector, queued up my PowerPoint slides, and waited for the VC.
He didn't say hello or apologize when he entered a few minutes later. What are you doing?
Hi! I said, Confused but confident. Dinin Aaron. My startup's pitch.
Who? Suspicious, he replied. Your email says otherwise. You wanted help.
I said, "Isn't that a euphemism for contacting investors?" Fundraising I figured I should pitch you.
As he sat down, he smiled and said, "Put away your computer." You need to study venture capital.
Recognizing the business aspects of venture capital
The VC taught me venture capital in an hour. Young entrepreneur me needed this lesson. I assume you need it, so I'm sharing it.
Most people view venture money from an entrepreneur's perspective, he said. They envision a world where venture capital serves entrepreneurs and startups.
As my VC indicated, VCs perceive their work differently. Venture investors don't serve entrepreneurs. Instead, they run businesses. Their product doesn't look like most products. Instead, the VCs you're proposing have recognized an undervalued market segment. By investing in undervalued companies, they hope to profit. It's their investment thesis.
Your company doesn't fit my investment thesis, the venture capitalist told me. Your pitch won't beat my investing theory. I invest in multimillion-dollar clean energy companies. Asking me to invest in you is like ordering a breakfast burrito at a fancy steakhouse. They could, but why? They don't do that.
Yeah, I'm not a fine steak yet, I laughed, feeling like a fool for pitching a growth-stage VC used to looking at energy businesses with millions in revenues on my pre-revenue, consumer startup.
He stressed that it's not necessary. There are investors targeting your company. Not me. Find investors and pitch them.
Remember this when fundraising. Your investors aren't philanthropists who want to help entrepreneurs realize their company goals. Venture capital is a sophisticated investment strategy, and VC firm managers are industry experts. They're looking for companies that meet their investment criteria. As a young entrepreneur, I didn't grasp this, which is why I struggled to raise money. In retrospect, I probably seemed like an idiot. Hopefully, you won't after reading this.
Scott Stockdale
1 year ago
A Day in the Life of Lex Fridman Can Help You Hit 6-Month Goals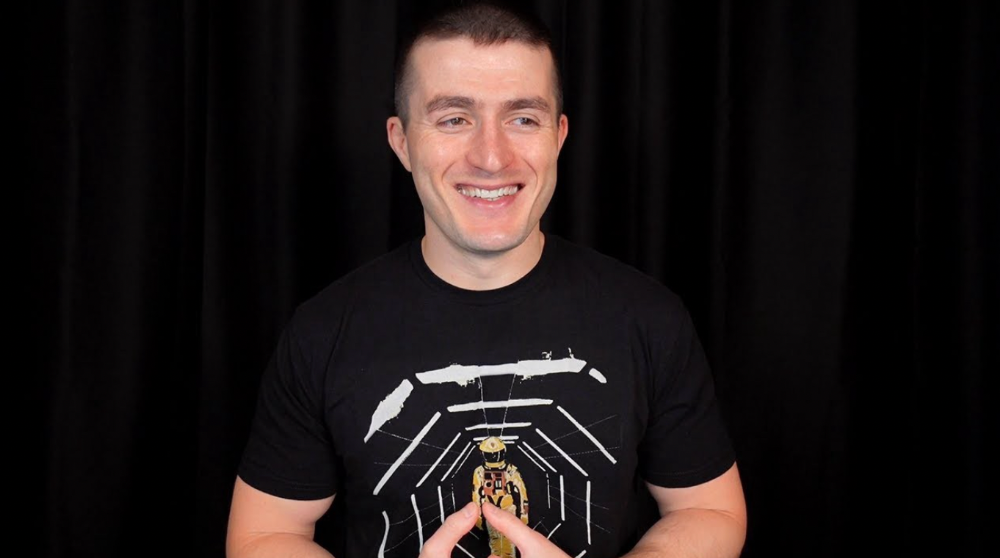 The Lex Fridman podcast host has interviewed Elon Musk.
Lex is a minimalist YouTuber. His videos are sloppy. Suits are his trademark.
In a video, he shares a typical day. I've smashed my 6-month goals using its ideas.
Here's his schedule.
Morning Mantra
Not woo-woo. Lex's mantra reflects his practicality.
Four parts.
Rulebook
"I remember the game's rules," he says.
Among them:
Sleeping 6–8 hours nightly

1–3 times a day, he checks social media.

Every day, despite pain, he exercises. "I exercise uninjured body parts."
Visualize
He imagines his day. "Like Sims..."
He says three things he's grateful for and contemplates death.
"Today may be my last"
Objectives
Then he visualizes his goals. He starts big. Five-year goals.
Short-term goals follow. Lex says they're year-end goals.
Near but out of reach.
Principles
He lists his principles. Assertions. His goals.
He acknowledges his cliche beliefs. Compassion, empathy, and strength are key.
Here's my mantra routine: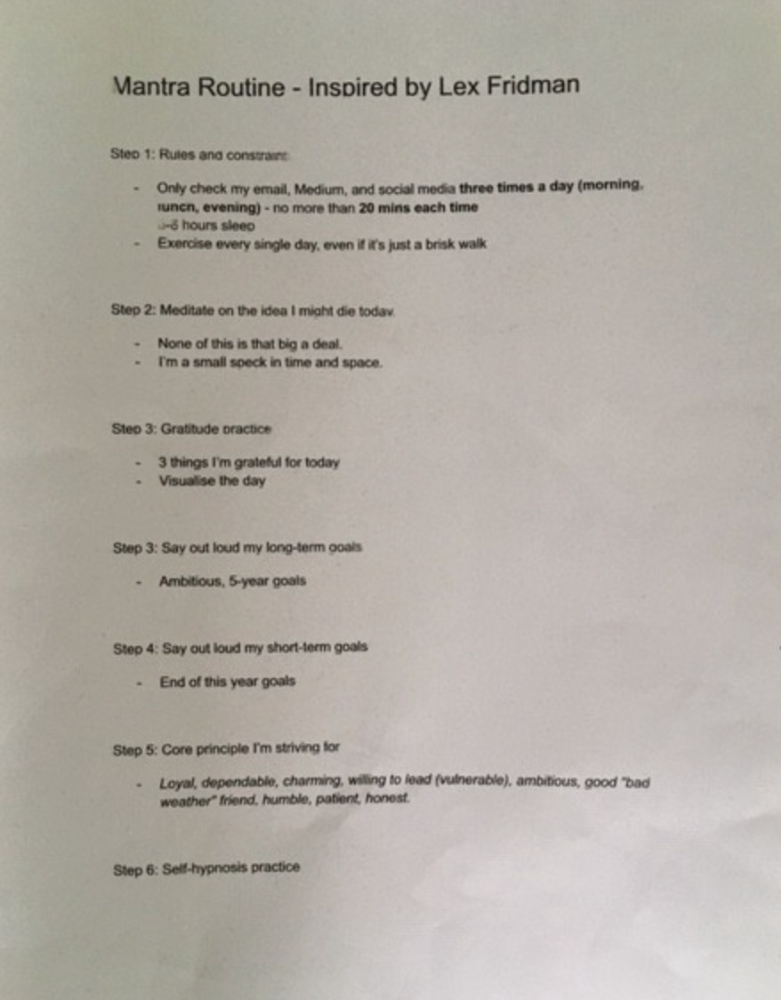 Four-Hour Deep Work
Lex begins a four-hour deep work session after his mantra routine. Today's toughest.
AI is Lex's specialty. His video doesn't explain what he does.
Clearly, he works hard.
Before starting, he has water, coffee, and a bathroom break.
"During deep work sessions, I minimize breaks."
He's distraction-free. Phoneless. Silence. Nothing. Any loose ideas are typed into a Google doc for later. He wants to work.
"Just get the job done. Don't think about it too much and feel good once it's complete." — Lex Fridman
30-Minute Social Media & Music
After his first deep work session, Lex rewards himself.
10 minutes on social media, 20 on music. Upload content and respond to comments in 10 minutes. 20 minutes for guitar or piano.
"In the real world, I'm currently single, but in the music world, I'm in an open relationship with this beautiful guitar. Open relationship because sometimes I cheat on her with the acoustic." — Lex Fridman
Two-hour exercise
Then exercise for two hours.
Daily runs six miles. Then he chooses how far to go. Run time is an hour.
He does bodyweight exercises. Every minute for 15 minutes, do five pull-ups and ten push-ups. It's David Goggins-inspired. He aims for an hour a day.
He's hungry. Before running, he takes a salt pill for electrolytes.
He'll then take a one-minute cold shower while listening to cheesy songs. Afterward, he might eat.
Four-Hour Deep Work
Lex's second work session.
He works 8 hours a day.
Again, zero distractions.
Eating
The video's meal doesn't look appetizing, but it's healthy.
It's ground beef with vegetables. Cauliflower is his "ground-floor" veggie. "Carrots are my go-to party food."
Lex's keto diet includes 1800–2000 calories.
He drinks a "nutrient-packed" Atheltic Greens shake and takes tablets. It's:
One daily tablet of sodium.

Magnesium glycinate tablets stopped his keto headaches.

Potassium — "For electrolytes"

Fish oil: healthy joints
"So much of nutrition science is barely a science… I like to listen to my own body and do a one-person, one-subject scientific experiment to feel good." — Lex Fridman
Four-hour shallow session
This work isn't as mentally taxing.
Lex planned to:
Finish last session's deep work (about an hour)

Adobe Premiere podcasting (about two hours).

Email-check (about an hour). Three times a day max. First, check for emergencies.
If he's sick, he may watch Netflix or YouTube documentaries or visit friends.
"The possibilities of chaos are wide open, so I can do whatever the hell I want." — Lex Fridman
Two-hour evening reading
Nonstop work.
Lex ends the day reading academic papers for an hour. "Today I'm skimming two machine learning and neuroscience papers"
This helps him "think beyond the paper."
He reads for an hour.
"When I have a lot of energy, I just chill on the bed and read… When I'm feeling tired, I jump to the desk…" — Lex Fridman
---
Takeaways
Lex's day-in-the-life video is inspiring.
He has positive energy and works hard every day.
Schedule:
Mantra Routine includes rules, visualizing, goals, and principles.

Deep Work Session #1: Four hours of focus.

10 minutes social media, 20 minutes guitar or piano. "Music brings me joy"

Six-mile run, then bodyweight workout. Two hours total.

Deep Work #2: Four hours with no distractions. Google Docs stores random thoughts.

Lex supplements his keto diet.

This four-hour session is "open to chaos."

Evening reading: academic papers followed by fiction.
"I value some things in life. Work is one. The other is loving others. With those two things, life is great." — Lex Fridman