More on Entrepreneurship/Creators
This Is How Much Quora Paid Me For 23 Million Content Views
You'll be surprised; I sure was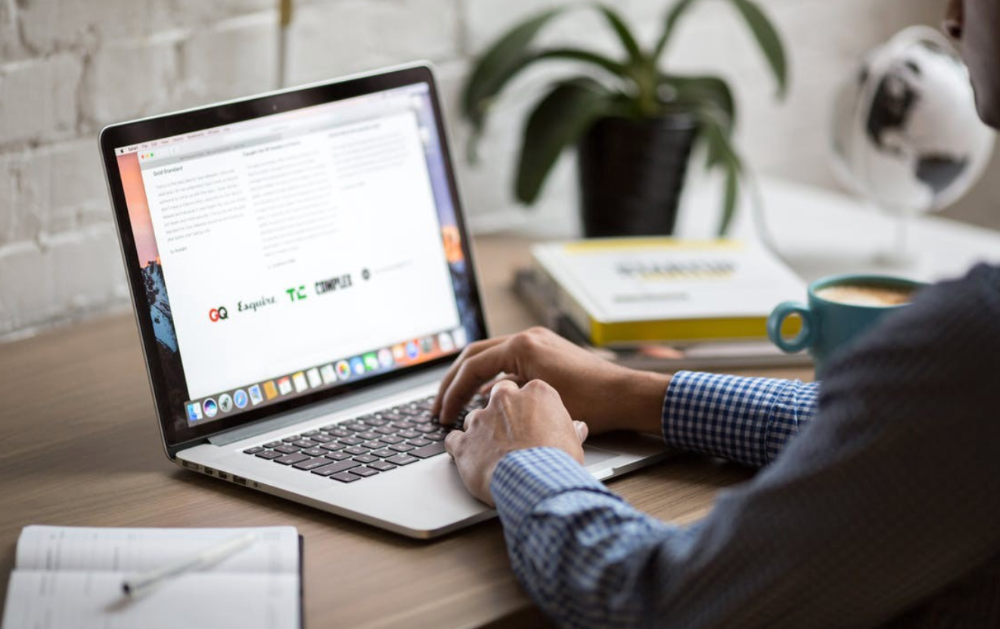 Blogging and writing online as a side income has now been around for a significant amount of time. Nowadays, it is a continuously rising moneymaker for prospective writers, with several writing platforms existing online. At the top of the list are Medium, Vocal Media, Newsbreak, and the biggest one of them, Quora, with 300 million active users.
Quora, unlike Medium, is a question-and-answer format platform. On Medium you are permitted to write what you want, while on Quora, you answer questions on topics that you have expertise about. Quora, like Medium, now compensates its authors for the answers they provide in comparison to the previous, in which you had to be admitted to the partner program and were paid to ask questions.
Quora just recently went live with this new partner program, Quora Plus, and the way it works is that it is a subscription for $5 a month which provides you access to metered/monetized stories, in turn compensating the writers for part of that subscription for their answers.
I too on Quora have found a lot of success on the platform, gaining 23 Million Content Views, and 300,000 followers for my space, which is kind of the Quora equivalent of a Medium article. The way in which I was able to do this was entirely thanks to a hack that I uncovered to the Quora algorithm.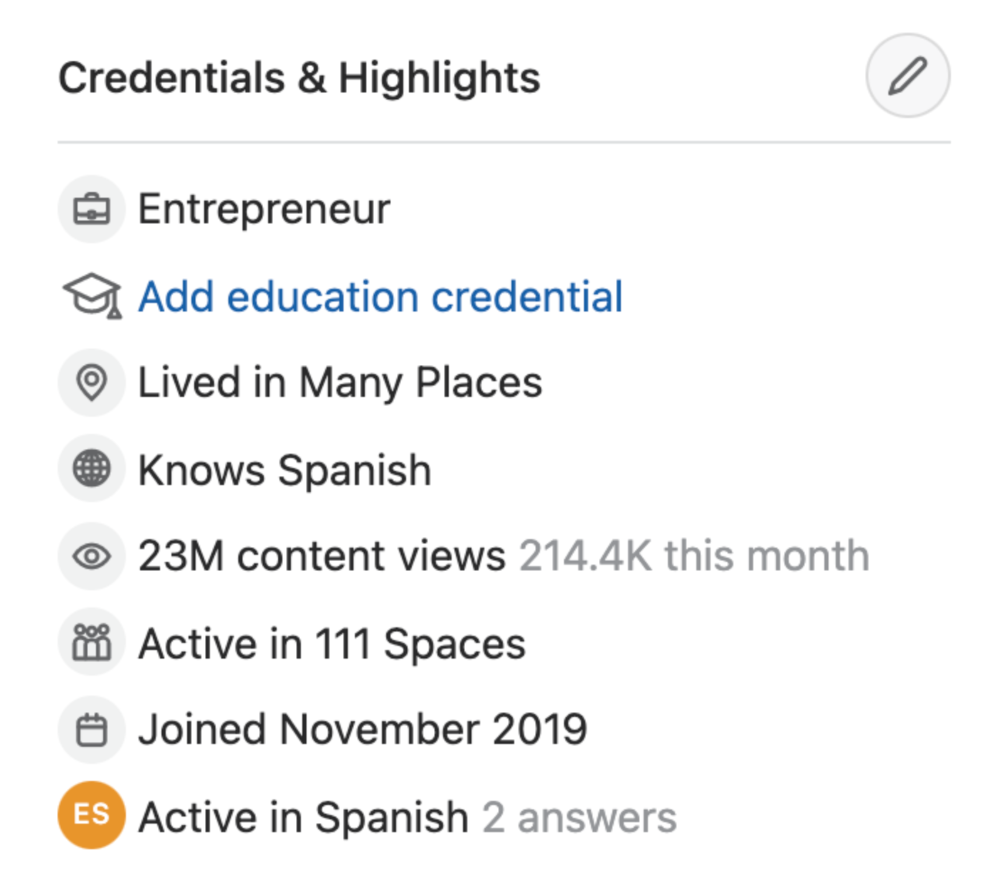 In this article, I plan on discussing how much money I received from 23 million content views on Quora, and I bet you'll be shocked; I know I was.
A Brief Explanation of How I Got 23 Million Views and How You Can Do It Too
On Quora, everything in terms of obtaining views is about finding the proper question, which I only understood quite late into the game. I published my first response in 2019 but never actually wrote on Quora until the summer of 2020, and about a month into posting consistently I found out how to find the perfect question. Here's how:
The Process
Go to your Home Page and start scrolling… While browsing, check for the following things…
Answers from people you follow or your followers.

Advertisements
These two things are the two things you want to ignore, you don't want to answer those questions or look at the ads. You should now be left with a couple of recommended answers. To discover which recommended answer is the best to answer as well, look at these three important aspects.
Date of the answer: Was it in the past few days, preferably 2–3 days, even better, past 24 hours?

Views: Are they in the ten thousands or hundred thousands?

Upvotes: Are they in the hundreds or thousands?
Now, choose an answer to a question which you think you could answer as well that satisfies the requirements above. Once you click on it, as all answers on Quora works, it will redirect you to the page for that question, in which you will have to select once again if you should answer the question.
Amount of answers: How many responses are there to the given question? This tells you how much competition you have. My rule is beyond 25 answers, you shouldn't answer, but you can change it anyway you'd like.

Answerers: Who did the answering for the question? If the question includes a bunch of renowned, extremely well-known people on Quora, there's a good possibility your essay is going to get drowned out.

Views: Check for a constant quantity of high views on each answer for the question; this is what will guarantee that your answer gets a lot of views!
The Income Reveal! How Much I Made From 23 Million Content Views
DRUM ROLL, PLEASE!
8.97 USD. Yes, not even ten dollars, not even nine. Just eight dollars and ninety-seven cents.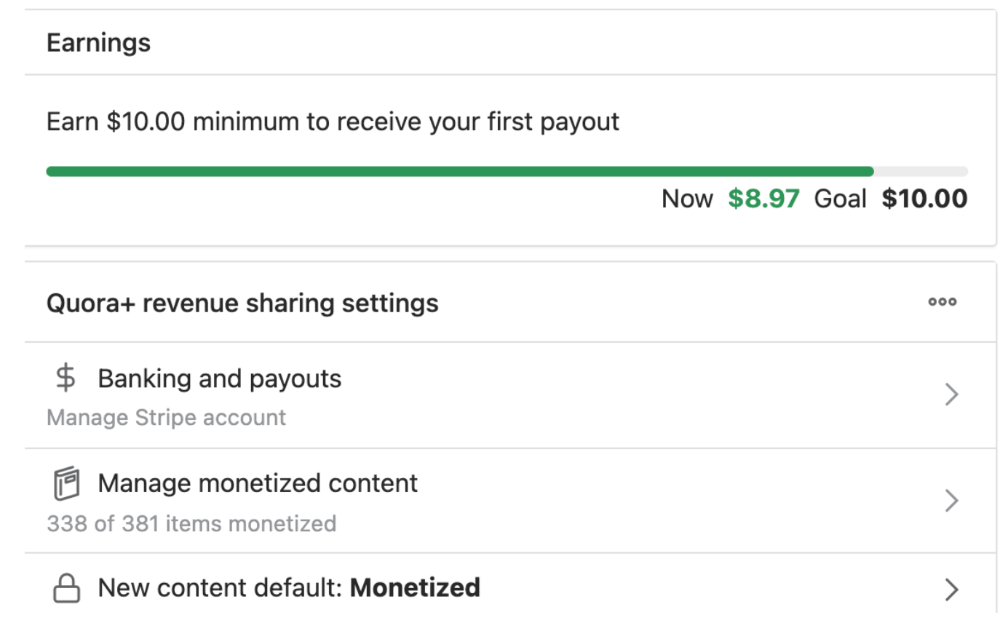 Possible Reasons for My Low Earnings
Quora Plus and the answering partner program are newer than my Quora views.

Few people use Quora+, therefore revenues are low.

I haven't been writing much on Quora, so I'm only making money from old answers and a handful since Quora Plus launched.

Quora + pays poorly...
Should You Try Quora and Quora For Money?
My answer depends on your needs. I never got invited to Quora's question partner program due to my late start, but other writers have made hundreds. Due to Quora's new and competitive answering partner program, you may not make much money.
If you want a fun writing community, try Quora. Quora was fun when I only made money from my space. Quora +'s paywalls and new contributors eager to make money have made the platform less fun for me.
---
This article is a summary to save you time. You can read my full, more detailed article, here.
Your Ideal Position As a Part-Time Creator
Inspired by someone I never met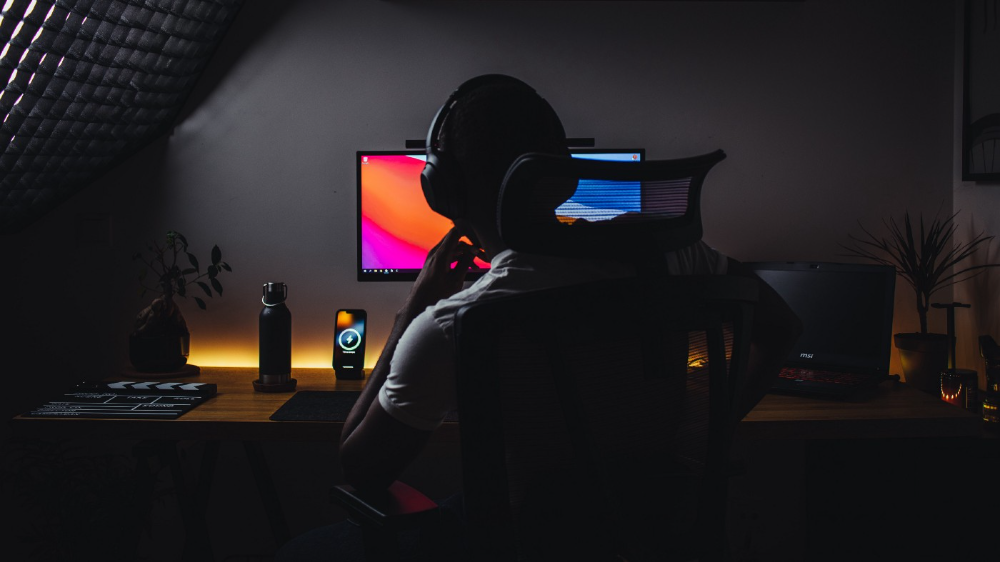 Inspiration is good and bad.
Paul Jarvis inspires me. He's a web person and writer who created his own category by being himself.
Paul said no thank you when everyone else was developing, building, and assuming greater responsibilities. This isn't success. He rewrote the rules. Working for himself, expanding at his own speed, and doing what he loves were his definitions of success.
Play with a problem that you have
The biggest problem can be not recognizing a problem.
Acceptance without question is deception. When you don't push limits, you forget how. You start thinking everything must be as it is.
For example: working. Paul worked a 9-5 agency work with little autonomy. He questioned whether the 9-5 was a way to live, not the way.
Another option existed. So he chipped away at how to live in this new environment.
Don't simply jump
Internet writers tell people considering quitting 9-5 to just quit. To throw in the towel. To do what you like.
The advice is harmful, despite the good intentions. People think quitting is hard. Like courage is the issue. Like handing your boss a resignation letter.
Nope. The tough part comes after. It's easy to jump. Landing is difficult.
The landing
Paul didn't quit. Intelligent individuals don't. Smart folks focus on landing. They imagine life after 9-5.
Paul had been a web developer for a long time, had solid clients, and was respected. Hence if he pushed the limits and discovered another route, he had the potential to execute.
Working on the side
Society loves polarization. It's left or right. Either way. Or chaos. It's 9-5 or entrepreneurship.
But like Paul, you can stretch polarization's limits. In-between exists.
You can work a 9-5 and side jobs (as I do). A mix of your favorites. The 9-5's stability and creativity. Fire and routine.
Remember you can't have everything but anything. You can create and work part-time.
My hybrid lifestyle
Not selling books doesn't destroy my world. My globe keeps spinning if my new business fails or if people don't like my Tweets. Unhappy algorithm? Cool. I'm not bothered (okay maybe a little).
The mix gives me the best of both worlds. To create, hone my skill, and grasp big-business basics. I like routine, but I also appreciate spending 4 hours on Saturdays writing.
Some days I adore leaving work at 5 pm and disconnecting. Other days, I adore having a place to write if inspiration strikes during a run or a discussion.
I'm a part-time creator
I'm a part-time creator. No, I'm not trying to quit. I don't work 5 pm - 2 am on the side. No, I'm not at $10,000 MRR.
I work part-time but enjoy my 9-5. My 9-5 has goodies. My side job as well.
It combines both to meet my lifestyle. I'm satisfied.
Join the Part-time Creators Club for free here. I'll send you tips to enhance your creative game.
Why don't you relaunch my startup projects?
Open to ideas or acquisitions
Failure is an unavoidable aspect of life, yet many recoil at the word.
I've worked on unrelated startup projects. This is a list of products I developed (often as the tech lead or co-founder) and why they failed to launch.
Chess Bet (Betting)
As a chess player who plays 5 games a day and has an ELO rating of 2100, I tried to design a chess engine to rival stockfish and Houdini.
While constructing my chess engine, my cofounder asked me about building a p2p chess betting app. Chess Bet. There couldn't be a better time.
Two people in different locations could play a staked game. The winner got 90% of the bet and we got 10%. The business strategy was clear, but our mini-launch was unusual.
People started employing the same cheat engines I mentioned, causing user churn and defaming our product.
It was the first programming problem I couldn't solve after building a cheat detection system based on player move strengths and prior games. Chess.com, the most famous online chess software, still suffers from this.
We decided to pivot because we needed an expensive betting license.
We relaunched as Chess MVP after deciding to focus on chess learning. A platform for teachers to create chess puzzles and teach content. Several chess students used our product, but the target market was too tiny.
We chose to quit rather than persevere or pivot.
BodaCare (Insure Tech)
'BodaBoda' in Swahili means Motorcycle. My Dad approached me in 2019 (when I was working for a health tech business) about establishing an Insurtech/fintech solution for motorbike riders to pay for insurance using SNPL.
We teamed up with an underwriter to market motorcycle insurance. Once they had enough premiums, they'd get an insurance sticker in the mail. We made it better by splitting the cover in two, making it more reasonable for motorcyclists struggling with lump-sum premiums.
Lack of capital and changing customer behavior forced us to close, with 100 motorcyclists paying 0.5 USD every day. Our unit econ didn't make sense, and CAC and retention capital only dug us deeper.
Circle (Social Networking)
Having learned from both product failures, I began to understand what worked and what didn't. While reading through Instagram, an idea struck me.
Suppose social media weren't virtual.
Imagine meeting someone on your way home. Like-minded person
People were excited about social occasions after covid restrictions were eased. Anything to escape. I just built a university student-popular experiences startup. Again, there couldn't be a better time.
I started the Android app. I launched it on Google Beta and oh my! 200 people joined in two days.
It works by signaling if people are in a given place and allowing users to IM in hopes of meeting up in near real-time. Playstore couldn't deploy the app despite its success in beta for unknown reasons. I appealed unsuccessfully.
My infrastructure quickly lost users because I lacked funding.
In conclusion
This essay contains many failures, some of which might have been avoided and others not, but they were crucial learning points in my startup path.
If you liked any idea, I have the source code on Github.
Happy reading until then!
You might also like
The brand-new USB Rubber Ducky is much riskier than before.
The brand-new USB Rubber Ducky is much riskier than before.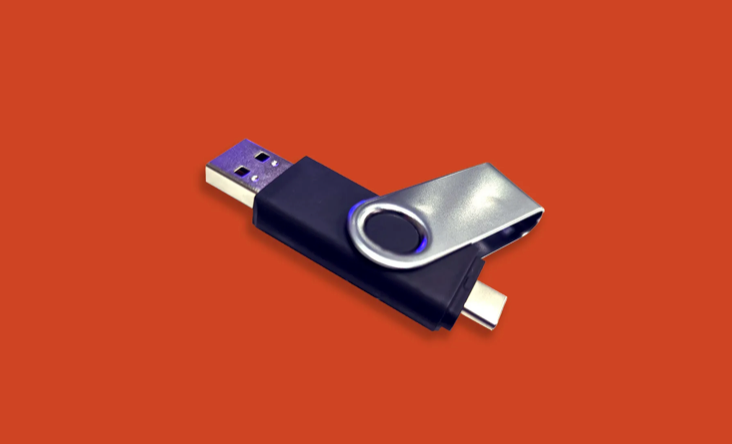 With its own programming language, the well-liked hacking tool may now pwn you.
With a vengeance, the USB Rubber Ducky is back.
This year's Def Con hacking conference saw the release of a new version of the well-liked hacking tool, and its author, Darren Kitchen, was on hand to explain it. We put a few of the new features to the test and discovered that the most recent version is riskier than ever.
WHAT IS IT?
The USB Rubber Ducky seems to the untrained eye to be an ordinary USB flash drive. However, when you connect it to a computer, the computer recognizes it as a USB keyboard and will accept keystroke commands from the device exactly like a person would type them in.
Kitchen explained to me, "It takes use of the trust model built in, where computers have been taught to trust a human, in that anything it types is trusted to the same degree as the user is trusted. And a computer is aware that clicks and keystrokes are how people generally connect with it.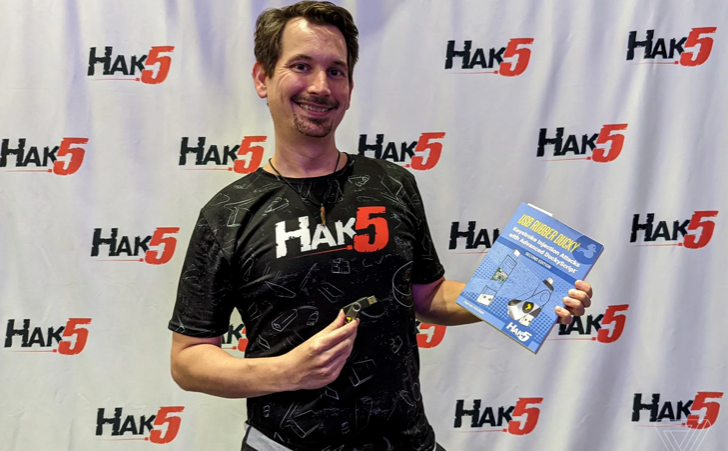 Over ten years ago, the first Rubber Ducky was published, quickly becoming a hacker favorite (it was even featured in a Mr. Robot scene). Since then, there have been a number of small upgrades, but the most recent Rubber Ducky takes a giant step ahead with a number of new features that significantly increase its flexibility and capability.
WHERE IS ITS USE?
The options are nearly unlimited with the proper strategy.
The Rubber Ducky has already been used to launch attacks including making a phony Windows pop-up window to collect a user's login information or tricking Chrome into sending all saved passwords to an attacker's web server. However, these attacks lacked the adaptability to operate across platforms and had to be specifically designed for particular operating systems and software versions.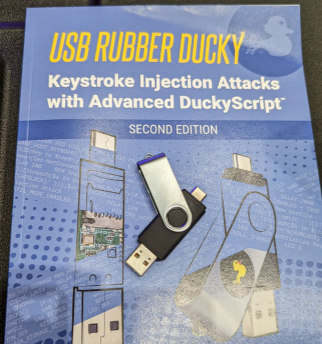 The nuances of DuckyScript 3.0 are described in a new manual. 
The most recent Rubber Ducky seeks to get around these restrictions. The DuckyScript programming language, which is used to construct the commands that the Rubber Ducky will enter into a target machine, receives a significant improvement with it. DuckyScript 3.0 is a feature-rich language that allows users to write functions, store variables, and apply logic flow controls, in contrast to earlier versions that were primarily limited to scripting keystroke sequences (i.e., if this... then that).
This implies that, for instance, the new Ducky can check to see if it is hooked into a Windows or Mac computer and then conditionally run code specific to each one, or it can disable itself if it has been attached to the incorrect target. In order to provide a more human effect, it can also generate pseudorandom numbers and utilize them to add a configurable delay between keystrokes.
The ability to steal data from a target computer by encoding it in binary code and transferring it through the signals intended to instruct a keyboard when the CapsLock or NumLock LEDs should light up is perhaps its most astounding feature. By using this technique, a hacker may plug it in for a brief period of time, excuse themselves by saying, "Sorry, I think that USB drive is faulty," and then take it away with all the credentials stored on it.
HOW SERIOUS IS THE RISK?
In other words, it may be a significant one, but because physical device access is required, the majority of people aren't at risk of being a target.
The 500 or so new Rubber Duckies that Hak5 brought to Def Con, according to Kitchen, were his company's most popular item at the convention, and they were all gone on the first day. It's safe to suppose that hundreds of hackers already possess one, and demand is likely to persist for some time.
Additionally, it has an online development toolkit that can be used to create attack payloads, compile them, and then load them onto the target device. A "payload hub" part of the website makes it simple for hackers to share what they've generated, and the Hak5 Discord is also busy with conversation and helpful advice. This makes it simple for users of the product to connect with a larger community.
It's too expensive for most individuals to distribute in volume, so unless your favorite cafe is renowned for being a hangout among vulnerable targets, it's doubtful that someone will leave a few of them there. To that end, if you intend to plug in a USB device that you discovered outside in a public area, pause to consider your decision.
WOULD IT WORK FOR ME?
Although the device is quite straightforward to use, there are a few things that could cause you trouble if you have no prior expertise writing or debugging code. For a while, during testing on a Mac, I was unable to get the Ducky to press the F4 key to activate the launchpad, but after forcing it to identify itself using an alternative Apple keyboard device ID, the problem was resolved.
From there, I was able to create a script that, when the Ducky was plugged in, would instantly run Chrome, open a new browser tab, and then immediately close it once more without requiring any action from the laptop user. Not bad for only a few hours of testing, and something that could be readily changed to perform duties other than reading technology news.
Muhammad Rahmatullah
2 months ago
The Pyramid of Coding Principles
A completely operating application requires many processes and technical challenges. Implementing coding standards can make apps right, work, and faster.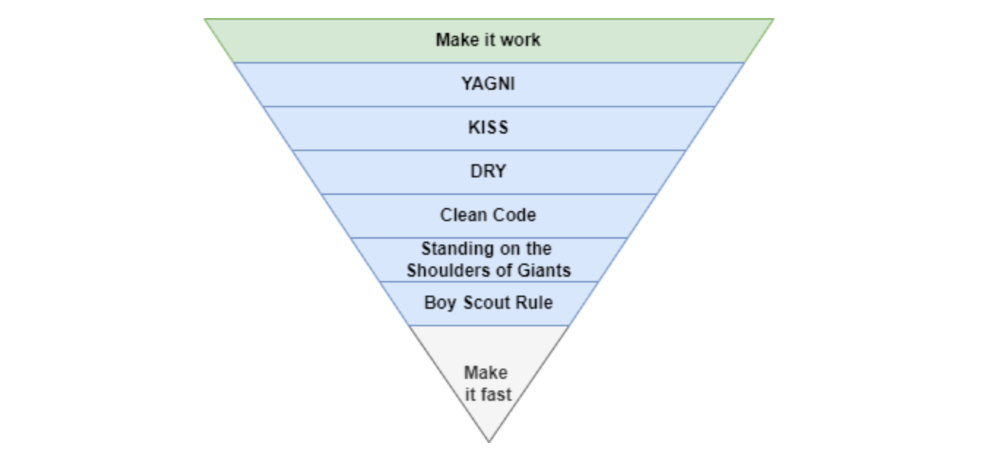 With years of experience working in software houses. Many client apps are scarcely maintained.
Why are these programs "barely maintainable"? If we're used to coding concepts, we can probably tell if an app is awful or good from its codebase.
This is how I coded much of my app.
Make It Work
Before adopting any concept, make sure the apps are completely functional. Why have a fully maintained codebase if the app can't be used?
The user doesn't care if the app is created on a super server or uses the greatest coding practices. The user just cares if the program helps them.
After the application is working, we may implement coding principles.
You Aren't Gonna Need It
As a junior software engineer, I kept unneeded code, components, comments, etc., thinking I'd need them later.
In reality, I never use that code for weeks or months.
First, we must remove useless code from our primary codebase. If you insist on keeping it because "you'll need it later," employ version control.
If we remove code from our codebase, we can quickly roll back or copy-paste the previous code without preserving it permanently.
The larger the codebase, the more maintenance required.
Keep It Simple Stupid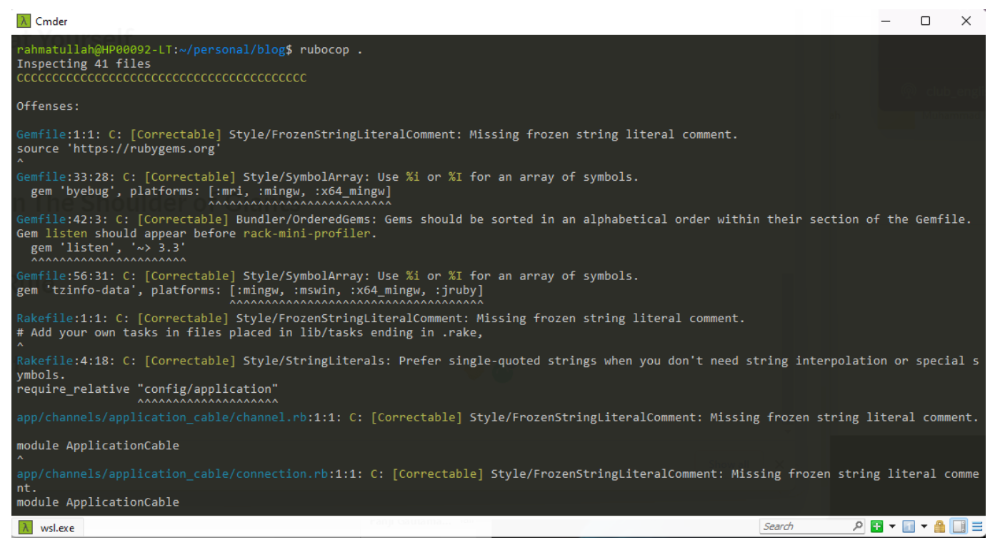 Indeed. Keep things simple.
Why complicate something if we can make it simpler?
Our code improvements should lessen the server load and be manageable by others.
If our code didn't pass those benchmarks, it's too convoluted and needs restructuring. Using an open-source code critic or code smell library, we can quickly rewrite the code.
Simpler codebases and processes utilize fewer server resources.
Don't Repeat Yourself
Have you ever needed an action or process before every action, such as ensuring the user is logged in before accessing user pages?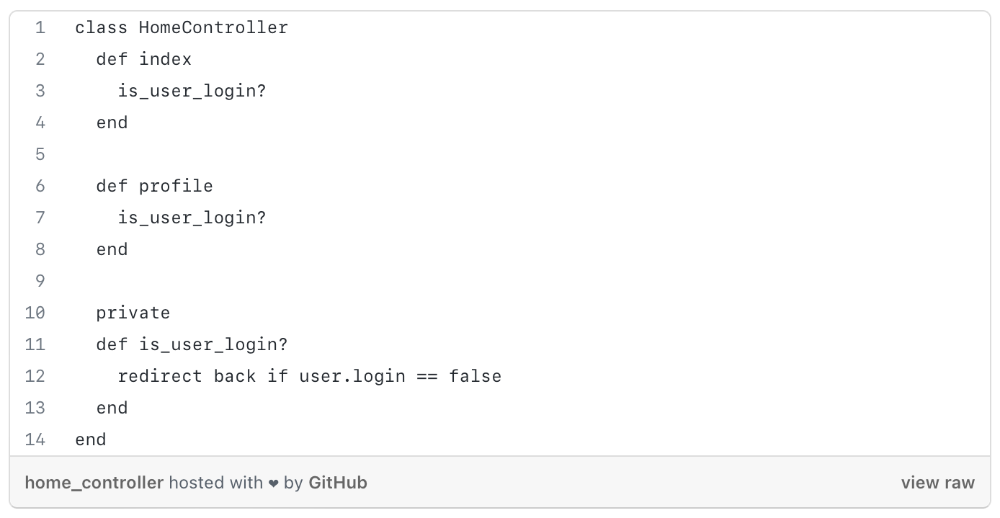 As you can see from the above code, I try to call is user login? in every controller action, and it should be optimized, because if we need to rename the method or change the logic, etc. We can improve this method's efficiency.
We can write a constructor/middleware/before action that calls is_user_login?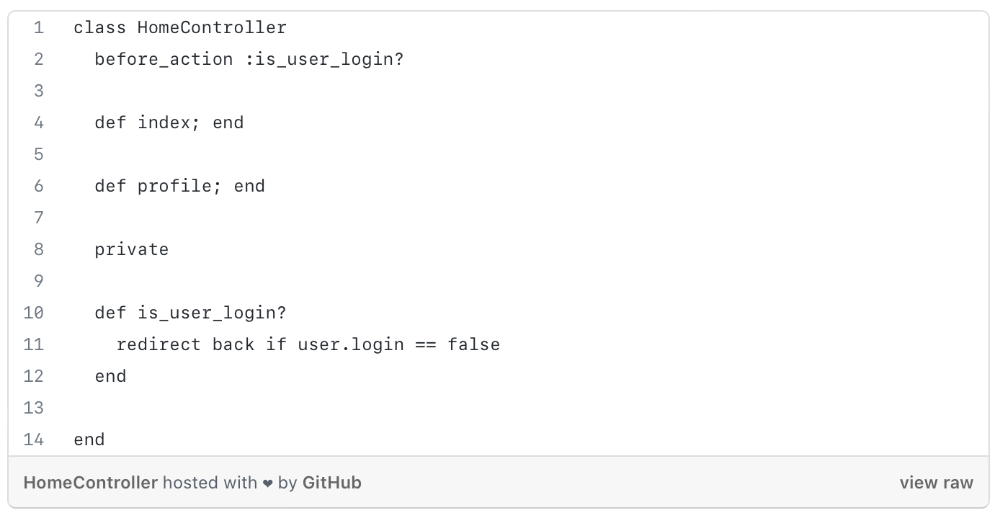 The code is more maintainable and readable after refactoring.
Each programming language or framework handles this issue differently, so be adaptable.
Clean Code
Clean code is a broad notion that you've probably heard of before.
When creating a function, method, module, or variable name, the first rule of clean code is to be precise and simple.
The name should express its value or logic as a whole, and follow code rules because every programming language is distinct.
If you want to learn more about this topic, I recommend reading https://www.amazon.com/Clean-Code-Handbook-Software-Craftsmanship/dp/0132350882.
Standing On The Shoulder of Giants
Use industry standards and mature technologies, not your own(s).
There are several resources that explain how to build boilerplate code with tools, how to code with best practices, etc.
I propose following current conventions, best practices, and standardization since we shouldn't innovate on top of them until it gives us a competitive edge.
Boy Scout Rule
What reduces programmers' productivity?
When we have to maintain or build a project with messy code, our productivity decreases.
Having to cope with sloppy code will slow us down (shame of us).
How to cope? Uncle Bob's book says, "Always leave the campground cleaner than you found it."
When developing new features or maintaining current ones, we must improve our codebase. We can fix minor issues too. Renaming variables, deleting whitespace, standardizing indentation, etc.
Make It Fast
After making our code more maintainable, efficient, and understandable, we can speed up our app.
Whether it's database indexing, architecture, caching, etc.
A smart craftsman understands that refactoring takes time and it's preferable to balance all the principles simultaneously. Don't YAGNI phase 1.
Using these ideas in each iteration/milestone, while giving the bottom items less time/care.
You can check one of my articles for further information. https://medium.com/life-at-mekari/why-does-my-website-run-very-slowly-and-how-do-i-optimize-it-for-free-b21f8a2f0162
https://medium.com/life-at-mekari/what-you-need-to-make-your-app-a-high-availability-system-tackling-the-technical-challenges-8896abec363f
An Approach to Product Strategy
I've been pondering product strategy and how to articulate it. Frameworks helped guide our thinking.
If your teams aren't working together or there's no clear path to victory, your product strategy may not be well-articulated or communicated (if you have one).
Before diving into a product strategy's details, it's important to understand its role in the bigger picture — the pieces that move your organization forward.
the overall picture
A product strategy is crucial, in my opinion. It's part of a successful product or business. It's the showpiece.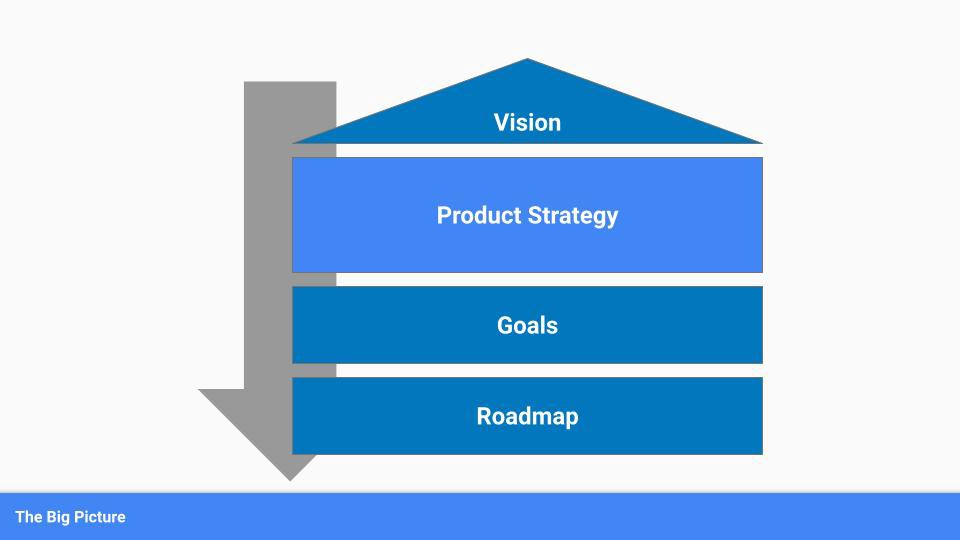 To simplify, we'll discuss four main components:
Vision

Product Management

Goals

Roadmap
Vision
Your company's mission? Your company/product in 35 years? Which headlines?
The vision defines everything your organization will do in the long term. It shows how your company impacted the world. It's your organization's rallying cry.
An ambitious but realistic vision is needed.
Without a clear vision, your product strategy may be inconsistent.
Product Management
Our main subject. Product strategy connects everything. It fulfills the vision.
In Part 2, we'll discuss product strategy.
Goals
This component can be goals, objectives, key results, targets, milestones, or whatever goal-tracking framework works best for your organization.
These product strategy metrics will help your team prioritize strategies and roadmaps.
Your company's goals should be unified. This fuels success.
Roadmap
The roadmap is your product strategy's timeline. It provides a prioritized view of your team's upcoming deliverables.
A roadmap is time-bound and includes measurable goals for your company. Your team's steps and capabilities for executing product strategy.
If your team has trouble prioritizing or defining a roadmap, your product strategy or vision is likely unclear.
Formulation of a Product Strategy
Now that we've discussed where your product strategy fits in the big picture, let's look at a framework.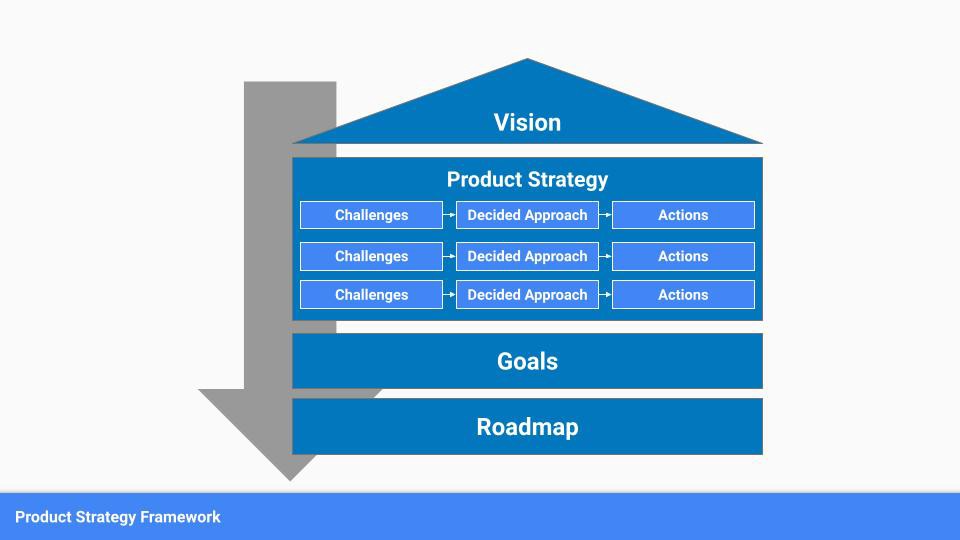 A product strategy should include challenges, an approach, and actions.
Challenges
First, analyze the problems/situations you're solving. It can be customer- or company-focused.
The analysis should explain the problems and why they're important. Try to simplify the situation and identify critical aspects.
Some questions:
What issues are we attempting to resolve?

What obstacles—internal or otherwise—are we attempting to overcome?

What is the opportunity, and why should we pursue it, in your opinion?
Decided Method
Second, describe your approach. This can be a set of company policies for handling the challenge. It's the overall approach to the first part's analysis.
The approach can be your company's bets, the solutions you've found, or how you'll solve the problems you've identified.
Again, these questions can help:
What is the value that we hope to offer to our clients?

Which market are we focusing on first?

What makes us stand out? Our benefit over rivals?
Actions
Third, identify actions that result from your approach. Second-part actions should be these.
Coordinate these actions. You may need to add products or features to your roadmap, acquire new capabilities through partnerships, or launch new marketing campaigns. Whatever fits your challenges and strategy.
Final questions:
What skills do we need to develop or obtain?

What is the chosen remedy? What are the main outputs?

What else ought to be added to our road map?
Put everything together
… and iterate!
Strategy isn't one-and-done. Changes occur. Economies change. Competitors emerge. Customer expectations change.
One unexpected event can make strategies obsolete quickly. Muscle it. Review, evaluate, and course-correct your strategies with your teams. Quarterly works. In a new or unstable industry, more often.