More on Entrepreneurship/Creators
In 2022, can a lone developer be able to successfully establish a SaaS product?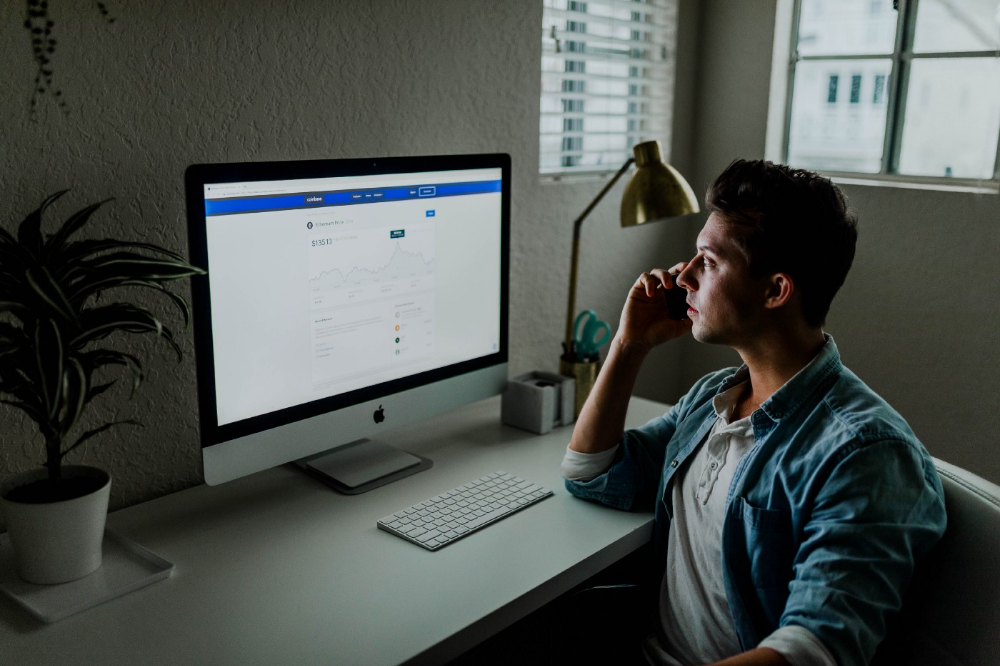 In the early 2000s, I began developing SaaS. I helped launch an internet fax service that delivered faxes to email inboxes. Back then, it saved consumers money and made the procedure easier.
Google AdWords was young then. Anyone might establish a new website, spend a few hundred dollars on keywords, and see dozens of new paying clients every day. That's how we launched our new SaaS, and these clients stayed for years. Our early ROI was sky-high.
Changing times
The situation changed dramatically after 15 years. Our paid advertising cost $200-$300 for every new customer. Paid advertising takes three to four years to repay.
Fortunately, we still had tens of thousands of loyal clients. Good organic rankings gave us new business. We needed less sponsored traffic to run a profitable SaaS firm.
Is it still possible?
Since selling our internet fax firm, I've dreamed about starting a SaaS company. One I could construct as a lone developer and progressively grow a dedicated customer base, as I did before in a small team.
It seemed impossible to me. Solo startups couldn't afford paid advertising. SEO was tough. Even the worst SaaS startup ideas attracted VC funding. How could I compete with startups that could hire great talent and didn't need to make money for years (or ever)?
The One and Only Way to Learn
After years of talking myself out of SaaS startup ideas, I decided to develop and launch one. I needed to know if a solitary developer may create a SaaS app in 2022.
Thus, I did. I invented webwriter.ai, an AI-powered writing tool for website content, from hero section headlines to blog posts, this year. I soft-launched an MVP in July.
Considering the Issue
Now that I've developed my own fully capable SaaS app for site builders and developers, I wonder if it's still possible. Can webwriter.ai be successful?
I know webwriter.ai's proposal is viable because Jasper.ai and Grammarly are also AI-powered writing tools. With competition comes validation.
To Win, Differentiate
To compete with well-funded established brands, distinguish to stand out to a portion of the market. So I can speak directly to a target user, unlike larger competition.
I created webwriter.ai to help web builders and designers produce web content rapidly. This may be enough differentiation for now.
Budget-Friendly Promotion
When paid search isn't an option, we get inventive. There are more tools than ever to promote a new website.
Organic Results

on social media (Twitter, Instagram, TikTok, LinkedIn)

Marketing with content that is compelling

Link Creation

Listings in directories

references made in blog articles and on other websites

Forum entries
The Beginning of the Journey
As I've labored to construct my software, I've pondered a new mantra. Not sure where that originated from, but I like it. I'll live by it and teach my kids:
"Do the work."
Matthew O'Riordan
1 year ago
Trends in SaaS Funding from 2016 to 2022
Christopher Janz of Point Nine Capital created the SaaS napkin in 2016. This post shows how founders have raised cash in the last 6 years. View raw data.
Round size
Unsurprisingly, round sizes have expanded and will taper down in 2022. In 2016, pre-seed rounds were $200k to $500k; currently, they're $1-$2m. Despite the macroeconomic scenario, Series A have expanded from $3m to $12m in 2016 to $6m and $18m in 2022.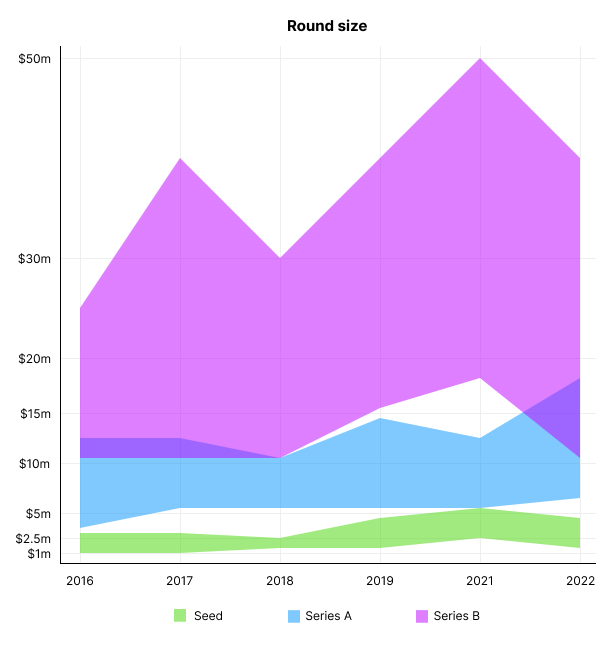 Valuation
There are hints that valuations are rebounding this year. Pre-seed valuations in 2022 are $12m from $3m in 2016, and Series B prices are $270m from $100m in 2016.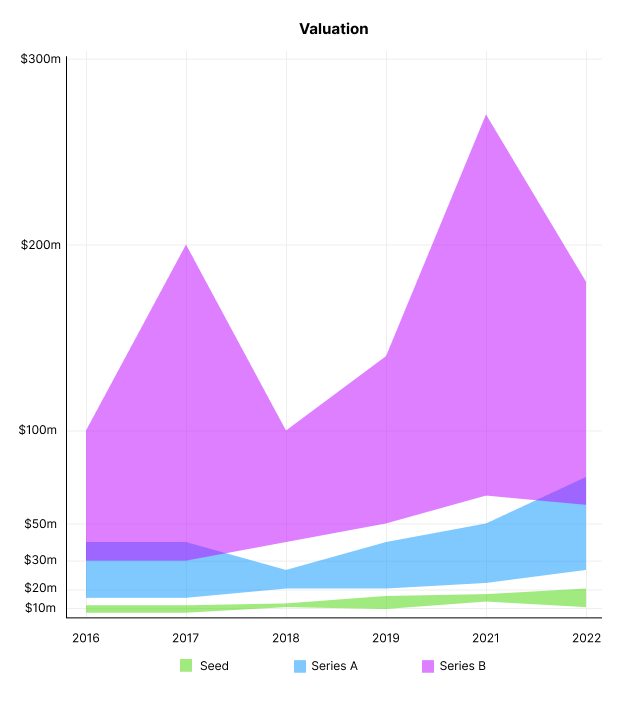 Compared to public SaaS multiples, Series B valuations more closely reflect the market, but Seed and Series A prices seem to be inflated regardless of the market.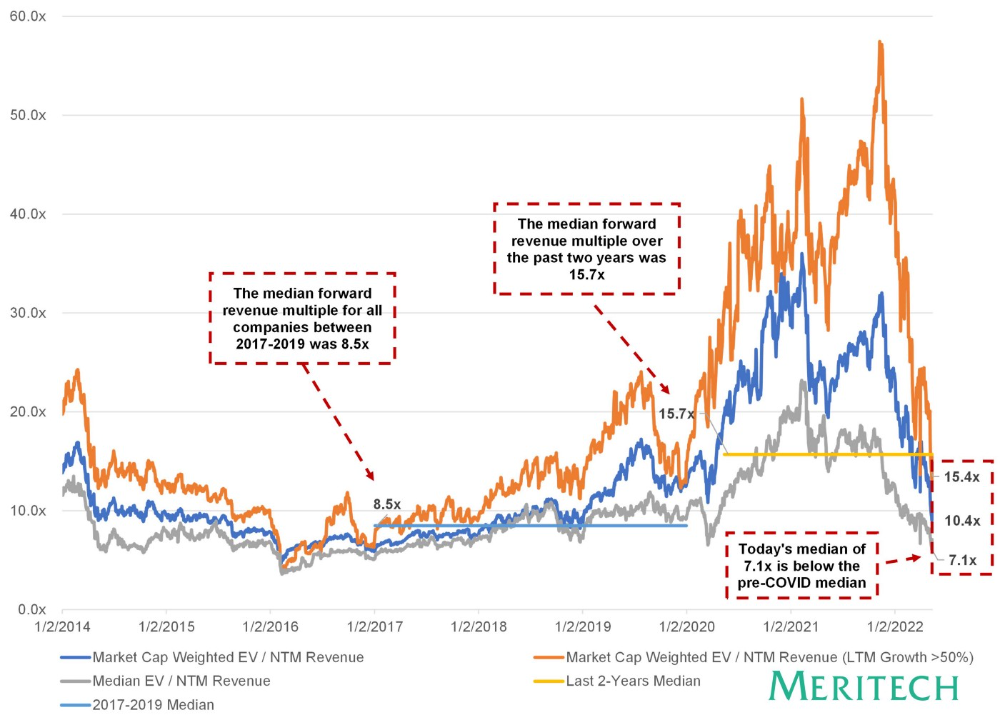 I'd like to know how each annual cohort performed for investors, based on the year they invested and the valuations. I can't access this information.
ARR
Seed firms' ARR forecasts have risen from $0 to $0.6m to $0 to $1m. 2016 expected $1.2m to $3m, 2021 $0.5m to $4m, and this year $0.5m to $2.5m, suggesting that Series A firms may raise with less ARR today. Series B minutes fell from $4.2m to $3m.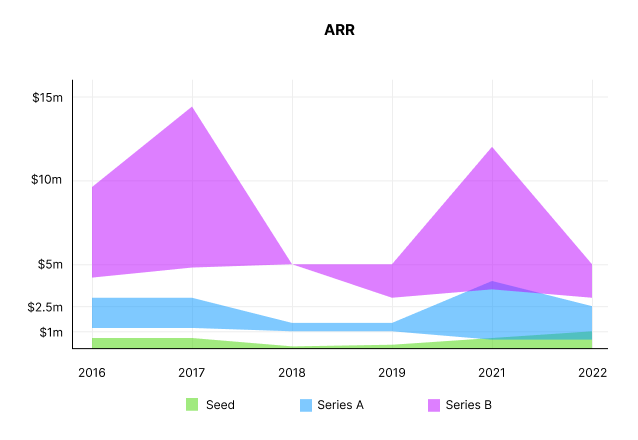 Capitalization Rate
2022 is the year that VCs start discussing capital efficiency in portfolio meetings. Given the economic shift in the markets and the stealthy VC meltdown, it's not surprising. Christopher Janz added capital efficiency to the SaaS Napkin as a new statistic for Series A (3.5x) and Series B. (2.5x). Your investors must live under a rock if they haven't asked about capital efficiency. If you're unsure:
The Capital Efficiency Ratio is the ratio of how much a company has spent growing revenue and how much they're receiving in return. It is the broadest measure of company effectiveness in generating ARR
What next?
No one knows what's next, including me. All startup and growing enterprises around me are tightening their belts and extending their runways in anticipation of a difficult fundraising ride. If you're wanting to raise money but can wait, wait till the market is more stable and access to money is easier.
Bills are paid by your 9 to 5. 6 through 12 help you build money.
40 years pass. After 14 years of retirement, you die. Am I the only one who sees the problem?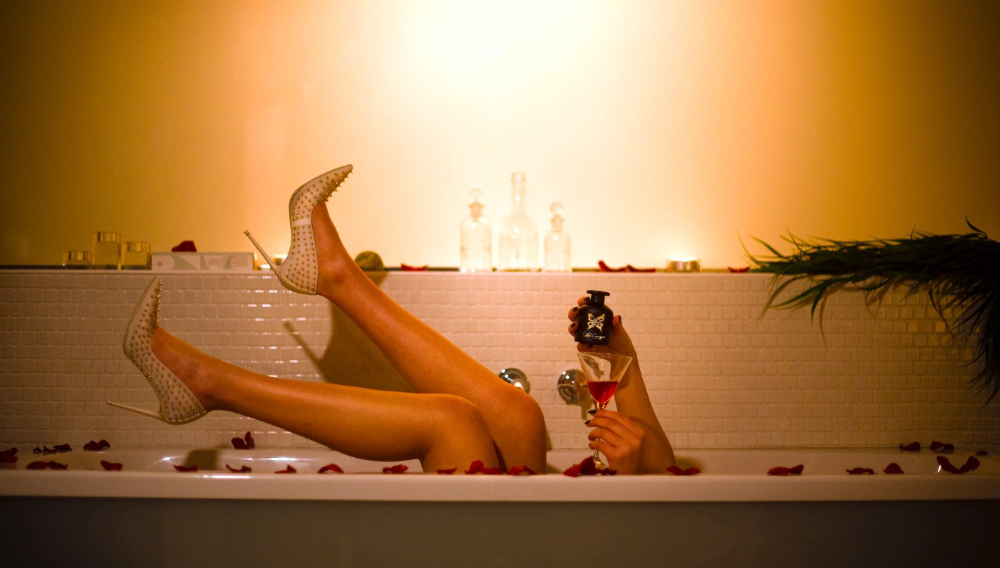 I'm the Jedi master of escaping the rat race.
Not to impress. I know this works since I've tried it. Quitting a job to make money online is worse than Kim Kardashian's internet-burning advice.
Let me help you rethink the move from a career to online income to f*ck you money.
To understand why a job is a joke, do some life math.
Without a solid why, nothing makes sense.
The retirement age is 65. Our processed food consumption could shorten our 79-year average lifespan.
You spend 40 years working.
After 14 years of retirement, you die.
Am I alone in seeing the problem?
Life is too short to work a job forever, especially since most people hate theirs. After-hours skills are vital.
Money equals unrestricted power, f*ck you.
F*ck you money is the answer.
Jack Raines said it first. He says we can do anything with the money. Jack, a young rebel straight out of college, can travel and try new foods.
F*ck you money signifies not checking your bank account before buying.
F*ck you" money is pure, unadulterated freedom with no strings attached.
Jack claims you're rich when you rarely think about money.
Avoid confusion.
This doesn't imply you can buy a Lamborghini. It indicates your costs, income, lifestyle, and bank account are balanced.
Jack established an online portfolio while working for UPS in Atlanta, Georgia. So he gained boundless power.
The portion that many erroneously believe
Yes, you need internet abilities to make money, but they're not different from 9-5 talents.
Sahil Lavingia, Gumroad's creator, explains.
A job is a way to get paid to learn.
Mistreat your boss 9-5. Drain his skills. Defuse him. Love and leave him (eventually).
Find another employment if yours is hazardous. Pick an easy job. Make sure nothing sneaks into your 6-12 time slot.
The dumb game that makes you a sheep
A 9-5 job requires many job interviews throughout life.
You email your résumé to employers and apply for jobs through advertisements. This game makes you a sheep.
You're competing globally. Work-from-home makes the competition tougher. If you're not the cheapest, employers won't hire you.
After-hours online talents (say, 6 pm-12 pm) change the game. This graphic explains it better: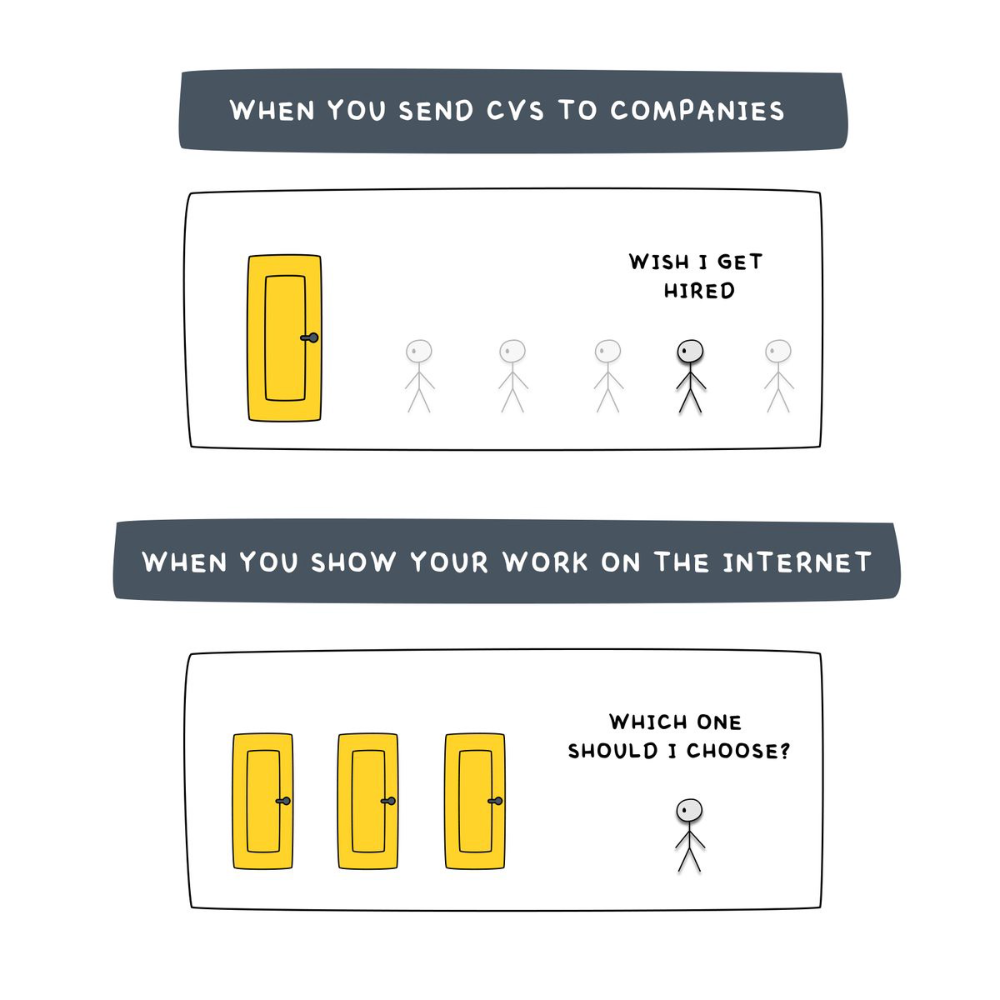 Online talents boost after-hours opportunities.
You go from wanting to be picked to picking yourself. More chances equal more money. Your f*ck you fund gets the extra cash.
A novel method of learning is essential.
College costs six figures and takes a lifetime to repay.
Informal learning is distinct. 6-12pm:
Observe the carefully controlled Twitter newsfeed.

Make use of Teachable and Gumroad's online courses.

Watch instructional YouTube videos

Look through the top Substack newsletters.
Informal learning is more effective because it's not obvious. It's fun to follow your curiosity and hobbies.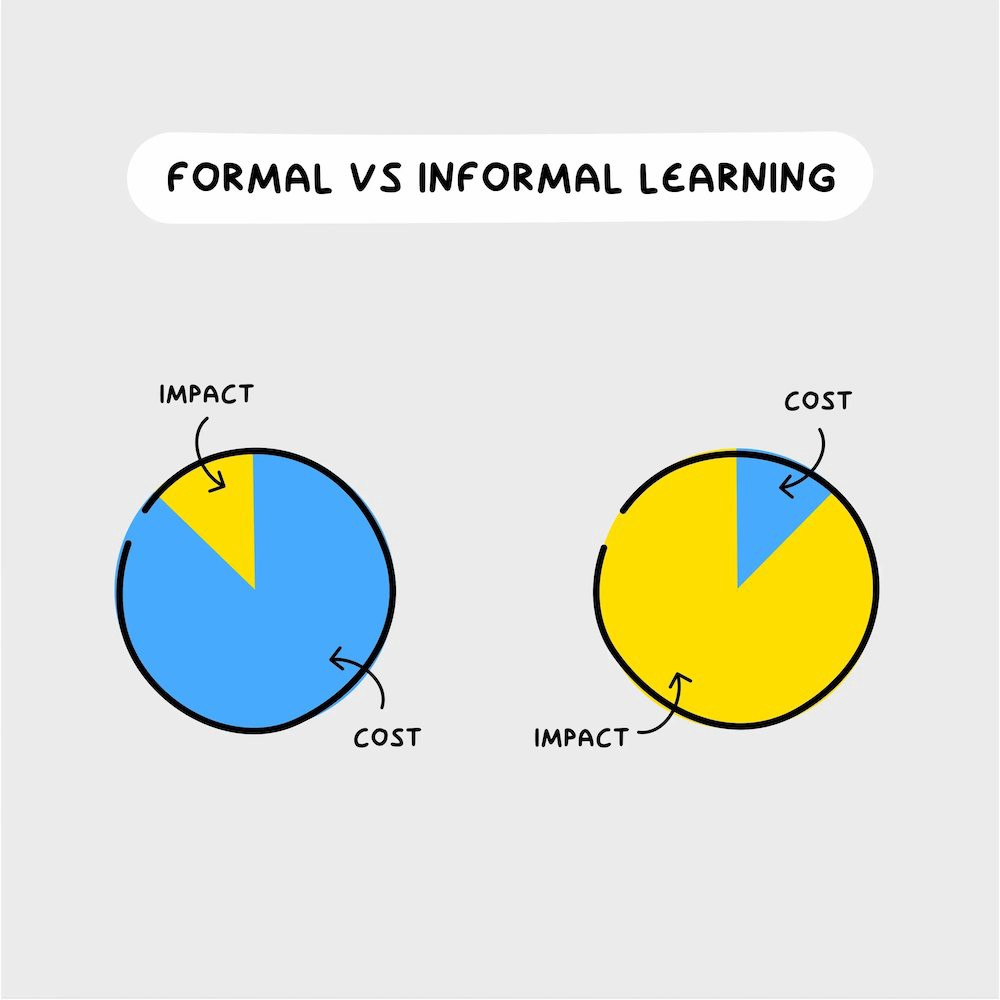 The majority of people lack one attitude. It's simple to learn.
One big impediment stands in the way of f*ck you money and time independence. So often.
Too many people plan after 6-12 hours. Dreaming. Big-thinkers. Strategically. They fill their calendar with meetings.
This is after-hours masturb*tion.
Sahil Bloom reminded me that a bias towards action will determine if this approach works for you.
The key isn't knowing what to do from 6-12 a.m. Trust yourself and develop abilities as you go. It's for building the parachute after you jump.
Sounds risky. We've eliminated the risk by finishing this process after hours while you work 9-5.
With no risk, you can have an I-don't-care attitude and still be successful.
When you choose to move forward, this occurs.
Once you try 9-5/6-12, you'll tell someone.
It's bad.
Few of us hang out with problem-solvers.
It's how much of society operates. So they make reasons so they can feel better about not giving you money.
Matthew Kobach told me chasing f*ck you money is easier with like-minded folks.
Without f*ck you money friends, loneliness will take over and you'll think you've messed up when you just need to keep going.
Steal this easy guideline
Let's act. No more fluffing and caressing.
1. Learn
If you detest your 9-5 talents or don't think they'll work online, get new ones. If you're skilled enough, continue.
Easlo recommends these skills:
Designer for Figma

Designer Canva

bubble creators

editor in Photoshop

Automation consultant for Zapier

Designer of Webflow

video editor Adobe

Ghostwriter for Twitter

Idea consultant

Artist in Blender Studio
2. Develop the ability
Every night from 6-12, apply the skill.
Practicing ghostwriting? Write someone's tweets for free. Do someone's website copy to learn copywriting. Get a website to the top of Google for a keyword to understand SEO.
Free practice is crucial. Your 9-5 pays the money, so work for free.
3. Take off stealthily like a badass
Another mistake. Sell to few. Don't be the best. Don't claim expertise.
Sell your new expertise to others behind you.
Two ways:
Using a digital good

By providing a service,
Point 1 also includes digital service examples. Digital products include eBooks, communities, courses, ad-supported podcasts, and templates. It's easy. Your 9-5 job involves one of these.
Take ideas from work.
Why? They'll steal your time for profit.
4. Iterate while feeling awful
First-time launches always fail. You'll feel terrible. Okay. Remember your 9-5?
Find improvements. Ask free and paying consumers what worked.
Multiple relaunches, each 1% better.
5. Discover more
Never stop learning. Improve your skill. Add a relevant skill. Learn copywriting if you write online.
After-hours students earn the most.
6. Continue
Repetition is key.
7. Make this one small change.
Consistently. The 6-12 momentum won't make you rich in 30 days; that's success p*rn.
Consistency helps wage slaves become f*ck you money. Most people can't switch between the two.
Putting everything together
It's easy. You're probably already doing some.
This formula explains why, how, and what to do. It's a 5th-grade-friendly blueprint. Good.
Reduce financial risk with your 9-to-5. Replace Netflix with 6-12 money-making talents.
Life is short; do whatever you want. Today.
You might also like
Three Books That Can Change Your Life in a Day
I've summarized each.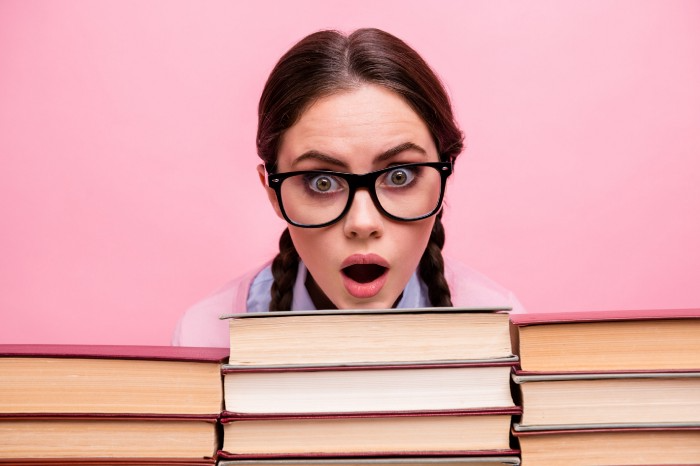 Anne Lamott said books are important. Books help us understand ourselves and our behavior. They teach us about community, friendship, and death.
I read. One of my few life-changing habits. 100+ books a year improve my life. I'll list life-changing books you can read in a day. I hope you like them too.
Let's get started!
1) Seneca's Letters from a Stoic
One of my favorite philosophy books. Ryan Holiday, Naval Ravikant, and other prolific readers recommend it.
Seneca wrote 124 letters at the end of his life after working for Nero. Death, friendship, and virtue are discussed.
It's worth rereading. When I'm in trouble, I consult Seneca.
It's brief. The book could be read in one day. However, use it for guidance during difficult times.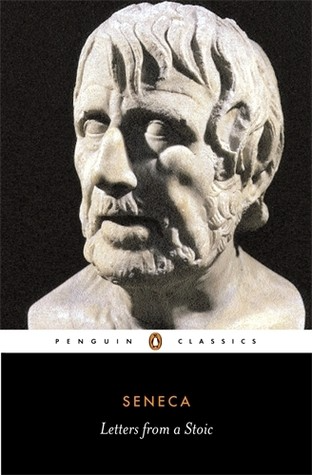 My favorite book quotes:
Many men find that becoming wealthy only alters their problems rather than solving them.

You will never be poor if you live in harmony with nature; you will never be wealthy if you live according to what other people think.

We suffer more frequently in our imagination than in reality; there are more things that are likely to frighten us than to crush us.
2) Steven Pressfield's book The War of Art
I've read this book twice. I'll likely reread it before 2022 is over.
The War Of Art is the best productivity book. Steven offers procrastination-fighting tips.
Writers, musicians, and creative types will love The War of Art. Workplace procrastinators should also read this book.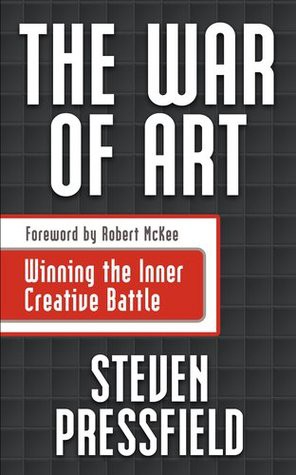 My favorite book quotes:
The act of creation is what matters most in art. Other than sitting down and making an effort every day, nothing else matters.

Working creatively is not a selfish endeavor or an attempt by the actor to gain attention. It serves as a gift for all living things in the world. Don't steal your contribution from us. Give us everything you have.

Fear is healthy. Fear is a signal, just like self-doubt. Fear instructs us on what to do. The more terrified we are of a task or calling, the more certain we can be that we must complete it.
3) Darren Hardy's The Compound Effect
The Compound Effect offers practical tips to boost productivity by 10x.
The author believes each choice shapes your future. Pizza may seem harmless. However, daily use increases heart disease risk.
Positive outcomes too. Daily gym visits improve fitness. Reading an hour each night can help you learn. Writing 1,000 words per day would allow you to write a novel in under a year.
Your daily choices affect compound interest and your future. Thus, better habits can improve your life.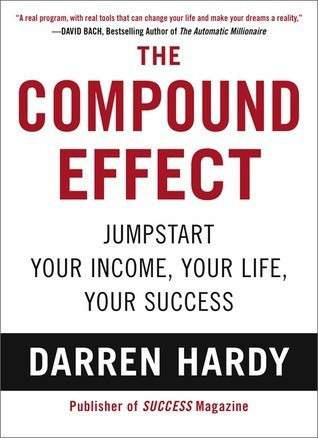 My favorite book quotes:
Until you alter a daily habit, you cannot change your life. The key to your success can be found in the actions you take each day.

The hundreds, thousands, or millions of little things are what distinguish the ordinary from the extraordinary; it is not the big things that add up in the end.

Don't worry about willpower. Time to use why-power. Only when you relate your decisions to your aspirations and dreams will they have any real meaning. The decisions that are in line with what you define as your purpose, your core self, and your highest values are the wisest and most inspiring ones. To avoid giving up too easily, you must want something and understand why you want it.
Reality Distortion
Old power paradigm blocks new planetary paradigm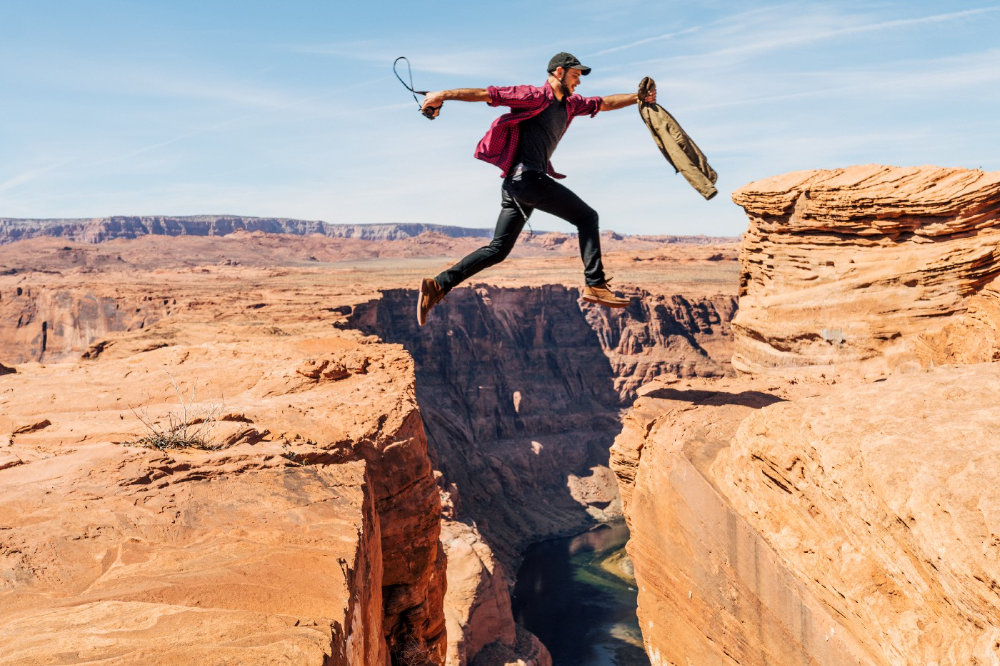 The difference between our reality and the media's reality is like a tale of two worlds. The greatest and worst of times, really.
Expanding information demands complex skills and understanding to separate important information from ignorance and crap. And that's just the start of determining the source's aim.
Trust who? We see people trust liars in public and then be destroyed by their decisions. Mistakes may be devastating.
Many give up and don't trust anyone. Reality is a choice, though. Same risks.
We must separate our needs and wants from reality. Needs and wants have rules. Greed and selfishness create an unlivable planet.
Culturally, we know this, but we ignore it as foolish. Selfish and greedy people obtain what they want, while others suffer.
We invade, plunder, rape, and burn. We establish civilizations by institutionalizing an exploitable underclass and denying its existence. These cultural lies promote greed and selfishness despite their destructiveness.
Controlling parts of society institutionalize these lies as fact. Many of each age are willing to gamble on greed because they were taught to see greed and selfishness as principles justified by prosperity.
Our cultural understanding recognizes the long-term benefits of collaboration and sharing. This older understanding generates an increasing tension between greedy people and those who see its planetary effects.
Survival requires distinguishing between global and regional realities. Simple, yet many can't do it. This is the first time human greed has had a global impact.
In the past, conflict stories focused on regional winners and losers. Losers lose, winners win, etc. Powerful people see potential decades of nuclear devastation as local, overblown, and not personally dangerous.
Mutually Assured Destruction (MAD) was a human choice that required people to acquiesce to irrational devastation. This prevented nuclear destruction. Most would refuse.
A dangerous "solution" relies on nuclear trigger-pullers not acting irrationally. Since then, we've collected case studies of sane people performing crazy things in experiments. We've been lucky, but the climate apocalypse could be different.
Climate disaster requires only continuing current behavior. These actions already cause global harm, but that's not a threat. These activities must be viewed differently.
Once grasped, denying planetary facts is hard to accept. Deniers can't think beyond regional power. Seeing planet-scale is unusual.
Decades of indoctrination defining any planetary perspective as un-American implies communal planetary assets are for plundering. The old paradigm limits any other view.
In the same way, the new paradigm sees the old regional power paradigm as a threat to planetary civilization and lifeforms. Insane!
While MAD relied on leaders not acting stupidly to trigger a nuclear holocaust, the delayed climatic holocaust needs correcting centuries of lunacy. We must stop allowing craziness in global leadership.
Nothing in our acknowledged past provides a paradigm for such. Only primitive people have failed to reach our level of sophistication.
Before European colonization, certain North American cultures built sophisticated regional nations but abandoned them owing to authoritarian cruelty and destruction. They were overrun by societies that saw no wrong in perpetual exploitation. David Graeber's The Dawn of Everything is an example of historical rediscovery, which is now crucial.
From the new paradigm's perspective, the old paradigm is irrational, yet it's too easy to see those in it as ignorant or malicious, if not both. These people are both, but the collapsing paradigm they promote is older or more ingrained than we think.
We can't shift that paradigm's view of a dead world. We must eliminate this mindset from our nations' leadership. No other way will preserve the earth.
Change is occurring. As always with tremendous transition, younger people are building the new paradigm.
The old paradigm's disintegration is insane. The ability to detect errors and abandon their sources is more important than age. This is gaining recognition.
The breakdown of the previous paradigm is not due to senile leadership, but to systemic problems that the current, conservative leadership cannot recognize.
Stop following the old paradigm.
Hector de Isidro
1 year ago
Why can't you speak English fluently even though you understand it?
Many of us have struggled for years to master a second language (in my case, English). Because (at least in my situation) we've always used an input-based system or method.
I'll explain in detail, but briefly: We can understand some conversations or sentences (since we've trained), but we can't give sophisticated answers or speak fluently (because we have NOT trained at all).
What exactly is input-based learning?
Reading, listening, writing, and speaking are key language abilities (if you look closely at that list, it seems that people tend to order them in this way: inadvertently giving more priority to the first ones than to the last ones).
These talents fall under two learning styles:
Reading and listening are input-based activities (sometimes referred to as receptive skills or passive learning).

Writing and speaking are output-based tasks (also known as the productive skills and/or active learning).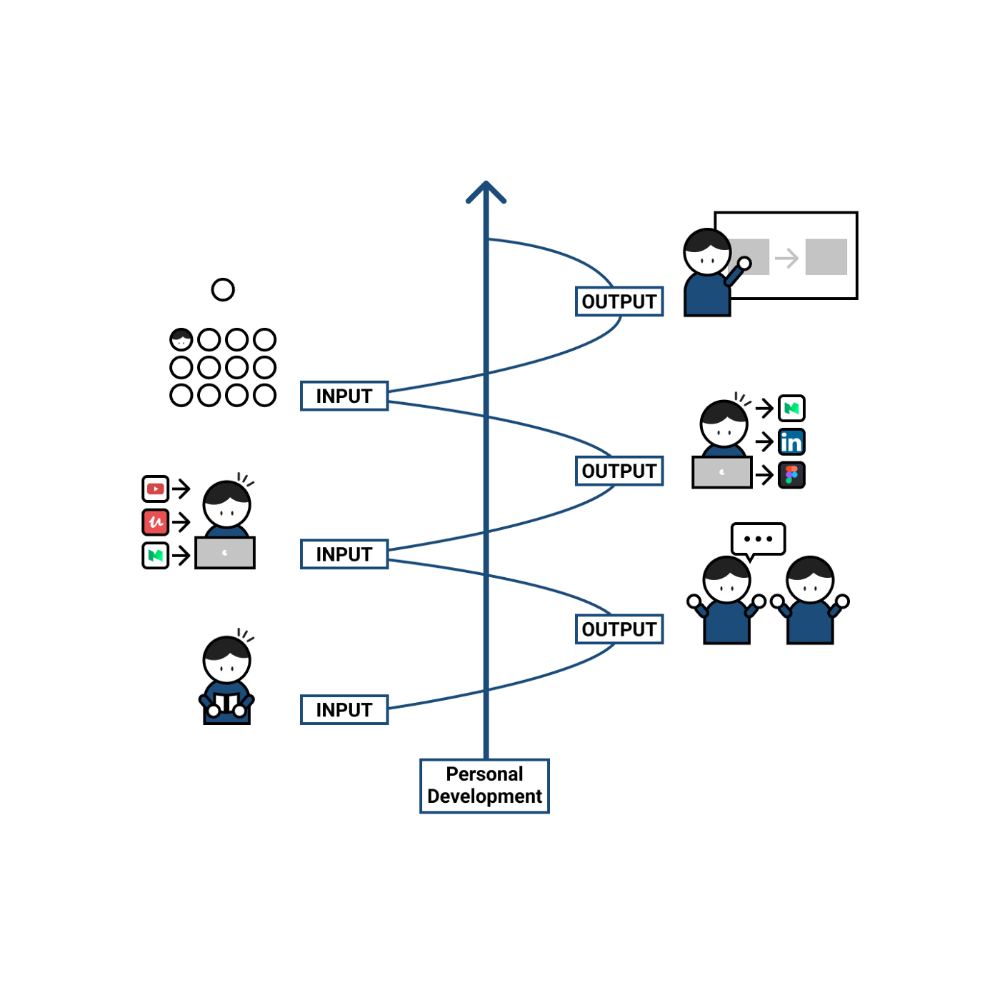 What's the best learning style? To learn a language, we must master four interconnected skills. The difficulty is how much time and effort we give each.
According to Shion Kabasawa's books The Power of Input: How to Maximize Learning and The Power of Output: How to Change Learning to Outcome (available only in Japanese), we spend 7:3 more time on Input Based skills than Output Based skills when we should be doing the opposite, leaning more towards Output (Input: Output->3:7).
I can't tell you how he got those numbers, but I think he's not far off because, for example, think of how many people say they're learning a second language and are satisfied bragging about it by only watching TV, series, or movies in VO (and/or reading a book or whatever) their Input is: 7:0 output!
You can't be good at a sport by watching TikTok videos about it; you must play.
"being pushed to produce language puts learners in a better position to notice the 'gaps' in their language knowledge", encouraging them to 'upgrade' their existing interlanguage system. And, as they are pushed to produce language in real time and thereby forced to automate low-level operations by incorporating them into higher-level routines, it may also contribute to the development of fluency. — Scott Thornbury (P is for Push)
How may I practice output-based learning more?
I know that listening or reading is easy and convenient because we can do it on our own in a wide range of situations, even during another activity (although, as you know, it's not ideal), writing can be tedious/boring (it's funny that we almost always excuse ourselves in the lack of ideas), and speaking requires an interlocutor. But we must leave our comfort zone and modify our thinking to go from 3:7 to 7:3. (or at least balance it better to something closer). Gradually.
"You don't have to do a lot every day, but you have to do something. Something. Every day." — Callie Oettinger (Do this every day)
We can practice speaking like boxers shadow box.
Speaking out loud strengthens the mind-mouth link (otherwise, you will still speak fluently in your mind but you will choke when speaking out loud). This doesn't mean we should talk to ourselves on the way to work, while strolling, or on public transportation. We should try to do it without disturbing others, such as explaining what we've heard, read, or seen (the list is endless: you can TALK about what happened yesterday, your bedtime book, stories you heard at the office, that new kitten video you saw on Instagram, an experience you had, some new fact, that new boring episode you watched on Netflix, what you ate, what you're going to do next, your upcoming vacation, what's trending, the news of the day)
Who will correct my grammar, vocabulary, or pronunciation with an imagined friend? We can't have everything, but tools and services can help [1].
Lack of bravery
Fear of speaking a language different than one's mother tongue in front of native speakers is global. It's easier said than done, because strangers, not your friends, will always make fun of your accent or faults. Accept it and try again. Karma will prevail.
Perfectionism is a trap. Stop self-sabotaging. Communication is key (and for that you have to practice the Output too ).
"Don't forget to have fun and enjoy the process." — Ruri Ohama
[1] Grammarly, Deepl, Google Translate, etc.