More on Personal Growth
Three Books That Can Change Your Life in a Day
I've summarized each.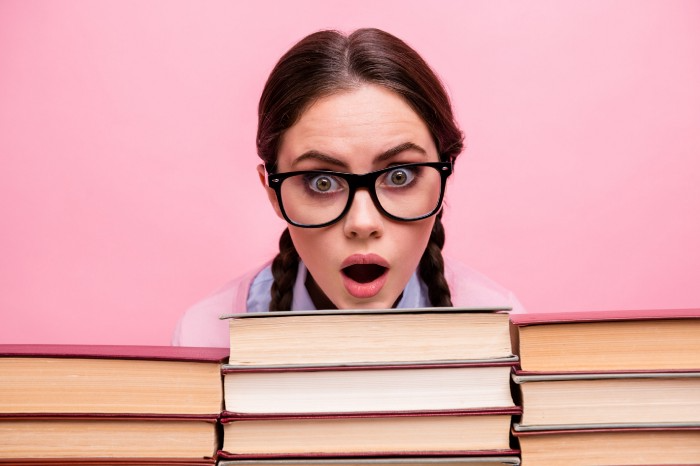 Anne Lamott said books are important. Books help us understand ourselves and our behavior. They teach us about community, friendship, and death.
I read. One of my few life-changing habits. 100+ books a year improve my life. I'll list life-changing books you can read in a day. I hope you like them too.
Let's get started!
1) Seneca's Letters from a Stoic
One of my favorite philosophy books. Ryan Holiday, Naval Ravikant, and other prolific readers recommend it.
Seneca wrote 124 letters at the end of his life after working for Nero. Death, friendship, and virtue are discussed.
It's worth rereading. When I'm in trouble, I consult Seneca.
It's brief. The book could be read in one day. However, use it for guidance during difficult times.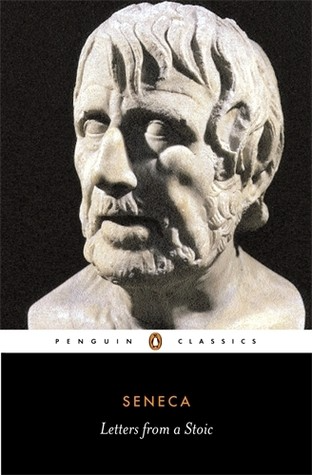 My favorite book quotes:
Many men find that becoming wealthy only alters their problems rather than solving them.

You will never be poor if you live in harmony with nature; you will never be wealthy if you live according to what other people think.

We suffer more frequently in our imagination than in reality; there are more things that are likely to frighten us than to crush us.
2) Steven Pressfield's book The War of Art
I've read this book twice. I'll likely reread it before 2022 is over.
The War Of Art is the best productivity book. Steven offers procrastination-fighting tips.
Writers, musicians, and creative types will love The War of Art. Workplace procrastinators should also read this book.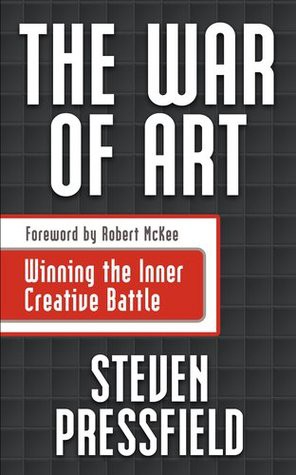 My favorite book quotes:
The act of creation is what matters most in art. Other than sitting down and making an effort every day, nothing else matters.

Working creatively is not a selfish endeavor or an attempt by the actor to gain attention. It serves as a gift for all living things in the world. Don't steal your contribution from us. Give us everything you have.

Fear is healthy. Fear is a signal, just like self-doubt. Fear instructs us on what to do. The more terrified we are of a task or calling, the more certain we can be that we must complete it.
3) Darren Hardy's The Compound Effect
The Compound Effect offers practical tips to boost productivity by 10x.
The author believes each choice shapes your future. Pizza may seem harmless. However, daily use increases heart disease risk.
Positive outcomes too. Daily gym visits improve fitness. Reading an hour each night can help you learn. Writing 1,000 words per day would allow you to write a novel in under a year.
Your daily choices affect compound interest and your future. Thus, better habits can improve your life.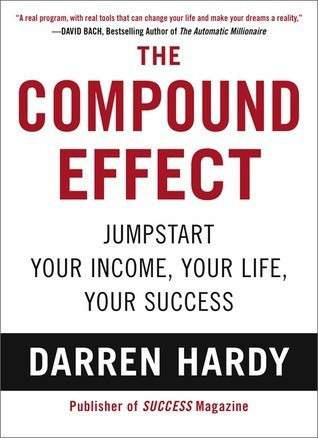 My favorite book quotes:
Until you alter a daily habit, you cannot change your life. The key to your success can be found in the actions you take each day.

The hundreds, thousands, or millions of little things are what distinguish the ordinary from the extraordinary; it is not the big things that add up in the end.

Don't worry about willpower. Time to use why-power. Only when you relate your decisions to your aspirations and dreams will they have any real meaning. The decisions that are in line with what you define as your purpose, your core self, and your highest values are the wisest and most inspiring ones. To avoid giving up too easily, you must want something and understand why you want it.
Mia Gradelski
5 months ago
Six Things Best-With-Money People Do Follow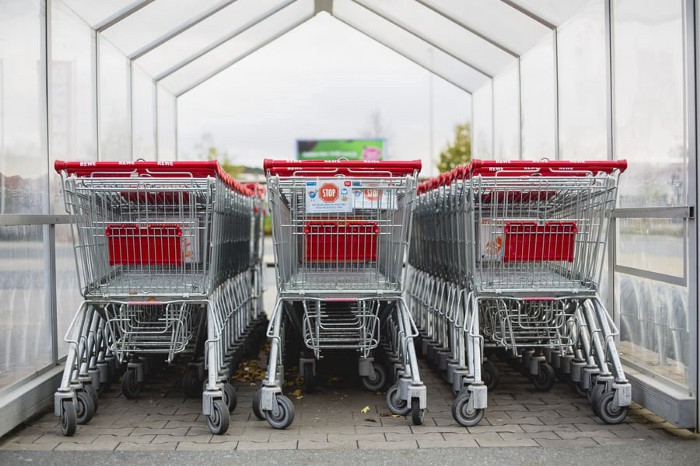 I shouldn't generalize, yet this is true.
Spending is simpler than earning.
Prove me wrong, but with home debt at $145k in 2020 and individual debt at $67k, people don't have their priorities straight.
Where does this loan originate?
Under-50 Americans owed $7.86 trillion in Q4 20T. That's more than the US's 3-trillion-dollar deficit.
Here's a breakdown:
🏡 Mortgages/Home Equity Loans = $5.28 trillion (67%)
🎓 Student Loans = $1.20 trillion (15%)
🚗 Auto Loans = $0.80 trillion (10%)
💳 Credit Cards = $0.37 trillion (5%)
🏥 Other/Medical = $0.20 trillion (3%)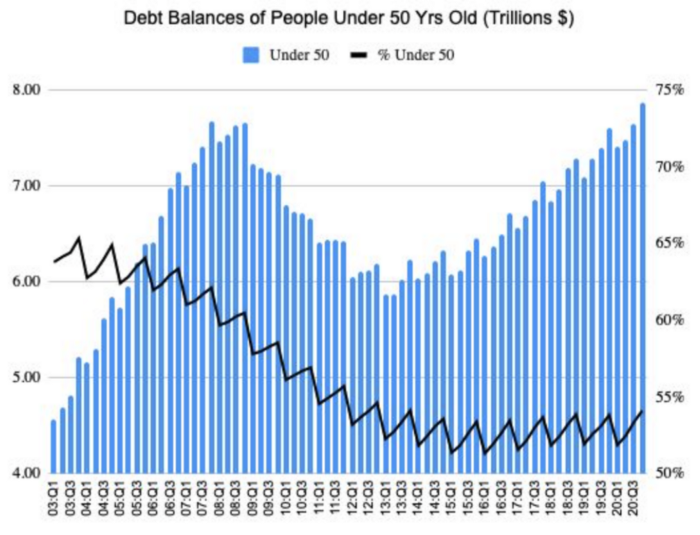 Images.google.com
At least the Fed and government can explain themselves with their debt balance which includes:
-Providing stimulus packages 2x for Covid relief
-Stabilizing the economy
-Reducing inflation and unemployment
-Providing for the military, education and farmers
No American should have this much debt.
Don't get me wrong. Debt isn't all the same. Yes, it's a negative number but it carries different purposes which may not be all bad.
Good debt: Use those funds in hopes of them appreciating as an investment in the future
-Student loans
-Business loan
-Mortgage, home equity loan
-Experiences
Paying cash for a home is wasteful. Just if the home is exceptionally uncommon, only 1 in a million on the market, and has an incredible bargain with numerous bidders seeking higher prices should you do so.
To impress the vendor, pay cash so they can sell it quickly. Most people can't afford most properties outright. Only 15% of U.S. homebuyers can afford their home. Zillow reports that only 37% of homes are mortgage-free.
People have clearly overreached.
Ignore appearances.
5% down can buy a 10-bedroom mansion.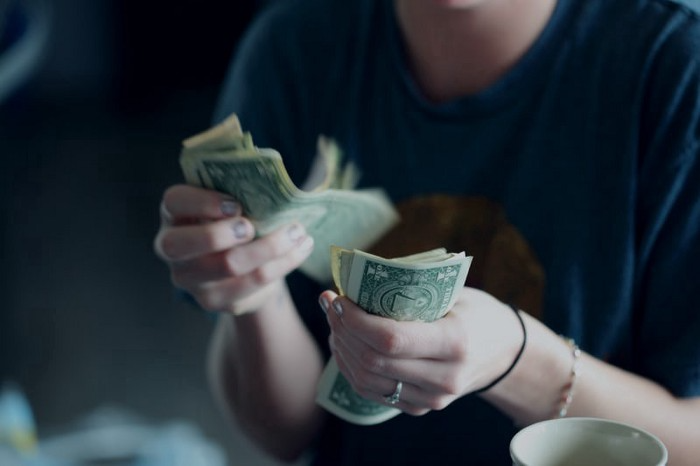 Not paying in cash isn't necessarily a negative thing given property prices have increased by 30% since 2008, and throughout the epidemic, we've seen work-from-homers resort to the midwest, avoiding pricey coastal cities like NYC and San Francisco.
By no means do I think NYC is dead, nothing will replace this beautiful city that never sleeps, and now is the perfect time to rent or buy when everything is below average value for people who always wanted to come but never could. Once social distance ends, cities will recover. 24/7 sardine-packed subways prove New York isn't designed for isolation.
When buying a home, pay 20% cash and the balance with a mortgage. A mortgage must be incorporated into other costs such as maintenance, brokerage fees, property taxes, etc. If you're stuck on why a home isn't right for you, read here. A mortgage must be paid until the term date. Whether its a 10 year or 30 year fixed mortgage, depending on interest rates, especially now as the 10-year yield is inching towards 1.25%, it's better to refinance in a lower interest rate environment and pay off your debt as well since the Fed will be inching interest rates up following the 10-year eventually to stabilize the economy, but I believe that won't be until after Covid and when businesses like luxury, air travel, and tourism will get bashed.
Bad debt: I guess the contrary must be true. There is no way to profit from the loan in the future, therefore it is just money down the drain.
-Luxury goods
-Credit card debt
-Fancy junk
-Vacations, weddings, parties, etc.
Credit cards and school loans are the two largest risks to the financial security of those under 50 since banks love to compound interest to affect your credit score and make it tougher to take out more loans, not that you should with that much debt anyhow. With a low credit score and heavy debt, banks take advantage of you because you need aid to pay more for their services. Paying back debt is the challenge for most.
Choose Not Chosen
As a financial literacy advocate and blogger, I prefer not to brag, but I will now. I know what to buy and what to avoid. My parents educated me to live a frugal, minimalist stealth wealth lifestyle by choice, not because we had to.
That's the lesson.
The poorest person who shows off with bling is trying to seem rich.
Rich people know garbage is a bad investment. Investing in education is one of the best long-term investments. With information, you can do anything.
Good with money shun some items out of respect and appreciation for what they have.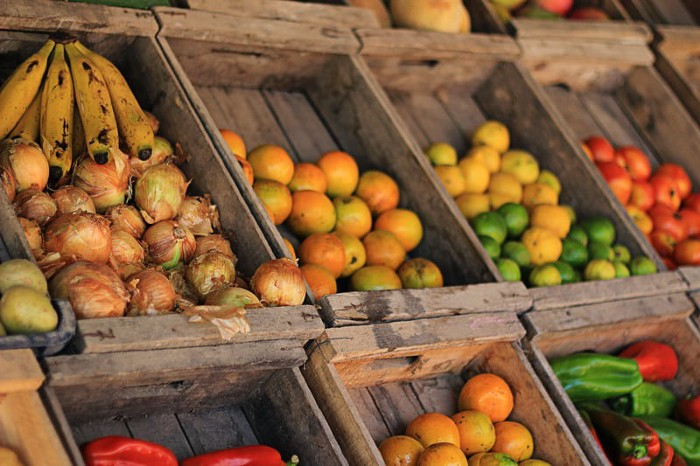 Less is more.
Instead of copying the Joneses, use what you have. They may look cheerful and stylish in their 20k ft home, yet they may be as broke as OJ Simpson in his 20-bedroom mansion.
Let's look at what appears good to follow and maintain your wealth.
#1: Quality comes before quantity
Being frugal doesn't entail being cheap and cruel. Rich individuals care about relationships and treating others correctly, not impressing them. You don't have to be rich to be good with money, although most are since they don't live the fantasy lifestyle.
Underspending is appreciating what you have.
Many people believe organic food is the same as washing chemical-laden produce. Hopefully. Organic, vegan, fresh vegetables from upstate may be more expensive in the short term, but they will help you live longer and save you money in the long run.
Consider. You'll save thousands a month eating McDonalds 3x a day instead of fresh seafood, veggies, and organic fruit, but your life will be shortened. If you want to save money and die early, go ahead, but I assume we all want to break the world record for longest person living and would rather spend less. Plus, elderly people get tax breaks, medicare, pensions, 401ks, etc. You're living for free, therefore eating fast food forever is a terrible decision.
With a few longer years, you may make hundreds or millions more in the stock market, spend more time with family, and just live.
Folks, health is wealth.
Consider the future benefit, not simply the cash sign. Cheapness is useless.
Same with stuff. Don't stock your closet with fast-fashion you can't wear for years. Buying inexpensive goods that will fail tomorrow is stupid.
Investing isn't only in stocks. You're living. Consume less.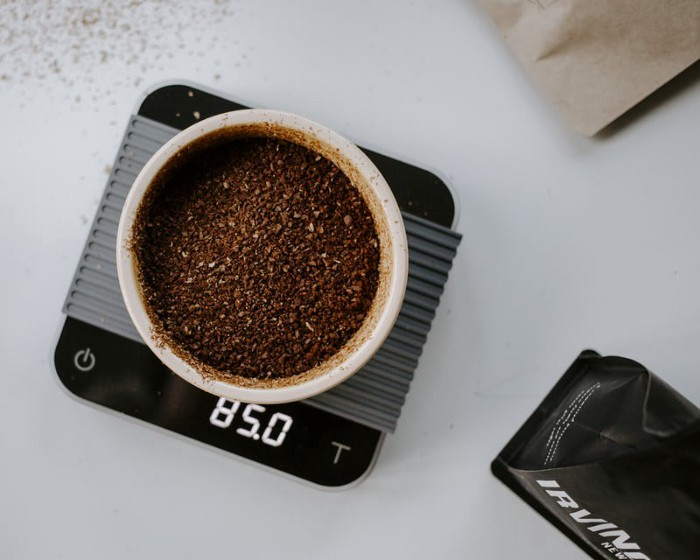 #2: If you cannot afford it twice, you cannot afford it once
I learned this from my dad in 6th grade. I've been lucky to travel, experience things, go to a great university, and conduct many experiments that others without a stable, decent lifestyle can afford.
I didn't live this way because of my parents' paycheck or financial knowledge.
Saving and choosing caused it.
I always bring cash when I shop. I ditch Apple Pay and credit cards since I can spend all I want on even if my account bounces.
Banks are nasty. When you lose it, they profit.
Cash hinders banks' profits. Carrying a big, hefty wallet with cash is lame and annoying, but it's the best method to only spend what you need. Not for vacation, but for tiny daily expenses.
Physical currency lets you know how much you have for lunch or a taxi.
It's physical, thus losing it prevents debt.
If you can't afford it, it will harm more than help.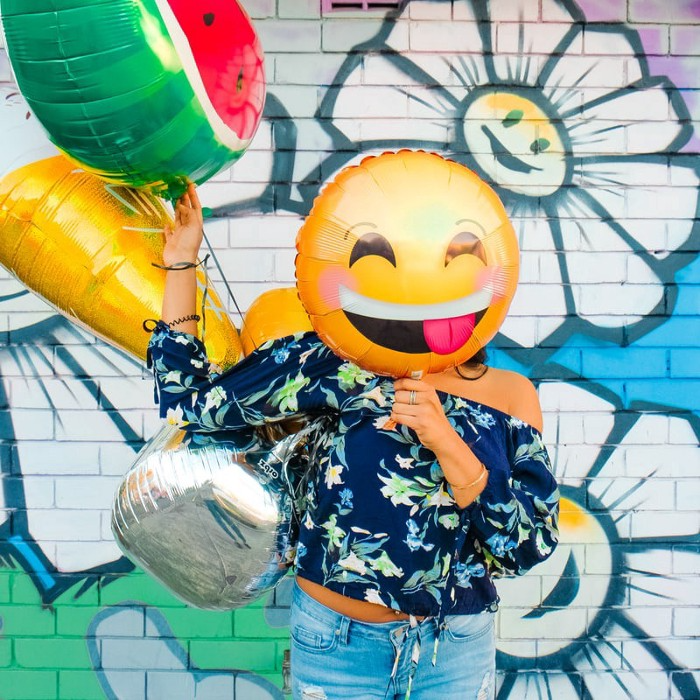 #3: You really can purchase happiness with money.
If used correctly, yes.
Happiness and satisfaction differ.
It won't bring you fulfillment because you must work hard on your own to help others, but you can travel and meet individuals you wouldn't otherwise meet.
You can meet your future co-worker or strike a deal while waiting an hour in first class for takeoff, or you can meet renowned people at a networking brunch.
Seen a pattern here?
Your time and money are best spent on connections. Not automobiles or firearms. That's just stuff. It doesn't make you a better person.
Be different if you've earned less. Instead of trying to win the lotto or become an NFL star for your first big salary, network online for free.
Be resourceful. Sign up for LinkedIn, post regularly, and leave unengaged posts up because that shows power.
Consistency is beneficial.
I did that for a few months and met amazing people who helped me get jobs. Money doesn't create jobs, it creates opportunities.
Resist social media and scammers that peddle false hopes.
Choose wisely.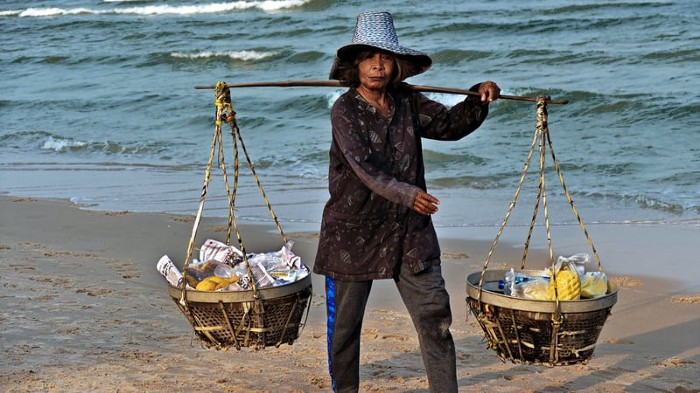 #4: Avoid gushing over titles and purchasing trash.
As Insider's Hillary Hoffower reports, "Showing off wealth is no longer the way to signify having wealth. In the US particularly, the top 1% have been spending less on material goods since 2007."
I checked my closet. No brand comes to mind. I've never worn a brand's logo and rotate 6 white shirts daily. I have my priorities and don't waste money or effort on clothing that won't fit me in a year.
Unless it's your full-time work, clothing shouldn't be part of our mornings.
Lifestyle of stealth wealth. You're so fulfilled that seeming homeless won't hurt your self-esteem.
That's self-assurance.
Extroverts aren't required.
That's irrelevant.
Showing off won't win you friends.
They'll like your personality.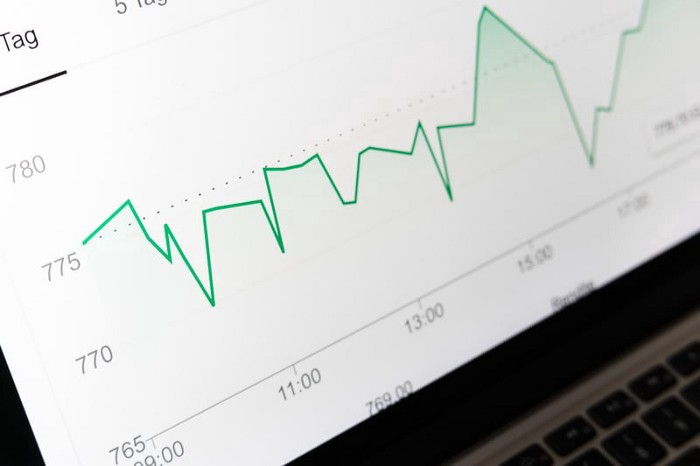 #5: Time is the most valuable commodity.
Being rich doesn't entail working 24/7 M-F.
They work when they are ready to work.
Waking up at 5 a.m. won't make you a millionaire, but it will inculcate diligence and tenacity in you.
You have a busy day yet want to exercise. You can skip the workout or wake up at 4am instead of 6am to do it.
Emotion-driven lazy bums stay in bed.
Those that are accountable keep their promises because they know breaking one will destroy their week.
Since 7th grade, I've worked out at 5am for myself, not to impress others. It gives me greater energy to contribute to others, especially on weekends and holidays.
It's a habit that I have in my life.
Find something that you take seriously and makes you a better person.
As someone who is close to becoming a millionaire and has encountered them throughout my life, I can share with you a few important differences that have shaped who we are as a society based on the weekends:
-Read
-Sleep
-Best time to work with no distractions
-Eat together
-Take walks and be in nature
-Gratitude
-Major family time
-Plan out weeks
-Go grocery shopping because health = wealth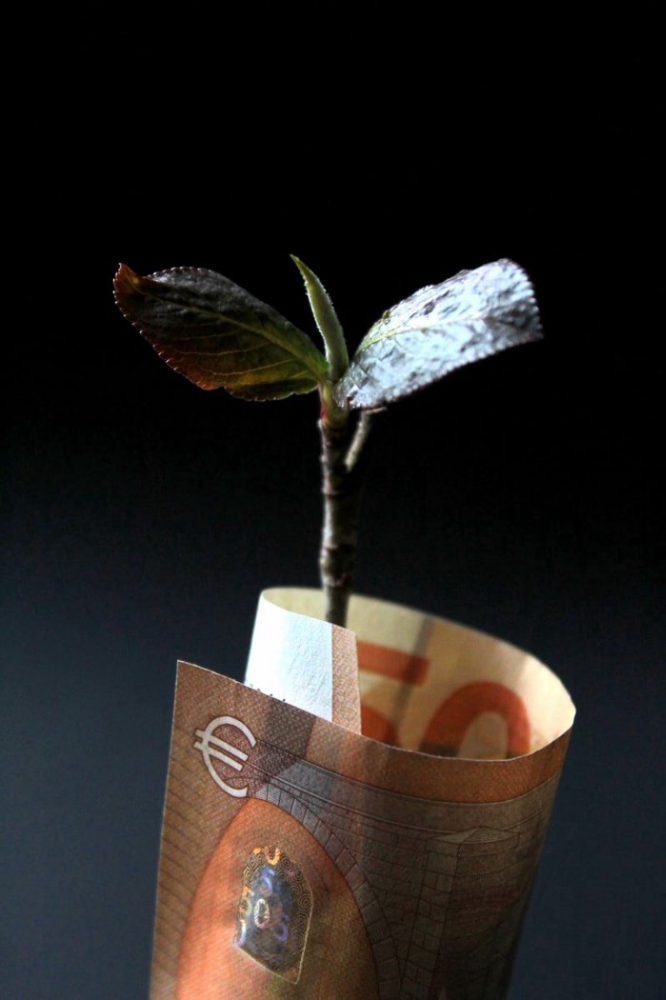 #6. Perspective is Important
Timing the markets will slow down your career. Professors preach scarcity, not abundance. Why should school teach success? They give us bad advice.
If you trust in abundance and luck by attempting and experimenting, growth will come effortlessly. Passion isn't a term that just appears. Mistakes and fresh people help. You can get money. If you don't think it's worth it, you won't.
You don't have to be wealthy to be good at money, but most are for these reasons.  Rich is a mindset, wealth is power. Prioritize your resources. Invest in yourself, knowing the toughest part is starting.
Thanks for reading!
I read three of Elon Musk's suggested books (And His Taste Is Incredible)
A reading list for successful people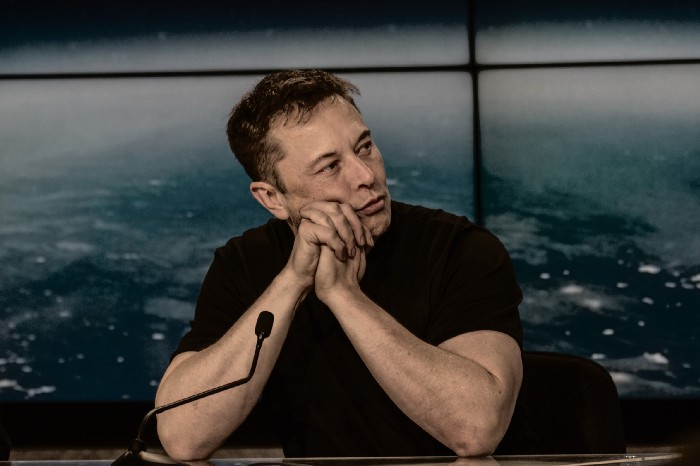 Elon Musk reads and talks. So, one learns. Many brilliant individuals & amazing literature.
This article recommends 3 Elon Musk novels. All of them helped me succeed. Hope they'll help you.
Douglas Adams's The Hitchhiker's Guide to the Galaxy
Page Count: 193
Rating on Goodreads: 4.23
Arthur Dent is pulled off Earth by a buddy seconds before it's razed for a cosmic motorway. The trio hitchhikes through space and gets into problems.
I initially read Hitchhiker's as a child. To evade my mum, I'd read with a flashlight under the covers. She'd scold at me for not sleeping on school nights when she found out. Oops.
The Hitchhiker's Guide to the Galaxy is lighthearted science fiction.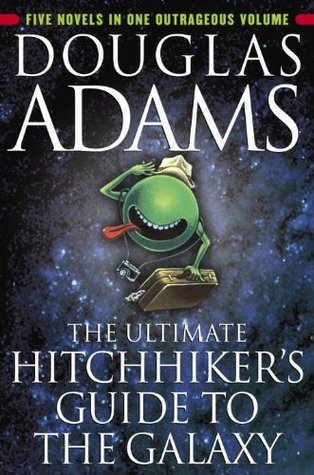 My favorite book quotes are:
"Space is big. You won't believe how vastly, hugely, mind-bogglingly big it is. I mean, you may think it's a long way down the road to the chemist's, but that's just peanuts to space."

"Far out in the uncharted backwaters of the unfashionable end of the western spiral arm of the Galaxy lies a small unregarded yellow sun. Orbiting this at a distance of roughly ninety-two million miles is an utterly insignificant little blue-green planet whose ape-descended life forms are so amazingly primitive that they still think digital watches are a pretty neat idea."

"On planet Earth, man had always assumed that he was more intelligent than dolphins because he had achieved so much — the wheel, New York, wars, and so on — whilst all the dolphins had ever done was muck about in the water having a good time. But conversely, the dolphins had always believed that they were far more intelligent than man — for precisely the same reasons."
the Sun Tzu book The Art Of War
Page Count: 273
Rating on Goodreads: 3.97
It's a classic. You may apply The Art of War's ideas to (nearly) every facet of life. Ex:
Pick your fights.

Keep in mind that timing is crucial.

Create a backup plan in case something goes wrong.

Obstacles provide us a chance to adapt and change.
This book was my first. Since then, I'm a more strategic entrepreneur. Excellent book. And read it ASAP!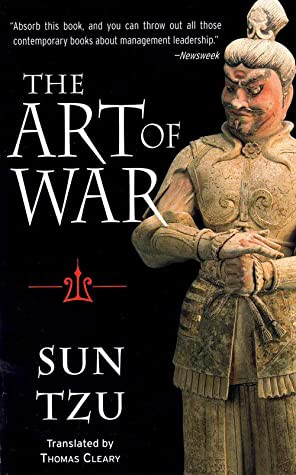 My favorite book quotes are:
"Victorious warriors win first and then go to war, while defeated warriors go to war first and then seek to win."

"Engage people with what they expect; it is what they are able to discern and confirms their projections. It settles them into predictable patterns of response, occupying their minds while you wait for the extraordinary moment — that which they cannot anticipate."

"If you know the enemy and know yourself, you need not fear the result of a hundred battles. If you know yourself but not the enemy, for every victory gained, you will also suffer a defeat. If you know neither the enemy nor yourself, you will succumb in every battle."
Peter Thiel's book Zero to One
Page Count: 195
Rating on Goodreads: 4.18
Peter argues the best money-making strategies are typically unproven. Entrepreneurship should never have a defined path to success. Whoever says differently is lying.
Zero to One explores technology and society. Peter is a philosophy major and law school graduate, which informs the work.
Peters' ideas, depth, and intellect stood out in Zero to One. It's a top business book.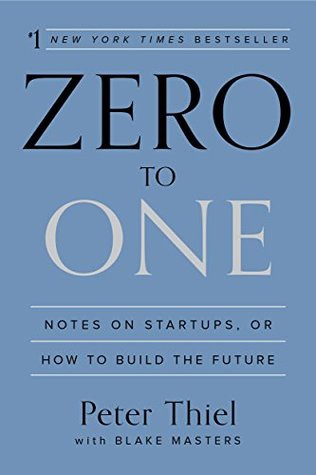 My favorite book quotes are:
"The most valuable businesses of coming decades will be built by entrepreneurs who seek to empower people rather than try to make them obsolete."

"The next Bill Gates will not build an operating system. The next Larry Page or Sergey Brin won't make a search engine. And the next Mark Zuckerberg won't create a social network. If you are copying these guys, you aren't learning from them."

"If your goal is to never make a mistake in your life, you shouldn't look for secrets. The prospect of being lonely but right — dedicating your life to something that no one else believes in — is already hard. The prospect of being lonely and wrong can be unbearable."
You might also like
Edward Williams
2 months ago
I currently manage 4 profitable online companies. I find all the generic advice and garbage courses very frustrating. The only advice you need is this.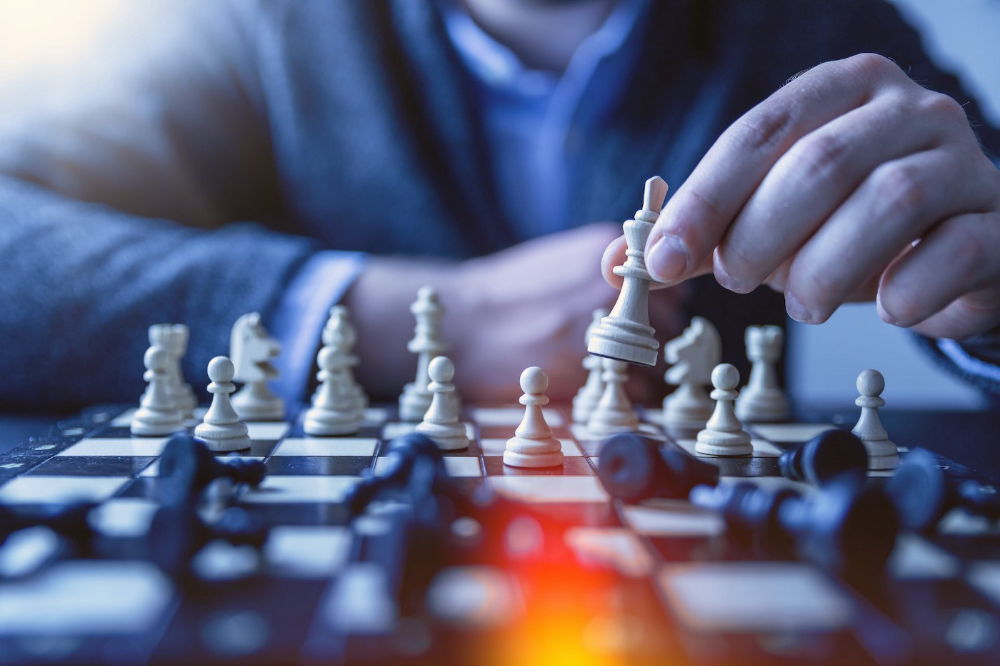 This is for young entrepreneurs, especially in tech.
People give useless success advice on TikTok and Reddit. Early risers, bookworms, etc. Entrepreneurship courses. Work hard and hustle.
False. These aren't successful traits.
I mean, organization is good. As someone who founded several businesses and now works at a VC firm, I find these tips to be clichés.
Based on founding four successful businesses and working with other successful firms, here's my best actionable advice:
1. Choose a sector or a niche and become an expert in it.
This is more generic than my next tip, but it's a must-do that's often overlooked. Become an expert in the industry or niche you want to enter. Discover everything.
Buy (future) competitors' products. Understand consumers' pain points. Market-test. Target keyword combos. Learn technical details.
The most successful businesses I've worked with were all formed by 9-5 employees. They knew the industry's pain points. They started a business targeting these pain points.
2. Choose a niche or industry crossroads to target.
How do you choose an industry or niche? What if your industry is too competitive?
List your skills and hobbies. Randomness is fine. Find an intersection between two interests or skills.
Say you build websites well. You like cars.
Web design is a *very* competitive industry. Cars and web design?
Instead of web design, target car dealers and mechanics. Build a few fake demo auto mechanic websites, then cold call shops with poor websites. Verticalize.
I've noticed a pattern:
Person works in a particular industry for a corporation.

Person gains expertise in the relevant industry.

Person quits their job and launches a small business to address a problem that their former employer was unwilling to address.
I originally posted this on Reddit and it seemed to have taken off so I decided to share it with you all.
Focus on the product. When someone buys from you, you convince them the product's value exceeds the price. It's not fair and favors the buyer.
Creating a superior product or service will win. Narrowing this helps you outcompete others.
You may be their only (lucky) option.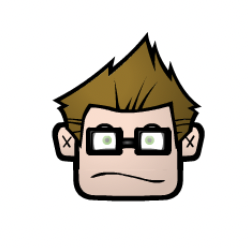 2000s Toys, Secrets, and Cycles
During the dot-com bust, I started my internet career. People used the internet intermittently to check email, plan travel, and do research. The average internet user spent 30 minutes online a day, compared to 7 today. To use the internet, you had to "log on" (most people still used dial-up), unlike today's always-on, high-speed mobile internet. In 2001, Amazon's market cap was $2.2B, 1/500th of what it is today. A study asked Americans if they'd adopt broadband, and most said no. They didn't see a need to speed up email, the most popular internet use. The National Academy of Sciences ranked the internet 13th among the 100 greatest inventions, below radio and phones. The internet was a cool invention, but it had limited uses and wasn't a good place to build a business. 
A small but growing movement of developers and founders believed the internet could be more than a read-only medium, allowing anyone to create and publish. This is web 2. The runner up name was read-write web. (These terms were used in prominent publications and conferences.) 
Web 2 concepts included letting users publish whatever they want ("user generated content" was a buzzword), social graphs, APIs and mashups (what we call composability today), and tagging over hierarchical navigation. Technical innovations occurred. A seemingly simple but important one was dynamically updating web pages without reloading. This is now how people expect web apps to work. Mobile devices that could access the web were niche (I was an avid Sidekick user). 
The contrast between what smart founders and engineers discussed over dinner and on weekends and what the mainstream tech world took seriously during the week was striking. Enterprise security appliances, essentially preloaded servers with security software, were a popular trend. Many of the same people would talk about "serious" products at work, then talk about consumer internet products and web 2. It was tech's biggest news. Web 2 products were seen as toys, not real businesses. They were hobbies, not work-related. 
There's a strong correlation between rich product design spaces and what smart people find interesting, which took me some time to learn and led to blog posts like "The next big thing will start out looking like a toy" Web 2's novel product design possibilities sparked dinner and weekend conversations. Imagine combining these features. What if you used this pattern elsewhere? What new product ideas are next? This excited people. "Serious stuff" like security appliances seemed more limited. 
The small and passionate web 2 community also stood out. I attended the first New York Tech meetup in 2004. Everyone fit in Meetup's small conference room. Late at night, people demoed their software and chatted. I have old friends. Sometimes I get asked how I first met old friends like Fred Wilson and Alexis Ohanian. These topics didn't interest many people, especially on the east coast. We were friends. Real community. Alex Rampell, who now works with me at a16z, is someone I met in 2003 when a friend said, "Hey, I met someone else interested in consumer internet." Rare. People were focused and enthusiastic. Revolution seemed imminent. We knew a secret nobody else did. 
My web 2 startup was called SiteAdvisor. When my co-founders and I started developing the idea in 2003, web security was out of control. Phishing and spyware were common on Internet Explorer PCs. SiteAdvisor was designed to warn users about security threats like phishing and spyware, and then, using web 2 concepts like user-generated reviews, add more subjective judgments (similar to what TrustPilot seems to do today). This staged approach was common at the time; I called it "Come for the tool, stay for the network." We built APIs, encouraged mashups, and did SEO marketing. 
Yahoo's 2005 acquisitions of Flickr and Delicious boosted web 2 in 2005. By today's standards, the amounts were small, around $30M each, but it was a signal. Web 2 was assumed to be a fun hobby, a way to build cool stuff, but not a business. Yahoo was a savvy company that said it would make web 2 a priority. 
As I recall, that's when web 2 started becoming mainstream tech. Early web 2 founders transitioned successfully. Other entrepreneurs built on the early enthusiasts' work. Competition shifted from ideation to execution. You had to decide if you wanted to be an idealistic indie bar band or a pragmatic stadium band. 
Web 2 was booming in 2007 Facebook passed 10M users, Twitter grew and got VC funding, and Google bought YouTube. The 2008 financial crisis tested entrepreneurs' resolve. Smart people predicted another great depression as tech funding dried up. 
Many people struggled during the recession. 2008-2011 was a golden age for startups. By 2009, talented founders were flooding Apple's iPhone app store. Mobile apps were booming. Uber, Venmo, Snap, and Instagram were all founded between 2009 and 2011. Social media (which had replaced web 2), cloud computing (which enabled apps to scale server side), and smartphones converged. Even if social, cloud, and mobile improve linearly, the combination could improve exponentially. 
This chart shows how I view product and financial cycles. Product and financial cycles evolve separately. The Nasdaq index is a proxy for the financial sentiment. Financial sentiment wildly fluctuates. 
Next row shows iconic startup or product years. Bottom-row product cycles dictate timing. Product cycles are more predictable than financial cycles because they follow internal logic. In the incubation phase, enthusiasts build products for other enthusiasts on nights and weekends. When the right mix of technology, talent, and community knowledge arrives, products go mainstream. (I show the biggest tech cycles in the chart, but smaller ones happen, like web 2 in the 2000s and fintech and SaaS in the 2010s.)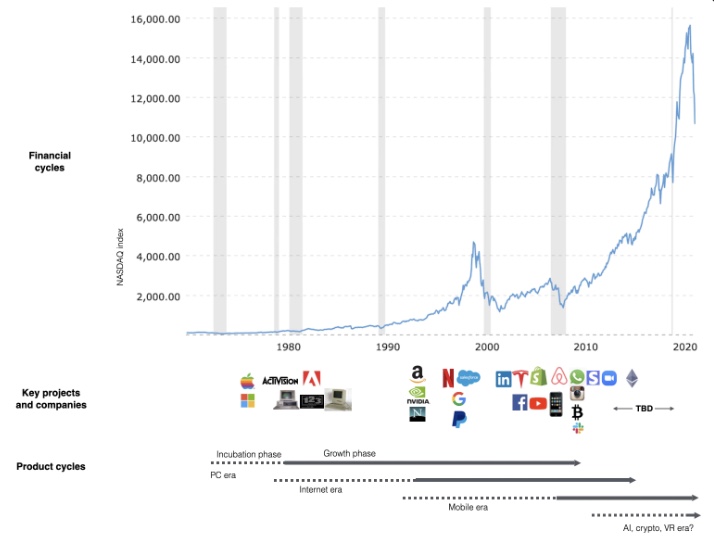 Tech has changed since the 2000s. Few tech giants dominate the internet, exerting economic and cultural influence. In the 2000s, web 2 was ignored or dismissed as trivial. Entrenched interests respond aggressively to new movements that could threaten them. Creative patterns from the 2000s continue today, driven by enthusiasts who see possibilities where others don't. Know where to look. Crypto and web 3 are where I'd start. 
Today's negative financial sentiment reminds me of 2008. If we face a prolonged downturn, we can learn from 2008 by preserving capital and focusing on the long term. Keep an eye on the product cycle. Smart people are interested in things with product potential. This becomes true. Toys become necessities. Hobbies become mainstream. Optimists build the future, not cynics.
---
Full article is available here
How To Start An Online Business That Will Be Profitable Without Investing A Lot Of Time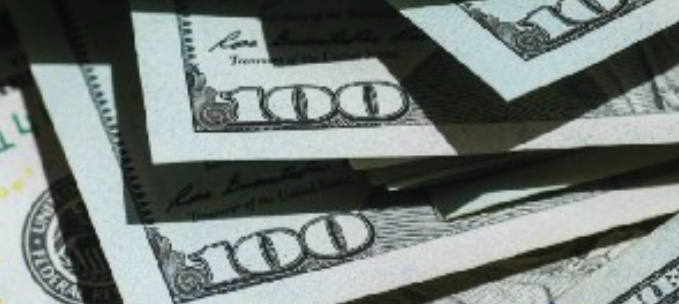 Don't know how to start an online business? Here's a guide. By following these recommendations, you can build a lucrative and profitable online business.
What Are Online Businesses Used For?
Most online businesses are websites. A self-created, self-managed website. You may sell things and services online.
To establish an internet business, you must locate a host and set up accounts with numerous companies. Once your accounts are set up, you may start publishing content and selling products or services.
How to Make Money from Your Online Business
Advertising and marketing are the best ways to make money online. You must develop strategies to contact new customers and generate leads. Make sure your website is search engine optimized so people can find you online.
Top 5 Online Business Tips for Startups:
1. Know your target audience's needs.
2. Make your website as appealing as possible.
3. Generate leads and sales with marketing.
4. Track your progress and learn from your mistakes to improve.
5. Be prepared to expand into new markets or regions.
How to Launch a Successful Online Business Without Putting in a Lot of Work
Build with a solid business model to start a profitable online business. By using these tips, you can start your online business without paying much.
First, develop a user-friendly website. You can use an internet marketing platform or create your own website. Once your website is live, optimize it for search engines and add relevant content.
Second, sell online. This can be done through ads or direct sales to website visitors. Finally, use social media to advertise your internet business. By accomplishing these things, you'll draw visitors to your website and make money.
When launching a business, invest long-term. This involves knowing your goals and how you'll pay for them. Volatility can have several effects on your business. If you offer things online, you may need to examine if the market is ready for them.
Invest wisely
Investing all your money in one endeavor can lead to too much risk and little ROI. Diversify your investments to take advantage of all available chances. So, your investments won't encounter unexpected price swings and you'll be immune to economic upheavals.
Financial news updates
When launching or running a thriving online business, financial news is crucial. By knowing current trends and upcoming developments, you can keep your business lucrative.
Keeping up with financial news can also help you avoid potential traps that could harm your bottom line. If you don't know about new legislation that could affect your industry, potential customers may choose another store when they learn about your business's problems.
Volatility ahead
You should expect volatility in the financial sector. Without a plan for coping with volatility, you could run into difficulty. If your organization relies on client input, you may not be able to exploit customer behavior shifts.
Your company could go bankrupt if you don't understand how fickle the stock market can be. By preparing for volatility, you can ensure your organization survives difficult times and market crashes.
Conclusion
Many internet businesses can be profitable. Start quickly with a few straightforward steps. Diversify your investments, follow financial news, and be prepared for volatility to develop a successful business.

Thanks for reading!