More on Personal Growth
Successful people have this one skill.
Without self-control, you'll waste time chasing dopamine fixes.
I found a powerful quote in Tony Robbins' Awaken The Giant Within:
"Most of the challenges that we have in our personal lives come from a short-term focus" — Tony Robbins
Most people are short-term oriented, but highly successful people are long-term oriented.
Successful people act in line with their long-term goals and values, while the rest are distracted by short-term pleasures and dopamine fixes.
Instant gratification wrecks lives
Instant pleasure is fleeting. Quickly fading effects leave you craving more stimulation.
Before you know it, you're in a cycle of quick fixes. This explains binging on food, social media, and Netflix.
These things cause a dopamine spike, which is entertaining. This dopamine spike crashes quickly, leaving you craving more stimulation.
It's fine to watch TV or play video games occasionally. Problems arise when brain impulses aren't controlled. You waste hours chasing dopamine fixes.
Instant gratification becomes problematic when it interferes with long-term goals, happiness, and life fulfillment.
Most rewarding things require delay
Life's greatest rewards require patience and delayed gratification. They must be earned through patience, consistency, and effort.
Ex:
A fit, healthy body

A deep connection with your spouse

A thriving career/business

A healthy financial situation
These are some of life's most rewarding things, but they take work and patience. They all require the ability to delay gratification.
To have a healthy bank account, you must save (and invest) a large portion of your monthly income. This means no new tech or clothes.
If you want a fit, healthy body, you must eat better and exercise three times a week. So no fast food and Netflix.
It's a battle between what you want now and what you want most.
Successful people choose what they want most over what they want now. It's a major difference.
Instant vs. delayed gratification
Most people subconsciously prefer instant rewards over future rewards, even if the future rewards are more significant.
We humans aren't logical. Emotions and instincts drive us. So we act against our goals and values.
Fortunately, instant gratification bias can be overridden. This is a modern superpower. Effective methods include:
#1: Train your brain to handle overstimulation
Training your brain to function without constant stimulation is a powerful change. Boredom can lead to long-term rewards.
Unlike impulsive shopping, saving money is boring. Having lots of cash is amazing.
Compared to video games, deep work is boring. A successful online business is rewarding.
Reading books is boring compared to scrolling through funny videos on social media. Knowledge is invaluable.
You can't do these things if your brain is overstimulated. Your impulses will control you. To reduce overstimulation addiction, try:
Daily meditation (10 minutes is enough)

Daily study/work for 90 minutes (no distractions allowed)

First hour of the day without phone, social media, and Netflix

Nature walks, journaling, reading, sports, etc.
#2: Make Important Activities Less Intimidating
Instant gratification helps us cope with stress. Starting a book or business can be intimidating. Video games and social media offer a quick escape in such situations.
Make intimidating tasks less so. Break them down into small tasks. Start a new business/side-hustle by:
Get domain name

Design website

Write out a business plan

Research competition/peers

Approach first potential client
Instead of one big mountain, divide it into smaller sub-tasks. This makes a task easier and less intimidating.
#3: Plan ahead for important activities
Distractions will invade unplanned time. Your time is dictated by your impulses, which are usually Netflix, social media, fast food, and video games. It wants quick rewards and dopamine fixes.
Plan your days and be proactive with your time. Studies show that scheduling activities makes you 3x more likely to do them.
To achieve big goals, you must plan. Don't gamble.
Want to get fit? Schedule next week's workouts. Want a side-job? Schedule your work time.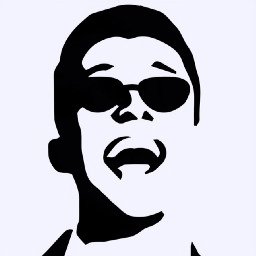 Joseph Mavericks
2 months ago
The world's 36th richest man uses a 5-step system to get what he wants.
Ray Dalio's super-effective roadmap 
Ray Dalio's $22 billion net worth ranks him 36th globally. From 1975 to 2011, he built the world's most successful hedge fund, never losing more than 4% from 1991 to 2020. (and only doing so during 3 calendar years). 
Dalio describes a 5-step process in his best-selling book Principles. It's the playbook he's used to build his hedge fund, beat the markets, and face personal challenges. 
This 5-step system is so valuable and well-explained that I didn't edit or change anything; I only added my own insights in the parts I found most relevant and/or relatable as a young entrepreneur. The system's overview: 
Have clear goals 

Identify and don't tolerate problems 

Diagnose problems to get at their root causes 

Design plans that will get you around those problems 

Do what is necessary to push through the plans to get results 
If you follow these 5 steps in a virtuous loop, you'll almost always see results. Repeat the process for each goal you have. 
1. Have clear goals 
a) Prioritize: You can have almost anything, but not everything. 
I started and never launched dozens of projects for 10 years because I was scattered. I opened a t-shirt store, traded algorithms, sold art on Instagram, painted skateboards, and tinkered with electronics. I decided to try blogging for 6 months to see where it took me. Still going after 3 years. 
b) Don't confuse goals with desires. 
A goal inspires you to act. Unreasonable desires prevent you from achieving your goals. 
c) Reconcile your goals and desires to decide what you want. 
d) Don't confuse success with its trappings. 
e) Never dismiss a goal as unattainable. 
Always one path is best. Your perception of what's possible depends on what you know now. I never thought I'd make money writing online so quickly, and now I see a whole new horizon of business opportunities I didn't know about before. 
f) Expectations create abilities. 
Don't limit your abilities. More you strive, the more you'll achieve. 
g) Flexibility and self-accountability can almost guarantee success. 
Flexible people accept what reality or others teach them. Self-accountability is the ability to recognize your mistakes and be more creative, flexible, and determined. 
h) Handling setbacks well is as important as moving forward. 
Learn when to minimize losses and when to let go and move on. 
2. Don't ignore problems 
a) See painful problems as improvement opportunities. 
Every problem, painful situation, and challenge is an opportunity. Read The Art of Happiness for more. 
b) Don't avoid problems because of harsh realities. 
Recognizing your weaknesses isn't the same as giving in. It's the first step in overcoming them. 
c) Specify your issues. 
There is no "one-size-fits-all" solution. 
d) Don't mistake a cause of a problem with the real problem. 
"I can't sleep" is a cause, not a problem. "I'm underperforming" could be a problem. 
e) Separate big from small problems. 
You have limited time and energy, so focus on the biggest problems. 
f) Don't ignore a problem. 
Identifying a problem and tolerating it is like not identifying it. 
3. Identify problems' root causes 
a) Decide "what to do" after assessing "what is." 
"A good diagnosis takes 15 to 60 minutes, depending on its accuracy and complexity. [...] Like principles, root causes recur in different situations. 
b) Separate proximate and root causes. 
"You can only solve problems by removing their root causes, and to do that, you must distinguish symptoms from disease." 
c) Knowing someone's (or your own) personality can help you predict their behavior. 
4. Design plans that will get you around the problems 
a) Retrace your steps. 
Analyze your past to determine your future. 
b) Consider your problem a machine's output. 
Consider how to improve your machine. It's a game then. 
c) There are many ways to reach your goals. 
Find a solution. 
d) Visualize who will do what in your plan like a movie script. 
Consider your movie's actors and script's turning points, then act accordingly. The game continues. 
e) Document your plan so others can judge your progress. 
Accountability boosts success. 
f) Know that a good plan doesn't take much time. 
The execution is usually the hardest part, but most people either don't have a plan or keep changing it. Don't drive while building the car. Build it first, because it'll be bumpy. 
5. Do what is necessary to push through the plans to get results 
a) Great planners without execution fail. 
Life is won with more than just planning. Similarly, practice without talent beats talent without practice. 
b) Work ethic is undervalued. 
Hyper-productivity is praised in corporate America, even if it leads nowhere. To get things done, use checklists, fewer emails, and more desk time. 
c) Set clear metrics to ensure plan adherence. 
I've written about the OKR strategy for organizations with multiple people here. If you're on your own, I recommend the Wheel of Life approach. Both systems start with goals and tasks to achieve them. Then start executing on a realistic timeline. 
If you find solutions, weaknesses don't matter. 
Everyone's weak. You, me, Gates, Dalio, even Musk. Nobody will be great at all 5 steps of the system because no one can think in all the ways required. Some are good at analyzing and diagnosing but bad at executing. Some are good planners but poor communicators. Others lack self-discipline. 
Stay humble and ask for help when needed. Nobody has ever succeeded 100% on their own, without anyone else's help. That's the paradox of individual success: teamwork is the only way to get there. 
Most people won't have the skills to execute even the best plan. You can get missing skills in two ways: 
Self-taught (time-consuming) 

Others' (requires humility) light
On knowing what to do with your life 
"Some people have good mental maps and know what to do on their own. Maybe they learned them or were blessed with common sense. They have more answers than others. Others are more humble and open-minded. […] Open-mindedness and mental maps are most powerful." — Ray Dalio 
I've always known what I wanted to do, so I'm lucky. I'm almost 30 and have always had trouble executing. Good thing I never stopped experimenting, but I never committed to anything long-term. I jumped between projects. I decided 3 years ago to stick to one project for at least 6 months and haven't looked back. 
Maybe you're good at staying focused and executing, but you don't know what to do. Maybe you have none of these because you haven't found your purpose. Always try new projects and talk to as many people as possible. It will give you inspiration and ideas and set you up for success. 
There is almost always a way to achieve a crazy goal or idea. 
Enjoy the journey, whichever path you take.
Daniel Vassallo
3 months ago
Why I quit a $500K job at Amazon to work for myself
I quit my 8-year Amazon job last week. I wasn't motivated to do another year despite promotions, pay, recognition, and praise.
In AWS, I built developer tools. I could have worked in that field forever.
I became an Amazon developer. Within 3.5 years, I was promoted twice to senior engineer and would have been promoted to principal engineer if I stayed. The company said I had great potential.
Over time, I became a reputed expert and leader within the company. I was respected.
First year I made $75K, last year $511K. If I stayed another two years, I could have made $1M.
Despite Amazon's reputation, my work–life balance was good. I no longer needed to prove myself and could do everything in 40 hours a week. My team worked from home once a week, and I rarely opened my laptop nights or weekends.
My coworkers were great. I had three generous, empathetic managers. I'm very grateful to everyone I worked with.
Everything was going well and getting better. My motivation to go to work each morning was declining despite my career and income growth.
Another promotion, pay raise, or big project wouldn't have boosted my motivation. Motivation was also waning. It was my freedom.
Demotivation
My motivation was high in the beginning. I worked with someone on an internal tool with little scrutiny. I had more freedom to choose how and what to work on than in recent years. Me and another person improved it, talked to users, released updates, and tested it. Whatever we wanted, we did. We did our best and were mostly self-directed.
In recent years, things have changed. My department's most important project had many stakeholders and complex goals. What I could do depended on my ability to convince others it was the best way to achieve our goals.
Amazon was always someone else's terms. The terms started out simple (keep fixing it), but became more complex over time (maximize all goals; satisfy all stakeholders). Working in a large organization imposed restrictions on how to do the work, what to do, what goals to set, and what business to pursue. This situation forced me to do things I didn't want to do.
Finding New Motivation
What would I do forever? Not something I did until I reached a milestone (an exit), but something I'd do until I'm 80. What could I do for the next 45 years that would make me excited to wake up and pay my bills? Is that too unambitious? Nope. Because I'm motivated by two things.
One is an external carrot or stick. I'm not forced to file my taxes every April, but I do because I don't want to go to jail. Or I may not like something but do it anyway because I need to pay the bills or want a nice car. Extrinsic motivation
One is internal. When there's no carrot or stick, this motivates me. This fuels hobbies. I wanted a job that was intrinsically motivated.
Is this too low-key? Extrinsic motivation isn't sustainable. Getting promoted felt good for a week, then it was over. When I hit $100K, I admired my W2 for a few days, but then it wore off. Same thing happened at $200K, $300K, $400K, and $500K. Earning $1M or $10M wouldn't change anything. I feel the same about every material reward or possession. Getting them feels good at first, but quickly fades.
Things I've done since I was a kid, when no one forced me to, don't wear off. Coding, selling my creations, charting my own path, and being honest. Why not always use my strengths and motivation? I'm lucky to live in a time when I can work independently in my field without large investments. So that's what I'm doing.
What's Next?
I'm going all-in on independence and will make a living from scratch. I won't do only what I like, but on my terms. My goal is to cover my family's expenses before my savings run out while doing something I enjoy. What more could I want from my work?
You can now follow me on Twitter as I continue to document my journey.
---
This post is a summary. Read full article here
You might also like
Ezra Reguerra
5 months ago
Yuga Labs' Otherdeeds NFT mint triggers backlash from community
Unhappy community members accuse Yuga Labs of fraud, manipulation, and favoritism over Otherdeeds NFT mint.
Following the Otherdeeds NFT mint, disgruntled community members took to Twitter to criticize Yuga Labs' handling of the event.
Otherdeeds NFTs were a huge hit with the community, selling out almost instantly. Due to high demand, the launch increased Ethereum gas fees from 2.6 ETH to 5 ETH.
But the event displeased many people. Several users speculated that the mint was "planned to fail" so the group could advertise launching its own blockchain, as the team mentioned a chain migration in one tweet.
Others like Mark Beylin tweeted that he had "sold out" on all Ape-related NFT investments after Yuga Labs "revealed their true colors." Beylin also advised others to assume Yuga Labs' owners are "bad actors."
Some users who failed to complete transactions claim they lost ETH. However, Yuga Labs promised to refund lost gas fees.
CryptoFinally, a Twitter user, claimed Yuga Labs gave BAYC members better land than non-members. Others who wanted to participate paid for shittier land, while BAYCS got the only worthwhile land.
The Otherdeed NFT drop also increased Ethereum's burn rate. Glassnode and Data Always reported nearly 70,000 ETH burned on mint day.
300 Signups, 1 Landing Page, 0 Products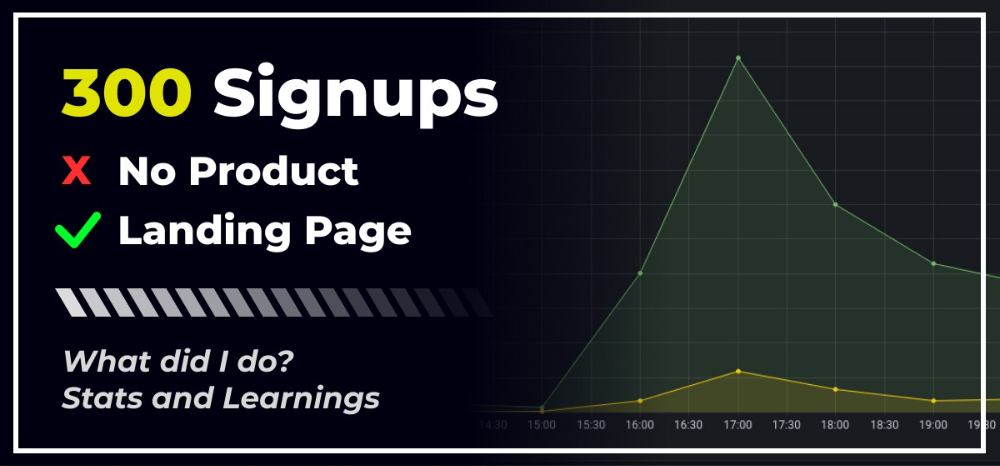 I placed a link on HackerNews and got 300 signups in a week. This post explains what happened.
Product Concept
The product is DbSchemaLibrary. A library of Database Schema.
I'm not sure where this idea originated from. Very fast. Build fast, fail fast, test many ideas, and one will be a hit. I tried it. Let's try it anyway, even though it'll probably fail. I finished The Lean Startup book and wanted to use it.
Database job bores me. Important! I get drowsy working on it. Someone must do it. I remember this happening once. I needed examples at the time. Something similar to Recall (my other project) that I can copy — or at least use as a reference.
Frequently googled. Many tabs open. The results were useless. I raised my hand and agreed to construct the database myself.
It resurfaced. I decided to do something.
Due Diligence
Lean Startup emphasizes validated learning. Everything the startup does should result in learning. I may build something nobody wants otherwise. That's what happened to Recall.
So, I wrote a business plan document. This happens before I code. What am I solving? What is my proposed solution? What is the leap of faith between the problem and solution? Who would be my target audience?
My note: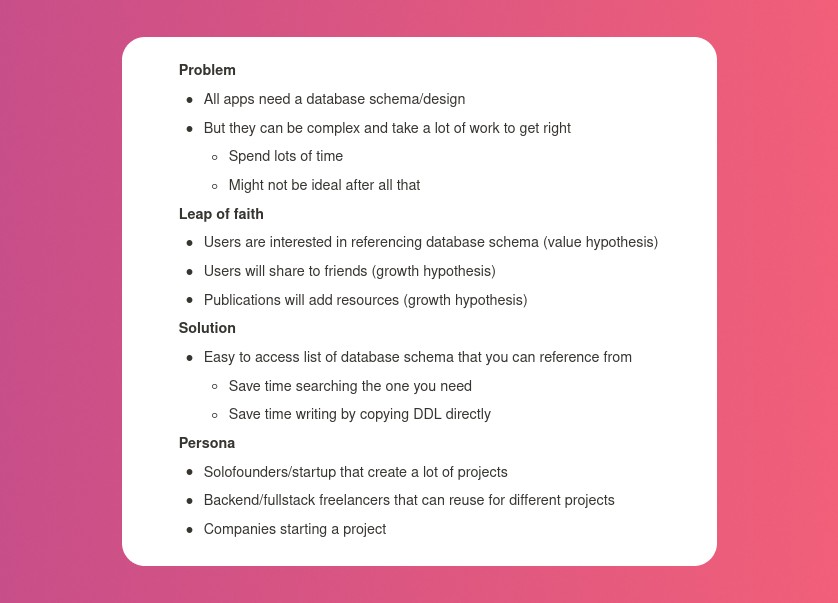 In my previous project, I did the opposite!
I wrote my expectations after reading the book's advice.
"Failure is a prerequisite to learning. The problem with the notion of shipping a product and then seeing what happens is that you are guaranteed to succeed — at seeing what happens." — The Lean Startup book
These are successful metrics. If I don't reach them, I'll drop the idea and try another. I didn't understand numbers then. Below are guesses. But it's a start!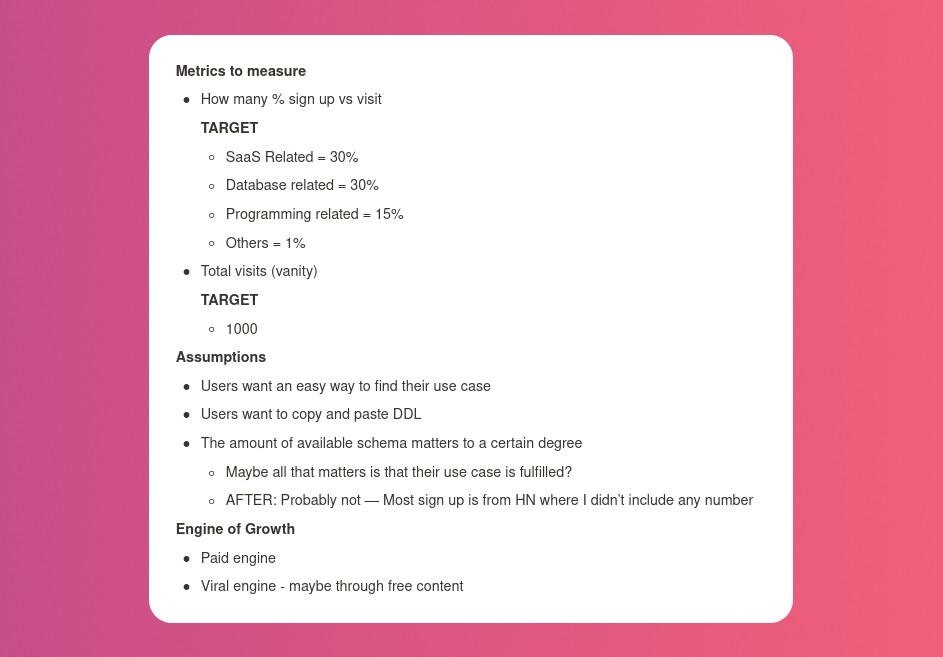 I then wrote the project's What and Why. I'll use this everywhere. Before, I wrote a different pitch each time. I thought certain words would be better. I felt the audience might want something unusual.
Occasionally, this works. I'm unsure if it's a good idea. No stats, just my writing-time opinion. Writing every time is time-consuming and sometimes hazardous. Having a copy saved me duplication.
I can measure and learn from performance.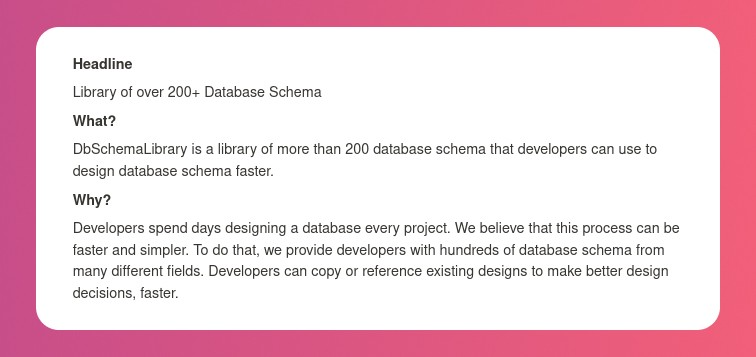 Last, I identified communities that might demand the product. This became an exercise in creativity.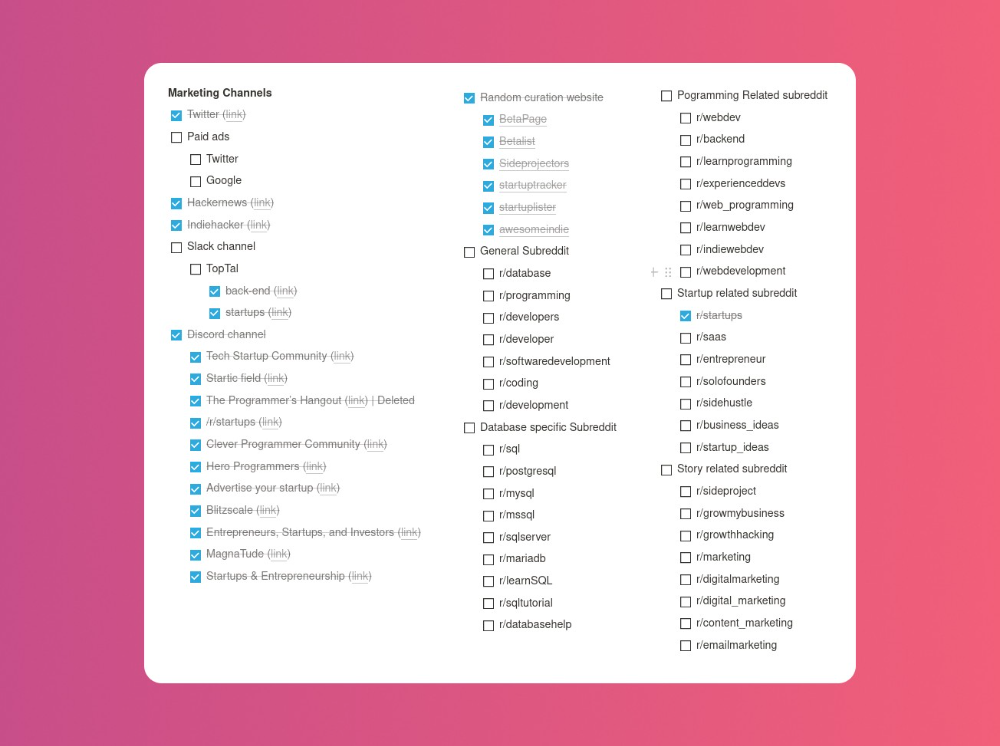 The MVP
So now it's time to build.
A MVP can test my assumptions. Business may learn from it. Not low-quality. We should learn from the tiniest thing.
I like the example of how Dropbox did theirs. They assumed that if the product works, people will utilize it. How can this be tested without a quality product? They made a movie demonstrating the software's functionality. Who knows how much functionality existed?
So I tested my biggest assumption. Users want schema references. How can I test if users want to reference another schema? I'd love this. Recall taught me that wanting something doesn't mean others do.
I made an email-collection landing page. Describe it briefly. Reference library. Each email sender wants a reference. They're interested in the product. Few other reasons exist.
Header and footer were skipped. No name or logo. DbSchemaLibrary is a name I thought of after the fact. 5-minute logo. I expected a flop. Recall has no users after months of labor. What could happen to a 2-day project?
I didn't compromise learning validation. How many visitors sign up? To draw a conclusion, I must track these results.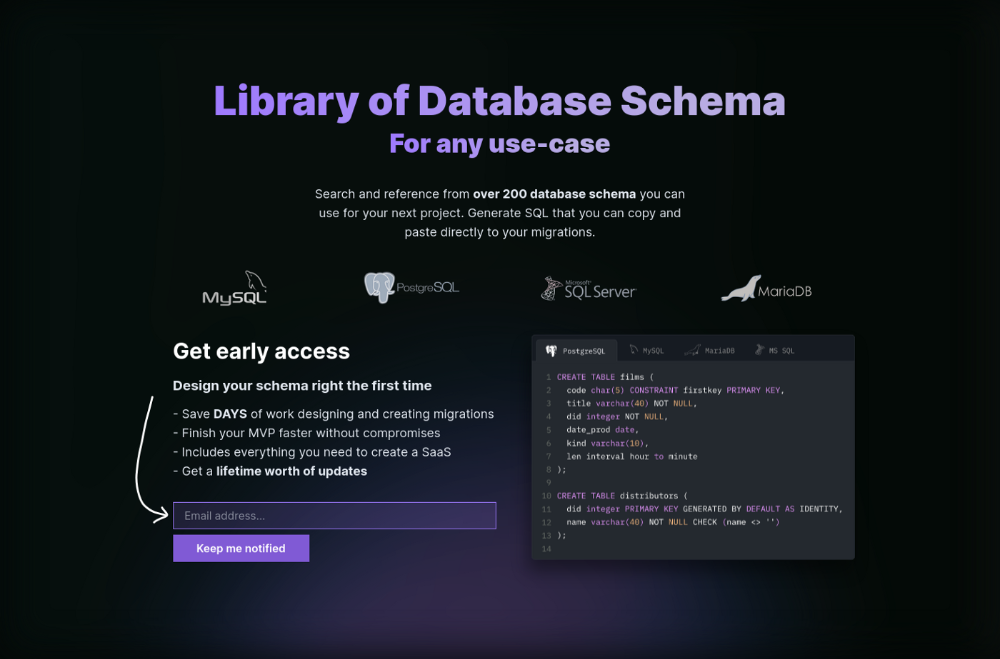 Posting Time
Now that the job is done, gauge interest. The next morning, I posted on all my channels. I didn't want to be spammy, therefore it required more time.
I made sure each channel had at least one fan of this product. I also answer people's inquiries in the channel.
My list stinks. Several channels wouldn't work. The product's target market isn't there. Posting there would waste our time. This taught me to create marketing channels depending on my persona.
Statistics! What actually happened
My favorite part! 23 channels received the link.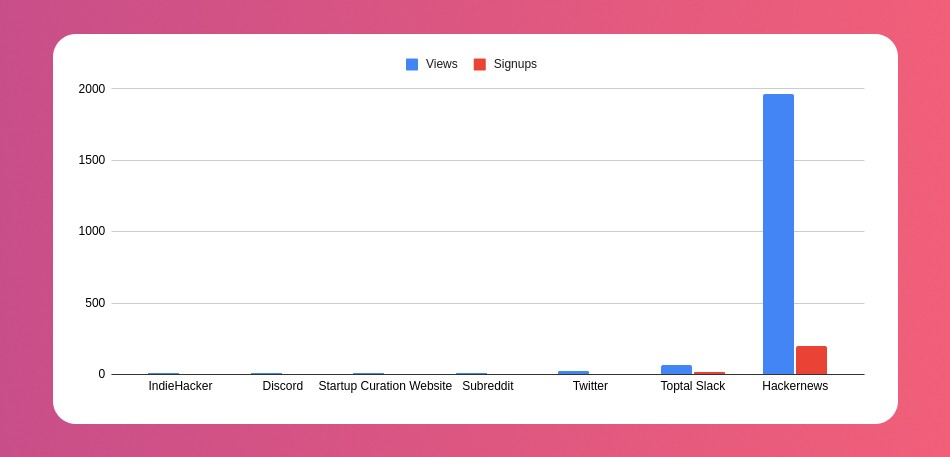 I stopped posting to Discord despite its high conversion rate. I eliminated some channels because they didn't fit. According to the numbers, some users like it. Most users think it's spam.
I was skeptical. And 12 people viewed it.
I didn't expect much attention on a startup subreddit. I'll likely examine Reddit further in the future. As I have enough info, I didn't post much. Time for the next validated learning
No comment. The post had few views, therefore the numbers are low.
The targeted people come next.
I'm a Toptal freelancer. There's a member-only Slack channel. Most people can't use this marketing channel, but you should! It's not as spectacular as discord's 27% conversion rate. But I think the users here are better.
I don't really have a following anywhere so this isn't something I can leverage.
The best yet. 10% is converted. With more data, I expect to attain a 10% conversion rate from other channels. Stable number.
This number required some work. Did you know that people use many different clients to read HN?
Unknowns
Untrackable views and signups abound. 1136 views and 135 signups are untraceable. It's 11%. I bet much of that came from Hackernews.
Overall Statistics
The 7-day signup-to-visit ratio was 17%. (Hourly data points)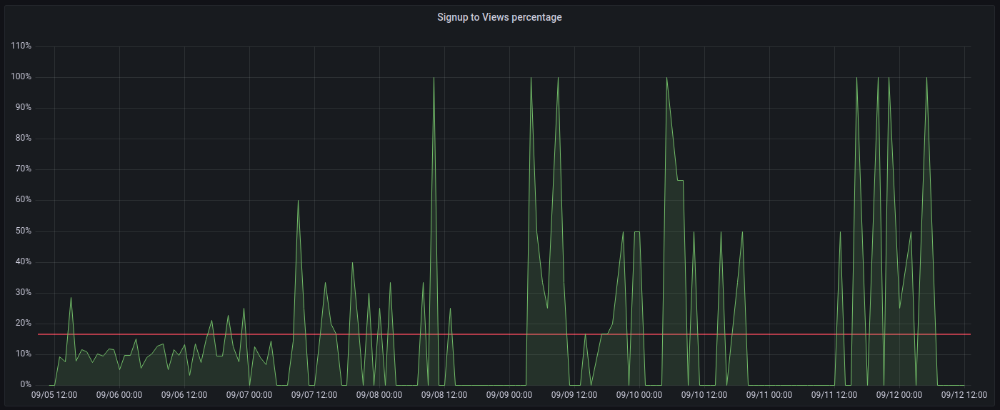 First-day percentages were lower, which is noteworthy. Initially, it was little above 10%. The HN post started getting views then.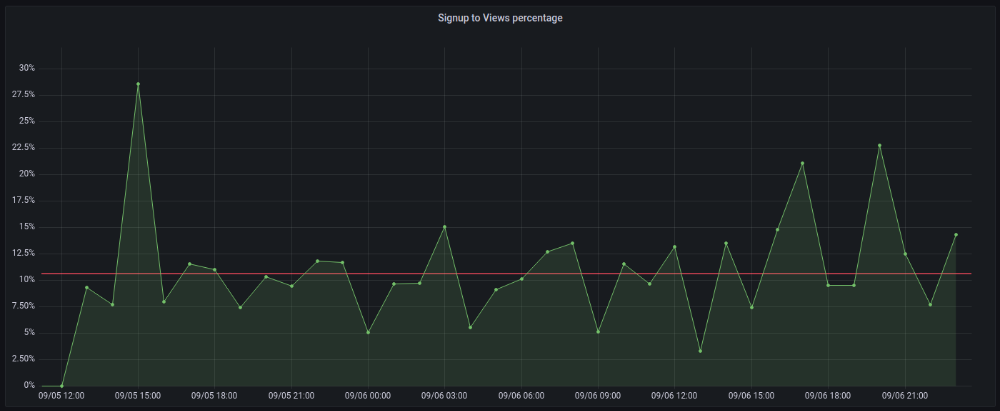 When traffic drops, the number reaches just around 20%. More individuals are interested in the connection. hn.algolia.com sent 2 visitors. This means people are searching and finding my post.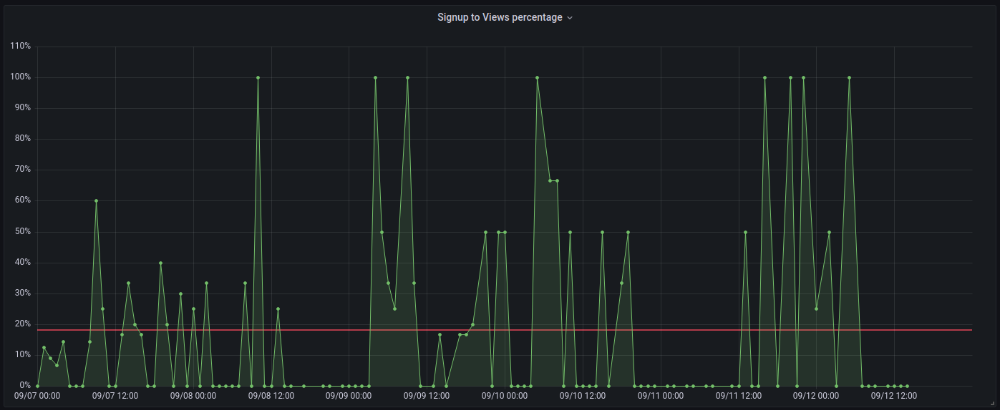 Interesting discoveries
1. HN post struggled till the US woke up.
11am UTC. After an hour, it lost popularity. It seemed over. 7 signups converted 13%. Not amazing, but I would've thought ahead.
After 4pm UTC, traffic grew again. 4pm UTC is 9am PDT. US awakened. 10am PDT saw 512 views.

2. The product was highlighted in a newsletter.
I found Revue references when gathering data. Newsletter platform. Someone posted the newsletter link. 37 views and 3 registrations.
3. HN numbers are extremely reliable
I don't have a time-lapse graph (yet). The statistics were constant all day.
2717 views later 272 new users, or 10.1%

With 293 signups at 2856 views, 10.25%

At 306 signups at 2965 views, 10.32%
Learnings
1. My initial estimations were wildly inaccurate
I wrote 30% conversion. Reading some articles, looks like 10% is a good number to aim for.
2. Paying attention to what matters rather than vain metrics
The Lean Startup discourages vanity metrics. Feel-good metrics that don't measure growth or traction. Considering the proportion instead of the total visitors made me realize there was something here.
What's next?
There are lots of work to do. Data aggregation, display, website development, marketing, legal issues. Fun! It's satisfying to solve an issue rather than investigate its cause.
In the meantime, I've already written the first project update in another post. Continue reading it if you'd like to know more about the project itself! Shifting from Quantity to Quality — DbSchemaLibrary
Stephen Moore
2 months ago
Web 2 + Web 3 = Web 5.
Monkey jpegs and shitcoins have tarnished Web3's reputation. Let's move on.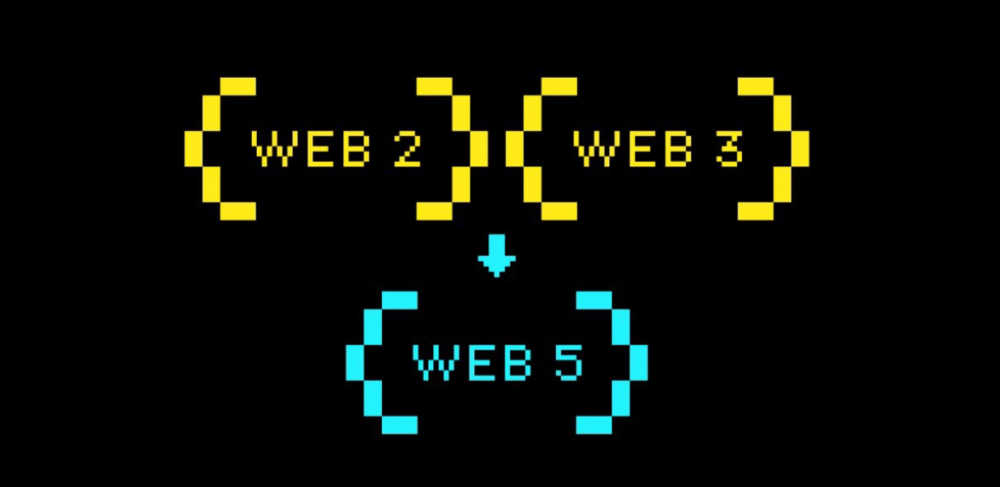 Web3 was called "the internet's future."
Well, 'crypto bros' shouted about it loudly.
As quickly as it arrived to be the next internet, it appears to be dead. It's had scandals, turbulence, and crashes galore:
Web 3.0's cryptocurrencies have crashed. Bitcoin's all-time high was $66,935. This month, Ethereum fell from $2130 to $1117. Six months ago, the cryptocurrency market peaked at $3 trillion. Worst is likely ahead.

Gas fees make even the simplest Web3 blockchain transactions unsustainable.

Terra, Luna, and other dollar pegs collapsed, hurting crypto markets. Celsius, a crypto lender backed by VCs and Canada's second-largest pension fund, and Binance, a crypto marketplace, have withheld money and coins. They're near collapse.

NFT sales are falling rapidly and losing public interest.
Web3 has few real-world uses, like most crypto/blockchain technologies. Web3's image has been tarnished by monkey profile pictures and shitcoins while failing to become decentralized (the whole concept is controlled by VCs).
The damage seems irreparable, leaving Web3 in the gutter.
Step forward our new saviour — Web5
Fear not though, as hero awaits to drag us out of the Web3 hellscape. Jack Dorsey revealed his plan to save the internet quickly.
Dorsey has long criticized Web3, believing that VC capital and silicon valley insiders have created a centralized platform. In a tweet that upset believers and VCs (he was promptly blocked by Marc Andreessen), Dorsey argued, "You don't own "Web3." VCs and LPs do. Their incentives prevent it. It's a centralized organization with a new name.
Dorsey announced Web5 on June 10 in a very Elon-like manner. Block's TBD unit will work on the project (formerly Square).
Web5's pitch is that users will control their own data and identity. Bitcoin-based. Sound familiar? The presentation pack's official definition emphasizes decentralization. Web5 is a decentralized web platform that enables developers to write decentralized web apps using decentralized identifiers, verifiable credentials, and decentralized web nodes, returning ownership and control over identity and data to individuals.
Web5 would be permission-less, open, and token-less. What that means for Earth is anyone's guess. Identity. Ownership. Blockchains. Bitcoin. Different.
Web4 appears to have been skipped, forever destined to wish it could have shown the world what it could have been. (It was probably crap.) As this iteration combines Web2 and Web3, simple math and common sense add up to 5. Or something.
Dorsey and his team have had this idea simmering for a while. Daniel Buchner, a member of Block's Decentralized Identity team, said, "We're finishing up Web5's technical components."
Web5 could be the project that decentralizes the internet. It must be useful to users and convince everyone to drop the countless Web3 projects, products, services, coins, blockchains, and websites being developed as I write this.
Web5 may be too late for Dorsey and the incoming flood of creators.
Web6 is planned!

The next months and years will be hectic and less stable than the transition from Web 1.0 to Web 2.0. 
Web1 was around 1991-2004.

Web2 ran from 2004 to 2021. (though the Web3 term was first used in 2014, it only really gained traction years later.)

Web3 lasted a year.

Web4 is dead.
Silicon Valley billionaires are turning it into a startup-style race, each disrupting the next iteration until they crack it. Or destroy it completely.
Web5 won't last either.