More on Personal Growth
Entreprogrammer
10 months ago
The Steve Jobs Formula: A Guide to Everything
A must-read for everyone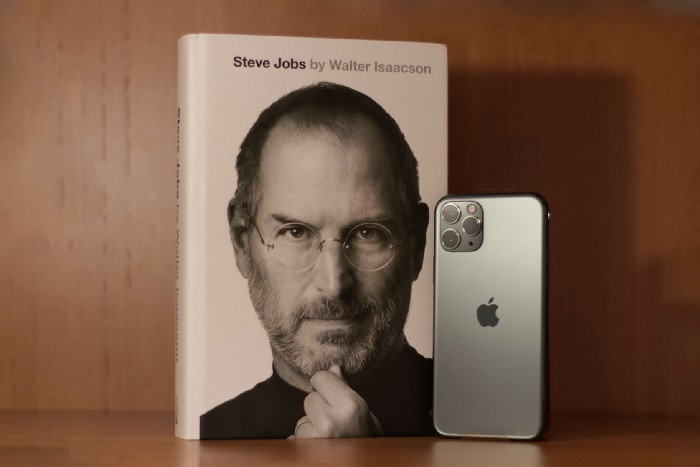 Jobs is well-known. You probably know the tall, thin guy who wore the same clothing every day. His influence is unavoidable. In fewer than 40 years, Jobs' innovations have impacted computers, movies, cellphones, music, and communication.
Steve Jobs may be more imaginative than the typical person, but if we can use some of his ingenuity, ambition, and good traits, we'll be successful. This essay explains how to follow his guidance and success secrets.
1. Repetition is necessary for success.
Be patient and diligent to master something. Practice makes perfect. This is why older workers are often more skilled.
When should you repeat a task? When you're confident and excited to share your product. It's when to stop tweaking and repeating.
Jobs stated he'd make the crowd sh** their pants with an iChat demo.
Use this in your daily life.
Start with the end in mind. You can put it in writing and be as detailed as you like with your plan's schedule and metrics. For instance, you have a goal of selling three coffee makers in a week.

Break it down, break the goal down into particular tasks you must complete, and then repeat those tasks. To sell your coffee maker, you might need to make 50 phone calls.

Be mindful of the amount of work necessary to produce the desired results. Continue doing this until you are happy with your product.
2. Acquire the ability to add and subtract.
How did Picasso invent cubism? Pablo Picasso was influenced by stylised, non-naturalistic African masks that depict a human figure.
Artists create. Constantly seeking inspiration. They think creatively about random objects. Jobs said creativity is linking things. Creative people feel terrible when asked how they achieved something unique because they didn't do it all. They saw innovation. They had mastered connecting and synthesizing experiences.
Use this in your daily life.
On your phone, there is a note-taking app. Ideas for what you desire to learn should be written down. It may be learning a new language, calligraphy, or anything else that inspires or intrigues you.

Note any ideas you have, quotations, or any information that strikes you as important.

Spend time with smart individuals, that is the most important thing. Jim Rohn, a well-known motivational speaker, has observed that we are the average of the five people with whom we spend the most time.

Learning alone won't get you very far. You need to put what you've learnt into practice. If you don't use your knowledge and skills, they are useless.
3. Develop the ability to refuse.
Steve Jobs deleted thousands of items when he created Apple's design ethic. Saying no to distractions meant upsetting customers and partners.
John Sculley, the former CEO of Apple, said something like this. According to Sculley, Steve's methodology differs from others as he always believed that the most critical decisions are things you choose not to do.
Use this in your daily life.
Never be afraid to say "no," "I won't," or "I don't want to." Keep it simple. This method works well in some situations.

Give a different option. For instance, X might be interested even if I won't be able to achieve it.

Control your top priority. Before saying yes to anything, make sure your work schedule and priority list are up to date.
4. Follow your passion
"Follow your passion" is the worst advice people can give you. Steve Jobs didn't start Apple because he suddenly loved computers. He wanted to help others attain their maximum potential.
Great things take a lot of work, so quitting makes sense if you're not passionate. Jobs learned from history that successful people were passionate about their work and persisted through challenges.
Use this in your daily life.
Stay away from your passion. Allow it to develop daily. Keep working at your 9-5-hour job while carefully gauging your level of desire and endurance. Less risk exists.

The truth is that if you decide to work on a project by yourself rather than in a group, it will take you years to complete it instead of a week. Instead, network with others who have interests in common.

Prepare a fallback strategy in case things go wrong.
Success, this small two-syllable word eventually gives your life meaning, a perspective. What is success?  For most, it's achieving their ambitions. However, there's a catch. Successful people aren't always happy.
Furthermore, where do people's goals and achievements end? It's a never-ending process. Success is a journey, not a destination. We wish you not to lose your way on this journey.
Ideas for Samples of Retirement Letters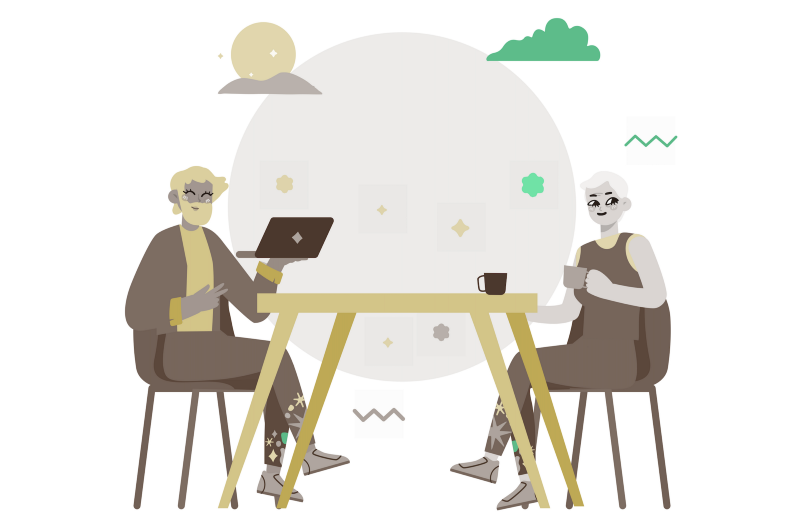 Ready to quit full-time? No worries.
Baby Boomer retirement has accelerated since COVID-19 began. In 2020, 29 million boomers retire. Over 3 million more than in 2019. 75 million Baby Boomers will retire by 2030.
First, quit your work to enjoy retirement. Leave a professional legacy. Your retirement will start well. It all starts with a retirement letter.
Retirement Letter
Retirement letters are formal resignation letters. Different from other resignation letters, these don't tell your employer you're leaving. Instead, you're quitting.
Since you're not departing over grievances or for a better position or higher income, you may usually terminate the relationship amicably. Consulting opportunities are possible.
Thank your employer for their support and give them transition information.
Resignation letters aren't merely a formality. This method handles wages, insurance, and retirement benefits.
Retirement letters often accompany verbal notices to managers. Schedule a meeting before submitting your retirement letter to discuss your plans. The letter will be stored alongside your start date, salary, and benefits in your employee file.
Retirement is typically well-planned. Employers want 6-12 months' notice.
Summary
Guidelines for Giving Retirement Notice

Components of a Successful Retirement Letter

Template for Retirement Letter

Ideas for Samples of Retirement Letters

First Example of Retirement Letter

Second Example of Retirement Letter

Third Example of Retirement Letter

Fourth Example of Retirement Letter

Fifth Example of Retirement Letter

Sixth Example of Retirement Letter

Seventh Example of Retirement Letter

Eighth Example of Retirement Letter

Ninth Example of Retirement Letter

Tenth Example of Retirement Letter

Frequently Asked Questions

1. What is a letter of retirement?

2. Why should you include a letter of retirement?

3. What information ought to be in your retirement letter?

4. Must I provide notice?

5. What is the ideal retirement age?
Guidelines for Giving Retirement Notice
While starting a new phase, you're also leaving a job you were qualified for. You have years of experience. So, it may not be easy to fill a retirement-related vacancy.
Talk to your boss in person before sending a letter. Notice is always appreciated. Properly announcing your retirement helps you and your organization transition.
How to announce retirement:
Learn about the retirement perks and policies offered by the company. The first step in figuring out whether you're eligible for retirement benefits is to research your company's retirement policy.

Don't depart without providing adequate notice. You should give the business plenty of time to replace you if you want to retire in a few months.

Help the transition by offering aid. You could be a useful resource if your replacement needs training.

Contact the appropriate parties. The original copy should go to your boss. Give a copy to HR because they will manage your 401(k), pension, and health insurance.

Investigate the option of working as a consultant or part-time. If you desire, you can continue doing some limited work for the business.

Be nice to others. Describe your achievements and appreciation. Additionally, express your gratitude for giving you the chance to work with such excellent coworkers.

Make a plan for your future move. Simply updating your employer on your goals will help you maintain a good working relationship.

Use a formal letter or email to formalize your plans. The initial step is to speak with your supervisor and HR in person, but you must also give written notice.
Components of a Successful Retirement Letter
To write a good retirement letter, keep in mind the following:
A formal salutation. Here, the voice should be deliberate, succinct, and authoritative.

Be specific about your intentions. The key idea of your retirement letter is resignation. Your decision to depart at this time should be reflected in your letter. Remember that your intention must be clear-cut.

Your deadline. This information must be in resignation letters. Laws and corporate policies may both stipulate a minimum amount of notice.

A kind voice. Your retirement letter shouldn't contain any resentments, insults, or other unpleasantness. Your letter should be a model of professionalism and grace. A straightforward thank you is a terrific approach to accomplish that.

Your ultimate goal. Chaos may start to happen as soon as you turn in your resignation letter. Your position will need to be filled. Additionally, you will have to perform your obligations up until a successor is found. Your availability during the interim period should be stated in your resignation letter.

Give us a way to reach you. Even if you aren't consulting, your company will probably get in touch with you at some point. They might send you tax documents and details on perks. By giving your contact information, you can make this process easier.
Template for Retirement Letter
Identify
Title you held
Address
Supervisor's name
Supervisor's position
Company name
HQ address
Date
[SUPERVISOR],
1.
Inform that you're retiring. Include your last day worked.
2.
Employer thanks. Mention what you're thankful for. Describe your accomplishments and successes.
3.
Helping moves things ahead. Plan your retirement. Mention your consultancy interest.
Sincerely,
[Signature]
First and last name
Phone number
Personal Email
Ideas for Samples of Retirement Letters
First Example of Retirement Letter
Martin D. Carey
123 Fleming St
Bloomfield, New Jersey 07003
(555) 555-1234
June 6th, 2022
Willie E. Coyote
President
Acme Co
321 Anvil Ave
Fairfield, New Jersey 07004
Dear Mr. Coyote,
This letter notifies Acme Co. of my retirement on August 31, 2022.
There has been no other organization that has given me that sense of belonging and purpose.
My fifteen years at the helm of the Structural Design Division have given me‌ ‌a‌ ‌strong sense‌ ‌of‌ ‌purpose. I've been fortunate to have your support, and I'll be always grateful for the opportunity you offered me.
I had a difficult time making this decision. ‌As a result of finding a small property in Arizona where we will be able to spend our remaining days together, my wife and I have decided to officially retire.
In spite of my regret at being unable to contribute to the firm we've built, I believe it is wise to move on.
My heart will always belong to Acme Co. ‌Thank you for the opportunity and best of luck in the years to come.
Sincerely,
Martin D. Carey
Second Example of Retirement Letter
Gustavo Fring
Los Pollas Hermanos
12000–12100 Coors Rd SW,
Albuquerque, New Mexico 87045
Dear Mr. Fring,
I write this letter to announce my formal retirement from Los Pollas Hermanos as manager, effective October 15.
As an employee at Los Pollas Hermanos, I appreciate all the great opportunities you have given me. ‌It has been a pleasure to work with and learn from my colleagues for the past 10 years, and I am looking forward to my next challenge.
If there is anything I can do to assist during this time, please let me know.
Sincerely,
Linda T. Crespo
Third Example of Retirement Letter
William M. Arviso
4387 Parkview Drive
Tustin, CA 92680
May 2, 2023
Tony Stark
Owner
Stark Industries
200 Industrial Avenue
Long Beach, CA 90803
Dear Tony:
I'm writing to inform you that my final day of work at Stark Industries will be May14, 2023. ‌When that time comes, I intend‌ ‌to‌ ‌retire.
As I embark on this new chapter in my life, I would like to thank you and the entire Stark Industries team for providing me with so many opportunities. ‌You have all been a pleasure to work with and I will miss you all when I retire.
I am glad to assist you with the transition in any way I can to ensure your new hire has a seamless experience. ‌All ongoing projects will be completed until my retirement date, and all key information will be handed over‌ ‌to‌ ‌the‌ ‌team.
Once again, thank you for the opportunity to be part of the Stark Industries team. ‌All the best to you and the team in the days to come.
Please do not hesitate to contact me if you require any additional information. ‌In order to finalize my retirement plans, I'll meet with HR and can provide any details that may be necessary.
Sincerely,
(Signature)
William M. Arviso
Fourth Example of Retirement Letter
Garcia, Barbara
First Street, 5432
New York City, NY 10001
(1234) (555) 123–1234
1 October 2022
Gunther
Owner
Central Perk
199 Lafayette St.
New York City, NY 10001
Mr. Gunther,
The day has finally arrived. ‌As I never imagined, I will be formally retiring from Central Perk on November 1st, 2022.
Considering how satisfied I am with my current position, this may surprise you. ‌It would be best if I retired now since my health has deteriorated, so I think this is a good time to do so.
There is no doubt that the past‌ ‌two‌ ‌decades‌ ‌have‌ ‌been‌ ‌wonderful. ‌Over the years, I have seen a small coffee shop grow into one of the city's top‌ ‌destinations.
It will be hard for me to leave this firm without wondering what more success we could have achieved. But I'm confident that you and the rest of the Central Perk team will achieve great things.
My family and I will never forget what you've done for us, and I am grateful for the chance you've given me. My house is always open to you.
Sincerely Yours
Garcia, Barbara
Fifth Example of Retirement Letter
Pat Williams
618 Spooky Place
Monstropolis, 23221
123–555–0031
pwilliams@email.com
Feb. 16, 2022
Mike Wazowski
Co-CEO
Monters, Inc.
324 Scare Road
Monstropolis
Dear Mr. Wazowski,
As a formal notice of my upcoming retirement, I am submitting this letter. ‌I will be leaving Monters, Inc. on‌ ‌April‌ ‌13.
These past 10 years as a marketing associate have provided me with many opportunities. ‌Since we started our company a decade ago, we have seen the face of harnessing screams change dramatically into harnessing laughter. ‌During my time working with this dynamic marketing team, I learned a lot about customer behavior and marketing strategies. ‌Working closely with some of our long-standing clients, such as Boo, was a particular pleasure.
I would be happy to‌ ‌assist‌ ‌with‌ ‌the‌ ‌transition‌ ‌following‌ ‌my‌ ‌retirement. ‌It would be my pleasure to assist in the hiring or training of‌ ‌my‌ ‌replacement. ‌In order to spend more time with my family, I will also be able to offer part-time consulting services.
After I retire, I plan to cash out the eight unused vacation days I've accumulated and take my pension as a lump sum.
Thank you for the opportunity to work with Monters, Inc. ‌In the years to come, I wish you all the best!
Sincerely,
Paul Williams
Sixth Example of Retirement Letter
Dear Micheal,
As In my tenure at Dunder Mifflin Paper Company, I have given everything I had. It has been an honor to work here. But‌ ‌I‌ ‌have‌ ‌decided‌ ‌to‌ ‌move on to new challenges and retire from my position — mainly bears, beets, and Battlestar Galactia.
I appreciate the opportunity to work here and learn so much. During my time at this company, I will always remember the good times and memories we shared. Wishing you all the best in the future.
Sincerely,
Dwight K. Shrute
Your signature
May 16
Seventh Example of Retirement Letter
Greetings, Bill
I am announcing my retirement from Initech, effective March 15, 2023.
Over the course of my career here, I've had the privilege of working with so many talented and inspiring people.
In 1999, when I began working as a customer service representative, we were a small organization located in a remote office park.
The fact that we now occupy a floor of the Main Street office building with over 150 employees continues to amaze me.
I am looking forward to spending more time with family and traveling the country in our RV. Although I will be sad to leave.
Please let me know if there are any extra steps I can take to facilitate this transfer.
Sincerely,
Frankin, RenitaEighth Example of Retirement Letter
Height Example of Retirement Letter
Bruce,
Please accept my resignation from Wayne Enterprises as Marketing Communications Director. My last day will be August 1, 2022.
The decision to retire has been made after much deliberation. Now that I have worked in the field for forty years, I believe it is a good time to begin completing my bucket list.
It was not easy for me to decide to leave the company. Having worked at Wayne Enterprises has been rewarding both professionally and personally. There are still a lot of memories associated with my first day as a college intern.
My intention was not to remain with such an innovative company, as you know. I was able to see the big picture with your help, however. Today, we are a force that is recognized both nationally and internationally.
In addition to your guidance, the bold, visionary leadership of our company contributed to the growth of our company.
My departure from the company coincides with a particularly hectic time. Despite my best efforts, I am unable to postpone my exit.
My position would be well served by an internal solution. I have a more than qualified marketing manager in Caroline Crown. It would be a pleasure to speak with you about this.
In case I can be of assistance during the switchover, please let me know. Contact us at (555)555–5555. As part of my responsibilities, I am responsible for making sure all work is completed to Wayne Enterprise's stringent requirements. Having the opportunity to work with you has been a pleasure. I wish you continued success with your thriving business.
Sincerely,
Cash, Cole
Marketing/Communications
Ninth Example of Retirement Letter
Norman, Jamie
2366 Hanover Street
Whitestone, NY 11357
555–555–5555
15 October 2022
Mr. Lippman
Head of Pendant Publishing
600 Madison Ave.
New York, New York
Respected Mr. Lippman,
Please accept my resignation effective‌ ‌November‌ ‌1,‌ ‌2022.
Over the course of my ten years at Pendant Publishing, I've had a great deal of fun and I'm quite grateful for all the assistance I've received.
It was a pleasure to wake up and go to work every day because of our outstanding corporate culture and the opportunities for promotion and professional advancement available to me.
While‌ ‌I am excited about retiring, I am going to miss being part of our team. ‌It's my hope that I'll be able to maintain the friendships I've formed here for a long time to come.
In case I can be of assistance prior to or following my departure, please let me know. ‌If I can assist in any way to ensure a smooth transfer to my successor, I would be delighted to do so.
Sincerely,
Signed (hard copy letter)
Norman, Jamie
Tenth Example of Retirement Letter
17 January 2023
Greg S. Jackson
Cyberdyne Systems
18144 El Camino Real,
Sunnyvale, CA
Respected Mrs. Duncan,
I‌ ‌am‌ ‌writing‌ ‌to‌ ‌inform you that I will be resigning from Cyberdyne Systems as of March 1, 2023. I'm grateful to have had this opportunity, and it was a difficult decision to make.
My development as a programmer and as a more seasoned member of the organization has been greatly assisted by your coaching.
I have been proud of Cyberdyne Systems' ethics and success throughout my 25 years at the company. Starting as a mailroom clerk and currently serving as head programmer.
The portfolios of our clients have always been handled with the greatest care by my colleagues. It is our employees and services that have made Cyberdyne Systems the success it is today.
During my tenure as head of my division, I've increased our overall productivity by 800 percent, and I expect that trend to continue after‌ ‌I‌ ‌retire.
In light of the fact that the process of replacing me may take some time, I would like to offer my assistance in any way I can.
The greatest contender for this job is Troy Ledford, my current assistant.
Also, before I leave, I would be willing to teach any partners how to use the programmer I developed to track and manage the development of Skynet.
Over the next few months, I'll be enjoying vacations with my wife as well as my granddaughter moving‌ ‌to‌ ‌college.
If Cyberdyne Systems has any openings for consultants, please let me know. ‌It has been a pleasure working with you over the last 25 years. I appreciate your concern and care.
Sincerely,
Greg S, Jackson
Questions and Answers
1. What is a letter of retirement?
Retirement letters tell your supervisor you're retiring. This informs your employer that you're departing, like a letter. A resignation letter also requests retirement benefits.
Supervisors frequently receive retirement letters and verbal resignations. Before submitting your retirement letter, meet to discuss your plans. This letter will be filed with your start date, salary, and benefits.
2. Why should you include a letter of retirement?
Your retirement letter should explain why you're leaving. When you quit, your manager and HR department usually know. Regardless, a retirement letter might help you leave on a positive tone. It ensures they have the necessary papers.
In your retirement letter, you tell the firm your plans so they can find your replacement. You may need to stay in touch with your company after sending your retirement letter until a successor is identified.
3. What information ought to be in your retirement letter?
Format it like an official letter. Include your retirement plans and retirement-specific statistics. Date may be most essential.
In some circumstances, benefits depend on when you resign and retire. A date on the letter helps HR or senior management verify when you gave notice and how long.
In addition to your usual salutation, address your letter to your manager or supervisor.
The letter's body should include your retirement date and transition arrangements. Tell them whether you plan to help with the transition or train a new employee. You may have a three-month time limit.
Tell your employer your job title, how long you've worked there, and your biggest successes. Personalize your letter by expressing gratitude for your career and outlining your retirement intentions. Finally, include your contact info.
4. Must I provide notice?
Two-week notice isn't required. Your company may require it. Some state laws contain exceptions.
Check your contract, company handbook, or HR to determine your retirement notice. Resigning may change the policy.
Regardless of your company's policy, notification is standard. Entry-level or junior jobs can be let go so the corporation can replace them.
Middle managers, high-level personnel, and specialists may take months to replace. Two weeks' notice is a courtesy. Start planning months ahead.
You can finish all jobs at that period. Prepare transition documents for coworkers and your replacement.
5. What is the ideal retirement age?
Depends on finances, state, and retirement plan. The average American retires at 62. The average retirement age is 66, according to Gallup's 2021 Economy and Personal Finance Survey.
Remember:
Before the age of 59 1/2, withdrawals from pre-tax retirement accounts, such as 401(k)s and IRAs, are subject to a penalty.

Benefits from Social Security can be accessed as early as age 62.

Medicare isn't available to you till you're 65,

Depending on the year of your birth, your Full Retirement Age (FRA) will be between 66 and 67 years old.

If you haven't taken them already, your Social Security benefits increase by 8% annually between ages 6 and 77.
Six Things Best-With-Money People Do Follow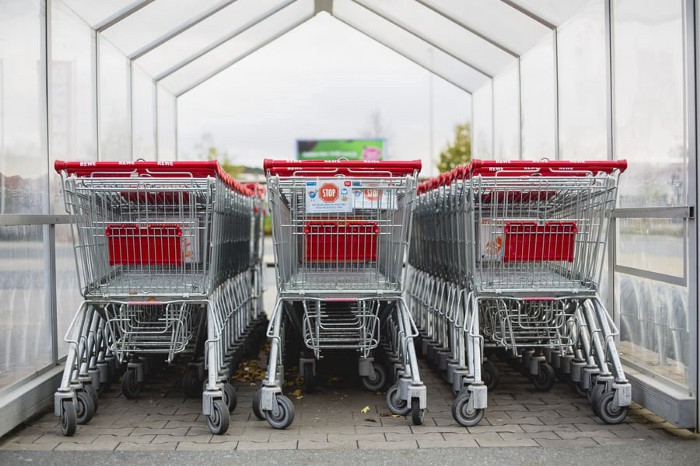 I shouldn't generalize, yet this is true.
Spending is simpler than earning.
Prove me wrong, but with home debt at $145k in 2020 and individual debt at $67k, people don't have their priorities straight.
Where does this loan originate?
Under-50 Americans owed $7.86 trillion in Q4 20T. That's more than the US's 3-trillion-dollar deficit.
Here's a breakdown:
🏡 Mortgages/Home Equity Loans = $5.28 trillion (67%)
🎓 Student Loans = $1.20 trillion (15%)
🚗 Auto Loans = $0.80 trillion (10%)
💳 Credit Cards = $0.37 trillion (5%)
🏥 Other/Medical = $0.20 trillion (3%)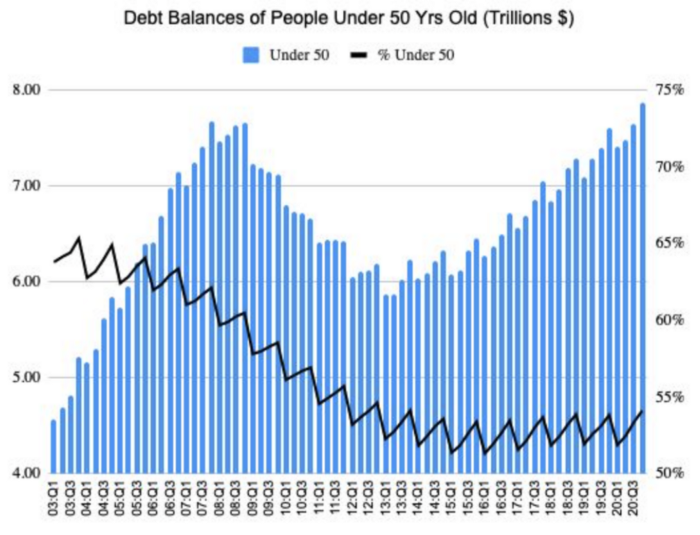 Images.google.com
At least the Fed and government can explain themselves with their debt balance which includes:
-Providing stimulus packages 2x for Covid relief
-Stabilizing the economy
-Reducing inflation and unemployment
-Providing for the military, education and farmers
No American should have this much debt.
Don't get me wrong. Debt isn't all the same. Yes, it's a negative number but it carries different purposes which may not be all bad.
Good debt: Use those funds in hopes of them appreciating as an investment in the future
-Student loans
-Business loan
-Mortgage, home equity loan
-Experiences
Paying cash for a home is wasteful. Just if the home is exceptionally uncommon, only 1 in a million on the market, and has an incredible bargain with numerous bidders seeking higher prices should you do so.
To impress the vendor, pay cash so they can sell it quickly. Most people can't afford most properties outright. Only 15% of U.S. homebuyers can afford their home. Zillow reports that only 37% of homes are mortgage-free.
People have clearly overreached.
Ignore appearances.
5% down can buy a 10-bedroom mansion.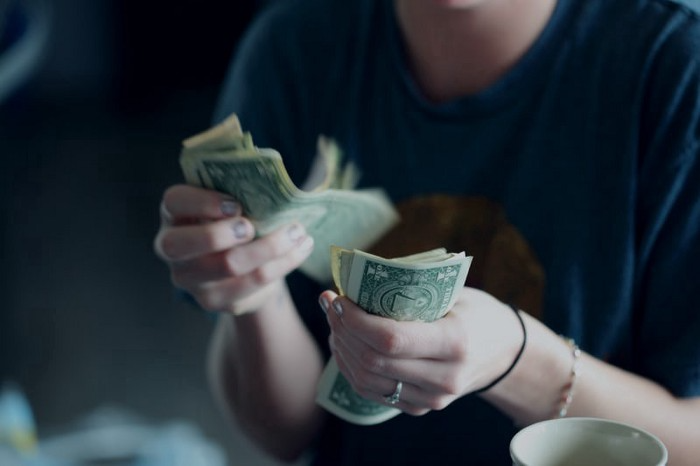 Not paying in cash isn't necessarily a negative thing given property prices have increased by 30% since 2008, and throughout the epidemic, we've seen work-from-homers resort to the midwest, avoiding pricey coastal cities like NYC and San Francisco.
By no means do I think NYC is dead, nothing will replace this beautiful city that never sleeps, and now is the perfect time to rent or buy when everything is below average value for people who always wanted to come but never could. Once social distance ends, cities will recover. 24/7 sardine-packed subways prove New York isn't designed for isolation.
When buying a home, pay 20% cash and the balance with a mortgage. A mortgage must be incorporated into other costs such as maintenance, brokerage fees, property taxes, etc. If you're stuck on why a home isn't right for you, read here. A mortgage must be paid until the term date. Whether its a 10 year or 30 year fixed mortgage, depending on interest rates, especially now as the 10-year yield is inching towards 1.25%, it's better to refinance in a lower interest rate environment and pay off your debt as well since the Fed will be inching interest rates up following the 10-year eventually to stabilize the economy, but I believe that won't be until after Covid and when businesses like luxury, air travel, and tourism will get bashed.
Bad debt: I guess the contrary must be true. There is no way to profit from the loan in the future, therefore it is just money down the drain.
-Luxury goods
-Credit card debt
-Fancy junk
-Vacations, weddings, parties, etc.
Credit cards and school loans are the two largest risks to the financial security of those under 50 since banks love to compound interest to affect your credit score and make it tougher to take out more loans, not that you should with that much debt anyhow. With a low credit score and heavy debt, banks take advantage of you because you need aid to pay more for their services. Paying back debt is the challenge for most.
Choose Not Chosen
As a financial literacy advocate and blogger, I prefer not to brag, but I will now. I know what to buy and what to avoid. My parents educated me to live a frugal, minimalist stealth wealth lifestyle by choice, not because we had to.
That's the lesson.
The poorest person who shows off with bling is trying to seem rich.
Rich people know garbage is a bad investment. Investing in education is one of the best long-term investments. With information, you can do anything.
Good with money shun some items out of respect and appreciation for what they have.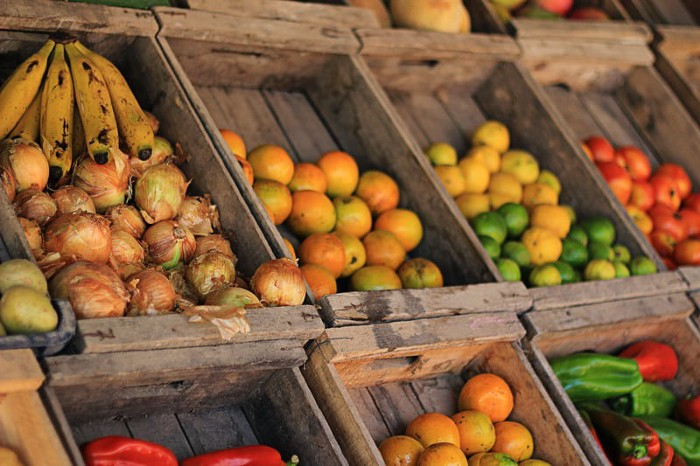 Less is more.
Instead of copying the Joneses, use what you have. They may look cheerful and stylish in their 20k ft home, yet they may be as broke as OJ Simpson in his 20-bedroom mansion.
Let's look at what appears good to follow and maintain your wealth.
#1: Quality comes before quantity
Being frugal doesn't entail being cheap and cruel. Rich individuals care about relationships and treating others correctly, not impressing them. You don't have to be rich to be good with money, although most are since they don't live the fantasy lifestyle.
Underspending is appreciating what you have.
Many people believe organic food is the same as washing chemical-laden produce. Hopefully. Organic, vegan, fresh vegetables from upstate may be more expensive in the short term, but they will help you live longer and save you money in the long run.
Consider. You'll save thousands a month eating McDonalds 3x a day instead of fresh seafood, veggies, and organic fruit, but your life will be shortened. If you want to save money and die early, go ahead, but I assume we all want to break the world record for longest person living and would rather spend less. Plus, elderly people get tax breaks, medicare, pensions, 401ks, etc. You're living for free, therefore eating fast food forever is a terrible decision.
With a few longer years, you may make hundreds or millions more in the stock market, spend more time with family, and just live.
Folks, health is wealth.
Consider the future benefit, not simply the cash sign. Cheapness is useless.
Same with stuff. Don't stock your closet with fast-fashion you can't wear for years. Buying inexpensive goods that will fail tomorrow is stupid.
Investing isn't only in stocks. You're living. Consume less.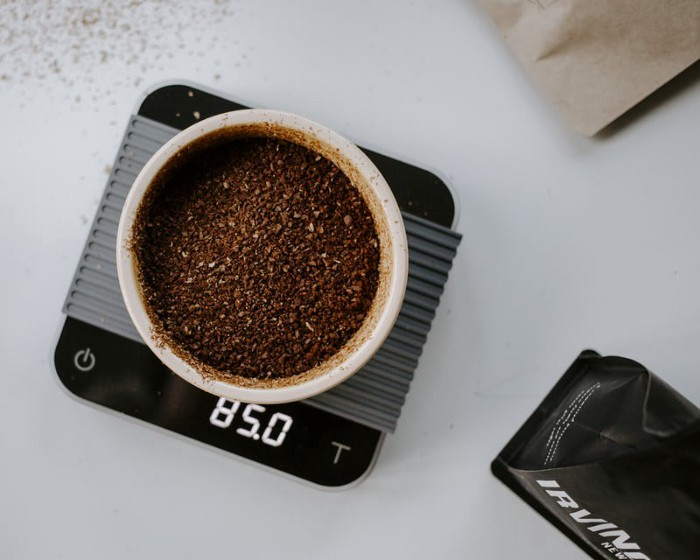 #2: If you cannot afford it twice, you cannot afford it once
I learned this from my dad in 6th grade. I've been lucky to travel, experience things, go to a great university, and conduct many experiments that others without a stable, decent lifestyle can afford.
I didn't live this way because of my parents' paycheck or financial knowledge.
Saving and choosing caused it.
I always bring cash when I shop. I ditch Apple Pay and credit cards since I can spend all I want on even if my account bounces.
Banks are nasty. When you lose it, they profit.
Cash hinders banks' profits. Carrying a big, hefty wallet with cash is lame and annoying, but it's the best method to only spend what you need. Not for vacation, but for tiny daily expenses.
Physical currency lets you know how much you have for lunch or a taxi.
It's physical, thus losing it prevents debt.
If you can't afford it, it will harm more than help.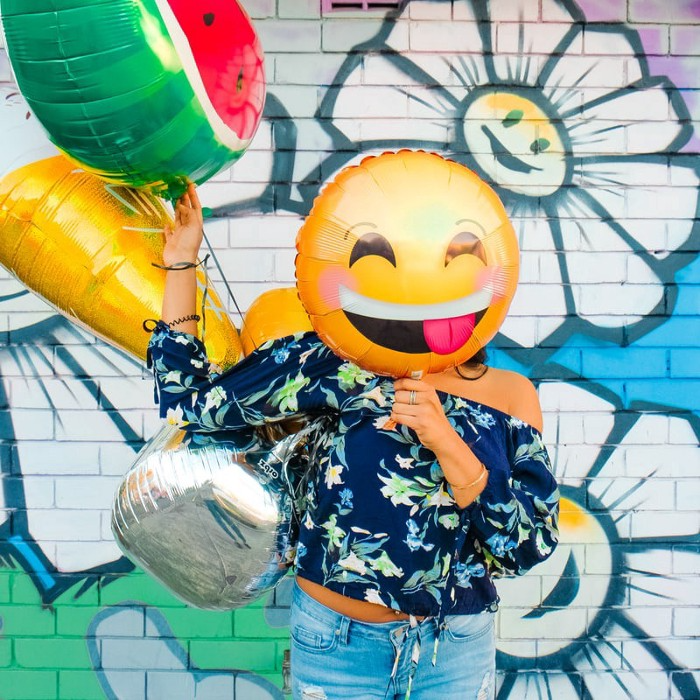 #3: You really can purchase happiness with money.
If used correctly, yes.
Happiness and satisfaction differ.
It won't bring you fulfillment because you must work hard on your own to help others, but you can travel and meet individuals you wouldn't otherwise meet.
You can meet your future co-worker or strike a deal while waiting an hour in first class for takeoff, or you can meet renowned people at a networking brunch.
Seen a pattern here?
Your time and money are best spent on connections. Not automobiles or firearms. That's just stuff. It doesn't make you a better person.
Be different if you've earned less. Instead of trying to win the lotto or become an NFL star for your first big salary, network online for free.
Be resourceful. Sign up for LinkedIn, post regularly, and leave unengaged posts up because that shows power.
Consistency is beneficial.
I did that for a few months and met amazing people who helped me get jobs. Money doesn't create jobs, it creates opportunities.
Resist social media and scammers that peddle false hopes.
Choose wisely.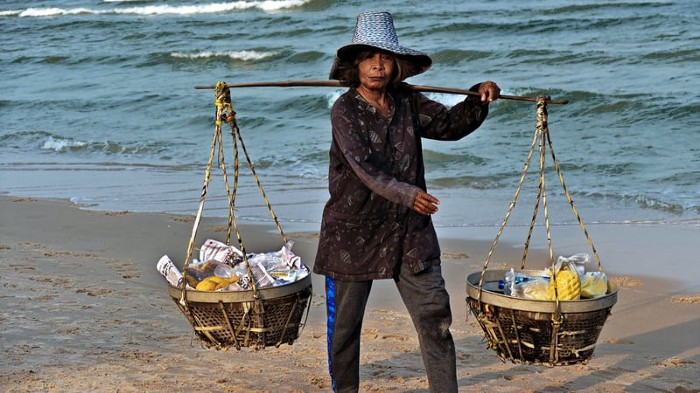 #4: Avoid gushing over titles and purchasing trash.
As Insider's Hillary Hoffower reports, "Showing off wealth is no longer the way to signify having wealth. In the US particularly, the top 1% have been spending less on material goods since 2007."
I checked my closet. No brand comes to mind. I've never worn a brand's logo and rotate 6 white shirts daily. I have my priorities and don't waste money or effort on clothing that won't fit me in a year.
Unless it's your full-time work, clothing shouldn't be part of our mornings.
Lifestyle of stealth wealth. You're so fulfilled that seeming homeless won't hurt your self-esteem.
That's self-assurance.
Extroverts aren't required.
That's irrelevant.
Showing off won't win you friends.
They'll like your personality.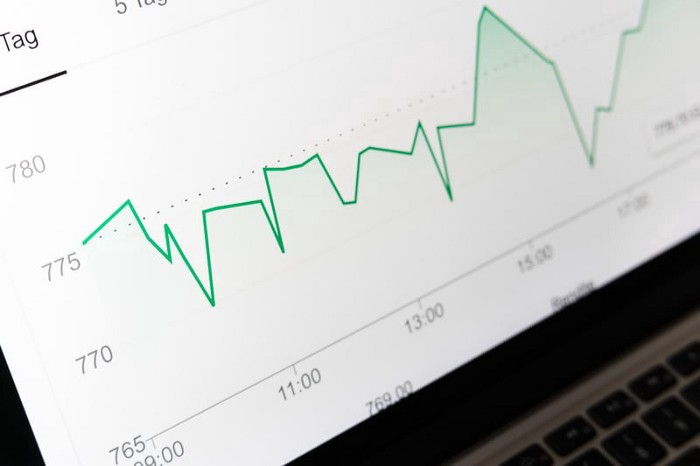 #5: Time is the most valuable commodity.
Being rich doesn't entail working 24/7 M-F.
They work when they are ready to work.
Waking up at 5 a.m. won't make you a millionaire, but it will inculcate diligence and tenacity in you.
You have a busy day yet want to exercise. You can skip the workout or wake up at 4am instead of 6am to do it.
Emotion-driven lazy bums stay in bed.
Those that are accountable keep their promises because they know breaking one will destroy their week.
Since 7th grade, I've worked out at 5am for myself, not to impress others. It gives me greater energy to contribute to others, especially on weekends and holidays.
It's a habit that I have in my life.
Find something that you take seriously and makes you a better person.
As someone who is close to becoming a millionaire and has encountered them throughout my life, I can share with you a few important differences that have shaped who we are as a society based on the weekends:
-Read
-Sleep
-Best time to work with no distractions
-Eat together
-Take walks and be in nature
-Gratitude
-Major family time
-Plan out weeks
-Go grocery shopping because health = wealth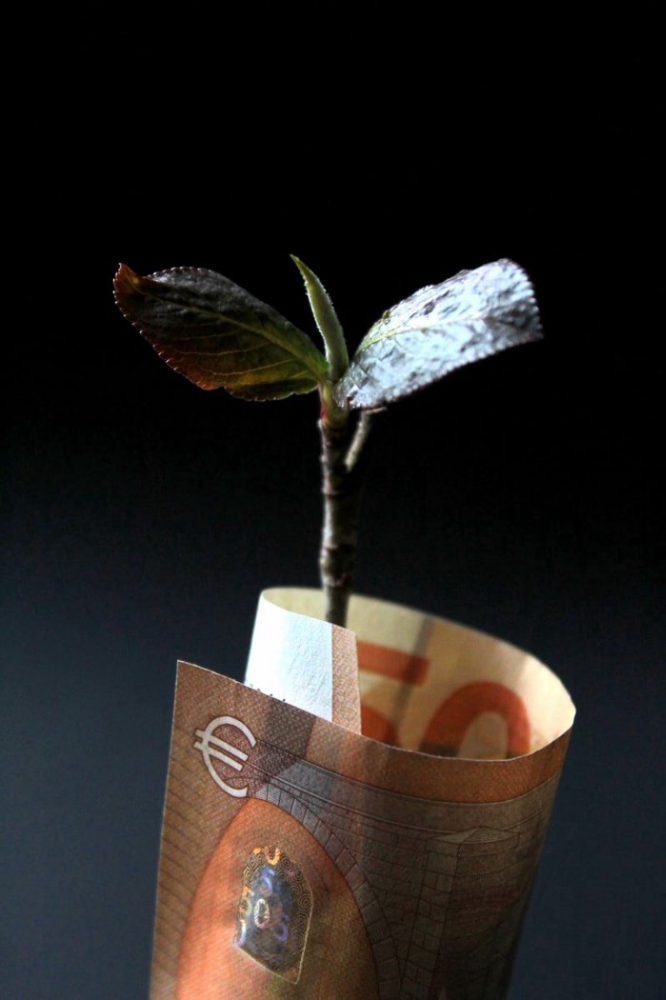 #6. Perspective is Important
Timing the markets will slow down your career. Professors preach scarcity, not abundance. Why should school teach success? They give us bad advice.
If you trust in abundance and luck by attempting and experimenting, growth will come effortlessly. Passion isn't a term that just appears. Mistakes and fresh people help. You can get money. If you don't think it's worth it, you won't.
You don't have to be wealthy to be good at money, but most are for these reasons.  Rich is a mindset, wealth is power. Prioritize your resources. Invest in yourself, knowing the toughest part is starting.
Thanks for reading!
You might also like
Startups are difficult. Streamlining the procedure for creating the following unicorn.
New ventures are exciting. It's fun to imagine yourself rich, successful, and famous (if that's your thing). How you'll help others and make your family proud. This excitement can pull you forward for years, even when you intuitively realize that the path you're on may not lead to your desired success.
Know when to change course. Switching course can mean pivoting or changing direction.
In this not-so-short blog, I'll describe the journey of building your dream. And how the journey might look when you think you're building your dream, but fall short of that vision. Both can feel similar in the beginning, but there are subtle differences.
Let's dive in.
How an exciting journey to a dead end looks and feels.
You want to help many people. You're business-minded, creative, and ambitious. You jump into entrepreneurship. You're excited, free, and in control.
I'll use tech as an example because that's what I know best, but this applies to any entrepreneurial endeavor.
So you start learning the basics of your field, say coding/software development. You read books, take courses, and may even join a bootcamp. You start practicing, and the journey begins. Once you reach a certain level of skill (which can take months, usually 12-24), you gain the confidence to speak with others in the field and find common ground. You might attract a co-founder this way with time. You and this person embark on a journey (Tip: the idea you start with is rarely the idea you end with).
Amateur mistake #1: You spend months building a product before speaking to customers.
Building something pulls you forward blindly. You make mistakes, avoid customers, and build with your co-founder or small team in the dark for months, usually 6-12 months.
You're excited when the product launches. We'll be billionaires! The market won't believe it. This excites you and the team. Launch.
….
Nothing happens.
Some people may sign up out of pity, only to never use the product or service again.
You and the team are confused, discouraged and in denial. They don't get what we've built yet. We need to market it better, we need to talk to more investors, someone will understand our vision.
This is a hopeless path, and your denial could last another 6 months. If you're lucky, while talking to consumers and investors (which you should have done from the start), someone who has been there before would pity you and give you an idea to pivot into that can create income.
Suppose you get this idea and pivot your business. Again, you've just pivoted into something limited by what you've already built. It may be a revenue-generating idea, but it's rarely new. Now you're playing catch-up, doing something others are doing but you can do better. (Tip #2: Don't be late.) Your chances of winning are slim, and you'll likely never catch up.
You're finally seeing revenue and feel successful. You can compete, but if you're not a first mover, you won't earn enough over time. You'll get by or work harder than ever to earn what a skilled trade could provide. You didn't go into business to stress out and make $100,000 or $200,000 a year. When you can make the same amount by becoming a great software developer, electrician, etc.
You become stuck. Either your firm continues this way for years until you realize there isn't enough growth to recruit a strong team and remove yourself from day-to-day operations due to competition. Or a catastrophic economic event forces you to admit that what you were building wasn't new and unique and wouldn't get you where you wanted to be.
This realization could take 6-10 years. No kidding.
The good news is, you've learned a lot along the way and this information can be used towards your next venture (if you have the energy).
Key Lesson: Don't build something if you aren't one of the first in the space building it just for the sake of building something.
-
Let's discuss what it's like to build something that can make your dream come true.
Case 2: Building something the market loves is difficult but rewarding.
It starts with a problem that hasn't been adequately solved for a long time but is now solvable due to technology. Or a new problem due to a change in how things are done.
Let's examine each example.
Example #1: Mass communication. The problem is now solvable due to some technological breakthrough.
Twitter — One of the first web 2 companies that became successful with the rise of smart mobile computing.
People can share their real-time activities via mobile device with friends, family, and strangers. Web 2 and smartphones made it easy and fun.
Example #2: A new problem has emerged due to some change in the way things are conducted.
Zoom- A web-conferencing company that reached massive success due to the movement towards "work from home", remote/hybrid work forces.
Online web conferencing allows for face-to-face communication.
-
These two examples show how to build a unicorn-type company. It's a mix of solving the right problem at the right time, either through a technological breakthrough that opens up new opportunities or by fundamentally changing how people do things.
Let's find these opportunities.
Start by examining problems, such as how the world has changed and how we can help it adapt. It can also be both. Start team brainstorming. Research technologies, current world-trends, use common sense, and make a list. Then, choose the top 3 that you're most excited about and seem most workable based on your skillsets, values, and passion.
Once you have this list, create the simplest MVP you can and test it with customers. The prototype can be as simple as a picture or diagram of user flow and end-user value. No coding required. Market-test. Twitter's version 1 was simple. It was a web form that asked, "What are you doing?" Then publish it from your phone. A global status update, wherever you are. Currently, this company has a $50 billion market cap.
Here's their MVP screenshot.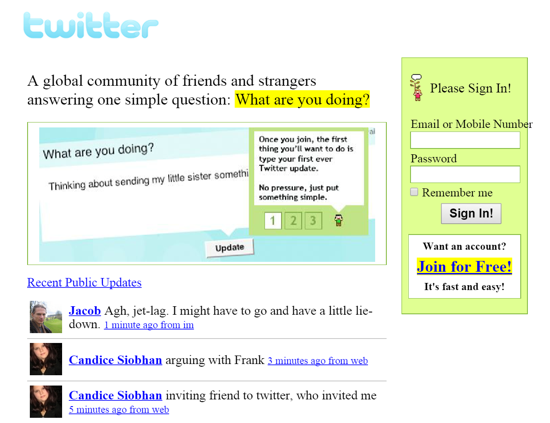 Small things grow. Tiny. Simplify.
Remember Frequency and Value when brainstorming. Your product is high frequency (Twitter, Instagram, Snapchat, TikTok) or high value (Airbnb for renting travel accommodations), or both (Gmail).
Once you've identified product ideas that meet the above criteria, they're simple, have a high frequency of use, or provide deep value. You then bring it to market in the simplest, most cost-effective way. You can sell a half-working prototype with imagination and sales skills. You need just enough of a prototype to convey your vision to a user or customer.
With this, you can approach real people. This will do one of three things: give you a green light to continue on your vision as is, show you that there is no opportunity and people won't use it, or point you in a direction that is a blend of what you've come up with and what the customer / user really wants, and you update the prototype and go back to the maze. Repeat until you have enough yeses and conviction to build an MVP.
Alexander Nguyen
10 months ago
A Comparison of Amazon, Microsoft, and Google's Compensation
Learn or earn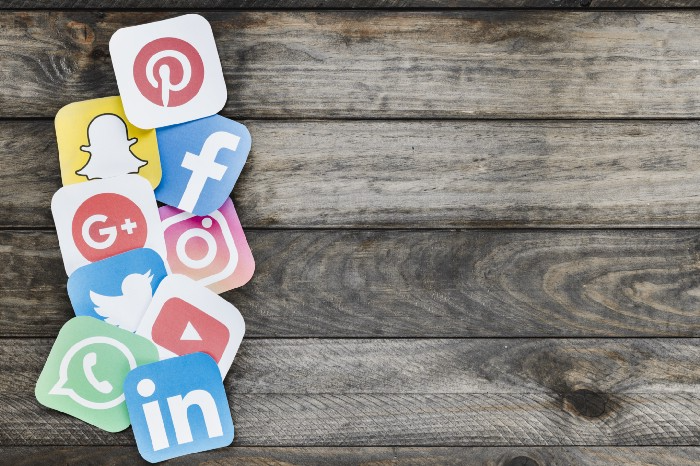 In 2020, I started software engineering. My base wage has progressed as follows:
Amazon (2020): $112,000
Microsoft (2021): $123,000
Google (2022): $169,000
I didn't major in math, but those jumps appear more than a 7% wage increase. Here's a deeper look at the three.
The Three Categories of Compensation
Most software engineering compensation packages at IT organizations follow this format.
Minimum Salary
Base salary is pre-tax income. Most organizations give a base pay. This is paid biweekly, twice monthly, or monthly.
Recruiting Bonus
Sign-On incentives are one-time rewards to new hires. Companies need an incentive to switch. If you leave early, you must pay back the whole cost or a pro-rated amount.
Equity
Equity is complex and requires its own post. A company will promise to give you a certain amount of company stock but when you get it depends on your offer. 25% per year for 4 years, then it's gone.
If a company gives you $100,000 and distributes 25% every year for 4 years, expect $25,000 worth of company stock in your stock brokerage on your 1 year work anniversary.
Performance Bonus
Tech offers may include yearly performance bonuses. Depends on performance and funding. I've only seen 0-20%.
Engineers' overall compensation usually includes:
Base Salary + Sign-On + (Total Equity)/4 + Average Performance Bonus
Amazon: (TC: 150k)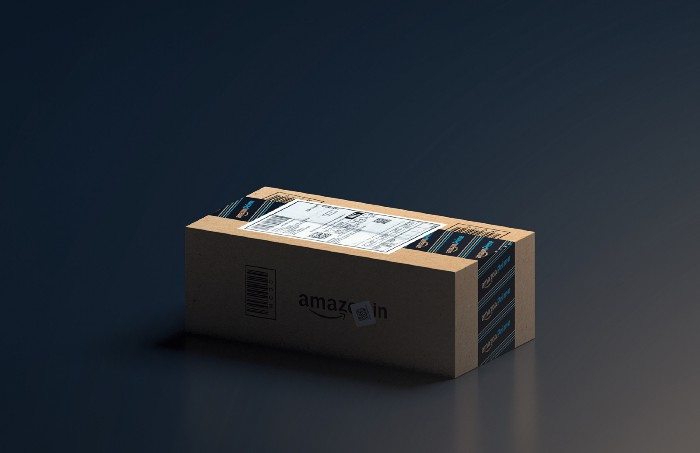 Base Pay System
Amazon pays Seattle employees monthly on the first work day. I'd rather have my money sooner than later, even if it saves processing and pay statements.
The company upped its base pay cap from $160,000 to $350,000 to compete with other tech companies.
Performance Bonus
Amazon has no performance bonus, so you can work as little or as much as you like and get paid the same. Amazon is savvy to avoid promising benefits it can't deliver.
Sign-On Bonus
Amazon gives two two-year sign-up bonuses. First-year workers could receive $20,000 and second-year workers $15,000. It's probably to make up for the company's strange equity structure.
If you leave during the first year, you'll owe the entire money and a prorated amount for the second year bonus.
Equity
Most organizations prefer a 25%, 25%, 25%, 25% equity structure. Amazon takes a different approach with end-heavy equity:
the first year, 5%

15% after one year.

20% then every six months
We thought it was constructed this way to keep staff longer.
Microsoft (TC: 185k)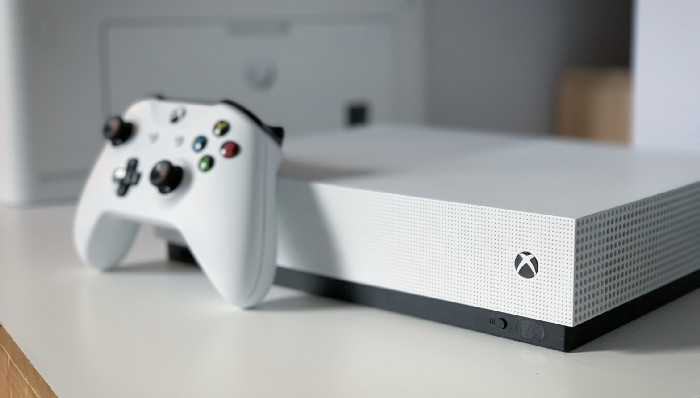 Base Pay System
Microsoft paid biweekly.
Gainful Performance
My offer letter suggested a 0%-20% performance bonus. Everyone will be satisfied with a 10% raise at year's end.
But misleading press where the budget for the bonus is doubled can upset some employees because they won't earn double their expected bonus. Still barely 10% for 2022 average.
Sign-On Bonus
Microsoft's sign-on bonus is a one-time payout. The contract can require 2-year employment. You must negotiate 1 year. It's pro-rated, so that's fair.
Equity
Microsoft is one of those companies that has standard 25% equity structure. Except if you're a new graduate.
In that case it'll be
25% six months later

25% each year following that
New grads will acquire equity in 3.5 years, not 4. I'm guessing it's to keep new grads around longer.
Google (TC: 300k)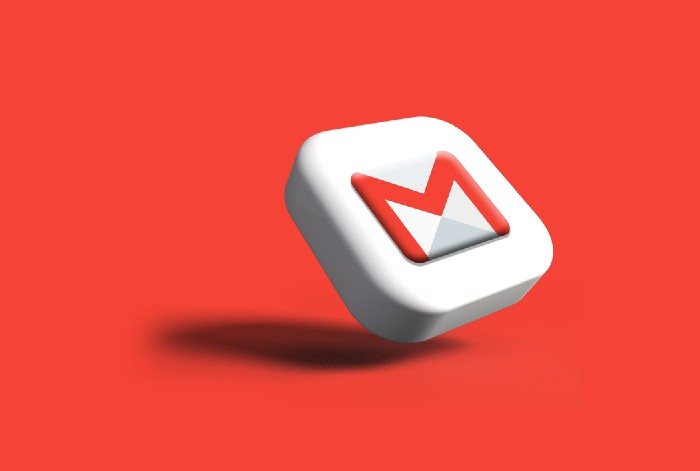 Base Pay Structure
Google pays biweekly.
Performance Bonus
Google's offer letter specifies a 15% bonus. It's wonderful there's no cap, but I might still get 0%. A little more than Microsoft's 10% and a lot more than Amazon's 0%.
Sign-On Bonus
Google gave a 1-year sign-up incentive. If the contract is only 1 year, I can move without any extra obligations.
Not as fantastic as Amazon's sign-up bonuses, but the remainder of the package might compensate.
Equity
We covered Amazon's tail-heavy compensation structure, so Google's front-heavy equity structure may surprise you.
Annual structure breakdown
33% Year 1

33% Year 2

22% Year 3

12% Year 4
The goal is to get them to Google and keep them there.
Final Thoughts
This post hopefully helped you understand the 3 firms' compensation arrangements.
There's always more to discuss, such as refreshers, 401k benefits, and business discounts, but I hope this shows a distinction between these 3 firms.
Muhammad Rahmatullah
1 year ago
The Pyramid of Coding Principles
A completely operating application requires many processes and technical challenges. Implementing coding standards can make apps right, work, and faster.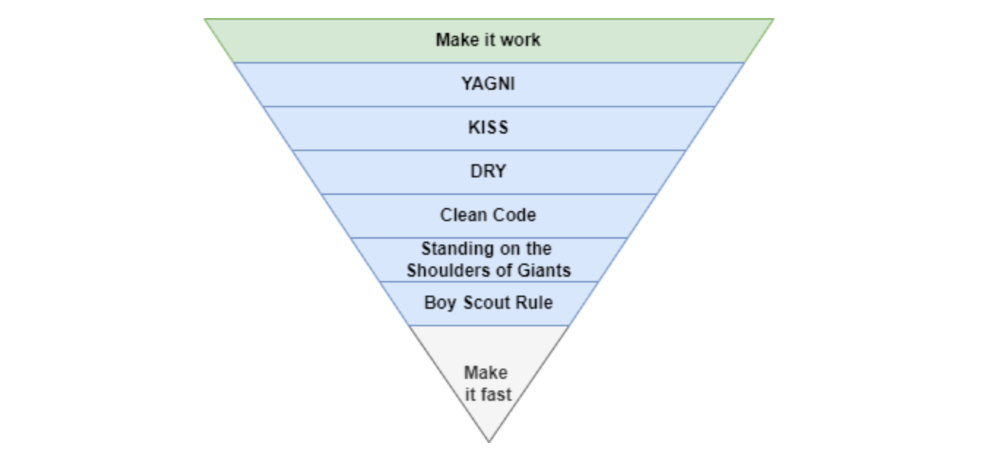 With years of experience working in software houses. Many client apps are scarcely maintained.
Why are these programs "barely maintainable"? If we're used to coding concepts, we can probably tell if an app is awful or good from its codebase.
This is how I coded much of my app.
Make It Work
Before adopting any concept, make sure the apps are completely functional. Why have a fully maintained codebase if the app can't be used?
The user doesn't care if the app is created on a super server or uses the greatest coding practices. The user just cares if the program helps them.
After the application is working, we may implement coding principles.
You Aren't Gonna Need It
As a junior software engineer, I kept unneeded code, components, comments, etc., thinking I'd need them later.
In reality, I never use that code for weeks or months.
First, we must remove useless code from our primary codebase. If you insist on keeping it because "you'll need it later," employ version control.
If we remove code from our codebase, we can quickly roll back or copy-paste the previous code without preserving it permanently.
The larger the codebase, the more maintenance required.
Keep It Simple Stupid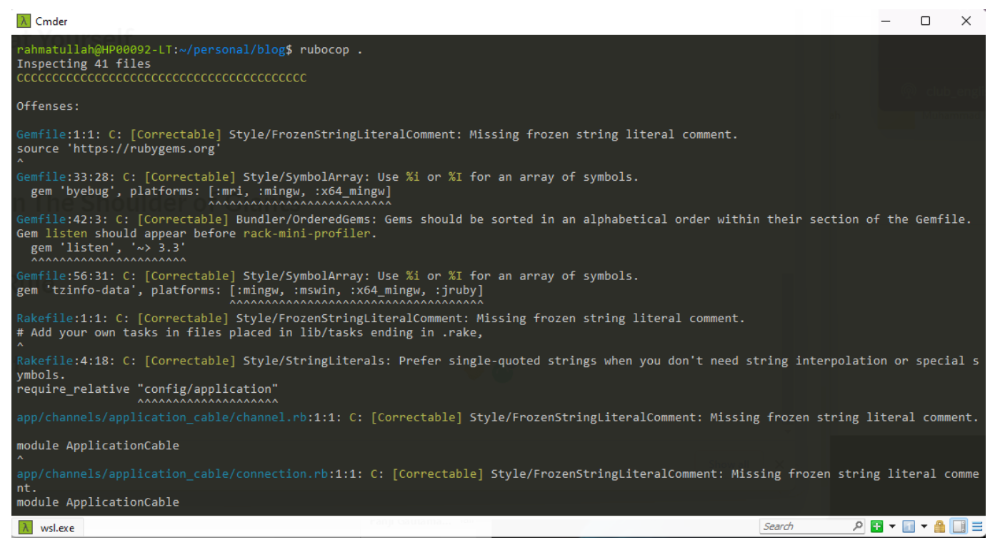 Indeed. Keep things simple.
Why complicate something if we can make it simpler?
Our code improvements should lessen the server load and be manageable by others.
If our code didn't pass those benchmarks, it's too convoluted and needs restructuring. Using an open-source code critic or code smell library, we can quickly rewrite the code.
Simpler codebases and processes utilize fewer server resources.
Don't Repeat Yourself
Have you ever needed an action or process before every action, such as ensuring the user is logged in before accessing user pages?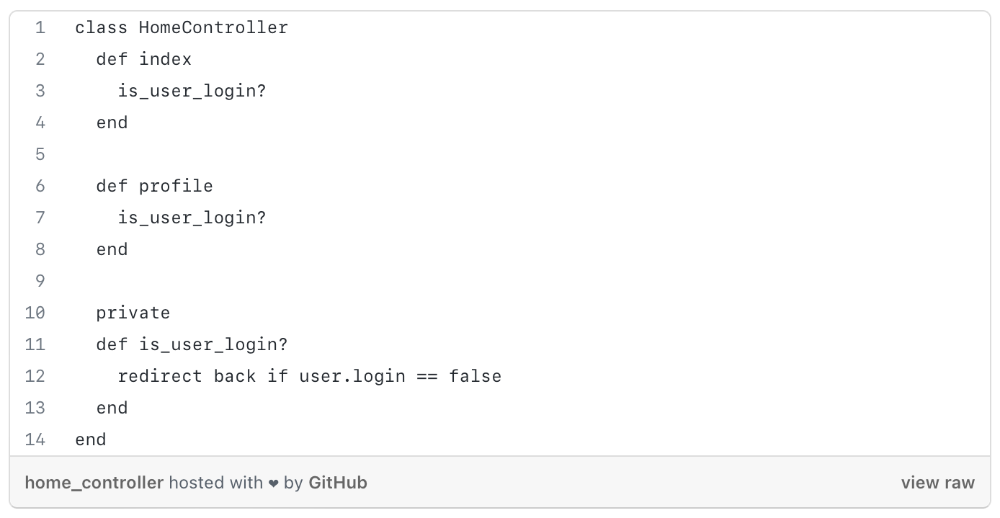 As you can see from the above code, I try to call is user login? in every controller action, and it should be optimized, because if we need to rename the method or change the logic, etc. We can improve this method's efficiency.
We can write a constructor/middleware/before action that calls is_user_login?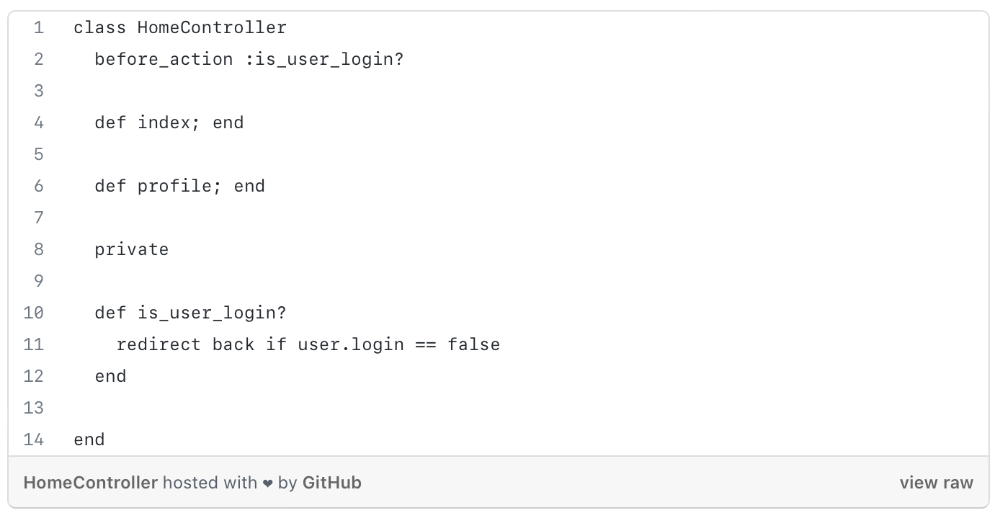 The code is more maintainable and readable after refactoring.
Each programming language or framework handles this issue differently, so be adaptable.
Clean Code
Clean code is a broad notion that you've probably heard of before.
When creating a function, method, module, or variable name, the first rule of clean code is to be precise and simple.
The name should express its value or logic as a whole, and follow code rules because every programming language is distinct.
If you want to learn more about this topic, I recommend reading https://www.amazon.com/Clean-Code-Handbook-Software-Craftsmanship/dp/0132350882.
Standing On The Shoulder of Giants
Use industry standards and mature technologies, not your own(s).
There are several resources that explain how to build boilerplate code with tools, how to code with best practices, etc.
I propose following current conventions, best practices, and standardization since we shouldn't innovate on top of them until it gives us a competitive edge.
Boy Scout Rule
What reduces programmers' productivity?
When we have to maintain or build a project with messy code, our productivity decreases.
Having to cope with sloppy code will slow us down (shame of us).
How to cope? Uncle Bob's book says, "Always leave the campground cleaner than you found it."
When developing new features or maintaining current ones, we must improve our codebase. We can fix minor issues too. Renaming variables, deleting whitespace, standardizing indentation, etc.
Make It Fast
After making our code more maintainable, efficient, and understandable, we can speed up our app.
Whether it's database indexing, architecture, caching, etc.
A smart craftsman understands that refactoring takes time and it's preferable to balance all the principles simultaneously. Don't YAGNI phase 1.
Using these ideas in each iteration/milestone, while giving the bottom items less time/care.
You can check one of my articles for further information. https://medium.com/life-at-mekari/why-does-my-website-run-very-slowly-and-how-do-i-optimize-it-for-free-b21f8a2f0162
https://medium.com/life-at-mekari/what-you-need-to-make-your-app-a-high-availability-system-tackling-the-technical-challenges-8896abec363f