Why I Love Azuki

Azuki Banner (www.azuki.com)
Disclaimer: This is my personal viewpoint. I'm not on the Azuki team. Please keep in mind that I am merely a fan, community member, and holder. Please do your own research and pardon my grammar. Thanks!
Azuki has changed my view of NFTs.
When I first entered the NFT world, I had no idea what to expect. I liked the idea. So I invested in some projects, fought for whitelists, and discovered some cool NFTs projects (shout-out to CATC). I lost more money than I earned at one point, but I hadn't invested excessively (only put in what you can afford to lose). Despite my losses, I kept looking. I almost waited for the "ah-ha" moment. A NFT project that changed my perspective on NFTs. What makes an NFT project more than a work of art?
Answer: Azuki.
The Art
The Azuki art drew me in as an anime fan. It looked like something out of an anime, and I'd never seen it before in NFT.
The project was still new. The first two animated teasers were released with little fanfare, but I was impressed with their quality. You can find them on Instagram or in their earlier Tweets.
The teasers hinted that this project could be big and that the team could deliver. It was amazing to see Shao cut the Azuki posters with her katana. Especially at the end when she sheaths her sword and the music cues. Then the live action video of the young boy arranging the Azuki posters seemed movie-like. I felt like I was entering the Azuki story, brand, and dope theme.
The team did not disappoint with the Azuki NFTs. The level of detail in the art is stunning. There were Azukis of all genders, skin and hair types, and more. These 10,000 Azukis have so much representation that almost anyone can find something that resonates. Rather than me rambling on, I suggest you visit the Azuki gallery
The Team
If the art is meant to draw you in and be the project's face, the team makes it more. The NFT would be a JPEG without a good team leader. Not that community isn't important, but no community would rally around a bad team.
Because I've been rugged before, I'm very focused on the team when considering a project. While many project teams are anonymous, I try to find ones that are doxxed (public) or at least appear to be established. Unlike Azuki, where most of the Azuki team is anonymous, Steamboy is public. He is (or was) Overwatch's character art director and co-creator of Azuki. I felt reassured and could trust the project after seeing someone from a major game series on the team.
Then I tried to learn as much as I could about the team. Following everyone on Twitter, reading their tweets, and listening to recorded AMAs. I was impressed by the team's professionalism and dedication to their vision for Azuki, led by ZZZAGABOND.
I believe the phrase "actions speak louder than words" applies to Azuki. I can think of a few examples of what the Azuki team has done, but my favorite is ERC721A.
With ERC721A, Azuki has created a new algorithm that allows minting multiple NFTs for essentially the same cost as minting one NFT.
I was ecstatic when the dev team announced it. This fascinates me as a self-taught developer. Azuki released a product that saves people money, improves the NFT space, and is open source. It showed their love for Azuki and the NFT community.
The Community
Community, community, community. It's almost a chant in the NFT space now. A community, like a team, can make or break a project. We are the project's consumers, shareholders, core, and lifeblood. The team builds the house, and we fill it. We stay for the community.
When I first entered the Azuki Discord, I was surprised by the calm atmosphere. There was no news about the project. No release date, no whitelisting requirements. No grinding or spamming either. People just wanted to hangout, get to know each other, and talk. It was nice. So the team could pick genuine people for their mintlist (aka whitelist).
But nothing fundamental has changed since the release. It has remained an authentic, fun, and helpful community. I'm constantly logging into Discord to chat with others or follow conversations. I see the community's openness to newcomers. Everyone respects each other (barring a few bad apples) and the variety of people passing through is fascinating. This human connection and interaction is what I enjoy about this place. Being a part of a group that supports a cause.
Finally, I want to thank the amazing Azuki mod team and the kissaten channel for their contributions.
The Brand
So, what sets Azuki apart from other projects? They are shaping a brand or identity. The Azuki website, I believe, best captures their vision. (This is me gushing over the site.)
If you go to the website, turn on the dope playlist in the bottom left. The playlist features a mix of Asian and non-Asian hip-hop and rap artists, with some lo-fi thrown in. The songs on the playlist change, but I think you get the vibe Azuki embodies just by turning on the music.
The Garden is our next stop where we are introduced to Azuki.
A brand.
We're creating a new brand together.
A metaverse brand. By the people.
A collection of 10,000 avatars that grant Garden membership. It starts with exclusive streetwear collabs, NFT drops, live events, and more. Azuki allows for a new media genre that the world has yet to discover. Let's build together an Azuki, your metaverse identity.
The Garden is a magical internet corner where art, community, and culture collide. The boundaries between the physical and digital worlds are blurring.
Try a Red Bean.
The text begins with Azuki's intention in the space. It's a community-made metaverse brand. Then it goes into more detail about Azuki's plans. Initiation of a story or journey. "Would you like to take the red bean and jump down the rabbit hole with us?" I love the Matrix red pill or blue pill play they used. (Azuki in Japanese means red bean.)
Morpheus, the rebel leader, offers Neo the choice of a red or blue pill in The Matrix. "You take the blue pill... After the story, you go back to bed and believe whatever you want. Your red pill... Let me show you how deep the rabbit hole goes." Aware that the red pill will free him from the enslaving control of the machine-generated dream world and allow him to escape into the real world, he takes it. However, living the "truth of reality" is harsher and more difficult.
It's intriguing and draws you in. Taking the red bean causes what? Where am I going? I think they did well in piqueing a newcomer's interest.
Not convinced by the Garden? Read the Manifesto. It reinforces Azuki's role.
Here comes a new wave…
And surfing here is different.
Breaking down barriers.
Building open communities.
Creating magic internet money with our friends.
To those who don't get it, we tell them: gm.
They'll come around eventually.
Here's to the ones with the courage to jump down a peculiar rabbit hole.
One that pulls you away from a world that's created by many and owned by few…
To a world that's created by more and owned by all.
From The Garden come the human beans that sprout into your family.
We rise together.
We build together.
We grow together.
Ready to take the red bean?
Not to mention the Mindmap, it sets Azuki apart from other projects and overused Roadmaps. I like how the team recognizes that the NFT space is not linear. So many of us are still trying to figure it out. It is Azuki's vision to adapt to changing environments while maintaining their values. I admire their commitment to long-term growth.
Conclusion
To be honest, I have no idea what the future holds. Azuki is still new and could fail. But I'm a long-term Azuki fan. I don't care about quick gains. The future looks bright for Azuki. I believe in the team's output. I love being an Azuki.
Thank you! IKUZO!
Full post here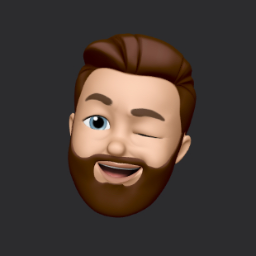 More on NFTs & Art
Instagram NFTs Are Here… How does this affect artists?
Instagram (IG) is officially joining NFT. With the debut of new in-app NFT functionalities, influential producers can interact with blockchain tech on the social media platform.
Meta unveiled intentions for an Instagram NFT marketplace in March, but these latest capabilities focus more on content sharing than commerce. And why shouldn't they? IG's entry into the NFT market is overdue, given that Twitter and Discord are NFT hotspots.
The NFT marketplace/Web3 social media race has continued to expand, with the expected Coinbase NFT Beta now live and blazing a trail through the NFT ecosystem.
IG's focus is on visual art. It's unlike any NFT marketplace or platform. IG NFTs and artists: what's the deal? Let's take a look.
What are Instagram's NFT features anyways?
As said, not everyone has Instagram's new features. 16 artists, NFT makers, and collectors can now post NFTs on IG by integrating third-party digital wallets (like Rainbow or MetaMask) in-app. IG doesn't charge to publish or share digital collectibles.
NFTs displayed on the app have a "shimmer" aesthetic effect. NFT posts also have a "digital collectable" badge that lists metadata such as the creator and/or owner, the platform it was created on, a brief description, and a blockchain identification.
Meta's social media NFTs have launched on Instagram, but the company is also preparing to roll out digital collectibles on Facebook, with more on the way for IG. Currently, only Ethereum and Polygon are supported, but Flow and Solana will be added soon.
How will artists use these new features?
Artists are publishing NFTs they developed or own on IG by linking third-party digital wallets. These features have no NFT trading aspects built-in, but are aimed to let authors share NFTs with IG audiences.
Creators, like IG-native aerial/street photographer Natalie Amrossi (@misshattan), are discovering novel uses for IG NFTs.
Amrossi chose to not only upload his own NFTs but also encourage other artists in the field. "That's the beauty of connecting your wallet and sharing NFTs. It's not just what you make, but also what you accumulate."
Amrossi has been producing and posting Instagram art for years. With IG's NFT features, she can understand Instagram's importance in supporting artists.
Web2 offered Amrossi the tools to become an artist and make a life. "Before 'influencer' existed, I was just making art. Instagram helped me reach so many individuals and brands, giving me a living.
Even artists without millions of viewers are encouraged to share NFTs on IG. Wilson, a relatively new name in the NFT space, seems to have already gone above and beyond the scope of these new IG features. By releasing "Losing My Mind" via IG NFT posts, she has evaded the lack of IG NFT commerce by using her network to market her multi-piece collection.
"'Losing My Mind' is a long-running photo series. Wilson was preparing to release it as NFTs before IG approached him, so it was a perfect match.
Wilson says the series is about Black feminine figures and media depiction. Respectable effort, given POC artists have been underrepresented in NFT so far.
"Over the past year, I've had mental health concerns that made my emotions so severe it was impossible to function in daily life, therefore that prompted this photo series. Every Wednesday and Friday for three weeks, I'll release a new Meta photo for sale.
Wilson hopes these new IG capabilities will help develop a connection between the NFT community and other internet subcultures that thrive on Instagram.
"NFTs can look scary as an outsider, but seeing them on your daily IG feed makes it less foreign," adds Wilson. I think Instagram might become a hub for NFT aficionados, making them more accessible to artists and collectors.
What does it all mean for the NFT space?
Meta's NFT and metaverse activities will continue to impact Instagram's NFT ecosystem. Many think it will be for the better, as IG NFT frauds are another problem hurting the NFT industry.
IG's new NFT features seem similar to Twitter's PFP NFT verifications, but Instagram's tools should help cut down on scams as users can now verify the creation and ownership of whole NFT collections included in IG posts.
Given the number of visual artists and NFT creators on IG, it might become another hub for NFT fans, as Wilson noted. If this happens, it raises questions about Instagram success. Will artists be incentivized to distribute NFTs? Or will those with a large fanbase dominate?
Elise Swopes (@swopes) believes these new features should benefit smaller artists. Swopes was one of the first profiles placed to Instagram's original suggested user list in 2012.
Swopes says she wants IG to be a magnet for discovery and understands the value of NFT artists and producers.
"I'd love to see IG become a focus of discovery for everyone, not just the Beeples and Apes and PFPs. That's terrific for them, but [IG NFT features] are more about using new technology to promote emerging artists, Swopes added.
"Especially music artists. It's everywhere. Dancers, writers, painters, sculptors, musicians. My element isn't just for digital artists; it can be anything. I'm delighted to witness people's creativity."
Swopes, Wilson, and Amrossi all believe IG's new features can help smaller artists. It remains to be seen how these new features will effect the NFT ecosystem once unlocked for the rest of the IG NFT community, but we will likely see more social media NFT integrations in the months and years ahead.
Read the full article here
Jim Clyde Monge
1 month ago
Can You Sell Images Created by AI?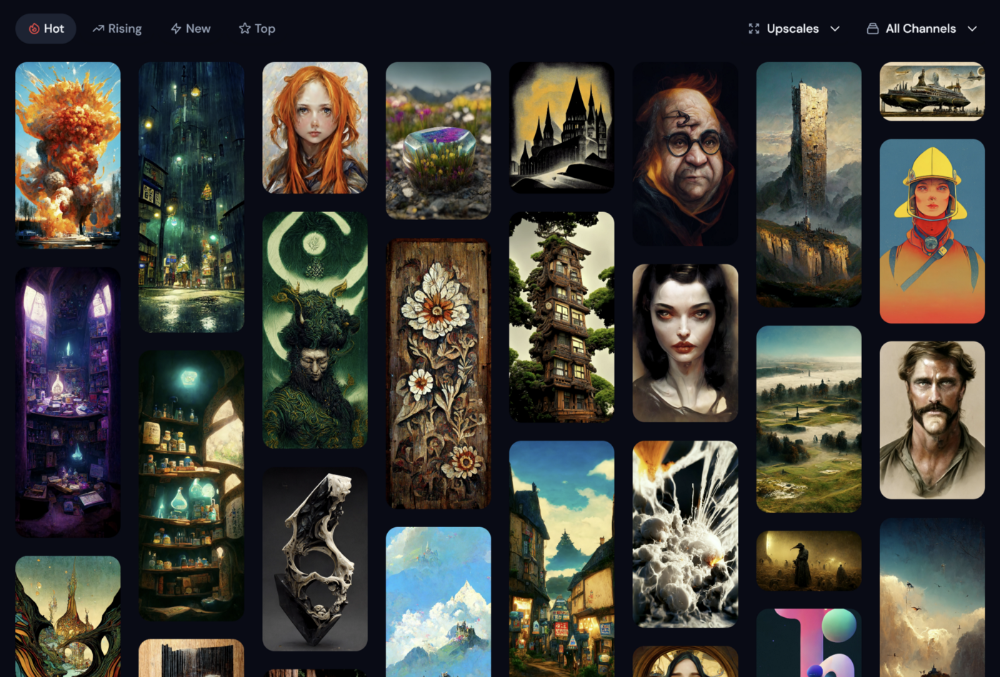 Some AI-generated artworks sell for enormous sums of money.
But can you sell AI-Generated Artwork?
Simple answer: yes.
However, not all AI services enable allow usage and redistribution of images.
Let's check some of my favorite AI text-to-image generators:
Dall-E2 by OpenAI
The AI art generator Dall-E2 is powerful. Since it's still in beta, you can join the waitlist here.
OpenAI DOES NOT allow the use and redistribution of any image for commercial purposes.
Here's the policy as of April 6, 2022.

Here are some images from Dall-E2's webpage to show its art quality.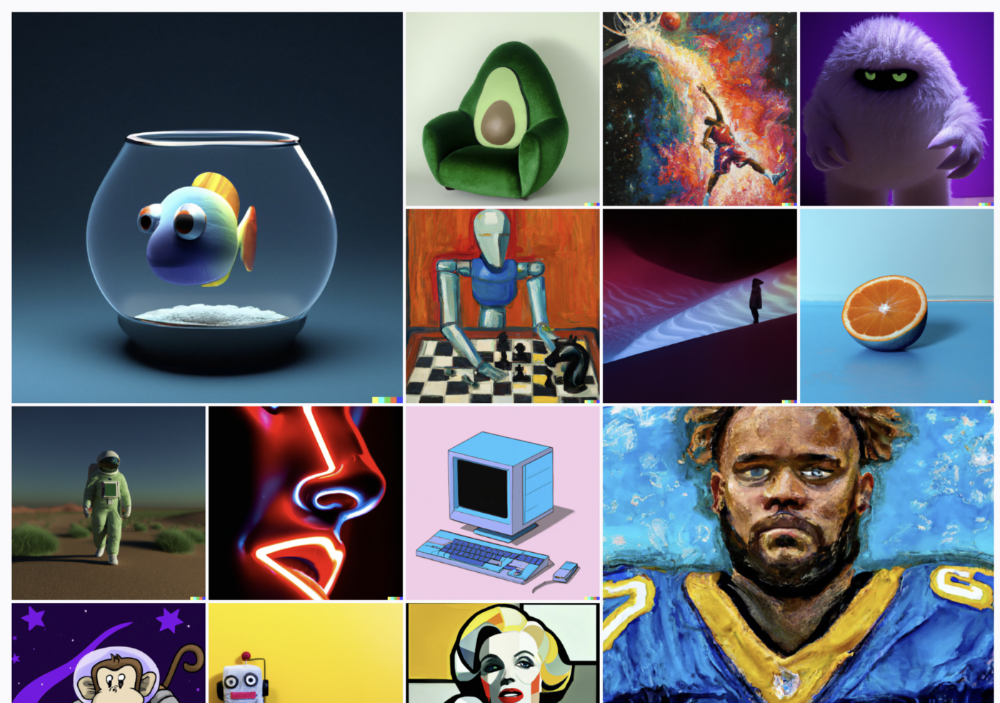 Several Reddit users reported receiving pricing surveys from OpenAI.
This suggests the company may bring out a subscription-based tier and a commercial license to sell images soon.
MidJourney
I like Midjourney's art generator. It makes great AI images. Here are some samples: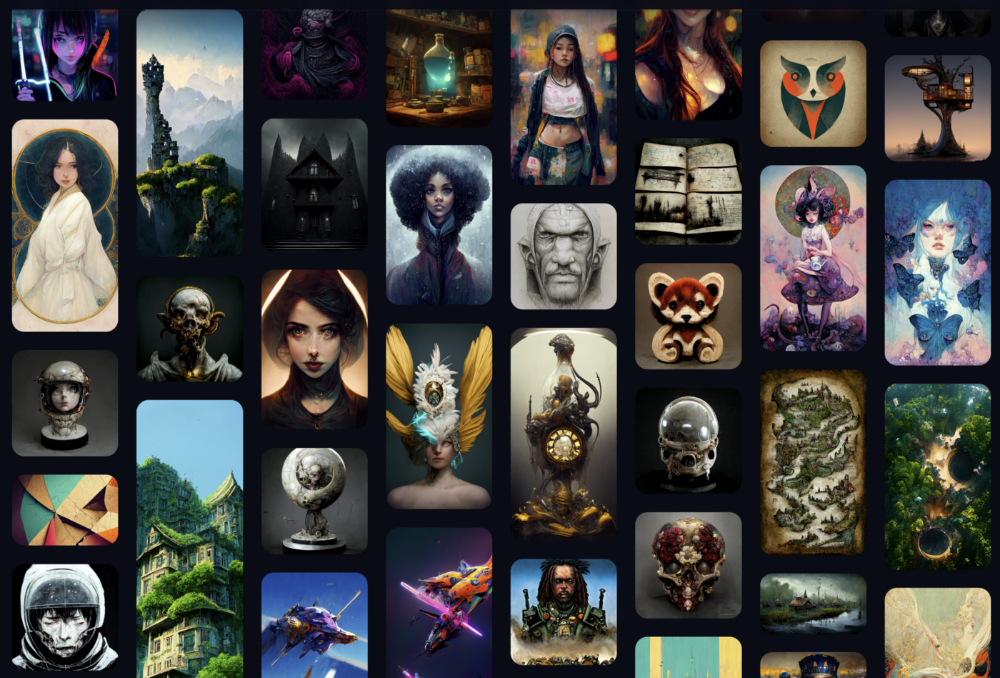 Standard Licenses are available for $10 per month.
Standard License allows you to use, copy, modify, merge, publish, distribute, and/or sell copies of the images, except for blockchain technologies.
If you utilize or distribute the Assets using blockchain technology, you must pay MidJourney 20% of revenue above $20,000 a month or engage in an alternative agreement.
Here's their copyright and trademark page.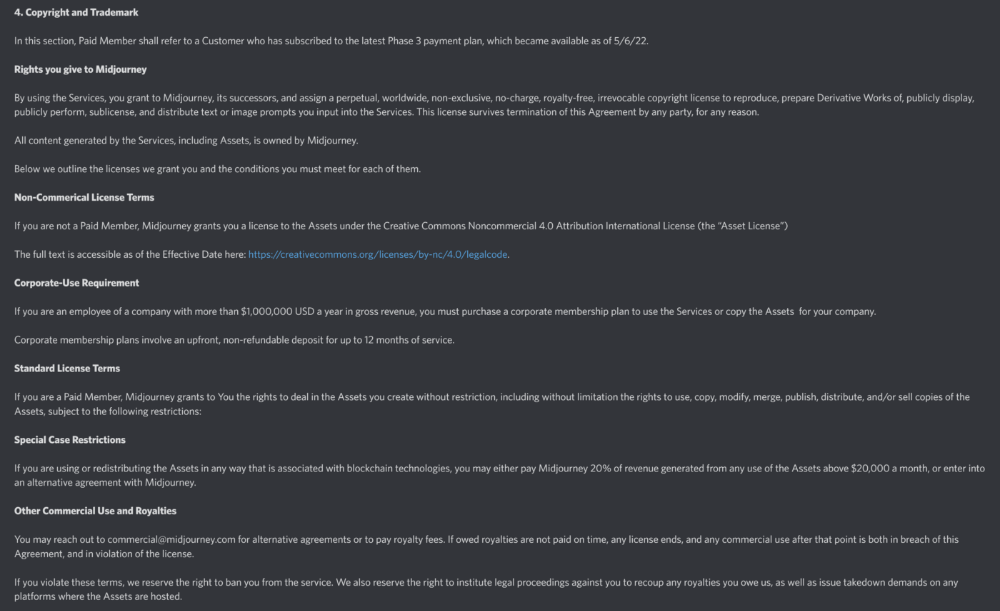 Dream by Wombo
Dream is one of the first public AI art generators.
This AI program is free, easy to use, and Wombo gives a royalty-free license to copy or share artworks.
Users own all artworks generated by the tool. Including all related copyrights or intellectual property rights.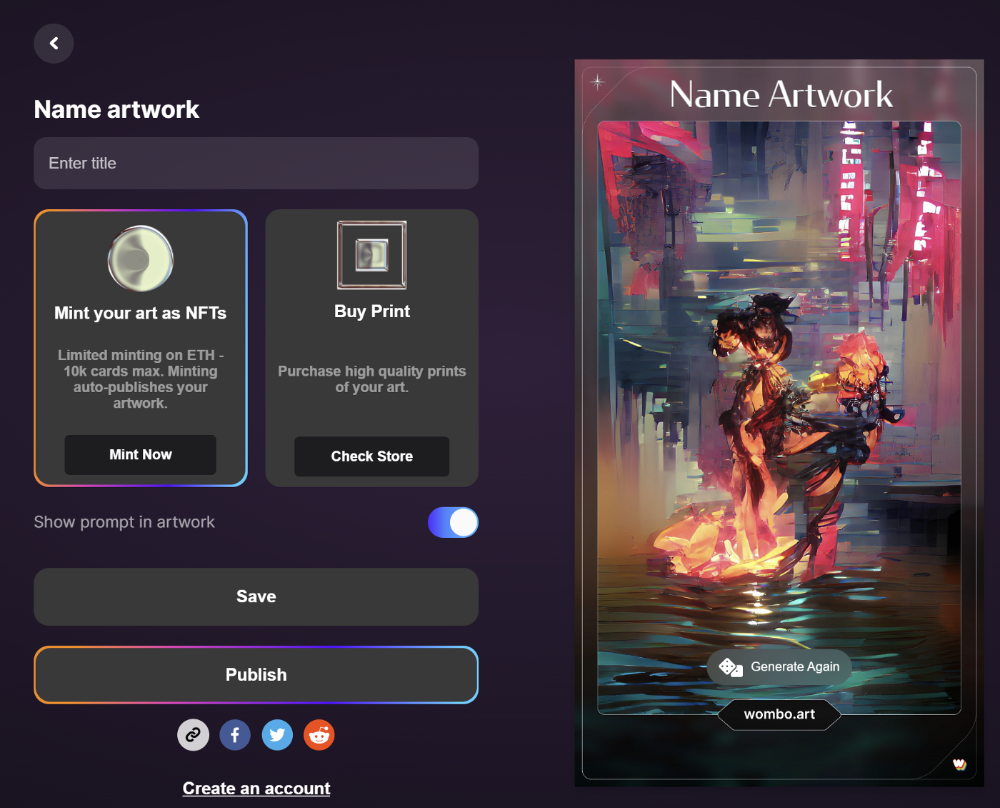 Here's Wombos' intellectual property policy.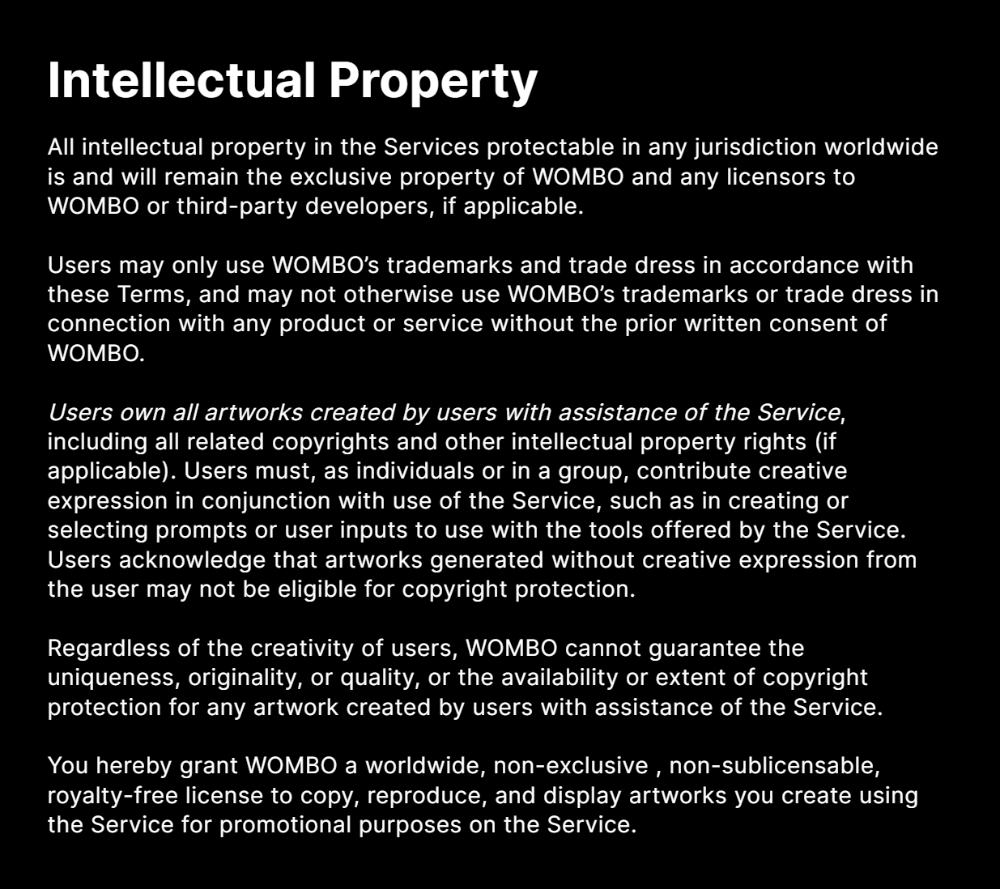 Final Reflections
AI is creating a new sort of art that's selling well. It's becoming popular and valued, despite some skepticism.
Now that you know MidJourney and Wombo let you sell AI-generated art, you need to locate buyers. There are several ways to achieve this, but that's for another story.
Metaverse, Web 3, and NFTs are BS
Most crypto is probably too.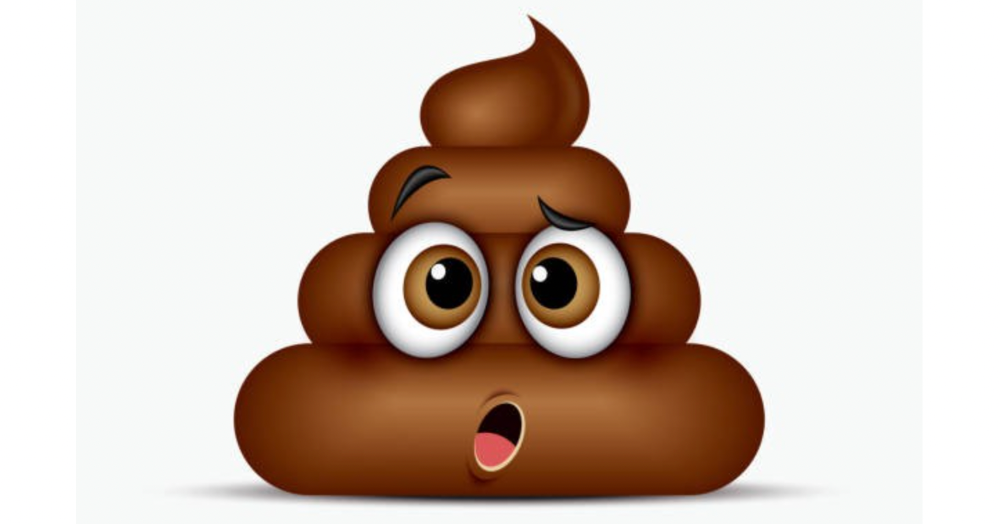 The goals of Web 3 and the metaverse are admirable and attractive. Who doesn't want an internet owned by users? Who wouldn't want a digital realm where anything is possible? A better way to collaborate and visit pals.
Companies pursue profits endlessly. Infinite growth and revenue are expected, and if a corporation needs to sacrifice profits to safeguard users, the CEO, board of directors, and any executives will lose to the system of incentives that (1) retains workers with shares and (2) makes a company answerable to all of its shareholders. Only the government can guarantee user protections, but we know how successful that is. This is nothing new, just a problem with modern capitalism and tech platforms that a user-owned internet might remedy. Moxie, the founder of Signal, has a good articulation of some of these current Web 2 tech platform problems (but I forget the timestamp); thoughts on JRE aside, this episode is worth listening to (it's about a bunch of other stuff too).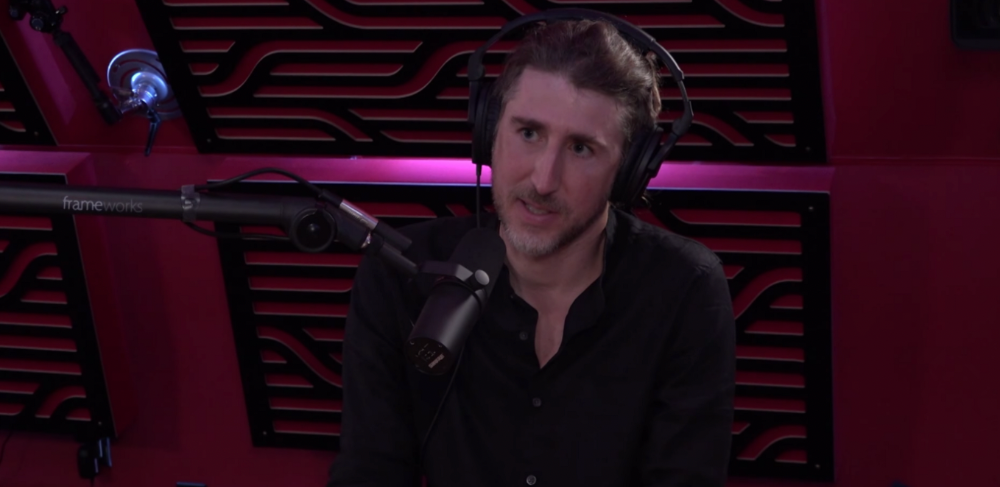 Moxie Marlinspike, founder of Signal, on the Joe Rogan Experience podcast.
Source: https://open.spotify.com/episode/2uVHiMqqJxy8iR2YB63aeP?si=4962b5ecb1854288
Web 3 champions are premature. There was so much spectacular growth during Web 2 that the next wave of founders want to make an even bigger impact, while investors old and new want a chance to get a piece of the moonshot action. Worse, crypto enthusiasts believe — and financially need — the fact of its success to be true, whether or not it is.
I'm doubtful that it will play out like current proponents say. Crypto has been the white-hot focus of SV's best and brightest for a long time yet still struggles to come up any mainstream use case other than 'buy, HODL, and believe': a store of value for your financial goals and wishes. Some kind of the metaverse is likely, but will it be decentralized, mostly in VR, or will Meta (previously FB) play a big role? Unlikely.
METAVERSE
The metaverse exists already. Our digital lives span apps, platforms, and games. I can design a 3D house, invite people, use Discord, and hang around in an artificial environment. Millions of gamers do this in Rust, Minecraft, Valheim, and Animal Crossing, among other games. Discord's voice chat and Slack-like servers/channels are the present social anchor, but the interface, integrations, and data portability will improve. Soon you can stream YouTube videos on digital house walls. You can doodle, create art, play Jackbox, and walk through a door to play Apex Legends, Fortnite, etc. Not just gaming. Digital whiteboards and screen sharing enable real-time collaboration. They'll review code and operate enterprises. Music is played and made. In digital living rooms, they'll watch movies, sports, comedy, and Twitch. They'll tweet, laugh, learn, and shittalk.
The metaverse is the evolution of our digital life at home, the third place. The closest analog would be Discord and the integration of Facebook, Slack, YouTube, etc. into a single, 3D, customizable hangout space.
I'm not certain this experience can be hugely decentralized and smoothly choreographed, managed, and run, or that VR — a luxury, cumbersome, and questionably relevant technology — must be part of it. Eventually, VR will be pragmatic, achievable, and superior to real life in many ways. A total sensory experience like the Matrix or Sword Art Online, where we're physically hooked into the Internet yet in our imaginations we're jumping, flying, and achieving athletic feats we never could in reality; exploring realms far grander than our own (as grand as it is). That VR is different from today's.

https://podcasts.google.com/feed/aHR0cHM6Ly9leHBvbmVudC5mbS9mZWVkLw/episode/aHR0cHM6Ly9leHBvbmVudC5mbS8_cD00MzM?hl=en&ved=2ahUKEwjH5u6r4rv2AhUjc98KHeybAP8QjrkEegQIChAF&ep=6
Ben Thompson released an episode of Exponent after Facebook changed its name to Meta. Ben was suspicious about many metaverse champion claims, but he made a good analogy between Oculus and the PC. The PC was initially far too pricey for the ordinary family to afford. It began as a business tool. It got so powerful and pervasive that it affected our personal life. Price continues to plummet and so much consumer software was produced that it's impossible to envision life without a home computer (or in our pockets). If Facebook shows product market fit with VR in business, through use cases like remote work and collaboration, maybe VR will become practical in our personal lives at home.
Before PCs, we relied on Blockbuster, the Yellow Pages, cabs to get to the airport, handwritten taxes, landline phones to schedule social events, and other archaic methods. It is impossible for me to conceive what VR, in the form of headsets and hand controllers, stands to give both professional and especially personal digital experiences that is an order of magnitude better than what we have today. Is looking around better than using a mouse to examine a 3D landscape? Do the hand controls make x10 or x100 work or gaming more fun or efficient? Will VR replace scalable Web 2 methods and applications like Web 1 and Web 2 did for analog? I don't know.
My guess is that the metaverse will arrive slowly, initially on displays we presently use, with more app interoperability. I doubt that it will be controlled by the people or by Facebook, a corporation that struggles to properly innovate internally, as practically every large digital company does. Large tech organizations are lousy at hiring product-savvy employees, and if they do, they rarely let them explore new things.
These companies act like business schools when they seek founders' results, with bureaucracy and dependency. Which company launched the last popular consumer software product that wasn't a clone or acquisition? Recent examples are scarce.
Web 3
Investors and entrepreneurs of Web 3 firms are declaring victory: 'Web 3 is here!' Web 3 is the future! Many profitable Web 2 enterprises existed when Web 2 was defined. The word was created to explain user behavior shifts, not a personal pipe dream.

Origins of Web 2: http://www.oreilly.com/pub/a/web2/archive/what-is-web-20.html
One of these Web 3 startups may provide the connecting tissue to link all these experiences or become one of the major new digital locations. Even so, successful players will likely use centralized power arrangements, as Web 2 businesses do now. Some Web 2 startups integrated our digital lives. Rockmelt (2010–2013) was a customizable browser with bespoke connectors to every program a user wanted; imagine seeing Facebook, Twitter, Discord, Netflix, YouTube, etc. all in one location. Failure. Who knows what Opera's doing?
Silicon Valley and tech Twitter in general have a history of jumping on dumb bandwagons that go nowhere. Dot-com crash in 2000? The huge deployment of capital into bad ideas and businesses is well-documented. And live video. It was the future until it became a niche sector for gamers. Live audio will play out a similar reality as CEOs with little comprehension of audio and no awareness of lasting new user behavior deceive each other into making more and bigger investments on fool's gold. Twitter trying to buy Clubhouse for $4B, Spotify buying Greenroom, Facebook exploring live audio and 'Tiktok for audio,' and now Amazon developing a live audio platform. This live audio frenzy won't be worth their time or energy. Blind guides blind. Instead of learning from prior failures like Twitter buying Periscope for $100M pre-launch and pre-product market fit, they're betting on unproven and uncompelling experiences.
NFTs
NFTs are also nonsense. Take Loot, a time-limited bag drop of "things" (text on the blockchain) for a game that didn't exist, bought by rich techies too busy to play video games and foolish enough to think they're getting in early on something with a big reward. What gaming studio is incentivized to use these items? Who's encouraged to join? No one cares besides Loot owners who don't have NFTs. Skill, merit, and effort should be rewarded with rare things for gamers. Even if a small minority of gamers can make a living playing, the average game's major appeal has never been to make actual money - that's a profession.
No game stays popular forever, so how is this objective sustainable? Once popularity and usage drop, exclusive crypto or NFTs will fall. And if NFTs are designed to have cross-game appeal, incentives apart, 30 years from now any new game will need millions of pre-existing objects to build around before they start. It doesn't work.
Many games already feature item economies based on real in-game scarcity, generally for cosmetic things to avoid pay-to-win, which undermines scaled gaming incentives for huge player bases. Counter-Strike, Rust, etc. may be bought and sold on Steam with real money. Since the 1990s, unofficial cross-game marketplaces have sold in-game objects and currencies. NFTs aren't needed. Making a popular, enjoyable, durable game is already difficult.
With NFTs, certain JPEGs on the internet went from useless to selling for $69 million. Why? Crypto, Web 3, early Internet collectibles. NFTs are digital Beanie Babies (unlike NFTs, Beanie Babies were a popular children's toy; their destinies are the same). NFTs are worthless and scarce. They appeal to crypto enthusiasts seeking for a practical use case to support their theory and boost their own fortune. They also attract to SV insiders desperate not to miss the next big thing, not knowing what it will be. NFTs aren't about paying artists and creators who don't get credit for their work.

South Park's Underpants Gnomes
NFTs are a benign, foolish plan to earn money on par with South Park's underpants gnomes. At worst, they're the world of hucksterism and poor performers. Or those with money and enormous followings who, like everyone, don't completely grasp cryptocurrencies but are motivated by greed and status and believe Gary Vee's claim that CryptoPunks are the next Facebook. Gary's watertight logic: if NFT prices dip, they're on the same path as the most successful corporation in human history; buy the dip! NFTs aren't businesses or museum-worthy art. They're bs.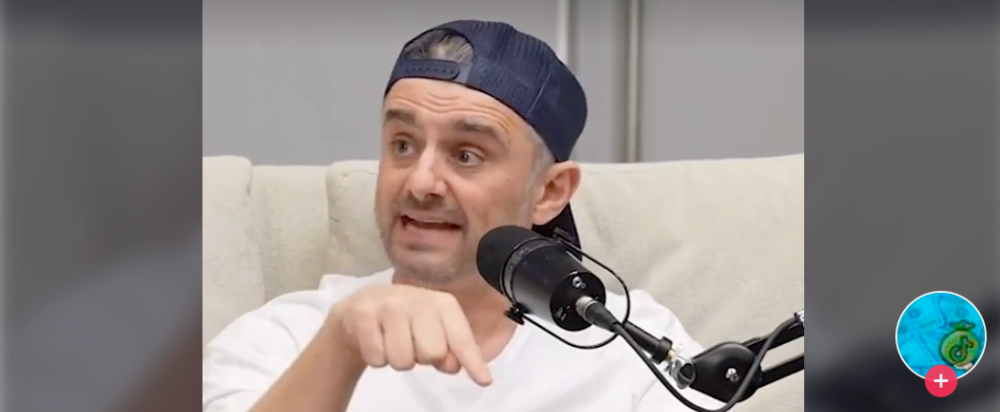 Gary Vee compares NFTs to Amazon.com. vm.tiktok.com/TTPdA9TyH2
We grew up collecting: Magic: The Gathering (MTG) cards printed in the 90s are now worth over $30,000. Imagine buying a digital Magic card with no underlying foundation. No one plays the game because it doesn't exist. An NFT is a contextless image someone conned you into buying a certificate for, but anyone may copy, paste, and use. Replace MTG with Pokemon for younger readers.
When Gary Vee strongarms 30 tech billionaires and YouTube influencers into buying CryptoPunks, they'll talk about it on Twitch, YouTube, podcasts, Twitter, etc. That will convince average folks that the product has value. These guys are smart and/or rich, so I'll get in early like them. Cryptography is similar. No solid, scaled, mainstream use case exists, and no one knows where it's headed, but since the global crypto financial bubble hasn't burst and many people have made insane fortunes, regular people are putting real money into something that is highly speculative and could be nothing because they want a piece of the action. Who doesn't want free money? Rich techies and influencers won't be affected; normal folks will.
Imagine removing every $1 invested in Bitcoin instantly. What would happen? How far would Bitcoin fall? Over 90%, maybe even 95%, and Bitcoin would be dead. Bitcoin as an investment is the only scalable widespread use case: it's confidence that a better use case will arise and that being early pays handsomely. It's like pouring a trillion dollars into a company with no business strategy or users and a CEO who makes vague future references.
New tech and efforts may provoke a 'get off my lawn' mentality as you approach 40, but I've always prided myself on having a decent bullshit detector, and it's flying off the handle at this foolishness. If we can accomplish a functional, responsible, equitable, and ethical user-owned internet, I'm for it.
Postscript:
I wanted to summarize my opinions because I've been angry about this for a while but just sporadically tweeted about it. A friend handed me a Dan Olson YouTube video just before publication. He's more knowledgeable, articulate, and convincing about crypto. It's worth seeing:
---
This post is a summary. See the original one here.
You might also like
The Top 8 Growth Hacking Techniques for Startups
The Top 8 Growth Hacking Techniques for Startups
These startups, and how they used growth-hack marketing to flourish, are some of the more ethical ones, while others are less so.
Before the 1970 World Cup began, Puma paid footballer Pele $120,000 to tie his shoes. The cameras naturally focused on Pele and his Pumas, causing people to realize that Puma was the top football brand in the world.
Early workers of Uber canceled over 5,000 taxi orders made on competing applications in an effort to financially hurt any of their rivals.
PayPal developed a bot that advertised cheap goods on eBay, purchased them, and paid for them with PayPal, fooling eBay into believing that customers preferred this payment option. Naturally, Paypal became eBay's primary method of payment.
Anyone renting a space on Craigslist had their emails collected by AirBnB, who then urged them to use their service instead. A one-click interface was also created to list immediately on AirBnB from Craigslist.
To entice potential single people looking for love, Tinder developed hundreds of bogus accounts of attractive people. Additionally, for at least a year, users were "accidentally" linked.
Reddit initially created a huge number of phony accounts and forced them all to communicate with one another. It eventually attracted actual users—the real meaning of "fake it 'til you make it"! Additionally, this gave Reddit control over the tone of voice they wanted for their site, which is still present today.
To disrupt the conferences of their main rival, Salesforce recruited fictitious protestors. The founder then took over all of the event's taxis and gave a 45-minute pitch for his startup. No place to hide!
When a wholesaler required a minimum purchase of 10, Amazon CEO Jeff Bezos wanted a way to purchase only one book from them. A wholesaler would deliver the one book he ordered along with an apology for the other eight books after he discovered a loophole and bought the one book before ordering nine books about lichens. On Amazon, he increased this across all of the users.
---
Original post available here
A Dog's Guide to Every Type of Zoom Call Participant
Are you one of these Zoom dogs?
The Person Who Is Apparently Always on Mute
Waffles thinks he can overpower the mute button by shouting loudly.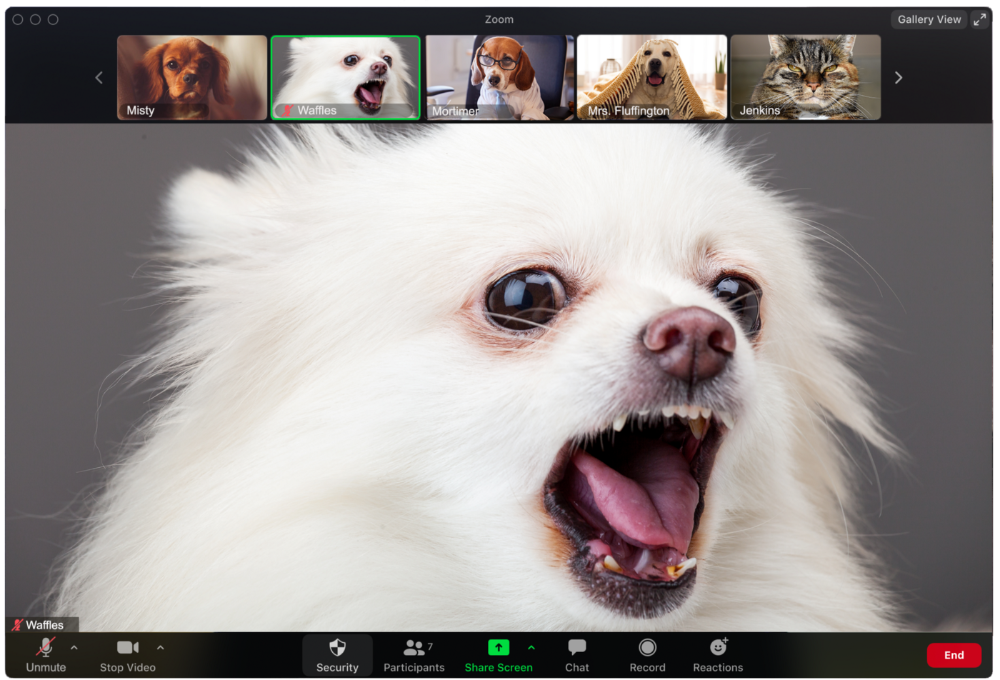 The person who believed their camera to be off
Barkley's used to remote work, but he hasn't mastered the "Stop Video" button. Everyone is affected.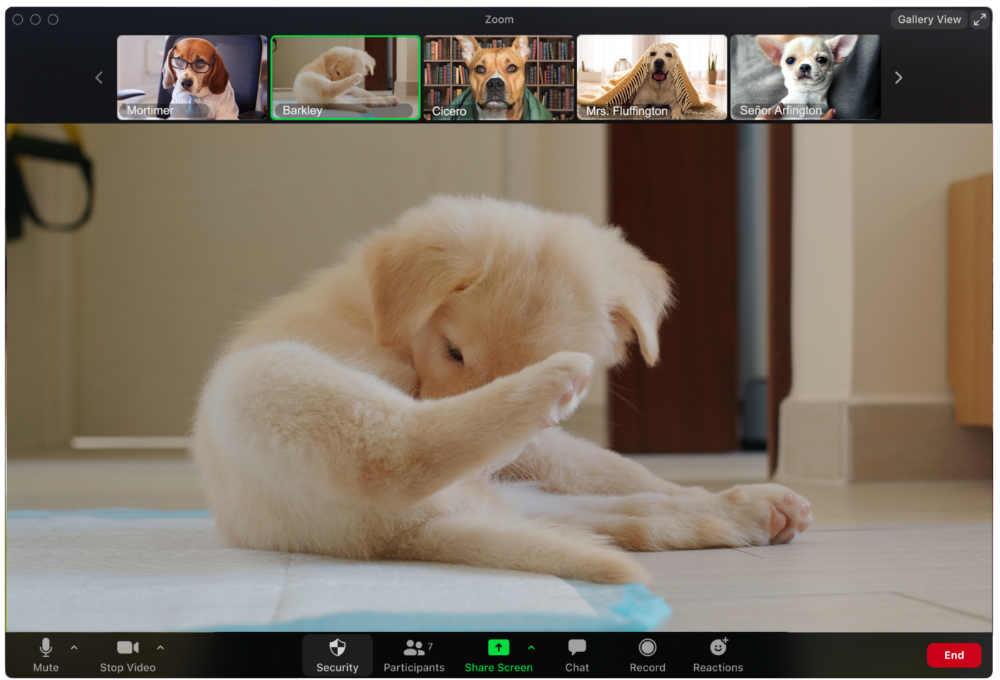 Who is driving for some reason, exactly?
Why is Pumpkin always late? Who knows? Shouldn't she be driving? If you could hear her over the freeway, she'd answer these questions.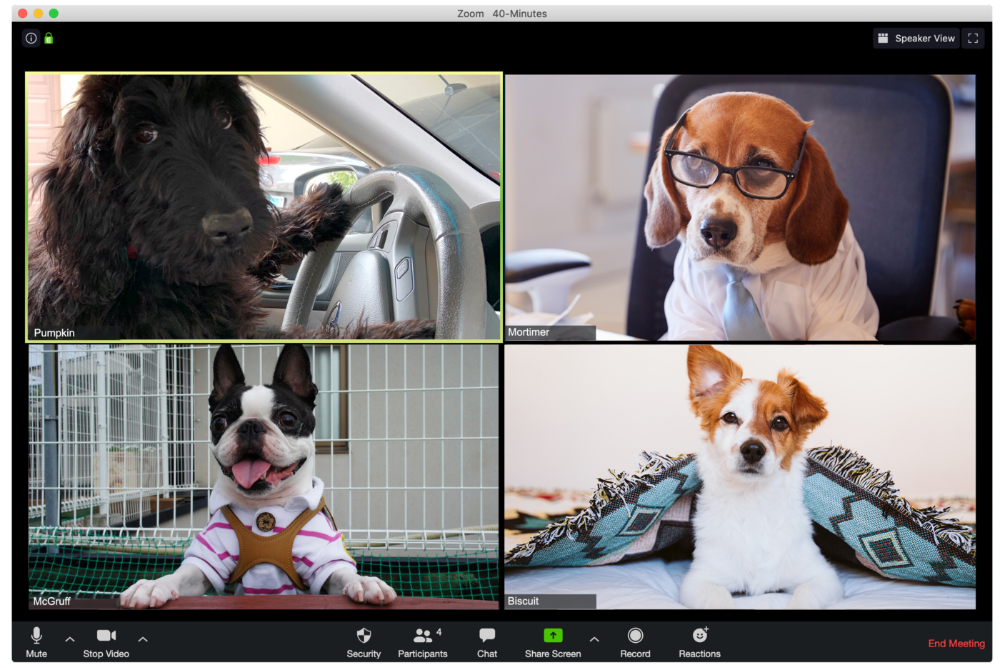 The Person With the Amazing Bookcase
Cicero likes to use SAT-words like "leverage" and "robust" in Zoom sessions, presumably from all the books he wants you to see behind him.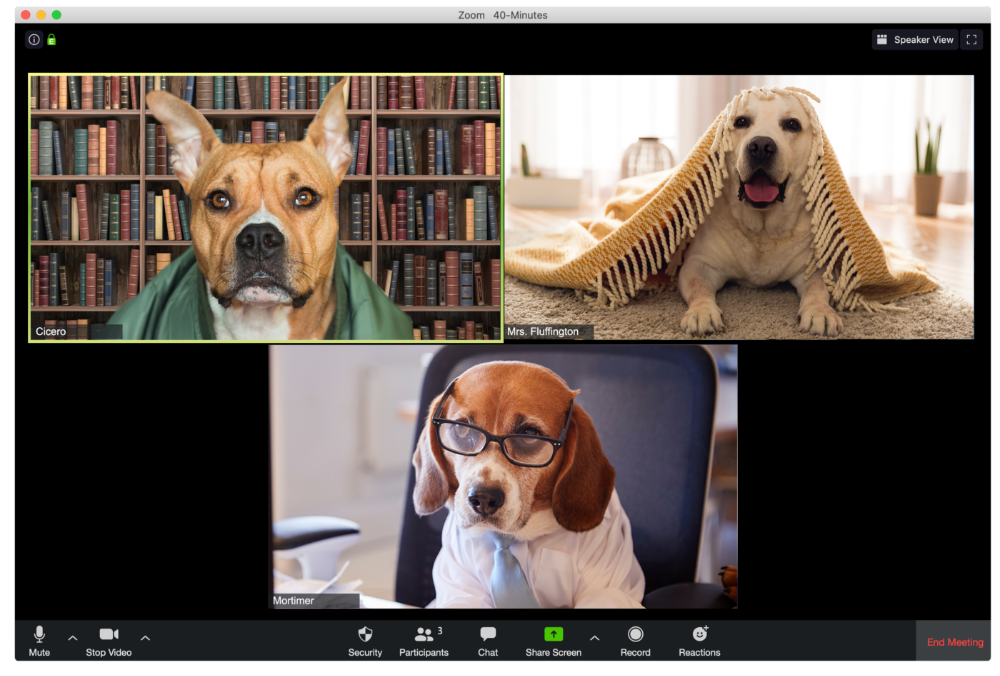 The Individual Who Is Unnecessarily Dressed
We hope Bandit is going somewhere beautiful after this meeting, or else he neglected the quarterly earnings report and is overcompensating to distract us.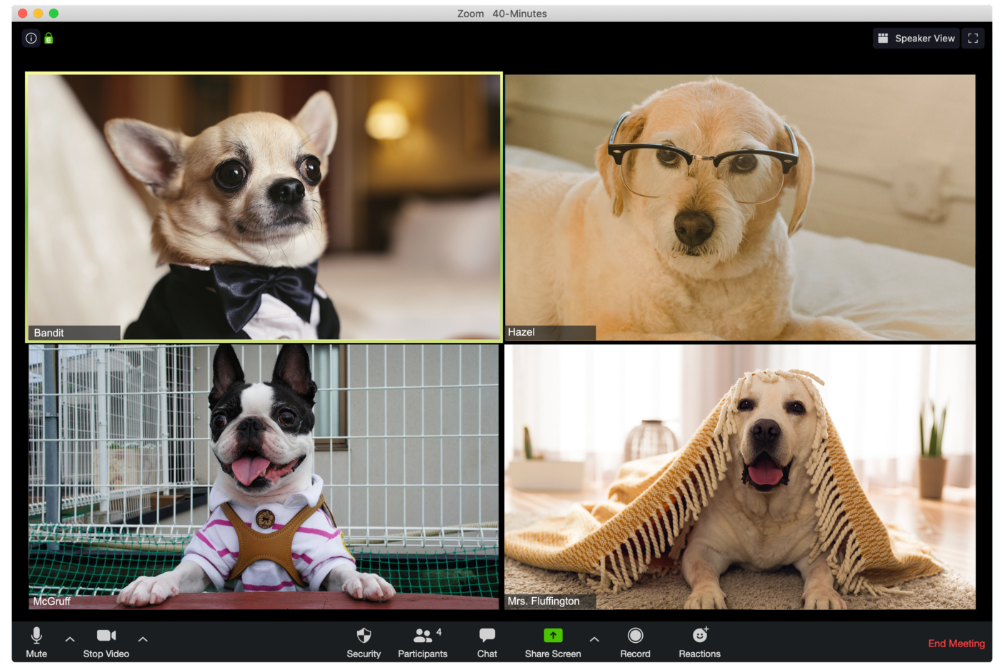 The person who works through lunch in between zoom calls
Barksworth has back-to-back meetings all day, so you can watch her eat while she talks.
The Person Who Is A Little Too Comfy
Hercules thinks Zoom meetings happen between sleeps. He'd appreciate everyone speaking more quietly.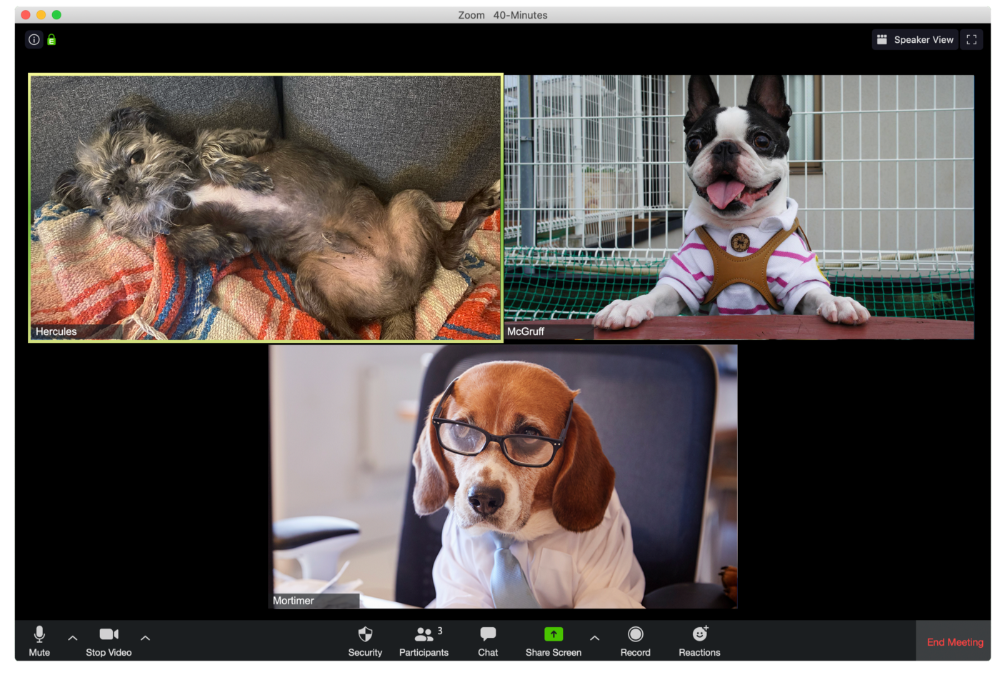 The Person Who Answered the Phone Outside
Frisbee has a gorgeous backyard and lives in a place with great weather year-round, and she wants you to think about that during the daily team huddle.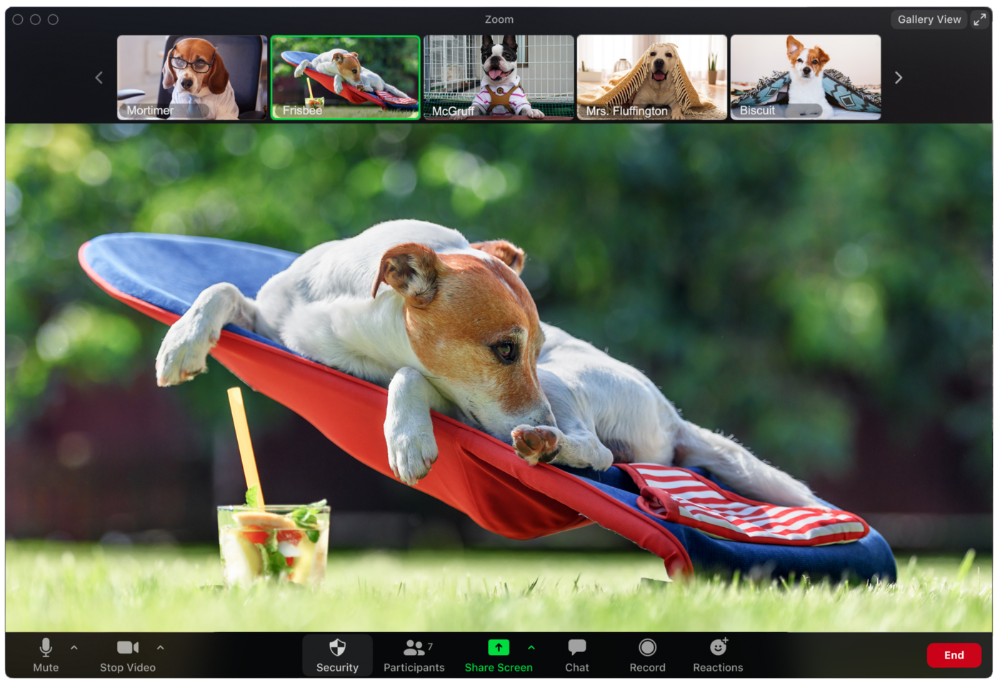 Who Wants You to Pay Attention to Their Pet
Snickers hasn't listened to you in 20 minutes unless you tell her how cute her kitten is.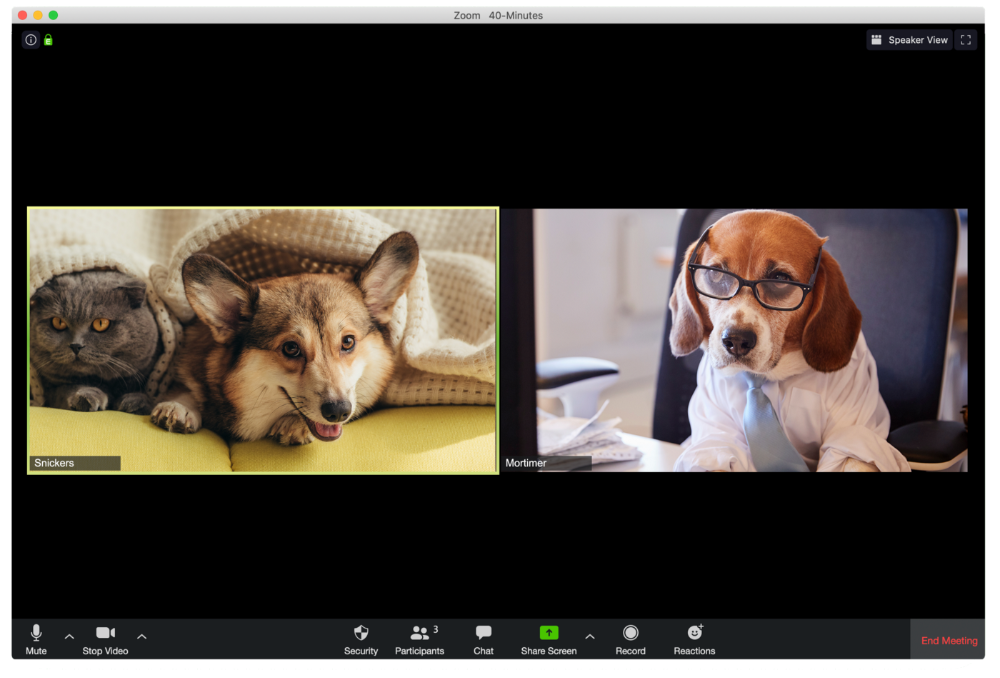 One who is, for some reason, positioned incorrectly on the screen
Nelson's meetings consist primarily of attempting to figure out how he positioned his laptop so absurdly.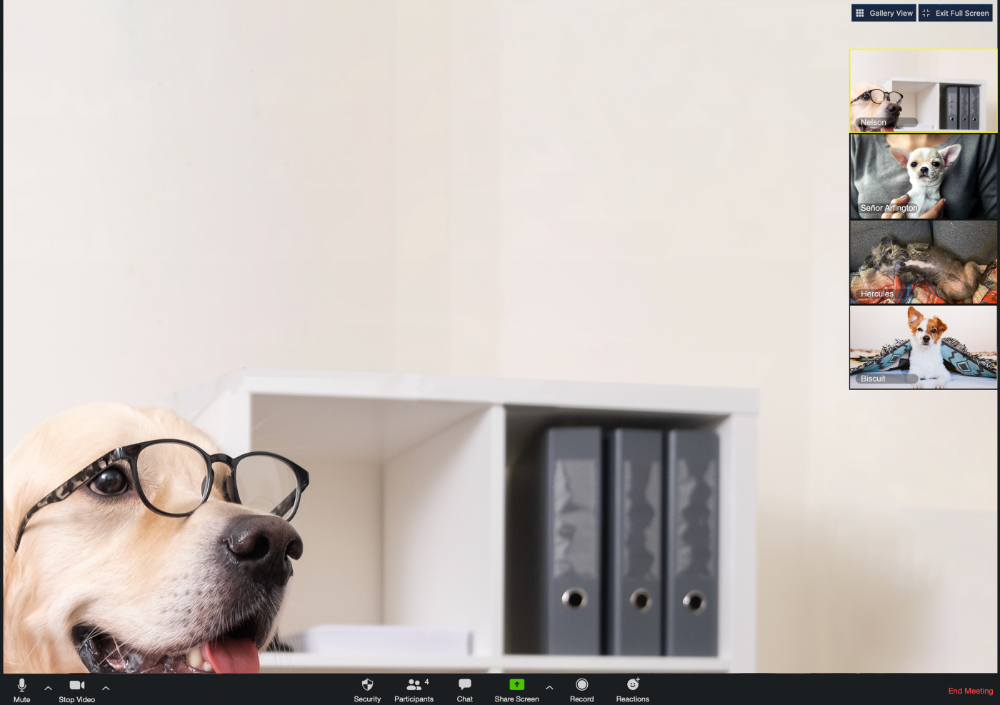 The person who says too many goodbyes
Zeus waves farewell like it's your first day of school while everyone else searches for the "Leave Meeting" button. It's nice.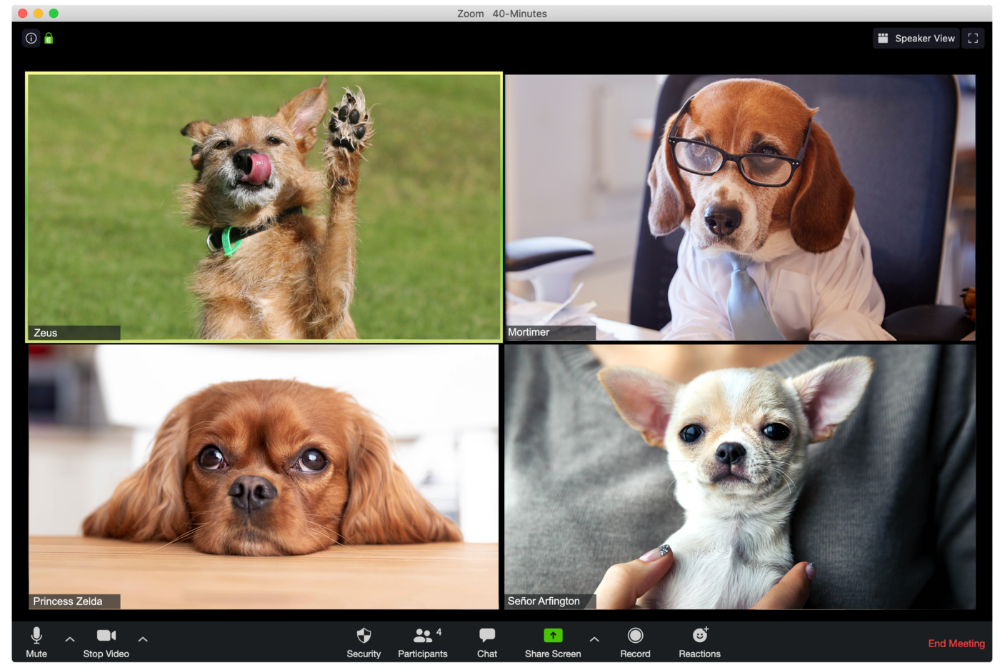 He who has a poor internet connection
Ziggy's connectivity problems continue... She gives a long speech as everyone waits awkwardly to inform her they missed it.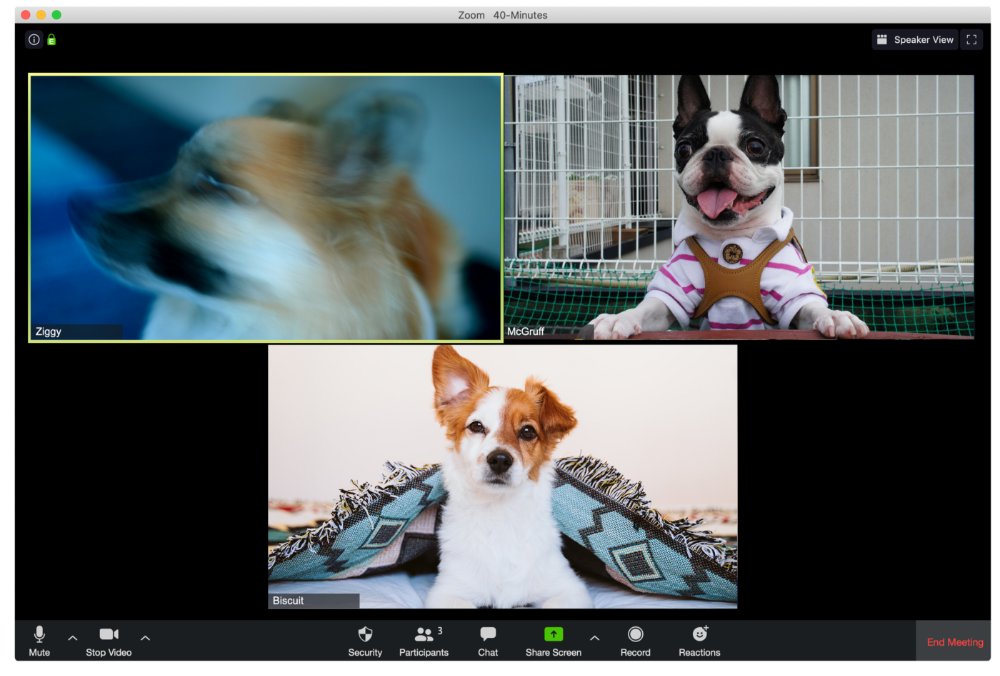 The Clearly Multitasking Person
Tinkerbell can play fetch during the monthly staff meeting if she works from home, but that's not a good idea.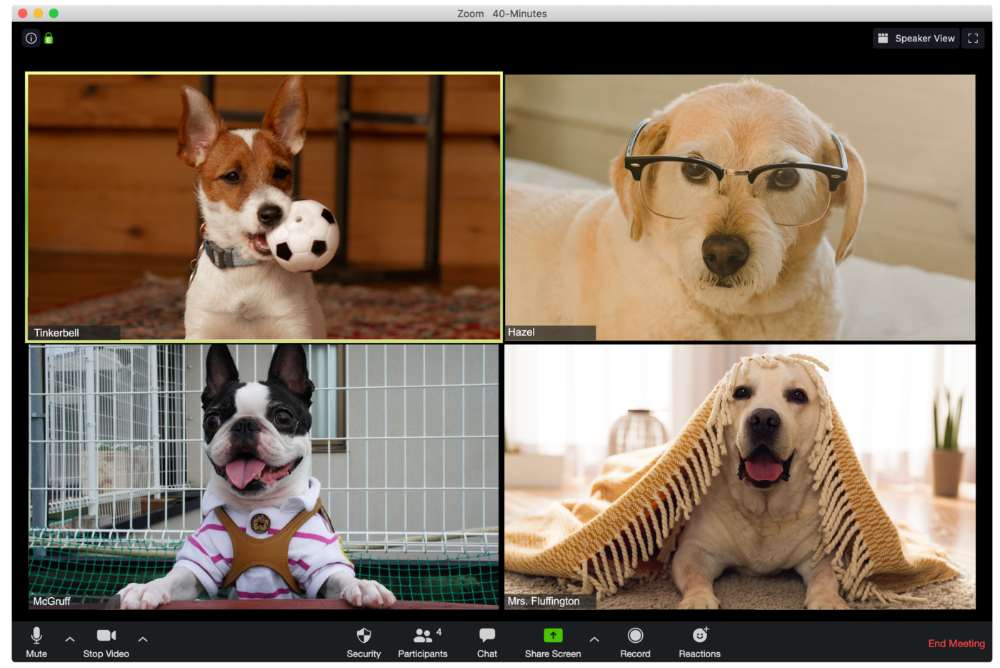 The Person Using Zoom as a Makeup and Hair Mirror
If Gail and Bob knew Zoom had a "hide self view" option, they'd be distraught.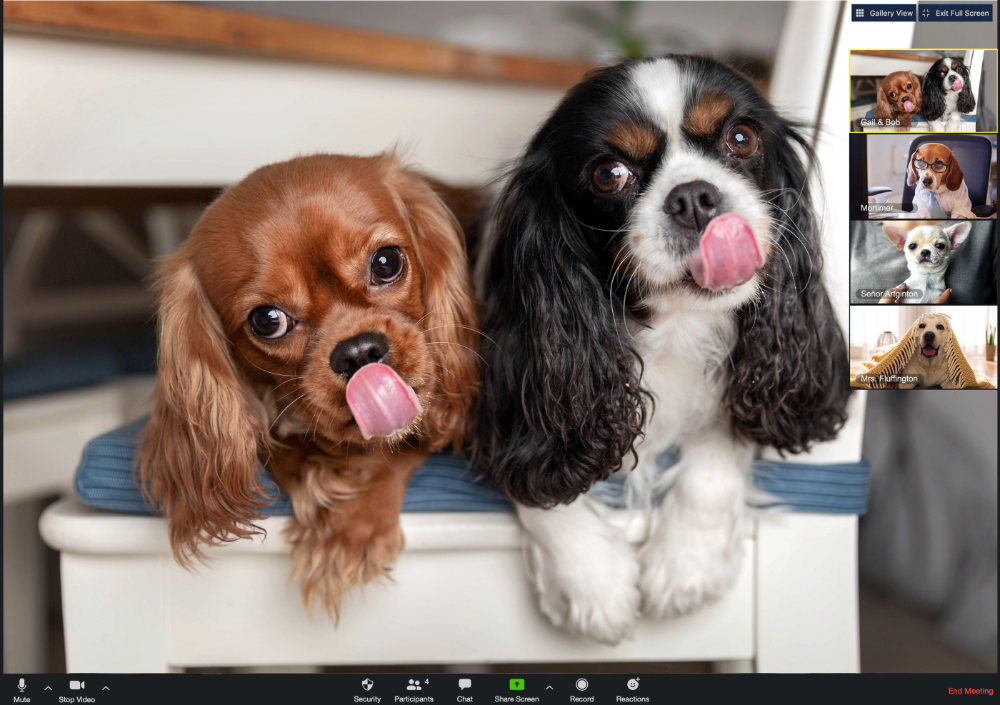 The person who feels at ease with simply leaving
Rusty bails when a Zoom conference is over. Rusty's concept is decent.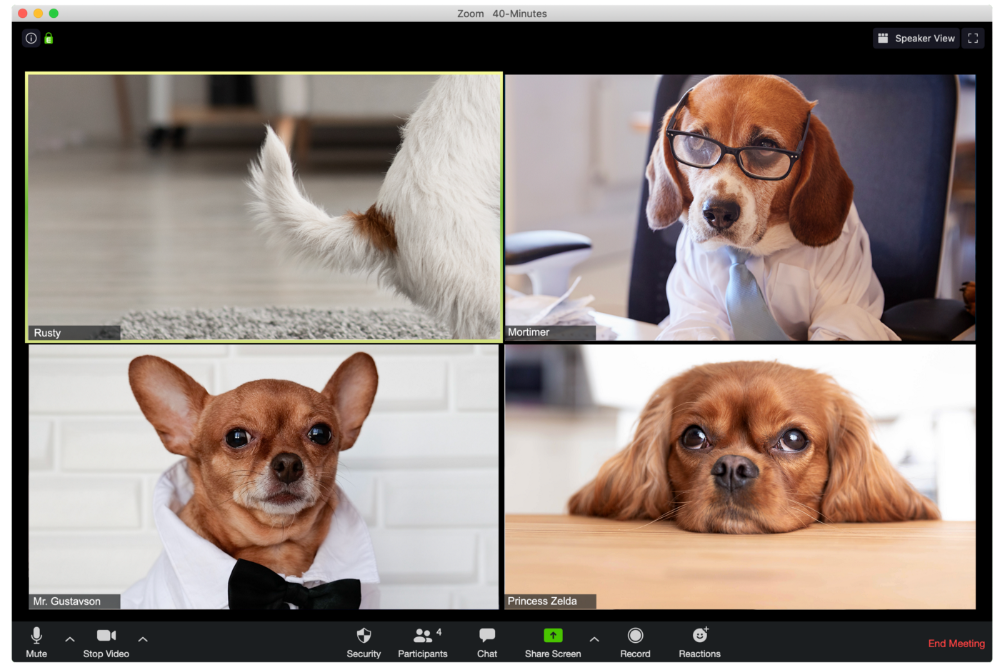 After 240 articles and 2.5M views on Medium, 9 Raw Writing Tips
Late in 2018, I published my first Medium article, but I didn't start writing seriously until 2019. Since then, I've written more than 240 articles, earned over $50,000 through Medium's Partner Program, and had over 2.5 million page views.
Write A Lot
Most people don't have the patience and persistence for this simple writing secret:
Write + Write + Write = possible success
Writing more improves your skills.
The more articles you publish, the more likely one will go viral.
If you only publish once a month, you have no views. If you publish 10 or 20 articles a month, your success odds increase 10- or 20-fold.
Tim Denning, Ayodeji Awosika, Megan Holstein, and Zulie Rane. Medium is their jam. How are these authors alike? They're productive and consistent. They're prolific.
80% is publishable
Many writers battle perfectionism. 
To succeed as a writer, you must publish often. You'll never publish if you aim for perfection.
Adopt the 80 percent-is-good-enough mindset to publish more. It sounds terrible, but it'll boost your writing success.
Your work won't be perfect. Always improve. Waiting for perfection before publishing will take a long time.
Second, readers are your true critics, not you. What you consider "not perfect" may be life-changing for the reader. Don't let perfectionism hinder the reader.
Don't let perfectionism hinder the reader. ou don't want to publish mediocre articles. When the article is 80% done, publish it. Don't spend hours editing. Realize it. Get feedback. Only this will work.
Make Your Headline Irresistible
We all judge books by their covers, despite the saying. And headlines. Readers, including yourself, judge articles by their titles. We use it to decide if an article is worth reading.
Make your headlines irresistible. Want more article views? Then, whether you like it or not, write an attractive article title.
Many high-quality articles are collecting dust because of dull, vague headlines. It didn't make the reader click.
As a writer, you must do more than produce quality content. You must also make people click on your article. This is a writer's job. How to create irresistible headlines:
Curiosity makes readers click. Here's a tempting example...
Example: What Women Actually Look For in a Guy, According to a Huge Study by Luba Sigaud
Use Numbers: Click-bait lists. I mean, which article would you click first? 'Some ways to improve your productivity' or '17 ways to improve your productivity.' Which would I click?
Example: 9 Uncomfortable Truths You Should Accept Early in Life by Sinem Günel
Most headlines are dull. If you want clicks, get 'sexy'. Buzzword-ify. Invoke emotion. Trendy words.
Example: 20 Realistic Micro-Habits To Live Better Every Day by Amardeep Parmar
Concise paragraphs
Our culture lacks focus. If your headline gets a click, keep paragraphs short to keep readers' attention.
Some writers use 6–8 lines per paragraph, but I prefer 3–4. Longer paragraphs lose readers' interest.
A writer should help the reader finish an article, in my opinion. I consider it a job requirement. You can't force readers to finish an article, but you can make it 'snackable'
Help readers finish an article with concise paragraphs, interesting subheadings, exciting images, clever formatting, or bold attention grabbers.
Work And Move On
I've learned over the years not to get too attached to my articles. Many writers report a strange phenomenon:
The articles you're most excited about usually bomb, while the ones you're not tend to do well.
This isn't always true, but I've noticed it in my own writing. My hopes for an article usually make it worse. The more objective I am, the better an article does.
Let go of a finished article. 40 or 40,000 views, whatever. Now let the article do its job. Onward. Next story. Start another project.
Disregard Haters
Online content creators will encounter haters, whether on YouTube, Instagram, or Medium. More views equal more haters. Fun, right?
As a web content creator, I learned:
Don't debate haters. Never.
It's a mistake I've made several times. It's tempting to prove haters wrong, but they'll always find a way to be 'right'. Your response is their fuel.
I smile and ignore hateful comments. I'm indifferent. I won't enter a negative environment. I have goals, money, and a life to build. "I'm not paid to argue," Drake once said.
Use Grammarly
Grammarly saves me as a non-native English speaker. You know Grammarly. It shows writing errors and makes article suggestions.
As a writer, you need Grammarly. I have a paid plan, but their free version works. It improved my writing greatly.
Put The Reader First, Not Yourself
Many writers write for themselves. They focus on themselves rather than the reader.
Ask yourself:
This article teaches what? How can they be entertained or educated?
Personal examples and experiences improve writing quality. Don't focus on yourself.
It's not about you, the content creator. Reader-focused. Putting the reader first will change things.
Extreme ownership: Stop blaming others
I remember writing a lot on Medium but not getting many views. I blamed Medium first. Poor algorithm. Poor publishing. All sucked.
Instead of looking at what I could do better, I blamed others.
When you blame others, you lose power. Owning your results gives you power.
As a content creator, you must take full responsibility. Extreme ownership means 100% responsibility for work and results.
You don't blame others. You don't blame the economy, president, platform, founders, or audience. Instead, you look for ways to improve. Few people can do this.
Blaming is useless. Zero. Taking ownership of your work and results will help you progress. It makes you smarter, better, and stronger.
Instead of blaming others, you'll learn writing, marketing, copywriting, content creation, productivity, and other skills. Game-changer.