More on Technology
Nicolas Tresegnie
4 months ago
Launching 10 SaaS applications in 100 days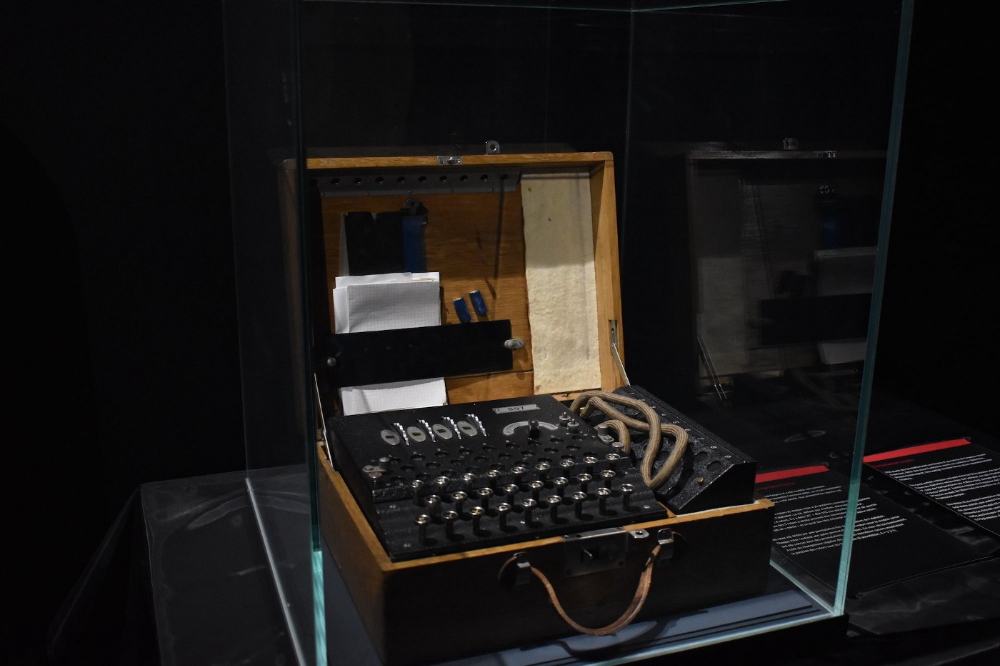 Apocodes helps entrepreneurs create SaaS products without writing code. This post introduces micro-SaaS and outlines its basic strategy.
Strategy
Vision and strategy differ when starting a startup.
The company's long-term future state is outlined in the vision. It establishes the overarching objectives the organization aims to achieve while also justifying its existence. The company's future is outlined in the vision.

The strategy consists of a collection of short- to mid-term objectives, the accomplishment of which will move the business closer to its vision. The company gets there through its strategy.
The vision should be stable, but the strategy must be adjusted based on customer input, market conditions, or previous experiments.
Begin modestly and aim high.
Be truthful. It's impossible to automate SaaS product creation from scratch. It's like climbing Everest without running a 5K. Physical rules don't prohibit it, but it would be suicide.
Apocodes 5K equivalent? Two options:
(A) Create a feature that includes every setting option conceivable. then query potential clients "Would you choose us to build your SaaS solution if we offered 99 additional features of the same caliber?" After that, decide which major feature to implement next.

(B) Build a few straightforward features with just one or two configuration options. Then query potential clients "Will this suffice to make your product?" What's missing if not? Finally, tweak the final result a bit before starting over.
(A) is an all-or-nothing approach. It's like training your left arm to climb Mount Everest. My right foot is next.
(B) is a better method because it's iterative and provides value to customers throughout.
Focus on a small market sector, meet its needs, and expand gradually. Micro-SaaS is Apocode's first market.
What is micro-SaaS.
Micro-SaaS enterprises have these characteristics:
A limited range: They address a specific problem with a small number of features.

A small group of one to five individuals.

Low external funding: The majority of micro-SaaS companies have Total Addressable Markets (TAM) under $100 million. Investors find them unattractive as a result. As a result, the majority of micro-SaaS companies are self-funded or bootstrapped.

Low competition: Because they solve problems that larger firms would rather not spend time on, micro-SaaS enterprises have little rivalry.

Low upkeep: Because of their simplicity, they require little care.

Huge profitability: Because providing more clients incurs such a small incremental cost, high profit margins are possible.
Micro-SaaS enterprises created with no-code are Apocode's ideal first market niche.
We'll create our own micro-SaaS solutions to better understand their needs. Although not required, we believe this will improve community discussions.
The challenge
In 100 days (September 12–December 20, 2022), we plan to build 10 micro-SaaS enterprises using Apocode.
They will be:
Self-serve: Customers will be able to use the entire product experience without our manual assistance.

Real: They'll deal with actual issues. They won't be isolated proofs of concept because we'll keep up with them after the challenge.

Both free and paid options: including a free plan and a free trial period. Although financial success would be a good result, the challenge's stated objective is not financial success.
This will let us design Apocodes features, showcase them, and talk to customers.
(Edit: The first micro-SaaS was launched!)
Follow along
If you want to follow the story of Apocode or our progress in this challenge, you can subscribe here.
If you are interested in using Apocode, sign up here.
If you want to provide feedback, discuss the idea further or get involved, email me at nicolas.tresegnie@gmail.com
Four Shocking Dark Web Incidents that Should Make You Avoid It
Dark Web activity? Is it as horrible as they say?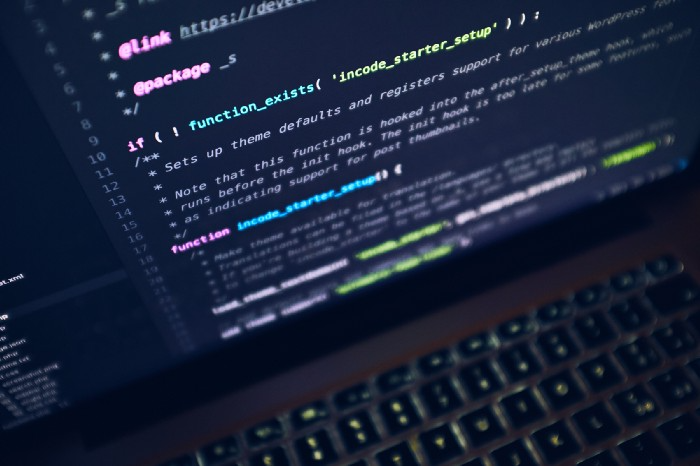 We peruse our phones for hours. Internet has improved our worldview.
However, the world's harshest realities remain buried on the internet and unattainable by everyone.
Browsers cannot access the Dark Web. Browse it with high-security authentication and exclusive access. There are compelling reasons to avoid the dark web at all costs.
1. The Dark Web and I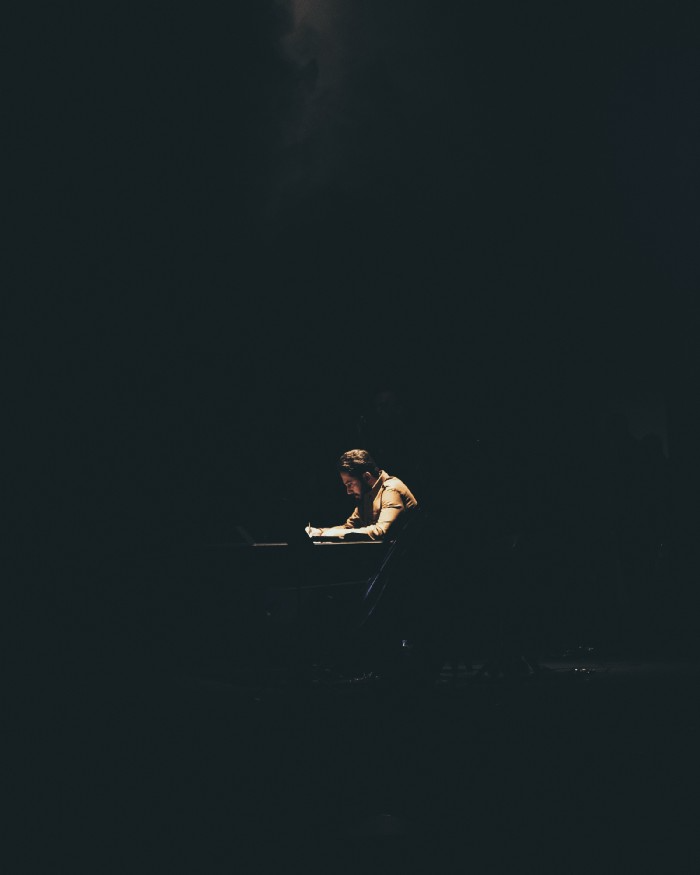 Darius wrote My Dark Web Story on reddit two years ago. The user claimed to have shared his dark web experience. DaRealEddyYT wanted to surf the dark web after hearing several stories.
He curiously downloaded Tor Browser, which provides anonymity and security.
In the Dark Room, bound
As Darius logged in, a text popped up: "Want a surprise? Click on this link."
The link opened to a room with a chair. Only one light source illuminated the room. The chair held a female tied.
As the screen read "Let the game begin," a man entered the room and was paid in bitcoins to torment the girl.
The man dragged and tortured the woman.
A danger to safety
Leaving so soon, Darius, disgusted Darius tried to leave the stream. The anonymous user then sent Darius his personal information, including his address, which frightened him because he didn't know Tor was insecure.
After deleting the app, his phone camera was compromised.
He also stated that he left his residence and returned to find it unlocked and a letter saying, Thought we wouldn't find you? Reddit never updated the story.
The story may have been a fake, but a much scarier true story about the dark side of the internet exists.
2. The Silk Road Market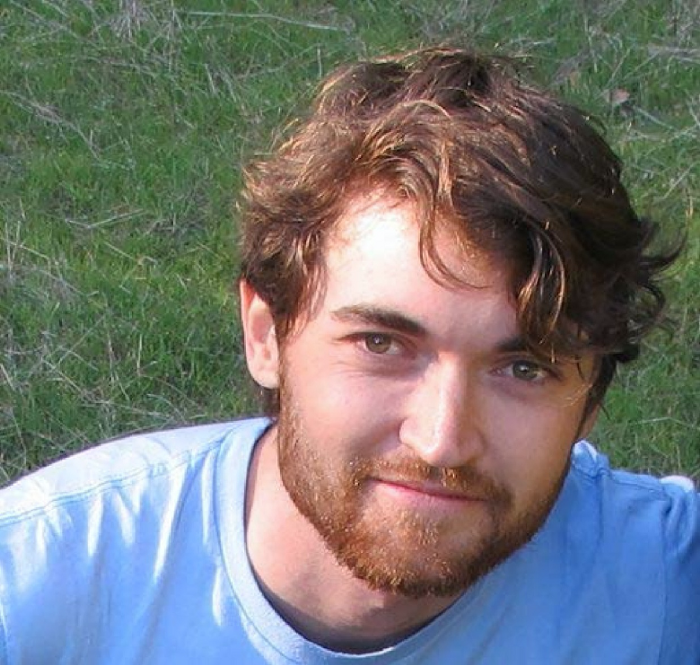 The dark web is restricted for a reason. The dark web has everything illicit imaginable. It's awful central.
The dark web has everything, from organ sales to drug trafficking to money laundering to human trafficking. Illegal drugs, pirated software, credit card, bank, and personal information can be found in seconds.
The dark web has reserved websites like Google. The Silk Road Website, which operated from 2011 to 2013, was a leading digital black market.
The FBI grew obsessed with site founder and processor Ross William Ulbricht.
The site became a criminal organization as money laundering and black enterprises increased. Bitcoin was utilized for credit card payment.
The FBI was close to arresting the site's administrator. Ross was detained after the agency closed Silk Road in 2013.
Two years later, in 2015, he was convicted and sentenced to two consecutive life terms and forty years. He appealed in 2016 but was denied, thus he is currently serving time.
The hefty sentence was for more than running a black marketing site. He was also convicted of murder-for-hire, earning about $730,000 in a short time.
3. Person-buying auctions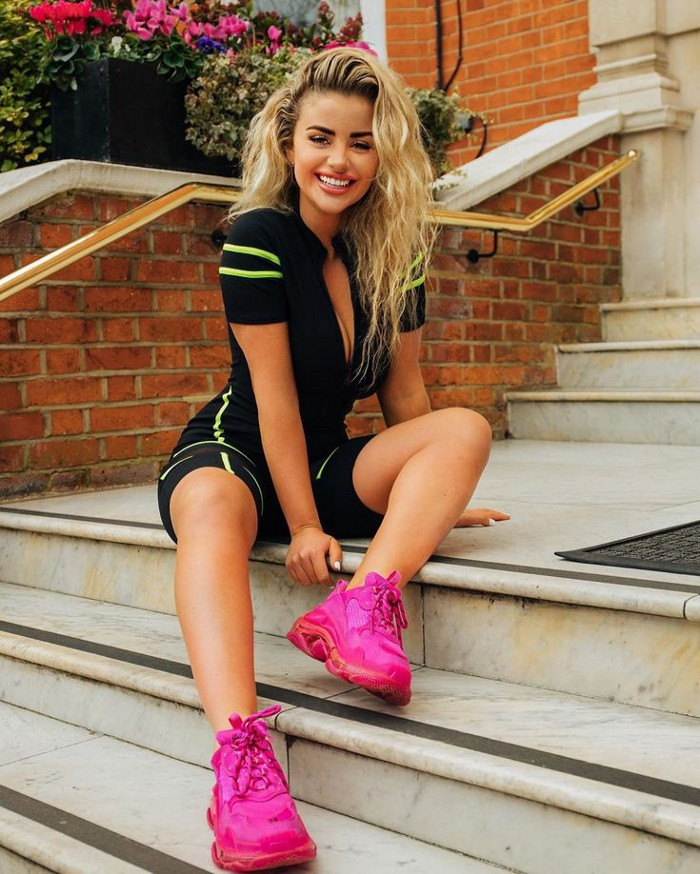 Bidding on individuals is another weird internet activity. After a Milan photo shoot, 20-year-old British model Chloe Ayling was kidnapped.
An ad agency in Milan made a bogus offer to shoot with the mother of a two-year-old boy. Four men gave her anesthetic and put her in a duffel bag when she arrived.
She was held captive for several days, and her images and $300,000 price were posted on the dark web. Black Death Trafficking Group kidnapped her to sell her for sex.
She was told two black death foot warriors abducted her. The captors released her when they found she was a mother because mothers were less desirable to sex slave buyers.
In July 2018, Lukasz Pawel Herba was arrested and sentenced to 16 years and nine months in prison. Being a young mother saved Chloe from creepy bidding.
However, it exceeds expectations of how many more would be in such danger daily without their knowledge.
4. Organ sales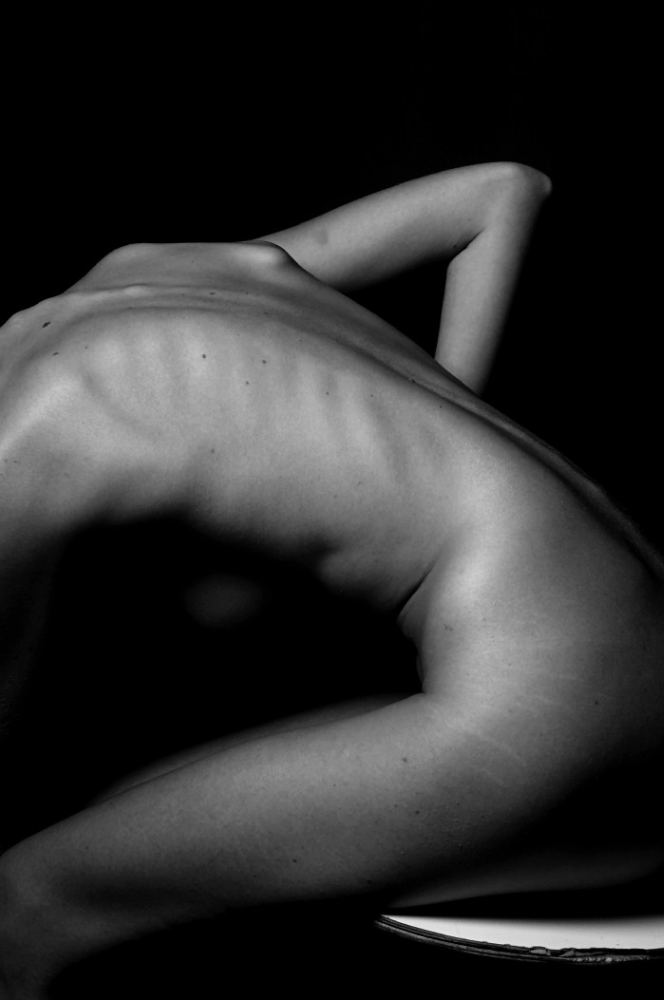 Many are unaware of dark web organ sales. Patients who cannot acquire organs often turn to dark web brokers.
Brokers handle all transactions between donors and customers.
Bitcoins are used for dark web transactions, and the Tor server permits personal data on the web.
The WHO reports approximately 10,000 unlawful organ transplants annually. The black web sells kidneys, hearts, even eyes.
To protect our lives and privacy, we should manage our curiosity and never look up dangerous stuff.
While it's fascinating and appealing to know what's going on in the world we don't know about, it's best to prioritize our well-being because one never knows how bad it might get.
Sources
Is ChatGPT Capable of Generating a Complete Mobile App?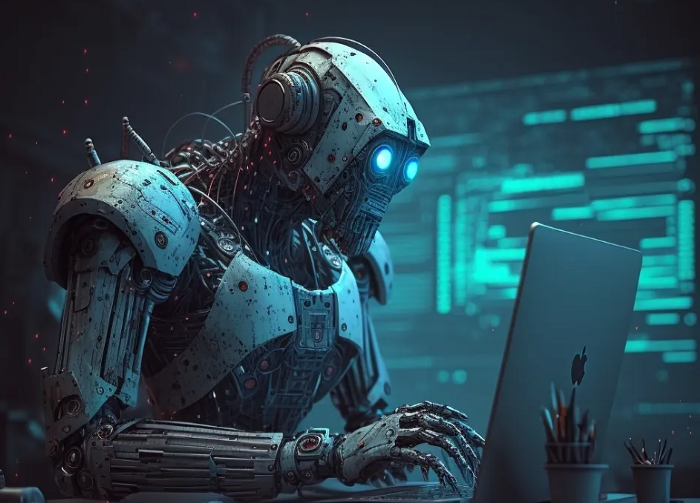 TL;DR: It'll be harder than you think.
Mobile app development is a complicated product design sector. You require broad expertise to create a mobile app. You must write Swift or Java code and consider mobile interactions.
When ChatGPT was released, many were amazed by its capabilities and wondered if it could replace designers and developers. This article will use ChatGPT to answer a specific query.
Can ChatGPT build an entire iOS app?
This post will use ChatGPT to construct an iOS meditation app. Video of the article is available.
App concepts for meditation
After deciding on an app, think about the user experience. What should the app offer?
Let's ask ChatGPT for the answer.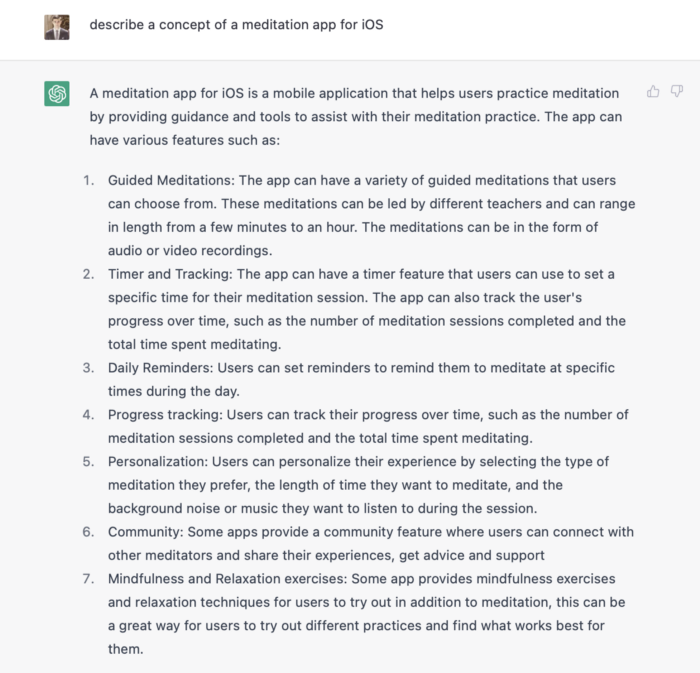 ChatGPT described a solid meditation app with various exercises. Use this list to plan product design. Our first product iteration will have few features. A simple, one-screen software will let users set the timeframe and play music during meditation.
Structure of information
Information architecture underpins product design. Our app's navigation mechanism should be founded on strong information architecture, so we need to identify our mobile's screens first.
ChatGPT can define our future app's information architecture since we already know it.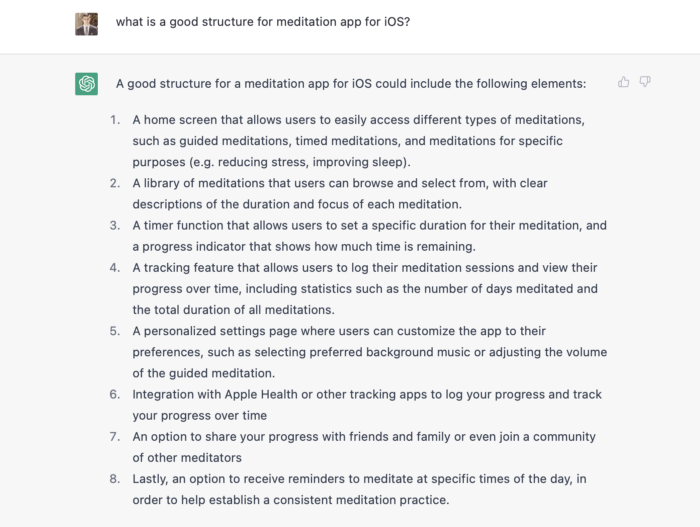 ChatGPT uses the more complicated product's structure. When adding features to future versions of our product, keep this information picture in mind.
Color palette
Meditation apps need colors. We want to employ relaxing colors in a meditation app because colors affect how we perceive items. ChatGPT can suggest product colors.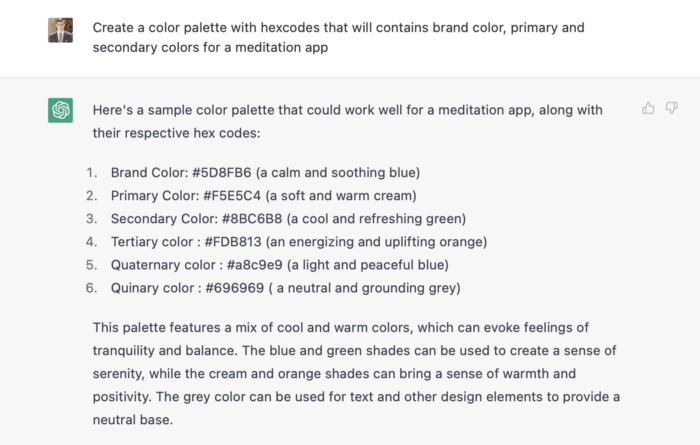 See the hues in person:

Neutral colors dominate the color scheme. Playing with color opacity makes this scheme useful.

Ambiance music
Meditation involves music. Well-chosen music calms the user.
Let ChatGPT make music for us.

ChatGPT can only generate text. It directs us to Spotify or YouTube to look for such stuff and makes precise recommendations.
Fonts
Fonts can impress app users. Round fonts are easier on the eyes and make a meditation app look friendlier.
ChatGPT can suggest app typefaces. I compare two font pairs when making a product. I'll ask ChatGPT for two font pairs.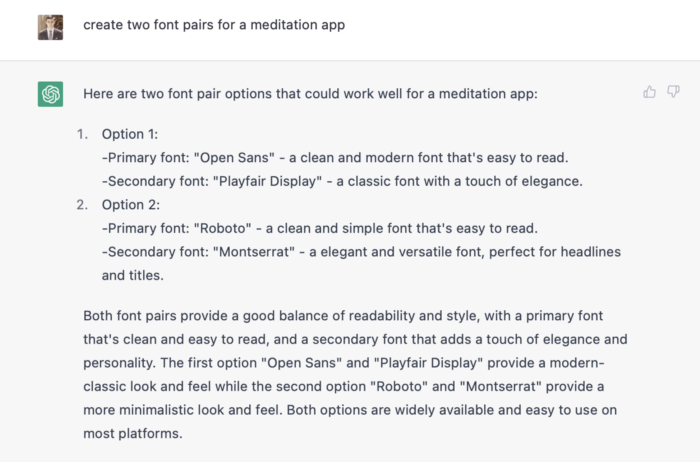 See the hues in person:

Despite ChatGPT's convincing font pairing arguments, the output is unattractive. The initial combo (Open Sans + Playfair Display) doesn't seem to work well for a mediation app.
Content
Meditation requires the script. Find the correct words and read them calmly and soothingly to help listeners relax and focus on each region of their body to enhance the exercise's effect.
ChatGPT's offerings: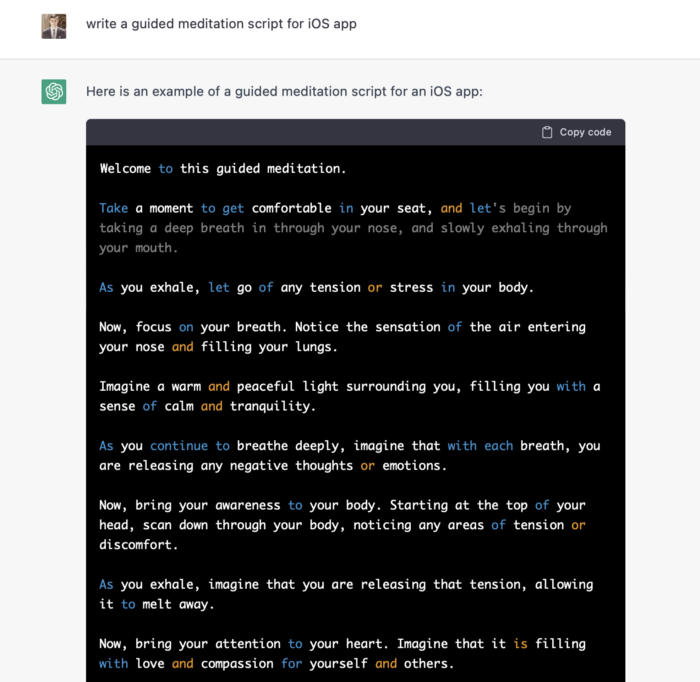 ChatGPT outputs code. My prompt's word script may cause it.
Timer
After fonts, colors, and content, construct functional pieces. Timer is our first functional piece. The meditation will be timed.
Let ChatGPT write Swift timer code (since were building an iOS app, we need to do it using Swift language).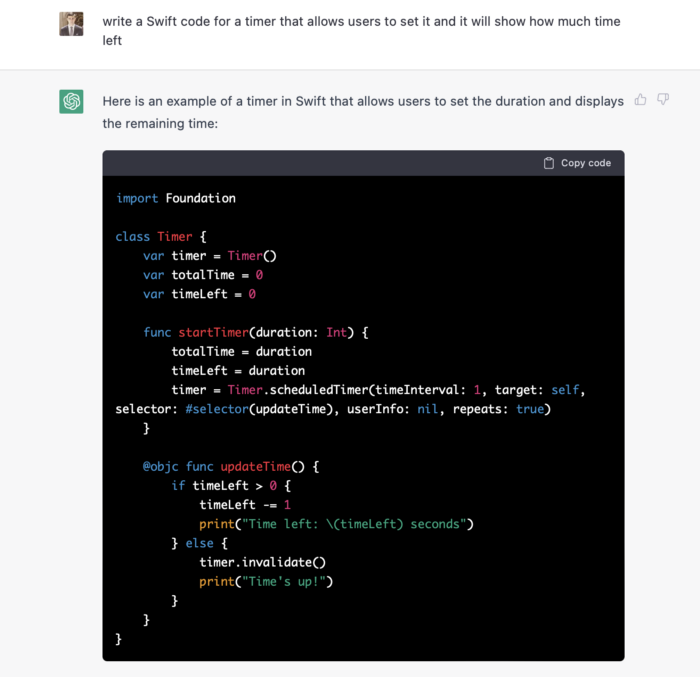 ChatGPT supplied a timer class, initializer, and usage guidelines.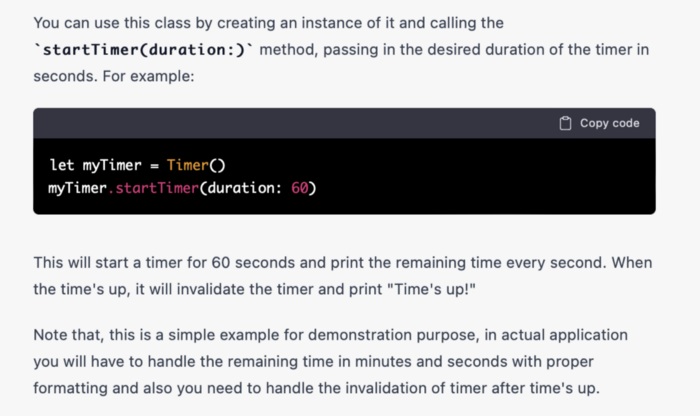 Apple Xcode requires a playground to test this code. Xcode will report issues after we paste the code to the playground.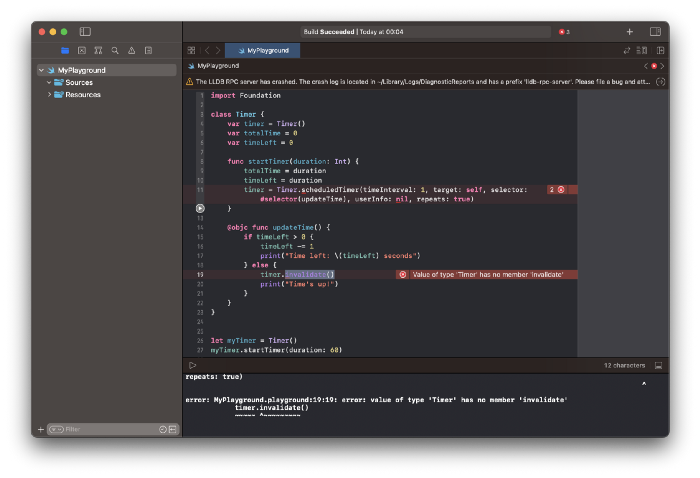 Fixing them is simple. Just change Timer to another class name (Xcode shows errors because it thinks that we access the properties of the class we've created rather than the system class Timer; it happens because both classes have the same name Timer). I titled our class Timero and implemented the project. After this quick patch, ChatGPT's code works.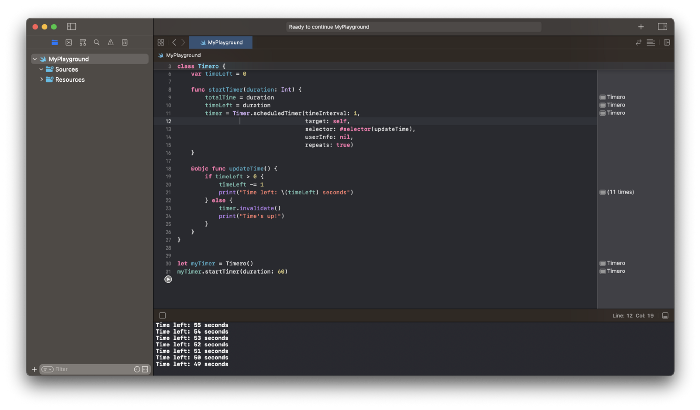 Can ChatGPT produce a complete app?
Since ChatGPT can help us construct app components, we may question if it can write a full app in one go.
Question ChatGPT: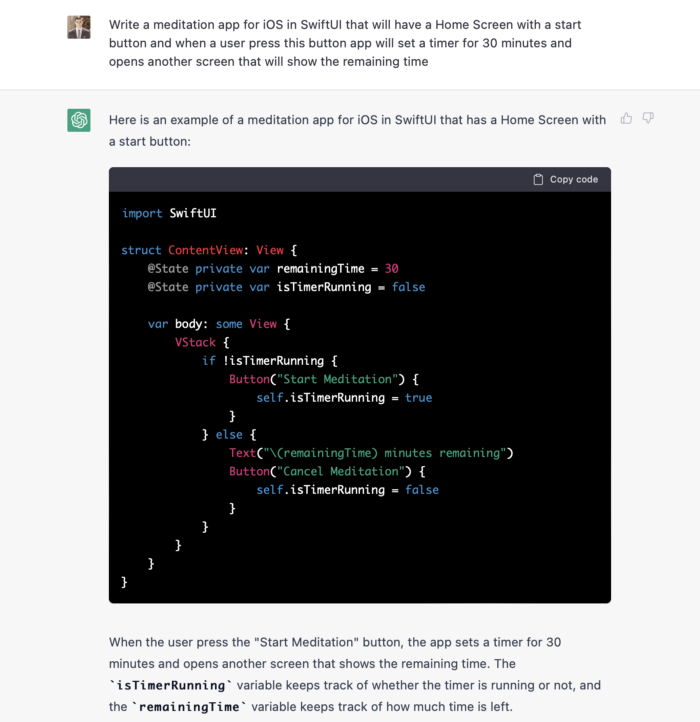 ChatGPT supplied basic code and instructions. It's unclear if ChatGPT purposely limits output or if my prompt wasn't good enough, but the tool cannot produce an entire app from a single prompt.
However, we can contact ChatGPT for thorough Swift app construction instructions.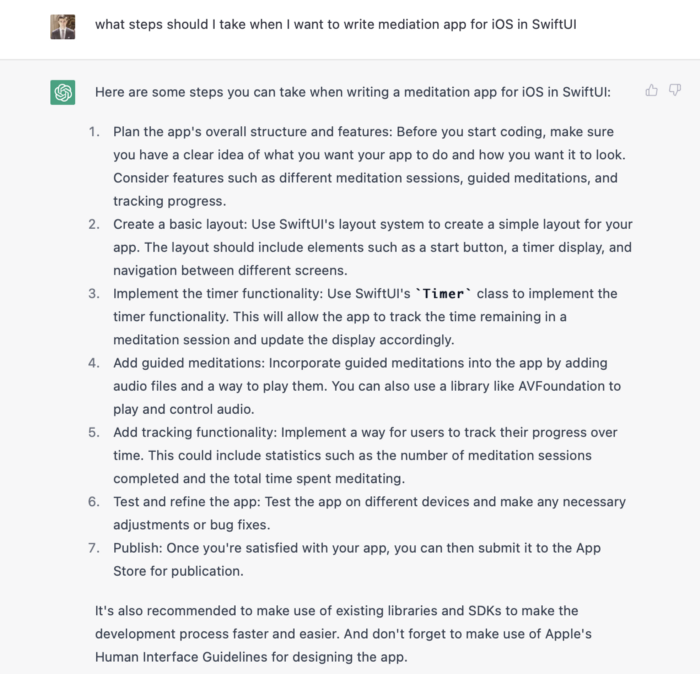 We can ask ChatGPT for step-by-step instructions now that we know what to do. Request a basic app layout from ChatGPT.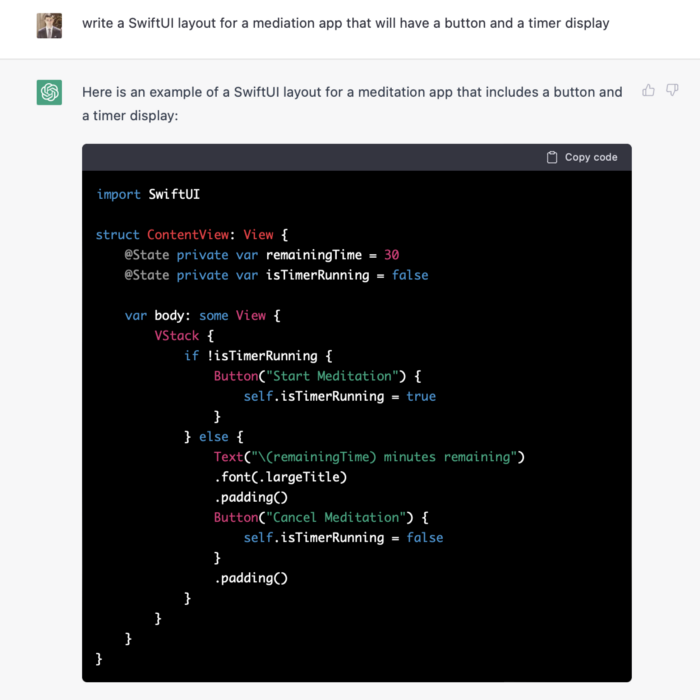 Copying this code to an Xcode project generates a functioning layout.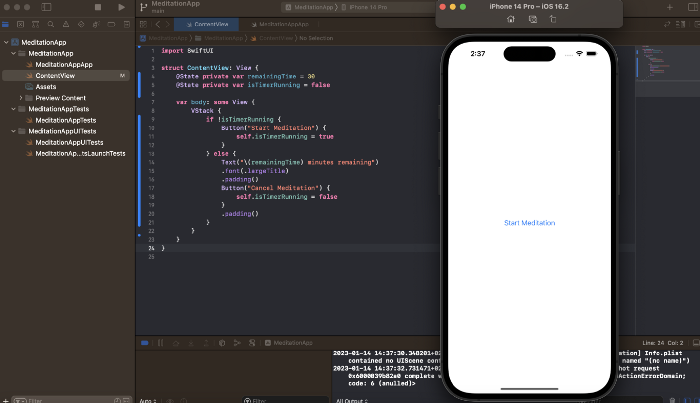 Takeaways
ChatGPT may provide step-by-step instructions on how to develop an app for a specific system, and individual steps can be utilized as prompts to ChatGPT. ChatGPT cannot generate the source code for the full program in one go.

The output that ChatGPT produces needs to be examined by a human. The majority of the time, you will need to polish or adjust ChatGPT's output, whether you develop a color scheme or a layout for the iOS app.

ChatGPT is unable to produce media material. Although ChatGPT cannot be used to produce images or sounds, it can assist you build prompts for programs like midjourney or Dalle-2 so that they can provide the appropriate images for you.
You might also like
Three Simple Daily Practices That Will Immediately Double Your Output
Most productive people are habitual.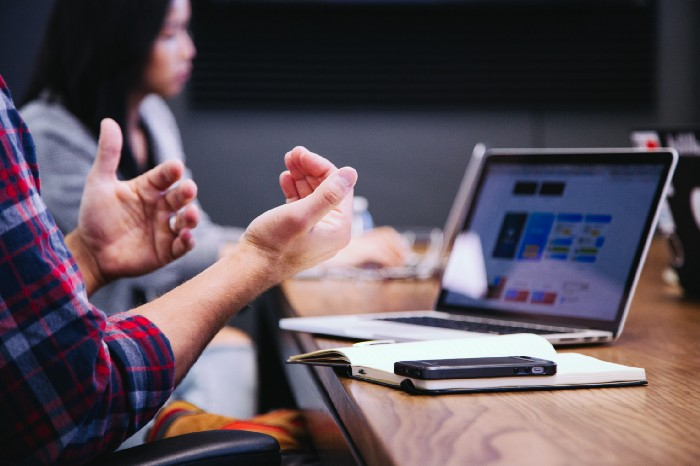 Early in the day, do important tasks.
In his best-selling book Eat That Frog, Brian Tracy advised starting the day with your hardest, most important activity.
Most individuals work best in the morning. Energy and willpower peak then.
Mornings are also ideal for memory, focus, and problem-solving.
Thus, the morning is ideal for your hardest chores.
It makes sense to do these things during your peak performance hours.
Additionally, your morning sets the tone for the day. According to Brian Tracy, the first hour of the workday steers the remainder.
After doing your most critical chores, you may feel accomplished, confident, and motivated for the remainder of the day, which boosts productivity.
Develop Your Essentialism
In Essentialism, Greg McKeown claims that trying to be everything to everyone leads to mediocrity and tiredness.
You'll either burn out, be spread too thin, or compromise your ideals.
Greg McKeown advises Essentialism:
Clarify what's truly important in your life and eliminate the rest.
Eliminating non-essential duties, activities, and commitments frees up time and energy for what matters most.
According to Greg McKeown, Essentialists live by design, not default.
You'll be happier and more productive if you follow your essentials.
Follow these three steps to live more essentialist.
Prioritize Your Tasks First
What matters most clarifies what matters less. List your most significant aims and values.
The clearer your priorities, the more you can focus on them.
On Essentialism, McKeown wrote, The ultimate form of effectiveness is the ability to deliberately invest our time and energy in the few things that matter most.
#2: Set Your Priorities in Order
Prioritize your priorities, not simply know them.
"If you don't prioritize your life, someone else will." — Greg McKeown
Planning each day and allocating enough time for your priorities is the best method to become more purposeful.
#3: Practice saying "no"
If a request or demand conflicts with your aims or principles, you must learn to say no.
Saying no frees up space for our priorities.
Place Sleep Above All Else
Many believe they must forego sleep to be more productive. This is false.
A productive day starts with a good night's sleep.
Matthew Walker (Why We Sleep) says:
"Getting a good night's sleep can improve cognitive performance, creativity, and overall productivity."
Sleep helps us learn, remember, and repair.
Unfortunately, 35% of people don't receive the recommended 79 hours of sleep per night.
Sleep deprivation can cause:
increased risk of diabetes, heart disease, stroke, and obesity

Depression, stress, and anxiety risk are all on the rise.

decrease in general contentment

decline in cognitive function
To live an ideal, productive, and healthy life, you must prioritize sleep.
Follow these six sleep optimization strategies to obtain enough sleep:
Establish a nightly ritual to relax and prepare for sleep.

Avoid using screens an hour before bed because the blue light they emit disrupts the generation of melatonin, a necessary hormone for sleep.

Maintain a regular sleep schedule to control your body's biological clock (and optimizes melatonin production)

Create a peaceful, dark, and cool sleeping environment.

Limit your intake of sweets and caffeine (especially in the hours leading up to bedtime)

Regular exercise (but not right before you go to bed, because your body temperature will be too high)
Sleep is one of the best ways to boost productivity.
Sleep is crucial, says Matthew Walker. It's the key to good health and longevity.
I sold 100 copies of my book when I had anticipated selling none.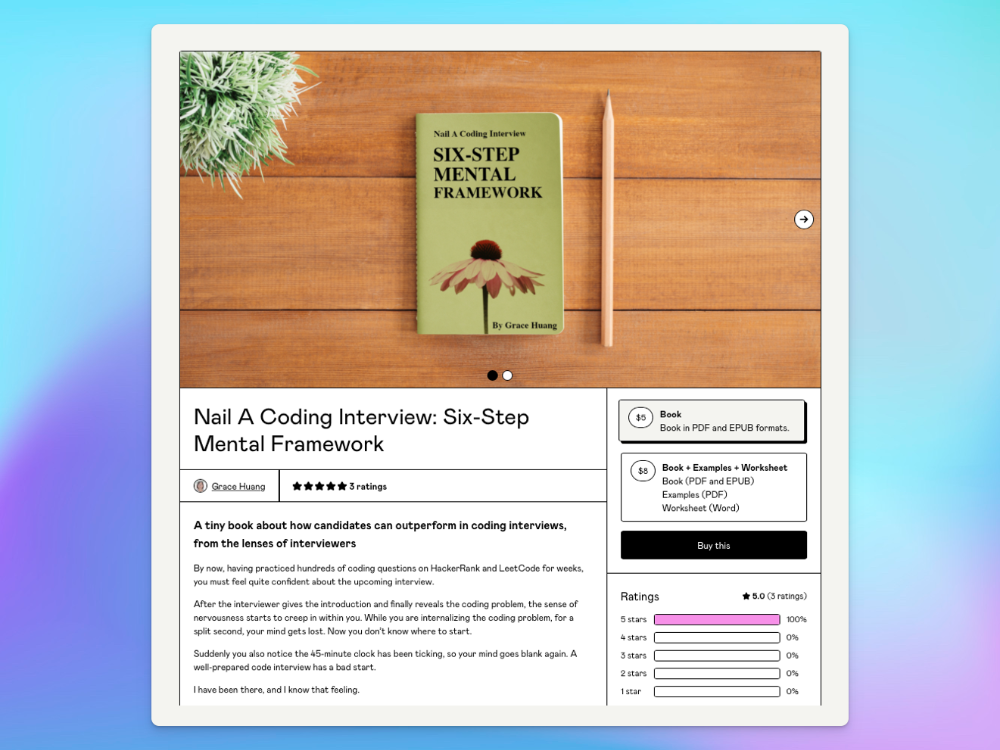 After a decade in large tech, I know how software engineers were interviewed. I've seen outstanding engineers fail interviews because their responses were too vague.
So I wrote Nail A Coding Interview: Six-Step Mental Framework. Give candidates a mental framework for coding questions; help organizations better prepare candidates so they can calibrate traits.
Recently, I sold more than 100 books, something I never expected.
In this essay, I'll describe my publication journey, which included self-doubt and little triumphs. I hope this helps if you want to publish.
It was originally a Medium post.
How did I know to develop a coding interview book? Years ago, I posted on Medium.
Six steps to ace a coding interview Inhale. blog.devgenius.io
This story got a lot of attention and still gets a lot of daily traffic. It indicates this domain's value.
Converted the Medium article into an ebook
The Medium post contains strong bullet points, but it is missing the "flesh". How to use these strategies in coding interviews, for example. I filled in the blanks and made a book.
I made the book cover for free. It's tidy.
Shared the article with my close friends on my social network WeChat.
I shared the book on Wechat's Friend Circle (朋友圈) after publishing it on Gumroad. Many friends enjoyed my post. It definitely triggered endorphins.
In Friend Circle, I presented a 100% off voucher. No one downloaded the book. Endorphins made my heart sink.
Several days later, my Apple Watch received a Gumroad notification. A friend downloaded it. I majored in finance, he subsequently said. My brother-in-law can get it? He downloaded it to cheer me up.
I liked him, but was disappointed that he didn't read it.
The Tipping Point: Reddit's Free Giving
I trusted the book. It's based on years of interviewing. I felt it might help job-hunting college students. If nobody wants it, it can still have value.
I posted the book's link on /r/leetcode. I told them to DM me for a free promo code.
Momentum shifted everything. Gumroad notifications kept coming when I was out with family. Following orders.
As promised, I sent DMs a promo code. Some consumers ordered without asking for a promo code. Some readers finished the book and posted reviews.
My book was finally on track.
A 5-Star Review, plus More
A reader afterwards DMed me and inquired if I had another book on system design interviewing. I said that was a good idea, but I didn't have one. If you write one, I'll be your first reader.
Later, I asked for a book review. Yes, but how? That's when I learned readers' reviews weren't easy. I built up an email pipeline to solicit customer reviews. Since then, I've gained credibility through ratings.
Learnings
I wouldn't have gotten 100 if I gave up when none of my pals downloaded. Here are some lessons.
Your friends are your allies, but they are not your clients.

Be present where your clients are

Request ratings and testimonials

gain credibility gradually
I did it, so can you. Follow me on Twitter @imgracehuang for my publishing and entrepreneurship adventure.
The Learning Habit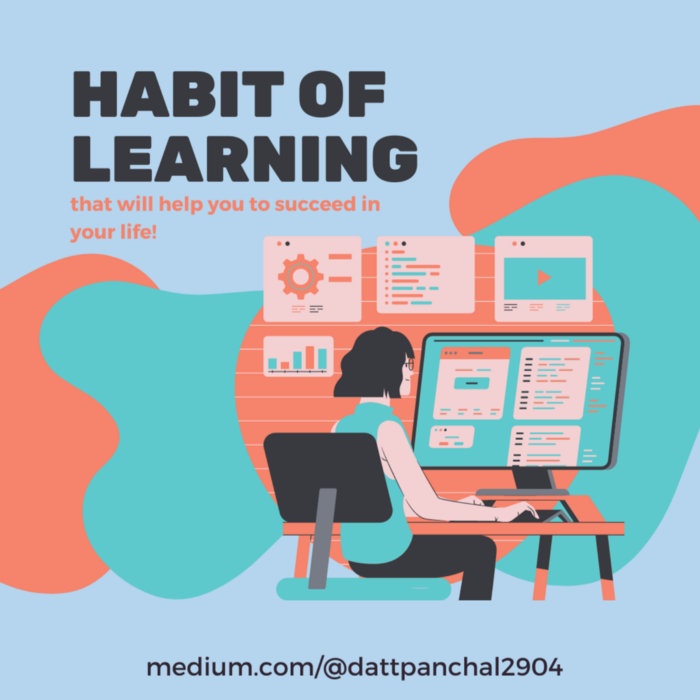 The Habit of Learning implies constantly learning something new. One daily habit will make you successful. Learning will help you succeed.
Most successful people continually learn. Success requires this behavior. Daily learning.
Success loves books. Books offer expert advice. Everything is online today. Most books are online, so you can skip the library. You must download it and study for 15-30 minutes daily. This habit changes your thinking.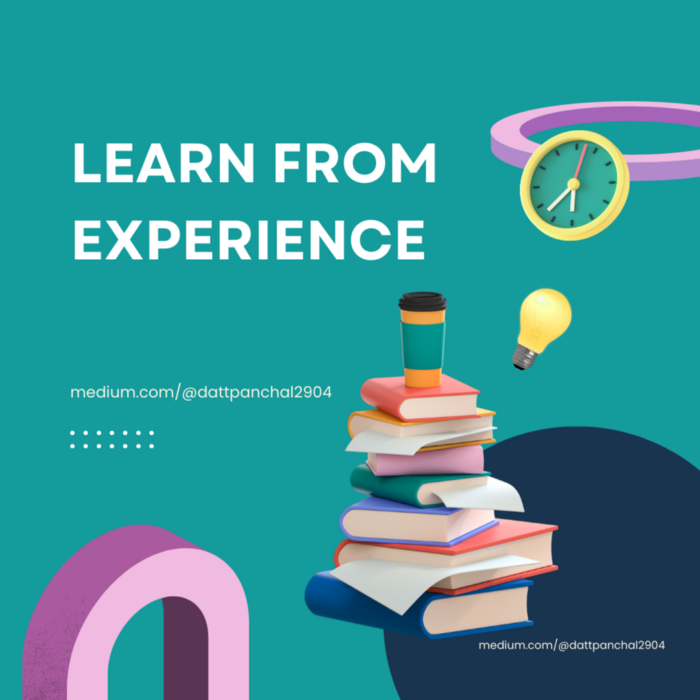 Typical Successful People
Warren Buffett reads 500 pages of corporate reports and five newspapers for five to six hours each day.

Each year, Bill Gates reads 50 books.

Every two weeks, Mark Zuckerberg reads at least one book.

According to his brother, Elon Musk studied two books a day as a child and taught himself engineering and rocket design.
Learning & Making Money Online
No worries if you can't afford books. Everything is online. YouTube, free online courses, etc.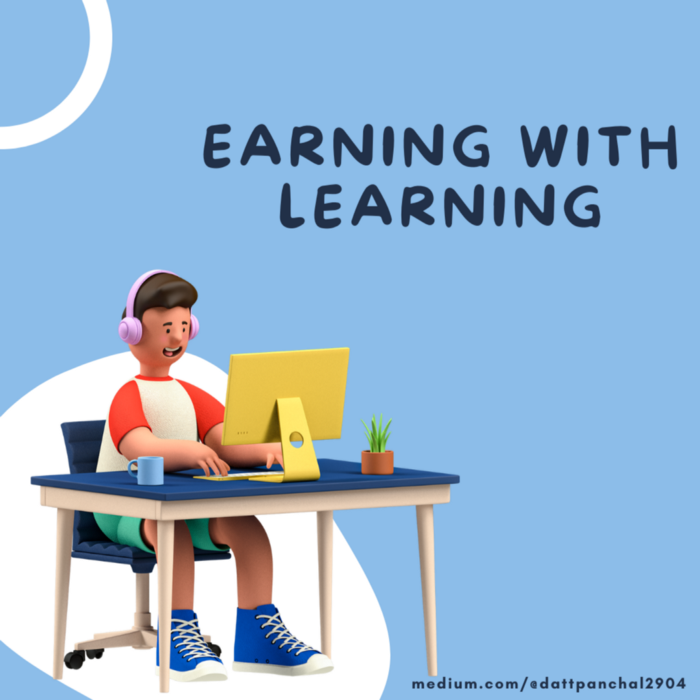 How can you create this behavior in yourself?
1) Consider what you want to know
Before learning, know what's most important. So, move together.
Set a goal and schedule learning.
After deciding what you want to study, create a goal and plan learning time.
3) GATHER RESOURCES
Get the most out of your learning resources. Online or offline.