More on Technology
Is ChatGPT Capable of Generating a Complete Mobile App?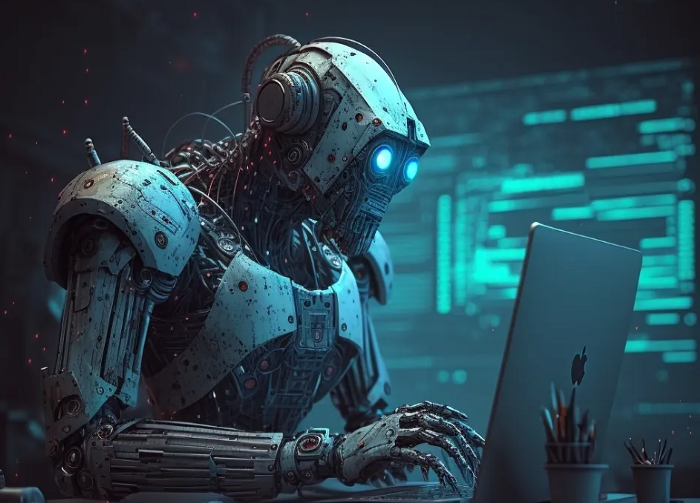 TL;DR: It'll be harder than you think.
Mobile app development is a complicated product design sector. You require broad expertise to create a mobile app. You must write Swift or Java code and consider mobile interactions.
When ChatGPT was released, many were amazed by its capabilities and wondered if it could replace designers and developers. This article will use ChatGPT to answer a specific query.
Can ChatGPT build an entire iOS app?
This post will use ChatGPT to construct an iOS meditation app. Video of the article is available.
App concepts for meditation
After deciding on an app, think about the user experience. What should the app offer?
Let's ask ChatGPT for the answer.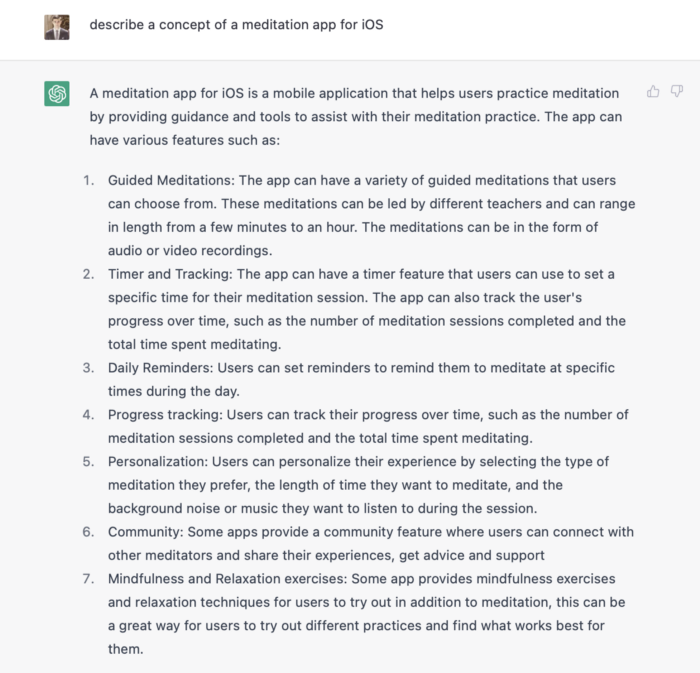 ChatGPT described a solid meditation app with various exercises. Use this list to plan product design. Our first product iteration will have few features. A simple, one-screen software will let users set the timeframe and play music during meditation.
Structure of information
Information architecture underpins product design. Our app's navigation mechanism should be founded on strong information architecture, so we need to identify our mobile's screens first.
ChatGPT can define our future app's information architecture since we already know it.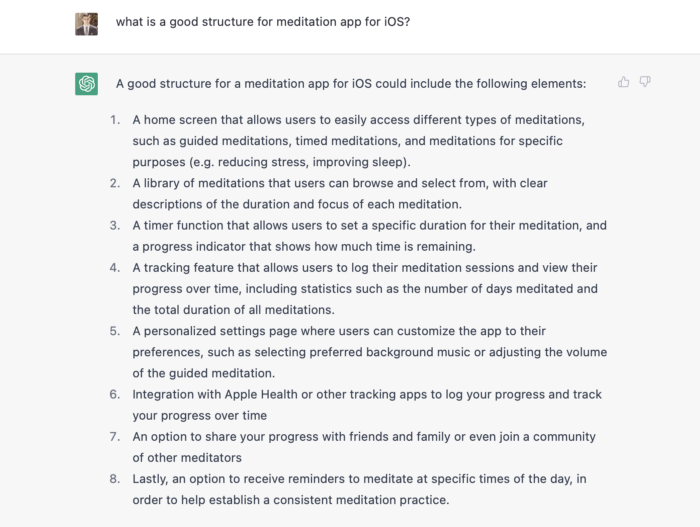 ChatGPT uses the more complicated product's structure. When adding features to future versions of our product, keep this information picture in mind.
Color palette
Meditation apps need colors. We want to employ relaxing colors in a meditation app because colors affect how we perceive items. ChatGPT can suggest product colors.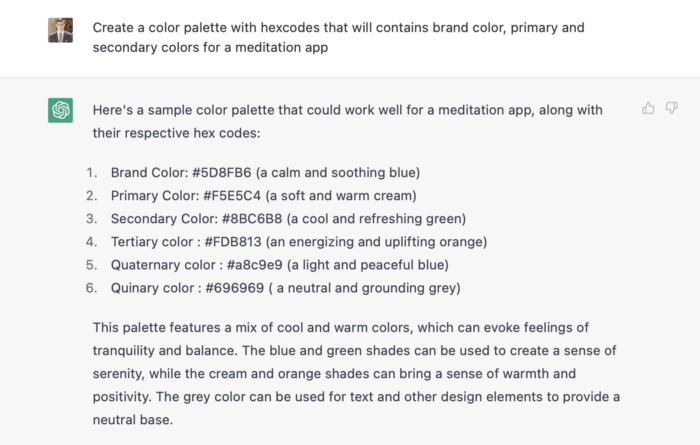 See the hues in person:

Neutral colors dominate the color scheme. Playing with color opacity makes this scheme useful.

Ambiance music
Meditation involves music. Well-chosen music calms the user.
Let ChatGPT make music for us.

ChatGPT can only generate text. It directs us to Spotify or YouTube to look for such stuff and makes precise recommendations.
Fonts
Fonts can impress app users. Round fonts are easier on the eyes and make a meditation app look friendlier.
ChatGPT can suggest app typefaces. I compare two font pairs when making a product. I'll ask ChatGPT for two font pairs.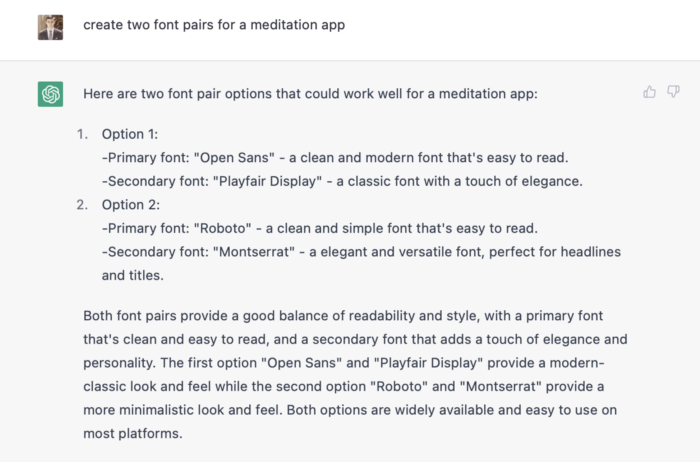 See the hues in person:

Despite ChatGPT's convincing font pairing arguments, the output is unattractive. The initial combo (Open Sans + Playfair Display) doesn't seem to work well for a mediation app.
Content
Meditation requires the script. Find the correct words and read them calmly and soothingly to help listeners relax and focus on each region of their body to enhance the exercise's effect.
ChatGPT's offerings: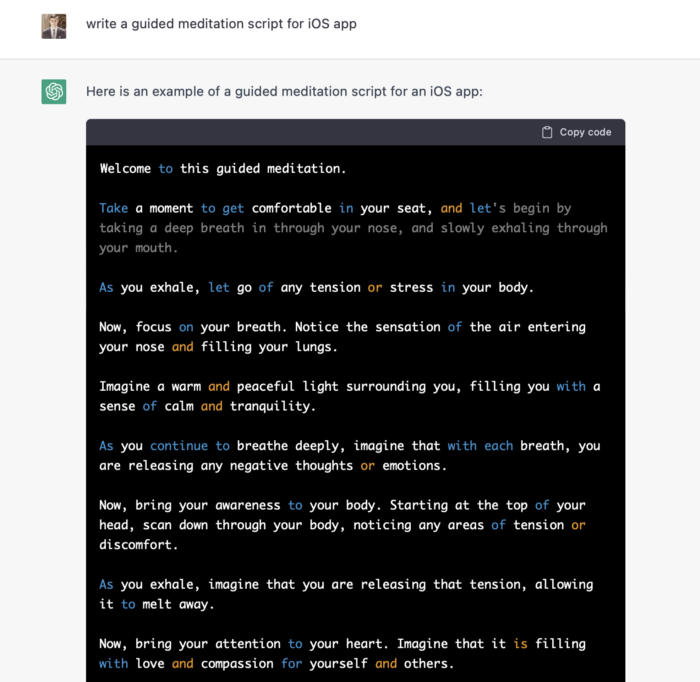 ChatGPT outputs code. My prompt's word script may cause it.
Timer
After fonts, colors, and content, construct functional pieces. Timer is our first functional piece. The meditation will be timed.
Let ChatGPT write Swift timer code (since were building an iOS app, we need to do it using Swift language).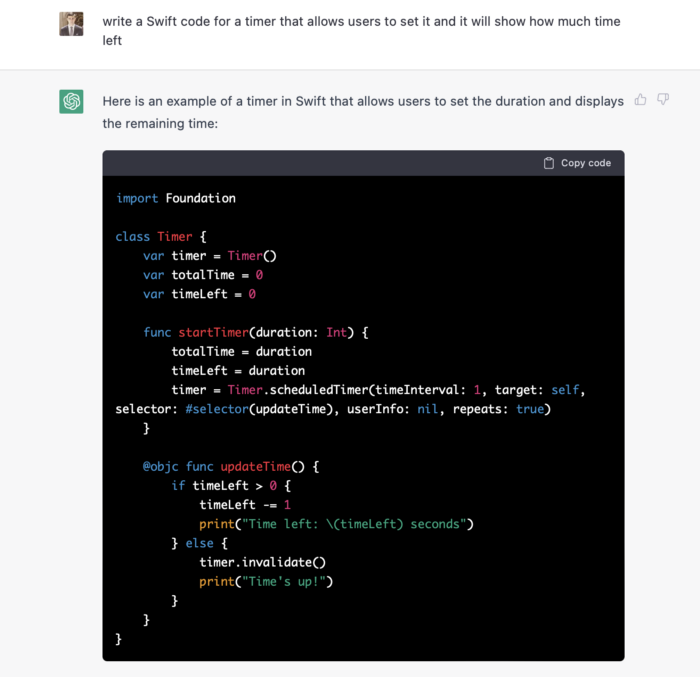 ChatGPT supplied a timer class, initializer, and usage guidelines.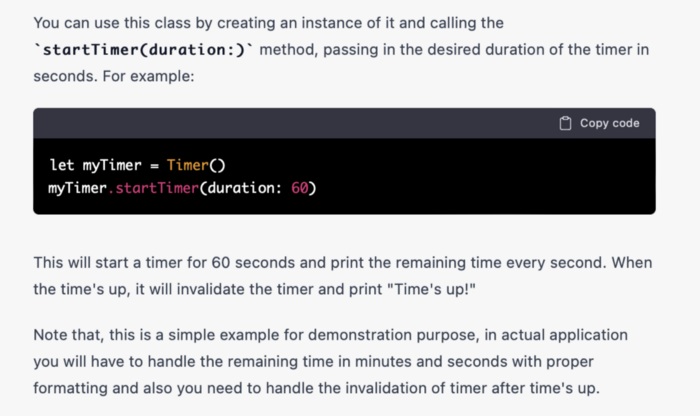 Apple Xcode requires a playground to test this code. Xcode will report issues after we paste the code to the playground.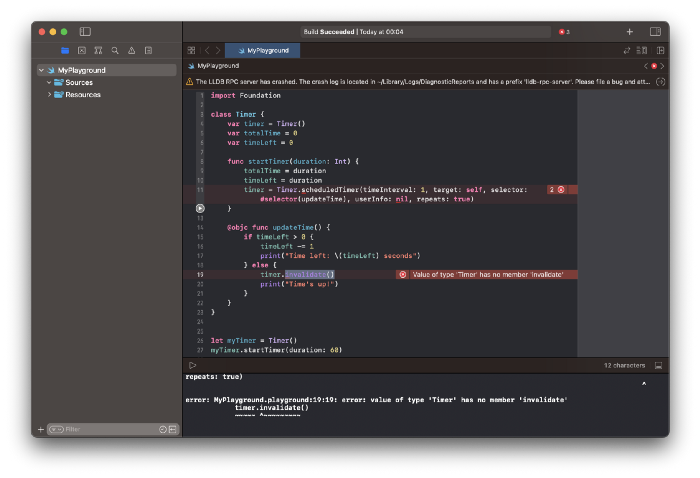 Fixing them is simple. Just change Timer to another class name (Xcode shows errors because it thinks that we access the properties of the class we've created rather than the system class Timer; it happens because both classes have the same name Timer). I titled our class Timero and implemented the project. After this quick patch, ChatGPT's code works.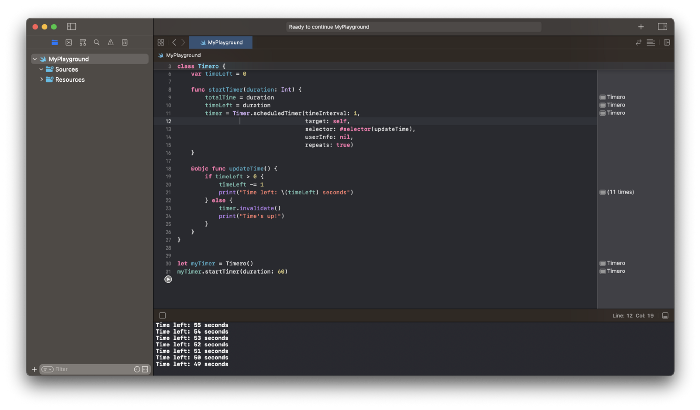 Can ChatGPT produce a complete app?
Since ChatGPT can help us construct app components, we may question if it can write a full app in one go.
Question ChatGPT: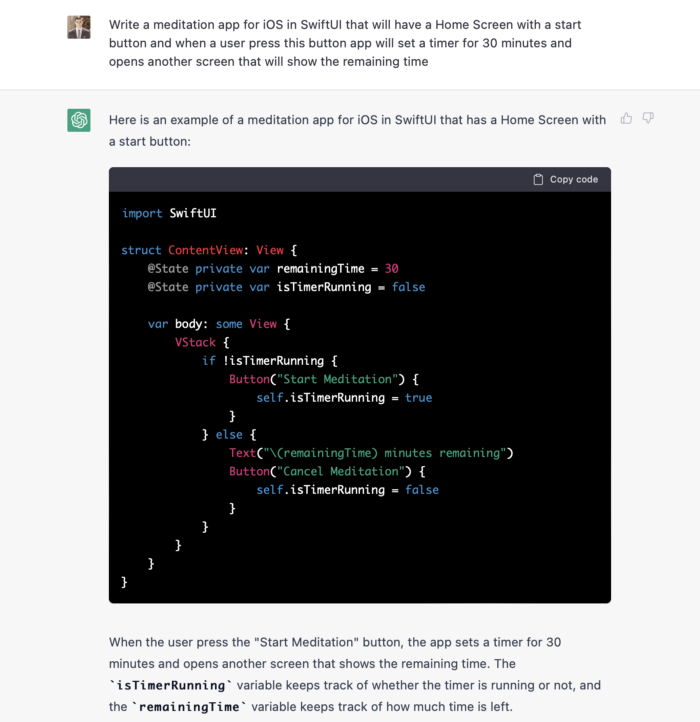 ChatGPT supplied basic code and instructions. It's unclear if ChatGPT purposely limits output or if my prompt wasn't good enough, but the tool cannot produce an entire app from a single prompt.
However, we can contact ChatGPT for thorough Swift app construction instructions.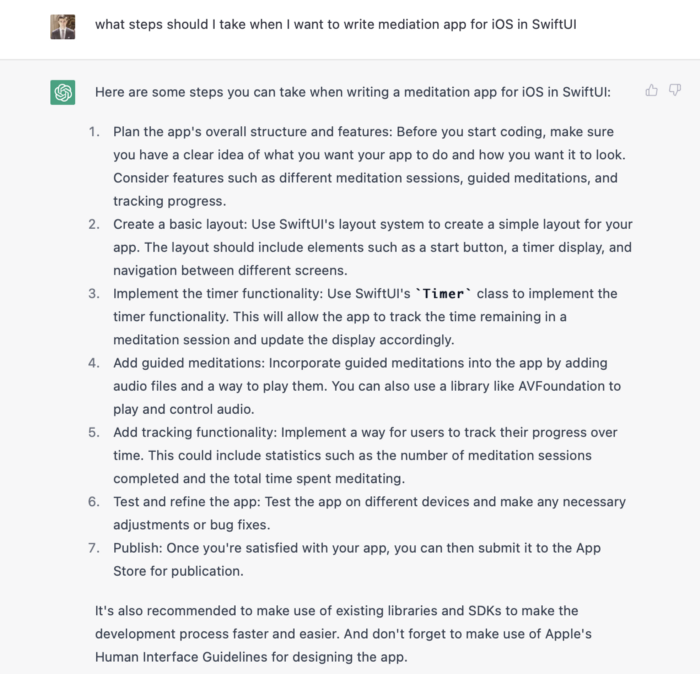 We can ask ChatGPT for step-by-step instructions now that we know what to do. Request a basic app layout from ChatGPT.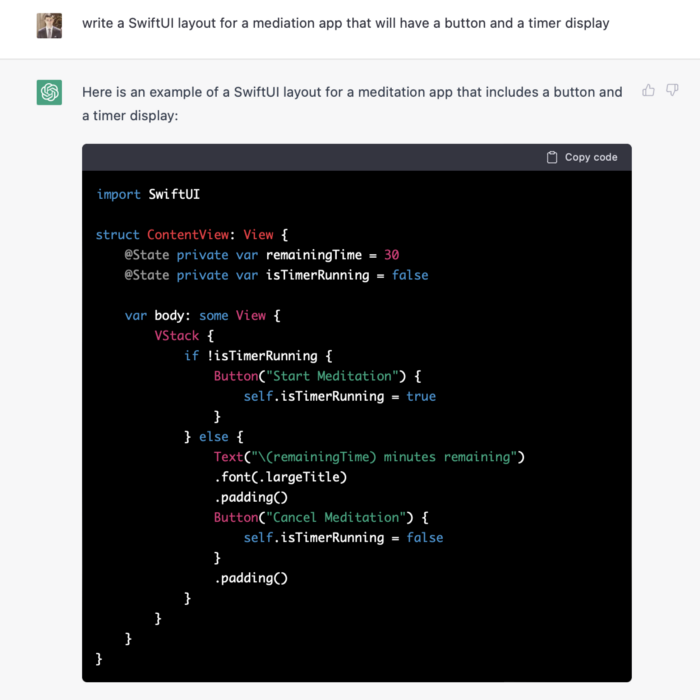 Copying this code to an Xcode project generates a functioning layout.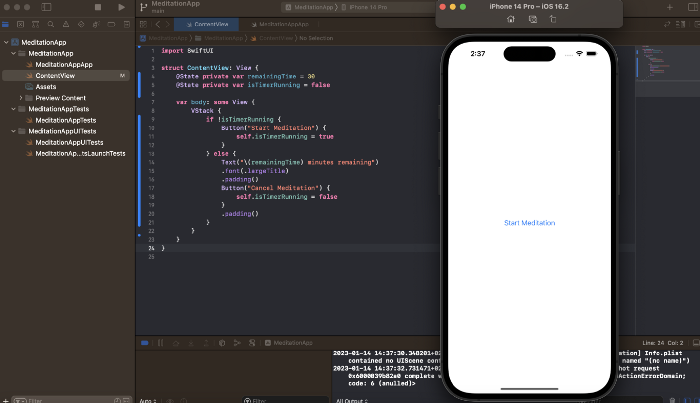 Takeaways
ChatGPT may provide step-by-step instructions on how to develop an app for a specific system, and individual steps can be utilized as prompts to ChatGPT. ChatGPT cannot generate the source code for the full program in one go.

The output that ChatGPT produces needs to be examined by a human. The majority of the time, you will need to polish or adjust ChatGPT's output, whether you develop a color scheme or a layout for the iOS app.

ChatGPT is unable to produce media material. Although ChatGPT cannot be used to produce images or sounds, it can assist you build prompts for programs like midjourney or Dalle-2 so that they can provide the appropriate images for you.
Amelia Winger-Bearskin
1 year ago
Reasons Why AI-Generated Images Remind Me of Nightmares
AI images are like funhouse mirrors.
Google's AI Blog introduced the puppy-slug in the summer of 2015.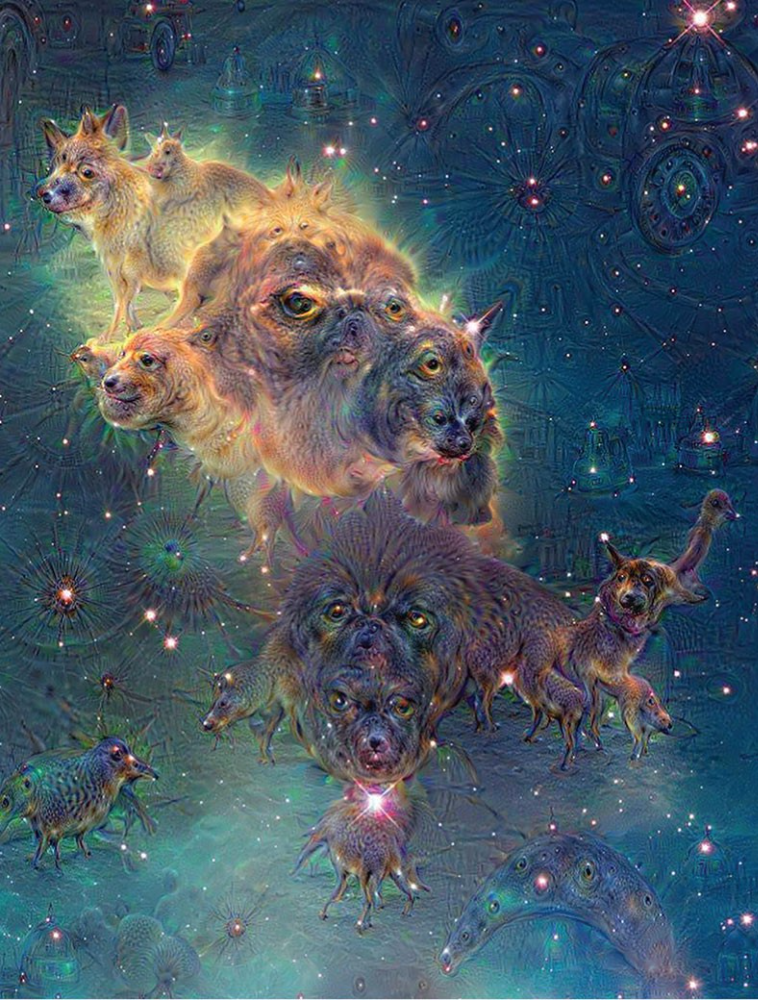 Puppy-slug isn't a single image or character. "Puppy-slug" refers to Google's DeepDream's unsettling psychedelia. This tool uses convolutional neural networks to train models to recognize dataset entities. If researchers feed the model millions of dog pictures, the network will learn to recognize a dog.
DeepDream used neural networks to analyze and classify image data as well as generate its own images. DeepDream's early examples were created by training a convolutional network on dog images and asking it to add "dog-ness" to other images. The models analyzed images to find dog-like pixels and modified surrounding pixels to highlight them.
Puppy-slugs and other DeepDream images are ugly. Even when they don't trigger my trypophobia, they give me vertigo when my mind tries to reconcile familiar features and forms in unnatural, physically impossible arrangements. I feel like I've been poisoned by a forbidden mushroom or a noxious toad. I'm a Lovecraft character going mad from extradimensional exposure. They're gross!
Is this really how AIs see the world? This is possibly an even more unsettling topic that DeepDream raises than the blatant abjection of the images.
When these photographs originally circulated online, many friends were startled and scandalized. People imagined a computer's imagination would be literal, accurate, and boring. We didn't expect vivid hallucinations and organic-looking formations.
DeepDream's images didn't really show the machines' imaginations, at least not in the way that scared some people. DeepDream displays data visualizations. DeepDream reveals the "black box" of convolutional network training.
Some of these images look scary because the models don't "know" anything, at least not in the way we do.
These images are the result of advanced algorithms and calculators that compare pixel values. They can spot and reproduce trends from training data, but can't interpret it. If so, they'd know dogs have two eyes and one face per head. If machines can think creatively, they're keeping it quiet.
You could be forgiven for thinking otherwise, given OpenAI's Dall-impressive E's results. From a technological perspective, it's incredible.
Arthur C. Clarke once said, "Any sufficiently advanced technology is indistinguishable from magic." Dall-magic E's requires a lot of math, computer science, processing power, and research. OpenAI did a great job, and we should applaud them.
Dall-E and similar tools match words and phrases to image data to train generative models. Matching text to images requires sorting and defining the images. Untold millions of low-wage data entry workers, content creators optimizing images for SEO, and anyone who has used a Captcha to access a website make these decisions. These people could live and die without receiving credit for their work, even though the project wouldn't exist without them.
This technique produces images that are less like paintings and more like mirrors that reflect our own beliefs and ideals back at us, albeit via a very complex prism. Due to the limitations and biases that these models portray, we must exercise caution when viewing these images.
The issue was succinctly articulated by artist Mimi Onuoha in her piece "On Algorithmic Violence":
As we continue to see the rise of algorithms being used for civic, social, and cultural decision-making, it becomes that much more important that we name the reality that we are seeing. Not because it is exceptional, but because it is ubiquitous. Not because it creates new inequities, but because it has the power to cloak and amplify existing ones. Not because it is on the horizon, but because it is already here.
Four Shocking Dark Web Incidents that Should Make You Avoid It
Dark Web activity? Is it as horrible as they say?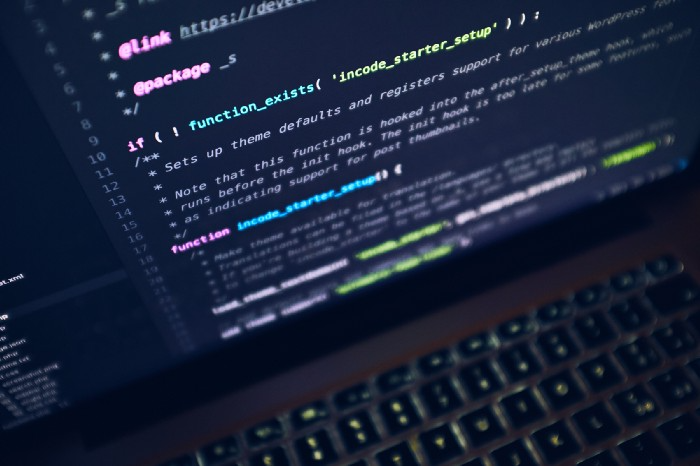 We peruse our phones for hours. Internet has improved our worldview.
However, the world's harshest realities remain buried on the internet and unattainable by everyone.
Browsers cannot access the Dark Web. Browse it with high-security authentication and exclusive access. There are compelling reasons to avoid the dark web at all costs.
1. The Dark Web and I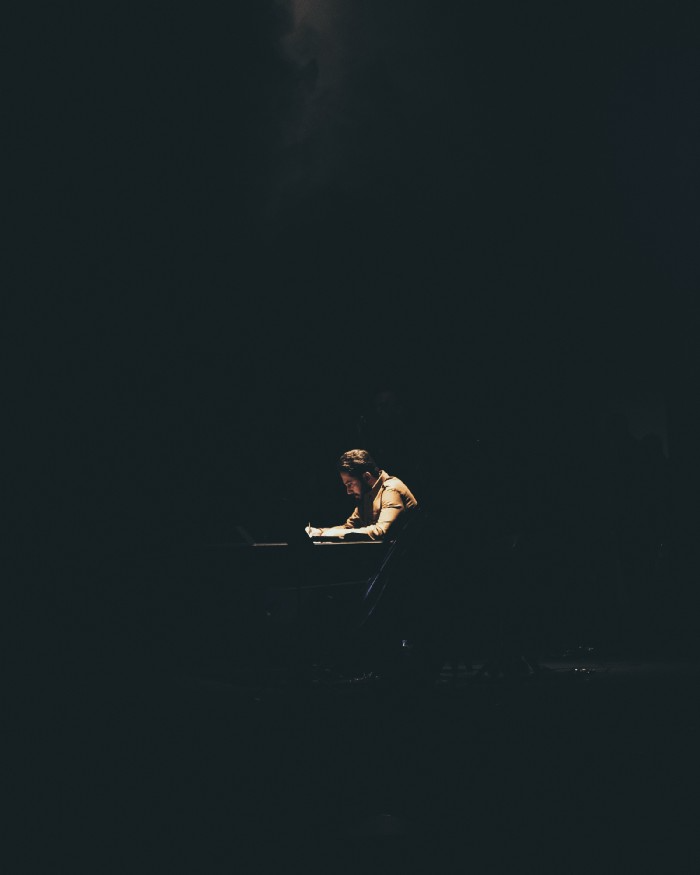 Darius wrote My Dark Web Story on reddit two years ago. The user claimed to have shared his dark web experience. DaRealEddyYT wanted to surf the dark web after hearing several stories.
He curiously downloaded Tor Browser, which provides anonymity and security.
In the Dark Room, bound
As Darius logged in, a text popped up: "Want a surprise? Click on this link."
The link opened to a room with a chair. Only one light source illuminated the room. The chair held a female tied.
As the screen read "Let the game begin," a man entered the room and was paid in bitcoins to torment the girl.
The man dragged and tortured the woman.
A danger to safety
Leaving so soon, Darius, disgusted Darius tried to leave the stream. The anonymous user then sent Darius his personal information, including his address, which frightened him because he didn't know Tor was insecure.
After deleting the app, his phone camera was compromised.
He also stated that he left his residence and returned to find it unlocked and a letter saying, Thought we wouldn't find you? Reddit never updated the story.
The story may have been a fake, but a much scarier true story about the dark side of the internet exists.
2. The Silk Road Market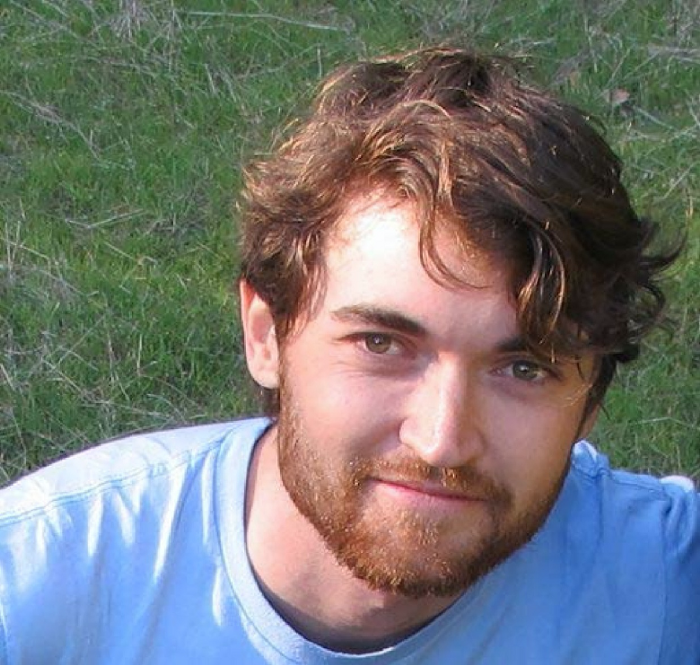 The dark web is restricted for a reason. The dark web has everything illicit imaginable. It's awful central.
The dark web has everything, from organ sales to drug trafficking to money laundering to human trafficking. Illegal drugs, pirated software, credit card, bank, and personal information can be found in seconds.
The dark web has reserved websites like Google. The Silk Road Website, which operated from 2011 to 2013, was a leading digital black market.
The FBI grew obsessed with site founder and processor Ross William Ulbricht.
The site became a criminal organization as money laundering and black enterprises increased. Bitcoin was utilized for credit card payment.
The FBI was close to arresting the site's administrator. Ross was detained after the agency closed Silk Road in 2013.
Two years later, in 2015, he was convicted and sentenced to two consecutive life terms and forty years. He appealed in 2016 but was denied, thus he is currently serving time.
The hefty sentence was for more than running a black marketing site. He was also convicted of murder-for-hire, earning about $730,000 in a short time.
3. Person-buying auctions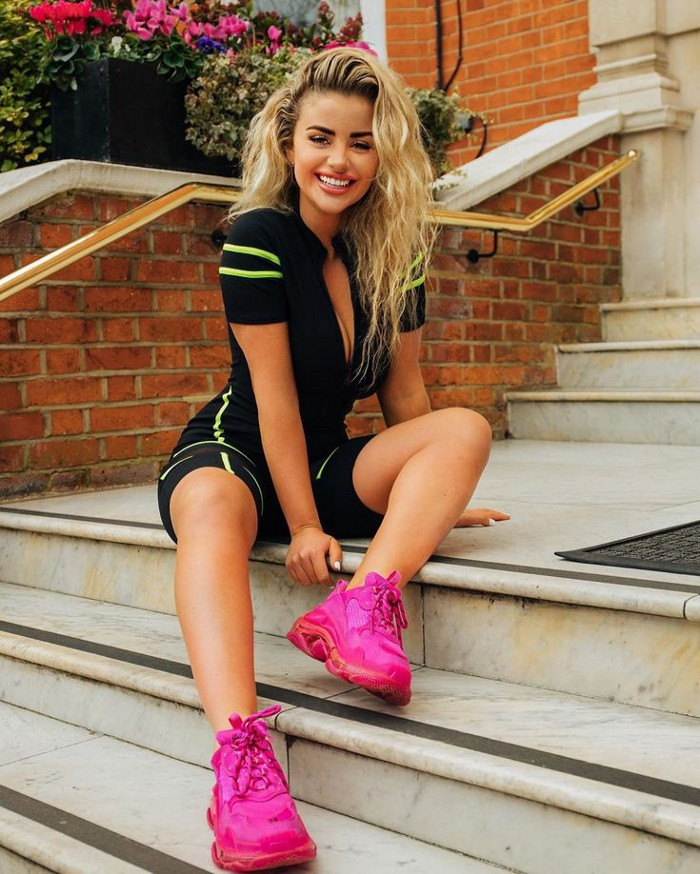 Bidding on individuals is another weird internet activity. After a Milan photo shoot, 20-year-old British model Chloe Ayling was kidnapped.
An ad agency in Milan made a bogus offer to shoot with the mother of a two-year-old boy. Four men gave her anesthetic and put her in a duffel bag when she arrived.
She was held captive for several days, and her images and $300,000 price were posted on the dark web. Black Death Trafficking Group kidnapped her to sell her for sex.
She was told two black death foot warriors abducted her. The captors released her when they found she was a mother because mothers were less desirable to sex slave buyers.
In July 2018, Lukasz Pawel Herba was arrested and sentenced to 16 years and nine months in prison. Being a young mother saved Chloe from creepy bidding.
However, it exceeds expectations of how many more would be in such danger daily without their knowledge.
4. Organ sales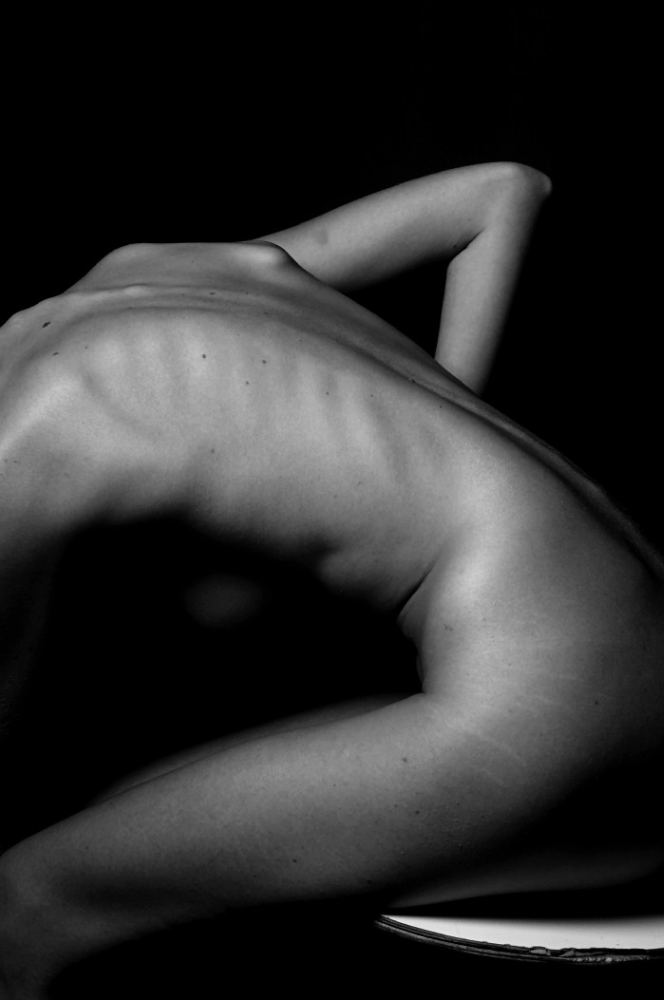 Many are unaware of dark web organ sales. Patients who cannot acquire organs often turn to dark web brokers.
Brokers handle all transactions between donors and customers.
Bitcoins are used for dark web transactions, and the Tor server permits personal data on the web.
The WHO reports approximately 10,000 unlawful organ transplants annually. The black web sells kidneys, hearts, even eyes.
To protect our lives and privacy, we should manage our curiosity and never look up dangerous stuff.
While it's fascinating and appealing to know what's going on in the world we don't know about, it's best to prioritize our well-being because one never knows how bad it might get.
Sources
You might also like
Aaron Dinin, PhD
8 months ago
The Advantages and Disadvantages of Having Investors Sign Your NDA
Startup entrepreneurs assume what risks when pitching?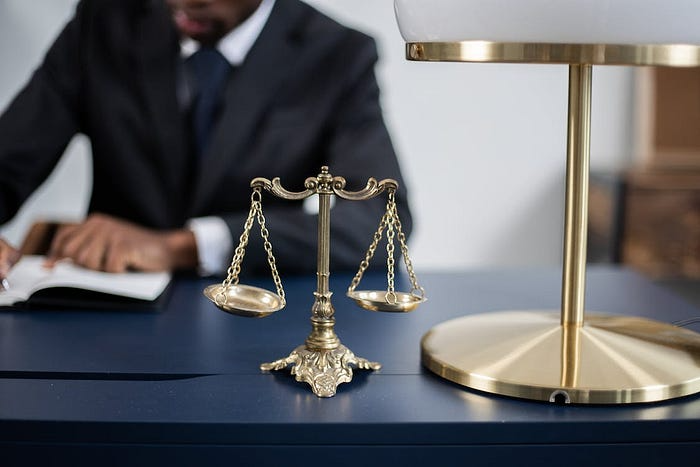 Last week I signed four NDAs.
Four!
NDA stands for non-disclosure agreement. A legal document given to someone receiving confidential information. By signing, the person pledges not to share the information for a certain time. If they do, they may be in breach of contract and face legal action.
Companies use NDAs to protect trade secrets and confidential internal information from employees and contractors. Appropriate. If you manage a huge, successful firm, you don't want your employees selling their information to your competitors. To be true, business NDAs don't always prevent corporate espionage, but they usually make employees and contractors think twice before sharing.
I understand employee and contractor NDAs, but I wasn't asked to sign one. I counsel entrepreneurs, thus the NDAs I signed last week were from startups that wanted my feedback on their concepts.
I'm not a startup investor. I give startup guidance online. Despite that, four entrepreneurs thought their company ideas were so important they wanted me to sign a generically written legal form they probably acquired from a shady, spam-filled legal templates website before we could chat.
False. One company tried to get me to sign their NDA a few days after our conversation. I gently rejected, but their tenacity encouraged me. I considered sending retroactive NDAs to everyone I've ever talked to about one of my startups in case they establish a successful company based on something I said.
Two of the other three NDAs were from nearly identical companies. Good thing I didn't sign an NDA for the first one, else they may have sued me for talking to the second one as though I control the firms people pitch me.
I wasn't talking to the fourth NDA company. Instead, I received an unsolicited email from someone who wanted comments on their fundraising pitch deck but required me to sign an NDA before sending it.
That's right, before I could read a random Internet stranger's unsolicited pitch deck, I had to sign his NDA, potentially limiting my ability to discuss what was in it.
You should understand. Advisors, mentors, investors, etc. talk to hundreds of businesses each year. They cannot manage all the companies they deal with, thus they cannot risk legal trouble by talking to someone. Well, if I signed NDAs for all the startups I spoke with, half of the 300+ articles I've written on Medium over the past several years could get me sued into the next century because I've undoubtedly addressed topics in my articles that I discussed with them.
The four NDAs I received last week are part of a recent trend of entrepreneurs sending out NDAs before meetings, despite the practical and legal issues. They act like asking someone to sign away their right to talk about all they see and hear in a day is as straightforward as asking for a glass of water.
Given this inflow of NDAs, I wanted to briefly remind entrepreneurs reading this blog about the merits and cons of requesting investors (or others in the startup ecosystem) to sign your NDA.
Benefits of having investors sign your NDA include:
None. Zero. Nothing.
Disadvantages of requesting investor NDAs:
You'll come off as an amateur who has no idea what it takes to launch a successful firm.

Investors won't trust you with their money since you appear to be a complete amateur.

Printing NDAs will be a waste of paper because no genuine entrepreneur will ever sign one.
I apologize for missing any cons. Please leave your remarks.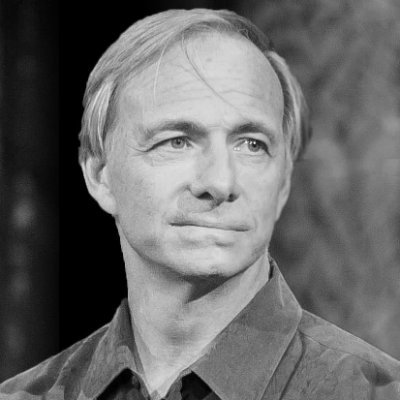 The latest "bubble indicator" readings.
As you know, I like to turn my intuition into decision rules (principles) that can be back-tested and automated to create a portfolio of alpha bets. I use one for bubbles. Having seen many bubbles in my 50+ years of investing, I described what makes a bubble and how to identify them in markets—not just stocks.
A bubble market has a high degree of the following:
High prices compared to traditional values (e.g., by taking the present value of their cash flows for the duration of the asset and comparing it with their interest rates).
Conditons incompatible with long-term growth (e.g., extrapolating past revenue and earnings growth rates late in the cycle).
Many new and inexperienced buyers were drawn in by the perceived hot market.
Broad bullish sentiment.
Debt financing a large portion of purchases.
Lots of forward and speculative purchases to profit from price rises (e.g., inventories that are more than needed, contracted forward purchases, etc.).
I use these criteria to assess all markets for bubbles. I have periodically shown you these for stocks and the stock market.
What Was Shown in January Versus Now
I will first describe the picture in words, then show it in charts, and compare it to the last update in January.
As of January, the bubble indicator showed that a) the US equity market was in a moderate bubble, but not an extreme one (ie., 70 percent of way toward the highest bubble, which occurred in the late 1990s and late 1920s), and b) the emerging tech companies (ie. As well, the unprecedented flood of liquidity post-COVID financed other bubbly behavior (e.g. SPACs, IPO boom, big pickup in options activity), making things bubbly. I showed which stocks were in bubbles and created an index of those stocks, which I call "bubble stocks."
Those bubble stocks have popped. They fell by a third last year, while the S&P 500 remained flat. In light of these and other market developments, it is not necessarily true that now is a good time to buy emerging tech stocks.
The fact that they aren't at a bubble extreme doesn't mean they are safe or that it's a good time to get long. Our metrics still show that US stocks are overvalued. Once popped, bubbles tend to overcorrect to the downside rather than settle at "normal" prices.
The following charts paint the picture. The first shows the US equity market bubble gauge/indicator going back to 1900, currently at the 40% percentile. The charts also zoom in on the gauge in recent years, as well as the late 1920s and late 1990s bubbles (during both of these cases the gauge reached 100 percent ).
The chart below depicts the average bubble gauge for the most bubbly companies in 2020. Those readings are down significantly.
The charts below compare the performance of a basket of emerging tech bubble stocks to the S&P 500. Prices have fallen noticeably, giving up most of their post-COVID gains.
The following charts show the price action of the bubble slice today and in the 1920s and 1990s. These charts show the same market dynamics and two key indicators. These are just two examples of how a lot of debt financing stock ownership coupled with a tightening typically leads to a bubble popping.
Everything driving the bubbles in this market segment is classic—the same drivers that drove the 1920s bubble and the 1990s bubble. For instance, in the last couple months, it was how tightening can act to prick the bubble. Review this case study of the 1920s stock bubble (starting on page 49) from my book Principles for Navigating Big Debt Crises to grasp these dynamics.
The following charts show the components of the US stock market bubble gauge. Since this is a proprietary indicator, I will only show you some of the sub-aggregate readings and some indicators.
Each of these six influences is measured using a number of stats. This is how I approach the stock market. These gauges are combined into aggregate indices by security and then for the market as a whole. The table below shows the current readings of these US equity market indicators. It compares current conditions for US equities to historical conditions. These readings suggest that we're out of a bubble.
1. How High Are Prices Relatively?
This price gauge for US equities is currently around the 50th percentile.
2. Is price reduction unsustainable?
This measure calculates the earnings growth rate required to outperform bonds. This is calculated by adding up the readings of individual securities. This indicator is currently near the 60th percentile for the overall market, higher than some of our other readings. Profit growth discounted in stocks remains high.
Even more so in the US software sector. Analysts' earnings growth expectations for this sector have slowed, but remain high historically. P/Es have reversed COVID gains but remain high historical.
3. How many new buyers (i.e., non-existing buyers) entered the market?
Expansion of new entrants is often indicative of a bubble. According to historical accounts, this was true in the 1990s equity bubble and the 1929 bubble (though our data for this and other gauges doesn't go back that far). A flood of new retail investors into popular stocks, which by other measures appeared to be in a bubble, pushed this gauge above the 90% mark in 2020. The pace of retail activity in the markets has recently slowed to pre-COVID levels.
4. How Broadly Bullish Is Sentiment?
The more people who have invested, the less resources they have to keep investing, and the more likely they are to sell. Market sentiment is now significantly negative.
5. Are Purchases Being Financed by High Leverage?
Leveraged purchases weaken the buying foundation and expose it to forced selling in a downturn. The leverage gauge, which considers option positions as a form of leverage, is now around the 50% mark.
6. To What Extent Have Buyers Made Exceptionally Extended Forward Purchases?
Looking at future purchases can help assess whether expectations have become overly optimistic. This indicator is particularly useful in commodity and real estate markets, where forward purchases are most obvious. In the equity markets, I look at indicators like capital expenditure, or how much businesses (and governments) invest in infrastructure, factories, etc. It reflects whether businesses are projecting future demand growth. Like other gauges, this one is at the 40th percentile.
What one does with it is a tactical choice. While the reversal has been significant, future earnings discounting remains high historically. In either case, bubbles tend to overcorrect (sell off more than the fundamentals suggest) rather than simply deflate. But I wanted to share these updated readings with you in light of recent market activity.
Three Simple Daily Practices That Will Immediately Double Your Output
Most productive people are habitual.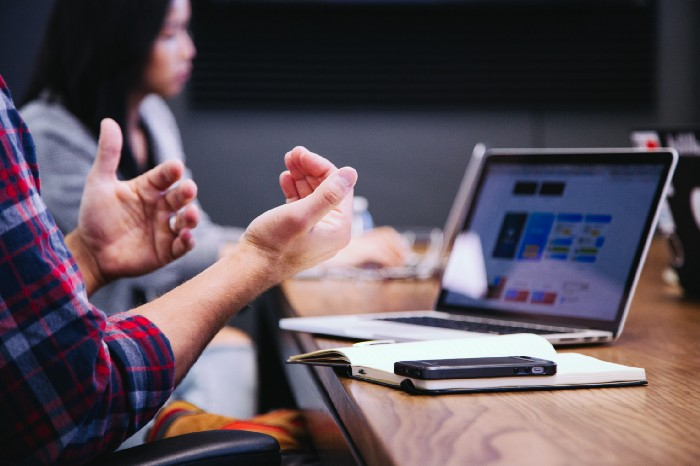 Early in the day, do important tasks.
In his best-selling book Eat That Frog, Brian Tracy advised starting the day with your hardest, most important activity.
Most individuals work best in the morning. Energy and willpower peak then.
Mornings are also ideal for memory, focus, and problem-solving.
Thus, the morning is ideal for your hardest chores.
It makes sense to do these things during your peak performance hours.
Additionally, your morning sets the tone for the day. According to Brian Tracy, the first hour of the workday steers the remainder.
After doing your most critical chores, you may feel accomplished, confident, and motivated for the remainder of the day, which boosts productivity.
Develop Your Essentialism
In Essentialism, Greg McKeown claims that trying to be everything to everyone leads to mediocrity and tiredness.
You'll either burn out, be spread too thin, or compromise your ideals.
Greg McKeown advises Essentialism:
Clarify what's truly important in your life and eliminate the rest.
Eliminating non-essential duties, activities, and commitments frees up time and energy for what matters most.
According to Greg McKeown, Essentialists live by design, not default.
You'll be happier and more productive if you follow your essentials.
Follow these three steps to live more essentialist.
Prioritize Your Tasks First
What matters most clarifies what matters less. List your most significant aims and values.
The clearer your priorities, the more you can focus on them.
On Essentialism, McKeown wrote, The ultimate form of effectiveness is the ability to deliberately invest our time and energy in the few things that matter most.
#2: Set Your Priorities in Order
Prioritize your priorities, not simply know them.
"If you don't prioritize your life, someone else will." — Greg McKeown
Planning each day and allocating enough time for your priorities is the best method to become more purposeful.
#3: Practice saying "no"
If a request or demand conflicts with your aims or principles, you must learn to say no.
Saying no frees up space for our priorities.
Place Sleep Above All Else
Many believe they must forego sleep to be more productive. This is false.
A productive day starts with a good night's sleep.
Matthew Walker (Why We Sleep) says:
"Getting a good night's sleep can improve cognitive performance, creativity, and overall productivity."
Sleep helps us learn, remember, and repair.
Unfortunately, 35% of people don't receive the recommended 79 hours of sleep per night.
Sleep deprivation can cause:
increased risk of diabetes, heart disease, stroke, and obesity

Depression, stress, and anxiety risk are all on the rise.

decrease in general contentment

decline in cognitive function
To live an ideal, productive, and healthy life, you must prioritize sleep.
Follow these six sleep optimization strategies to obtain enough sleep:
Establish a nightly ritual to relax and prepare for sleep.

Avoid using screens an hour before bed because the blue light they emit disrupts the generation of melatonin, a necessary hormone for sleep.

Maintain a regular sleep schedule to control your body's biological clock (and optimizes melatonin production)

Create a peaceful, dark, and cool sleeping environment.

Limit your intake of sweets and caffeine (especially in the hours leading up to bedtime)

Regular exercise (but not right before you go to bed, because your body temperature will be too high)
Sleep is one of the best ways to boost productivity.
Sleep is crucial, says Matthew Walker. It's the key to good health and longevity.