Here is the actual reason why Russia invaded Ukraine
Democracy's demise
Our Ukrainian brothers and sisters are being attacked by a far superior force.
It's the biggest invasion since WWII.
43.3 million peaceful Ukrainians awoke this morning to tanks, mortars, and missiles. Russia is already 15 miles away.
America and the West will not deploy troops.
They're sanctioning. Except railways. And luxuries. And energy. Diamonds. Their dependence on Russian energy exports means they won't even cut Russia off from SWIFT.
Ukraine is desperate enough to hand out guns on the street.
France, Austria, Turkey, and the EU are considering military aid, but Ukraine will fall without America or NATO.
The Russian goal is likely to encircle Kyiv and topple Zelenskyy's government. A proxy power will be reinstated once Russia has total control.
"Western security services believe Putin intends to overthrow the government and install a puppet regime," says Financial Times foreign affairs commentator Gideon Rachman. This "decapitation" strategy includes municipalities. Ukrainian officials are being targeted for arrest or death."
Also, Putin has never lost a war.
Why is Russia attacking Ukraine?
Putin, like a snowflake college student, "feels unsafe."
Why?
Because Ukraine is full of "Nazi ideas."
Putin claims he has felt threatened by Ukraine since the country's pro-Putin leader was ousted and replaced by a popular Jewish comedian.
Hee hee
He fears a full-scale enemy on his doorstep if Ukraine joins NATO. But he refuses to see it both ways. NATO has never invaded Russia, but Russia has always stolen land from its neighbors. Can you blame them for joining a mutual defense alliance when a real threat exists?
Nations that feel threatened can join NATO. That doesn't justify an attack by Russia. It allows them to defend themselves. But NATO isn't attacking Moscow. They aren't.
Russian President Putin's "special operation" aims to de-Nazify the Jewish-led nation.
To keep Crimea and the other two regions he has already stolen, he wants Ukraine undefended by NATO.
(Warlords have fought for control of the strategically important Crimea for over 2,000 years.)
Putin wants to own all of Ukraine.
Why?
The Black Sea is his goal.
Ports bring money and power, and Ukraine pipelines transport Russian energy products.
Putin wants their wheat, too — with 70% crop coverage, Ukraine would be their southern breadbasket, and Russia has no qualms about starving millions of Ukrainians to death to feed its people.
In the end, it's all about greed and power.
Putin wants to own everything Russia has ever owned. This year he turns 70, and he wants to be remembered like his hero Peter the Great.
In order to get it, he's willing to kill thousands of Ukrainians
Art imitates life
This story began when a Jewish TV comedian portrayed a teacher elected President after ranting about corruption.
Servant of the People, the hit sitcom, is now the leading centrist political party.
Right, President Zelenskyy won the hearts and minds of Ukrainians by imagining a fairer world.
A fair fight is something dictators, corporatists, monopolists, and warlords despise.
Now Zelenskyy and his people will die, allowing one of history's most corrupt leaders to amass even more power.
The poor always lose
Meanwhile, the West will impose economic sanctions on Russia.
China is likely to step in to help Russia — or at least the wealthy.
The poor and working class in Russia will suffer greatly if there is a hard crash or long-term depression.
Putin's friends will continue to drink champagne and eat caviar.
Russia cutting off oil, gas, and fertilizer could cause more inflation and possibly a recession if it cuts off supplies to the West. This causes more suffering and hardship for the Western poor and working class.
Why? a billionaire sociopath gets his dirt.
Yes, Russia is simply copying America. Some of us think all war is morally wrong, regardless of who does it.
But let's not kid ourselves right now.
The markets rallied after the biggest invasion in Europe since WWII.
Investors hope Ukraine collapses and Russian oil flows.
Unbridled capitalists value lifeless.
What we can do about Ukraine
When the Russian army invaded eastern Finland, my wife's grandmother fled as a child. 80 years later, Russia still has Karelia.
Russia invaded Ukraine today to retake two eastern provinces.
History has taught us nothing.
Past mistakes won't fix the future.
Instead, we should try:
Pray and/or meditate on our actions with our families.
Stop buying Russian products (vodka, obviously, but also pay more for hydro/solar/geothermal/etc.)
Stop wasting money on frivolous items and donate it to Ukrainian charities.
Here are 35+ places to donate.
To protest, gather a few friends, contact the media, and shake signs in front of the Russian embassy.
Prepare to welcome refugees.
More war won't save the planet or change hearts.
Only love can work.
More on Current Events
Claire Berehova
6 months ago
There's no manual for that
Kyiv oblast in springtime. Photo by author.
We've been receiving since the war began text messages from the State Emergency Service of Ukraine every few days. They've contained information on how to comfort a child and what to do in case of a water outage.
But a question that I struggle to suppress irks within me: How would we know if there really was a threat coming our away? So how can I happily disregard an air raid siren and continue singing to my three-month-old son when I feel like a World War II film became reality? There's no manual for that.
Along with the anxiety, there's the guilt that always seems to appear alongside dinner we're fortunate to still have each evening while brave Ukrainian soldiers are facing serious food insecurity. There's no manual for how to deal with this guilt.
When it comes to the enemy, there is no manual for how to react to the news of Russian casualties. Every dead Russian soldier weakens Putin, but I also know that many of these men had wives and girlfriends who are now living a nightmare.
So, I felt like I had to start writing my own manual.
The anxiety around the air raid siren? Only with time does it get easier to ignore it, but never completely.
The guilt? All we can do is pray.
That inner conflict? As Russia continues to stun the world with its war crimes, my emotions get less gray — I have to get used to accommodating absurd levels of hatred.
Sadness? It feels a bit more manageable when we laugh, and a little alcohol helps (as it usually does).
Cabin fever? Step outside in the yard when possible. At least the sunshine is becoming more fervent with spring approaching.
Slava Ukraini. Heroyam slava. (Glory to Ukraine. Glory to the heroes.)
You Misunderstand the Russian Nuclear Threat
Many believe Putin is simply sabre rattling and intimidating us. They see no threat of nuclear war. We can send NATO troops into Ukraine without risking a nuclear war.
I keep reading that Putin is just using nuclear blackmail and that a strong leader will call the bluff. That, in my opinion, misunderstands the danger of sending NATO into Ukraine.
It assumes that once NATO moves in, Putin can either push the red nuclear button or not.
Sure, Putin won't go nuclear if NATO invades Ukraine. So we're safe? Can't we just move NATO?
No, because history has taught us that wars often escalate far beyond our initial expectations. One domino falls, knocking down another. That's why having clear boundaries is vital. Crossing a seemingly harmless line can set off a chain of events that are unstoppable once started.
One example is WWI. The assassin of Archduke Franz Ferdinand could not have known that his actions would kill millions. They couldn't have known that invading Serbia to punish them for not handing over the accomplices would start a world war. Every action triggered a counter-action, plunging Europe into a brutal and bloody war. Each leader saw their actions as limited, not realizing how they kept the dominos falling.
Nobody can predict the future, but it's easy to imagine how NATO intervention could trigger a chain of events leading to a total war. Let me suggest some outcomes.
NATO creates a no-fly-zone. In retaliation, Russia bombs NATO airfields. Russia may see this as a limited counter-move that shouldn't cause further NATO escalation. They think it's a reasonable response to force NATO out of Ukraine. Nobody has yet thought to use the nuke.
Will NATO act? Polish airfields bombed, will they be stuck? Is this an article 5 event? If so, what should be done?
It could happen. Maybe NATO sends troops into Ukraine to punish Russia. Maybe NATO will bomb Russian airfields.
Putin's response Is bombing Russian airfields an invasion or an attack? Remember that Russia has always used nuclear weapons for defense, not offense. But let's not panic, let's assume Russia doesn't go nuclear.
Maybe Russia retaliates by attacking NATO military bases with planes. Maybe they use ships to attack military targets. How does NATO respond? Will they fight Russia in Ukraine or escalate? Will they invade Russia or attack more military installations there?
Seen the pattern? As each nation responds, smaller limited military operations can grow in scope.
So far, the Russian military has shown that they begin with less brutal methods. As losses and failures increase, brutal means are used. Syria had the same. Assad used chemical weapons and attacked hospitals, schools, residential areas, etc.
A NATO invasion of Ukraine would cost Russia dearly. "Oh, this isn't looking so good, better pull out and finish this war," do you think? No way. Desperate, they will resort to more brutal tactics. If desperate, Russia has a huge arsenal of ugly weapons. They have nerve agents, chemical weapons, and other nasty stuff.
What happens if Russia uses chemical weapons? What if Russian nerve agents kill NATO soldiers horribly? West calls for retaliation will grow. Will we invade Russia? Will we bomb them?
We are angry and determined to punish war criminal Putin, so NATO tanks may be heading to Moscow. We want vengeance for his chemical attacks and bombing of our cities.
Do you think the distance between that red nuclear button and Putin's finger will be that far once NATO tanks are on their way to Moscow?
We might avoid a nuclear apocalypse. A NATO invasion force or even Western cities may be used by Putin. Not as destructive as ICBMs. Putin may think we won't respond to tactical nukes with a full nuclear counterattack. Why would we risk a nuclear Holocaust by launching ICBMs on Russia?
Maybe. My point is that at every stage of the escalation, one party may underestimate the other's response. This war is spiraling out of control and the chances of a nuclear exchange are increasing. Nobody really wants it.
Fear, anger, and resentment cause it. If Putin and his inner circle decide their time is up, they may no longer care about the rest of the world. We saw it with Hitler. Hitler, seeing the end of his empire, ordered the destruction of Germany. Nobody should win if he couldn't. He wanted to destroy everything, including Paris.
In other words, the danger isn't what happens after NATO intervenes The danger is the potential chain reaction. Gambling has a psychological equivalent. It's best to exit when you've lost less. We humans are willing to take small risks for big rewards. To avoid losses, we are willing to take high risks. Daniel Kahneman describes this behavior in his book Thinking, Fast and Slow.
And so bettors who have lost a lot begin taking bigger risks to make up for it. We get a snowball effect. NATO involvement in the Ukraine conflict is akin to entering a casino and placing a bet. We'll start taking bigger risks as we start losing to Russian retaliation. That's the game's psychology.
It's impossible to stop. So will politicians and citizens from both Russia and the West, until we risk the end of human civilization.
You can avoid spiraling into ever larger bets in the Casino by drawing a hard line and declaring "I will not enter that Casino." We're doing it now. We supply Ukraine. We send money and intelligence but don't cross that crucial line.
It's difficult to watch what happened in Bucha without demanding NATO involvement. What should we do? Of course, I'm not in charge. I'm a writer. My hope is that people will think about the consequences of the actions we demand. My hope is that you think ahead not just one step but multiple dominos.
More and more, we are driven by our emotions. We cannot act solely on emotion in matters of life and death. If we make the wrong choice, more people will die.
Read the original post here.
Putin's War On Reality
The dictator's playbook.
Stalin's successor, Nikita Khrushchev, delivered a speech titled "On The Cult Of Personality And Its Consequences" in 1956, three years after Stalin's death.
It was Stalin's grave abuse of power that caused untold harm to our party.
Stalin acted not by persuasion, explanation, or patient cooperation, but by imposing his ideas and demanding absolute obedience. […]
See where Stalin's mania for greatness led? He had lost all sense of reality.
The speech, which was never made public, shook the Soviet Union and the Soviet Bloc. After Stalin's "cult of personality" was exposed as a lie, only reality remained.
As I've watched the nightmare unfold in Ukraine, I'm reminded of that question. Primarily by Putin's repeated denials.
His odd claim that Ukraine is run by drug addicts and Nazis (especially strange given that Volodymyr Zelenskyy, the Ukrainian president, is Jewish). Others attempt to portray Russia as liberators rather than occupiers. For example, he portrays Luhansk and Donetsk as plucky, newly independent states when they have been totalitarian statelets for 8 years.
Putin seemed to have lost all sense of reality.
Maybe that's why his remarks to an oligarchs' gathering stood out:
Everything is a desperate measure. They gave us no choice. We couldn't do anything about their security risks. […] They could have put the country in jeopardy.
This is almost certainly true from Putin's perspective. Even for Putin, a military invasion seems unlikely. So, what exactly is putting Russia's security in jeopardy? How could Ukraine's independence endanger Russia's existence?
The truth is the only thing that truly terrifies leaders like these.
Trump, the president of "alternative facts," "and "fake news" praised Putin's fabricated justifications for the Ukraine invasion. Russia tightened news censorship as news of their losses came in. It's no accident that modern dictatorships like Russia (and China and North Korea) restrict citizens' access to information.
Controlling what people see, hear, and think is the simplest method. And Ukraine's recent efforts to join the European Union showed a country whose thoughts Putin couldn't control. With the Russian and Ukrainian peoples so close, he could not control their reality.
He appears to think this is a threat worth fighting NATO over.
It's easy to disown history's great dictators. By the magnitude of their harm. But the strategy they used is still in use today, albeit not to the same devastating effect.
The Kim dynasty in North Korea has ruled for 74 years, Putin has ruled Russia for 19 years (using loopholes and even rewriting the constitution).
"Politicians and diapers must be changed frequently," said Mark Twain. "And for the same reason."
When their egos are threatened, they sabre-rattle, as in Kim Jong-un and Donald Trump's famous spat about the size of their...ahem, "nuclear buttons"." Or Putin's threats of mutual destruction this weekend.
Most importantly, they have cult-like control over their followers.
When a leader whose power is built on lies feels he is losing control of the narrative, things like Trump's Jan. 6 meltdown and Putin's current actions in Ukraine are unavoidable.
Leaders who try to control their people's reality will have to die to keep the illusion alive.
Long version of this post available here
You might also like
Even In a Crazy Market, Hire the Best People: The "First Ten" Rules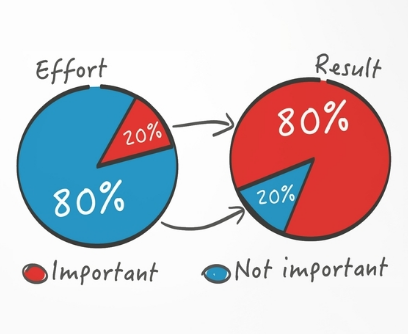 Hiring is difficult, but you shouldn't compromise on team members. Or it may suggest you need to look beyond years in a similar role/function.
Every hire should be someone we'd want as one of our first ten employees.
If you hire such people, your team will adapt, initiate, and problem-solve, and your company will grow. You'll stay nimble even as you scale, and you'll learn from your colleagues.
If you only hire for a specific role or someone who can execute the job, you'll become a cluster of optimizers, and talent will depart for a more fascinating company. A startup is continually changing, therefore you want individuals that embrace it.
As a leader, establishing ideal conditions for talent and having a real ideology should be high on your agenda. You can't eliminate attrition, nor would you want to, but you can hire people who will become your company's leaders.
In my last four jobs I was employee 2, 5, 3, and 5. So while this is all a bit self serving, you're the one reading my writing — and I have some experience with who works out in the first ten!
First, we'll examine what they do well (and why they're beneficial for startups), then what they don't, and how to hire them.
First 10 are:
Business partners: Because it's their company, they take care of whatever has to be done and have ideas about how to do it. You can rely on them to always put the success of the firm first because it is their top priority (company success is strongly connected with success for early workers). This approach will eventually take someone to leadership positions.


High Speed Learners: They process knowledge quickly and can reach 80%+ competency in a new subject matter rather quickly. A growing business that is successful tries new things frequently. We have all lost a lot of money and time on employees who follow the wrong playbook or who wait for someone else within the company to take care of them.


Autodidacts learn by trial and error, osmosis, networking with others, applying first principles, and reading voraciously (articles, newsletters, books, and even social media). Although teaching is wonderful, you won't have time.


Self-scaling: They figure out a means to deal with issues and avoid doing the grunt labor over the long haul, increasing their leverage. Great people don't keep doing the same thing forever; as they expand, they use automation and delegation to fill in their lower branches. This is a crucial one; even though you'll still adore them, you'll have to manage their scope or help them learn how to scale on their own.


Free Range: You can direct them toward objectives rather than specific chores. Check-ins can be used to keep them generally on course without stifling invention instead of giving them precise instructions because doing so will obscure their light.


When people are inspired, they bring their own ideas about what a firm can be and become animated during discussions about how to get there.


Novelty Seeking: They look for business and personal growth chances. Give them fresh assignments and new directions to follow around once every three months.

Here's what the First Ten types may not be:
Domain specialists. When you look at their resumes, you'll almost certainly think they're unqualified. Fortunately, a few strategically positioned experts may empower a number of First Ten types by serving on a leadership team or in advising capacities.


Balanced. These people become very invested, and they may be vulnerable to many types of stress. You may need to assist them in managing their own stress and coaching them through obstacles. If you are reading this and work at Banza, I apologize for not doing a better job of supporting this. I need to be better at it.


Able to handle micromanagement with ease. People who like to be in charge will suppress these people. Good decision-making should be delegated to competent individuals. Generally speaking, if you wish to scale.
Great startup team members have versatility, learning, innovation, and energy. When we hire for the function, not the person, we become dull and staid. Could this person go to another department if needed? Could they expand two levels in a few years?
First Ten qualities and experience level may have a weak inverse association. People with 20+ years of experience who had worked at larger organizations wanted to try something new and had a growth mentality. College graduates may want to be told what to do and how to accomplish it so they can stay in their lane and do what their management asks.
Does the First Ten archetype sound right for your org? Cool, let's go hiring. How will you know when you've found one?
They exhibit adaptive excellence, excelling at a variety of unrelated tasks. It could be hobbies or professional talents. This suggests that they will succeed in the next several endeavors they pursue.


Successful risk-taking is doing something that wasn't certain to succeed, sometimes more than once, and making it do so. It's an attitude.


Rapid Rise: They regularly change roles and get promoted. However, they don't leave companies when the going gets tough. Look for promotions at every stop and at least one position with three or more years of experience.
You can ask them:
Tell me about a time when you started from scratch or achieved success. What occurred en route? You might request a variety of tales from various occupations or even aspects of life. They ought to be energized by this.


What new skills have you just acquired? It is not required to be work-related. They must be able to describe it and unintentionally become enthusiastic about it.


Tell me about a moment when you encountered a challenge and had to alter your strategy. The core of a startup is reinventing itself when faced with obstacles.


Tell me about a moment when you eliminated yourself from a position at work. They've demonstrated they can permanently solve one issue and develop into a new one, as stated above.


Why do you want to leave X position or Y duty? These people ought to be moving forward, not backward, all the time. Instead, they will discuss what they are looking forward to visiting your location.


Any questions? Due to their inherent curiosity and desire to learn new things, they should practically never run out of questions. You can really tell if they are sufficiently curious at this point.
People who see their success as being the same as the success of the organization are the best-case team members, in any market. They'll grow and change with the company, and always try to prioritize what matters. You'll find yourself more energized by your work because you're surrounded by others who are as well. Happy teambuilding!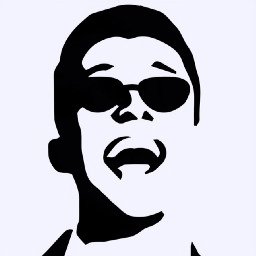 Joseph Mavericks
1 month ago
You Don't Have to Spend $250 on TikTok Ads Because I Did
900K impressions, 8K clicks, and $$$ orders…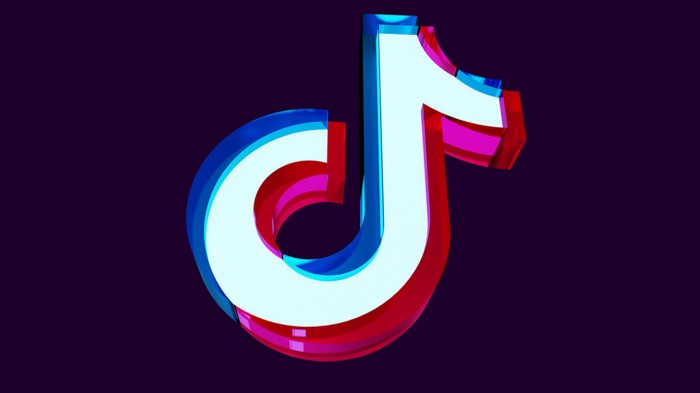 I recently started dropshipping. Now that I own my business and can charge it as a business expense, it feels less like money wasted if it doesn't work. I also made t-shirts to sell. I intended to open a t-shirt store and had many designs on a hard drive. I read that Tiktok advertising had a high conversion rate and low cost because they were new. According to many, the advertising' cost/efficiency ratio would plummet and become as bad as Google or Facebook Ads. Now felt like the moment to try Tiktok marketing and dropshipping. I work in marketing for a SaaS firm and have seen how poorly ads perform. I wanted to try it alone.
I set up $250 and ran advertising for a week. Before that, I made my own products, store, and marketing. In this post, I'll show you my process and results.
Setting up the store
Dropshipping is a sort of retail business in which the manufacturer ships the product directly to the client through an online platform maintained by a seller. The seller takes orders but has no stock. The manufacturer handles all orders. This no-stock concept increases profitability and flexibility.
In my situation, I used previous t-shirt designs to make my own product. I didn't want to handle order fulfillment logistics, so I looked for a way to print my designs on demand, ship them, and handle order tracking/returns automatically. So I found Printful.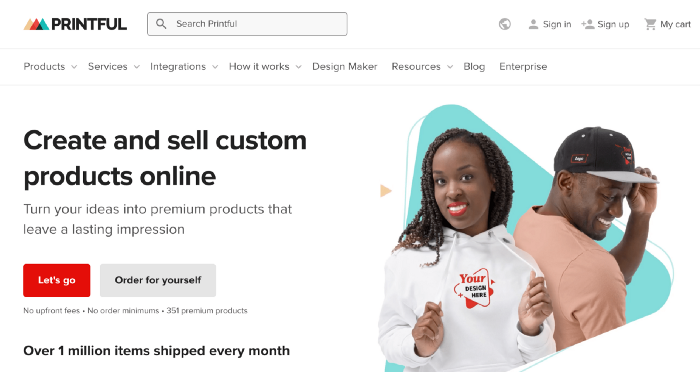 I needed to connect my backend and supplier to a storefront so visitors could buy. 99% of dropshippers use Shopify, but I didn't want to master the difficult application. I wanted a one-day project. I'd previously worked with Big Cartel, so I chose them.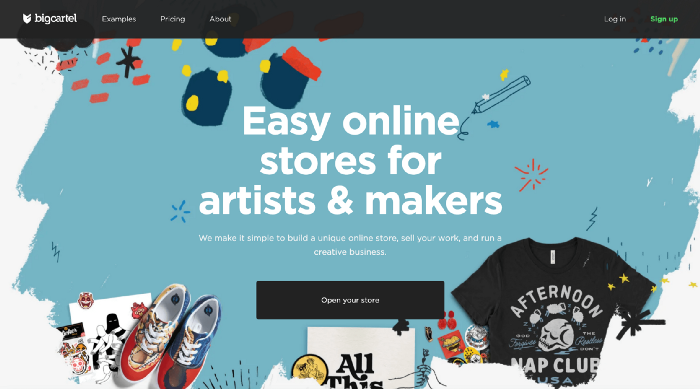 Big Cartel doesn't collect commissions on sales, simply a monthly flat price ($9.99 to $19.99 depending on your plan).
After opening a Big Cartel account, I uploaded 21 designs and product shots, then synced each product with Printful.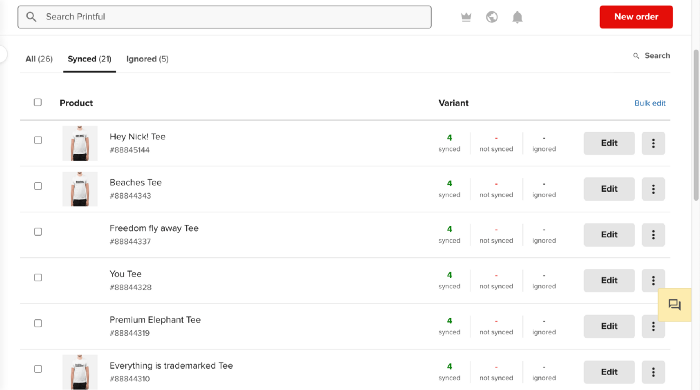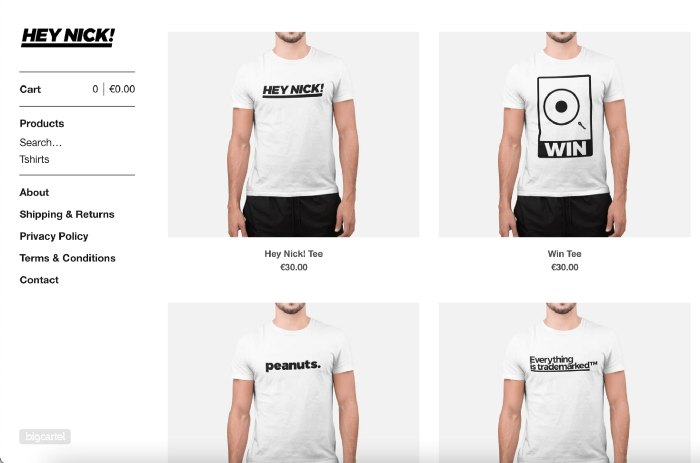 Developing the ads
I mocked up my designs on cool people photographs from placeit.net, a great tool for creating product visuals when you don't have a studio, camera gear, or models to wear your t-shirts.
I opened an account on the website and had advertising visuals within 2 hours.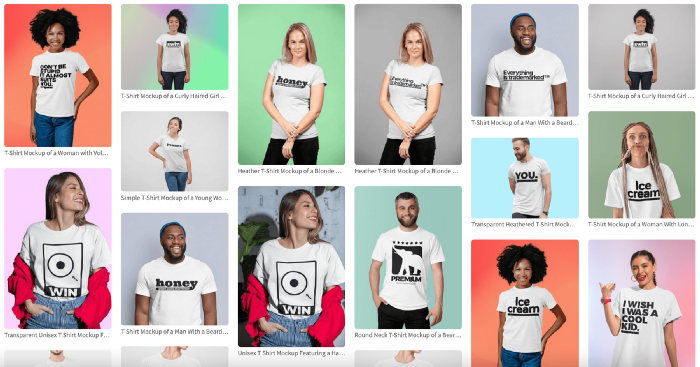 Because my designs are simple (black design on white t-shirt), I chose happy, stylish people on plain-colored backdrops. After that, I had to develop an animated slideshow.
Because I'm a graphic designer, I chose to use Adobe Premiere to create animated Tiktok advertising.
Premiere is a fancy video editing application used for more than advertisements. Premiere is used to edit movies, not social media marketing. I wanted this experiment to be quick, so I got 3 social media ad templates from motionarray.com and threw my visuals in. All the transitions and animations were pre-made in the files, so it only took a few hours to compile. The result: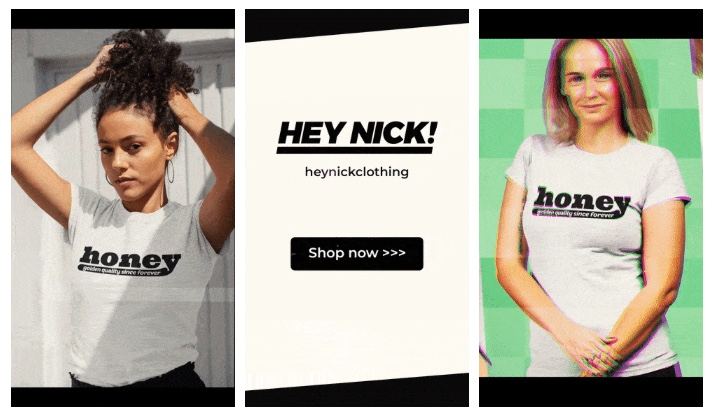 I downloaded 3 different soundtracks for the videos to determine which would convert best.
After that, I opened a Tiktok business account, uploaded my films, and inserted ad info. They went live within one hour.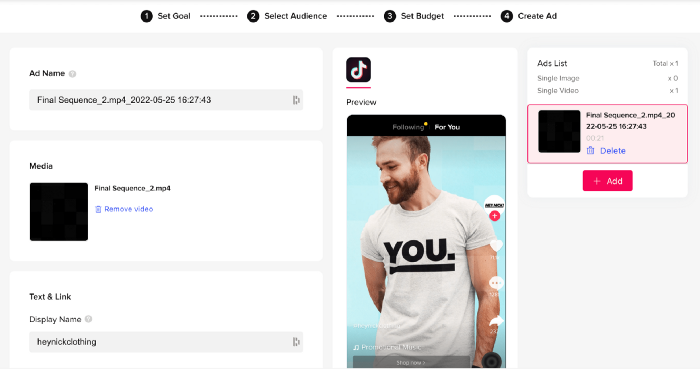 The (poor) outcomes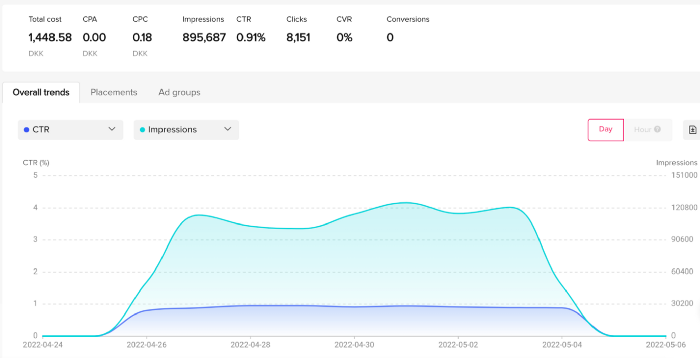 As a European company, I couldn't deliver ads in the US. All of my advertisements' material (title, description, and call to action) was in English, hence they continued getting rejected in Europe for countries that didn't speak English. There are a lot of them:
I lost a lot of quality traffic, but I felt that if the images were engaging, people would check out the store and buy my t-shirts. I was wrong.
51,071 impressions on Day 1. 0 orders after 411 clicks

114,053 impressions on Day 2. 1.004 clicks and no orders

Day 3: 987 clicks, 103,685 impressions, and 0 orders

101,437 impressions on Day 4. 0 orders after 963 clicks

115,053 impressions on Day 5. 1,050 clicks and no purchases

125,799 impressions on day 6. 1,184 clicks, no purchases

115,547 impressions on Day 7. 1,050 clicks and no purchases

121,456 impressions on day 8. 1,083 clicks, no purchases

47,586 impressions on Day 9. 419 Clicks. No orders
My overall conversion rate for video advertisements was 0.9%. TikTok's paid ad formats all result in strong engagement rates (ads average 3% to 12% CTR to site), therefore a 1 to 2% CTR should have been doable.
My one-week experiment yielded 8,151 ad clicks but no sales. Even if 0.1% of those clicks converted, I should have made 8 sales. Even companies with horrible web marketing would get one download or trial sign-up for every 8,151 clicks. I knew that because my advertising were in English, I had no impressions in the main EU markets (France, Spain, Italy, Germany), and that this impacted my conversion potential. I still couldn't believe my numbers.
I dug into the statistics and found that Tiktok's stats didn't match my store traffic data.
Looking more closely at the numbers
My ads were approved on April 26 but didn't appear until April 27. My store dashboard showed 440 visitors but 1,004 clicks on Tiktok. This happens often while tracking campaign results since different platforms handle comparable user activities (click, view) differently. In online marketing, residual data won't always match across tools.
My data gap was too large. Even if half of the 1,004 persons who clicked closed their browser or left before the store site loaded, I would have gained 502 visitors. The significant difference between Tiktok clicks and Big Cartel store visits made me suspicious. It happened all week:
Day 1: 440 store visits and 1004 ad clicks

Day 2: 482 store visits, 987 ad clicks

3rd day: 963 hits on ads, 452 store visits

443 store visits and 1,050 ad clicks on day 4.

Day 5: 459 store visits and 1,184 ad clicks

Day 6: 430 store visits and 1,050 ad clicks

Day 7: 409 store visits and 1,031 ad clicks

Day 8: 166 store visits and 418 ad clicks
The disparity wasn't related to residual data or data processing. The disparity between visits and clicks looked regular, but I couldn't explain it.
After the campaign concluded, I discovered all my creative assets (the videos) had a 0% CTR and a $0 expenditure in a separate dashboard. Whether it's a dashboard reporting issue or a budget allocation bug, online marketers shouldn't see this.

Tiktok can present any stats they want on their dashboard, just like any other platform that runs advertisements to promote content to its users. I can't verify that 895,687 individuals saw and clicked on my ad. I invested $200 for what appears to be around 900K impressions, which is an excellent ROI. No one bought a t-shirt, even an unattractive one, out of 900K people?
Would I do it again?
Nope. Whether I didn't make sales because Tiktok inflated the dashboard numbers or because I'm horrible at producing advertising and items that sell, I'll stick to writing content and making videos. If setting up a business and ads in a few days was all it took to make money online, everyone would do it.
Video advertisements and dropshipping aren't dead. As long as the internet exists, people will click ads and buy stuff. Converting ads and selling stuff takes a lot of work, and I want to focus on other things.
I had always wanted to try dropshipping and I'm happy I did, I just won't stick to it because that's not something I'm interested in getting better at.
If I want to sell t-shirts again, I'll avoid Tiktok advertisements and find another route.
Scott Stockdale
2 months ago
A Day in the Life of Lex Fridman Can Help You Hit 6-Month Goals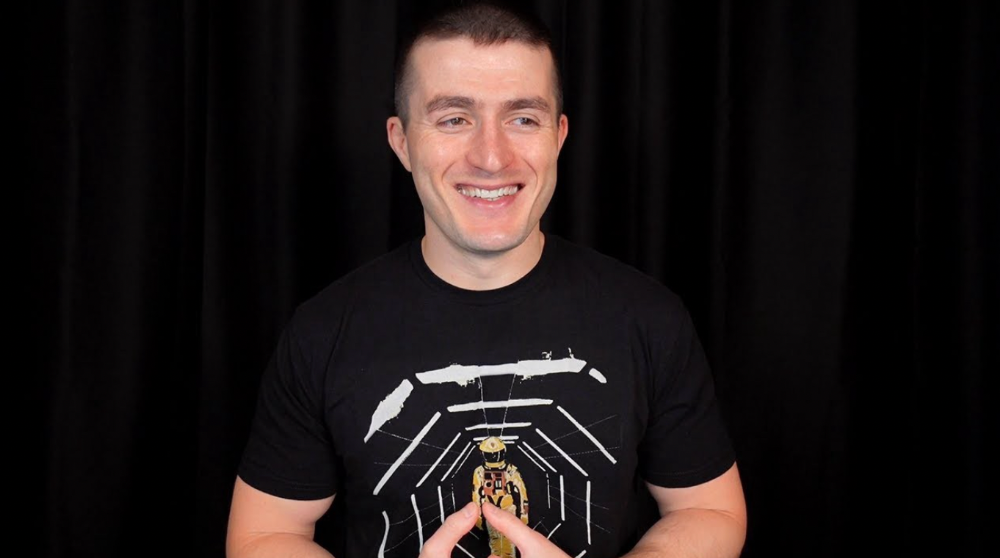 The Lex Fridman podcast host has interviewed Elon Musk.
Lex is a minimalist YouTuber. His videos are sloppy. Suits are his trademark.
In a video, he shares a typical day. I've smashed my 6-month goals using its ideas.
Here's his schedule.
Morning Mantra
Not woo-woo. Lex's mantra reflects his practicality.
Four parts.
Rulebook
"I remember the game's rules," he says.
Among them:
Sleeping 6–8 hours nightly

1–3 times a day, he checks social media.

Every day, despite pain, he exercises. "I exercise uninjured body parts."
Visualize
He imagines his day. "Like Sims..."
He says three things he's grateful for and contemplates death.
"Today may be my last"
Objectives
Then he visualizes his goals. He starts big. Five-year goals.
Short-term goals follow. Lex says they're year-end goals.
Near but out of reach.
Principles
He lists his principles. Assertions. His goals.
He acknowledges his cliche beliefs. Compassion, empathy, and strength are key.
Here's my mantra routine: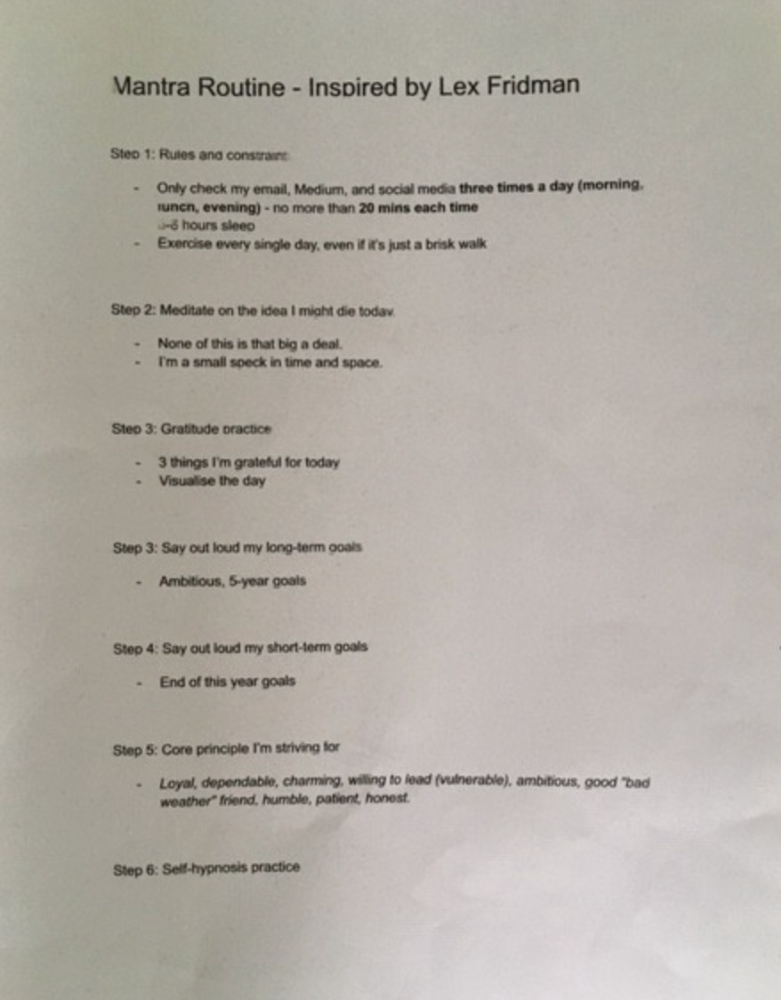 Four-Hour Deep Work
Lex begins a four-hour deep work session after his mantra routine. Today's toughest.
AI is Lex's specialty. His video doesn't explain what he does.
Clearly, he works hard.
Before starting, he has water, coffee, and a bathroom break.
"During deep work sessions, I minimize breaks."
He's distraction-free. Phoneless. Silence. Nothing. Any loose ideas are typed into a Google doc for later. He wants to work.
"Just get the job done. Don't think about it too much and feel good once it's complete." — Lex Fridman
30-Minute Social Media & Music
After his first deep work session, Lex rewards himself.
10 minutes on social media, 20 on music. Upload content and respond to comments in 10 minutes. 20 minutes for guitar or piano.
"In the real world, I'm currently single, but in the music world, I'm in an open relationship with this beautiful guitar. Open relationship because sometimes I cheat on her with the acoustic." — Lex Fridman
Two-hour exercise
Then exercise for two hours.
Daily runs six miles. Then he chooses how far to go. Run time is an hour.
He does bodyweight exercises. Every minute for 15 minutes, do five pull-ups and ten push-ups. It's David Goggins-inspired. He aims for an hour a day.
He's hungry. Before running, he takes a salt pill for electrolytes.
He'll then take a one-minute cold shower while listening to cheesy songs. Afterward, he might eat.
Four-Hour Deep Work
Lex's second work session.
He works 8 hours a day.
Again, zero distractions.
Eating
The video's meal doesn't look appetizing, but it's healthy.
It's ground beef with vegetables. Cauliflower is his "ground-floor" veggie. "Carrots are my go-to party food."
Lex's keto diet includes 1800–2000 calories.
He drinks a "nutrient-packed" Atheltic Greens shake and takes tablets. It's:
One daily tablet of sodium.

Magnesium glycinate tablets stopped his keto headaches.

Potassium — "For electrolytes"

Fish oil: healthy joints
"So much of nutrition science is barely a science… I like to listen to my own body and do a one-person, one-subject scientific experiment to feel good." — Lex Fridman
Four-hour shallow session
This work isn't as mentally taxing.
Lex planned to:
Finish last session's deep work (about an hour)

Adobe Premiere podcasting (about two hours).

Email-check (about an hour). Three times a day max. First, check for emergencies.
If he's sick, he may watch Netflix or YouTube documentaries or visit friends.
"The possibilities of chaos are wide open, so I can do whatever the hell I want." — Lex Fridman
Two-hour evening reading
Nonstop work.
Lex ends the day reading academic papers for an hour. "Today I'm skimming two machine learning and neuroscience papers"
This helps him "think beyond the paper."
He reads for an hour.
"When I have a lot of energy, I just chill on the bed and read… When I'm feeling tired, I jump to the desk…" — Lex Fridman
---
Takeaways
Lex's day-in-the-life video is inspiring.
He has positive energy and works hard every day.
Schedule:
Mantra Routine includes rules, visualizing, goals, and principles.

Deep Work Session #1: Four hours of focus.

10 minutes social media, 20 minutes guitar or piano. "Music brings me joy"

Six-mile run, then bodyweight workout. Two hours total.

Deep Work #2: Four hours with no distractions. Google Docs stores random thoughts.

Lex supplements his keto diet.

This four-hour session is "open to chaos."

Evening reading: academic papers followed by fiction.
"I value some things in life. Work is one. The other is loving others. With those two things, life is great." — Lex Fridman