Coinbase's web3 app
Use popular Ethereum dapps with Coinbase's new dapp wallet and browser
Tl;dr: This post highlights the ability to access web3 directly from your Coinbase app using our new dapp wallet and browser.
Decentralized autonomous organizations (DAOs) and decentralized finance (DeFi) have gained popularity in the last year (DAOs). The total value locked (TVL) of DeFi investments on the Ethereum blockchain has grown to over $110B USD, while NFTs sales have grown to over $30B USD in the last 12 months (LTM). New innovative real-world applications are emerging every day.
Today, a small group of Coinbase app users can access Ethereum-based dapps. Buying NFTs on Coinbase NFT and OpenSea, trading on Uniswap and Sushiswap, and borrowing and lending on Curve and Compound are examples.
Our new dapp wallet and dapp browser enable you to access and explore web3 directly from your Coinbase app.
Web3 in the Coinbase app
Users can now access dapps without a recovery phrase. This innovative dapp wallet experience uses Multi-Party Computation (MPC) technology to secure your on-chain wallet. This wallet's design allows you and Coinbase to share the 'key.' If you lose access to your device, the key to your dapp wallet is still safe and Coinbase can help recover it.
Set up your new dapp wallet by clicking the "Browser" tab in the Android app's navigation bar. Once set up, the Coinbase app's new dapp browser lets you search, discover, and use Ethereum-based dapps.
Looking forward
We want to enable everyone to seamlessly and safely participate in web3, and today's launch is another step on that journey. We're rolling out the new dapp wallet and browser in the US on Android first to a small subset of users and plan to expand soon. Stay tuned!
More on Web3 & Crypto
Terra fiasco raises TRON's stablecoin backstop
After Terra's algorithmic stablecoin collapsed in May, TRON announced a plan to increase the capital backing its own stablecoin.
USDD, a near-carbon copy of Terra's UST, arrived on the TRON blockchain on May 5. TRON founder Justin Sun says USDD will be overcollateralized after initially being pegged algorithmically to the US dollar.
A reserve of cryptocurrencies and stablecoins will be kept at 130 percent of total USDD issuance, he said. TRON described the collateral ratio as "guaranteed" and said it would begin publishing real-time updates on June 5.
Currently, the reserve contains 14,040 bitcoin (around $418 million), 140 million USDT, 1.9 billion TRX, and 8.29 billion TRX in a burning contract.
Sun: "We want to hybridize USDD." We have an algorithmic stablecoin and TRON DAO Reserve.
algorithmic failure
USDD was designed to incentivize arbitrageurs to keep its price pegged to the US dollar by trading TRX, TRON's token, and USDD. Like Terra, TRON signaled its intent to establish a bitcoin and cryptocurrency reserve to support USDD in extreme market conditions.
Still, Terra's UST failed despite these safeguards. The stablecoin veered sharply away from its dollar peg in mid-May, bringing down Terra's LUNA and wiping out $40 billion in value in days. In a frantic attempt to restore the peg, billions of dollars in bitcoin were sold and unprecedented volumes of LUNA were issued.
Sun believes USDD, which has a total circulating supply of $667 million, can be backed up.
"Our reserve backing is diversified." Bitcoin and stablecoins are included. USDC will be a small part of Circle's reserve, he said.
TRON's news release lists the reserve's assets as bitcoin, TRX, USDC, USDT, TUSD, and USDJ.
All Bitcoin addresses will be signed so everyone knows they belong to us, Sun said.
Not giving in
Sun told that the crypto industry needs "decentralized" stablecoins that regulators can't touch.
Sun said the Luna Foundation Guard, a Singapore-based non-profit that raised billions in cryptocurrency to buttress UST, mismanaged the situation by trying to sell to panicked investors.
He said, "We must be ahead of the market." We want to stabilize the market and reduce volatility.
Currently, TRON finances most of its reserve directly, but Sun says the company hopes to add external capital soon.
Before its demise, UST holders could park the stablecoin in Terra's lending platform Anchor Protocol to earn 20% interest, which many deemed unsustainable. TRON's JustLend is similar. Sun hopes to raise annual interest rates from 17.67% to "around 30%."
---
This post is a summary. Read full article here
Say goodbye to Ponzi yields - A new era of decentralized perpetual
Decentralized perpetual may be the next crypto market boom; with tons of perpetual popping up, let's look at two protocols that offer organic, non-inflationary yields.
Decentralized derivatives exchanges' market share has increased tenfold in a year, but it's still 2% of CEXs'. DEXs have a long way to go before they can compete with centralized exchanges in speed, liquidity, user experience, and composability.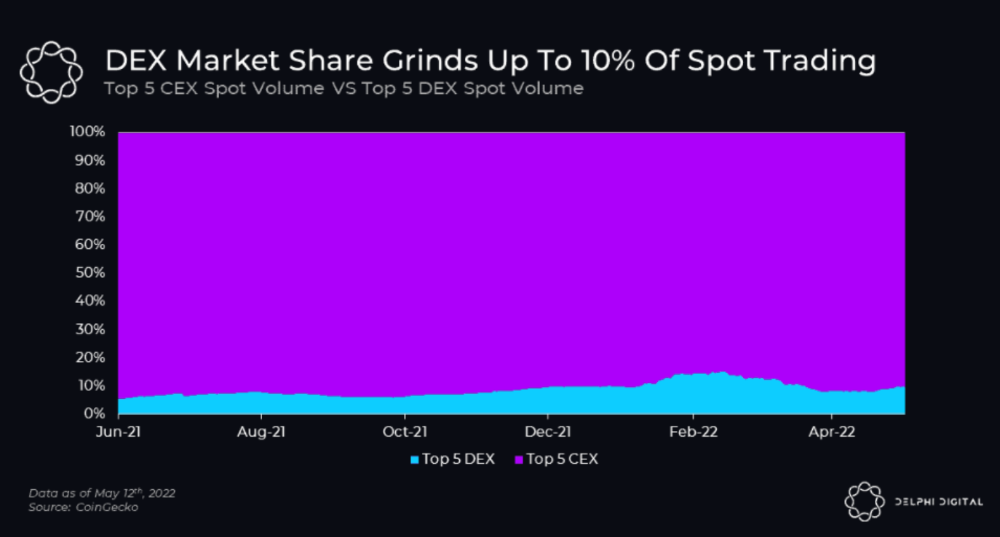 I'll cover gains.trade and GMX protocol in Polygon, Avalanche, and Arbitrum. Both protocols support leveraged perpetual crypto, stock, and Forex trading.
Why these protocols?
Decentralized GMX Gains protocol
Organic yield: path to sustainability
I've never trusted Defi's non-organic yields. Example: XYZ protocol. 20–75% of tokens may be set aside as farming rewards to provide liquidity, according to tokenomics.
Say you provide ETH-USDC liquidity. They advertise a 50% APR reward for this pair, 10% from trading fees and 40% from farming rewards. Only 10% is real, the rest is "Ponzi." The "real" reward is in protocol tokens.
Why keep this token? Governance voting or staking rewards are promoted services.
Most liquidity providers expect compensation for unused tokens. Basic psychological principles then? — Profit.
Nobody wants governance tokens. How many out of 100 care about the protocol's direction and will vote?
Staking increases your token's value. Currently, they're mostly non-liquid. If the protocol is compromised, you can't withdraw funds. Most people are sceptical of staking because of this.
"Free tokens," lack of use cases, and skepticism lead to tokens moving south. No farming reward protocols have lasted.
It may have shown strength in a bull market, but what about a bear market?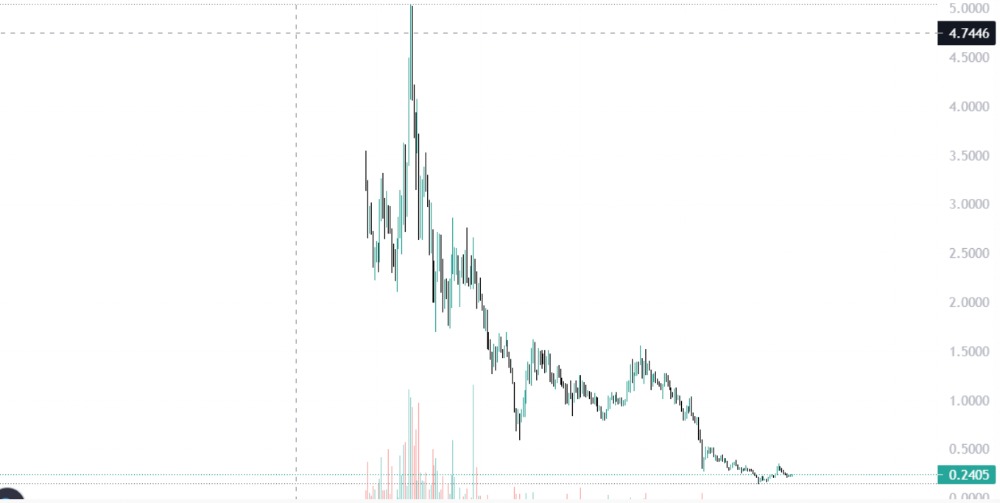 What is decentralized perpetual?
A perpetual contract is a type of futures contract that doesn't expire. So one can hold a position forever.
You can buy/sell any leveraged instruments (Long-Short) without expiration.
In centralized exchanges like Binance and coinbase, fees and revenue (liquidation) go to the exchanges, not users.
Users can provide liquidity that traders can use to leverage trade, and the revenue goes to liquidity providers.
Gains.trade and GMX protocol are perpetual trading platforms with a non-inflationary organic yield for liquidity providers.
GMX protocol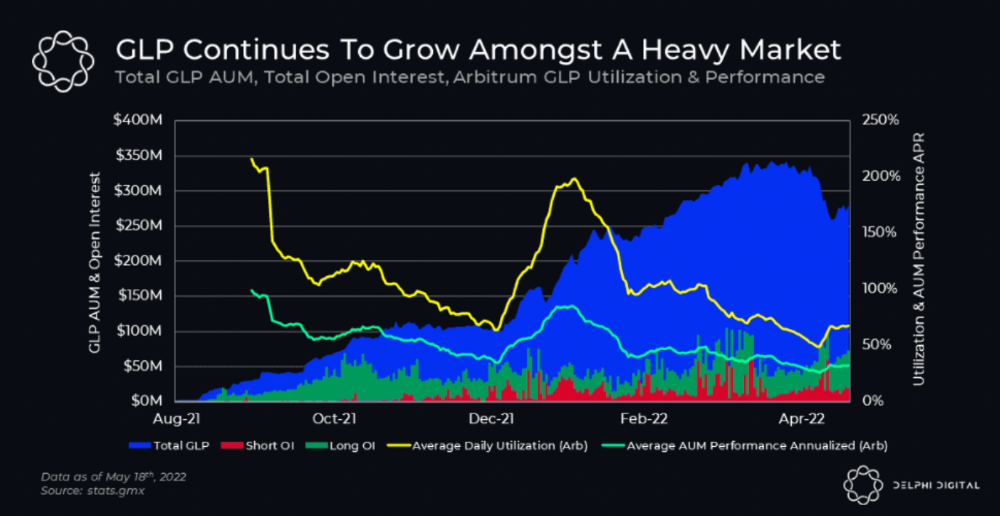 GMX is an Arbitrum and Avax protocol that rewards in ETH and Avax. GLP uses a fast oracle to borrow the "true price" from other trading venues, unlike a traditional AMM.
GLP and GMX are protocol tokens. GLP is used for leveraged trading, swapping, etc.
GLP is a basket of tokens, including ETH, BTC, AVAX, stablecoins, and UNI, LINK, and Stablecoins.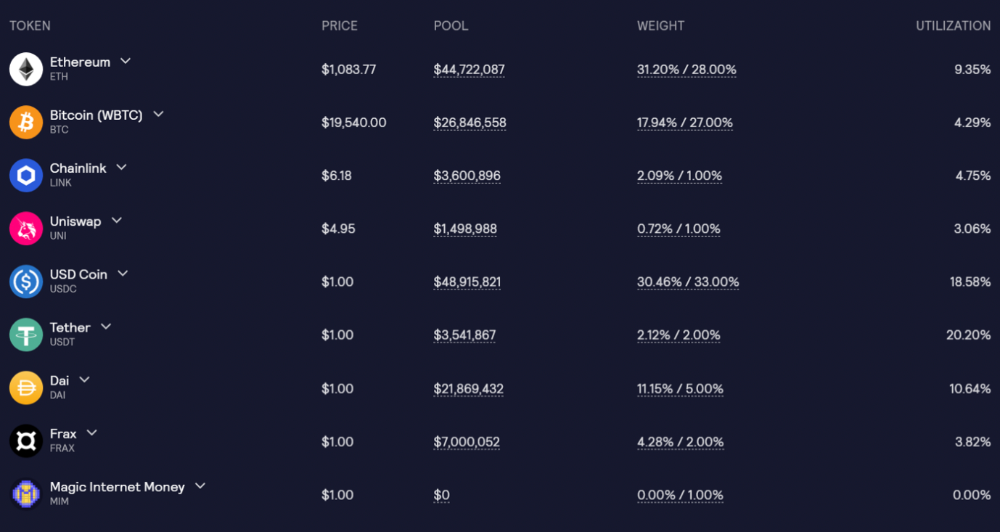 GLP composition on arbitrum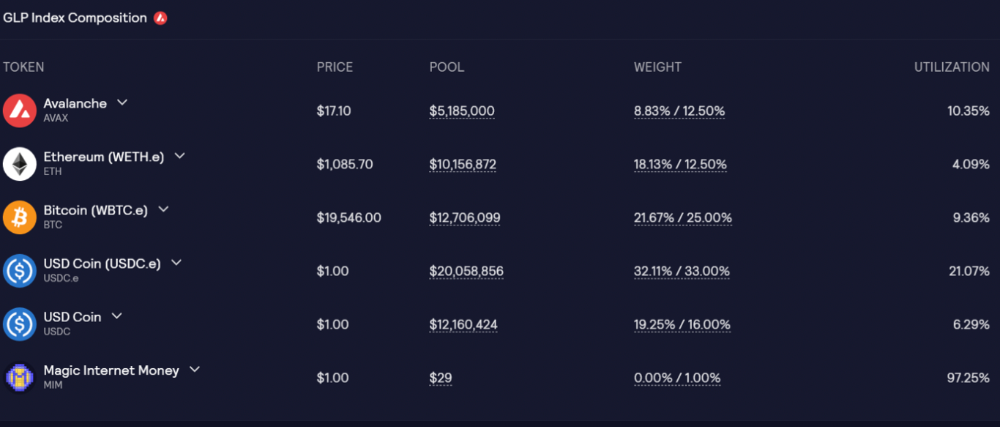 GLP composition on Avalanche
GLP token rebalances based on usage, providing liquidity without loss.
Protocol "runs" on Staking GLP. Depending on their chain, the protocol will reward users with ETH or AVAX. Current rewards are 22 percent (15.71 percent in ETH and the rest in escrowed GMX) and 21 percent (15.72 percent in AVAX and the rest in escrowed GMX). escGMX and ETH/AVAX percentages fluctuate.
Where is the yield coming from?
Swap fees, perpetual interest, and liquidations generate yield. 70% of fees go to GLP stakers, 30% to GMX. Organic yields aren't paid in inflationary farm tokens.
Escrowed GMX is vested GMX that unlocks in 365 days. To fully unlock GMX, you must farm the Escrowed GMX token for 365 days. That means less selling pressure for the GMX token.
GMX's status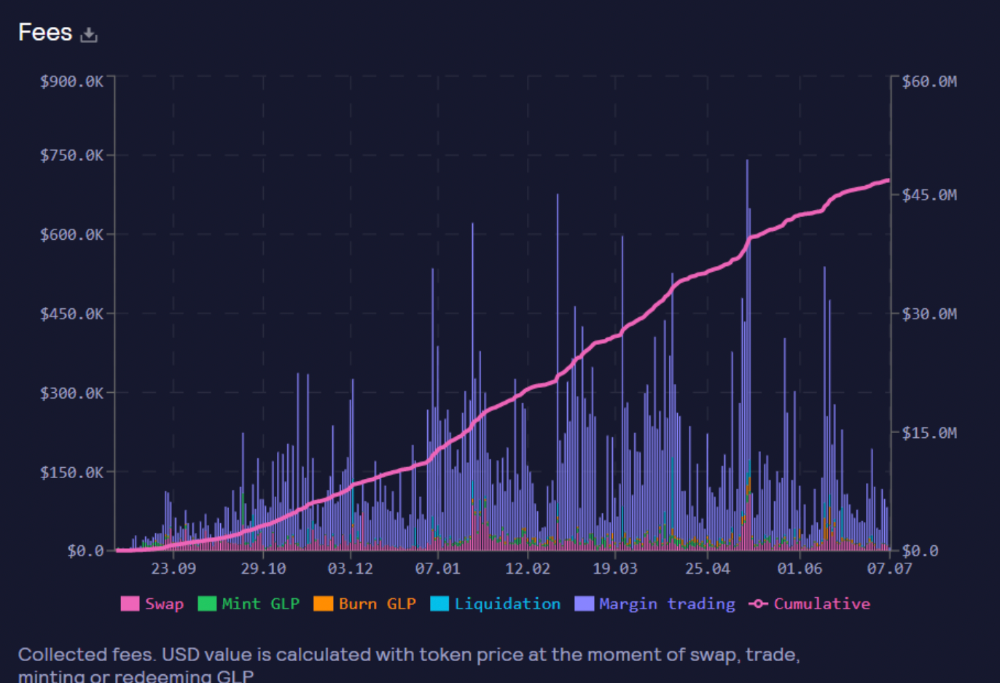 These are the fees in Arbitrum in the past 11 months by GMX.
GMX works like a casino, which increases fees. Most fees come from Margin trading, which means most traders lose money; this money goes to the casino, or GLP stakers.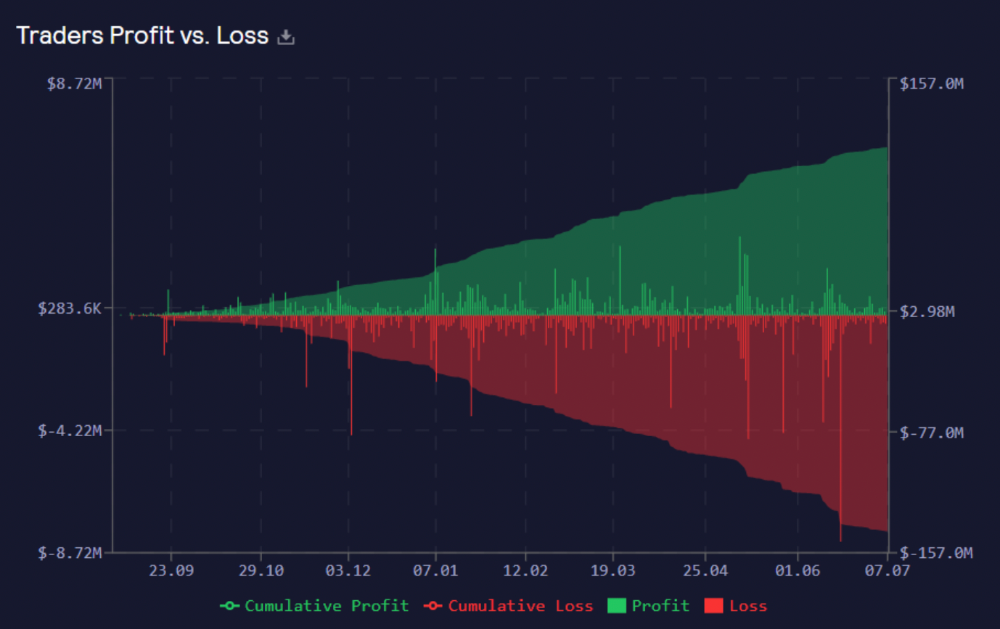 Strategies
My personal strategy is to DCA into GLP when markets hit bottom and stake it; GLP will be less volatile with extra staking rewards.
GLP YoY return vs. naked buying
Let's say I invested $10,000 in BTC, AVAX, and ETH in January.
BTC price: 47665$

ETH price: 3760$

AVAX price: $145
Current prices
BTC $21,000 (Down 56 percent )

ETH $1233 (Down 67.2 percent )

AVAX $20.36 (Down 85.95 percent )
Your $10,000 investment is now worth around $3,000.
How about GLP? My initial investment is 50% stables and 50% other assets ( Assuming the coverage ratio for stables is 50 percent at that time)
Without GLP staking yield, your value is $6500.
Let's assume the average APR for GLP staking is 23%, or $1500. So 8000$ total. It's 50% safer than holding naked assets in a bear market.
In a bull market, naked assets are preferable to GLP.
Short farming using GLP
Simple GLP short farming.
You use a stable asset as collateral to borrow AVAX. Sell it and buy GLP. Even if GLP rises, it won't rise as fast as AVAX, so we can get yields.
Let's do the maths
You deposit $10,000 USDT in Aave and borrow Avax. Say you borrow $8,000; you sell it, buy GLP, and risk 20%.
After a year, ETH, AVAX, and BTC rise 20%. GLP is $8800. $800 vanishes. 20% yields $1600. You're profitable. Shorting Avax costs $1600. (Assumptions-ETH, AVAX, BTC move the same, GLP yield is 20%. GLP has a 50:50 stablecoin/others ratio. Aave won't liquidate

In naked Avax shorting, Avax falls 20% in a year. You'll make $1600. If you buy GLP and stake it using the sold Avax and BTC, ETH and Avax go down by 20% - your profit is 20%, but with the yield, your total gain is $2400.

Issues with GMX
GMX's historical funding rates are always net positive, so long always pays short. This makes long-term shorts less appealing.
Oracle price discovery isn't enough. This limitation doesn't affect Bitcoin and ETH, but it affects less liquid assets. Traders can buy and sell less liquid assets at a lower price than their actual cost as long as GMX exists.
As users must provide GLP liquidity, adding more assets to GMX will be difficult. Next iteration will have synthetic assets.
Gains Protocol
Best leveraged trading platform. Smart contract-based decentralized protocol. 46 crypto pairs can be leveraged 5–150x and 10 Forex pairs 5–1000x. $10 DAI @ 150x (min collateral x leverage pos size is $1500 DAI). No funding fees, no KYC, trade DAI from your wallet, keep funds.
DAI single-sided staking and the GNS-DAI pool are important parts of Gains trading. GNS-DAI stakers get 90% of trading fees and 100% swap fees. 10 percent of trading fees go to DAI stakers, which is currently 14 percent!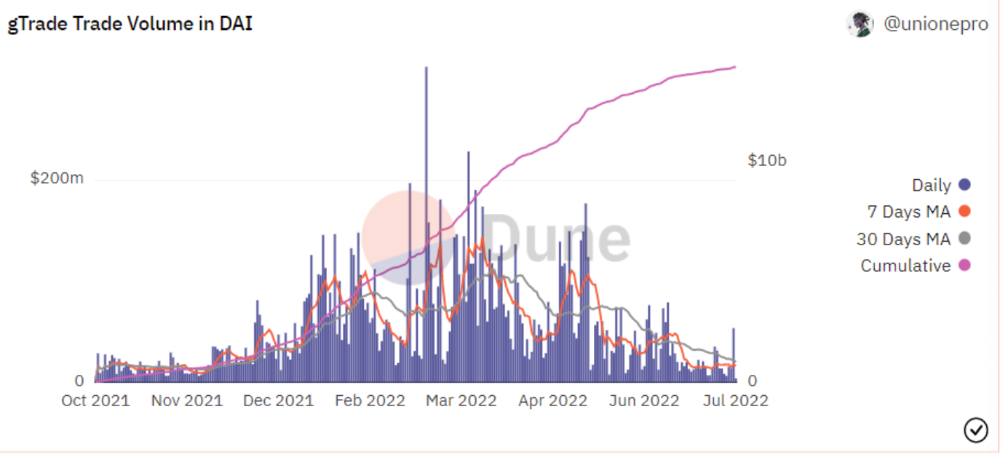 Trade volume
When a trader opens a trade, the leverage and profit are pulled from the DAI pool. If he loses, the protocol yield goes to the stakers.
If the trader's win rate is high and the DAI pool slowly depletes, the GNS token is minted and sold to refill DAI. Trader losses are used to burn GNS tokens. 25%+ of GNS is burned, making it deflationary.
Due to high leverage and volatility of crypto assets, most traders lose money and the protocol always wins, keeping GNS deflationary.
Gains uses a unique decentralized oracle for price feeds, which is better for leverage trading platforms. Let me explain.
Gains uses chainlink price oracles, not its own price feeds. Chainlink oracles only query centralized exchanges for price feeds every minute, which is unsuitable for high-precision trading.
Gains created a custom oracle that queries the eight chainlink nodes for the current price and, on average, for trade confirmation. This model eliminates every-second inquiries, which waste gas but are more efficient than chainlink's per-minute price.
This price oracle helps Gains open and close trades instantly, eliminate scam wicks, etc.
Other benefits include:
Stop-loss guarantee (open positions updated)

No scam wicks

Spot-pricing

Highest possible leverage

Fixed-spreads. During high volatility, a broker can increase the spread, which can hit your stop loss without the price moving.

Trade directly from your wallet and keep your funds.

>90% loss before liquidation (Some platforms liquidate as little as -50 percent)

KYC-free

Directly trade from wallet; keep funds safe
Further improvements
GNS-DAI liquidity providers fear the impermanent loss, so the protocol is migrating to its own liquidity and single staking GNS vaults. This allows users to stake GNS without permanent loss and obtain 90% DAI trading fees by staking. This starts in August.
Their upcoming improvements can be found here.
Gains constantly add new features and change pairs. It's an interesting protocol.
Conclusion
Next bull run, watch decentralized perpetual protocols. Effective tokenomics and non-inflationary yields may attract traders and liquidity providers. But still, there is a long way for them to develop, and I don't see them tackling the centralized exchanges any time soon until they fix their inherent problems and improve fast enough.
---
Read the full post here.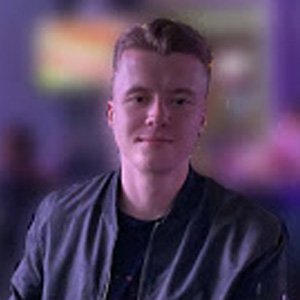 What's the difference between Proof-of-Time and Proof-of-History?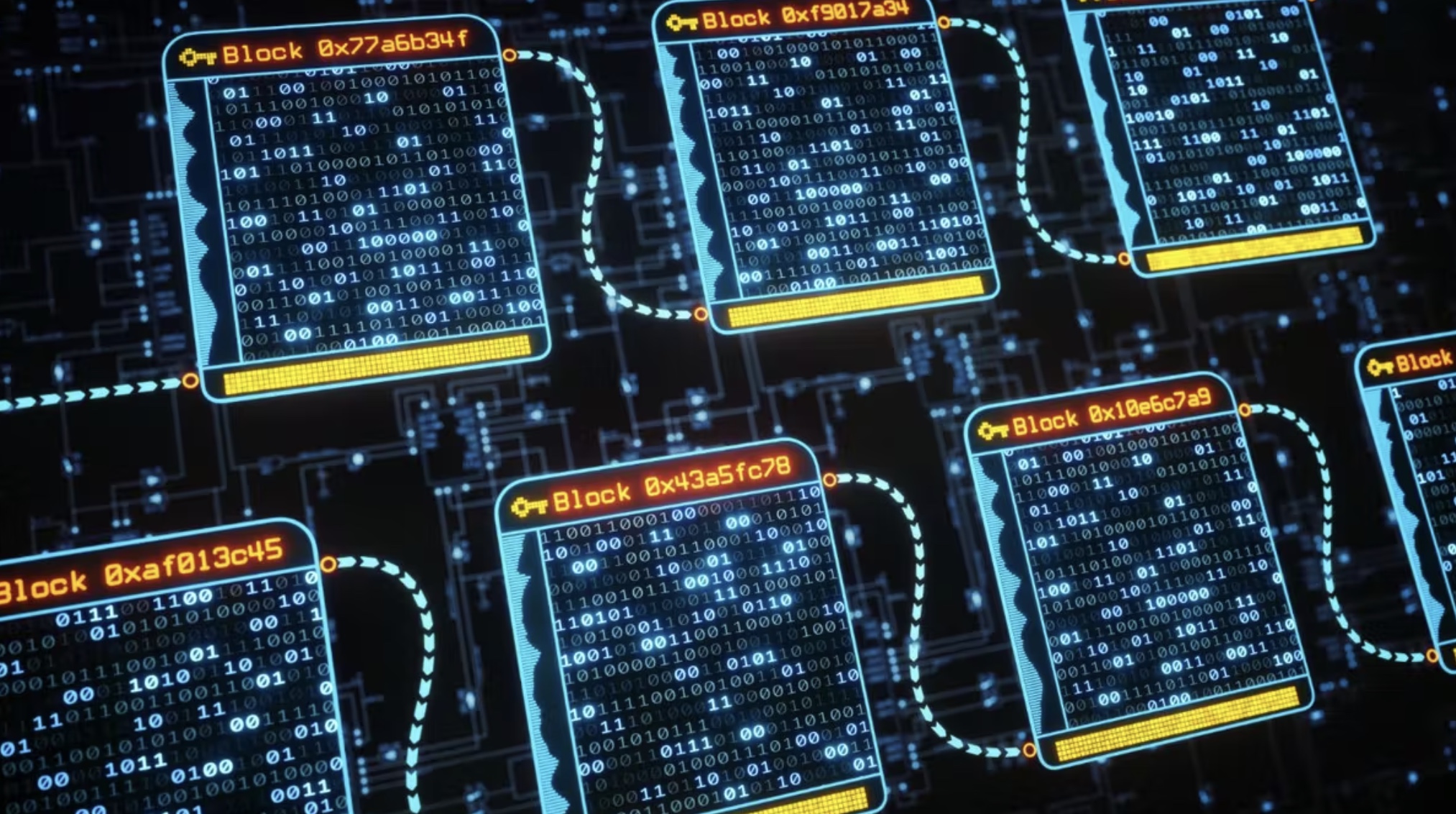 Blockchain validates transactions with consensus algorithms. Bitcoin and Ethereum use Proof-of-Work, while Polkadot and Cardano use Proof-of-Stake.
Other consensus protocols are used to verify transactions besides these two. This post focuses on Proof-of-Time (PoT), used by Analog, and Proof-of-History (PoH), used by Solana as a hybrid consensus protocol.
PoT and PoH may seem similar to users, but they are actually very different protocols.
Proof-of-Time (PoT)
Analog developed Proof-of-Time (PoT) based on Delegated Proof-of-Stake (DPoS). Users select "delegates" to validate the next block in DPoS. PoT uses a ranking system, and validators stake an equal amount of tokens. Validators also "self-select" themselves via a verifiable random function."
The ranking system gives network validators a performance score, with trustworthy validators with a long history getting higher scores. System also considers validator's fixed stake. PoT's ledger is called "Timechain."
Voting on delegates borrows from DPoS, but there are changes. PoT's first voting stage has validators (or "time electors" putting forward a block to be included in the ledger).
Validators are chosen randomly based on their ranking score and fixed stake. One validator is chosen at a time using a Verifiable Delay Function (VDF).
Validators use a verifiable delay function to determine if they'll propose a Timechain block. If chosen, they validate the transaction and generate a VDF proof before submitting both to other Timechain nodes.
This leads to the second process, where the transaction is passed through 1,000 validators selected using the same method. Each validator checks the transaction to ensure it's valid.
If the transaction passes, validators accept the block, and if over 2/3 accept it, it's added to the Timechain.
Proof-of-History (PoH)
Proof-of-History is a consensus algorithm that proves when a transaction occurred. PoH uses a VDF to verify transactions, like Proof-of-Time. Similar to Proof-of-Work, VDFs use a lot of computing power to calculate but little to verify transactions, similar to (PoW).
This shows users and validators how long a transaction took to verify.
PoH uses VDFs to verify event intervals. This process uses cryptography to prevent determining output from input.
The outputs of one transaction are used as inputs for the next. Timestamps record the inputs' order. This checks if data was created before an event.
PoT vs. PoH
PoT and PoH differ in that:
PoT uses VDFs to select validators (or time electors), while PoH measures time between events.

PoH uses a VDF to validate transactions, while PoT uses a ranking system.

PoT's VDF-elected validators verify transactions proposed by a previous validator. PoH uses a VDF to validate transactions and data.
Conclusion
Both Proof-of-Time (PoT) and Proof-of-History (PoH) validate blockchain transactions differently. PoT uses a ranking system to randomly select validators to verify transactions.
PoH uses a Verifiable Delay Function to validate transactions, verify how much time has passed between two events, and allow validators to quickly verify a transaction without malicious actors knowing the input.
You might also like
Even In a Crazy Market, Hire the Best People: The "First Ten" Rules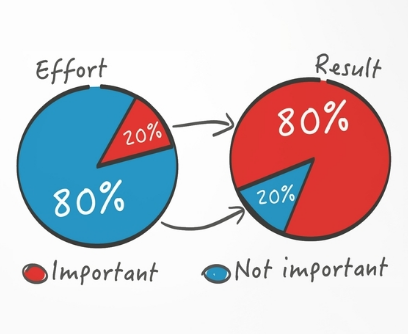 Hiring is difficult, but you shouldn't compromise on team members. Or it may suggest you need to look beyond years in a similar role/function.
Every hire should be someone we'd want as one of our first ten employees.
If you hire such people, your team will adapt, initiate, and problem-solve, and your company will grow. You'll stay nimble even as you scale, and you'll learn from your colleagues.
If you only hire for a specific role or someone who can execute the job, you'll become a cluster of optimizers, and talent will depart for a more fascinating company. A startup is continually changing, therefore you want individuals that embrace it.
As a leader, establishing ideal conditions for talent and having a real ideology should be high on your agenda. You can't eliminate attrition, nor would you want to, but you can hire people who will become your company's leaders.
In my last four jobs I was employee 2, 5, 3, and 5. So while this is all a bit self serving, you're the one reading my writing — and I have some experience with who works out in the first ten!
First, we'll examine what they do well (and why they're beneficial for startups), then what they don't, and how to hire them.
First 10 are:
Business partners: Because it's their company, they take care of whatever has to be done and have ideas about how to do it. You can rely on them to always put the success of the firm first because it is their top priority (company success is strongly connected with success for early workers). This approach will eventually take someone to leadership positions.


High Speed Learners: They process knowledge quickly and can reach 80%+ competency in a new subject matter rather quickly. A growing business that is successful tries new things frequently. We have all lost a lot of money and time on employees who follow the wrong playbook or who wait for someone else within the company to take care of them.


Autodidacts learn by trial and error, osmosis, networking with others, applying first principles, and reading voraciously (articles, newsletters, books, and even social media). Although teaching is wonderful, you won't have time.


Self-scaling: They figure out a means to deal with issues and avoid doing the grunt labor over the long haul, increasing their leverage. Great people don't keep doing the same thing forever; as they expand, they use automation and delegation to fill in their lower branches. This is a crucial one; even though you'll still adore them, you'll have to manage their scope or help them learn how to scale on their own.


Free Range: You can direct them toward objectives rather than specific chores. Check-ins can be used to keep them generally on course without stifling invention instead of giving them precise instructions because doing so will obscure their light.


When people are inspired, they bring their own ideas about what a firm can be and become animated during discussions about how to get there.


Novelty Seeking: They look for business and personal growth chances. Give them fresh assignments and new directions to follow around once every three months.

Here's what the First Ten types may not be:
Domain specialists. When you look at their resumes, you'll almost certainly think they're unqualified. Fortunately, a few strategically positioned experts may empower a number of First Ten types by serving on a leadership team or in advising capacities.


Balanced. These people become very invested, and they may be vulnerable to many types of stress. You may need to assist them in managing their own stress and coaching them through obstacles. If you are reading this and work at Banza, I apologize for not doing a better job of supporting this. I need to be better at it.


Able to handle micromanagement with ease. People who like to be in charge will suppress these people. Good decision-making should be delegated to competent individuals. Generally speaking, if you wish to scale.
Great startup team members have versatility, learning, innovation, and energy. When we hire for the function, not the person, we become dull and staid. Could this person go to another department if needed? Could they expand two levels in a few years?
First Ten qualities and experience level may have a weak inverse association. People with 20+ years of experience who had worked at larger organizations wanted to try something new and had a growth mentality. College graduates may want to be told what to do and how to accomplish it so they can stay in their lane and do what their management asks.
Does the First Ten archetype sound right for your org? Cool, let's go hiring. How will you know when you've found one?
They exhibit adaptive excellence, excelling at a variety of unrelated tasks. It could be hobbies or professional talents. This suggests that they will succeed in the next several endeavors they pursue.


Successful risk-taking is doing something that wasn't certain to succeed, sometimes more than once, and making it do so. It's an attitude.


Rapid Rise: They regularly change roles and get promoted. However, they don't leave companies when the going gets tough. Look for promotions at every stop and at least one position with three or more years of experience.
You can ask them:
Tell me about a time when you started from scratch or achieved success. What occurred en route? You might request a variety of tales from various occupations or even aspects of life. They ought to be energized by this.


What new skills have you just acquired? It is not required to be work-related. They must be able to describe it and unintentionally become enthusiastic about it.


Tell me about a moment when you encountered a challenge and had to alter your strategy. The core of a startup is reinventing itself when faced with obstacles.


Tell me about a moment when you eliminated yourself from a position at work. They've demonstrated they can permanently solve one issue and develop into a new one, as stated above.


Why do you want to leave X position or Y duty? These people ought to be moving forward, not backward, all the time. Instead, they will discuss what they are looking forward to visiting your location.


Any questions? Due to their inherent curiosity and desire to learn new things, they should practically never run out of questions. You can really tell if they are sufficiently curious at this point.
People who see their success as being the same as the success of the organization are the best-case team members, in any market. They'll grow and change with the company, and always try to prioritize what matters. You'll find yourself more energized by your work because you're surrounded by others who are as well. Happy teambuilding!
Your Ideal Position As a Part-Time Creator
Inspired by someone I never met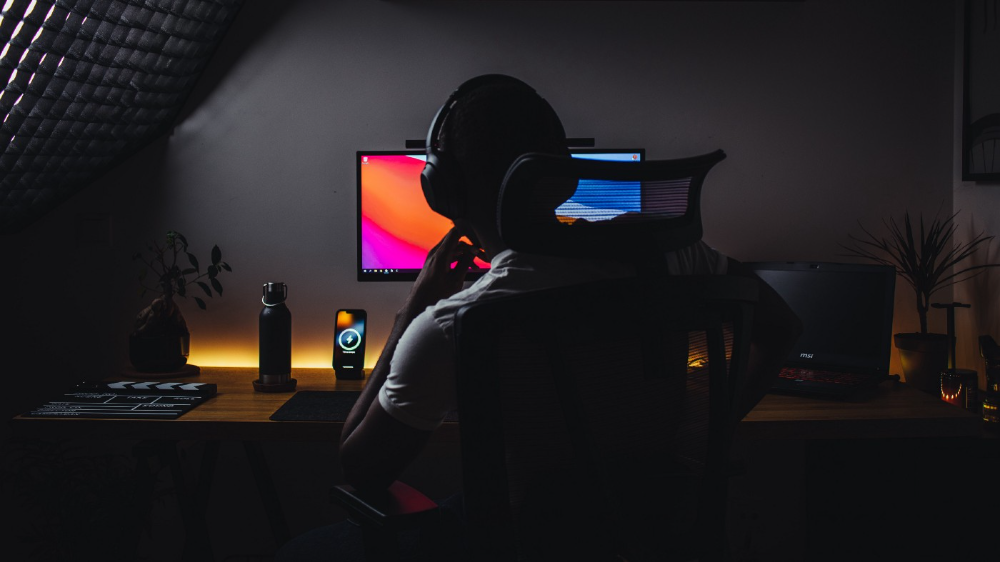 Inspiration is good and bad.
Paul Jarvis inspires me. He's a web person and writer who created his own category by being himself.
Paul said no thank you when everyone else was developing, building, and assuming greater responsibilities. This isn't success. He rewrote the rules. Working for himself, expanding at his own speed, and doing what he loves were his definitions of success.
Play with a problem that you have
The biggest problem can be not recognizing a problem.
Acceptance without question is deception. When you don't push limits, you forget how. You start thinking everything must be as it is.
For example: working. Paul worked a 9-5 agency work with little autonomy. He questioned whether the 9-5 was a way to live, not the way.
Another option existed. So he chipped away at how to live in this new environment.
Don't simply jump
Internet writers tell people considering quitting 9-5 to just quit. To throw in the towel. To do what you like.
The advice is harmful, despite the good intentions. People think quitting is hard. Like courage is the issue. Like handing your boss a resignation letter.
Nope. The tough part comes after. It's easy to jump. Landing is difficult.
The landing
Paul didn't quit. Intelligent individuals don't. Smart folks focus on landing. They imagine life after 9-5.
Paul had been a web developer for a long time, had solid clients, and was respected. Hence if he pushed the limits and discovered another route, he had the potential to execute.
Working on the side
Society loves polarization. It's left or right. Either way. Or chaos. It's 9-5 or entrepreneurship.
But like Paul, you can stretch polarization's limits. In-between exists.
You can work a 9-5 and side jobs (as I do). A mix of your favorites. The 9-5's stability and creativity. Fire and routine.
Remember you can't have everything but anything. You can create and work part-time.
My hybrid lifestyle
Not selling books doesn't destroy my world. My globe keeps spinning if my new business fails or if people don't like my Tweets. Unhappy algorithm? Cool. I'm not bothered (okay maybe a little).
The mix gives me the best of both worlds. To create, hone my skill, and grasp big-business basics. I like routine, but I also appreciate spending 4 hours on Saturdays writing.
Some days I adore leaving work at 5 pm and disconnecting. Other days, I adore having a place to write if inspiration strikes during a run or a discussion.
I'm a part-time creator
I'm a part-time creator. No, I'm not trying to quit. I don't work 5 pm - 2 am on the side. No, I'm not at $10,000 MRR.
I work part-time but enjoy my 9-5. My 9-5 has goodies. My side job as well.
It combines both to meet my lifestyle. I'm satisfied.
Join the Part-time Creators Club for free here. I'll send you tips to enhance your creative game.
Mark Shpuntov
2 months ago
How to Produce a Month's Worth of Content for Social Media in a Day
New social media producers' biggest error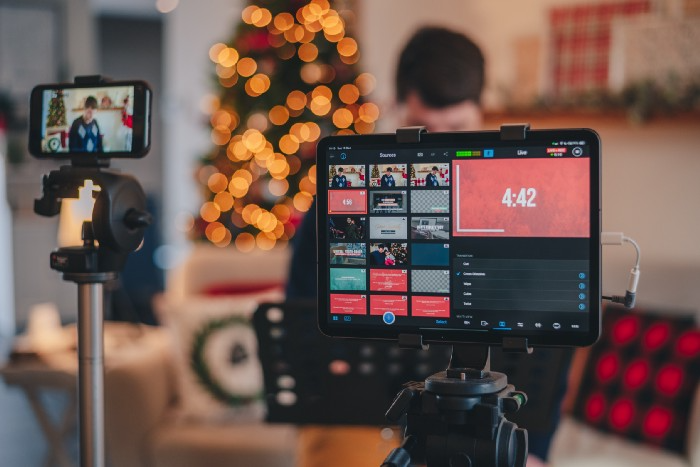 The Treadmill of Social Media Content
New creators focus on the wrong platforms.
They post to Instagram, Twitter, TikTok, etc.
They create daily material, but it's never enough for social media algorithms.
Creators recognize they're on a content creation treadmill.
They have to keep publishing content daily just to stay on the algorithm's good side and avoid losing the audience they've built on the platform.
This is exhausting and unsustainable, causing creator burnout.
They focus on short-lived platforms, which is an issue.
Comparing low- and high-return social media platforms
Social media networks are great for reaching new audiences.
Their algorithm is meant to viralize material.
Social media can use you for their aims if you're not careful.
To master social media, focus on the right platforms.
To do this, we must differentiate low-ROI and high-ROI platforms:
Low ROI platforms are ones where content has a short lifespan. High ROI platforms are ones where content has a longer lifespan.
A tweet may be shown for 12 days. If you write an article or blog post, it could get visitors for 23 years.
ROI is drastically different.
New creators have limited time and high learning curves.
Nothing is possible.
First create content for high-return platforms.
ROI for social media platforms
Here are high-return platforms:
Your Blog - A single blog article can rank and attract a ton of targeted traffic for a very long time thanks to the power of SEO.

YouTube - YouTube has a reputation for showing search results or sidebar recommendations for videos uploaded 23 years ago. A superb video you make may receive views for a number of years.

Medium - A platform dedicated to excellent writing is called Medium. When you write an article about a subject that never goes out of style, you're building a digital asset that can drive visitors indefinitely.
These high ROI platforms let you generate content once and get visitors for years.
This contrasts with low ROI platforms:
Twitter

Instagram

TikTok

LinkedIn

Facebook
The posts you publish on these networks have a 23-day lifetime. Instagram Reels and TikToks are exceptions since viral content can last months.
If you want to make content creation sustainable and enjoyable, you must focus the majority of your efforts on creating high ROI content first. You can then use the magic of repurposing content to publish content to the lower ROI platforms to increase your reach and exposure.
How To Use Your Content Again
So, you've decided to focus on the high ROI platforms.
Great!
You've published an article or a YouTube video.
You worked hard on it.
Now you have fresh stuff.
What now?
If you are not repurposing each piece of content for multiple platforms, you are throwing away your time and efforts.
You've created fantastic material, so why not distribute it across platforms?
Repurposing Content Step-by-Step
For me, it's writing a blog article, but you might start with a video or podcast.
The premise is the same regardless of the medium.
Start by creating content for a high ROI platform (YouTube, Blog Post, Medium). Then, repurpose, edit, and repost it to the lower ROI platforms.
Here's how to repurpose pillar material for other platforms:
Post the article on your blog.

Put your piece on Medium (use the canonical link to point to your blog as the source for SEO)

Create a video and upload it to YouTube using the talking points from the article.

Rewrite the piece a little, then post it to LinkedIn.

Change the article's format to a Thread and share it on Twitter.

Find a few quick quotes throughout the article, then use them in tweets or Instagram quote posts.

Create a carousel for Instagram and LinkedIn using screenshots from the Twitter Thread.

Go through your film and select a few valuable 30-second segments. Share them on LinkedIn, Facebook, Twitter, TikTok, YouTube Shorts, and Instagram Reels.

Your video's audio can be taken out and uploaded as a podcast episode.
If you (or your team) achieve all this, you'll have 20-30 pieces of social media content.
If you're just starting, I wouldn't advocate doing all of this at once.
Instead, focus on a few platforms with this method.
You can outsource this as your company expands. (If you'd want to learn more about content repurposing, contact me.)
You may focus on relevant work while someone else grows your social media on autopilot.
You develop high-ROI pillar content, and it's automatically chopped up and posted on social media.
This lets you use social media algorithms without getting sucked in.
Thanks for reading!