A guide to NFT pre-sales and whitelists
Before we dig through NFT whitelists and pre-sales, if you know absolutely nothing about NFTs, check our NFT Glossary.
What are pre-sales and whitelists on NFTs?
An NFT pre-sale, as the name implies, allows community members or early supporters of an NFT project to mint before the public, usually via a whitelist or mint pass.
Coin collectors can use mint passes to claim NFTs during the public sale. Because the mint pass is executed by "burning" an NFT into a specific crypto wallet, the collector is not concerned about gas price spikes.
A whitelist is used to approve a crypto wallet address for an NFT pre-sale. In a similar way to an early access list, it guarantees a certain number of crypto wallets can mint one (or more) NFT.
New NFT projects can do a pre-sale without a whitelist, but whitelists are good practice to avoid gas wars and a fair shot at minting an NFT before launching in competitive NFT marketplaces like Opensea, Magic Eden, or CNFT.
Should NFT projects do pre-sales or whitelists? 👇
The reasons to do pre-sales or a whitelist for NFT creators:
Time the market and gain traction.
Pre-sale or whitelists can help NFT projects gauge interest early on.
Whitelist spots filling up quickly is usually a sign of a successful launch, though it does not guarantee NFT longevity (more on that later). Also, full whitelists create FOMO and momentum for the public sale among non-whitelisted NFT collectors.
If whitelist signups are low or slow, projects may need to work on their vision, community, or product. Or the market is in a bear cycle. In either case, it aids NFT projects in market timing.
Reward the early NFT Community members.
Pre-sale and whitelists can help NFT creators reward early supporters.
First, by splitting the minting process into two phases, early adopters get a chance to mint one or more NFTs from their collection at a discounted or even free price.
Did you know that BAYC started at 0.08 eth each? A serum that allowed you to mint a Mutant Ape has become as valuable as the original BAYC.
(2) Whitelists encourage early supporters to help build a project's community in exchange for a slot or status. If you invite 10 people to the NFT Discord community, you get a better ranking or even a whitelist spot.
Pre-sale and whitelisting have become popular ways for new projects to grow their communities and secure future buyers.
Prevent gas wars.
Most new NFTs are created on the Ethereum blockchain, which has the highest transaction fees (also known as gas) (Solana, Cardano, Polygon, Binance Smart Chain, etc).
An NFT public sale is a gas war when a large number of NFT collectors (or bots) try to mint an NFT at the same time.
Competing collectors are willing to pay higher gas fees to prioritize their transaction and out-price others when upcoming NFT projects are hyped and very popular.
Pre-sales and whitelisting prevent gas wars by breaking the minting process into smaller batches of members or season launches.
The reasons to do pre-sales or a whitelists for NFT collectors:
How do I get on an NFT whitelist?
Popular NFT collections act as a launchpad for other new or hyped NFT collections.
Example: Interfaces NFTs gives out 100 whitelist spots to Deadfellaz NFTs holders. Both NFT projects win. Interfaces benefit from Deadfellaz's success and brand equity.
In this case, to get whitelisted NFT collectors need to hold that specific NFT that is acting like a launchpad.
A NFT studio or collection that launches a new NFT project and rewards previous NFT holders with whitelist spots or pre-sale access.
The whitelist requires previous NFT holders or community members.
NFT Alpha Groups are closed, small, tight-knit Discord servers where members share whitelist spots or giveaways from upcoming NFTs.
The benefit of being in an alpha group is getting information about new NFTs first and getting in on pre-sale/whitelist before everyone else.
There are some entry barriers to alpha groups, but if you're active in the NFT community, you'll eventually bump into, be invited to, or form one.
A whitelist spot is awarded to members of an NFT community who are the most active and engaged.
This participation reward is the most democratic. To get a chance, collectors must work hard and play to their strengths.
Whitelisting participation examples:
Raffle, games and contest: NFT Community raffles, games, and contests. To get a whitelist spot, invite 10 people to X NFT Discord community.
Fan art: To reward those who add value and grow the community by whitelisting the best fan art and/or artists is only natural.
Giveaways: Lucky number crypto wallet giveaways promoted by an NFT community. To grow their communities and for lucky collectors, NFT projects often offer free NFT.
Activate your voice in the NFT Discord Community. Use voice channels to get NFT teams' attention and possibly get whitelisted.
The advantage of whitelists or NFT pre-sales.
Chainalysis's NFT stats quote is the best answer:
"Whitelisting isn't just some nominal reward — it translates to dramatically better investing results. OpenSea data shows that users who make the whitelist and later sell their newly-minted NFT gain a profit 75.7% of the time, versus just 20.8% for users who do so without being whitelisted. Not only that, but the data suggests it's nearly impossible to achieve outsized returns on minting purchases without being whitelisted." Full report here.
Sure, it's not all about cash. However, any NFT collector should feel secure in their investment by owning a piece of a valuable and thriving NFT project. These stats help collectors understand that getting in early on an NFT project (via whitelist or pre-sale) will yield a better and larger return.
The downsides of pre-sales & whitelists for NFT creators.
Pre-sales and whitelist can cause issues for NFT creators and collectors.
NFT flippers
NFT collectors who only want to profit from early minting (pre-sale) or low mint cost (via whitelist). To sell the NFT in a secondary market like Opensea or Solanart, flippers go after the discounted price.
For example, a 1000 Solana NFT collection allows 100 people to mint 1 Solana NFT at 0.25 SOL. The public sale price for the remaining 900 NFTs is 1 SOL. If an NFT collector sells their discounted NFT for 0.5 SOL, the secondary market floor price is below the public mint.
This may deter potential NFT collectors. Furthermore, without a cap in the pre-sale minting phase, flippers can get as many NFTs as possible to sell for a profit, dumping them in secondary markets and driving down the floor price.
Hijacking NFT sites, communities, and pre-sales phase
People try to scam the NFT team and their community by creating oddly similar but fake websites, whitelist links, or NFT's Discord channel.
Established and new NFT projects must be vigilant to always make sure their communities know which are the official links, how a whitelist or pre-sale rules and how the team will contact (or not) community members.
Another way to avoid the scams around the pre-sale phase, NFT projects opt to create a separate mint contract for the whitelisted crypto wallets and then another for the public sale phase.
Scam NFT projects
We've seen a lot of mid-mint or post-launch rug pulls, indicating that some bad NFT projects are trying to scam NFT communities and marketplaces for quick profit. What happened to Magic Eden's launchpad recently will help you understand the scam.
We discussed the benefits and drawbacks of NFT pre-sales and whitelists for both projects and collectors. 
Finally, some practical tools and tips for finding new NFTs 👇
Tools & resources to find new NFT on pre-sale or to get on a whitelist:
In order to never miss an update, important pre-sale dates, or a giveaway, create a Tweetdeck or Tweeten Twitter dashboard with hyped NFT project pages, hashtags ( #NFTGiveaways , #NFTCommunity), or big NFT influencers.
Search for upcoming NFT launches that have been vetted by the marketplace and try to get whitelisted before the public launch.
Save-timing discovery platforms like sealaunch.xyz for NFT pre-sales and upcoming launches. How can we help 100x NFT collectors get projects? A project's official social media links, description, pre-sale or public sale dates, price and supply. We're also working with Dune on NFT data analysis to help NFT collectors make better decisions.
Don't invest what you can't afford to lose because a) the project may fail or become rugged. Find NFTs projects that you want to be a part of and support.
Read original post here
More on NFTs & Art
Metaverse, Web 3, and NFTs are BS
Most crypto is probably too.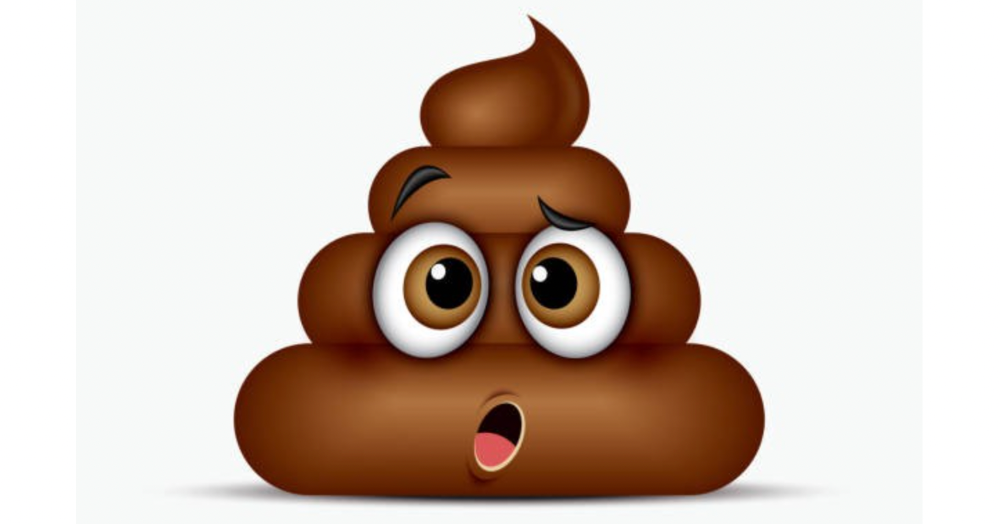 The goals of Web 3 and the metaverse are admirable and attractive. Who doesn't want an internet owned by users? Who wouldn't want a digital realm where anything is possible? A better way to collaborate and visit pals.
Companies pursue profits endlessly. Infinite growth and revenue are expected, and if a corporation needs to sacrifice profits to safeguard users, the CEO, board of directors, and any executives will lose to the system of incentives that (1) retains workers with shares and (2) makes a company answerable to all of its shareholders. Only the government can guarantee user protections, but we know how successful that is. This is nothing new, just a problem with modern capitalism and tech platforms that a user-owned internet might remedy. Moxie, the founder of Signal, has a good articulation of some of these current Web 2 tech platform problems (but I forget the timestamp); thoughts on JRE aside, this episode is worth listening to (it's about a bunch of other stuff too).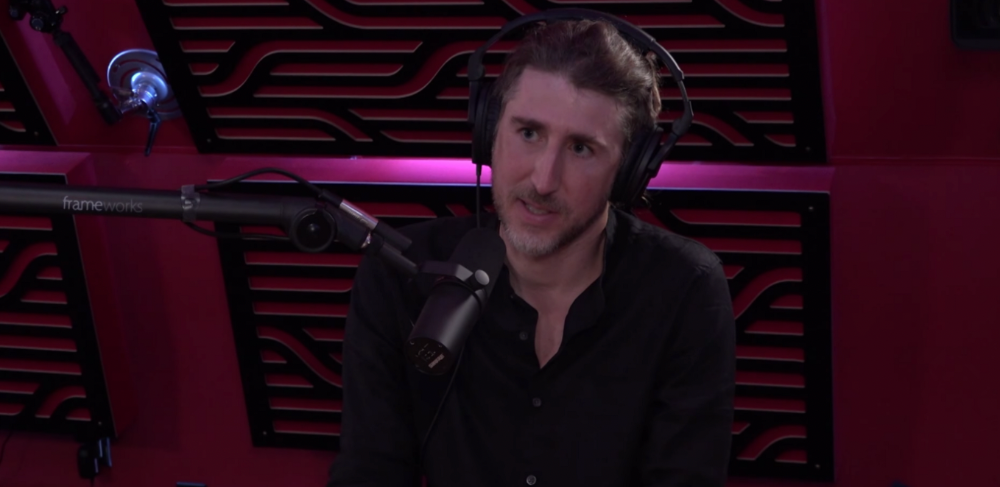 Moxie Marlinspike, founder of Signal, on the Joe Rogan Experience podcast.
Source: https://open.spotify.com/episode/2uVHiMqqJxy8iR2YB63aeP?si=4962b5ecb1854288
Web 3 champions are premature. There was so much spectacular growth during Web 2 that the next wave of founders want to make an even bigger impact, while investors old and new want a chance to get a piece of the moonshot action. Worse, crypto enthusiasts believe — and financially need — the fact of its success to be true, whether or not it is.
I'm doubtful that it will play out like current proponents say. Crypto has been the white-hot focus of SV's best and brightest for a long time yet still struggles to come up any mainstream use case other than 'buy, HODL, and believe': a store of value for your financial goals and wishes. Some kind of the metaverse is likely, but will it be decentralized, mostly in VR, or will Meta (previously FB) play a big role? Unlikely.
METAVERSE
The metaverse exists already. Our digital lives span apps, platforms, and games. I can design a 3D house, invite people, use Discord, and hang around in an artificial environment. Millions of gamers do this in Rust, Minecraft, Valheim, and Animal Crossing, among other games. Discord's voice chat and Slack-like servers/channels are the present social anchor, but the interface, integrations, and data portability will improve. Soon you can stream YouTube videos on digital house walls. You can doodle, create art, play Jackbox, and walk through a door to play Apex Legends, Fortnite, etc. Not just gaming. Digital whiteboards and screen sharing enable real-time collaboration. They'll review code and operate enterprises. Music is played and made. In digital living rooms, they'll watch movies, sports, comedy, and Twitch. They'll tweet, laugh, learn, and shittalk.
The metaverse is the evolution of our digital life at home, the third place. The closest analog would be Discord and the integration of Facebook, Slack, YouTube, etc. into a single, 3D, customizable hangout space.
I'm not certain this experience can be hugely decentralized and smoothly choreographed, managed, and run, or that VR — a luxury, cumbersome, and questionably relevant technology — must be part of it. Eventually, VR will be pragmatic, achievable, and superior to real life in many ways. A total sensory experience like the Matrix or Sword Art Online, where we're physically hooked into the Internet yet in our imaginations we're jumping, flying, and achieving athletic feats we never could in reality; exploring realms far grander than our own (as grand as it is). That VR is different from today's.

https://podcasts.google.com/feed/aHR0cHM6Ly9leHBvbmVudC5mbS9mZWVkLw/episode/aHR0cHM6Ly9leHBvbmVudC5mbS8_cD00MzM?hl=en&ved=2ahUKEwjH5u6r4rv2AhUjc98KHeybAP8QjrkEegQIChAF&ep=6
Ben Thompson released an episode of Exponent after Facebook changed its name to Meta. Ben was suspicious about many metaverse champion claims, but he made a good analogy between Oculus and the PC. The PC was initially far too pricey for the ordinary family to afford. It began as a business tool. It got so powerful and pervasive that it affected our personal life. Price continues to plummet and so much consumer software was produced that it's impossible to envision life without a home computer (or in our pockets). If Facebook shows product market fit with VR in business, through use cases like remote work and collaboration, maybe VR will become practical in our personal lives at home.
Before PCs, we relied on Blockbuster, the Yellow Pages, cabs to get to the airport, handwritten taxes, landline phones to schedule social events, and other archaic methods. It is impossible for me to conceive what VR, in the form of headsets and hand controllers, stands to give both professional and especially personal digital experiences that is an order of magnitude better than what we have today. Is looking around better than using a mouse to examine a 3D landscape? Do the hand controls make x10 or x100 work or gaming more fun or efficient? Will VR replace scalable Web 2 methods and applications like Web 1 and Web 2 did for analog? I don't know.
My guess is that the metaverse will arrive slowly, initially on displays we presently use, with more app interoperability. I doubt that it will be controlled by the people or by Facebook, a corporation that struggles to properly innovate internally, as practically every large digital company does. Large tech organizations are lousy at hiring product-savvy employees, and if they do, they rarely let them explore new things.
These companies act like business schools when they seek founders' results, with bureaucracy and dependency. Which company launched the last popular consumer software product that wasn't a clone or acquisition? Recent examples are scarce.
Web 3
Investors and entrepreneurs of Web 3 firms are declaring victory: 'Web 3 is here!' Web 3 is the future! Many profitable Web 2 enterprises existed when Web 2 was defined. The word was created to explain user behavior shifts, not a personal pipe dream.

Origins of Web 2: http://www.oreilly.com/pub/a/web2/archive/what-is-web-20.html
One of these Web 3 startups may provide the connecting tissue to link all these experiences or become one of the major new digital locations. Even so, successful players will likely use centralized power arrangements, as Web 2 businesses do now. Some Web 2 startups integrated our digital lives. Rockmelt (2010–2013) was a customizable browser with bespoke connectors to every program a user wanted; imagine seeing Facebook, Twitter, Discord, Netflix, YouTube, etc. all in one location. Failure. Who knows what Opera's doing?
Silicon Valley and tech Twitter in general have a history of jumping on dumb bandwagons that go nowhere. Dot-com crash in 2000? The huge deployment of capital into bad ideas and businesses is well-documented. And live video. It was the future until it became a niche sector for gamers. Live audio will play out a similar reality as CEOs with little comprehension of audio and no awareness of lasting new user behavior deceive each other into making more and bigger investments on fool's gold. Twitter trying to buy Clubhouse for $4B, Spotify buying Greenroom, Facebook exploring live audio and 'Tiktok for audio,' and now Amazon developing a live audio platform. This live audio frenzy won't be worth their time or energy. Blind guides blind. Instead of learning from prior failures like Twitter buying Periscope for $100M pre-launch and pre-product market fit, they're betting on unproven and uncompelling experiences.
NFTs
NFTs are also nonsense. Take Loot, a time-limited bag drop of "things" (text on the blockchain) for a game that didn't exist, bought by rich techies too busy to play video games and foolish enough to think they're getting in early on something with a big reward. What gaming studio is incentivized to use these items? Who's encouraged to join? No one cares besides Loot owners who don't have NFTs. Skill, merit, and effort should be rewarded with rare things for gamers. Even if a small minority of gamers can make a living playing, the average game's major appeal has never been to make actual money - that's a profession.
No game stays popular forever, so how is this objective sustainable? Once popularity and usage drop, exclusive crypto or NFTs will fall. And if NFTs are designed to have cross-game appeal, incentives apart, 30 years from now any new game will need millions of pre-existing objects to build around before they start. It doesn't work.
Many games already feature item economies based on real in-game scarcity, generally for cosmetic things to avoid pay-to-win, which undermines scaled gaming incentives for huge player bases. Counter-Strike, Rust, etc. may be bought and sold on Steam with real money. Since the 1990s, unofficial cross-game marketplaces have sold in-game objects and currencies. NFTs aren't needed. Making a popular, enjoyable, durable game is already difficult.
With NFTs, certain JPEGs on the internet went from useless to selling for $69 million. Why? Crypto, Web 3, early Internet collectibles. NFTs are digital Beanie Babies (unlike NFTs, Beanie Babies were a popular children's toy; their destinies are the same). NFTs are worthless and scarce. They appeal to crypto enthusiasts seeking for a practical use case to support their theory and boost their own fortune. They also attract to SV insiders desperate not to miss the next big thing, not knowing what it will be. NFTs aren't about paying artists and creators who don't get credit for their work.

South Park's Underpants Gnomes
NFTs are a benign, foolish plan to earn money on par with South Park's underpants gnomes. At worst, they're the world of hucksterism and poor performers. Or those with money and enormous followings who, like everyone, don't completely grasp cryptocurrencies but are motivated by greed and status and believe Gary Vee's claim that CryptoPunks are the next Facebook. Gary's watertight logic: if NFT prices dip, they're on the same path as the most successful corporation in human history; buy the dip! NFTs aren't businesses or museum-worthy art. They're bs.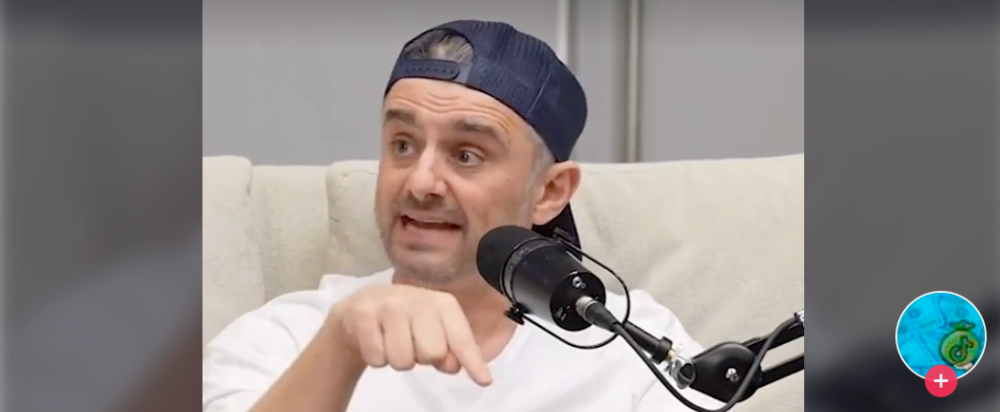 Gary Vee compares NFTs to Amazon.com. vm.tiktok.com/TTPdA9TyH2
We grew up collecting: Magic: The Gathering (MTG) cards printed in the 90s are now worth over $30,000. Imagine buying a digital Magic card with no underlying foundation. No one plays the game because it doesn't exist. An NFT is a contextless image someone conned you into buying a certificate for, but anyone may copy, paste, and use. Replace MTG with Pokemon for younger readers.
When Gary Vee strongarms 30 tech billionaires and YouTube influencers into buying CryptoPunks, they'll talk about it on Twitch, YouTube, podcasts, Twitter, etc. That will convince average folks that the product has value. These guys are smart and/or rich, so I'll get in early like them. Cryptography is similar. No solid, scaled, mainstream use case exists, and no one knows where it's headed, but since the global crypto financial bubble hasn't burst and many people have made insane fortunes, regular people are putting real money into something that is highly speculative and could be nothing because they want a piece of the action. Who doesn't want free money? Rich techies and influencers won't be affected; normal folks will.
Imagine removing every $1 invested in Bitcoin instantly. What would happen? How far would Bitcoin fall? Over 90%, maybe even 95%, and Bitcoin would be dead. Bitcoin as an investment is the only scalable widespread use case: it's confidence that a better use case will arise and that being early pays handsomely. It's like pouring a trillion dollars into a company with no business strategy or users and a CEO who makes vague future references.
New tech and efforts may provoke a 'get off my lawn' mentality as you approach 40, but I've always prided myself on having a decent bullshit detector, and it's flying off the handle at this foolishness. If we can accomplish a functional, responsible, equitable, and ethical user-owned internet, I'm for it.
Postscript:
I wanted to summarize my opinions because I've been angry about this for a while but just sporadically tweeted about it. A friend handed me a Dan Olson YouTube video just before publication. He's more knowledgeable, articulate, and convincing about crypto. It's worth seeing:
---
This post is a summary. See the original one here.
An employee of OpenSea might get a 40-year prison sentence for insider trading using NFTs.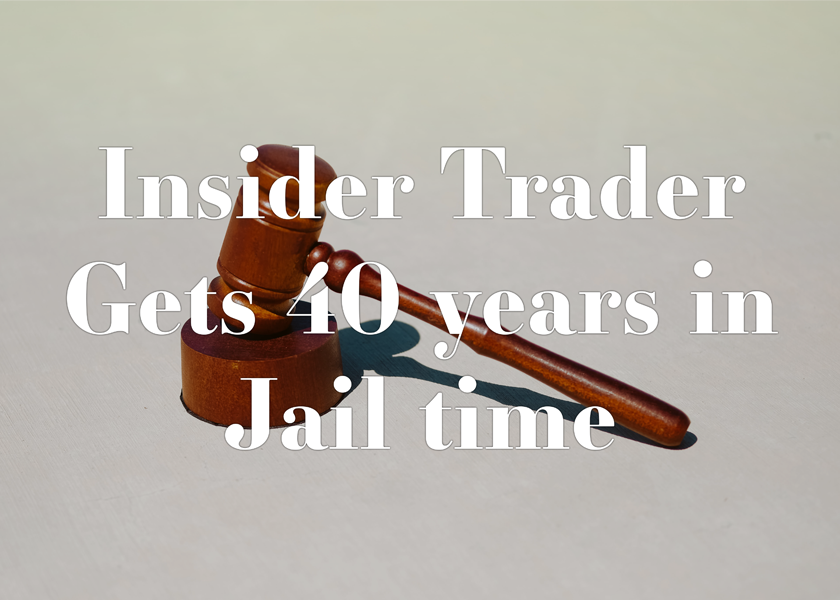 The space had better days. Those greenish spikes...oh wow, haven't felt that in ages. Cryptocurrencies and NFTs have lost popularity. Google agrees. Both are declining.
As seen below, crypto interest spiked in May because of the Luna fall. NFT interest is similar to early October last year.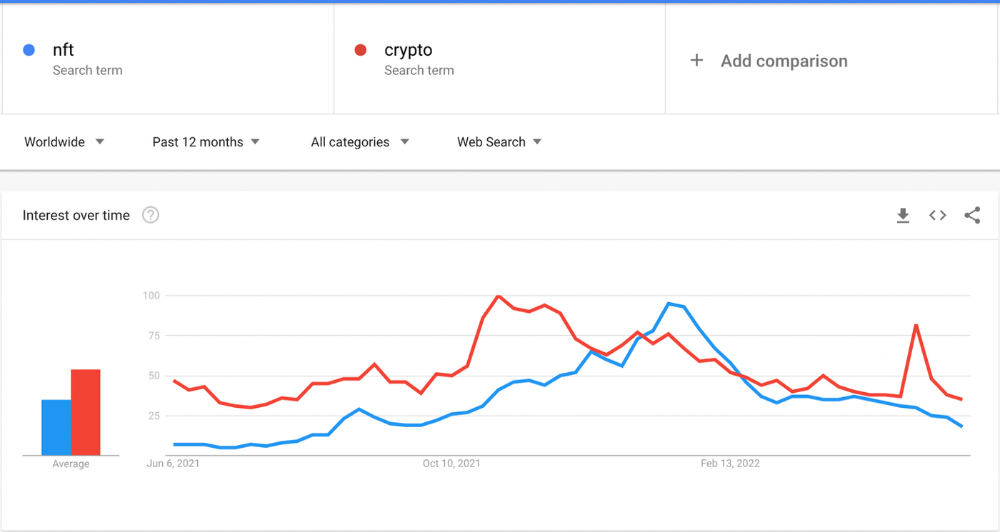 This makes me think NFTs are mostly hype and FOMO. No art or community. I've seen enough initiatives to know that communities stick around if they're profitable. Once it starts falling, they move on to the next project. The space has no long-term investments. Flip everything.
OpenSea trading volume has stayed steady for months. May's volume is 1.8 million ETH ($3.3 billion).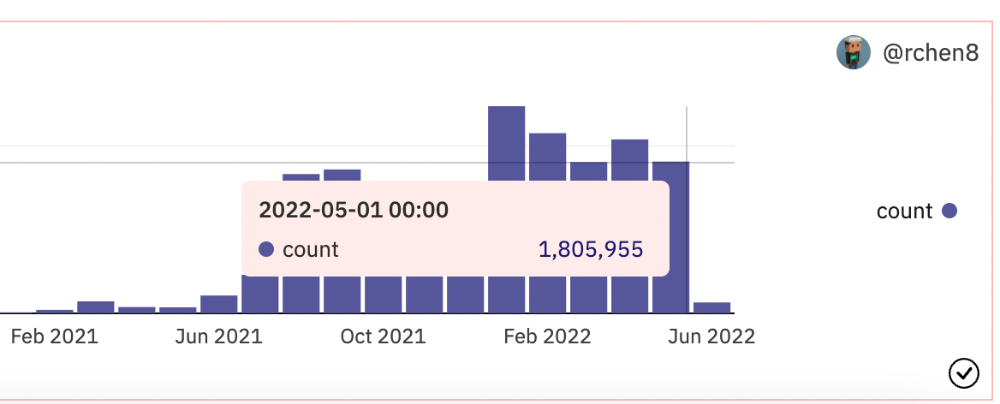 Despite this, I think NFTs and crypto will stick around. In bad markets, builders gain most.
Only 4k developers are active on Ethereum blockchain. It's low. A great chance for the space enthusiasts.
An employee of OpenSea might get a 40-year prison sentence for insider trading using NFTs.
Nathaniel Chastian, an OpenSea employee, traded on insider knowledge. He'll serve 40 years for that.
Here's what happened if you're unfamiliar.
OpenSea is a secondary NFT marketplace. Their homepage featured remarkable drops. Whatever gets featured there, NFT prices will rise 5x.
Chastian was at OpenSea. He chose forthcoming NFTs for OpenSeas' webpage.
Using anonymous digital currency wallets and OpenSea accounts, he would buy NFTs before promoting them on the homepage, showcase them, and then sell them for at least 25 times the price he paid.
From June through September 2021, this happened. Later caught, fired. He's charged with wire fraud and money laundering, each carrying a 20-year maximum penalty.
Although web3 space is all about decentralization, a step like this is welcomed since it restores faith in the area. We hope to see more similar examples soon.
Here's the press release.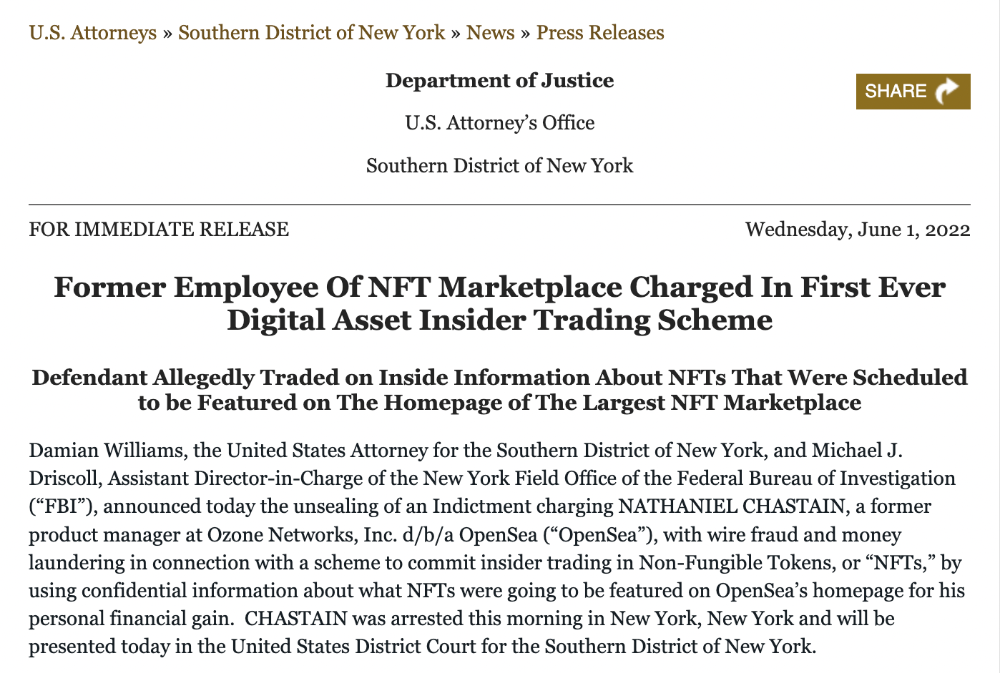 Understanding smart contracts
@cantino.eth has a Twitter thread on smart contracts. Must-read. Also, he appears educated about the space, so follow him.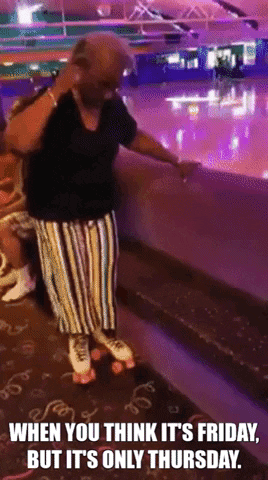 CyberPunkMetalHead
3 days ago
Why Bitcoin NFTs Are Incomprehensible yet Likely Here to Stay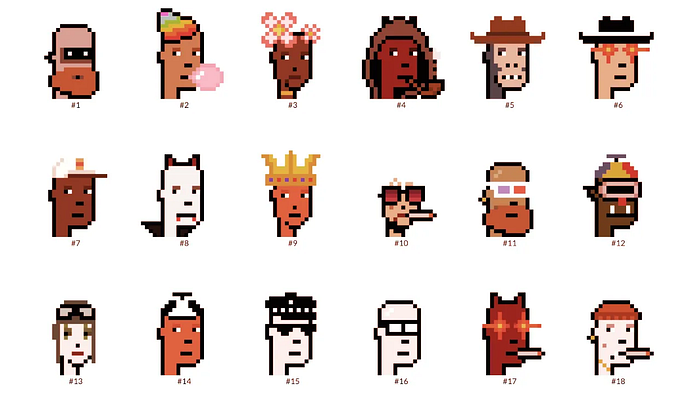 I'm trying to understand why Bitcoin NFTs aren't ready.
Ordinals, a new Bitcoin protocol, has been controversial. NFTs can be added to Bitcoin transactions using the protocol. They are not tokens or fungible. Bitcoin NFTs are transaction metadata. Yes. They're not owned.
In January, the Ordinals protocol allowed data like photos to be directly encoded onto sats, the smallest units of Bitcoin worth 0.00000001 BTC, on the Bitcoin blockchain. Ordinals does not need a sidechain or token like other techniques. The Ordinals protocol has encoded JPEG photos, digital art, new profile picture (PFP) projects, and even 1993 DOOM onto the Bitcoin network.
Ordinals inscriptions are permanent digital artifacts preserved on the Bitcoin blockchain. It differs from Ethereum, Solana, and Stacks NFT technologies that allow smart contract creators to change information. Ordinals store the whole image or content on the blockchain, not just a link to an external server, unlike centralized databases, which can change the linked image, description, category, or contract identifier.
So far, more than 50,000 ordinals have been produced on the Bitcoin blockchain, and some of them have already been sold for astronomical amounts. The Ethereum-based CryptoPunks NFT collection spawned Ordinal Punk. Inscription 620 sold for 9.5 BTC, or $218,000, the most.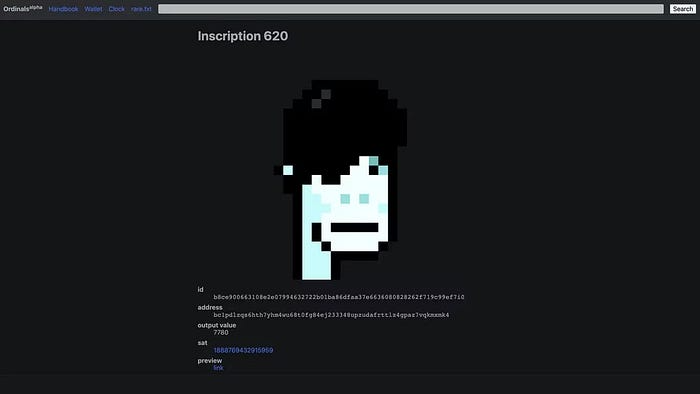 Segwit and Taproot, two important Bitcoin blockchain updates, enabled this. These protocols store transaction metadata, unlike Ethereum, where the NFT is the token. Bitcoin's NFT is a sat's transaction details.
What effects do ordinary values and NFTs have on the Bitcoin blockchain?
Ordinals will likely have long-term effects on the Bitcoin Ecosystem since they store, transact, and compute more data.
Charges Ordinals introduce scalability challenges. The Bitcoin network has limited transaction throughput and increased fees during peak demand. NFTs could make network transactions harder and more expensive. Ordinals currently occupy over 50% of block space, according to Glassnode.
One of the protocols that supported Ordinals Taproot has also seen a huge uptick: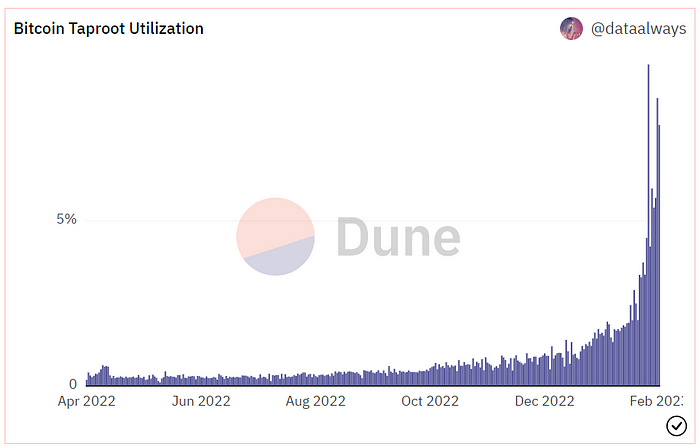 Taproot use increases block size and transaction costs.

This could cause network congestion but also support more L2s with Ordinals-specific use cases. Dune info here.
Storage Needs The Bitcoin blockchain would need to store more data to store NFT data directly. Since ordinals were introduced, blocksize has tripled from 0.7mb to over 2.2mb, which could increase storage costs and make it harder for nodes to join the network.
Use Case Diversity On the other hand, NFTs on the Bitcoin blockchain could broaden Bitcoin's use cases beyond storage and payment. This could expand Bitcoin's user base. This is two-sided. Bitcoin was designed to be trustless, decentralized, peer-to-peer money.
Chain to permanently store NFTs as ordinals will change everything.
Popularity rise This new use case will boost Bitcoin appeal, according to some. This argument fails since Bitcoin is the most popular cryptocurrency. Popularity doesn't require a new use case. Cryptocurrency adoption boosts Bitcoin. It need not compete with Ethereum or provide extra benefits to crypto investors. If there was a need for another chain that supports NFTs (there isn't), why would anyone choose the slowest and most expensive network? It appears contradictory and unproductive.
Nonetheless, holding an NFT on the Bitcoin blockchain is more secure than any other blockchain, but this has little utility.
Bitcoin NFTs are undoubtedly controversial. NFTs are strange and perhaps harmful to Bitcoin's mission. If Bitcoin NFTs are here to stay, I hope a sidechain or rollup solution will take over and leave the base chain alone.
You might also like
Theresa W. Carey
9 months ago
How Payment for Order Flow (PFOF) Works
What is PFOF?
PFOF is a brokerage firm's compensation for directing orders to different parties for trade execution. The brokerage firm receives fractions of a penny per share for directing the order to a market maker.
Each optionable stock could have thousands of contracts, so market makers dominate options trades. Order flow payments average less than $0.50 per option contract.
Order Flow Payments (PFOF) Explained
The proliferation of exchanges and electronic communication networks has complicated equity and options trading (ECNs) Ironically, Bernard Madoff, the Ponzi schemer, pioneered pay-for-order-flow.
In a December 2000 study on PFOF, the SEC said, "Payment for order flow is a method of transferring trading profits from market making to brokers who route customer orders to specialists for execution."
Given the complexity of trading thousands of stocks on multiple exchanges, market making has grown. Market makers are large firms that specialize in a set of stocks and options, maintaining an inventory of shares and contracts for buyers and sellers. Market makers are paid the bid-ask spread. Spreads have narrowed since 2001, when exchanges switched to decimals. A market maker's ability to play both sides of trades is key to profitability.
Benefits, requirements
A broker receives fees from a third party for order flow, sometimes without a client's knowledge. This invites conflicts of interest and criticism. Regulation NMS from 2005 requires brokers to disclose their policies and financial relationships with market makers.
Your broker must tell you if it's paid to send your orders to specific parties. This must be done at account opening and annually. The firm must disclose whether it participates in payment-for-order-flow and, upon request, every paid order. Brokerage clients can request payment data on specific transactions, but the response takes weeks.
Order flow payments save money. Smaller brokerage firms can benefit from routing orders through market makers and getting paid. This allows brokerage firms to send their orders to another firm to be executed with other orders, reducing costs. The market maker or exchange benefits from additional share volume, so it pays brokerage firms to direct traffic.
Retail investors, who lack bargaining power, may benefit from order-filling competition. Arrangements to steer the business in one direction invite wrongdoing, which can erode investor confidence in financial markets and their players.
Pay-for-order-flow criticism
It has always been controversial. Several firms offering zero-commission trades in the late 1990s routed orders to untrustworthy market makers. During the end of fractional pricing, the smallest stock spread was $0.125. Options spreads widened. Traders found that some of their "free" trades cost them a lot because they weren't getting the best price.
The SEC then studied the issue, focusing on options trades, and nearly decided to ban PFOF. The proliferation of options exchanges narrowed spreads because there was more competition for executing orders. Options market makers said their services provided liquidity. In its conclusion, the report said, "While increased multiple-listing produced immediate economic benefits to investors in the form of narrower quotes and effective spreads, these improvements have been muted with the spread of payment for order flow and internalization." 
The SEC allowed payment for order flow to continue to prevent exchanges from gaining monopoly power. What would happen to trades if the practice was outlawed was also unclear. SEC requires brokers to disclose financial arrangements with market makers. Since then, the SEC has watched closely.
2020 Order Flow Payment
Rule 605 and Rule 606 show execution quality and order flow payment statistics on a broker's website. Despite being required by the SEC, these reports can be hard to find. The SEC mandated these reports in 2005, but the format and reporting requirements have changed over the years, most recently in 2018.
Brokers and market makers formed a working group with the Financial Information Forum (FIF) to standardize order execution quality reporting. Only one retail brokerage (Fidelity) and one market maker remain (Two Sigma Securities). FIF notes that the 605/606 reports "do not provide the level of information that allows a retail investor to gauge how well a broker-dealer fills a retail order compared to the NBBO (national best bid or offer') at the time the order was received by the executing broker-dealer."
In the first quarter of 2020, Rule 606 reporting changed to require brokers to report net payments from market makers for S&P 500 and non-S&P 500 equity trades and options trades. Brokers must disclose payment rates per 100 shares by order type (market orders, marketable limit orders, non-marketable limit orders, and other orders).
Richard Repetto, Managing Director of New York-based Piper Sandler & Co., publishes a report on Rule 606 broker reports. Repetto focused on Charles Schwab, TD Ameritrade, E-TRADE, and Robinhood in Q2 2020. Repetto reported that payment for order flow was higher in the second quarter than the first due to increased trading activity, and that options paid more than equities.
Repetto says PFOF contributions rose overall. Schwab has the lowest options rates, while TD Ameritrade and Robinhood have the highest. Robinhood had the highest equity rating. Repetto assumes Robinhood's ability to charge higher PFOF reflects their order flow profitability and that they receive a fixed rate per spread (vs. a fixed rate per share by the other brokers).
Robinhood's PFOF in equities and options grew the most quarter-over-quarter of the four brokers Piper Sandler analyzed, as did their implied volumes. All four brokers saw higher PFOF rates.
TD Ameritrade took the biggest income hit when cutting trading commissions in fall 2019, and this report shows they're trying to make up the shortfall by routing orders for additional PFOF. Robinhood refuses to disclose trading statistics using the same metrics as the rest of the industry, offering only a vague explanation on their website.
Summary
Payment for order flow has become a major source of revenue as brokers offer no-commission equity (stock and ETF) orders. For retail investors, payment for order flow poses a problem because the brokerage may route orders to a market maker for its own benefit, not the investor's.
Infrequent or small-volume traders may not notice their broker's PFOF practices. Frequent traders and those who trade larger quantities should learn about their broker's order routing system to ensure they're not losing out on price improvement due to a broker prioritizing payment for order flow.
---
This post is a summary. Read full article here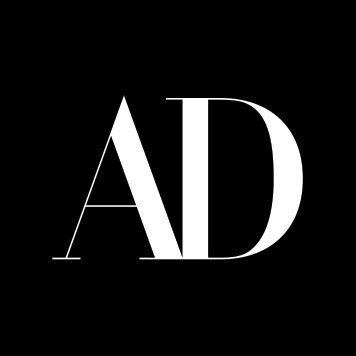 Architectural Digest
9 months ago
Take a look at The One, a Los Angeles estate with a whopping 105,000 square feet of living area.
The interiors of the 105,000-square-foot property, which sits on a five-acre parcel in the wealthy Los Angeles suburb of Bel Air and is suitably titled The One, have been a well guarded secret. We got an intimate look inside this world-record-breaking property, as well as the creative and aesthetic geniuses behind it.
The estate appears to float above the city, surrounded on three sides by a moat and a 400-foot-long running track. Completed over eight years—and requiring 600 workers to build—the home was designed by architect Paul McClean and interior designer Kathryn Rotondi, who were enlisted by owner and developer Nile Niami to help it live up to its standard.
"This endeavor seemed both exhilarating and daunting," McClean says. However, the home's remarkable location and McClean's long-standing relationship with Niami persuaded him to "build something unique and extraordinary" rather than just take on the job.
And McClean has more than delivered.
The home's main entrance leads to a variety of meeting places with magnificent 360-degree views of the Pacific Ocean, downtown Los Angeles, and the San Gabriel Mountains, thanks to its 26-foot-high ceilings. There is water at the entrance area, as well as a sculpture and a bridge. "We often employ water in our design approach because it provides a sensory change that helps you acclimatize to your environment," McClean explains.
Niami wanted a neutral palette that would enable the environment and vistas to shine, so she used black, white, and gray throughout the house.
McClean has combined the home's inside with outside "to create that quintessential L.A. lifestyle but on a larger scale," he says, drawing influence from the local environment and history of Los Angeles modernism. "We separated the entertaining spaces from the living portions to make the house feel more livable. The former are on the lowest level, which serves as a plinth for the rest of the house and minimizes its apparent mass."
The home's statistics, in addition to its eye-catching style, are equally impressive. There are 42 bathrooms, 21 bedrooms, a 5,500-square-foot master suite, a 30-car garage gallery with two car-display turntables, a four-lane bowling alley, a spa level, a 30-seat movie theater, a "philanthropy wing (with a capacity of 200) for charity galas, a 10,000-square-foot sky deck, and five swimming pools.
Rotondi, the creator of KFR Design, collaborated with Niami on the interior design to create different spaces that flow into one another despite the house's grandeur. "I was especially driven to 'wow factor' components in the hospitality business," Rotondi says, citing top luxury hotel brands such as Aman, Bulgari, and Baccarat as sources of inspiration. Meanwhile, the home's color scheme, soft textures, and lighting are a nod to Niami and McClean's favorite Tom Ford boutique on Rodeo Drive.
The house boasts an extraordinary collection of art, including a butterfly work by Stephen Wilson on the lower level and a Niclas Castello bespoke panel in black and silver in the office, thanks to a cooperation between Creative Art Partners and Art Angels. There is also a sizable collection of bespoke furniture pieces from byShowroom.
A house of this size will never be erected again in Los Angeles, thanks to recently enacted city rules, so The One will truly be one of a kind. "For all of us, this project has been such a long and instructive trip," McClean says. "It was exciting to develop and approached with excitement, but I don't think any of us knew how much effort and time it would take to finish the project."
Negative Effects of Working for a FAANG Company
Consider yourself lucky if your last FAANG interview was rejected.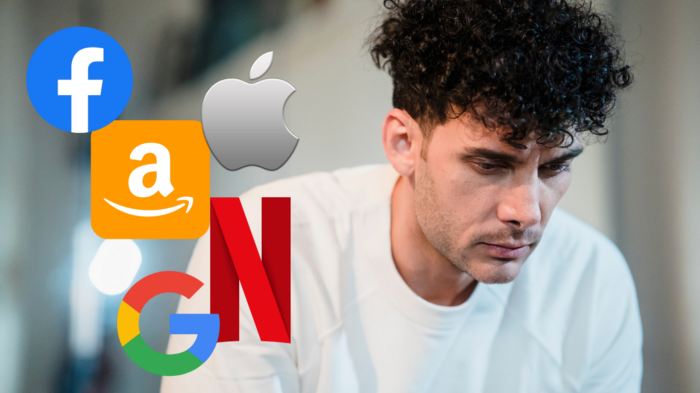 FAANG—Facebook, Apple, Amazon, Netflix, Google
(I know its manga now, but watch me not care)
These big companies offer many benefits.
large salaries and benefits

Prestige

high expectations for both you and your coworkers.
However, these jobs may have major drawbacks that only become apparent when you're thrown to the wolves, so it's up to you whether you see them as drawbacks or opportunities.
I know most college graduates start working at big tech companies because of their perceived coolness.
I've worked in these companies for years and can tell you what to expect if you get a job here.
Little fish in a vast ocean
The most obvious. Most billion/trillion-dollar companies employ thousands.
You may work on a small, unnoticed product part.
Directors and higher will sometimes make you redo projects they didn't communicate well without respecting your time, talent, or will to work on trivial stuff that doesn't move company needles.
Peers will only say, "Someone has to take out the trash," even though you know company resources are being wasted.
The power imbalance is frustrating.
What you can do about it
Know your WHY. Consider long-term priorities. Though riskier, I stayed in customer-facing teams because I loved building user-facing products.
This increased my impact. However, if you enjoy helping coworkers build products, you may be better suited for an internal team.
I told the Directors and Vice Presidents that their actions could waste Engineering time, even though it was unpopular. Some were receptive, some not.
I kept having tough conversations because they were good for me and the company.
However, some of my coworkers praised my candor but said they'd rather follow the boss.
An outdated piece of technology can take years to update.
Apple introduced Swift for iOS development in 2014. Most large tech companies adopted the new language after five years.
This is frustrating if you want to learn new skills and increase your market value.
Knowing that my lack of Swift practice could hurt me if I changed jobs made writing verbose Objective C painful.
What you can do about it
Work on the new technology in side projects; one engineer rewrote the Lyft app in Swift over the course of a weekend and promoted its adoption throughout the entire organization.

To integrate new technologies and determine how to combine legacy and modern code, suggest minor changes to the existing codebase.
Most managers spend their entire day in consecutive meetings.
After their last meeting, the last thing they want is another meeting to discuss your career goals.
Sometimes a manager has 15-20 reports, making it hard to communicate your impact.
Misunderstandings and stress can result.
Especially when the manager should focus on selfish parts of the team. Success won't concern them.
What you can do about it
Tell your manager that you are a self-starter and that you will pro-actively update them on your progress, especially if they aren't present at the meetings you regularly attend.

Keep being proactive and look for mentorship elsewhere if you believe your boss doesn't have enough time to work on your career goals.

Alternately, look for a team where the manager has more authority to assist you in making career decisions.
After a certain point, company loyalty can become quite harmful.
Because big tech companies create brand loyalty, too many colleagues stayed in unhealthy environments.
When you work for a well-known company and strangers compliment you, it's fun to tell your friends.
Work defines you. This can make you stay too long even though your career isn't progressing and you're unhappy.
Google may become your surname.
Workplaces are not families.
If you're unhappy, don't stay just because they gave you the paycheck to buy your first home and make you feel like you owe your life to them.
Many employees stayed too long. Though depressed and suicidal.
What you can do about it
Your life is not worth a company.

Do you want your job title and workplace to be listed on your gravestone? If not, leave if conditions deteriorate.

Recognize that change can be challenging. It's difficult to leave a job you've held for a number of years.

Ask those who have experienced this change how they handled it.
You still have a bright future if you were rejected from FAANG interviews.
Rejections only lead to amazing opportunities. If you're young and childless, work for a startup.
Companies may pay more than FAANGs. Do your research.
Ask recruiters and hiring managers tough questions about how the company and teams prioritize respectful working hours and boundaries for workers.
I know many 15-year-olds who have a lifelong dream of working at Google, and it saddens me that they're chasing a name on their resume instead of excellence.
This article is not meant to discourage you from working at these companies, but to share my experience about what HR/managers will never mention in interviews.
Read both sides before signing the big offer letter.