More on Lifestyle
HE
Hannah Elliott
5 months ago
Pebble Beach Auto Auctions Set $469M Record
The world's most prestigious vintage vehicle show included amazing autos and record-breaking sums.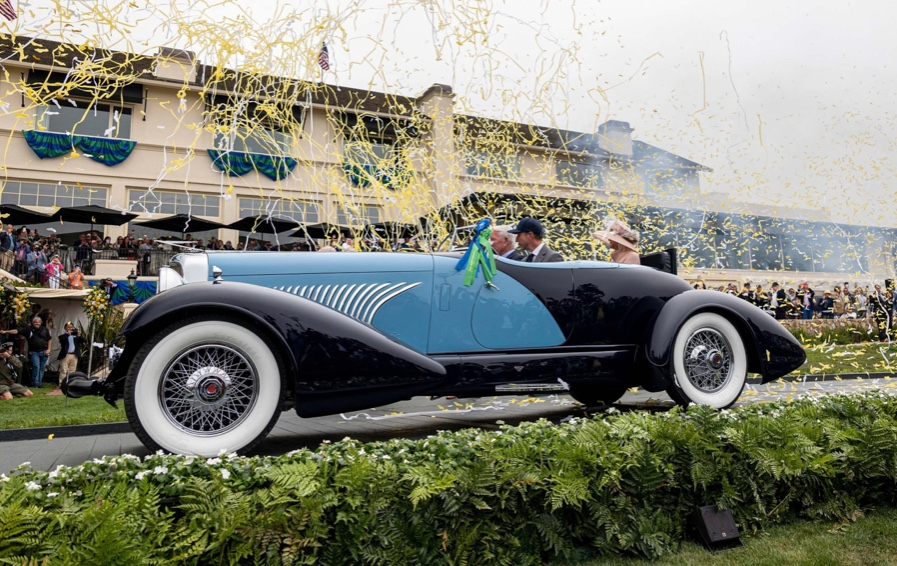 This 1932 Duesenberg J Figoni Sports Torpedo earned Best of Show in 2022.
David Paul Morris (DPM)/Bloomberg
2022 Pebble Beach Concours d'Elegance winner was a pre-war roadster.
Lee Anderson's 1932 Duesenberg J Figoni Sports Torpedo won Best of Show at Pebble Beach Golf Links near Carmel, Calif., on Sunday. First American win since 2013.
Sandra Button, chairperson of the annual concours, said the car, whose chassis and body had been separated for years, "marries American force with European style." "Its resurrection story is passionate."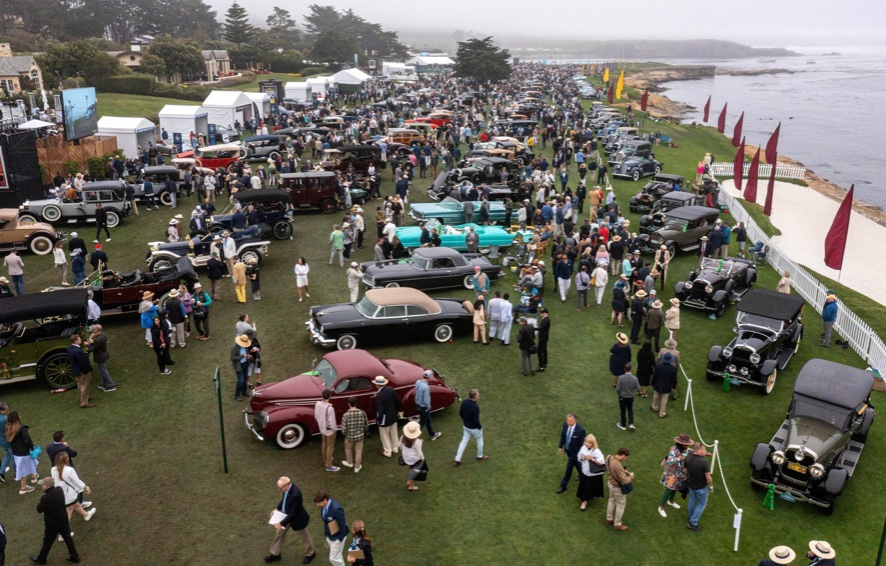 Pebble Beach Concours d'Elegance Auction
Since 1950, the Pebble Beach Concours d'Elegance has welcomed the world's most costly collectable vehicles for a week of parties, auctions, rallies, and high-roller meetings. The cold, dreary weather highlighted the automobiles' stunning lines and hues.
DPM/Bloomberg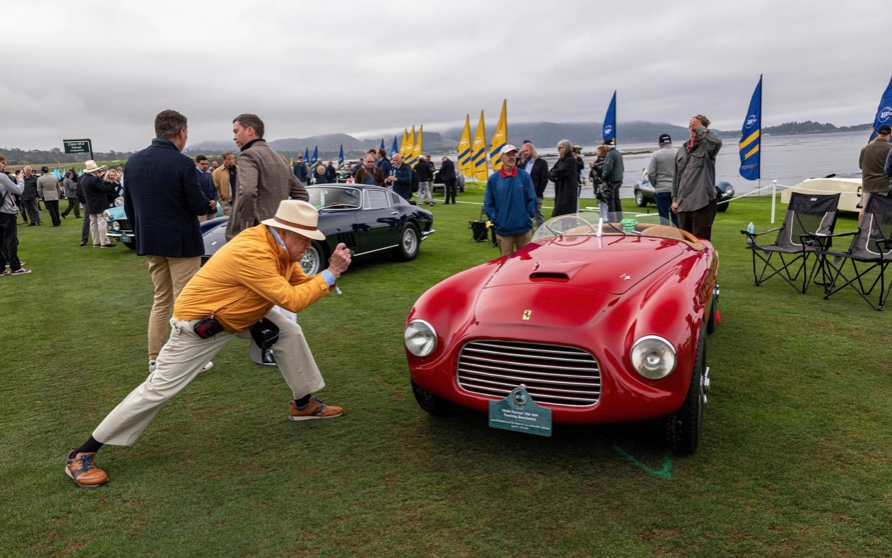 A visitor photographs a 1948 Ferrari 166 MM Touring Barchetta. This is one of 25 Ferraris manufactured in the years after World War II. First shown at the 1948 Turin Salon. Others finished Mille Miglia and Le Mans, which set the tone for Ferrari racing for years.
DPM/Bloomberg
This year's frontrunners were ultra-rare pre-war and post-war automobiles with long and difficult titles, such a 1937 Talbot-Lago T150C-SS Figoni & Falaschi Teardrop Coupe and a 1951 Talbot-Lago T26 Grand Sport Stabilimenti Farina Cabriolet.
The hefty, enormous coaches inspire visions of golden pasts when mysterious saloons swept over the road with otherworldly style, speed, and grace. Only the richest and most powerful people, like Indian maharaja and Hollywood stars, owned such vehicles.
Antonio Chopitea, a Peruvian sugar tycoon, ordered a new Duesenberg in Paris. Hemmings says the two-tone blue beauty was moved to the US and dismantled in the 1960s. Body and chassis were sold separately and rejoined decades later in a three-year, prize-winning restoration.
The concours is the highlight of Monterey Car Week, a five-day Super Bowl for car enthusiasts. Early events included Porsche and Ferrari displays, antique automobile races, and new-vehicle debuts. Many auto executives call Monterey Car Week the "new auto show."
Many visitors were drawn to the record-breaking auctions.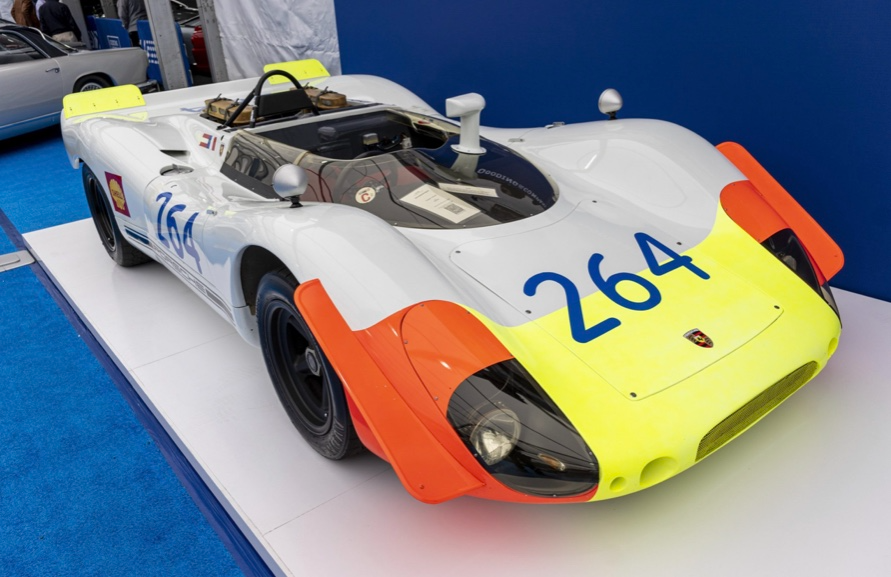 A 1969 Porsche 908/02 auctioned for $4.185 million. Flat-eight air-cooled engine, 90.6-inch wheelbase, 1,320-pound weight. Vic Elford, Richard Attwood, Rudi Lins, Gérard Larrousse, Kurt Ahrens Jr., Masten Gregory, and Pedro Rodriguez drove it, according to Gooding.
DPM/Bloomberg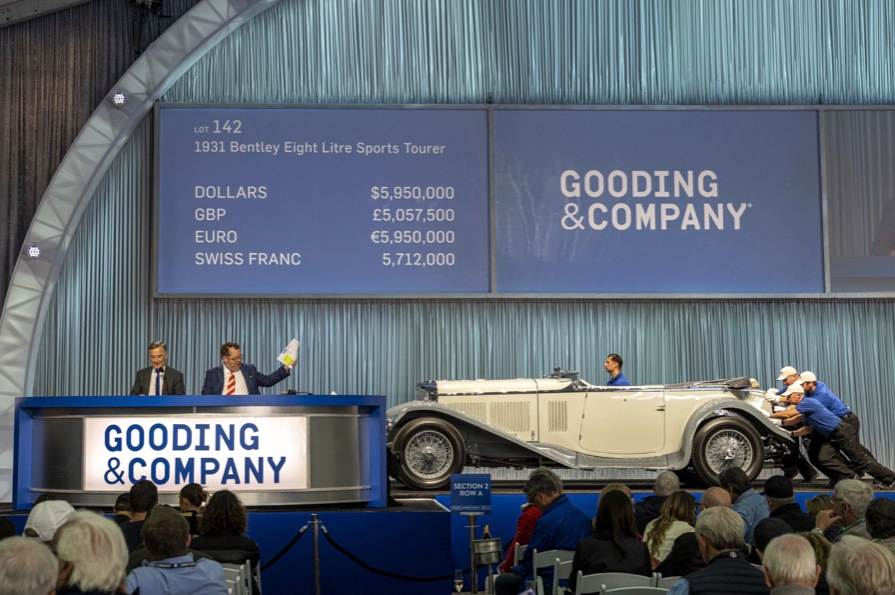 The 1931 Bentley Eight Liter Sports Tourer doesn't meet its reserve. Gooding & Co., the official auction house of the concours, made more than $105 million and had an 82% sell-through rate. This powerful open-top tourer is one of W.O. Bentley's 100 automobiles. Only 80 remain.
DPM/Bloomberg
The final auction on Aug. 21 brought in $456.1 million, breaking the previous high of $394.48 million established in 2015 in Monterey. "The week put an exclamation point on what has been an exceptional year for the collector automobile market," Hagerty analyst John Wiley said.
Many cars that go unsold at public auction are sold privately in the days after. After-sales pushed the week's haul to $469 million on Aug. 22, up 18.9% from 2015's record.
In today's currencies, 2015's record sales amount to $490 million, Wiley noted. The dollar is degrading faster than old autos.
Still, 113 million-dollar automobiles sold. The average car sale price was $583,211, up from $446,042 last year, while multimillion-dollar hammer prices made up around 75% of total sales.
Industry insiders and market gurus expected that stock market volatility, the crisis in Ukraine, and the dollar-euro exchange rate wouldn't influence the world's biggest spenders.
Classic.com's CEO said there's no hint of a recession in an e-mail. Big sales and crowds.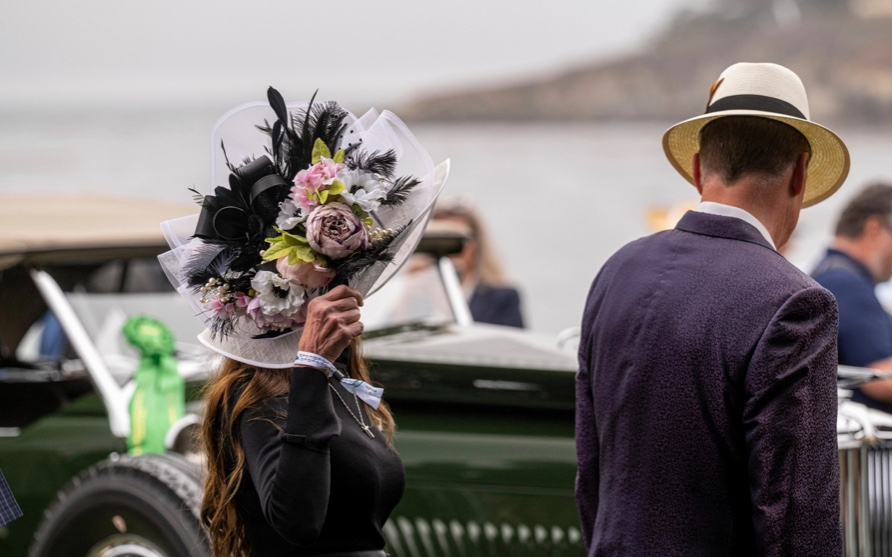 Ticket-holders wore huge hats, flowery skirts, and other Kentucky Derby-esque attire. Coffee, beverages, and food are extra.
DPM/Bloomberg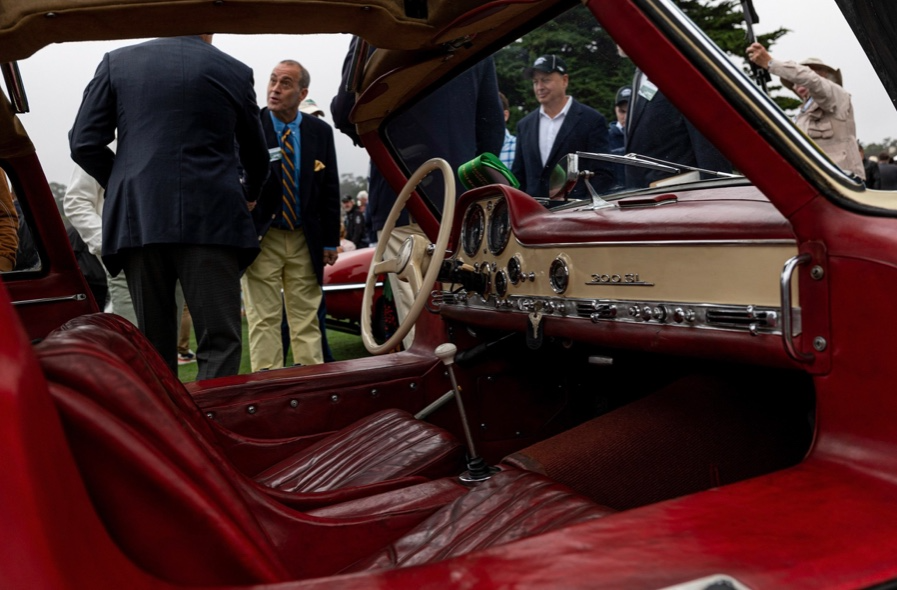 Mercedes-Benz 300 SL Gullwing, 1955. Mercedes produced the two-seat gullwing coupe from 1954–1957 and the roadster from 1957–1963. It was once West Germany's fastest and most powerful automobile. You'd be hard-pressed to locate one for less $1 million.
DPM/Bloomberg
1955 Ferrari 410 Sport sold for $22 million at RM Sotheby's. It sold a 1937 Mercedes-Benz 540K Sindelfingen Roadster for $9.9 million and a 1924 Hispano-Suiza H6C Transformable Torpedo for $9.245 million. The family-run mansion sold $221.7 million with a 90% sell-through rate, up from $147 million in 2021. This year, RM Sotheby's cars averaged $1.3 million.
Not everyone saw such great benefits.
Gooding & Co., the official auction house of the concours, made more than $105 million and had an 82% sell-through rate. 1937 Bugatti Type 57SC Atalante, 1990 Ferrari F40, and 1994 Bugatti EB110 Super Sport were top sellers.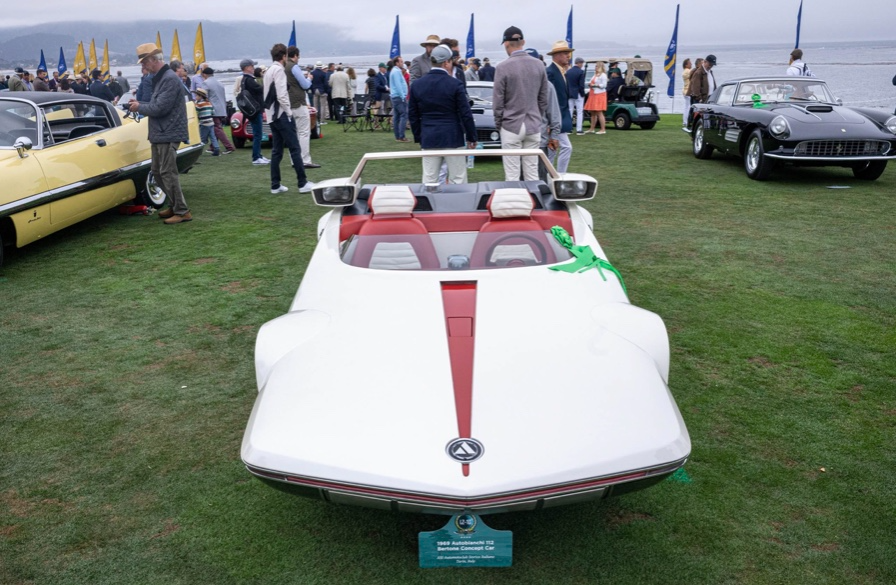 The 1969 Autobianchi A112 Bertone. This idea two-seater became a Hot Wheels toy but was never produced. It has a four-speed manual drive and an inline-four mid-engine arrangement like the Lamborghini Miura.
DPM/Bloomberg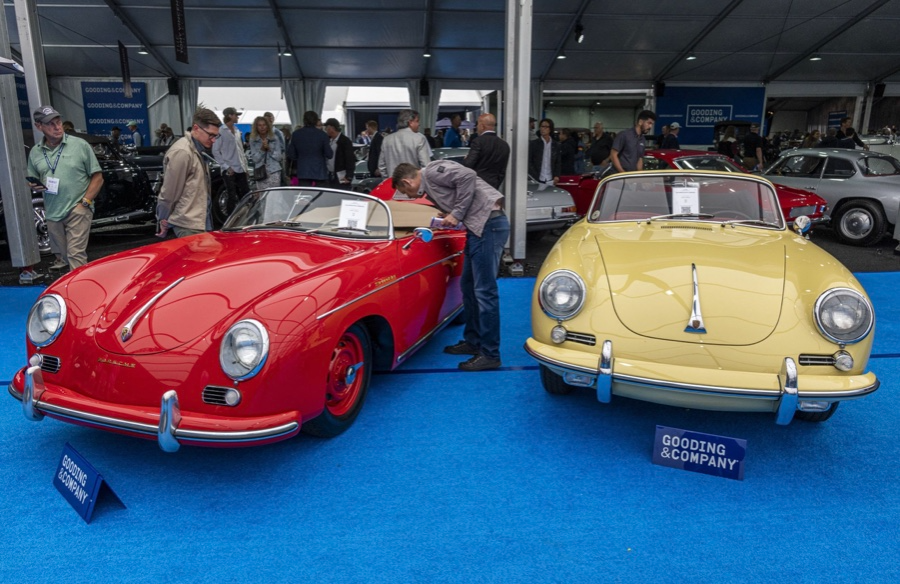 1956 Porsche 356 A Speedster at Gooding & Co. The Porsche 356 is a lightweight, rear-engine, rear-wheel drive vehicle that lacks driving power but is loved for its rounded, Beetle-like hardtop coupé and open-top versions.
DPM/Bloomberg
Mecum sold $50.8 million with a 64% sell-through rate, down from $53.8 million and 77% in 2021. Its top lot, a 1958 Ferrari 250 GT 'Tour de France' Alloy Coupe, sold for $2.86 million, but its average price was $174,016.
Bonhams had $27.8 million in sales with an 88% sell-through rate. The same sell-through generated $35.9 million in 2021.
Gooding & Co. and RM Sotheby's posted all 10 top sales, leaving Bonhams, Mecum, and Hagerty-owned Broad Arrow fighting for leftovers. Six of the top 10 sellers were Ferraris, which remain the gold standard for collectable automobiles. Their prices have grown over decades.
Classic.com's Calle claimed RM Sotheby's "stole the show," but "BroadArrow will be a force to reckon with."
Although pre-war cars were hot, '80s and '90s cars showed the most appreciation and attention. Generational transition and new buyer profile."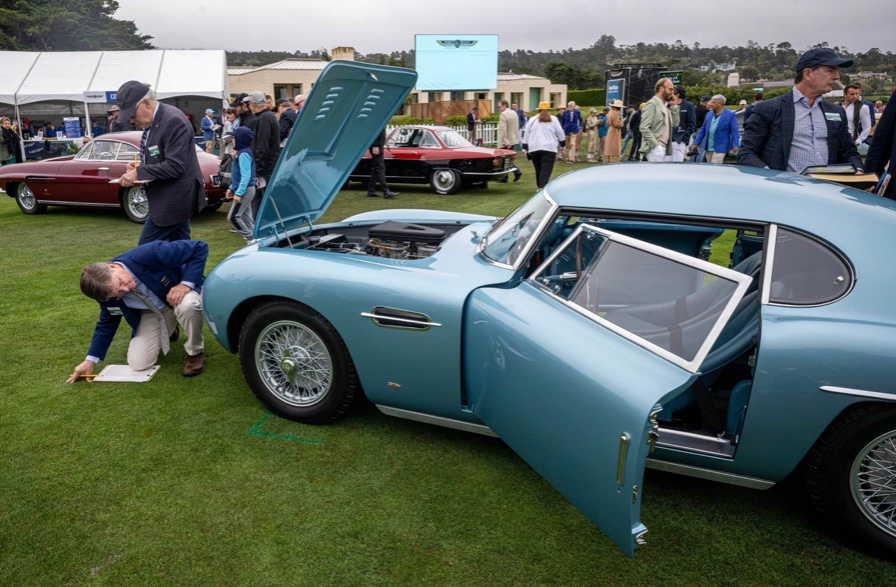 2022 Pebble Beach Concours d'Elegance judges inspect 1953 Siata 208. The rounded coupe was introduced at the 1952 Turin Auto Show in Italy and is one of 18 ever produced. It sports a 120hp Fiat engine, five-speed manual transmission, and alloy drum brakes. Owners liked their style, but not their reliability.
DPM/Bloomberg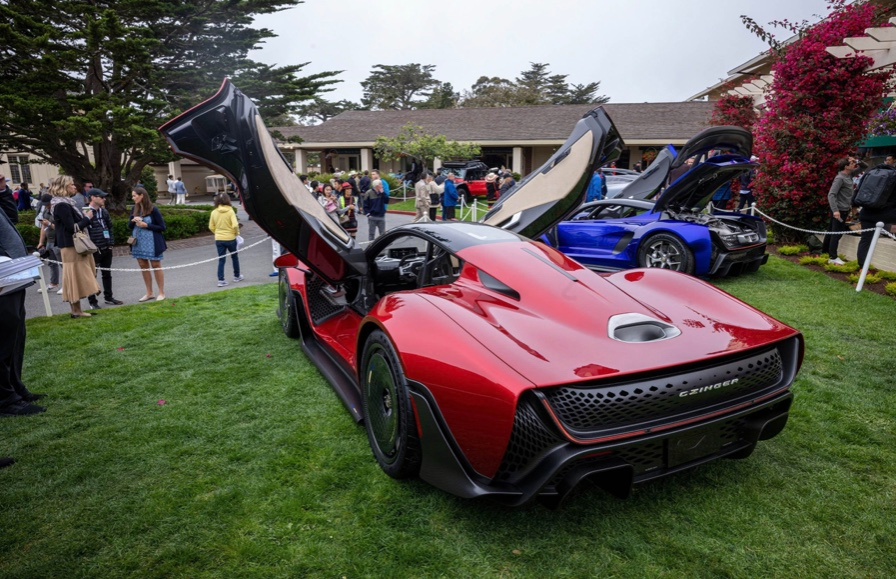 The Czinger 21 CV Max at Pebble Beach. Monterey Car Week concentrates on historic and classic automobiles, but modern versions like this Czinger hypercar also showed.
DPM/Bloomberg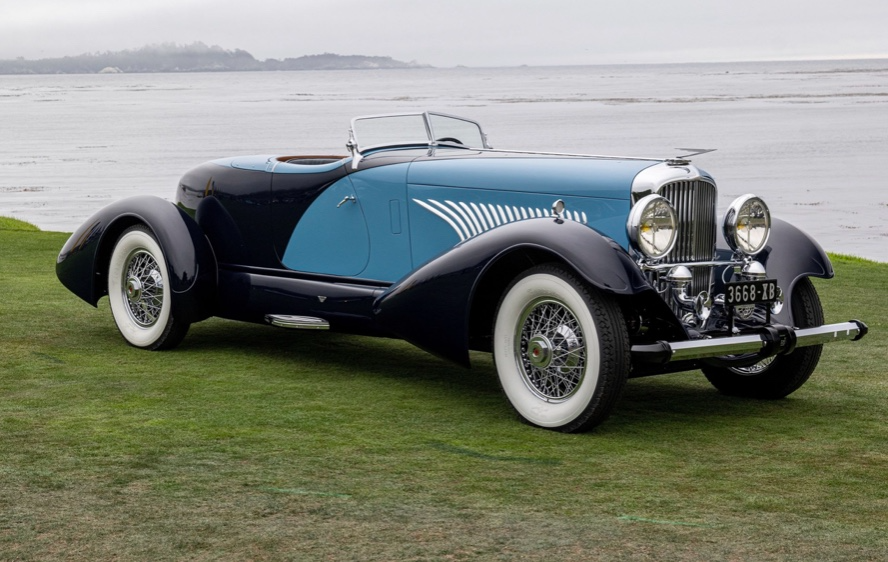 The 1932 Duesenberg J Figoni Sports Torpedo won Best in Show in 2022. Lee and Penny Anderson of Naples, Fla., own the once-separate-chassis-from-body automobile.
DPM/Bloomberg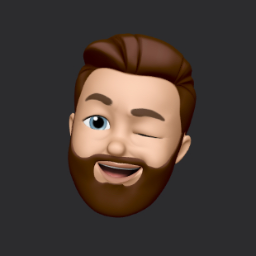 The Jordan 6 Rings Reintroduce Classic Bulls
The Jordan 6 Rings return in Bulls colors, a deviation from previous releases. The signature red color is used on the midsole and heel, as well as the chenille patch and pull tab. The rest of the latter fixture is black, matching the outsole and adjacent Jumpman logos. Finally, white completes the look, from the leather mudguard to the lace unit. Here's a closer look at the Jordan 6 Rings. Sizes should be available soon on Nike.com and select retailers. Also, official photos of the Air Jordan 1 Denim have surfaced.
Jordan 6 Rings
Release Date: 2022
Color: N/A
Mens: $130
Style Code: 322992-126
Joanna Henderson
1 month ago
An Average Day in the Life of a 25-Year-Old -A Rich Man's At-Home Unemployed Girlfriend
And morning water bottle struggles.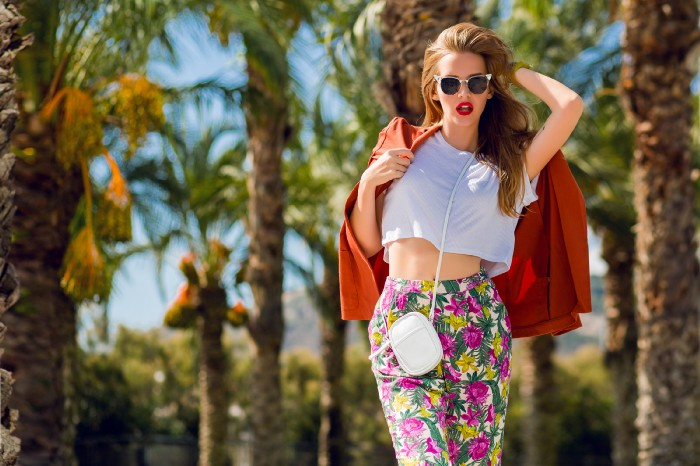 Welcome to my TikTok, where I share my stay-at-home life! I'll show you my usual day from morning to night.
I rise early to prepare my guy iced coffee. I make matcha, my favorite drink. I also fill our water bottles, which takes time and effort, so I record and describe the procedure. As you see me perform the unthinkable by putting a water bottle in a soda machine, you'll see my magnificent but unowned condo. My lover has everything, including:
In the living room, a sizable velvet alabaster divan. I was unable to use the words white or sofa in place of alabaster or a divan since they are insufficiently elegant and do not adequately convey how opulent the item is. The price tag on the divan was another huge feature; I'm sure my lover wouldn't purchase any furniture for less than $20k because it would be beneath him.

A plush Swiss coffee-colored Tabriz carpet. Once more, white is a color associated with the underclass; for us, the wealthy, it's alabaster or swiss coffee. Sorry, my boyfriend is wealthy; I'm truly in the same situation. And yet, I'm the one whos freeloading off of him, not you haha!

Soft translucent powder is the hue of the vinyl wallcoverings. I merely made up the name of that hue, but I have to maintain the online character I've established. There is no room for adopting language typical of peasant people; I must reiterate that I am wealthy while they are not.
I rest after filling our water bottles. I'm really fatigued from chores. My boyfriend is skeptical about hiring a housekeeper and cook. Does he assume I'm a servant or maid? I can't be overly demanding or throw a tantrum since he may replace me with a younger version. Leonardo Di Caprio's fault!
After the break, I bring my lover a water bottle. He's off to work with my best wishes. After cleaning the shower, I text my BF saying I broke a nail. He charged $675 for a crystal-topped shellac manicure. Lucky me!
After this morning's crazy choirs, especially the water bottle one, I'm famished. I dress quickly and go to the neighborhood organic-vegan-gluten-free-sugar-free-plasma-free-GMO-free-HBO-free breakfast place. Most folks can't afford $17.99 for a caffeine-free-mushroom-plus-mud-and-electrolytes morning beverage. It goes nicely with my matcha. Eggs Benedict cost $68. English muffins are off-limits. I can't make myself obese. My partner said he'd swap me for a 19-year-old Eastern European if I keep eating bacon.
I leave no tip since tipping is too much pressure and math for me, so I go shopping.
My shopping adventures have gotten monotonous. 47 designer bags and 114 bag covers Birkins need their own luggage. My babies! I've never caught my BF with a baby. I have sleeping medications and a turkey baster. Tatiana is much younger and thinner than me, so I can't lose him to her. The goal is to become a stay-at-home wife shortly. A turkey baster is essential.
After spending $955 on La Mer lotions and getting a crystal manicure, I nap. Before my boyfriend's return, I can nap for 5 hours.
I wake up around 4 pm — it's time to prepare dinner. Yes, I said "prepare for dinner," not "prepare dinner." I have crystals on my nails! Do you really think I would cook? No way.
My husband's arrival still requires much work. I clean the kitchen, get cutlery and napkins. I order UberEats while my BF is 30-45 minutes away.
Wagyu steaks with Matsutake mushroom soup today. I pick desserts for my lover but not myself. Eastern European threat?
When my BF gets home from work, we eat. I don't believe in tipping UberEats drivers. If he wants to appreciate life's finer things, he should locate a rich woman.
After eating, we plan our getaway. I requested Aruba's fanciest hotel for winter and expect a butler. We're bickering over who gets the butler. We may need two.
Day's end, I'm exhausted. Stay-at-home girlfriends put in a lot of time and work. Work and duties are never-ending.
Before bed, I shower and use a liquid gold mask in my 27-step makeup procedure. It's a French luxury brand, not La Mer.
Here's my day.
Note: I like satire and absurd trends. Stay-at-home-girlfriend TikTok videos have become popular recently.
I don't shame or support such agreements; I'm just an observer. Thanks for reading.
You might also like
Flywheels and Funnels
Traditional sales organizations used the concept of a sales "funnel" to describe the process through which potential customers move, ending up with sales at the end. Winners today have abandoned that way of thinking in favor of building flywheels — business models in which every element reinforces every other.
Ah, the marketing funnel…
Prospective clients go through a predictable set of experiences, students learn in business school marketing classes. It looks like this: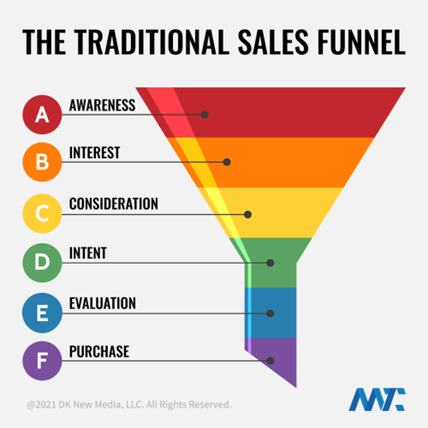 Understanding the funnel helps evaluate sales success indicators. Gail Goodwin, former CEO of small business direct mail provider Constant Contact, said managing the pipeline was key to escaping the sluggish SaaS ramp of death.
Like the funnel concept. To predict how well your business will do, measure how many potential clients are aware of it (awareness) and how many take the next step. If 1,000 people heard about your offering and 10% showed interest, you'd have 100 at that point. If 50% of these people made buyer-like noises, you'd know how many were, etc. It helped model buying trends.
TV, magazine, and radio advertising are pricey for B2C enterprises. Traditional B2B marketing involved armies of sales reps, which was expensive and a barrier to entry.
Cracks in the funnel model
Digital has exposed the funnel's limitations. Hubspot was born at a time when buyers and sellers had huge knowledge asymmetries, according to co-founder Brian Halligan. Those selling a product could use the buyer's lack of information to become a trusted partner.
As the world went digital, getting information and comparing offerings became faster, easier, and cheaper. Buyers didn't need a seller to move through a funnel. Interactions replaced transactions, and the relationship didn't end with a sale.
Instead, buyers and sellers interacted in a constant flow. In many modern models, the sale is midway through the process (particularly true with subscription and software-as-a-service models). Example: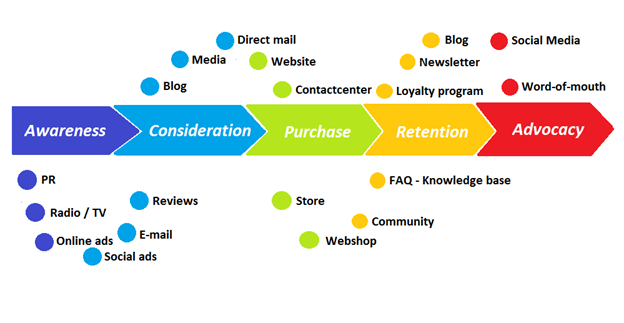 You're creating a winding journey with many touch points, not a funnel (and lots of opportunities for customers to get lost).
From winding journey to flywheel
Beyond this revised view of an interactive customer journey, a company can create what Jim Collins famously called a flywheel. Imagine rolling a heavy disc on its axis. The first few times you roll it, you put in a lot of effort for a small response. The same effort yields faster turns as it gains speed. Over time, the flywheel gains momentum and turns without your help.
Modern digital organizations have created flywheel business models, in which any additional force multiplies throughout the business. The flywheel becomes a force multiplier, according to Collins.
Amazon is a famous flywheel example. Collins explained the concept to Amazon CEO Jeff Bezos at a corporate retreat in 2001. In The Everything Store, Brad Stone describes in his book The Everything Store how he immediately understood Amazon's levers.
The result (drawn on a napkin):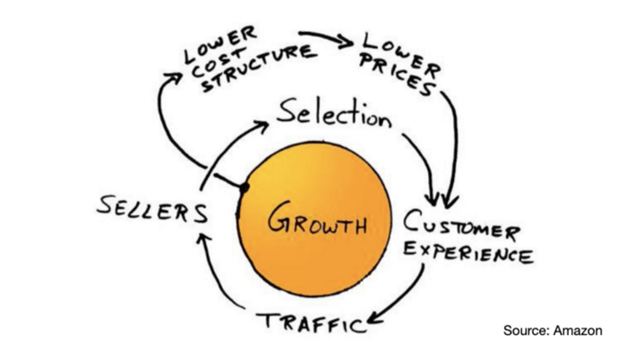 Low prices and a large selection of products attracted customers, while a focus on customer service kept them coming back, increasing traffic. Third-party sellers then increased selection. Low-cost structure supports low-price commitment. It's brilliant! Every wheel turn creates acceleration.
Where from here?
Flywheel over sales funnel! Consider these business terms.
DAOs are legal entities in Marshall Islands.
The Pacific island state recognizes decentralized autonomous organizations.
The Republic of the Marshall Islands has recognized decentralized autonomous organizations (DAOs) as legal entities, giving collectively owned and managed blockchain projects global recognition.
The Marshall Islands' amended the Non-Profit Entities Act 2021 that now recognizes DAOs, which are blockchain-based entities governed by self-organizing communities. Incorporating Admiralty LLC, the island country's first DAO, was made possible thanks to the amendement. MIDAO Directory Services Inc., a domestic organization established to assist DAOs in the Marshall Islands, assisted in the incorporation.
The new law currently allows any DAO to register and operate in the Marshall Islands.
"This is a unique moment to lead," said Bobby Muller, former Marshall Islands chief secretary and co-founder of MIDAO. He believes DAOs will help create "more efficient and less hierarchical" organizations.
A global hub for DAOs, the Marshall Islands hopes to become a global hub for DAO registration, domicile, use cases, and mass adoption. He added:
"This includes low-cost incorporation, a supportive government with internationally recognized courts, and a technologically open environment."
According to the World Bank, the Marshall Islands is an independent island state in the Pacific Ocean near the Equator. To create a blockchain-based cryptocurrency that would be legal tender alongside the US dollar, the island state has been actively exploring use cases for digital assets since at least 2018.
In February 2018, the Marshall Islands approved the creation of a new cryptocurrency, Sovereign (SOV). As expected, the IMF has criticized the plan, citing concerns that a digital sovereign currency would jeopardize the state's financial stability. They have also criticized El Salvador, the first country to recognize Bitcoin (BTC) as legal tender.
Marshall Islands senator David Paul said the DAO legislation does not pose the same issues as a government-backed cryptocurrency. "A sovereign digital currency is financial and raises concerns about money laundering," . This is more about giving DAOs legal recognition to make their case to regulators, investors, and consumers.
What's up with tech?
Massive Layoffs, record low VC investment, debate over crash... why is it happening and what's the endgame?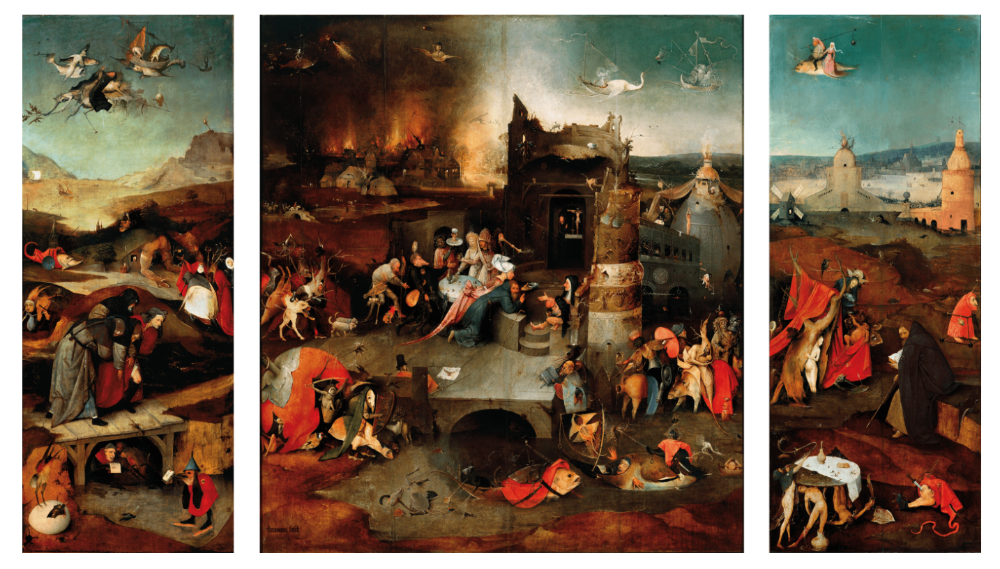 This article generalizes a diverse industry. For objectivity, specific tech company challenges like growing competition within named segments won't be considered. Please comment on the posts.
According to Layoffs.fyi, nearly 120.000 people have been fired from startups since March 2020. More than 700 startups have fired 1% to 100% of their workforce. "The tech market is crashing"
Venture capital investment dropped 19% QoQ in the first four months of 2022, a 2018 low. Since January 2022, Nasdaq has dropped 27%. Some believe the tech market is collapsing.
It's bad, but nothing has crashed yet. We're about to get super technical, so buckle up!
I've written a follow-up article about what's next. For a more optimistic view of the crisis' aftermath, see: Tech Diaspora and Silicon Valley crisis
What happened?
Insanity reigned. Last decade, everyone became a unicorn. Seed investments can be made without a product or team. While the "real world" economy suffered from the pandemic for three years, tech companies enjoyed the "new normal."
COVID sped up technology adoption on several fronts, but this "new normal" wasn't so new after many restrictions were lifted. Worse, it lived with disrupted logistics chains, high oil prices, and WW3. The consumer market has felt the industry's boom for almost 3 years. Inflation, unemployment, mental distress...what looked like a fast economic recovery now looks like unfulfilled promises.
People rethink everything they eat. Paying a Netflix subscription instead of buying beef is moronic if you can watch it for free on your cousin's account. No matter how great your real estate app's UI is, buying a house can wait until mortgage rates drop. PLGProduct Led Growth (PLG) isn't the go-to strategy when consumers have more basic expense priorities.
Exponential growth and investment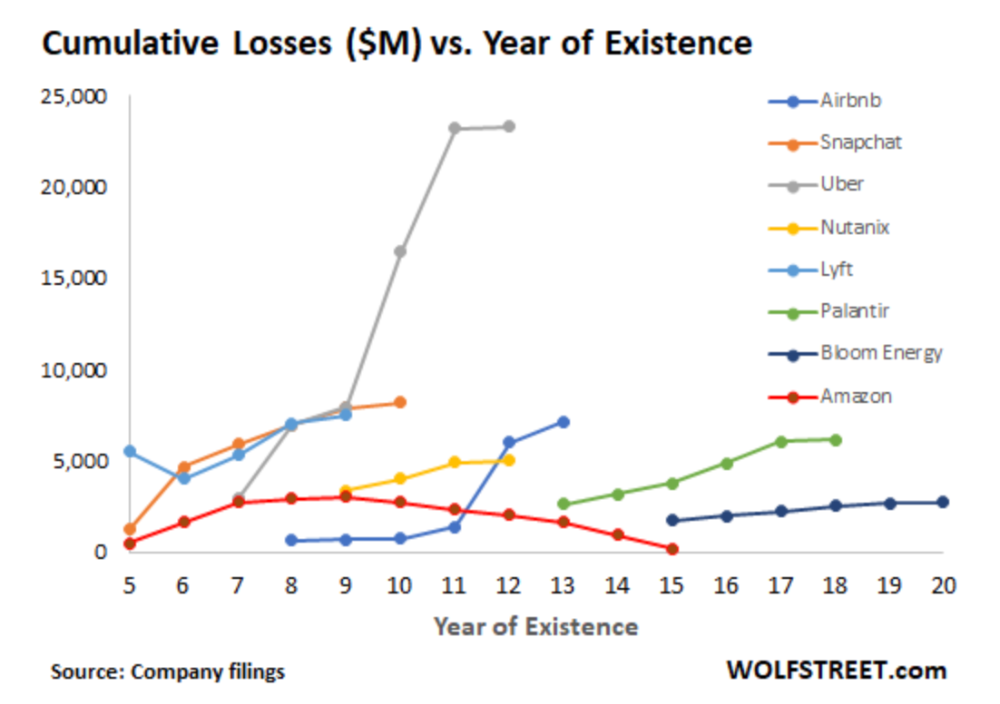 Until recently, tech companies believed that non-exponential revenue growth was fatal. Exponential growth entails doing more with less. From Salim Ismail words:
An Exponential Organization (ExO) has 10x the impact of its peers.
Many tech companies' theories are far from reality.
Investors have funded (sometimes non-exponential) growth. Scale-driven companies throw people at problems until they're solved. Need an entire closing team because you've just bought a TV prime time add? Sure. Want gold-weight engineers to colorize buttons? Why not?
Tech companies don't need cash flow to do it; they can just show revenue growth and get funding. Even though it's hard to get funding, this was the market's momentum until recently.
The graph at the beginning of this section shows how industry heavyweights burned money until 2020, despite being far from their market-share seed stage. Being big and being sturdy are different things, and a lot of the tech startups out there are paper tigers. Without investor money, they have no foundation.
A little bit about interest rates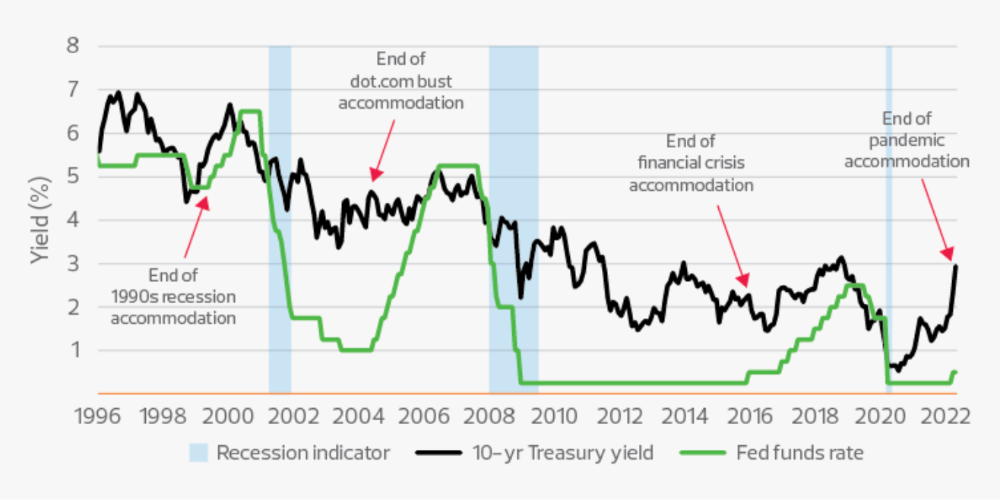 Inflation-driven high interest rates are said to be causing tough times. Investors would rather leave money in the bank than spend it (I myself said it some days ago). It's not wrong, but it's also not that simple.
The USA central bank (FED) is a good proxy of global economics. Dollar treasury bonds are the safest investment in the world. Buying U.S. debt, the only country that can print dollars, guarantees payment.
The graph above shows that FED interest rates are low and 10+ year bond yields are near 2018 levels. Nobody was firing at 2018. What's with that then?
Full explanation is too technical for this article, so I'll just summarize: Bond yields rise due to lack of demand or market expectations of longer-lasting inflation. Safe assets aren't a "easy money" tactic for investors. If that were true, we'd have seen the current scenario before.
Long-term investors are protecting their capital from inflation.
Not a crash, a landing
I bombarded you with info... Let's review:
Consumption is down, hurting revenue.

Tech companies of all ages have been hiring to grow revenue at the expense of profit.

Investors expect inflation to last longer, reducing future investment gains.
Inflation puts pressure on a wheel that was rolling full speed not long ago. Investment spurs hiring, growth, and more investment. Worried investors and consumers reduce the cycle, and hiring follows.

Long-term investors back startups. When the invested company goes public or is sold, it's ok to burn money. What happens when the payoff gets further away? What if all that money sinks? Investors want immediate returns.
Why isn't the market crashing? Technology is not losing capital. It's expecting change. The market realizes it threw moderation out the window and is reversing course. Profitability is back on the menu.
People solve problems and make money, but they also cost money. Huge cost for the tech industry. Engineers, Product Managers, and Designers earn up to 100% more than similar roles. Businesses must be careful about who they keep and in what positions to avoid wasting money.
What the future holds
From here on, it's all speculation. I found many great articles while researching this piece. Some are cited, others aren't (like this and this). We're in an adjustment period that may or may not last long.
Big companies aren't laying off many workers. Netflix firing 100 people makes headlines, but it's only 1% of their workforce. The biggest seem to prefer not hiring over firing.
Smaller startups beyond the seeding stage may be hardest hit. Without structure or product maturity, many will die.
I expect layoffs to continue for some time, even at Meta or Amazon. I don't see any industry names falling like they did during the .com crisis, but the market will shrink.
If you are currently employed, think twice before moving out and where to.
If you've been fired, hurry, there are still many opportunities.
If you're considering a tech career, wait.
If you're starting a business, I respect you. Good luck.