DANIEL CLERY
DANIEL CLERY
11 months ago
Can space-based solar power solve Earth's energy problems?
Better technology and lower launch costs revive science-fiction tech.
Airbus engineers showed off sustainable energy's future in Munich last month. They captured sunlight with solar panels, turned it into microwaves, and beamed it into an airplane hangar, where it lighted a city model. The test delivered 2 kW across 36 meters, but it posed a serious question: Should we send enormous satellites to capture solar energy in space? In orbit, free of clouds and nighttime, they could create power 24/7 and send it to Earth.
Airbus engineer Jean-Dominique Coste calls it an engineering problem. "But it's never been done at [large] scale."
Proponents of space solar power say the demand for green energy, cheaper space access, and improved technology might change that. Once someone invests commercially, it will grow. Former NASA researcher John Mankins says it might be a trillion-dollar industry.
Myriad uncertainties remain, including whether beaming gigawatts of power to Earth can be done efficiently and without burning birds or people. Concept papers are being replaced with ground and space testing. The European Space Agency (ESA), which supported the Munich demo, will propose ground tests to member nations next month. The U.K. government offered £6 million to evaluate innovations this year. Chinese, Japanese, South Korean, and U.S. agencies are working. NASA policy analyst Nikolai Joseph, author of an upcoming assessment, thinks the conversation's tone has altered. What formerly appeared unattainable may now be a matter of "bringing it all together"
NASA studied space solar power during the mid-1970s fuel crunch. A projected space demonstration trip using 1970s technology would have cost $1 trillion. According to Mankins, the idea is taboo in the agency.
Space and solar power technology have evolved. Photovoltaic (PV) solar cell efficiency has increased 25% over the past decade, Jones claims. Telecoms use microwave transmitters and receivers. Robots designed to repair and refuel spacecraft might create solar panels.
Falling launch costs have boosted the idea. A solar power satellite large enough to replace a nuclear or coal plant would require hundreds of launches. ESA scientist Sanjay Vijendran: "It would require a massive construction complex in orbit."
SpaceX has made the idea more plausible. A SpaceX Falcon 9 rocket costs $2600 per kilogram, less than 5% of what the Space Shuttle did, and the company promised $10 per kilogram for its giant Starship, slated to launch this year. Jones: "It changes the equation." "Economics rules"
Mass production reduces space hardware costs. Satellites are one-offs made with pricey space-rated parts. Mars rover Perseverance cost $2 million per kilogram. SpaceX's Starlink satellites cost less than $1000 per kilogram. This strategy may work for massive space buildings consisting of many identical low-cost components, Mankins has long contended. Low-cost launches and "hypermodularity" make space solar power economical, he claims.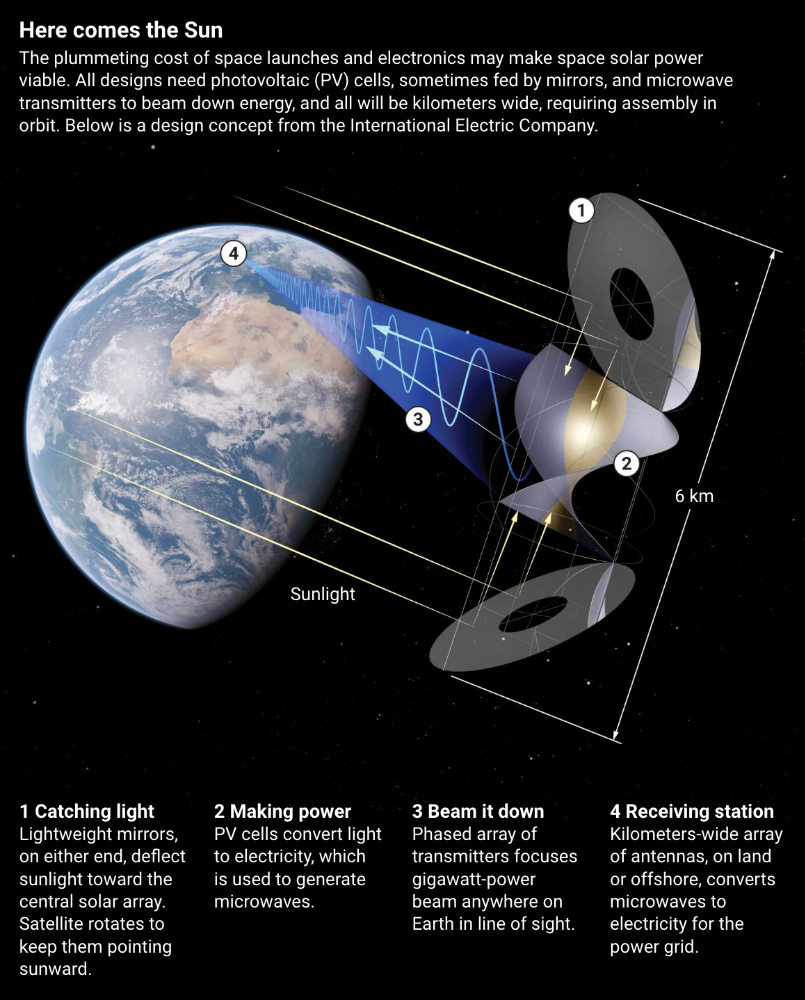 Better engineering can improve economics. Coste says Airbus's Munich trial was 5% efficient, comparing solar input to electricity production. When the Sun shines, ground-based solar arrays perform better. Studies show space solar might compete with existing energy sources on price if it reaches 20% efficiency.
Lighter parts reduce costs. "Sandwich panels" with PV cells on one side, electronics in the middle, and a microwave transmitter on the other could help. Thousands of them build a solar satellite without heavy wiring to move power. In 2020, a team from the U.S. Naval Research Laboratory (NRL) flew on the Air Force's X-37B space plane.
NRL project head Paul Jaffe said the satellite is still providing data. The panel converts solar power into microwaves at 8% efficiency, but not to Earth. The Air Force expects to test a beaming sandwich panel next year. MIT will launch its prototype panel with SpaceX in December.
As a satellite orbits, the PV side of sandwich panels sometimes faces away from the Sun since the microwave side must always face Earth. To maintain 24-hour power, a satellite needs mirrors to keep that side illuminated and focus light on the PV. In a 2012 NASA study by Mankins, a bowl-shaped device with thousands of thin-film mirrors focuses light onto the PV array.
International Electric Company's Ian Cash has a new strategy. His proposed satellite uses enormous, fixed mirrors to redirect light onto a PV and microwave array while the structure spins (see graphic, above). 1 billion minuscule perpendicular antennas act as a "phased array" to electronically guide the beam toward Earth, regardless of the satellite's orientation. This design, argues Cash, is "the most competitive economically"
If a space-based power plant ever flies, its power must be delivered securely and efficiently. Jaffe's team at NRL just beamed 1.6 kW over 1 km, and teams in Japan, China, and South Korea have comparable attempts. Transmitters and receivers lose half their input power. Vijendran says space solar beaming needs 75% efficiency, "preferably 90%."
Beaming gigawatts through the atmosphere demands testing. Most designs aim to produce a beam kilometers wide so every ship, plane, human, or bird that strays into it only receives a tiny—hopefully harmless—portion of the 2-gigawatt transmission. Receiving antennas are cheap to build but require a lot of land, adds Jones. You could grow crops under them or place them offshore.
Europe's public agencies currently prioritize space solar power. Jones: "There's a devotion you don't see in the U.S." ESA commissioned two solar cost/benefit studies last year. Vijendran claims it might match ground-based renewables' cost. Even at a higher price, equivalent to nuclear, its 24/7 availability would make it competitive.
ESA will urge member states in November to fund a technical assessment. If the news is good, the agency will plan for 2025. With €15 billion to €20 billion, ESA may launch a megawatt-scale demonstration facility by 2030 and a gigawatt-scale facility by 2040. "Moonshot"